Amy and Pete are an adventure loving couple who love to spend time outdoors so they knew that a formal indoor venue was not on the cards for them. So an at home, all outdoor wedding felt the most authentic to them. They tell us, "We wanted something romantic and natural, not too over the top but still elegant. Neither of us had a very specific vision for the day, which is why we wanted to work with the amazing REBECCA ROSE EVENTS team – they took our minimal guidance and created something beyond what we could have ever imagined." North Carolina wedding photographer LANCE NICOLL captured these truly beautiful images of their day.
WHY DID YOU CHOOSE THIS LOCATION? Our original venue, the Valley Rock Inn & Mountain Club, we chose because we wanted something that would be central to a lot of our guests – Amy's family in Philadelphia, Pete's family in Syracuse, and many of our friends in NYC. The gardens at Valley Rock provided the perfect romantic and relaxed atmosphere that we were looking for, all while providing a fun and easy experience for our guests. Our plans changed when COVID hit. We decided early on that we were going to postpone our big celebration at Valley Rock until 2021, but we didn't want to wait to get married.
We decided our 2020 wedding would be a celebration with just our immediate families, and we knew the number one priority for that wedding was everyone's safety and ability to feel comfortable. Amy's parents offered to host the wedding at their house, Amy's childhood home, and immediately that idea felt right. It was the perfect venue for an intimate and incredibly meaningful day surrounded by the people who truly mean the most to us.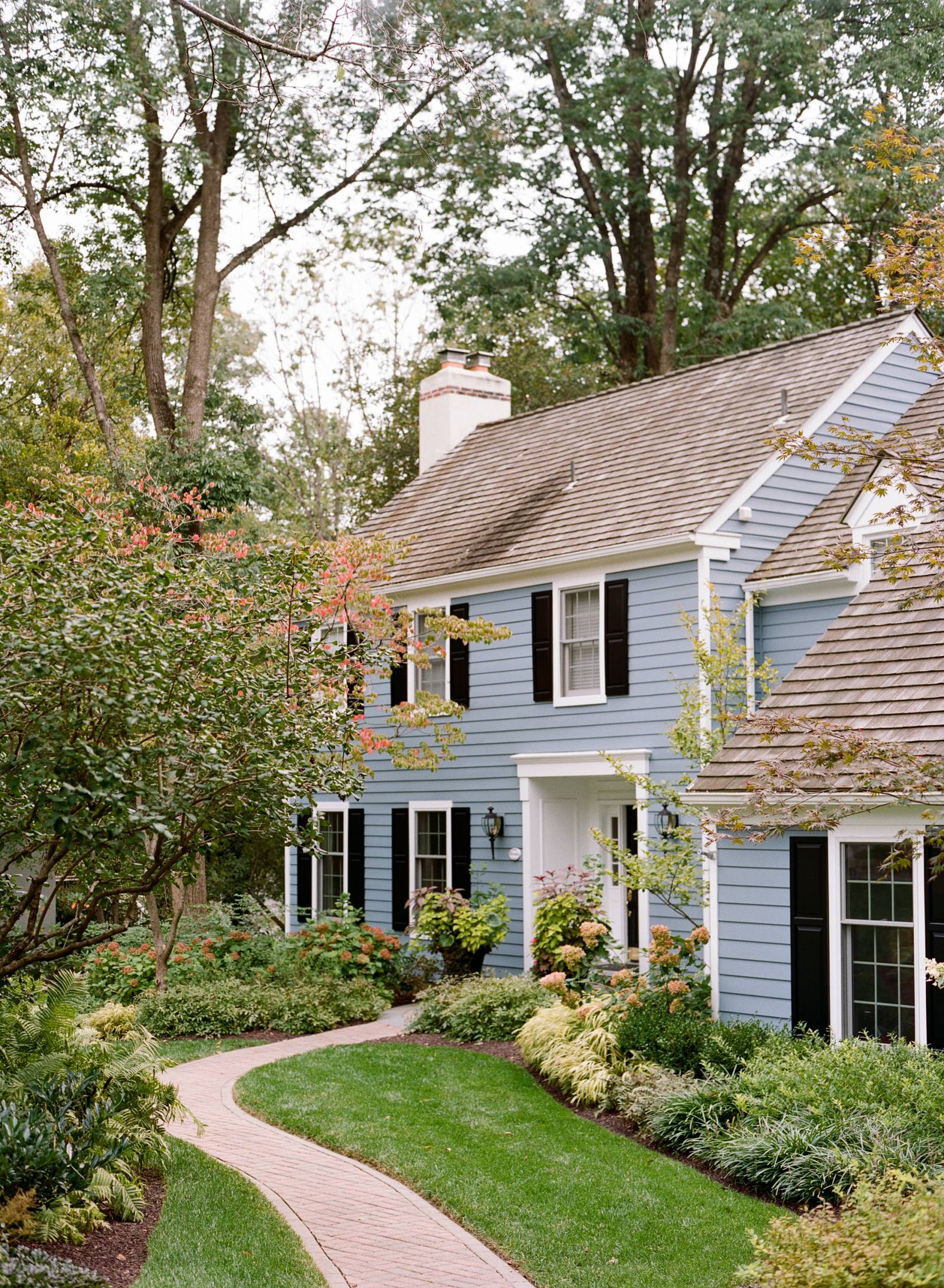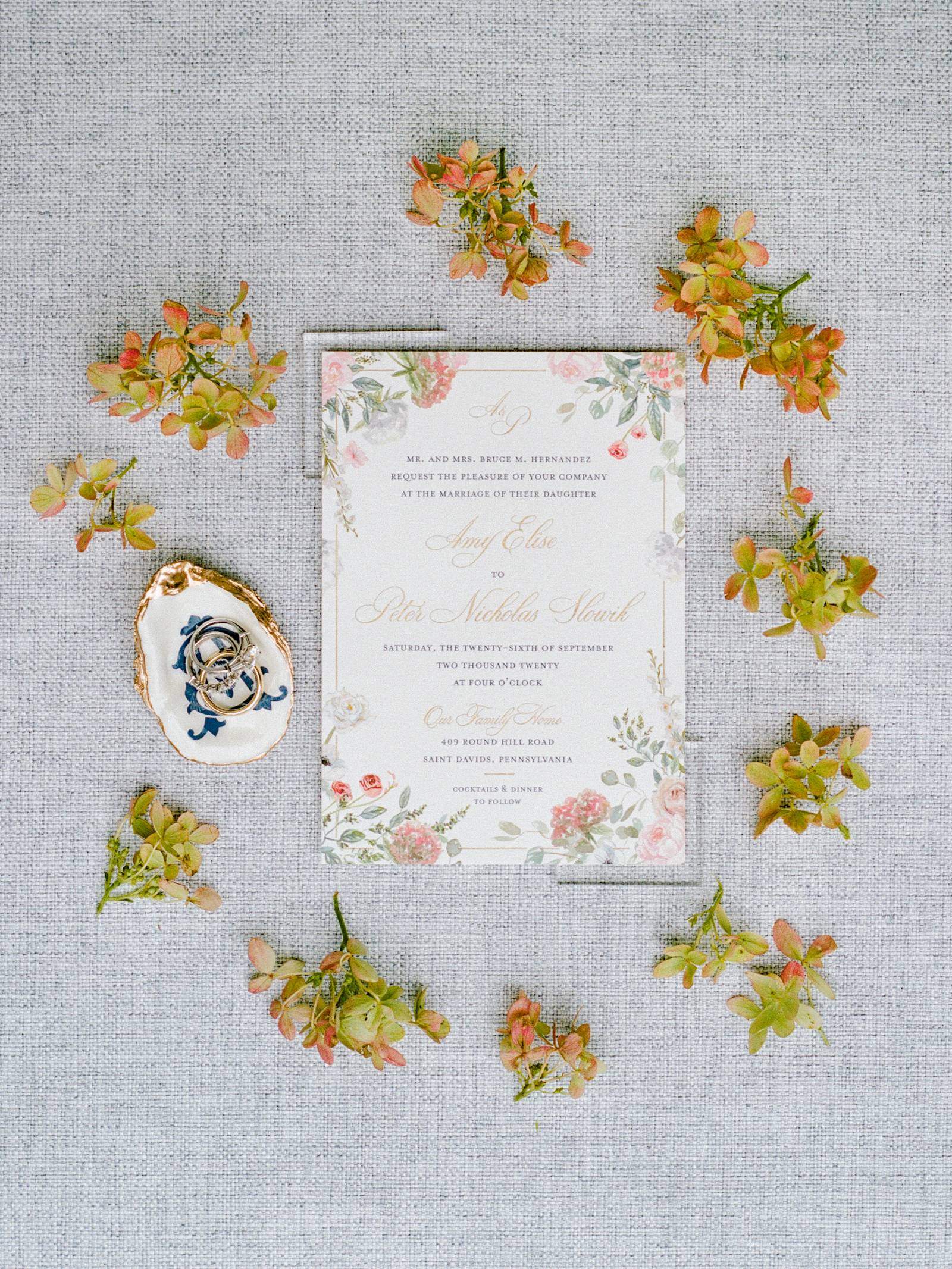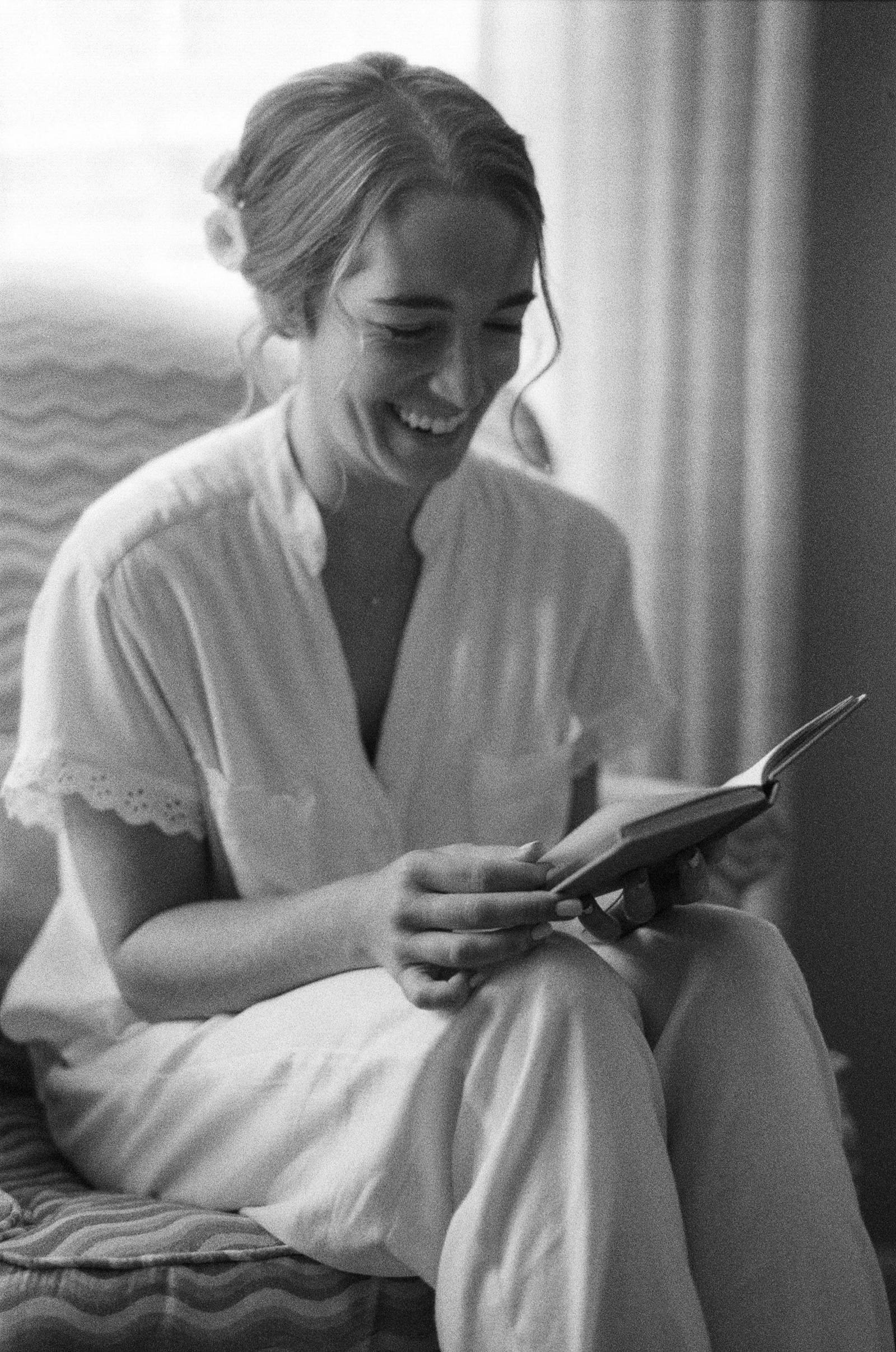 HOW DID YOU MEET? We met in Ithaca during our first year of business school at Cornell, although we've since realised that our paths have most likely crossed at other times in the past. We slowly became friends during the year, even though Pete was too shy to talk to Amy at first. We saw each other a few times over the summer between our first and second years and realised there might be something more than friendship there. We started dating when we got back to Ithaca for the second year of school, and the rest is history!
TELL US ABOUT YOUR PROPOSAL: Pete proposed on a hike at Hawk Mountain (Amy was not surprised at all - Pete is a terrible con man and liar). Going for walks/hikes is one of our favourite activities to do together, and Pete thought it would be a good way to be alone, just the two of us – something we both wanted. After letting Amy lead the entire hike (which never happens) Pete precariously got down on one knee on the edge of a cliff at a beautiful overlook spot. Once we got back to our apartment, we celebrated with drinks and dinner just the two of us. We wanted to really enjoy the moment together before celebrating with family the next day.
TELL US ABOUT FINDING YOUR WEDDING DRESS: I did a lot of Instagram and online research and watched a lot of "Say Yes to the Dress" but had a difficult time finding a style or specific dress that I was really excited about. I knew I wanted something fairly simple but with a little bit of personality, and it had to be comfortable. I also loved the idea of having a fun back. I finally came across a picture of the Jenny Yoo Lela gown, and it was the first time I could actually picture myself in a dress. I scheduled an appointment at the Jenny Yoo showroom with my mom, sisters, and niece, and tried on about 10 of their dresses. We saved the Lela for last, and we all knew the moment we opened the curtain that this was it. I cried, my mom cried, my sisters cried. My seven-year-old niece asked why we were all crying and then told me I looked beautiful. It just felt so me. Plus - it has pockets, so what more could a girl really want?
DID YOU HAVE ANY DIY ELEMENTS? We did not. Neither of us are very creative, so we left the important work to the amazing Rebecca Rose Events team. The one DIY-ish element we had was one of the wedding cakes. We had two cakes – one gluten free for Amy and her middle sister, and one for Pete and everyone else. Amy's youngest sister C.C., who also was an RRE intern and soon-to-be full time RRE team member, loves baking and has mastered a delicious gluten-free cake. She made one for our other sister's wedding a few years ago, and my one request was that she make one for me, as well. It was perfection.
DESCRIBE YOUR WEDDING FLOWERS: Our flowers for our wedding day represent a scaled back version of what we were originally planning, but our design team used all of the same elements and blooms, including garden roses, hydrangea, ranunculus, stock, delphinium, pink anemones, and eucalyptus foliage. The blue and white vases on the dinner table were some of my favourite details.
FAVOURITE DETAIL OF THE DAY: We loved the atmosphere that RRE created for dinner. They converted my parent's living room into a beautiful dining space using design details similar to our originally planned wedding but tailored to this smaller celebration. The candles, the tableware, and the floral accents all helped transform the space into something very special, while still retaining the intimate feeling of being at home.
WHAT ADVICE WOULD YOU GIVE OUT TO A COUPLE PLANNING THEIR WEDDING? Try not to take wedding planning too seriously. It's very easy to get wrapped up in, and stressed out about, the smallest details, but even if the day ends up looking very different from what you imagined, it will still feel like the most perfect day, because you're celebrating your love. Also, hire the Rebecca Rose team. Working with them actually made wedding planning during a pandemic a relatively pain-free and enjoyable experience – need we say more?
MOST MEMORABLE MOMENT? Finally seeing each other and making eye contact as Amy walked down the aisle was a very special moment. There was a huge buildup of anticipation - we hadn't seen each other, talked, or texted since the night before; the weather kept us guessing up until the last minute when the sun finally came out; and our nephew had a meltdown right as he was supposed to walk down the aisle. So, when we finally saw each other, we both broke into huge smiles. It was a moment of pure joy, relief, and exhilaration.
WHAT ASPECT OF THE WEDDING WAS THE MOST IMPORTANT TO YOU BOTH? Really including our families, past and present, in the day was so important to us. It was just family, and we wanted each person to play a special role in the day. Our moms lit a unity candle during the ceremony – the same one that Pete's mom and late father lit at their wedding. My bouquet was wrapped in a lace handkerchief that my sister, my mom, my grandmother, and great-grandmother all carried at their weddings. A few people did readings during the ceremony, and others did toasts during dinner. We know our bigger celebration this year will have many more distractions, and we feel so lucky that we had this time to honour our families, as we bring them together.
ANY OTHER DETAILS THAT HELP TELL THE STORY OF YOUR DAY? So much of the broader design plan for our New York wedding - and ultimately our smaller, re-imaged Pennsylvania wedding - was created around the beautiful hydrangea that grows in abundance at the Valley Rock Inn & Mountain Club. The team at Rebecca Rose Events created our beautiful custom invitation suite, incorporating watercolour artwork of that same hydrangea and some of the other floral elements, which they then also used in the floral arrangements and bouquets on the wedding day. It was extra special that the same hydrangea grows in the garden beds at my childhood home.
TELL US A LITTLE ABOUT YOUR HONEYMOON: We were hesitant to plan a big trip, but knew we wanted to spend the week after our wedding together. We decided to spend the week at the Mirror Lake Inn in Lake Placid, NY – we didn't have to fly to get there and knew there would be plenty of hiking and other outdoor activity options for us to safely enjoy. Plus being in the Adirondacks during peak fall foliage is spectacular. It was a very low frills trip, but we really appreciated just being in each other's company with no distractions.
IS THERE ANYTHING YOU WOULD CHANGE OR DO DIFFERENTLY? Maybe there are some small details we would change here or there, but honestly after everything that happened in 2020, we couldn't imagine a more perfect day with our families.
A huge thank you to North Carolina wedding photographer LANCE NICOLL for sharing this beautiful wedding with us today. Lance is a wedding photographer you must check-out if you are getting married in Louisiana, his background in editorial photography and traditional fine arts translates into incredible wedding photos. Be sure to check-out this wedding - A blend of rustic & classic styles in this Hudson Valley wedding... you can also see more of Lance's work in our Vendor Guide.