What could be more romantic immediately following your ceremony than taking a walk down the California coastline to celebrate being newlyweds! That's what Wendy & John chose to do following their intimate celebration on Hawk Hill in San Francisco and Northern California wedding photographer AMANDA CALLAWAY was on hand to capture the special moments. The couple were inspired by the stunning views overlooking the city and the Golden Gate Bridge from their chosen ceremony site, which was then followed up with a reception at THE BARREL HOUSE TAVERN in Sausalito.
Amanda tells us, "When John and Wendy first inquired for their wedding day, I knew were a wonderful fit before we met in person. Wendy reached out looking for specific expectations in a photographer to capture their romantic and intimate day as she is a photographer herself. Their day was filled with so much love and special moments. Wendy was assisted into her BHLDN gown by her daughters in Sauceleto, California. She wore a delicate cape in place of veil, that was so timeless and elegant. It was absolutely jaw dropping. John and Wendy said "I Do" in front of their closest friends and family overlooking the beautiful city of San Francisco. The newly married Mr and Mrs Andrews wanted to spend their immediate moments after capturing the love they share walking down the California coast line. These two will always have a special place in my heart!"
HOW DID YOU MEET? I bought a new house which needed a new roof and John was one of the contractors I called to get an estimate. He remembers what I was wearing the first time we met. He truly courted me in a sweet, kind way.
TELL US ABOUT YOUR PROPOSAL: John took me on a trip to the Daytona 500 and Key West, Florida. He was waiting for just the right moment to propose near water (ocean). There were always too many people around so he proposed while we were in a hot tub - hey at least there was water.
TELL US ABOUT FINDING YOUR WEDDING DRESS: My 24 year old daughter helped me out here. We had one day to shop and she made the appointments. I was on a mission to find a dress with long sleeves, a slit and something flowing that would blow in the breeze - we found the perfect dress at BHLDN in walnut creek that met my imagination and a cape perfectly accented the dress and provided that airy feel I imagined for the photos.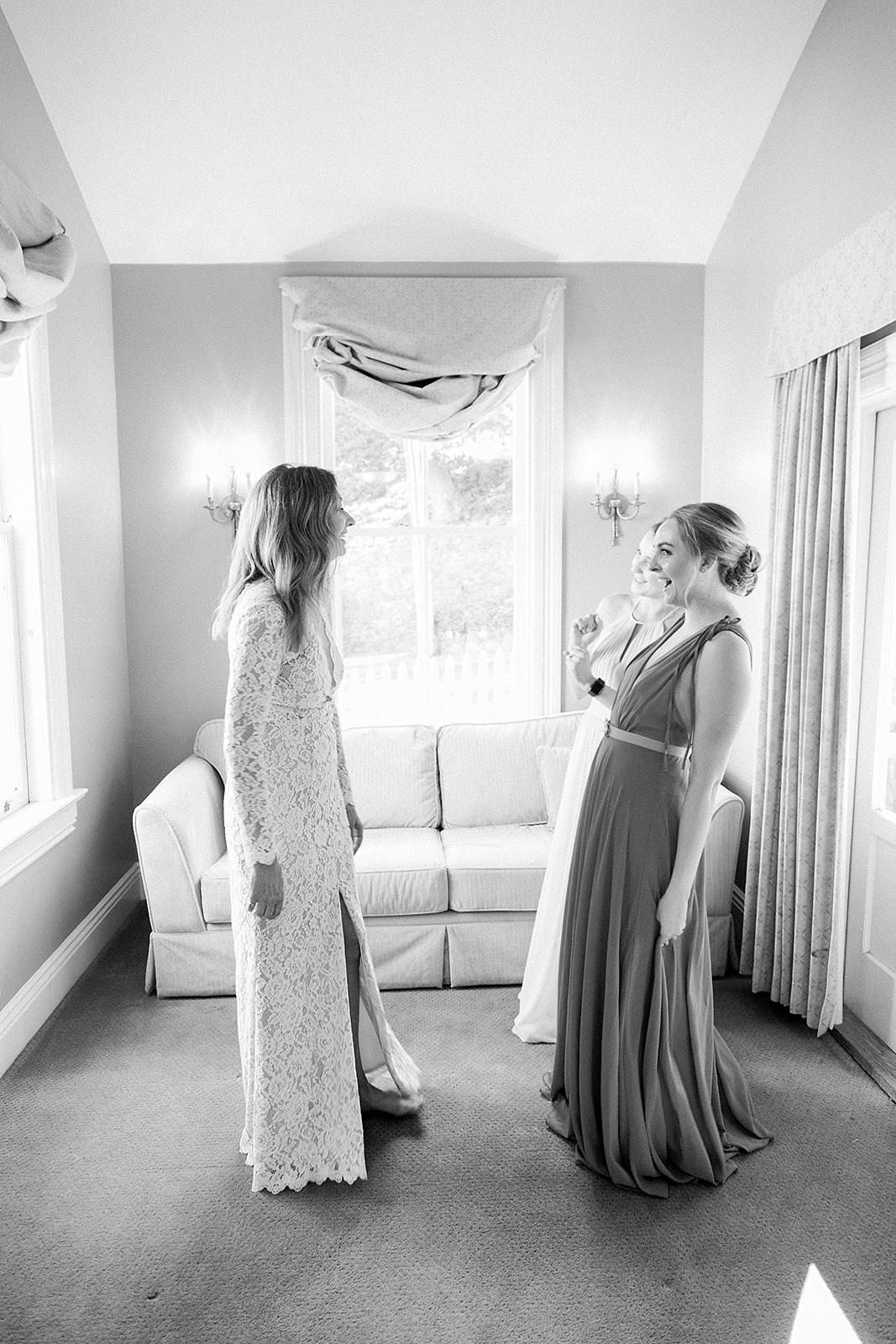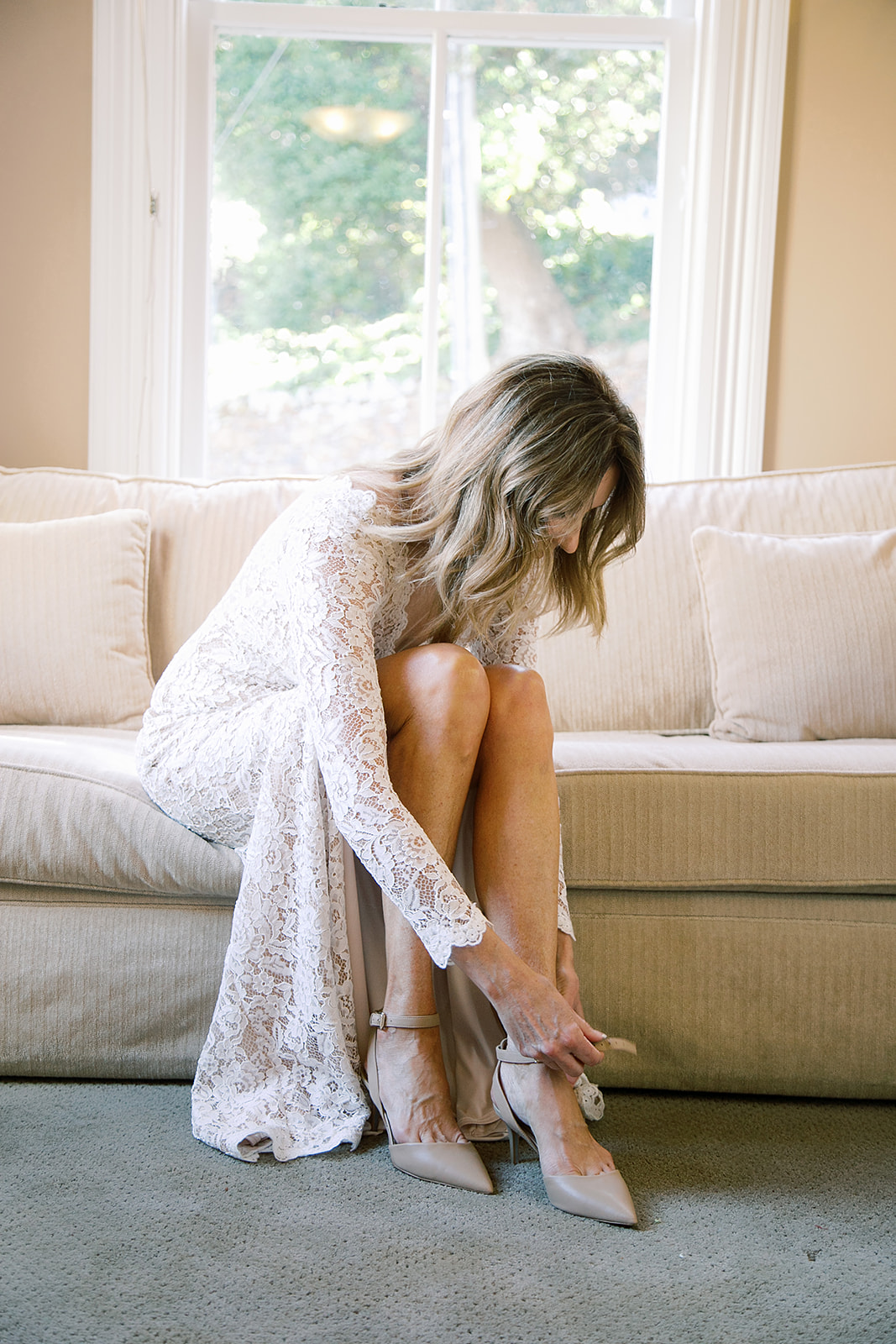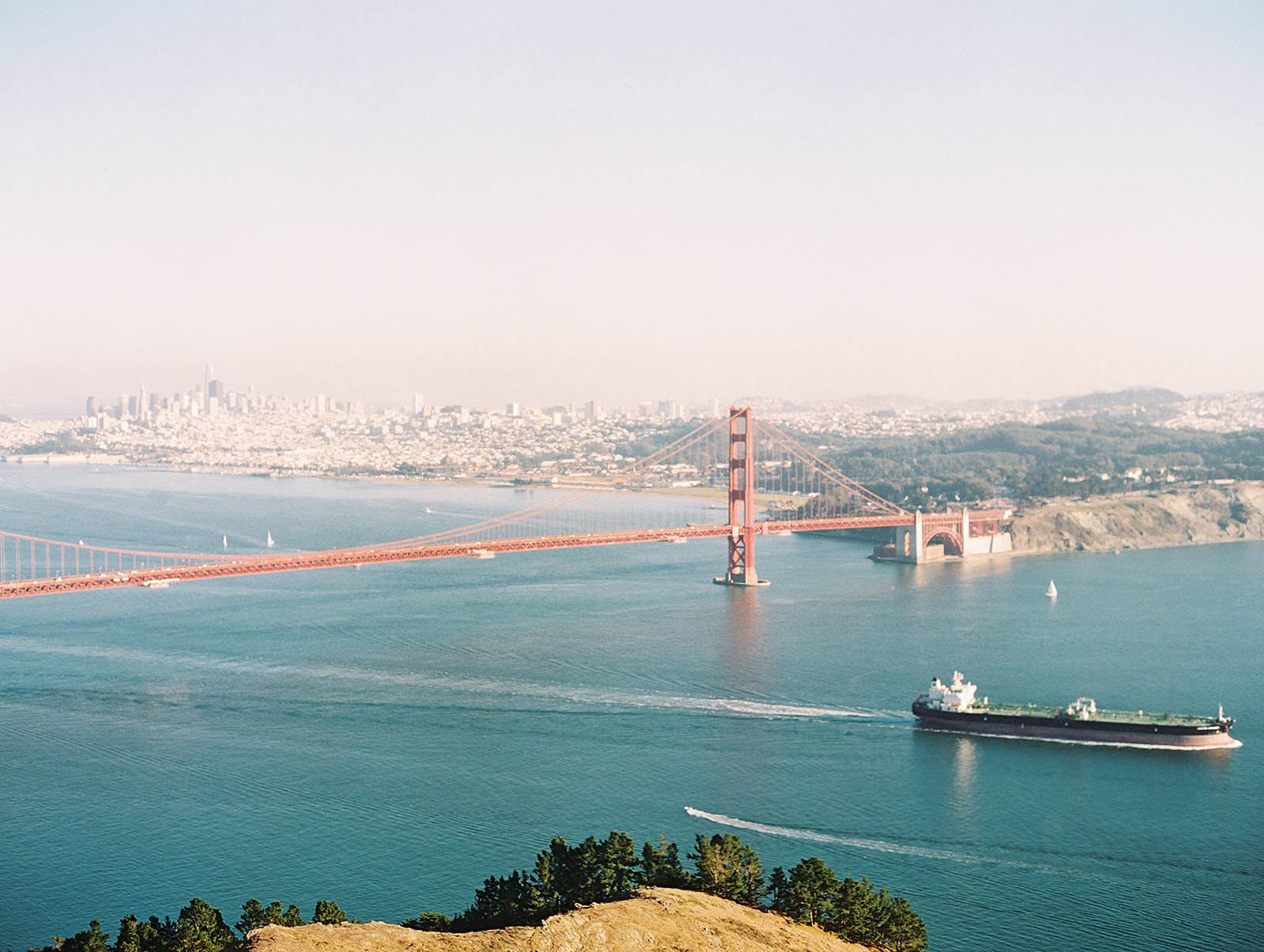 DID YOU HAVE ANY DIY ELEMENTS? My husband gave me lots of flowers while we were dating and I used all those vases, accented them with lights and they became a beautiful centerpiece for all the tables at dinner.
DESCRIBE YOUR WEDDING FLOWERS: Our florals were by Twigs and Stems in Modesto, CA. I wanted something not too big and needed to have a red rose as a symbol for my father who loved roses but had passed away. The bouquet was natural and mostly white flowers with a charm my sister gave me with my father's picture which attached to the bouquet.

FAVOURITE DETAIL OF THE DAY: My kids walking me up the hill to give me away to my new husband.
WHAT ADVICE WOULD YOU GIVE OUR TO A COUPLE PLANNING THEIR WEDDING? To enjoy the process of planning and to consciously be very present as the day goes so fast and truly enjoy each other and all your guests.
MOST MEMORABLE MOMENT? The rose petals from my father's garden which were thrown over us while we had our only dance song.
WHAT ASPECT OF THE WEDDING WAS THE MOST IMPORTANT TO YOU BOTH? The selection of the photographer as we wanted someone to capture the location and events as we both wanted to have spectacular pictures to remember the day by.
ANY OTHER DETAILS THAT HELP TO TELL THE STORY OF YOUR DAY? There were several special details but unfortunately they were a bit sad. My husband's mom passed away two weeks before the wedding so I had a plaque made in memory of John's mom. We both wrote our wedding vows and each had special tributes to people or pets that mean something to us. I wore the bracelet that I had given to my best friend a year earlier who was diagnosed with recurring breast cancer. She passed away and her husband gave me back the bracelet as a keepsake. My childhood pen pal, who lives in the Netherlands surprised me by attending our wedding which truly was extremely meaningful and touching for me. The Marin county area is very special to my husband and I as it is where we went for our first getaway, so it holds special meaning for us.
TELL US A LITTLE ABOUT YOUR HONEYMOON: Our two night honeymoon was at INN ABOVE THE TIDE in Sausaulito, which has beautiful rooms overlooking San Francisco and the balcony faces east so you watch the sun rise and is right over the water. We are taking a two-week honeymoon on our first anniversary to Tahiti which we are very excited about.
IS THERE ANYTHING YOU WOULD CHANGE OR DO DIFFERENTLY? I would not change one single thing about our wedding day. The day was absolutely perfect with the most spectacular weather for November in the city. All of our guests loved overlooking the golden gate bridge while enjoying our ceremony and our reception was intimate and personal so everyone was able to enjoy the venue, food and each other.
Thank you to Northern California wedding photographer AMANDA CALLAWAY for sharing this beautiful intimate San Francisco wedding inspiration with us. Amanda is passionate about wedding photography. She tells us, "Each wedding makes my heart skip a beat. I love the authentic emotion weddings portray and the trust that goes into capturing each love story, I am so beyond thankful for all of the couples I have met through this job! In a large industry with so many incredibly talented vendors I truly value the relationship that I build with each of my couples! In doing so, it is my utmost desire to make them feel comfortable in front of the camera, so true and authentic emotion is documented! I am so passionate about what I get to wake up and do every day, and I would be so honoured to capture your and tell your personal love story." Amanda is a valued member of our VENDOR GUIDE and you can see more of her portfolio here.