We have a beauty of a wedding today by ASHLEY COX PHOTOGRAPHY from the stunning BOONE HALL PLANTATION in Charleston. Gorgeous bride Lauren had always dreamt of having her wedding at this venue since moving to the area. Known for its "Avenue of Oaks," - a nearly mile-long path lined with oak trees planted in 1743 - it's a romantic location that offers an abundance of southern charm. She tells us, "It's such a romantic notion that they have bore witness to countless marriages, and they will remain long after James and I are gone. I didn't have any decorative elements at our ceremony site; I didn't want to take away from the landscape of the trees, with the Spanish moss hanging from the branches.

Our reception was at the Cotton Dock, which is a barn style building with a dock overlooking a river. I incorporated the rustic elements of the building, bringing in farm tables and burlap benches for seating, but my main objective was for every element to be timeless. I tried to stay away from anything too trendy, using tapered crystal candlesticks, a neutral palette, antique chairs and settee, a vintage trunk as a coffee table, and a less is more approach to florals."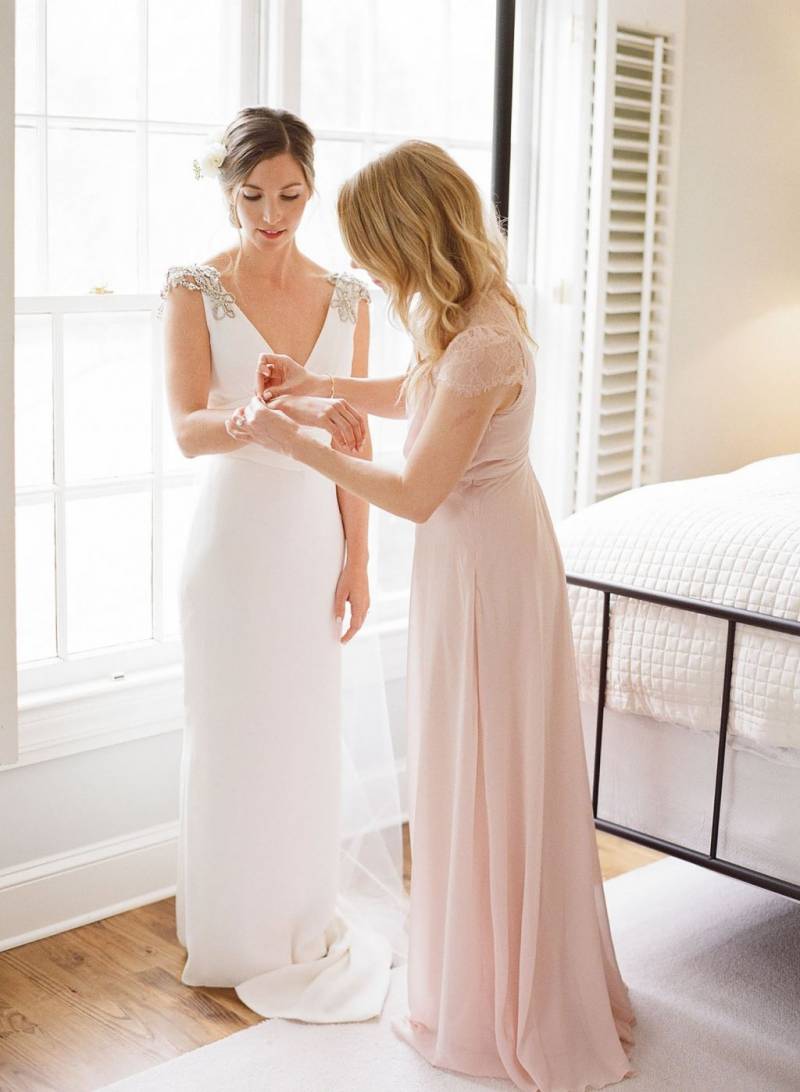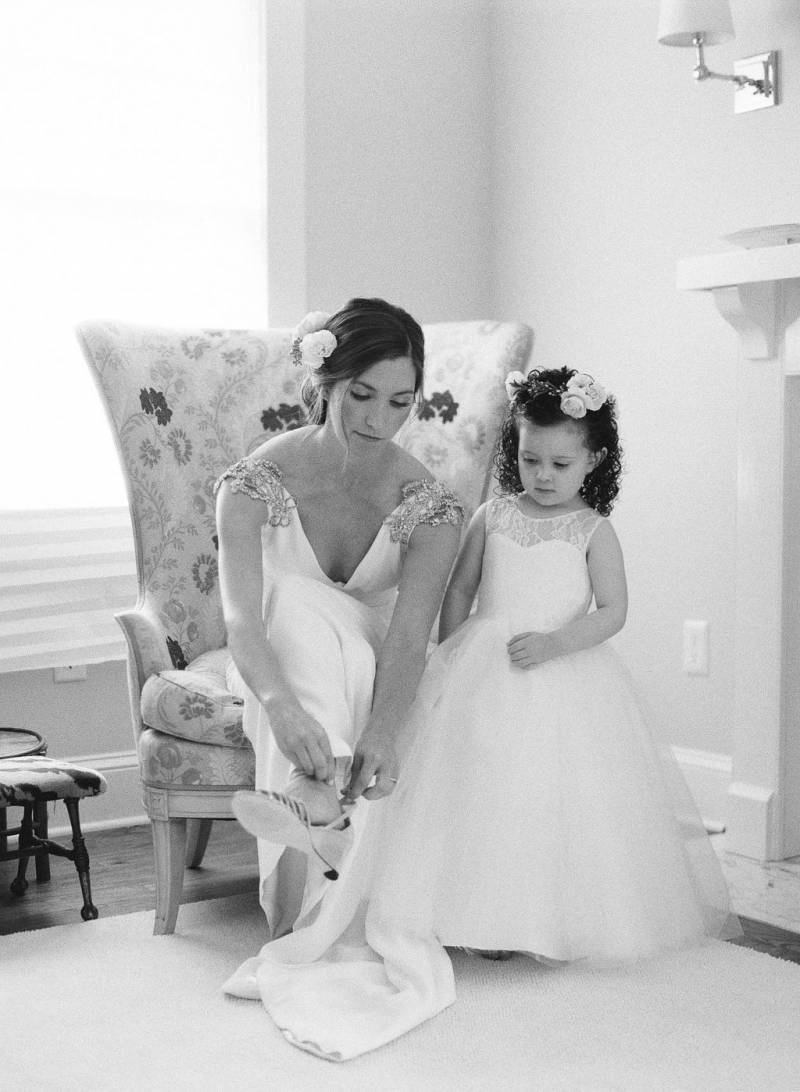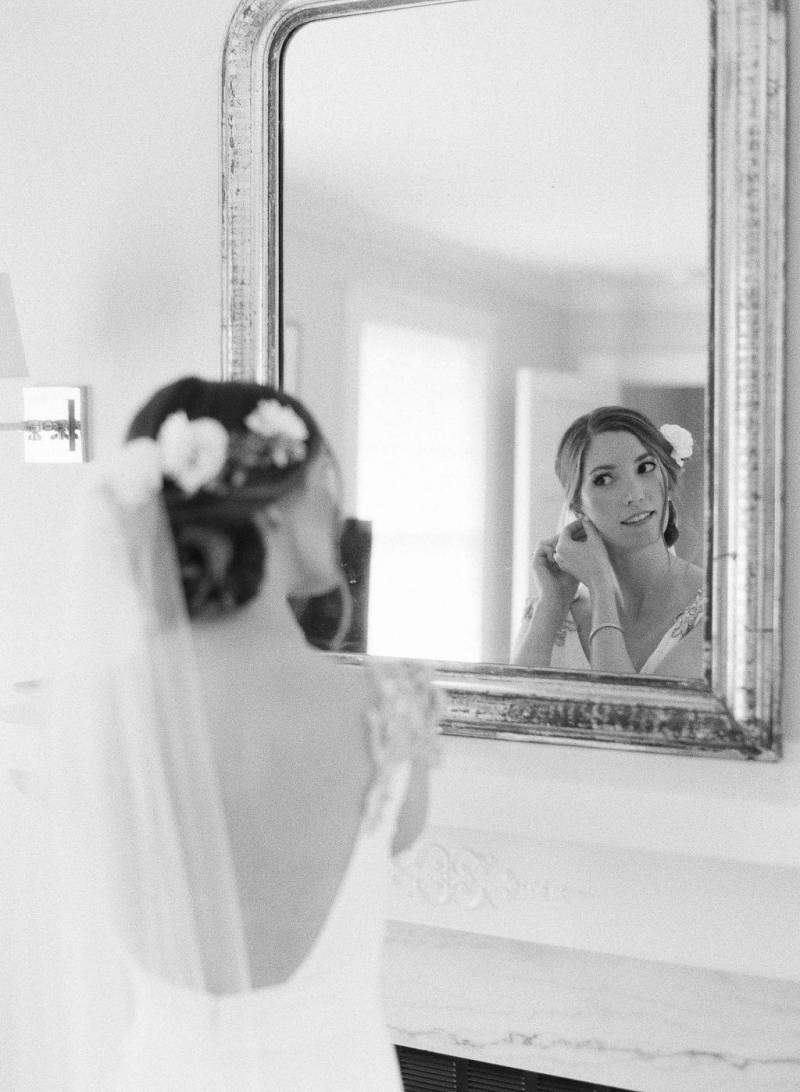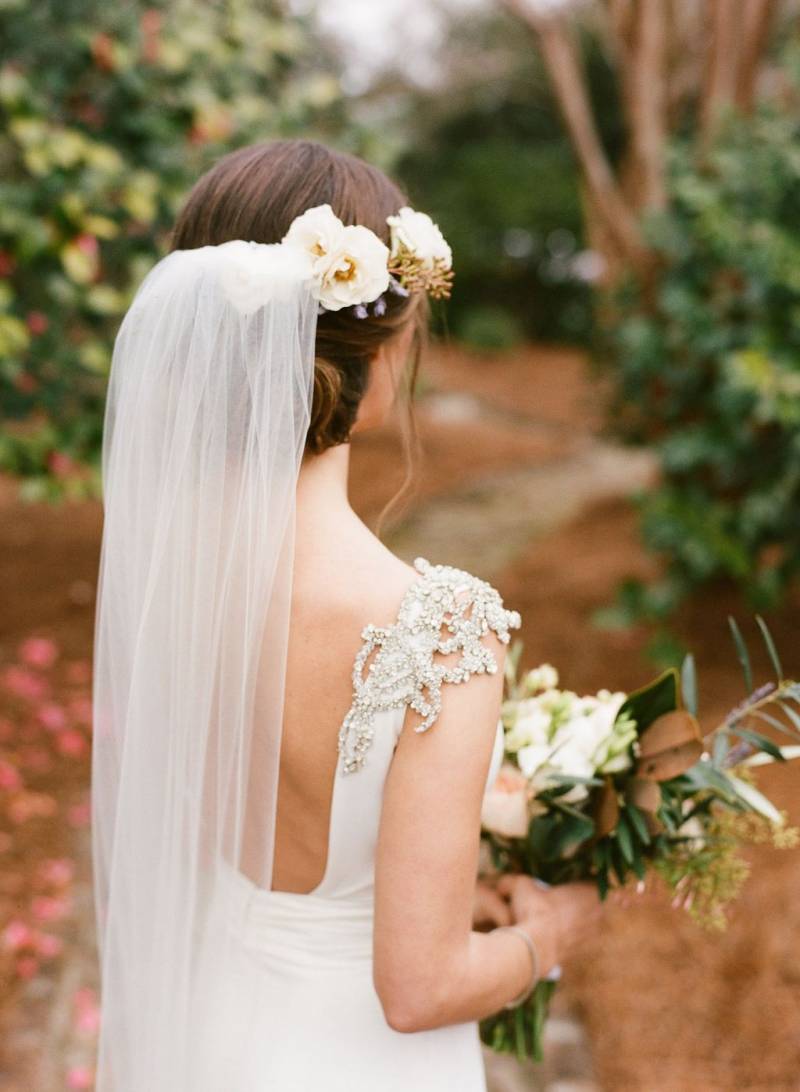 HOW DID YOU MEET? We met in 2013 at the hospital where I work as a nurse and James is a resident physician. James was only to be rotating through that particular floor for a month, and while we both admit to having crushes on each other the entire month, neither of us really worked up the nerve to have a meaningful conversation. When his month was over I assumed I would never see him again, but he was invited to our floor's Christmas party a couple of weeks later. There we finally struck up that conversation, and have been together ever since.
TELL US ABOUT YOUR PROPOSAL: James had gone home to Tampa, Florida this past Thankgiving, and had planned to propose on Thanksgiving night, when I was flying in to visit him and his family. Sadly, my flight was delayed and then eventually cancelled! When I called to tell him I would have to take a flight first thing in the morning instead, he was so frustrated and upset, which is funny in retrospect because I was of course disappointed but had no idea what he had been planning, so I kept saying "I mean it's not THAT big of a deal! I'll be there tomorrow!" I think he was getting too anxious after having to wait, so he decided to propose as soon as he picked me up from the airport that afternoon. When we got to the roof of the parking garage, he knelt beside his truck and asked me to marry him. I was truly so surprised my first words were "Is this for real?!" His parents, brother, and sister were all hiding in separate cars taking video. The sun was shining and it was the most beautiful day, and we all went out for hotdogs afterwards. It was just the happiest, most down-to-earth moment, and I wouldn't trade his simple proposal on the roof of the airport garage for a fancy or elaborate proposal any day.
TELL US ABOUT FINDING YOUR WEDDING DRESS: I am still in disbelief to this day how easy it was to find my dress. I have been known since I was little to be very indecisive, and I was so worried I would never find a dress I was happy with. To make matters more complicated, we got engaged at Thanksgiving, and planned to get married less than four months later in March. All the bridal stores told me it would be nearly impossible to find a dress that quickly, and it would have to be off the rack since there wasn't enough time to order a dress and have it altered. I went with just my Mom to a local dress shop, and tried on about seven dresses, all of which I liked but didn't love. While I was doing one last walk around the store I saw my dress, and the girl assisting me said she didn't pull it for me to try on because it wasn't anything like the lace dresses I had said I wanted. They say when you know, you know, and that was definitely true from the moment I looked in the mirror. The Ibiza beaded cap sleeves were so unique and I had never seen another wedding dress like it. I can't believe I ended up buying my dress at the first (and only!) gown shop I went to, and I couldn't have loved it more. Such amazing luck.

DESCRIBE YOUR WEDDING FLOWERS: My bouquet contained Juliet garden roses, blush ranunculus, pink and blush peonies, fresh lavender, as well as seeded eucalyptus and magnolia leaves. I kept the reception florals simple, bringing in more of the ranunculus, garden roses and peonies in small bud vases, clustered together on tables, and tucked in corners throughout the reception. I also had my florist create strands of garland made from magnolia leaves, seeded and silver dollar eucalyptus, and accented with flowers, which was draped over the entrance to the reception, along the mantle of the fireplace, and down the farm tables. My favorite element of the florals was the partial flower crown I wore in my hair. It was absolutely stunning, and looked so pretty without being overwhelming.
MOST MEMORABLE MOMENT? The day started out grey, overcast, and drizzly. Our guests were troopers, they endured the outdoor ceremony even though it was barely 50 degrees out! We were out taking photographs after the ceremony, and Ashley, our photographer asked us to dance and for James to twirl me. Right then the sun came out, and it was absolutely magical. We were able to take a bunch of portraits during the five minutes of sunshine, and it truly felt like a gift!
ANY OTHER DETAILS THAT HELP TELL THE STORY OF YOUR DAY? We did our best to make everything as simple as possible. Our bridal party reflected that, as we elected to have one best man, James's older brother Lucian, and my best friend Amber as my Matron of Honor. Every couple is different, but for us, it couldn't have been more perfect, and was much easier to plan that way! James inherited his late grandfather's wedding ring, which was unique in that he had had it inscribed on the outside of the ring rather than on the inside, "till death do us part." As a nod to the ring, we chose to say the traditional vows at our ceremony ending with "till death do us part."

IS THERE ANYTHING YOU WOULD CHANGE OR DO DIFFERENTLY? Not worry so much! I know that's easy to say after the fact, but it's my only regret. I spent a lot of time worrying about things out of my control, like the weather, only to find out the moody grey skies made for the best conditions for photography!
FAVOURITE DETAIL OF THE DAY: Our exit! We had a sparkler send-off on the dock, and my brother arranged for a friend of his to be waiting there in his boat. We climbed aboard and immediately popped a bottle of champagne while waving goodbye to the cheering crowd on the dock. My husband grew up on the water and in boats so I did everything I could to make this happen for him. We weren't sure the weather and tide would be right for it to work, and I had to convince our coordinator to allow it since the venue does not encourage boat exits, but it worked out perfectly and being wrapped in blankets, drinking champagne while cruising to our hotel downtown will be burned in my memory forever!
WHAT ADVICE WOULD YOU GIVE OUT TO A COUPLE PLANNING THEIR WEDDING? Hire a videographer! Do whatever you have to in order to make room in your budget for one. The day goes by so fast, it's going to feel like you blinked and it was over. Having a video lets you relive the day again and again, and I know my husband and I will treasure it the rest of our lives. And lastly, try to enjoy the planning process, and stay mindful of the big picture. Planning and preparing for a wedding is incredibly stressful, and I am so thankful my husband was there to keep reminding me of the real purpose of the wedding, to make a commitment to each other before God, our family and friends. The rest is just details.