In our opinion you just can't go wrong with a classic elegant style like in this beautiful wedding by Charleston wedding photographers THE HAPPY BLOOM. Held at the stunning LOWNDES GROVE the reception style was in a neutral palette with gorgeous white florals and greenery by JUNIPER & JASMINE DESIGNS and an abundance of crystal chandeliers, draping, and accents of gold and pops of light blue.
Working with planner PURE LUXE BRIDE, Mary Catherine & Taylor wanted to have a destination wedding at a central East Coast location between their families. The bride tells us, "My family lives in Atlanta and South Alabama, while Taylor's family is in the greater Washington D.C. area and New York. We chose Charleston because it is very similar to our current home in New Orleans. With the beautiful oak trees, Cooper and Ashley Rivers, amazing food and southern charm, it was the perfect fit for us!"
HOW DID YOU MEET? Taylor and I were introduced by mutual friends at a party while doing undergrad at the University of Virginia. We became great friends. We were actually friends for a year before we started dating.
TELL US ABOUT YOUR PROPOSAL: Taylor proposed to me at Algiers Point in New Orleans Louisiana. Algiers Point is across the Mississippi River from the city, so we took the ferry over one Saturday. Taylor proposed to me on the bank of the river with a beautiful view of New Orleans and St. Louis Cathedral in the background. Even more to my surprise, our families and some close friends were hiding nearby waiting to celebrate with us! We spent the rest of the day celebrating and exploring the French Quarter.
TELL US ABOUT FINDING YOUR WEDDING DRESS: I have always loved the classic, southern style of ANNE BARGE dresses. I am fortunate that Anne Barge Bridal Atelier is located in my hometown of Atlanta. When I went dress shopping, I had a pretty good idea of what I wanted (or so I thought). We went to Anne Barge first, and there was a dress that was exactly what I had imagined wanting, and of course it was beautiful when I tried it on. I was sure it was the one, but then I tried on the dress that I ended up choosing. The one I chose was the only dress that made me emotional (and slightly tear up) when I looked at myself in the mirror. It invoked awe in all of the ladies that were there to help me "say yes" with its simple, yet stunning look. The bow on the back was also the perfect pop of fun and chic!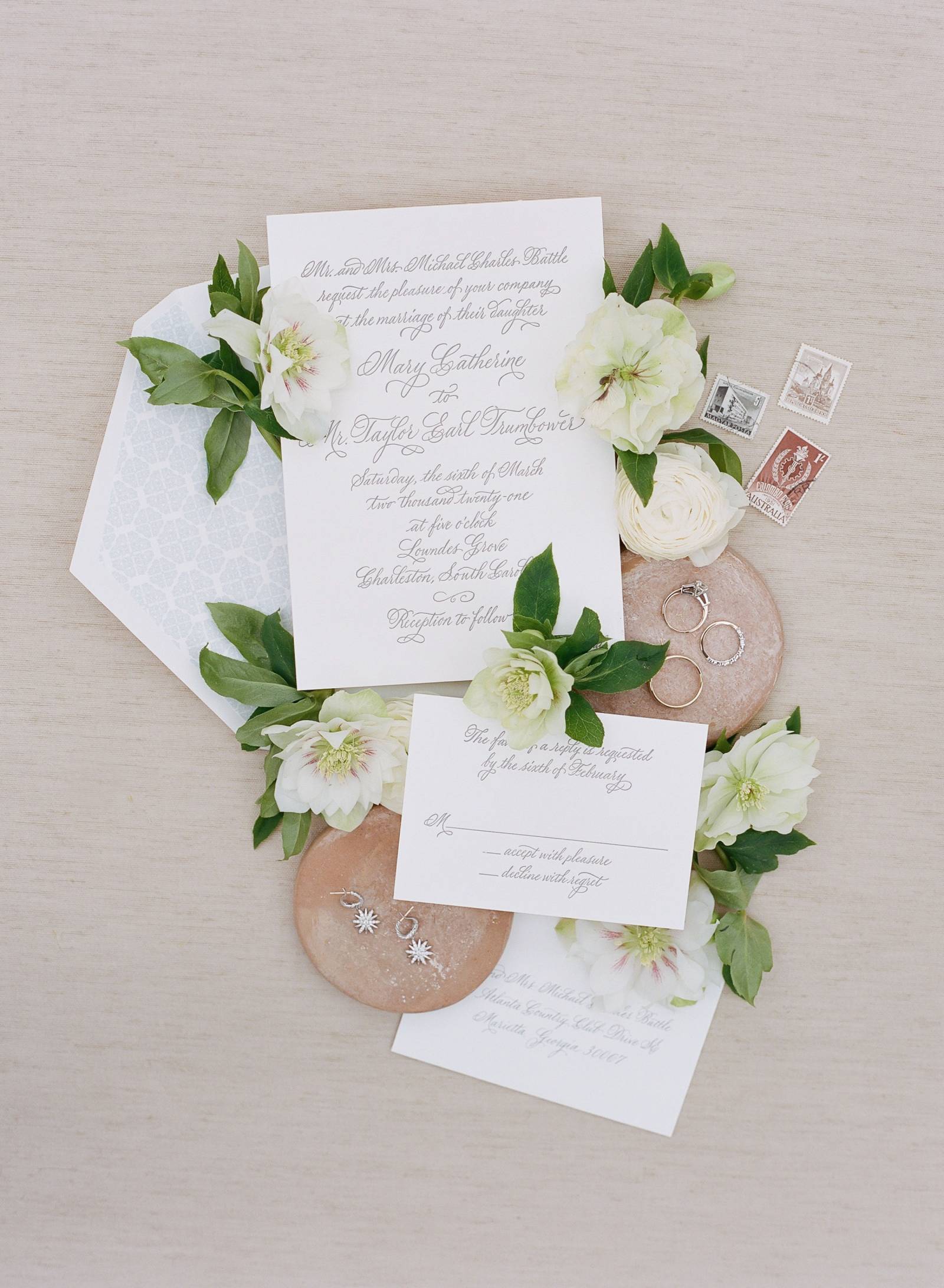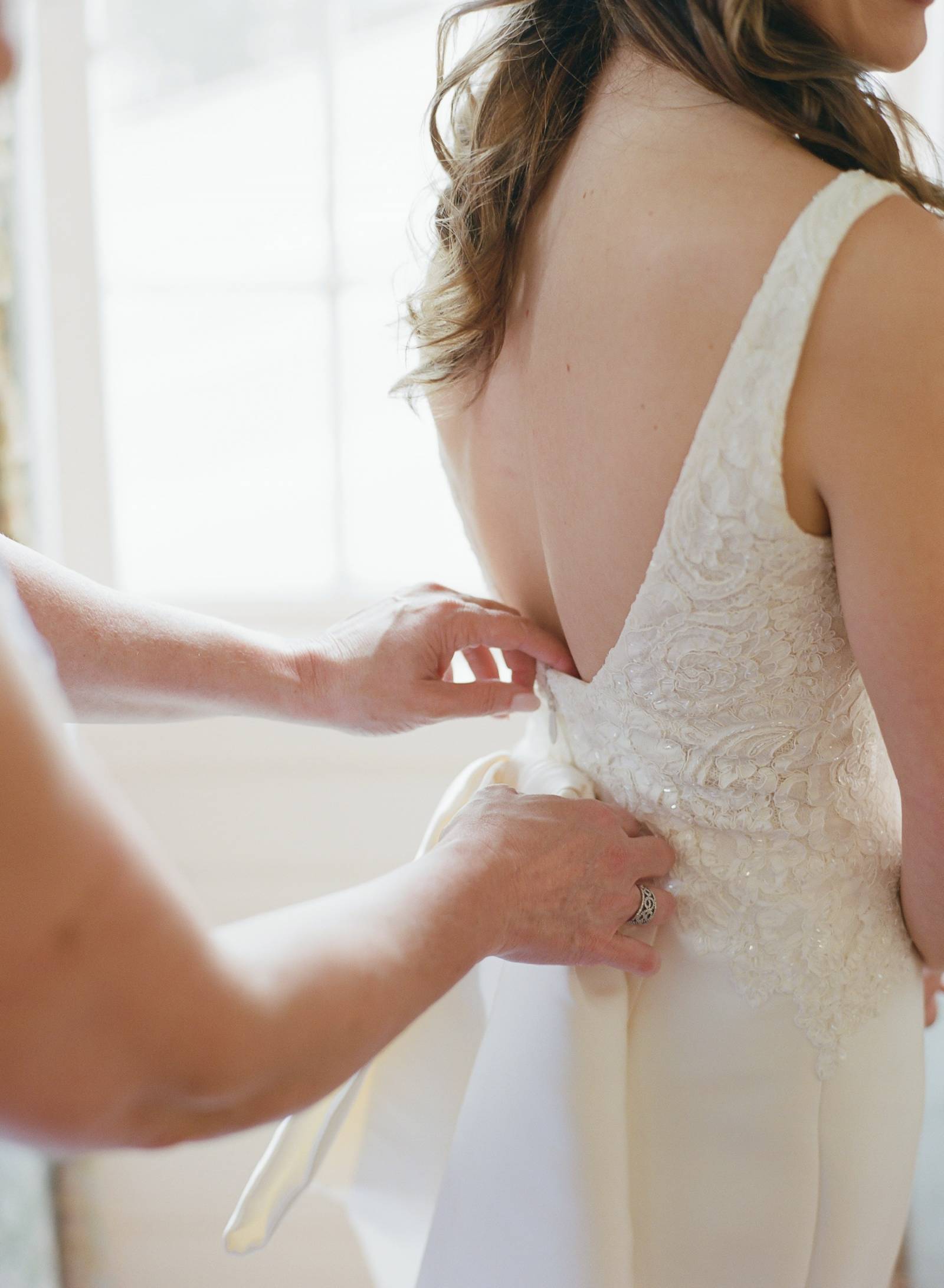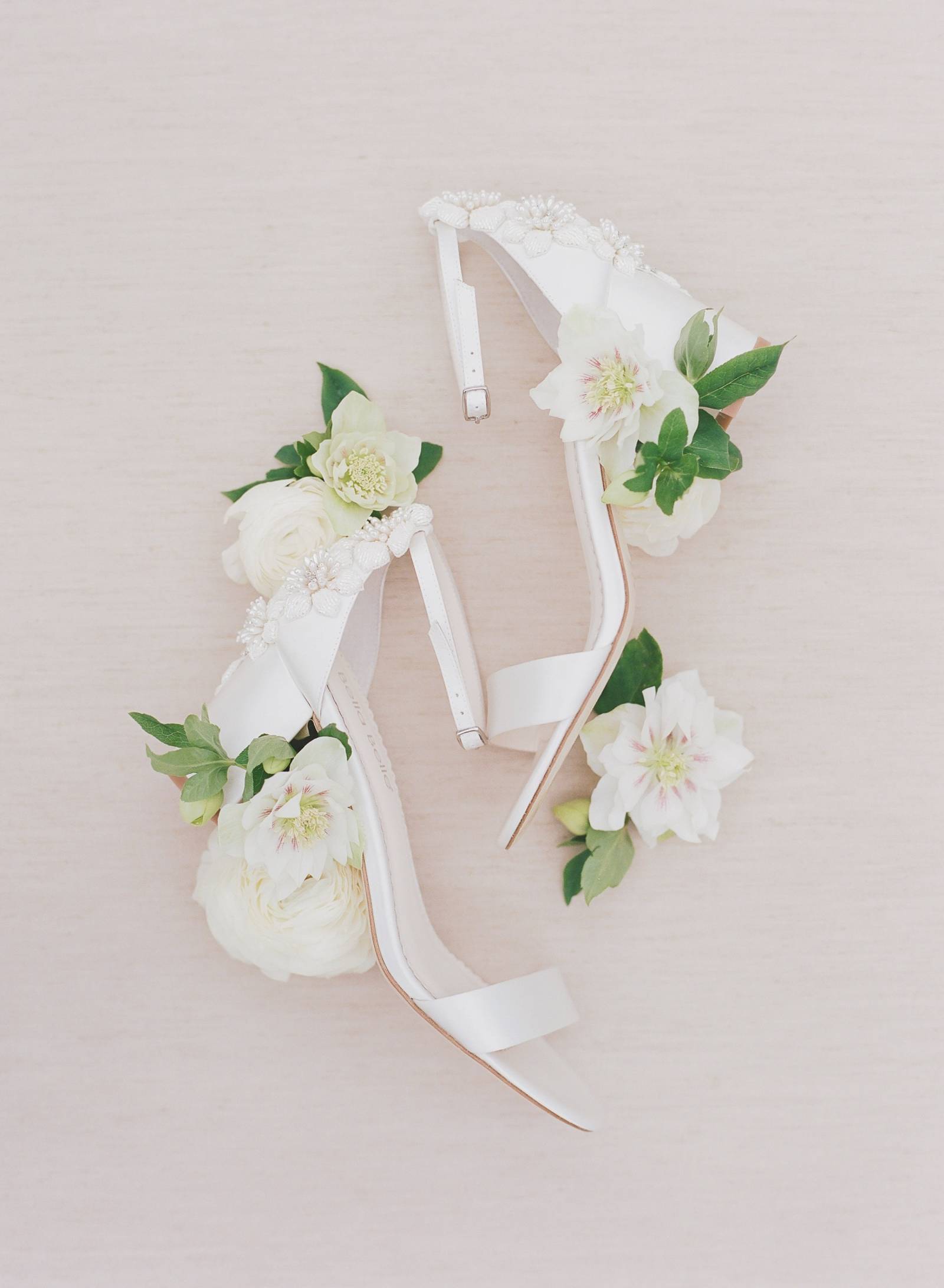 DESCRIBE YOUR WEDDING FLOWERS: We chose white flowers with greenery to create a classic, garden-like feel at the ceremony and reception. Florals included roses, ranunculus, and lily of the valley. I wanted to include some flowers in my bouquet with a yellow hue because that was my grandmother's favourite colour, and it was a way to honour her memory. We brought in pops of light blue with the bridesmaids dresses, lounge area and cake to make it fun!
WHAT ADVICE WOULD YOU GIVE OUT TO A COUPLE PLANNING THEIR WEDDING? This is easier said than done, but try not to stress! The best way to do that is to hire a great wedding planner! Francesca and Blake at Pure Luxe Bride took our vision and helped us create our dream wedding. They kept us on time and on budget throughout the planning process. They provided vendor recommendations and options for every tiny detail. This duo loves what they do, and I can't thank them enough! There may be a few things that don't go your way, but in the end it will be the best day of your life. Looking back, I wish I hadn't worried about things I couldn't control (i.e. the weather, the pandemic). It ended up being a beautiful evening with the perfect sunset. Know that your planners and vendors are all working so hard to make the day perfect and seamless for you, so just trust them and enjoy every minute of it!
MOST MEMORABLE MOMENT? The moment I remember most about our wedding day was standing on the balcony of the Lowndes Grove house after Taylor and I had our first look. The weather had been bad all morning and the sun came out just before this moment. I remember us both looking out onto the lawn where the ceremony was to take place in awe of how beautiful everything looked. It was the perfect quiet moment to ourselves before the craziness of the rest of the day.
WHAT ASPECT OF THE WEDDING WAS THE MOST IMPORTANT TO YOU BOTH? The most important thing to us was that all of our guests had a great time! We wanted to spend the evening celebrating with those closest to us. The beautiful setting at Lowndes Grove, amazing food from PPHG, and killer performance by Steel Toe Stiletto all created the most fun and special night we will never forget!
ANY OTHER DETAILS THAT HELP TELL THE STORY OF YOUR DAY? One unique and special moment we shared during our ceremony was the sand ceremony. We wanted to do something to symbolise the two of us coming together as one. We both chose a special container from each of our families - I chose a small glass pitcher that my grandmother left me and Taylor chose an old stein from his family back in Germany. During the ceremony, we poured the sand from each of our family containers into a central vessel to symbolise our two families joining together. This was a special moment Taylor and I were able to share away from the wedding party and crowd during our ceremony. We have the sand from our ceremony on display in our condo.
TELL US A LITTLE ABOUT YOUR HONEYMOON: When you have a destination wedding in a fun, beautiful city, why go anywhere else for your honeymoon? We stayed in Charleston for four days after our wedding. We took a historical tour from a local chef, spent a day on the water fishing, visited several breweries and wine bars, and ate some of the best food the low country has to offer. We want to plan a bigger honeymoon for our one-year anniversary once travel restrictions have eased. That being said, we truly enjoyed our time in Charleston after the wedding because it was so relaxing!
WHAT'S NEXT FOR YOU TWO? We currently live in New Orleans, Louisiana. I am a practicing physical therapist and just took a Clinic Director position with my company. Taylor graduates from Tulane Law School in May. He'll take the Louisiana Bar this summer and recently accepted a job working with Maritime Insurance. We have a weenie dog named Winkie and want to buy a house and have kids once we are settled in our careers!
A big thank you to Charleston wedding photographers THE HAPPY BLOOM for sharing this beautiful wedding with us. Husband and wife team Justin & Amanda specialise in fine art wedding photography with a Southern heartbeat. All of the soft dreamy film goodness - with a small Charleston twist. They focus on images that put emotion and happiness at the forefront. "We want to capture you in your happiest, natural moments from beginning to end! Our goal is to photograph a wedding with authentic intention and genuine emotion." You can see more of their work in their portfolio here.