Combining a classic wedding style with a modern touch, Katelyn and Freddy said 'I do' at the beautiful AIRLIE GARDENS - a countryside retreat in Warrenton, Northern Virginia. Captured by LIEB PHOTOGRAPHIC it was filled with gorgeous florals by Virginia wedding florist VINTAGE FLORAL DESIGN.
WHY DID YOU CHOOSE THIS LOCATION? St. John's Catholic Church and Airlie were the same two venues that my parents got married at 30 years ago! We toured other places before choosing but Airlie was a perfect place – in addition to being an overall gorgeous venue, it also had everything else we were looking for – including lodging for all of our guests to stay on the property with us!
HOW DID YOU MEET? Freddy and I met during our first week of college. Two of our hallmates organised a lunch to go out with a few other new college friends during orientation, and we ended up sitting next to each other and the conversation never ended!
TELL US ABOUT YOUR PROPOSAL: Freddy planned the perfect surprise proposal. We were spending the week in one of our favourite places – Outer Banks, NC. He planned a sunset picnic with happy hour along the water on the sound side park. He told me we could also take some pictures with his new camera and tripod at sunset. We biked to the park and had a nice casual picnic with some wine and cheese. It started to drizzle just before sunset, but it cleared up quickly, leaving a beautiful sunset (and with no one else around except us on the peninsula after the rain cleared). Freddy set up his tripod for pictures and set it up on a continuous automatic timer – taking a photo a second. We posed for pictures with the sunset and then after a couple of pictures, he got down on one knee and asked me to marry him!
TELL US ABOUT FINDING YOUR WEDDING DRESS/ATTIRE: I went into the dress shopping process without much of an idea of what I was specifically looking for. I figured the best way would be to go try a couple shops and see what I liked when I tried on the dresses. After two bridal stores, I did not find any dresses that I felt like were "the one", but I had formed a more specific vision of what I was looking for. I had already planned a trip to visit my sister in NYC later that spring and just before traveling there, she called to tell me she got us a last-minute appointment at Kleinfeld! When we went to the appointment, I told the stylist exactly what I had in mind. She found the perfect dress in under 3 tries, it was a success!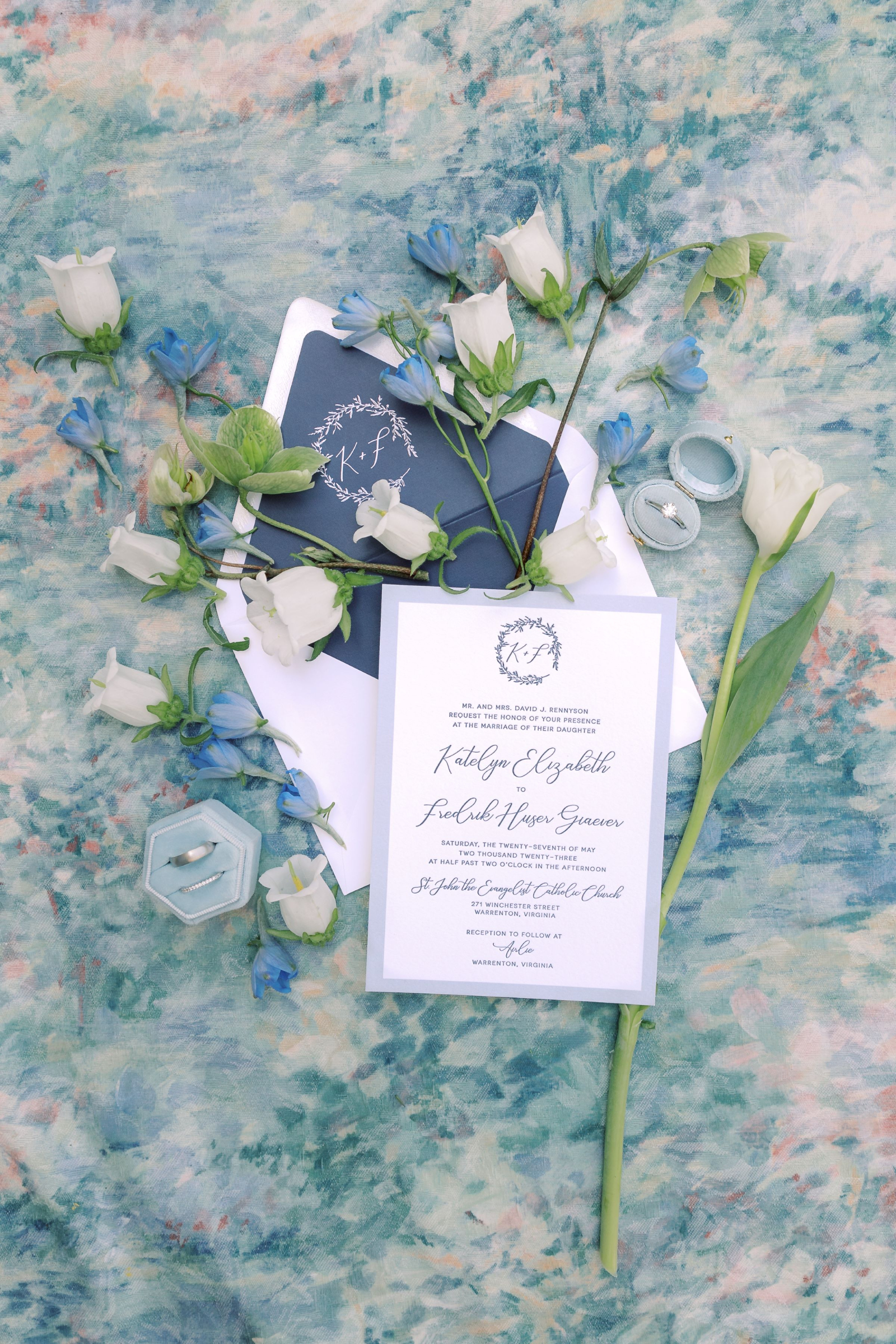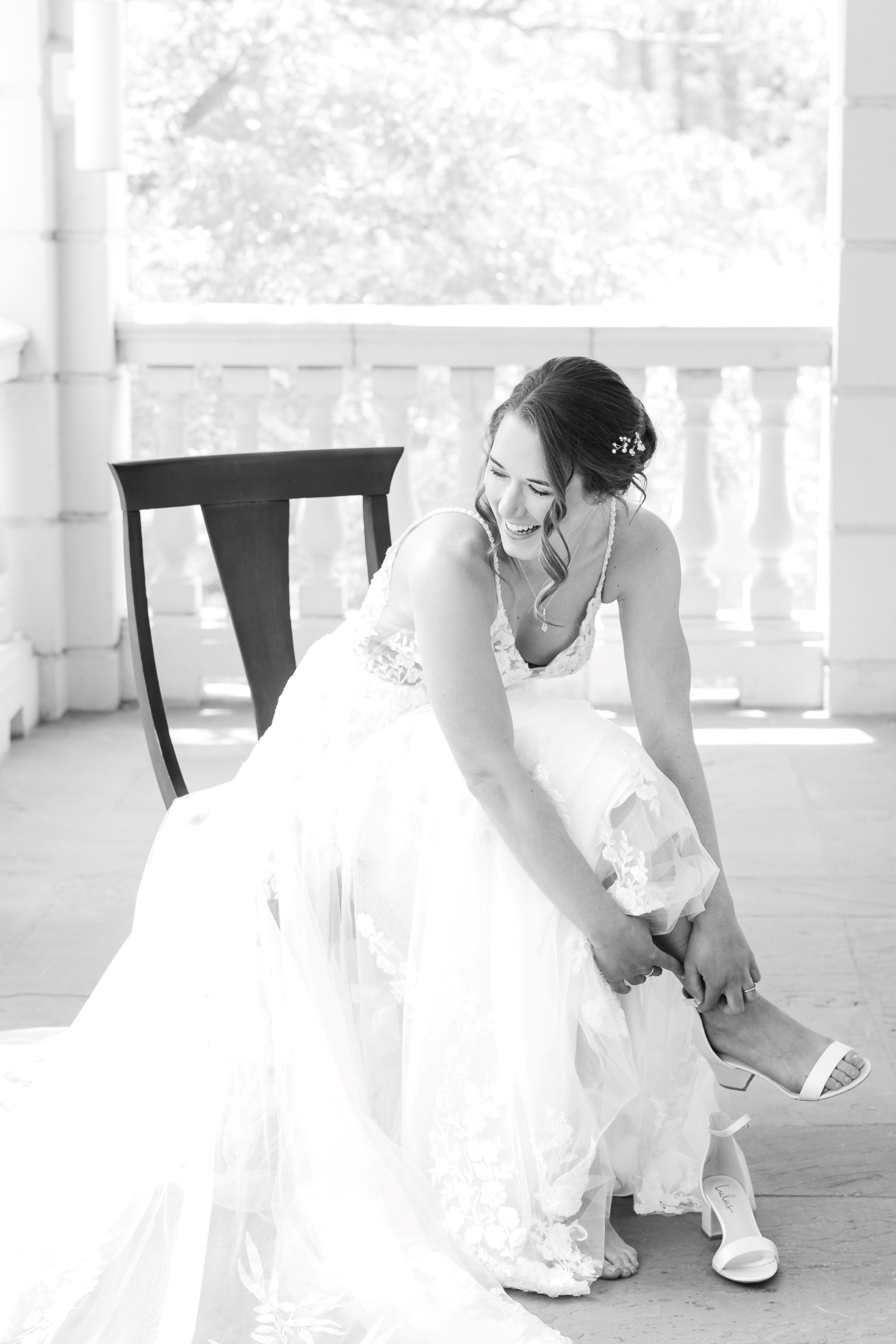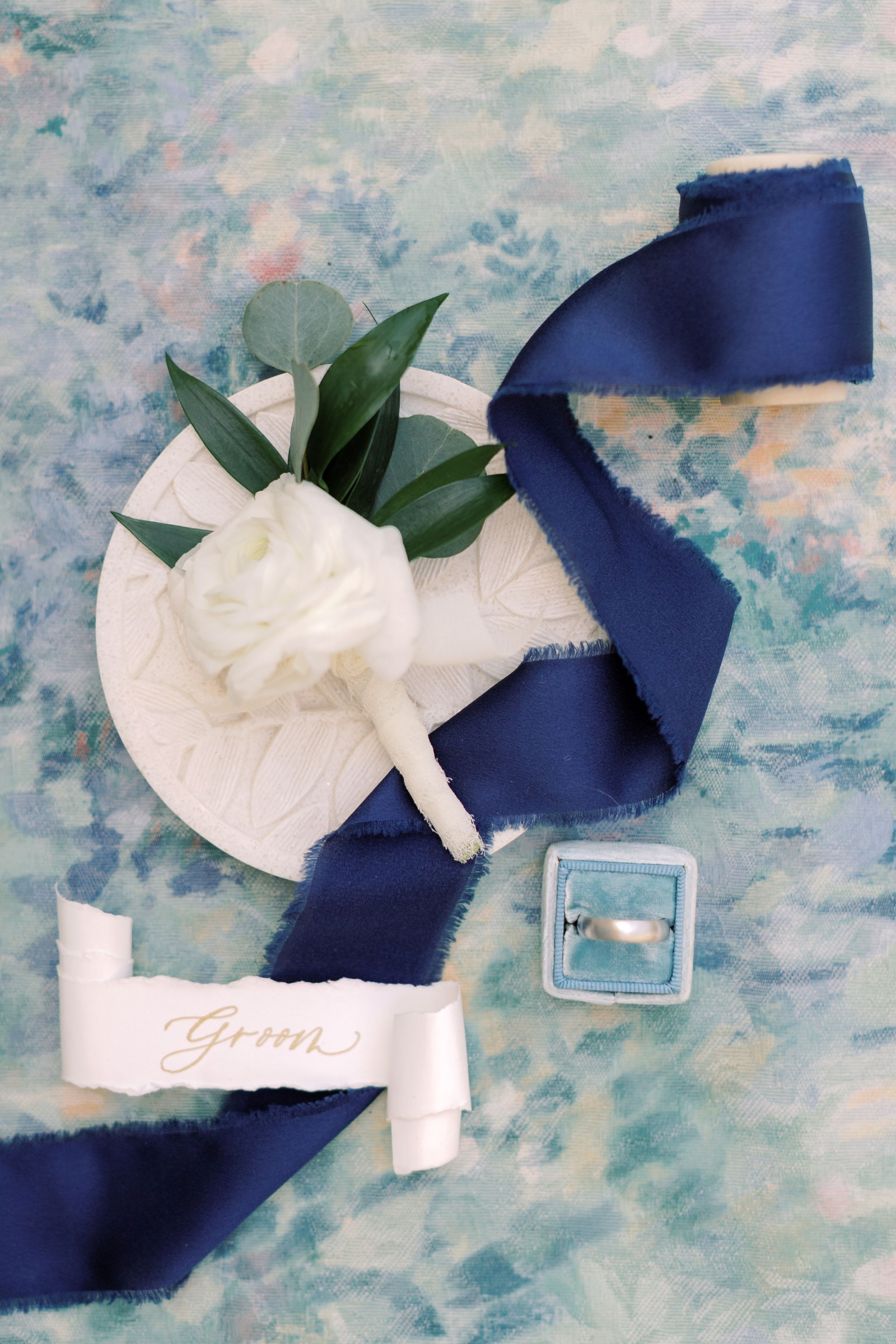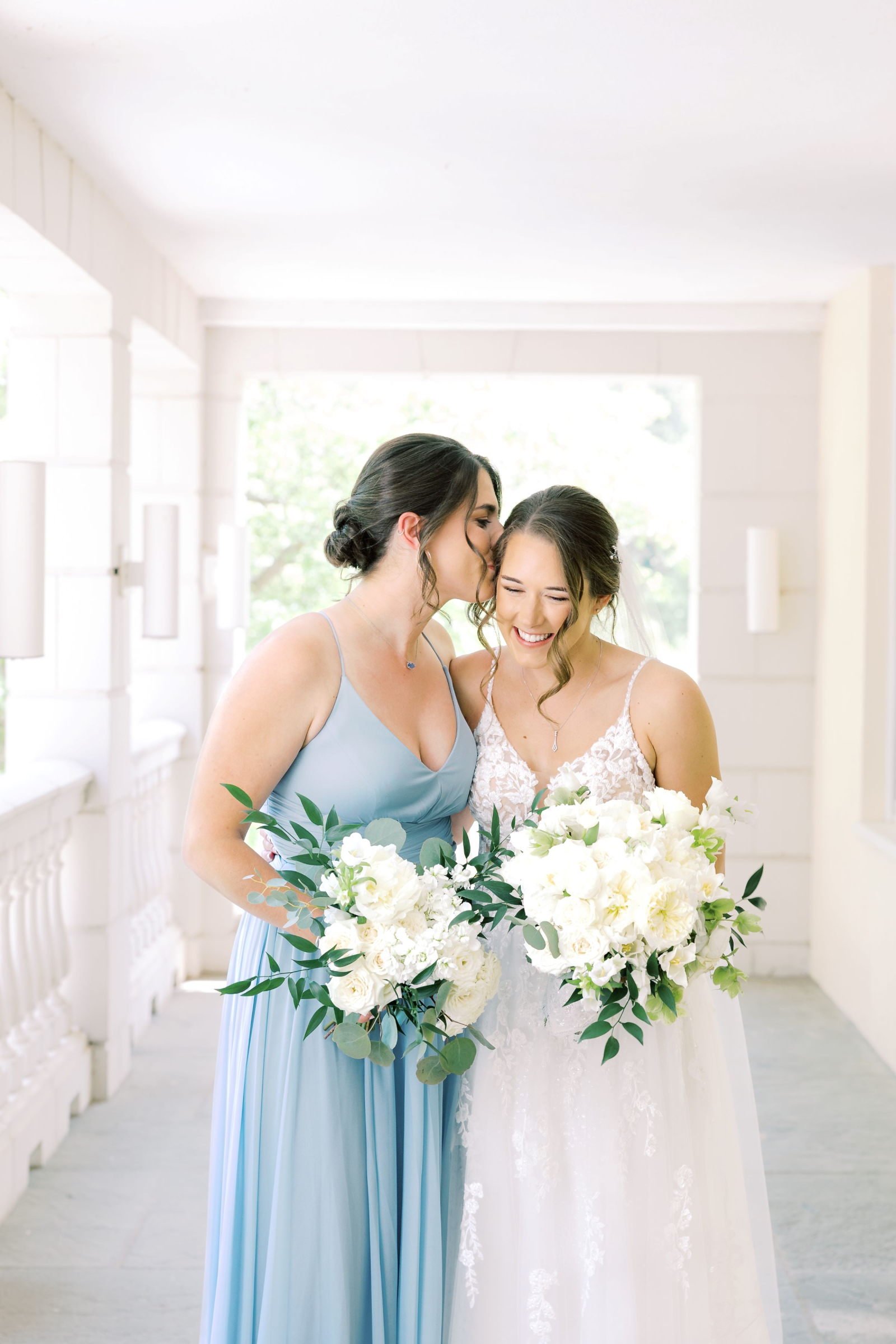 DID YOU HAVE ANY DIY ELEMENTS? Yes! My favourite DIY element was our seating chart. We had an old mirror in my parent's storage room that was beautiful and I wanted to repurpose it for the wedding. We spray-painted the dark wood frame with silver paint and then worked with Allison, who did our stationery, to make seating chart cards that would be held up with wax seals on the mirror. We also placed an acrylic sticker at the top of the mirror with a line from Taylor Swift's song, Lover: "And at every table I'll save you a seat". Ella topped it off with some beautiful florals.
DESCRIBE YOUR WEDDING FLOWERS: To match the overall wedding style and the venue, I wanted a very classic look for the florals as well. I think white florals with greenery are gorgeous. Freddy and I also love the colour blue and I love hydrangeas, so this was a special request for our reception floral design. Our florist, Ella (Vintage Floral Design) took these general ideas and ran with them – to create an absolutely gorgeous floral design for our day!
FAVOURITE DETAIL OF THE DAY: I loved having a 90-minute cocktail hour which allowed us to both do pictures and get to the cocktail hour to say hi to guests! We also had a polaroid guest book at cocktails which was fun to participate in as well.
WHAT ADVICE WOULD YOU GIVE OUT TO A COUPLE PLANNING THEIR WEDDING? It can get stressful but enjoy it as much as possible! It all turns out beautiful and the little details that you think might make a huge difference, in reality, may never be noticed by your guests.
MOST MEMORABLE MOMENT? It is tough to just pick one moment. Dancing with friends and family was so fun, and at the end of the night, our friends picked Freddy and I up above the dance floor and crowd-surfed the two of us which was definitely a memorable moment!
WHAT ASPECT OF THE WEDDING WAS THE MOST IMPORTANT TO YOU BOTH? The most important part of the wedding for us was just being surrounded by our closest family and friends and getting to share this special day with everyone.
ANY OTHER DETAILS THAT HELP TELL THE STORY OF YOUR DAY? As I mentioned, having our loved ones all there with us to celebrate was something that was really important to us. Something that made the whole weekend extra special is that our entire extended family (including family from out of the country) and friends were able to stay in the rooms on Airlie's property. And, in addition to having our reception on the property, we also had our Friday night rehearsal dinner and Sunday brunch at Airlie! Any time we were walking around the property we always ran into a family member or a friend which allowed us to see everyone who was there to celebrate with us even more! All of these spaces at Airlie where we hosted our events were absolutely gorgeous and with the luck of some amazing weather, we were able to have the tent walls rolled up for the rehearsal, the pavilion sliding doors open for our reception, and we enjoyed some mimosas out on the terrace Sunday morning!
TELL US A LITTLE ABOUT YOUR HONEYMOON: We love adventure so we were seeking a trip that would give us an adventure along with some relaxation. We went on a safari in Kenya paired with a beach honeymoon in the Seychelles, and it was absolutely amazing. The safari was the most unique adventure either of us had ever been on. We saw the animals up close and enjoyed exploring every day of the safari. Ending this with some relaxation in the Seychelles was the perfect finalé for a fairytale couple of weeks!
IS THERE ANYTHING YOU WOULD CHANGE OR DO DIFFERENTLY? Everything was perfect. I only wish there could have been more time for dancing, because – who really wants the party to ever end?!