Wanting a minimalist vibe for their wedding, Demetra and Gabriel chose neutrals and greens for their colour palette to complement the natural beauty, greenery, and ocean views of Playa del Carmen. Having originally visited THE FIVES BEACH RESORT on their first ever vacation as a couple it was a fitting nod to their history to officially tie the knot at the same spot 11 years later. Houston wedding photographer MARNI WISHART was on hand to capture their beautiful celebration.
HOW DID YOU MEET? We are Highschool sweethearts! We met during our sophomore year in algebra class. Gabe was the outgoing class clown, and I was the quiet one focused on acing the next test - the rest is history! We have been together over a decade and bought our first house together and have been spending the past year renovating it.
TELL US ABOUT YOUR PROPOSAL: On Christmas Eve Gabe gathered my family and I together for a drive through a local Christmas light show. Mid way through the show, Gabe pulled the car over and told everyone to hop out for a photo under the canopy of twinkly Christmas lights. I of course just thought we were going to take a quick group family photo. Before I knew it I was quickly going from smiling for the picture to seeing Gabe get down on one knee, proposing under the beautiful Christmas lights. It was perfect and I was completely surprised.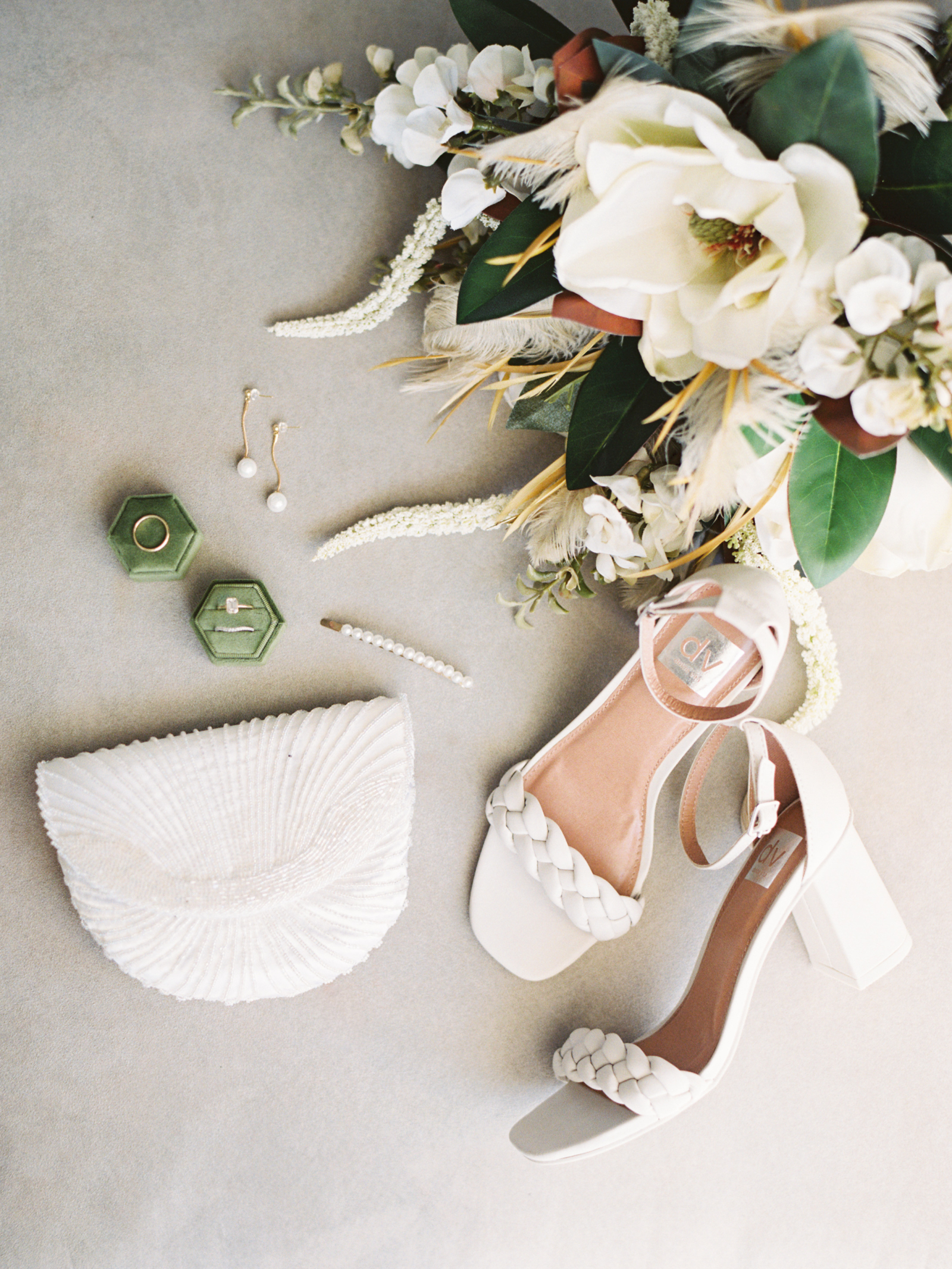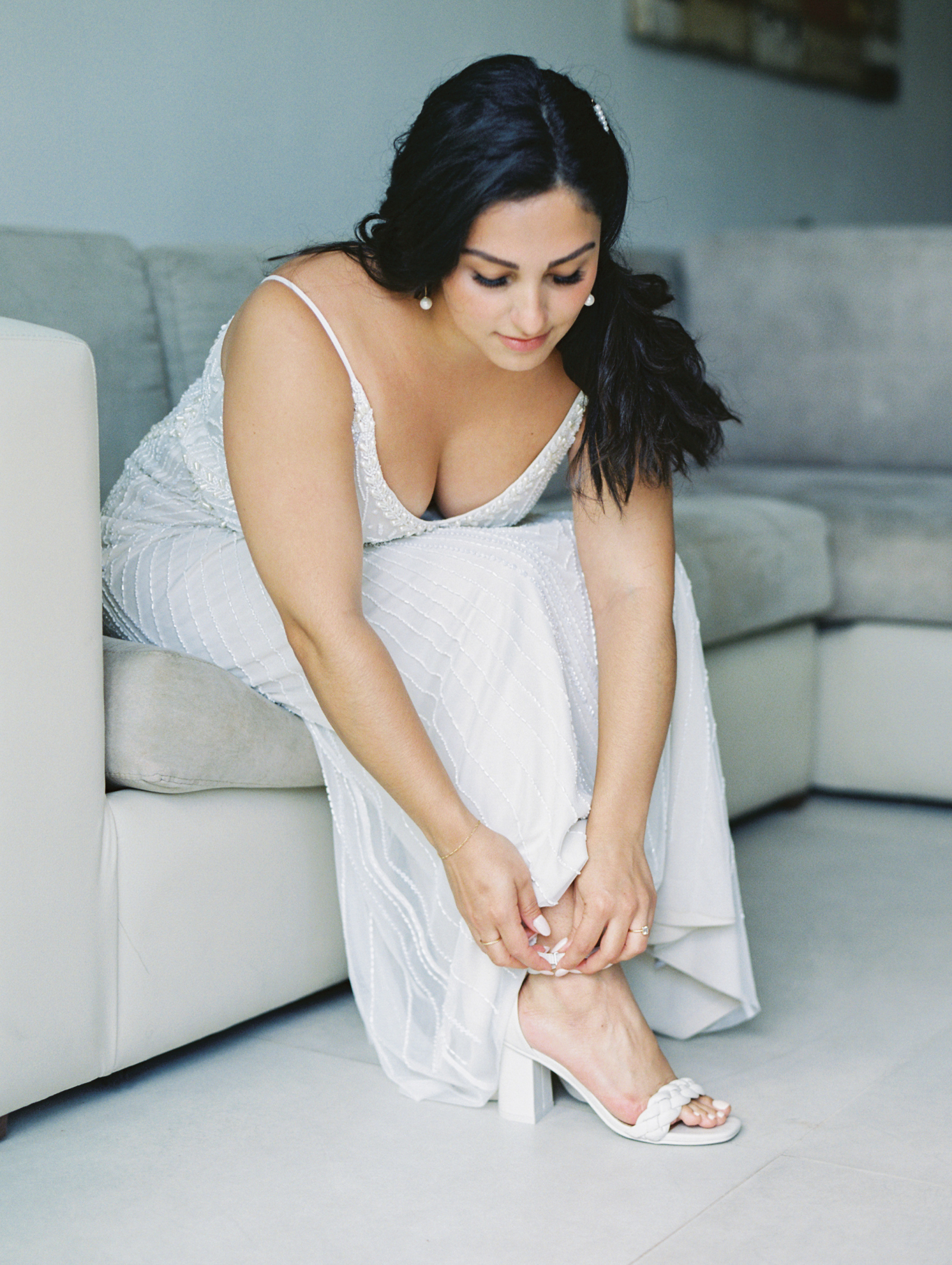 TELL US ABOUT FINDING YOUR WEDDING DRESS/ATTIRE: I initially went into the try on process looking a for a very simple and traditional gown. After countless try ons I ended up falling in love with exactly the opposite of what I thought I would wear on my wedding day. My dress ended up being beaded with plenty of detail, but ended up fitting the beach setting perfectly. A family friend of ours owns a custom tailor shop and helped Gabe choose every detail on his custom suit.
DID YOU HAVE ANY DIY ELEMENTS? My mom, mother-in-law, and bridesmaids helped assembled the koufeta bags that we gave out as favours. Each bag was complete with a personal tag describing the Greek tradition.
DESCRIBE YOUR WEDDING FLOWERS: An extended family member arranged the florals for us. We really wanted them to look native to the location as far as textures and colours. She perfectly made our silk flowers and vision come to life.

FAVOURITE DETAIL OF THE DAY: We brought a few Polaroid cameras that our guests used to capture moments throughout the night, and leave us a note in our custom wedding book. Whenever we want to relive that day we flip through those pages of Polaroids and read each memory our guests wrote about our favourite night.
MOST MEMORABLE MOMENT? Dancing the night away with our closest friends and family.
WHAT ASPECT OF THE WEDDING WAS THE MOST IMPORTANT TO YOU BOTH? The most important thing for us was that we truly wanted our guests to have a memorable experience in the beauty of Playa Del Carmen with us. All of our guests traveled out of the country to be by our side and we wanted to throw a party that they would never forget in a beautiful location.
TELL US A LITTLE ABOUT YOUR HONEYMOON: We decided to stay in Mexico for a week after the wedding with a handful of family and friends. We wanted to take some time to relax and decompress following the festivities. Our solo honeymoon is planned for July 2023 in Greece where we will make stops in Milos, Paros, and Ios.
IS THERE ANYTHING YOU WOULD CHANGE OR DO DIFFERENTLY? Although planning an international wedding had its challenges, I can't say we would have changed anything, as everything ended up coming together perfectly in the end.
A big thank you to Houston wedding photographer MARNI WISHART for sharing this stunning wedding shoot with us. A deep appreciation for the great outdoors is fundamental to who Marni is and this together with family and art, are the influences she brings to her photography. If you're a Texas bride looking for a Houston wedding photographer get in touch with Marni and see more of her work in her vendor listing here.