If getting married at an ancient Spanish Monastery was on your list, then look no further. This wedding of Chrystal & Anthony's by MATT RICE PHOTOGRAPHY will have you making that booking quick smart. Chrystal fell in love with the venue instantly telling us, "It was the most dreamy, gorgeous, place I had ever seen. I knew I would not need to over decorate, as the venue itself was so rich in textures, details, and architectural elements." The monastery was originally built in the 12th century in Spain were it was occupied by Cistercian monks for 700 years. William Randolph Hearst purchased the cloisters in 1925 where the structures were dismantled by hand and individually numbered and crated for specific reassembly. It is considered the oldest building in the western hemisphere and certainly made from some stunning wedding photos and a beautiful environment for a wedding.
Another plus was that the venue offered them beautiful spaces to hold both the ceremony and reception there - avoiding lengthy delays sitting in traffic between venues. "The monastery is also close to our home. I could not imagine trying to plan a destination wedding and not being able to pop over to my venue to gather inspiration, find answers to my questions, and still be able to put my personal touch on the project."
WHAT WAS THE INSPIRATION BEHIND YOUR WEDDING STYLE? Being that I fell in love, and chose my venue first, I let that dictate how I chose everything else. I used inspiration from the ancient architecture to guide me in every way: my dress, colour and font of my invitations, using a wax seal as detail element throughout all printed materials, using candles (tons and tons of candles), the colour of my linens, brass elements, and flower selections.
HOW DID YOU MEET? Tony and I met while we were both living in Raleigh, North Carolina. He was a DJ at a lounge where I was moonlighting. Neither one of us were looking to date anyone and it took a few months for either of us to really notice one another in any sort of romantic light. Interest only sparked once, late at night, when all the staff were sitting around talking and someone amongst the group asked me about the research I was doing with my day job. I quickly noticed Tony was genuinely interested in my work; asking very specific questions about my research project. I was impressed! Usually guys eyes glaze over once I really get going in detail. Not him. I also realised he was no "dumb DJ" and quite intelligent. Then, I noticed he started coming in more frequently, talking to me more, and staying late to help me, or walk me to my car. Soon thereafter, I came into the lounge during my free time (something I never did) hoping I might bump into him. It worked! He showed and made a beeline for me and sat beside me. He took out is phone and showed me pictures of his two beautiful children. I always swore I would never date anyone with kids, thinking there were many other (typically drama-free) fish in the sea (despite my mother saying "never say never" repeatedly). I really admired his direct approach regarding this and I found myself reconsidering my old hangups. I asked him out first to join me for a night out with friends. The rest is history, as they say.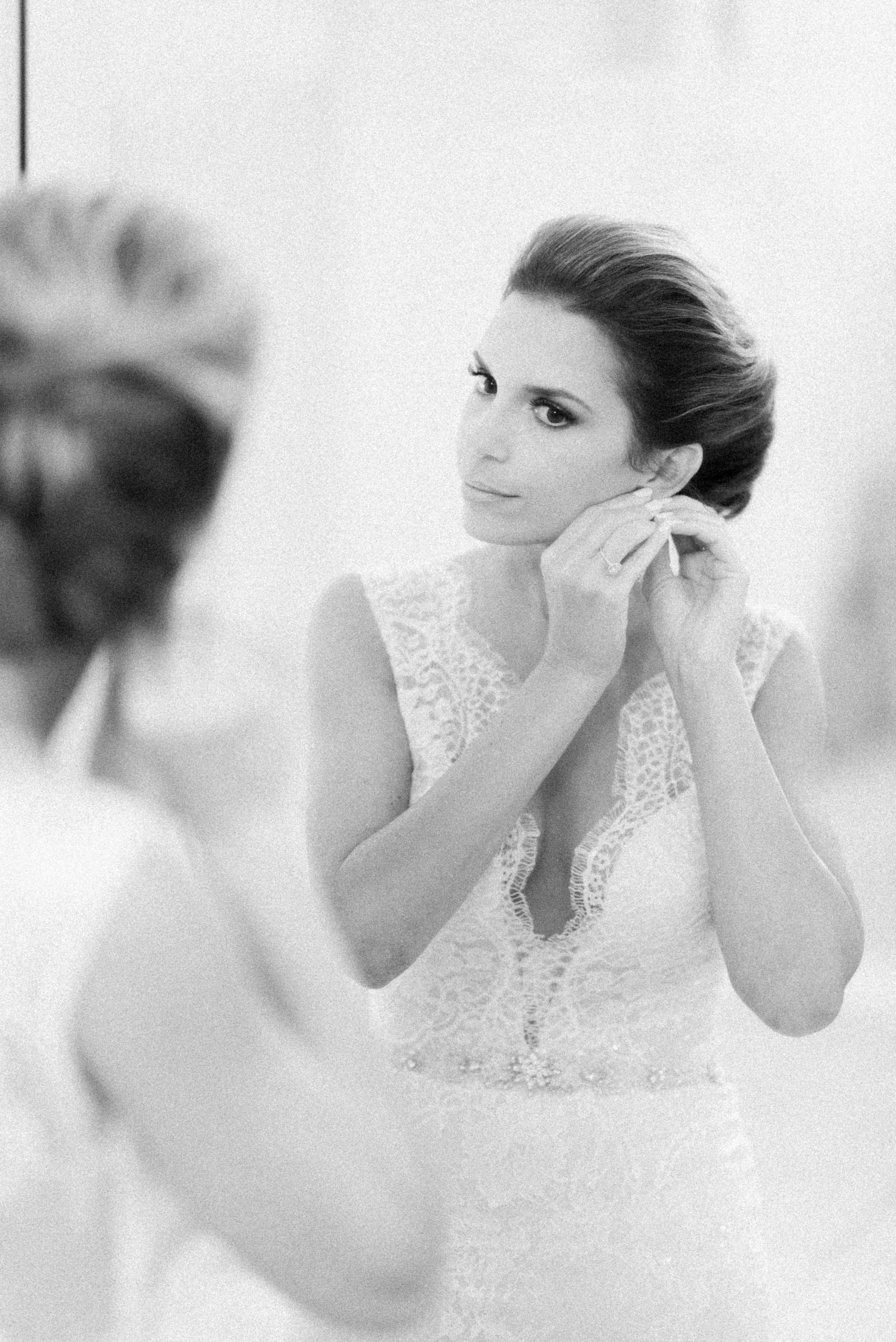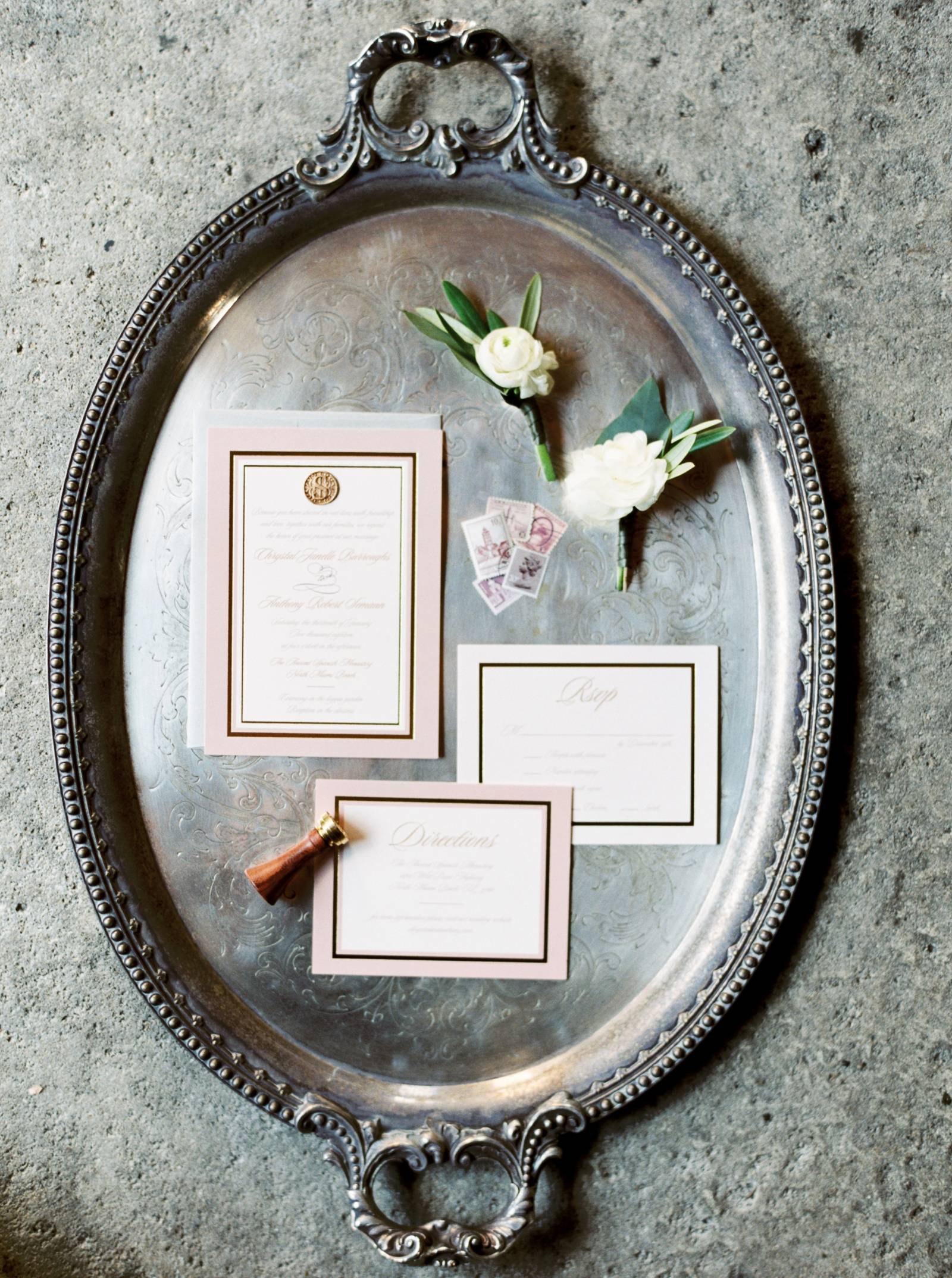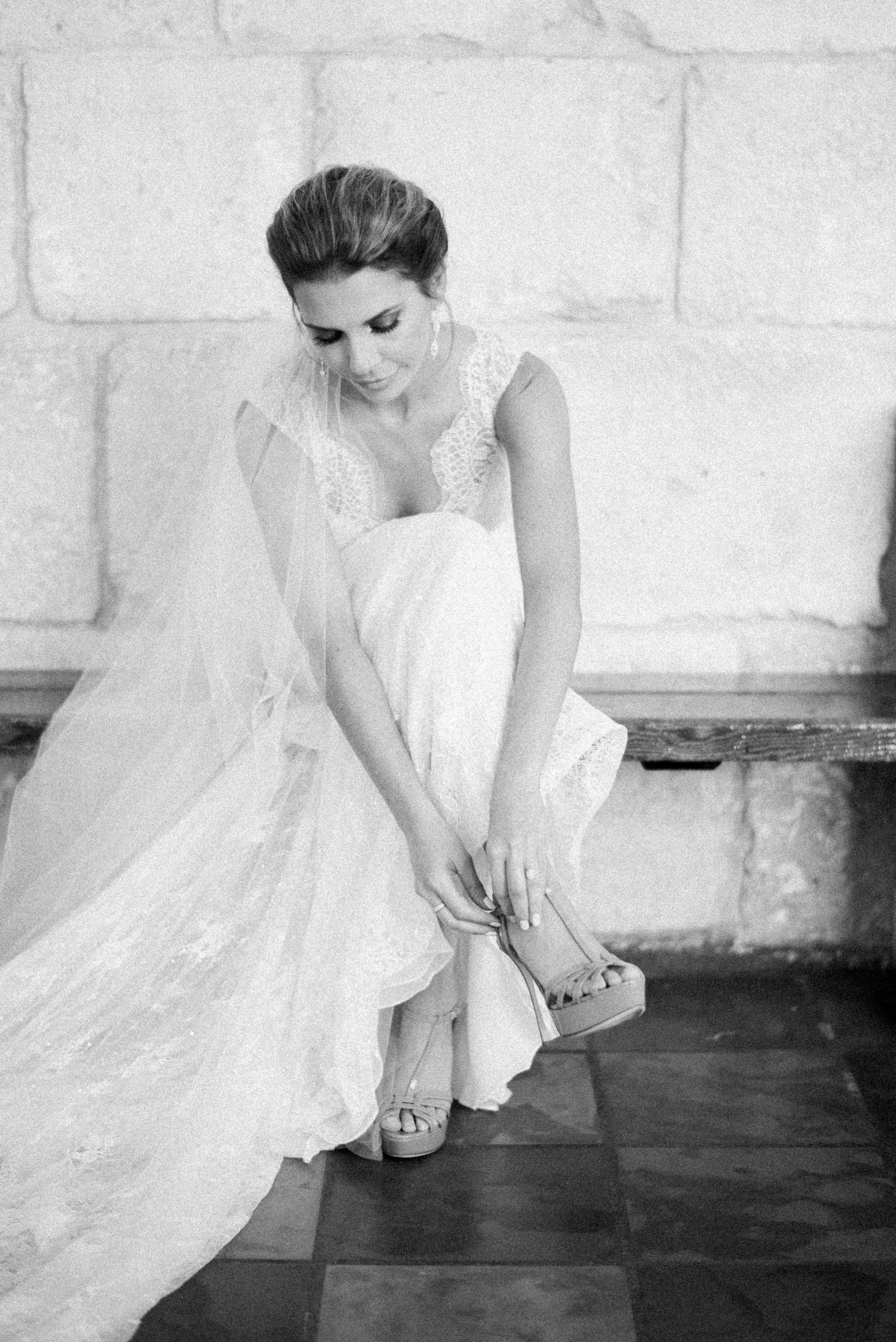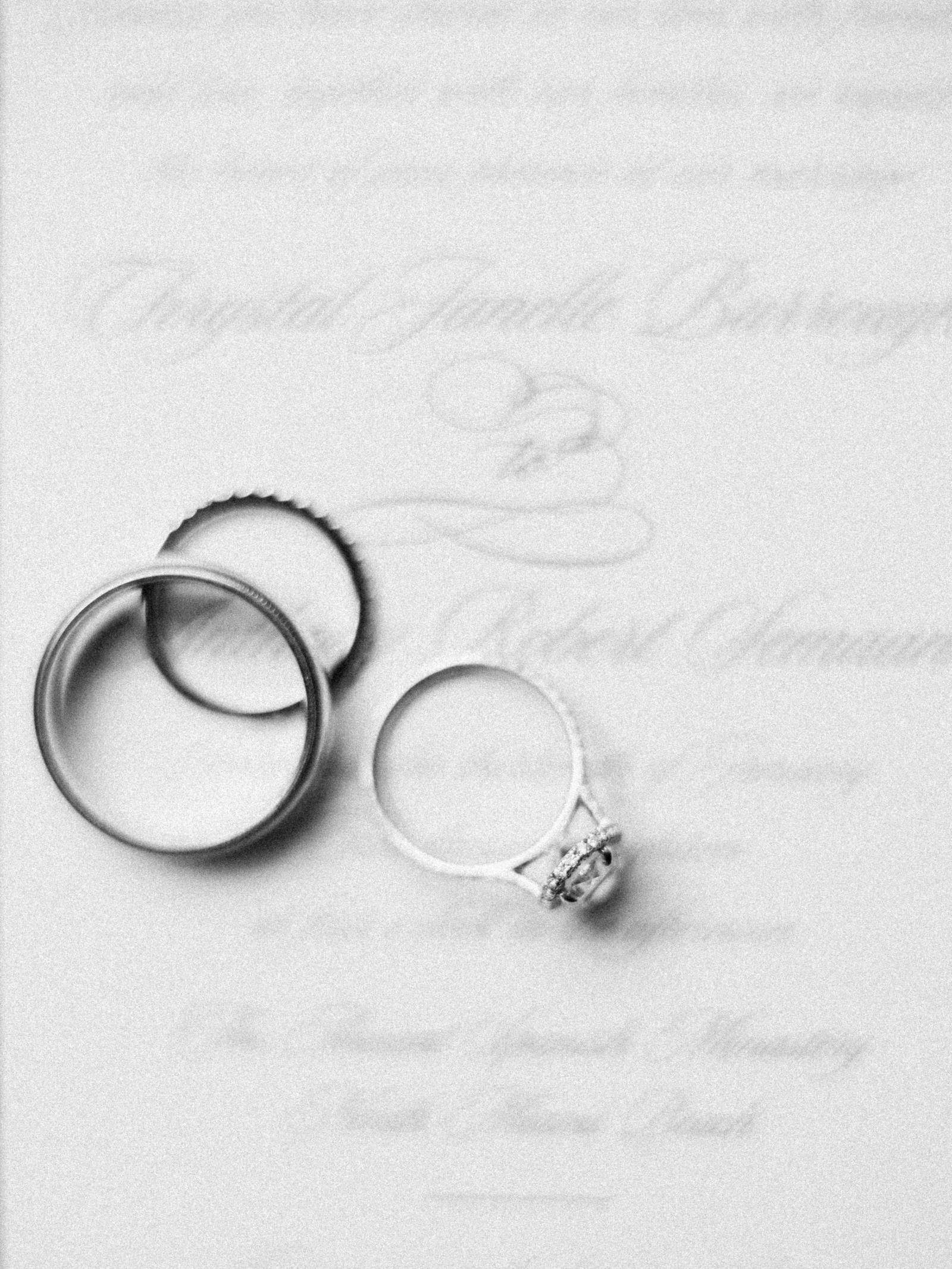 TELL US ABOUT YOUR PROPOSAL: Now that we moved to Miami as a family, it is super easy to pop over to the Bahamas for a quick vacay. He arranged for the kids to stay with his mom and we went to the Exumas for a week. He rented a house so close to the water, the waves lapped it at night, and a small boat to go exploring. The second day, while boating, I noticed he was looking for something. There was a small arched sandbar that extended from the shore to the ocean in a thin, long crescent that a local had told him would appear at low tide. He found it, walked me to the very tip, and got down on one knee. He was shaking so much I feared he would drop my ring!!! Afterwards, we returned to the isolated barrier island to share a bottle of 2006 Dom Perignon that he had smuggled past me onto the boat and watch the sunset. It was sincere, it was private, it was perfect!
TELL US ABOUT FINDING YOUR WEDDING DRESS: The Find offers sample designer wedding dresses so shopping there enables you to get a designer dress at a fraction of the cost. I went into the store by myself just to check it out. I knew I wanted a dress with extremely low back, with illusion lace, and ruched buttocks. I was in luck, as they had 1! Still, even with this dress being a sample dress, it was about 50% over my budget. I was heartbroken. I came home searching for the dress everywhere online hoping I could find it, or something very similar, within my budget to no avail. Months later my mom came to visit. We were sitting in a restaurant mulling over wedding details and I asked her if she wanted to run by The Find and see The Dress just for giggles. Of course, she said! I called the store to see if it was even still there. The lady answered and could not believe that I was calling about that particular dress. The dress she had just 2 hours earlier decided to list at a steep discount and was currently posting on their social media sites! We scarfed down our salads and were so giddy on the way to the store we could hardly contain ourselves. I put on the dress and mom knew immediately it was The One despite the price tag, the discount was just too good and it was mine-o-mine. Can you say lucky? This dress had everything I wanted: a plunging neckline covered in nude fashion illusion, a plunging deep-V back covered in illusion lace, a sexy ruched back, all over vintage lace that would work seamlessly with the ancient architecture of my venue, and the whole thing was covered in small white sequins that glimmered with every movement (these looked amazing on the dance floor, and the fact that my reception was at night and my venue was bathed in candlelight). One friend said, "What a relief it was to finally see a dress that is both sexy and sophisticated!" I totally agree.
DID YOU HAVE ANY DIY ELEMENTS? I planned the whole thing myself without the use of a planner, so that was the bulk of my DYI! Having two small children, and a super crafty mom back in North Carolina made it difficult to do much in the way of DYI, but again, my venue was so beautiful, I did not think it needed much extra. My mother, in keeping with family tradition, made my veil. It was exactly what I wanted and I could not have asked for a more perfect veil. She also purchased a bird cage, spray painted it gold, and applied a champagne bow for my gift cards. She made framed gold signs for my "cards" and "gifts". I made gold wax seals to be used on invitation envelopes, invitations, menus, and Thank You cards. It was my one, repeating, detailed element throughout my printed material that also re-appeared on my table setting by way of menus placed on the napkin and charger.
DESCRIBE YOUR WEDDING FLOWERS: I really enjoyed working with Helen from Ever After Floral Design. She is young, yet seasoned, with a keen eye for making your Pinterest board inspirations come to life. Her top-notch online platform and questionnaire make the most of your valuable time, allowing her to get to know you, and your theme prior to the first appointment. Working directly from your pins, she builds a profile for you, taking this element and that, and putting it into reality. A picture really is worth a thousand words, especially when you know so little about flowers! I chose flowers to match my wedding colours ( brass, gold, some silver, dusty green, ivory, and pinky champagne, and dusty rose). My flowers were ranunculus, roses, and jasmine vine, and silver dollar eucalyptus. Baby's breath and gold lanterns were placed down the aisle. Two large, tall glass vases filled with curly willow branches, jasmine, and matching florals served as alter pieces on my farmhouse alter table. Table centerpieces were gold candelabras with large flower arrangements placed at the top. Matching rose, ranunculus, jasmine vine, english ivy, and curly willow garland lined my sweetheart table with more gold lanterns. Throughout the venue, small gold brass bud vases filled with simple, elegant jasmine and flower arrangements served as floral fill ins.

FAVOURITE DETAIL OF THE DAY: The whole day was breathtaking. I really enjoyed hearing my guests gush over all my details I had worked so hard to bring to life. Walking down the aisle with my dad is unforgettable. We had quite a ways to walk together to reach the altar, and I enjoyed every second. Why rush the best walk you will ever take with your dad? I was overjoyed sneaking to watch my son walk down the aisle as my ring bearer. As a surprise to everyone, I had the string duo and pianist segue into The Imperial March just for him! He is a bit of a Star Wars fanatic and it brought a huge smile to his face and just about everyone (who got the joke)! It was nice to not take those moments quite so seriously. Our recessional song was Lovely Day by Bill Withers.
WHAT ADVICE WOULD YOU GIVE OUT TO A COUPLE PLANNING THEIR WEDDING? Start with securing the venue. Without that, you have nothing. I should say budget, but that's no fun!
MOST MEMORABLE MOMENT? Having my husband lean over at dinner and tell me how proud he was of everything I had planned for the wedding, and that I should consider going into business for myself made all the work worthwhile. That was a huge compliment as I had planned it all by myself. Some people may wonder if I missed out on having any help or insight from him. No way! I got free range and enjoyed every minute.
ANY OTHER DETAILS THAT HELP TELL THE STORY OF YOUR DAY? Every since Tony and I first started dating, he and I have raised his two children together. His daughter was 2, and his son was 8 months when we first met. His children are my children and I wanted them to feel important and have a significant role in our wedding having already been a family for 7 years. It is for this reason I decided not to have any bridesmaids or Maid of Honour, and him no groomsmen or Best Man. It was just us up there, as a family, as it always has been. I had my flower girl and groomsmen and wanted for nothing else. I wanted to elevate the children's importance by standing at the altar together as a family. After our first dance, and Tony danced with his mom, I had a bride and son dance with my 7 year old son, AJ. He is getting big, but I was determined to hold him and dance with him one more time while I still could. We danced to Beyonce's Halo and there wasn't a dry eye in the house. Tony danced with his daughter, Ava, 9 to Brown Eyed Girl by Van Morrison.
TELL US A LITTLE ABOUT YOUR HONEYMOON: We will do our Honeymoon in the spring and will travel to Tokyo, Mount Fuji, Hong Kong, and Lebanon. Any where else we are still working on the details. I wish I could tell you more but I do not regret waiting a while to embark on our Honeymoon!
IS THERE ANYTHING YOU WOULD CHANGE OR DO DIFFERENTLY? There were only minor things that "went wrong" during my day. Three cocktail tables (all of them) were missing from my outdoor cocktail hour, my napkins were not folded to my request (although I noticed early I let it go), I had a large arrangement not moved to a particular location in the center of my reception space, and some bud vases not placed on my outdoor lounge coffee table. These are extremely minor things to me and not worth saying I would have changed anything! You have to expect some things are going to happen and be prepared to give it up to the universe. If this is what I got away with "happening wrong" by not having a constant wedding planner, I'll take it!