Describing their love story as a fairytale, Monica & Warren held a magical celebration at CASTELLO DI CELSA, a picturesque castle just outside of Siena. With the help of their wedding planner, Sonia with WEDDINGS ITALY, they created the wedding of their dreams and had LACE & LUCE capture it. Monica tells us, "We wanted to create an ethereal, storybook-princess style for the wedding. The overall vision was modern day fairytale, with old world elements. My favourite movie growing up was Beauty and the Beast and our venue and garden rose-dominant florals really paid homage to that. To complement our stunning venue, the wedding was designed around a palette of blush tones, hints of grey and neutrals, with gold accents and lots of greenery. These colours were reflected in all the wedding decor including the flower arrangements, stationery, and table design. We wanted the florals to have an organic feel, as if they could have been growing naturally on the castle grounds. Our florist, TUSCANY FLOWERS, blew us away with the floral design. The end result was a romantic and elegant fairytale vibe, with a true Tuscan flair."

The couple wanted to curate a once-in-a-lifetime experience for their guests, so chose to host them over three days of wedding festivities beginning with a welcome dinner on the Friday evening and culminating with a private winery tour, wine tasting and lunch at CASTELLO DI FONTERUTOLI on the Sunday.
HOW DID YOU MEET? I'm Canadian and Warren is based in Southern California, but we met serendipitously in London, England in 2012. There was an immediate and undeniable spark between the two of us, but the timing wasn't right. After almost 6 years, we reconnected as if by fate. Warren flew to Canada to finally take me on our first date, and the rest was history. After Warren proposed, he took us on a trip to Greece & Italy to celebrate, which he lovingly referred to as our "engagement-moon". After falling in love with Italy's history, culture, food and wine on our "engagement-moon", we knew it would be the perfect place to start our happily ever after!

Our wedding date, October 5, holds special significance to us because it is my beloved grandmother's birthday and also the day that she married my grandfather. My grandparents were my biggest inspiration in life, and since I was a little girl, it has been my dream to get married on this date. We paid homage to my grandparents in multiple ways throughout the day. My mother walked me down the aisle to 'Somewhere Over the Rainbow' a song that my grandfather still sings to me to this day. Our guestbook table featured a photo of them from their wedding day. I also incorporated them in my 'something old, something new, something borrowed and something blue'. For my something old I wore my grandmother's wedding ring on my right hand, and used her hand-beaded purse, which was given to her by my grandfather. For my something borrowed I had my grandfather's wedding band tucked in to the purse, and my mother tied a blue ribbon around it as my something blue. It was so special to have both of their wedding rings with us as we got married on the same date, 68 years later.
TELL US ABOUT YOUR WEDDING DRESS: I'm a huge fan of the wedding dress designer, Hayley Paige and I always knew that I would wear one of her stunning designs down the aisle. Prior to the appointment at her flagship store, I saw a new design on her instagram page that I absolutely fell in love with. I decided to send her a message to inquire about the style number of the dress, and if it would be available at my upcoming appointment. To my surprise, Hayley herself responded and informed me that the dress was called 'Warren' - the exact same name as my fiance! I knew right then and there (prior to even trying it on) that this was my dress, I feel like it chose me! Much to my surprise, when I went for my appointment I got to meet Hayley Paige in person! It was a dream come true to meet her and have her there for my 'say yes to the dress' moment. She ended up drawing me a sketch of me in my gown, and it is something I will cherish forever.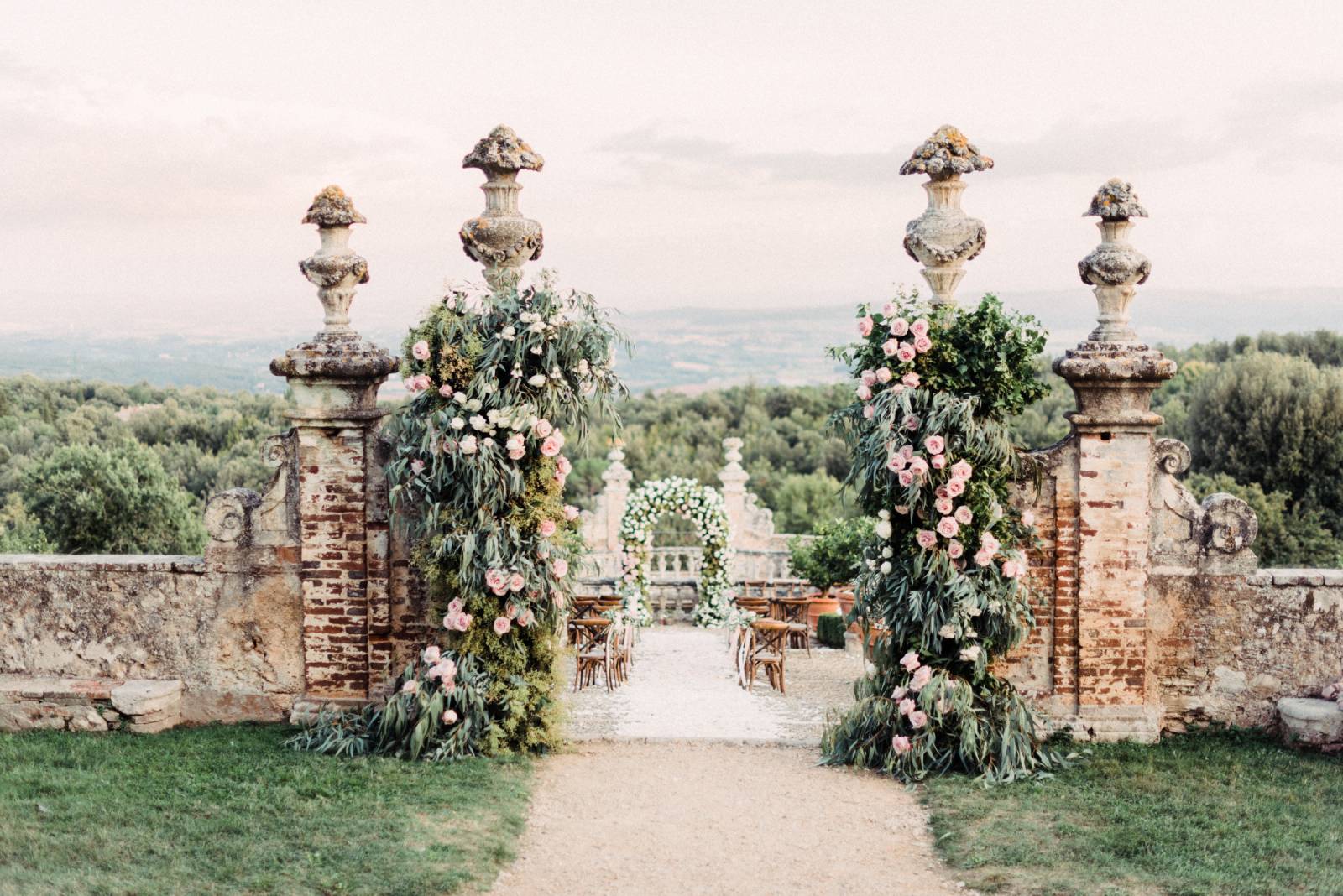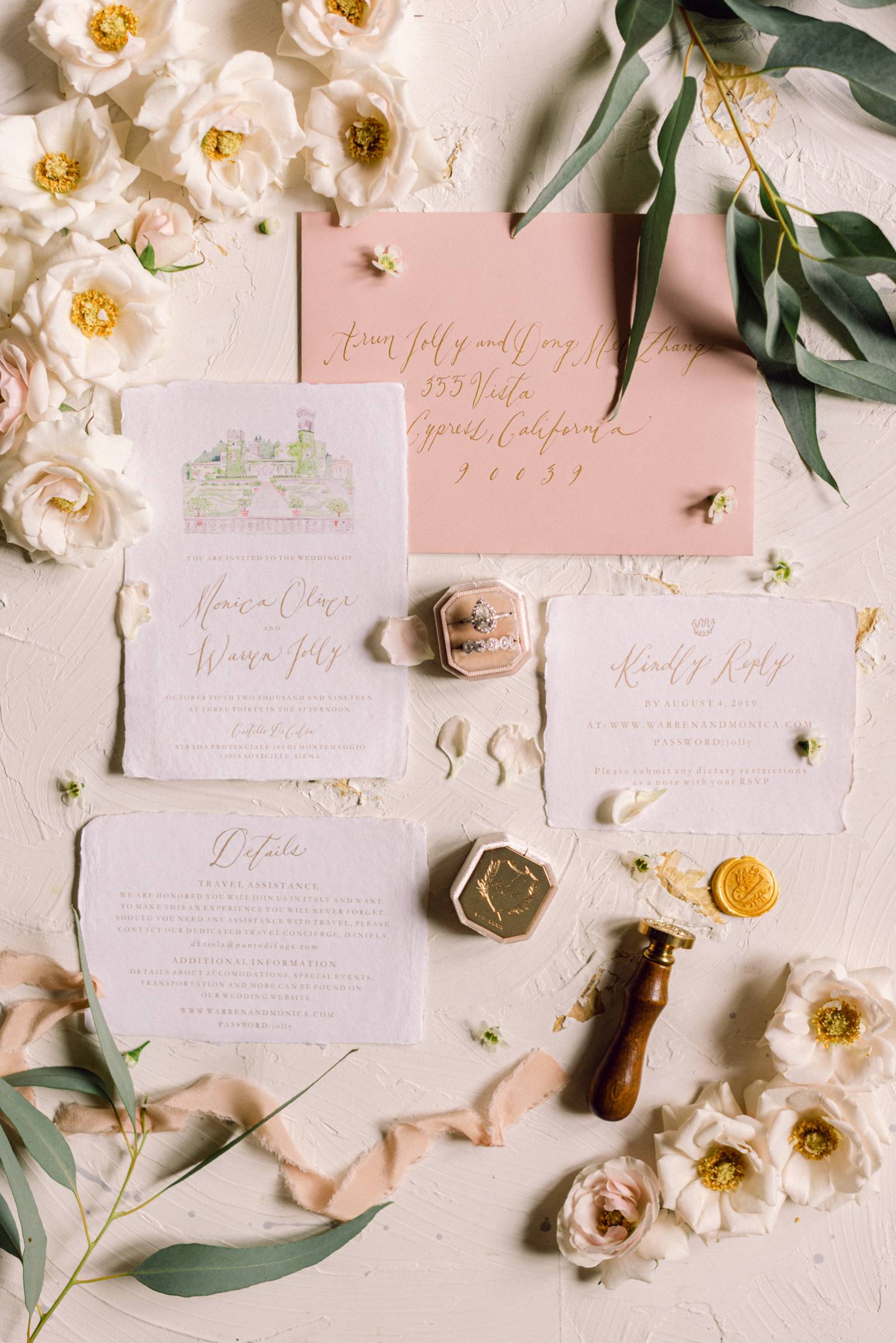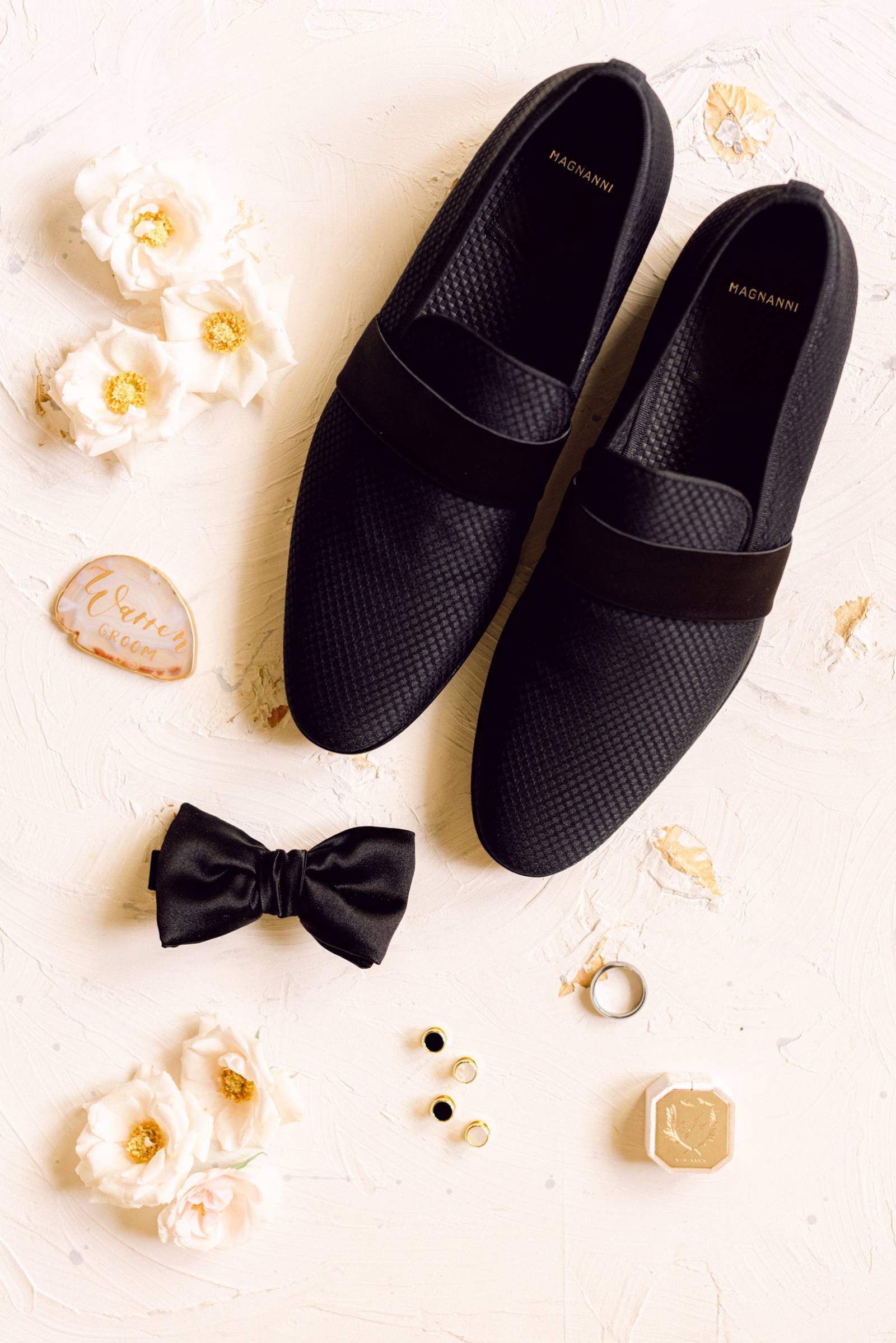 On our wedding day, WeddingItaly organised luxury shuttles to escort guests from their hotels to the venue. Upon arrival, Prosecco and apéritifs were served at the entrance of the Italian Gardens to the sound of a string trio. After their welcome cocktail, guests were invited to take their seats for the ceremony. The ceremony itself was truly the main event and took place in the castle's beautiful italian garden, overlooking the most stunning view of the Tuscan hillside and Siena. Diane Rossi, with Blessings from Italy was our officiant and she created the most poignant and meaningful ceremony for us. The personalised prose that she recited perfectly captured who we are as a couple. We incorporated many personalised elements to our ceremony, having special passages read by our fathers, including our guests in our vows, and paying homage to our late grandmothers. We were both moved to tears, as Diane paid tribute to our grandmothers the sun shone down brightly upon us and a butterfly flew by, we really felt their presence with us in that moment.
After the ceremony, our guests were escorted into the castle's courtyard for the cocktail hour. During the cocktail hour guests were treated to the amazing vocal stylings of Gabriele Esposito. We love italian cuisine and wine, so we partnered with Guidi Lenci Catering to provide our guests with an amazing culinary experience. Guidi Lenci Catering created a gorgeous spread of charcuterie, including fresh cut prosciutto and assorted bruschetta. There were also delicious passed hors d'oeuvres. Signature cocktails included the "Jolly Spritz" and the "Blushing Bride", which were complemented by a full service bar, where the guests could order whatever they wished. During the cocktail hour we had a gorgeous floral swing that was the perfect backdrop guest's selfies. Warren and I wanted to incorporate as many personal elements as possible, so I hand wrote a note for each guest as their escort card. The Vintage Inkwell (who created our stunning invitation suite) created gorgeous blush envelopes for the hand written notes, and calligraphed the guests names and table numbers on them. The escort cards were on display at the cocktail hour and were perfectly complemented with our 'Style Me Pretty' banner from their collection with Micheals.
As the Tuscan sun began to set, guests were welcomed to take their seats for dinner. For dinner, we dined alfresco under a beautiful green pergola adorned with english roses and stunning chandeliers by Tuscany Flowers. Tuscany Flowers did a fantastic job creating the most stunning floral centrepieces, fit for a princess. Table settings were comprised of gold-rimmed glassware and cutlery, blush and gold chargers, and gold-gilded quartz place cards and table numbers from HelloPosh, which added another regal element to the table design. Giudi Lenci Catering tantalised our guests taste buds with a delicious three-course Italian feast. The first course was handmade pici with crispy aubergine and wild boar ragu, or zucchini flowers and saffron. The second course was a flawless black truffle and porcini risotto with nepitella herbs. The third and final course was a choice of either beef fillet alla medici wrapped in pancetta with Brunello di Montalcino red wine jus, sea bass fillet sautéed in champagne with fresh mediterranean herbs or melanzane alla parmigiana aubergine with fresh basil pesto. Each course was impeccably paired with the most exquisite Italian wines. During our dinner we surprised our guests with am Italian tenor to serenade them in between courses. The look on all our guests' faces when he began to sing is something we will never forget.
After dinner our guests were guided to the granaio by candlelight and the Tuscan stars, to our after dinner fete. Guests were greeted in the garden outside of the granaio by a gelato cart. Inside the granaio we had an espresso bar and other delicious treats, including truffles and chocolate dipped strawberries. Giudi Lenci Catering wow'd our guests by making our traditional italian wedding cake fresh before their eyes in the garden. Guests were further surprised by a fantastical firework display, which went off seamlessly as we cut into the cake. The fireworks displayed ended with our initials W <3 M lighting up the night sky. After the dessert and fireworks, our guests headed inside to the dance floor just in time for our first dance. We selected the song 'Perfect' by Ed Sheeran for our first dance, which was performed live by Gabriele Esposito and the tenor, Maurizo Marchini, who surprised our guests once again, by singing his verses to the popular song in Italian. After our first dance, DJ Remo was introduced and the dance party began! Warren and I danced with our guests into the late hours of the night, none of us wanting the night to end.
Reflecting back on the whole experience, it truly feels like a dream. Everything far exceeded all our hopes and expectations! Planning a destination wedding does come with it's own unique set of challenges. Planning everything sight unseen, in a country where you do not speak the native language can be especially daunting. My best advice to all destination brides is to find a fabulous local wedding planner who you can trust, and blends well with your personal style. Hiring a local wedding planner, who is familiar with local customs and vendors, and also speaks the language, will be your greatest ally during the entire planning process.

I became addicted to Pinterest during the planning process and found at times that I was getting analysis paralysis, due to all the beautiful inspiration. My advice to brides is once you decide on a colour scheme or style of florals - stop looking! There are so many beautiful options, so once you make up your mind, stick to it. It's like when you find your wedding dress, you shouldn't try others on. Also, having an overall theme or vibe for the wedding helps to narrow down these decisions as well. It can be easy during the planning process to stress over all the details, but I promise you that on your big day it will be all worth it! Take a deep breath and try to stay calm in the midst of all the chaos. At the end of the day, it's about you and the love of your life.

One of the best pieces of advice we received that weekend, was from one of our newly married friends, who encouraged us to steal a private moment just the two of us, to soak everything in. Warren and I did this right before our grand entrance to our reception dinner and it was one of my favourite moments of the entire night. Standing in the light of the setting Tuscan sun, hand in hand, just us two.