There's something about a vineyard wedding that always captures our hearts and this Washington one by JORDAN VOTH is a true gem. Shandrica & Aaron chose KARMA VINEYARDS, in Chelan for their big day, and incorporated Tuscan style details throughout with draped eucalyptus garlands and grapes adorning the tables. Read on to find out more about their gorgeous celebration... and can we just take a minute to appreciate how spectacular this first look location is?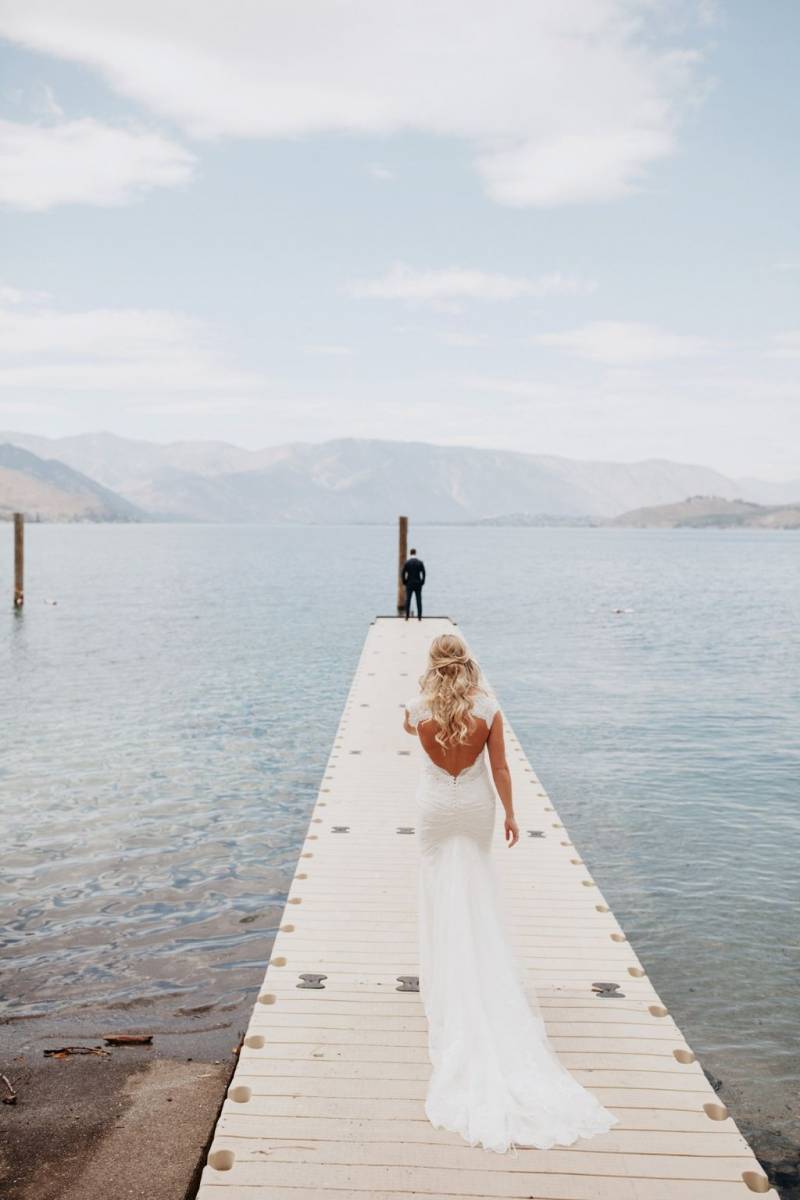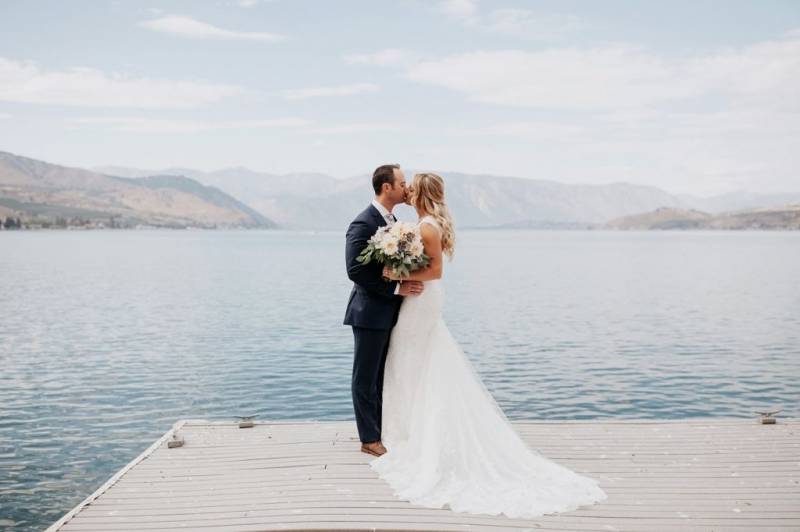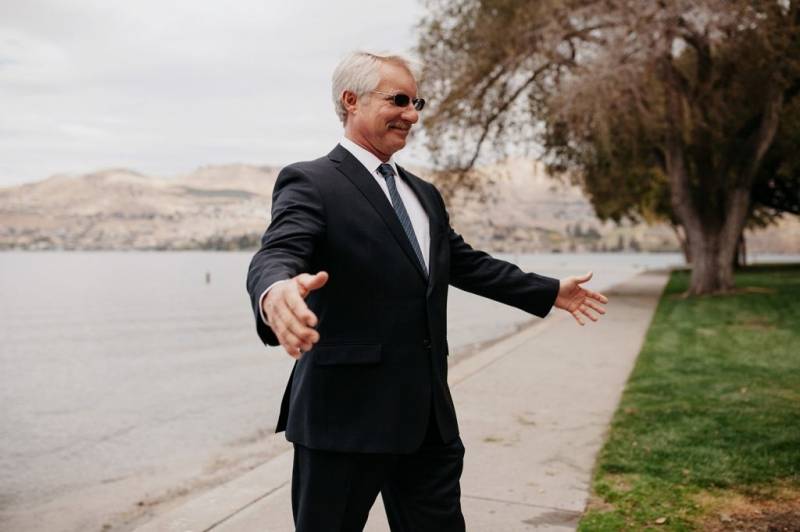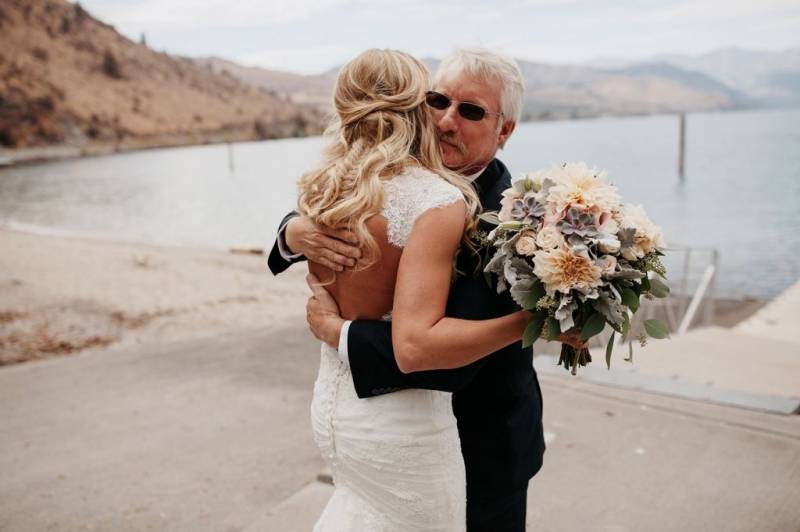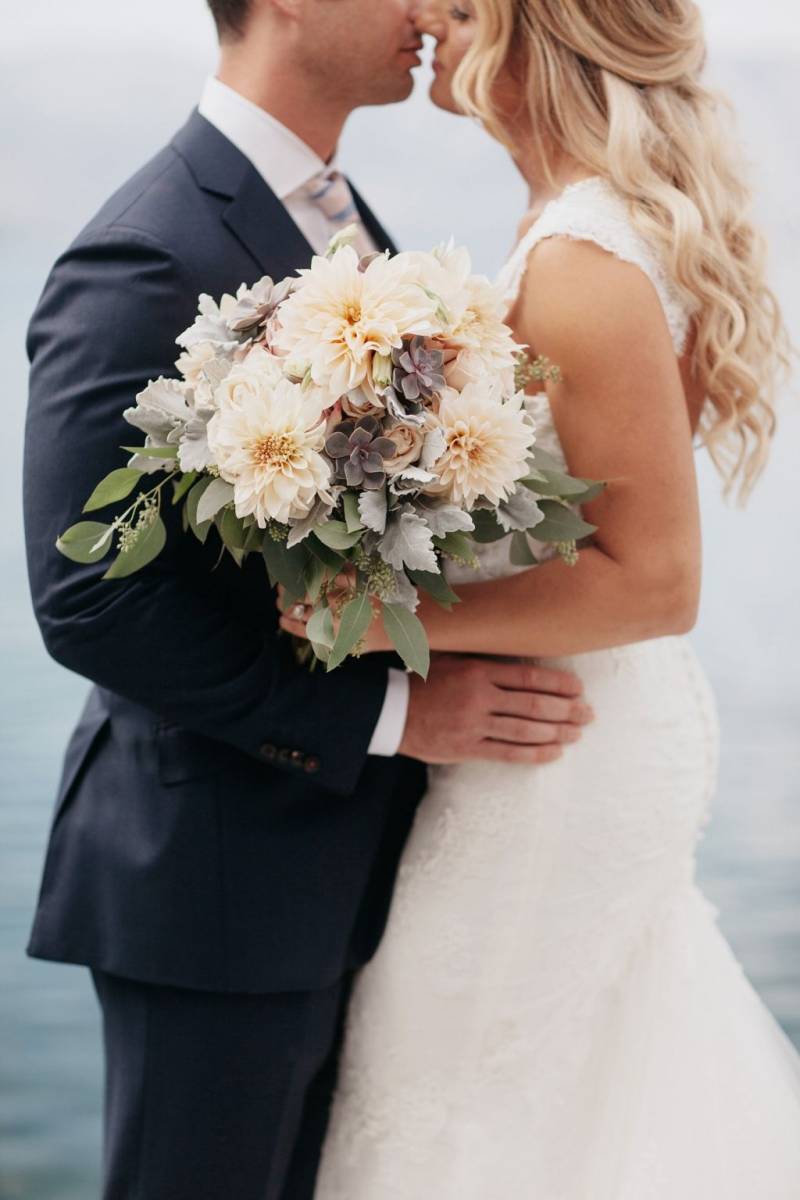 TELL US ABOUT YOUR PROPOSAL: It was December 23, 2014, as a hairdresser, the day before Christmas Eve is always a hectic and busy one! After a long day at work I came home and was ready to get into pajamas, messy bun the hair and head to bed. After getting home, Aaron was waiting for me there and said he had wanted to start a new tradition by opening a gift before Christmas Eve, my thought was that it was unlike him but thought maybe he got me some Christmas pajamas? He said I could pick any package I wanted, as I reached for one he stopped me and said "look closer into the tree, there might be something more your size" again, being unlike him, I spun around to see he had a tray of champagne, flutes, candles and red roses, all under a mistletoe. This is when I began to shake in nervous excitement. I did as he said and looked into the tree to find a small square box, hands trembling I opened the box, he took it from me and on bended knee professed his love and asked me to be his wife. No matter how many times you picture that moment in your head, it is incomparable to the real thing, so magical!
TELL US ABOUT FINDING YOUR WEDDING DRESS: After visiting 3 other bridal shops in the seattle area and being unimpressed by the originality of the gowns, a sales associate referred me to Mea Marie bridal in Kirkland which carried couture gowns. I found my wedding dress at Mea Marie within 40 minutes of trying the dress, it is true what they say, when you slip on THE dress, you'll know! The gown I chose was a pronovias gown which was absolutely stunning! I loved this shop particularly because of their one on one appointments and customer service. Every dress I tried on was stunning and original. You can tell they take pride in their originality.
DESCRIBE YOUR WEDDING FLOWERS: For our flowers I knew I wanted to do greenery garlands on the tables. Our florist ordered 6' garlands that were already made up and bundled so that saved her a ton of time and ended up being more cost effective. To be budget friendly we ordered a few flats of special succulents that were a mauve and green color and also some white hydrangeas from costco floral for the florist to string through the garlands. She did a fantastic job on the bouquets by staying with soft blush coloring and using flowers like dahlias, roses, dusty Miller, succulents and some other fillers. She was so easy going and helpful even when we asked her to incorporate the flowers we bought separately through Costco.

FAVOURITE DETAIL OF THE DAY: The winery we got married at has FANTASTIC food, wine and customer service. We had a plated dinner of tomato bisque, spring salad, beef tenderloin, prawns, mash and asparagus and for the wine we had a red blend, Chardonnay and a ros
MOST MEMORABLE MOMENT? My husband and I decided to see each other before the wedding so we could get our photos taken before hand versus after the ceremony, and did a "first look" session with the photographer. While it was nice to get all those nerves out of the way and spend some time together before the ceremony, I felt like I wanted to incorporate something that was going to bring those special feelings back before the actual ceremony. We decided to write each other a "love letter" to read to each other before we walked down the isle, this was hands down the most romantic and necessary moment of the whole day. With the hustle and bustle of everything, we escaped away while guests were arriving and in private we read our letters to each other, in that moment, all nerves were calmed and helped us to slow down and remember the reason we were there, not for the party, but to commit our lives to each other. That moment I will cherish for a lifetime!
ANY OTHER DETAILS THAT HELP TELL THE STORY OF YOUR DAY: I had 5 bridesmaids and a maid of honor. It was important to me to write them all a letter and thank them for everything they've done during the planning process and thank them for being such an important person in my life. With the guys, they decided to take goofy photos that turned out awesome, put some humor in the photos.