As wedding planners themselves - running European based company WANDERLUST WEDDING - LIsa & Franck knew exactly what they wanted and were very lucky to have a team of vendors that they admire and respect. Their chosen venue of CHATEAU TALAUD offered such an elegant space they barely needed to do anything to it. Working with stylist NESSA BUONOMO they combined elegant crystal glassware with natural linen tablecloths with plenty of greenery and simple white flowers. All of this was finished off with stationery elements by CRÉME DE PAPIER and NICE PLUME and captured beautifully by JEREMY FERRERO.
"Our vendor friends had mentioned working at Chateau Talaud before, and told us the Chateau was beautiful and most importantly we could dance outside, which is very rare in France since we French like to dance until 4am. We visited the Chateau and met Conny the owner, and immediately fell in love with it, we loved that it was an actual Chateau with a history and that Conny and her husband Henricus had completely restored it and held it close to their hearts. It's mainly a B&B but they do a few weddings just for pleasure so we felt privileged to being able to get married there. My husband now wants to go there every year on our wedding anniversary, and make it a tradition, a family gathering."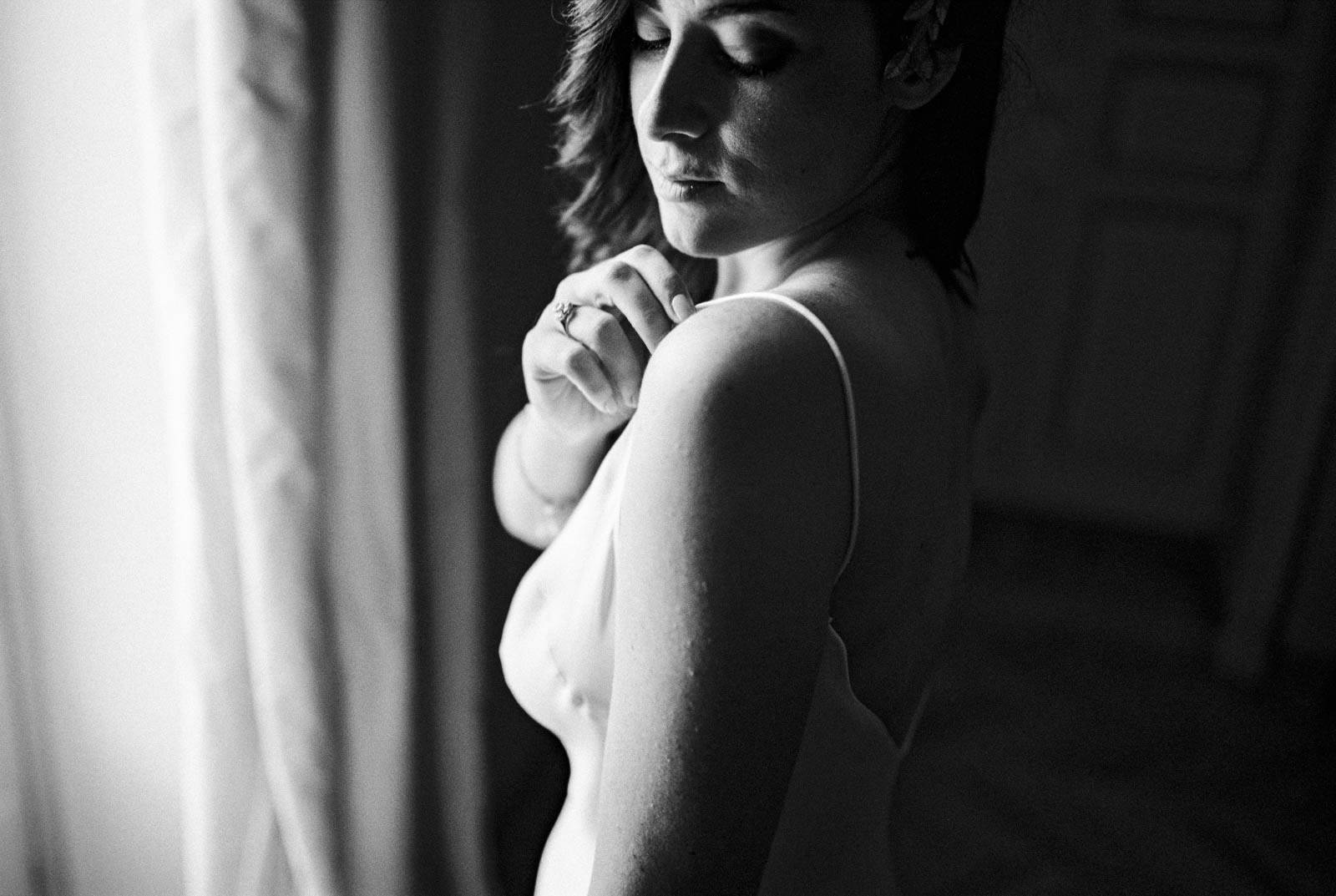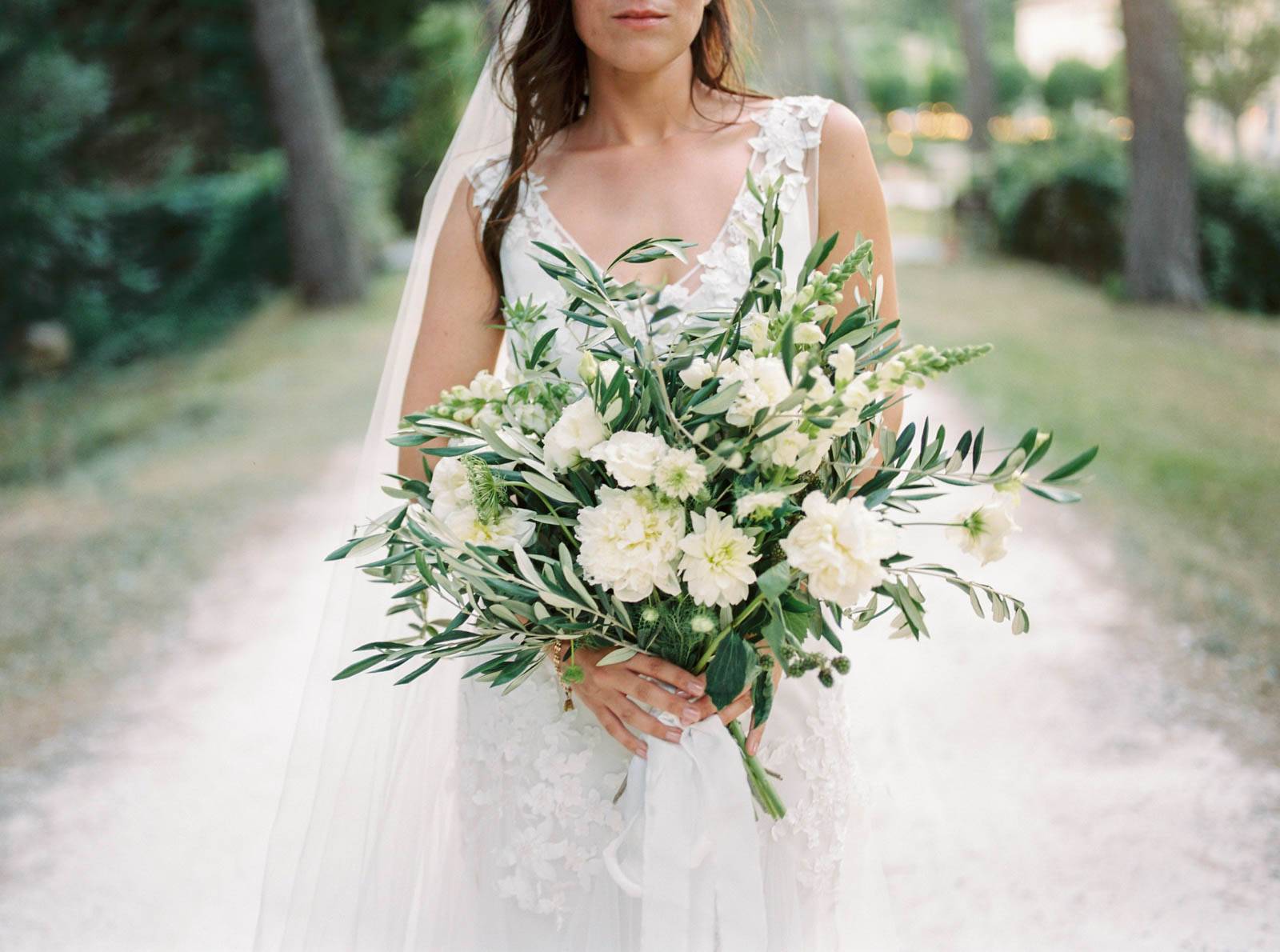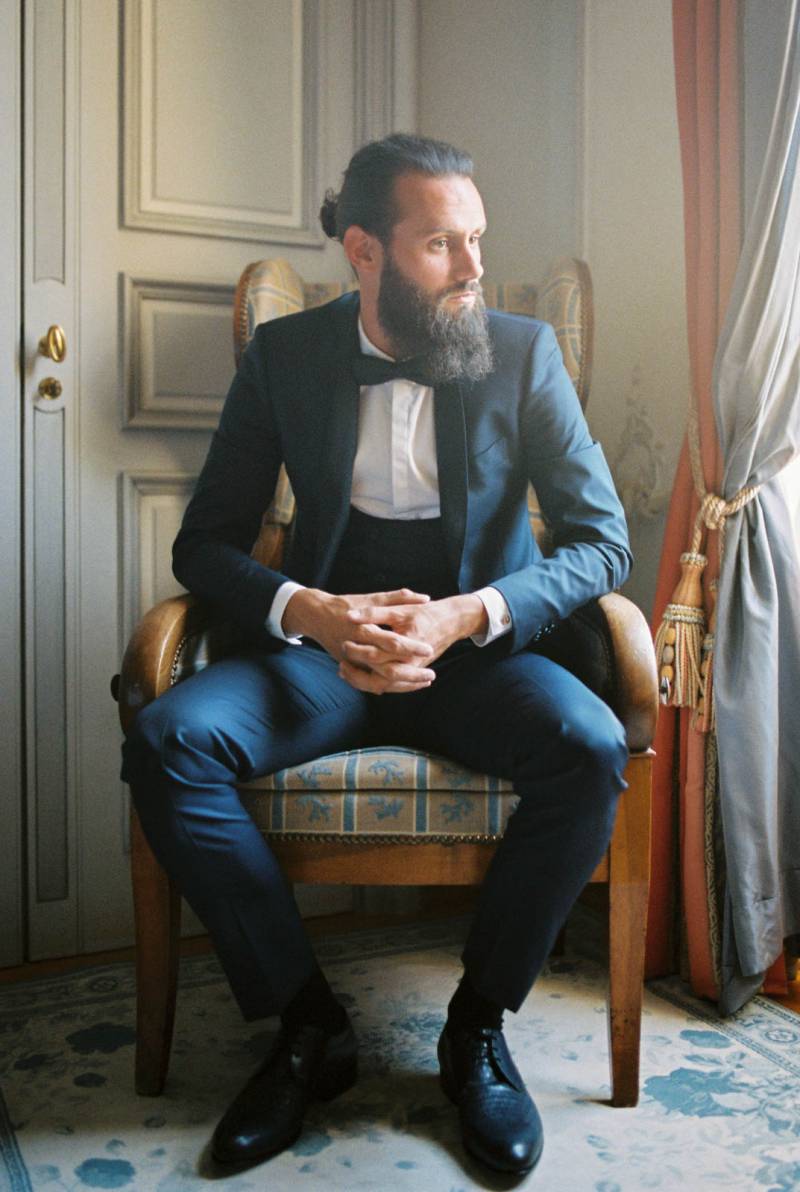 HOW DID YOU MEET? We met through work, I was an event planner and Franck worked for an events décor company, we met at a work party, Franck just spoke briefly to me but I thought he was really cute, the next day he added me on Facebook and we started talking for hours. A few days later I was planning on spending a weekend with my friends about two hours from my hometown and he decide to join me, he met my friends and we had a great weekend, since them we were inseparable.
TELL US ABOUT YOUR PROPOSAL: We are both wedding planners, we had just redesigned our website and Franck suggested we get new portraits done. We found a nice location and started doing a few shots, we took advantage of this situation to do a few couples portraits as well. All of a sudden Franck sat me on a chair and handed my laptop to me, he put headphones on my ears and a video starting playing with a montage of our 4 years together, I understood what was about to happen. At the end of the video I stood up and turned around and there was Franck on one knee, as well, as my family, his family and our closest friends standing behind him. I immediately started sobbing, couldn't stop it! We spent the rest of the night in the middle of the woods around these wooden tables, drinking champagne and enjoying the rest of the night.
TELL US ABOUT FINDING YOUR WEDDING DRESS: I knew I wanted a dress with details; I got a few appointments in London, where I went with my mother and my auntie. The first dress I tried, I knew it was the one, a simple shaped dress, covered with flowers on it, plus the back details were gorgeous, exactly what I was looking for. I still went to my other appointments but just couldn't stop thinking about that dress. On the last day, I went back to the bridal store, put it on, and said "This is the one", all of a sudden my Mum started crying uncontrollably, all this time she was just waiting for my confirmation to start the tears.
DESCRIBE YOUR WEDDING FLOWERS: We are quite paradoxal, as much as we love elegant things we also like nature, and we wanted nature to be incorporated in every single element, greenery was a very important item for us, so along with Nessa, our amazing florist we decided to not overshadow the greenery with flowers, and only use white florals and make it as natural as possible with greenery and flowers overcrossing each other and making it as they would have grown on their own.

FAVOURITE DETAIL OF THE DAY: While thinking about my wedding I would get emotional only thinking about me walking down the aisle, then on the day, I was so excited to see everyone I loved standing there, that I could not stop smiling and looking at the "audience" I almost wanted to stop on my way to my future husband and hug them. That feeling was amazing, seeing everyone you love, standing there, being so happy for you, was truly amazing moment.
WHAT ADVICE WOULD YOU GIVE OUT TO A COUPLE PLANNING THEIR WEDDING? Hire a planner! I am not saying this because I am a planner myself, but at least for the coordination a planner is so helpful, you know you can relax, everything is taken care of, we had one of our assistants coordinate the day, the ceremony, the caterer, the speeches, it was so relieving to know that she was on top of everything. Also, I wouldn't care too much about tiny details, I would give that to professionals, they know what they are doing, and they know how to make it gorgeous. What really counts is the love you get on the day, your heart is so filled with love, and the day goes by so fast that you need to enjoy every second of it.
MOST MEMORABLE MOMENT? I am half Scottish from my mother's part, my mum had bought a kilt and wanted Franck to wear it on the evening as a surprise, I was a bit nervous since I thought Franck wouldn't be up for it, but as soon as he was brought in the bedroom to change and wear the kilt he was so excited, he came back to the reception under every guests clapping, and he was so handsome in his kilt, he made a little Scottish dance with my cousins which was amazing for me, and for my family!
ANY OTHER DETAILS THAT HELP TELL THE STORY OF YOUR DAY? Another detail that touched me was that Nessa had this little ceramic plate made with our monogram, on which Theo, our nephew brought the rings on, I wasn't expecting it and thought that was so lovely, it's a lovely object that we will keep as a memory!
TELL US A LITTLE ABOUT YOUR HONEYMOON: We took a month off and toured around Sri Lanka, we love Asia and we are quite adventurous. And decided to take a trip through the whole country, it was pretty amazing, meeting so many beautiful people, and living these experiences, we saw whales, swan with turtles, met Elephants... Sri Lanka is also one hour and half from the Maldives, so we obviously spent a couple of days at the Shangri La Maldives in a water villa, diving with turtles and sharks.
IS THERE ANYTHING YOU WOULD CHANGE OR DO DIFFERENTLY? Actually not really, it was just perfect, Maybe the only thing I would change it enjoying more the fact of being a bride to be, I got married on July 13th, which is the middle of the wedding season, and without our jobs we weren't really able to enjoy the planning process, so maybe I would take more time to enjoy the wedding panning process for myself