Focusing on the special moments of the day was an important factor for Sarah & Adam. They wanted to highlight the history of the ceremony and reception properties which were both in the bride's hometown of Winchester, Virginia. Captured by Virginia wedding photographer KIM STOCKWELL they kept the palette and aesthetic as neutral and crisp as possible.
"The church is a historical landmark and non-functioning church. Zero frills (no electricity or running water) but all soul. We knew it would be the perfect place to focus on the love and commitment we were sharing in front of our friends and family without distraction. For the reception location, I grew up going to Long Branch. We rode bikes and went to Easter eggs hunts. The sentimental value combined with the Virginia history for out-of-towners to experience made it the perfect location to celebrate!"
Photographer Kim tells us, "Sarah and Adam are such a lovely couple, so sweet and in love. They wanted their wedding imagery to reflect the undeniable love they have for one another as well as their love for their family and friends. Sarah wore an incredible LIZ MARTINEZ gown that fit her like a glove. Her hair was lose and romantic in an half up style that framed her face perfectly. She wore an heirloom cross that had been worn by the women in Adam's family on their wedding days for over a hundred years. The church they were married in was built in 1833 and still uses oil lamps to light the interior. On the pews hung greenery with heirloom portraits of passed loved ones, it was beautiful tribute to the family members that were there in spirit. The reception included an al fresco dinner and dancing into the evening. Sarah surprised Adam with his favourite dessert: Ice cream. She had an ice cream truck pull up right outside the reception for guests to enjoy after dinner."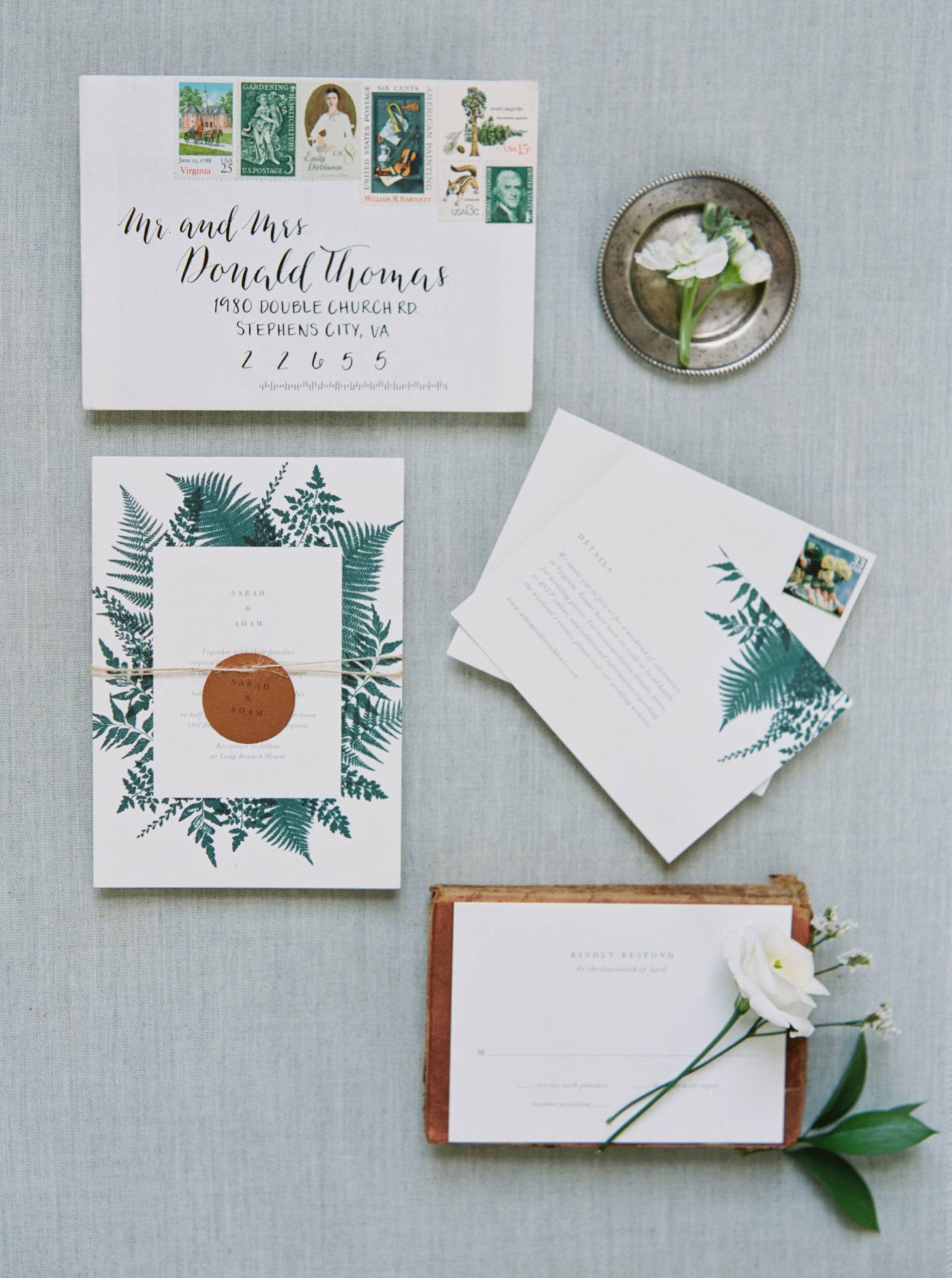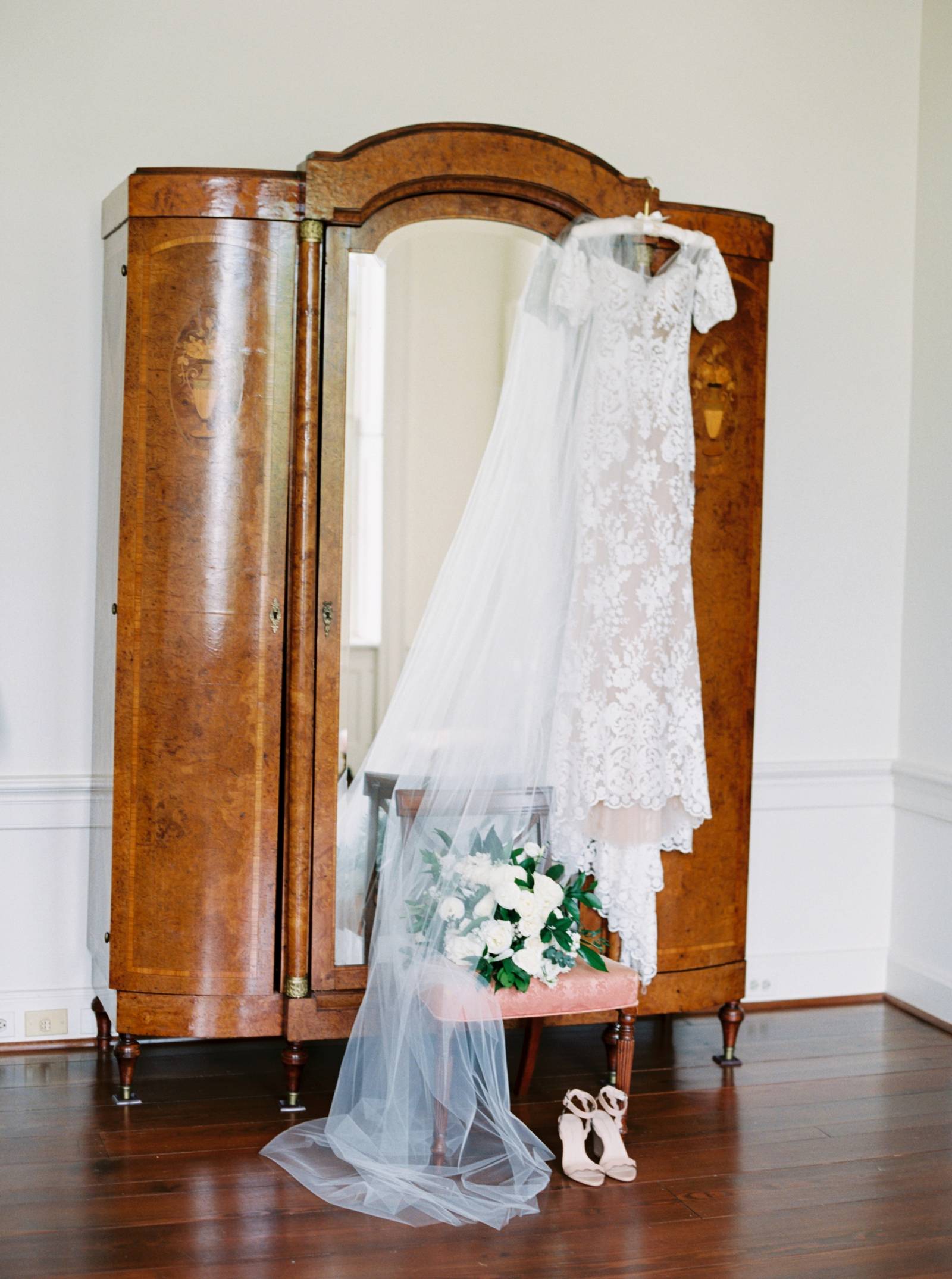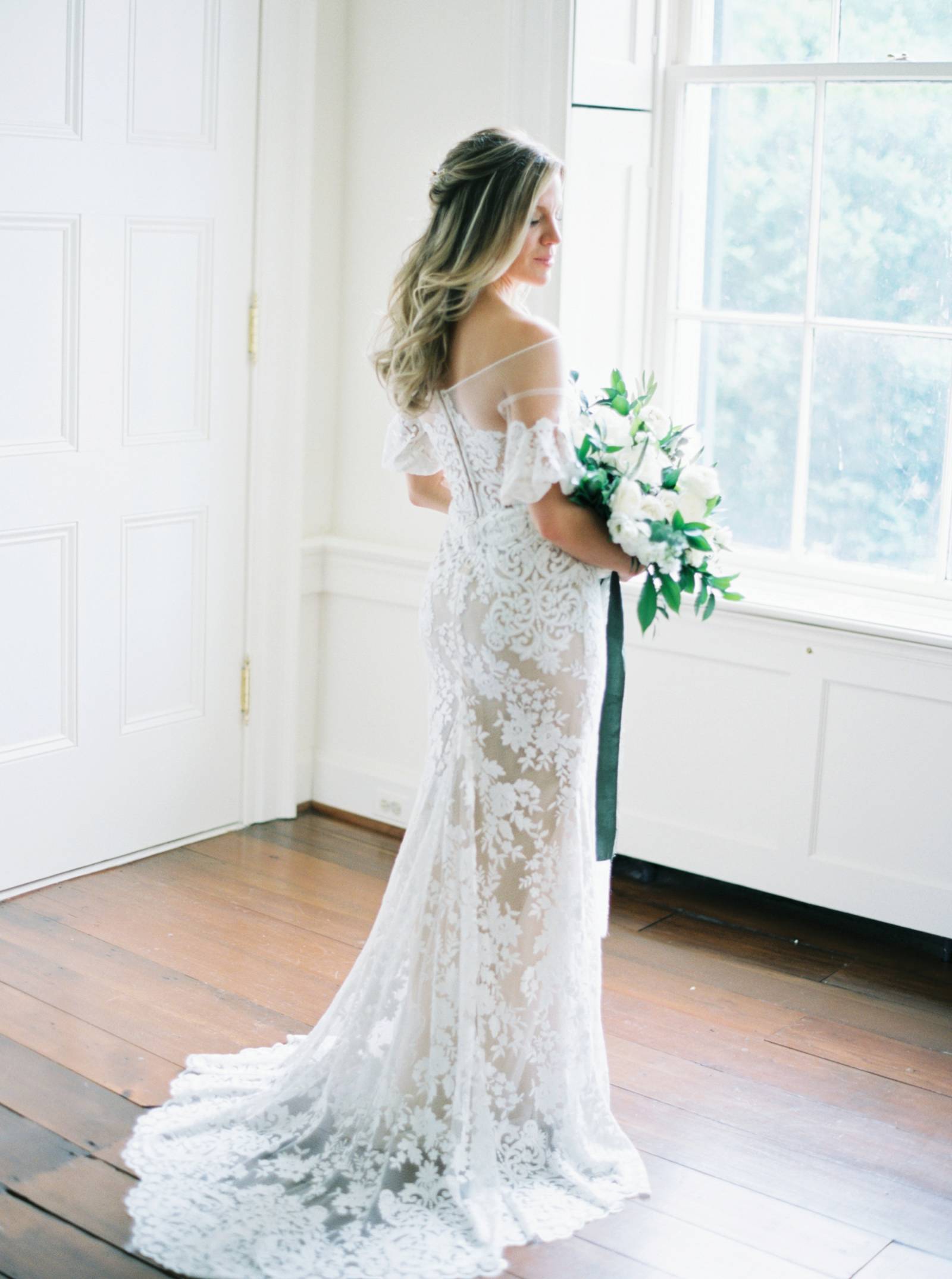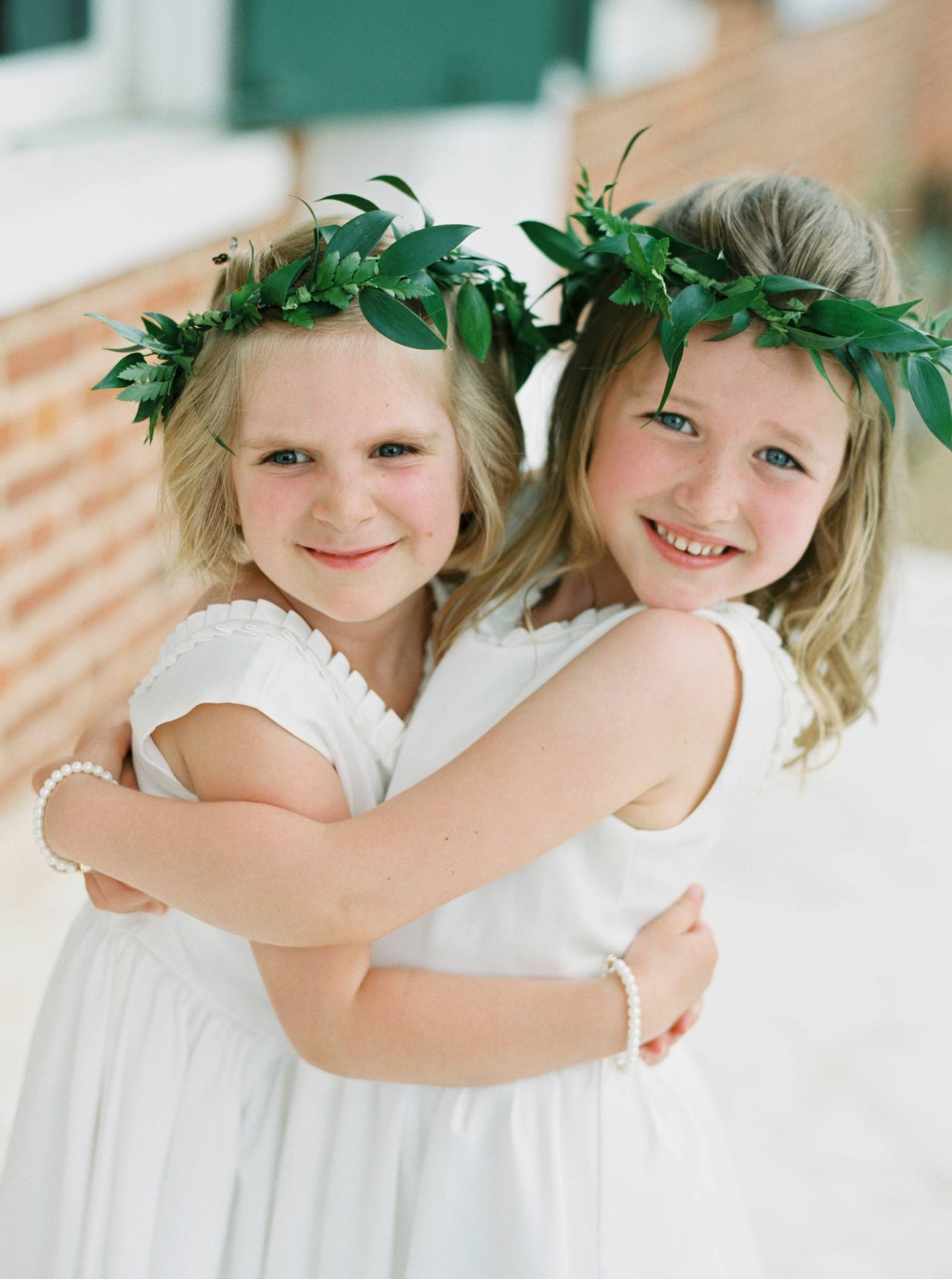 HOW DID YOU MEET? We were next door neighbours in the third ward of Milwaukee. Sarah astutely noticed the boy next door was very handsome and invited him to a party by leaving a desert at his front door. (which his roommate ate before he saw he it, but he still came to the party!) Instant... chemistry. However, we were also in our young 20s and moving for our careers. After a couple years of long distance from Florida to Wisconsin, went our separate ways but kept one another always in mind. Turns out, we both thought the other was 'the one that got away'. A business trip to California while Adam was living there, and Sarah was in Milwaukee unexpectedly reconnected us and after finally building the confidence (or guts!) to tell each other that we still were both in love with the other, decided to go from ex's to moving across the country for one another. It was a no brainer after a windy road. We couldn't be more grateful to be starting a life with one another!
TELL US ABOUT YOUR PROPOSAL: We were both going to back to Milwaukee in May of 2017 for work trips. Or so I (Sarah) thought. On the way to meet a friend down in the third ward, Adam detoured by the apartment where we first met. It was pouring rain all day, and we had no umbrella. My mind was on getting inside as fast as possible, so I didn't put it together when he took a detour to walk outside the apartment where we first met. My body alerted me (huge heart drop and thump) before my brain that something was up. I asked Adam what he was doing. He responded 'asking you to marry me' before getting down on one knew. I think I kissed him before I could answer. It was absolutely us and absolutely perfect. He nailed it. We spent the rest of the afternoon and into the evening celebrating with our family and friends, followed by dinner just the two of us to soak it in. It competes with the wedding day for the best day of our lives.
TELL US ABOUT FINDING YOUR WEDDING DRESS: I shopped locally in Raleigh with my mother and future mother in law. After getting my feet wet, my cousin Meghan who lives in NYC planned a dreamy weekend with my mother, aunt, her and my cousin in law. We bopped around town for a girl's weekend, and after 'almost' dresses all weekend, ended at Spina bridal. The experience at Spina was perfection. One on one with Gisele, she found the perfect dress from Liz Martinez. It was nothing that I expected to pick, but I would wear that dress every day if I could find a reason.
DID YOU HAVE ANY DIY ELEMENTS? Yes! And very happily so. The table numbers were my favourite, as we got to dig up old photos of the two of us at our family homes to source one photo for each age of table number. I hope the guests noticed, but if not, the experience of digging up the history of our photos was worth it.
DESCRIBE YOUR WEDDING FLOWERS: Gretchen Wade nailed it. I knew I loved fresh white flowers, lots of texture, loose structure and loose greens. The rest I knew I could leave in Gretchen's hands. The tall floral arrangements on the guest tables nearly knocked me over. Incredible and so lush!
FAVOURITE DETAIL OF THE DAY: The family bible. Our nephew carried it down the aisle with the rings, and then our pastor had our families bless the rings over it. It was given to Adam's father soon after they were married. It brought gravity to the day and a reminder of the foundation we are building our lives on which is our parents' incredible marriages. Also, we had photos of our loved grandparents that passed on the church pews leading up to the altar. It was amazing to have a reminder of their presence with us.
WHAT ADVICE WOULD YOU GIVE OUT TO A COUPLE PLANNING THEIR WEDDING? Chip away at it and take time to enjoy the decisions that build the day together. Adam went through the list of songs from our band one by one to choose the ones that we loved best. Now, we have a soundtrack to the day and our relationship. One example of spending time on the decisions that will leave you with memories to cherish.
MOST MEMORABLE MOMENT? Walking down the aisle.
ANY OTHER DETAILS THAT HELP TELL THE STORY OF YOUR DAY? In general, stripping the day down to tradition and the bare bones helped us focus on one another and our family/friends there to celebrate our marriage. We kept getting ready simple, didn't do a first look (which yes, made cocktail hour hectic, but I wouldn't change it, and planned out times throughout the night for the two of us. We cut out traditions that didn't feel like us (throwing bouquet, etc.) to leave more time for music, dancing and socialising.
TELL US A LITTLE ABOUT YOUR HONEYMOON: We took our time. Almost two weeks. First, in the Cayman and then St. Lucia. We were planning a trip back to St. Lucia before we left. It was important to us to not have too many plans. Soak in down time with one another and reminisce the full wedding experience while it was still so fresh in our memory! What a way to start a marriage.
IS THERE ANYTHING YOU WOULD CHANGE OR DO DIFFERENTLY? Little things here and there if I'm honest. But 99% was complete perfection, so I try to let that 1% go. It's easy to focus in on the changes you'd make, but they are SO small in the grand scheme of how amazing the day was!
Virginia wedding photographer KIM STOCKWELL is a valued member of the Magnolia Rouge Vendor Guide. Based in Richmond, Virginia, the passion she has for her work comes from her ability to give clients beautiful authentic moments. Moments, that when cared for properly, can live forever. Her work has been nationally recognised and can be found in publications such as Martha Stewart Weddings, Style Me Pretty, Magnolia Rouge, Cottage Hill Magazine, Embrace Magazine, Charlottesville Wine & Country Magazine, & many more. if you're a Virginia bride we highly recommend you see more from this Virginia wedding photographer.