New Orleans wedding photographer LANCE NICOLL captured Brittany & Brad's beautiful wedding at the historic gardens of AFTON VILLA located in St. Francisville, Louisiana. Gorgeous bride Brittany fell head over heels when they first saw the venue and went about planning an elegant garden chic celebration. The styling for the day revolved around a simple and clean palette of green and white along with small pops of colour - one of our favourite wedding looks. The beautiful floral archway created by wedding planner, GALA PRODUCTIONS, was the perfect centerpiece for their outdoor nuptials. The delicate and organic boutonnieres were a perfect complement to the elegant and natural flowing calligraphy of CORSIVO CALLIGRAPHY. And, the delicate floral adornment's of her BELLA BELLE shoes fit perfectly with the elegantly beaded wedding gown from BERTA BRIDAL. The high winds may have made for the setting and resetting, and resetting, of their tabletop decor but it didn't stop the wedding guests from dancing under the beautifully lit outdoor tent to the music of the highly energetic PHUNKY MONKEYS.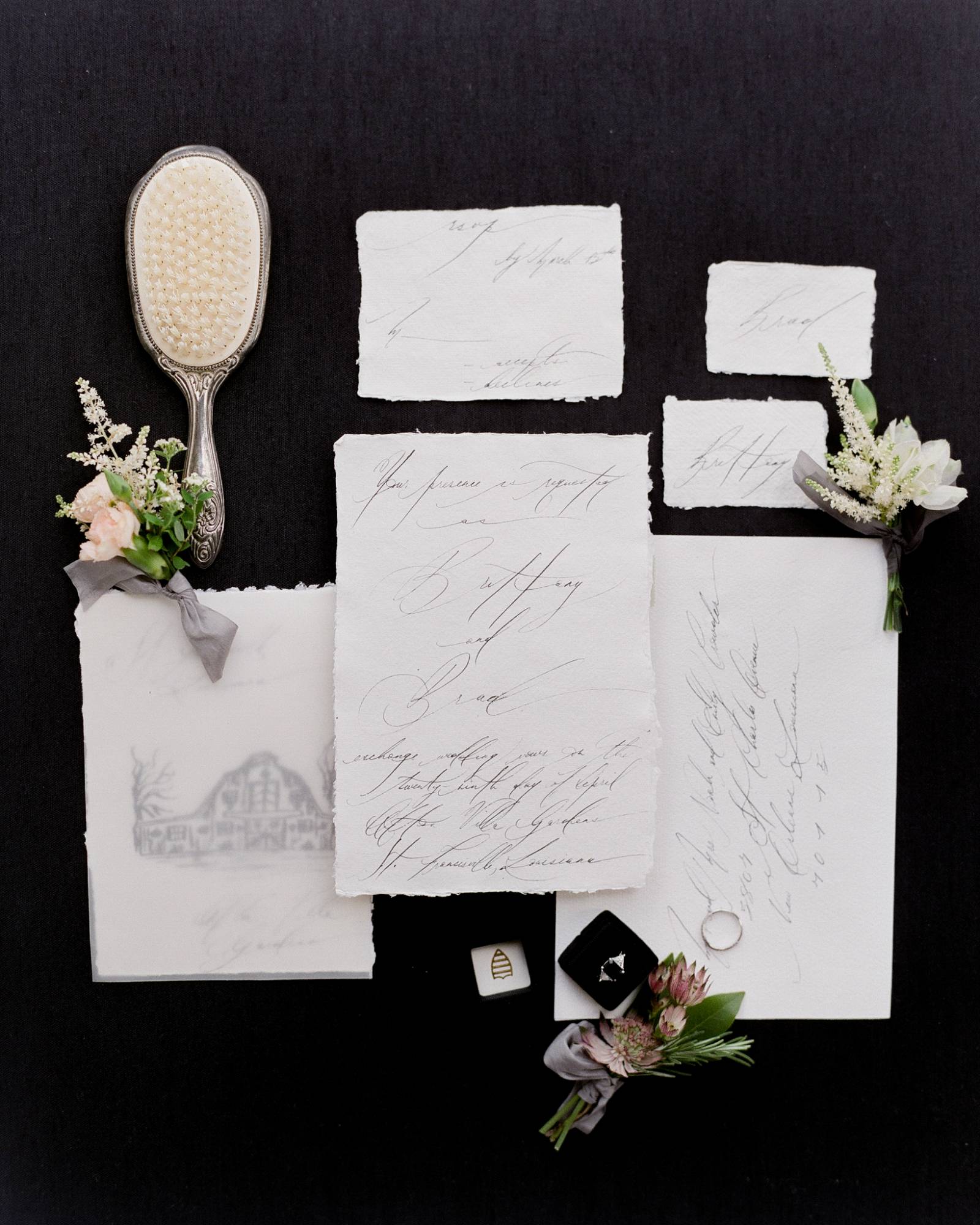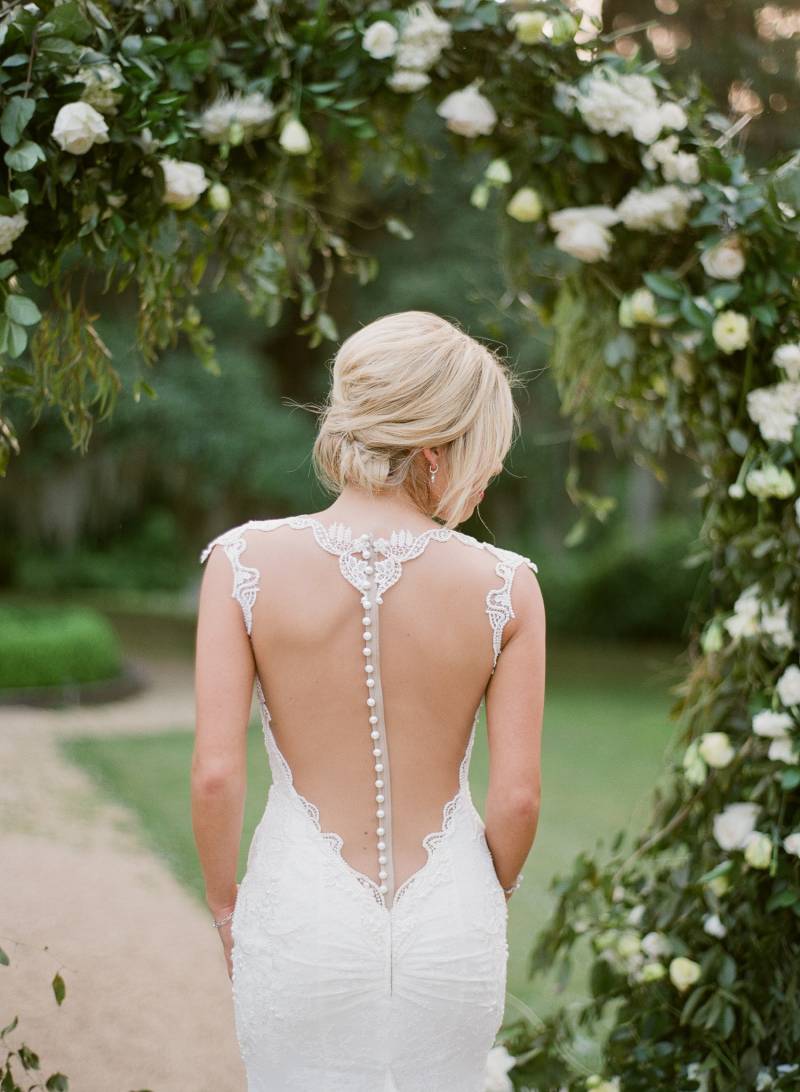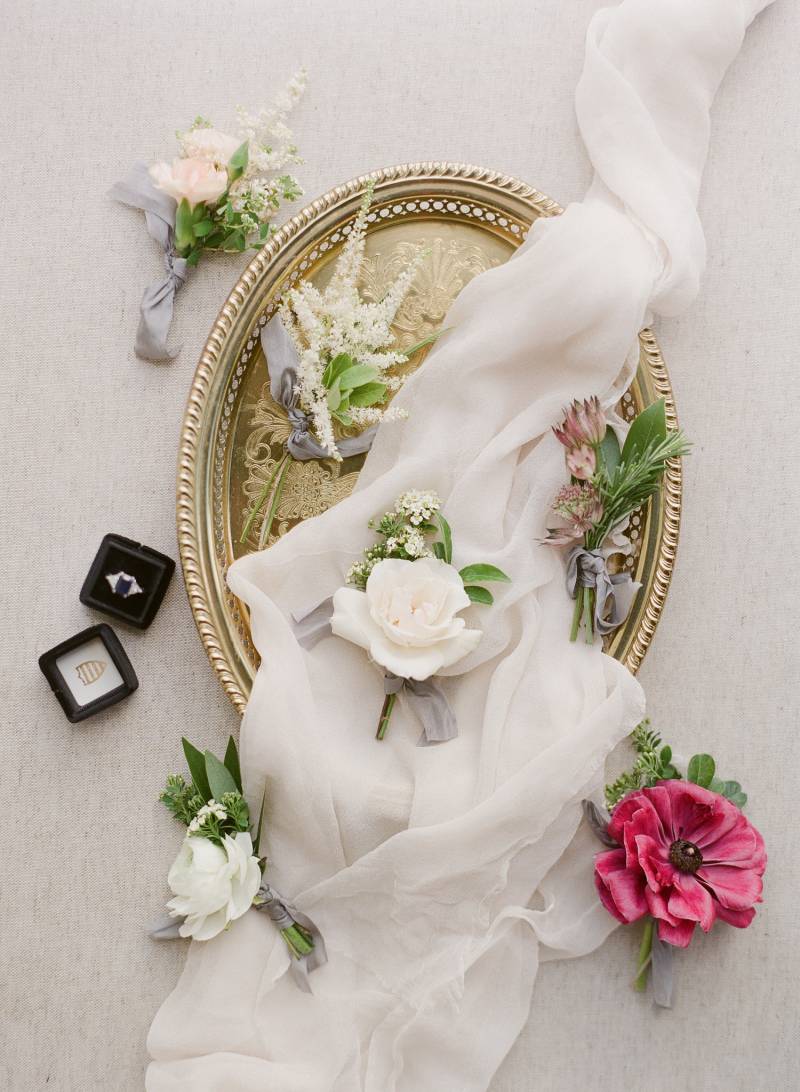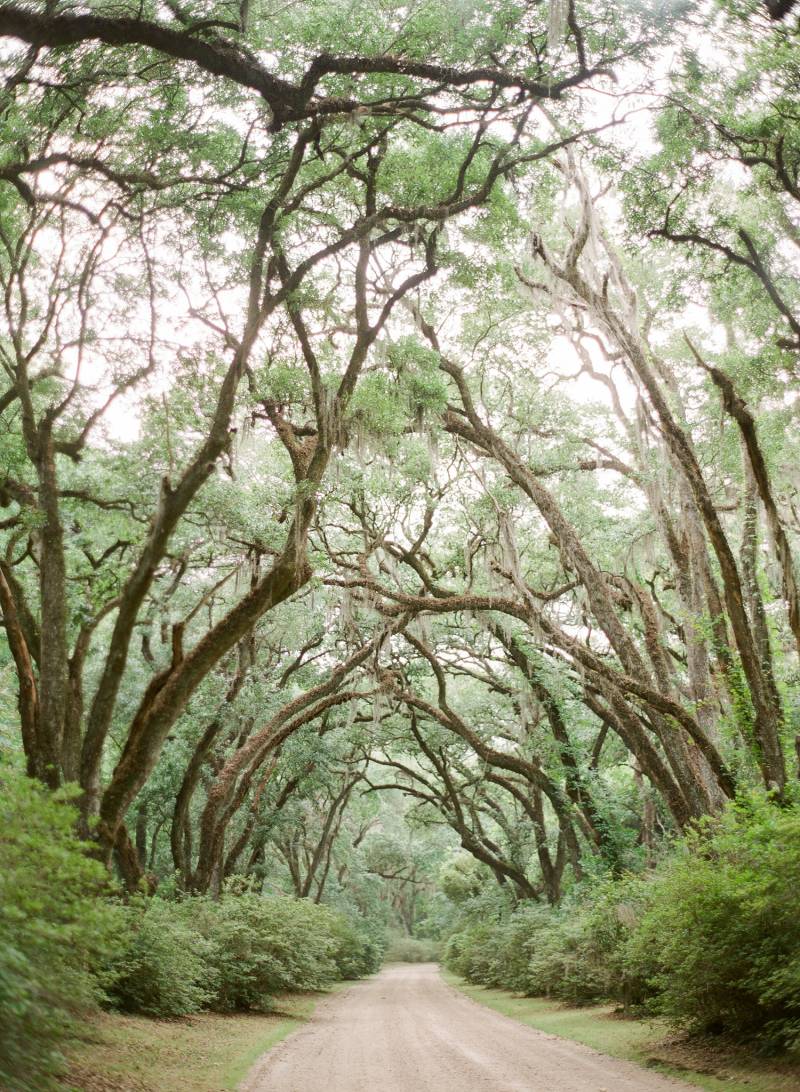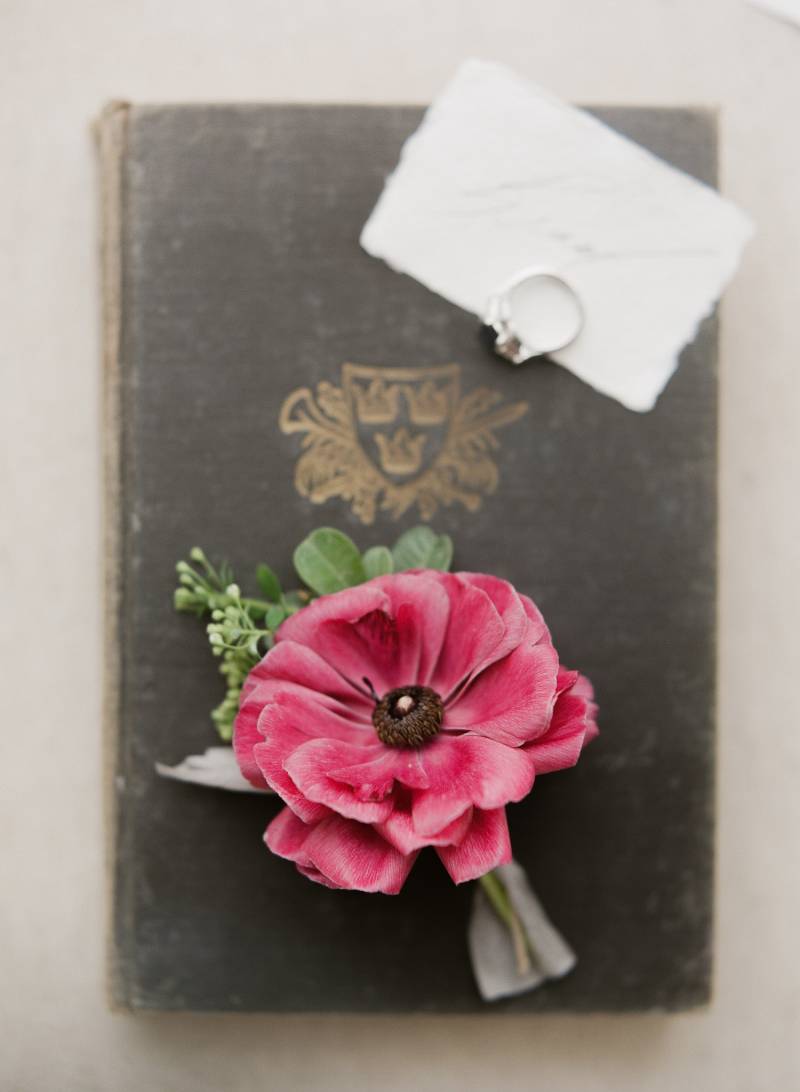 HOW DID YOU MEET? We met on a dating app called Clover. I was very newly single and the day I got the app Brad and I "connected". Brad was deleting the app that day because he thought it was "silly" and wasn't meeting anyone worthwhile. As he went to delete it, he saw that we had connected and sent me a message. Being, the eager single woman I now was, I messaged him right back. We immediately hit it off and went on a date the very next day. From that date on we were inseparable. It was, as cliché as this sounds, love at first sight. We both knew almost instantly that we had just met the one we would spend the rest of our lives with.
TELL US ABOUT YOUR PROPOSAL: Ahhhh... our proposal I had been having a terrible day, tears were involved and all. Brad, because of this bad day, decided today was the day. He changed all his previous proposal plans and he took me to our lot where we will build our home. He got down on one knee and said my full name. From there he went on to say he never wants me to have another bad day and if I do, he will be right there to make it better. He proposed in the spot where we will build our family and lots of memories. It was the most romantic thing I could have ever imagined.
TELL US ABOUT FINDING YOUR WEDDING DRESS: My wedding gown! Berta made all my dreams come true. I knew going into Town and Country bridal salon that I wanted to try on all the Berta gowns they had! So, that's what I did, but when I tried this one on, I just knew. My family that was with me did the gasp and I was speechless.
DESCRIBE YOUR WEDDING FLOWERS: Wedding flowers were all my favourite flowers wrapped up in beautiful greenery.
FAVOURITE DETAIL OF THE DAY: It is really hard for me to pick between the flutterfetti walking back down the aisle as husband and wife, or our beautiful twinkle light tent.
WHAT ADVICE WOULD YOU GIVE OUT TO A COUPLE PLANNING THEIR WEDDING? Just relax. I enjoyed every moment of planning. Also, having the best wedding planner ever didn't hurt!
MOST MEMORABLE MOMENT? So, I threw my bouquet and it was time for the garter toss. They put out a chair for me to sit in and Genuwine's "Pony" starts playing. I had joked with Brad prior to the wedding that I wanted him to magic mike for me at the wedding to this song. So, hearing this song, he thinks I have planned for it to play and that I want him to do the dance. My husband then starts Magic Mike'ing it all over the dance floor and all over me while I was just sitting in the chair. He dances to about half of the song and then says "That's all I've got" I than tell him all he has to do is take off my garter... he died laughing. This happened to be a lot of the guest's favourite part of the wedding.
ANY OTHER DETAILS THAT HELP TELL THE STORY OF YOUR DAY? Being from NOLA we had to incorporate some New Orleans into our wedding so for our late-night pass we did café au lait and beignets. Guests really seemed to enjoy this!
TELL US A LITTLE ABOUT YOUR HONEYMOON: We went to the beach and had a blast. We relaxed a lot and even got on some cruisers and cruised around.