In the beginning phases of planning this editorial, Vanessa (of VANESSA PENCE EVENTS) and San Francisco wedding photographer JANINE LICARE knew they wanted it to feel like an elevated evening garden party, while also aiming for an aesthetic that was different from what they'd been seeing lately in the wedding industry. They tell us, "We chose to use colours that aren't typically paired together, and to mix and match various patterns to give it a fresh feel. To accomplish this, we opted for a green and ivory floral print gown, a unique linen inspired by a blue toile pattern, green plates with a vine motif, and bright red florals for contrast. FILOLI, a historic estate with 16 acres of sprawling gardens, was the perfect venue to carry this out.

The bride wore a MONIQUE LHUILLIER floral and vine pattern ballgown, made from green and ivory open weave silk gazar, with an off-the-shoulder neckline and gathered puff sleeves. The bride's bouquet by GOLDEN FIELDS FLORISTRY included martagon lily, tweedia, white clematis vine, red ranunculus, hot cocoa, dark knight, and honey dijon roses. In contrast to the bride's whimsical and romantic look, the groom's attire was more classic, with a black double-breasted tuxedo and a black bowtie.

The ceremony took place in a historic section of the gardens called the Wedding Place, a multi-tiered terrace surrounded by lush trees which was specifically built to host the wedding of the daughter of the Filoli family over 80 years ago. The altar featured two arrangements made with blue delphinium, hot cocoa and honey dijon roses, red ranunculus, red plum leaves, tweedia, and smoke tree plumes for texture. Raised above and behind the altar on the tiers, were several lush arrangements made of nothing but Queen Anne's lace. Guests would be seated at the Eden cross back, metal bistro chairs, which were also accompanied by more Queen Anne's lace arrangements.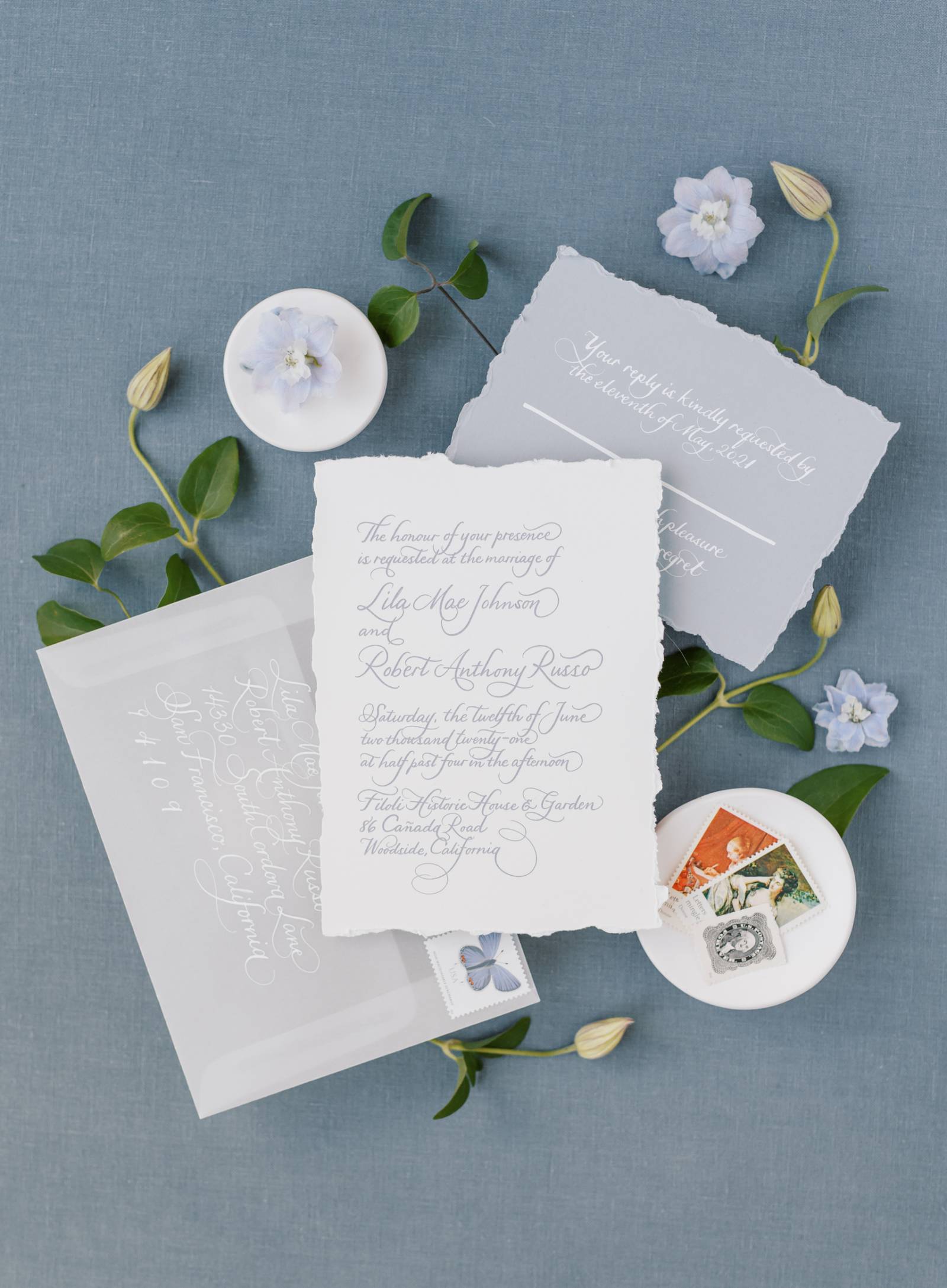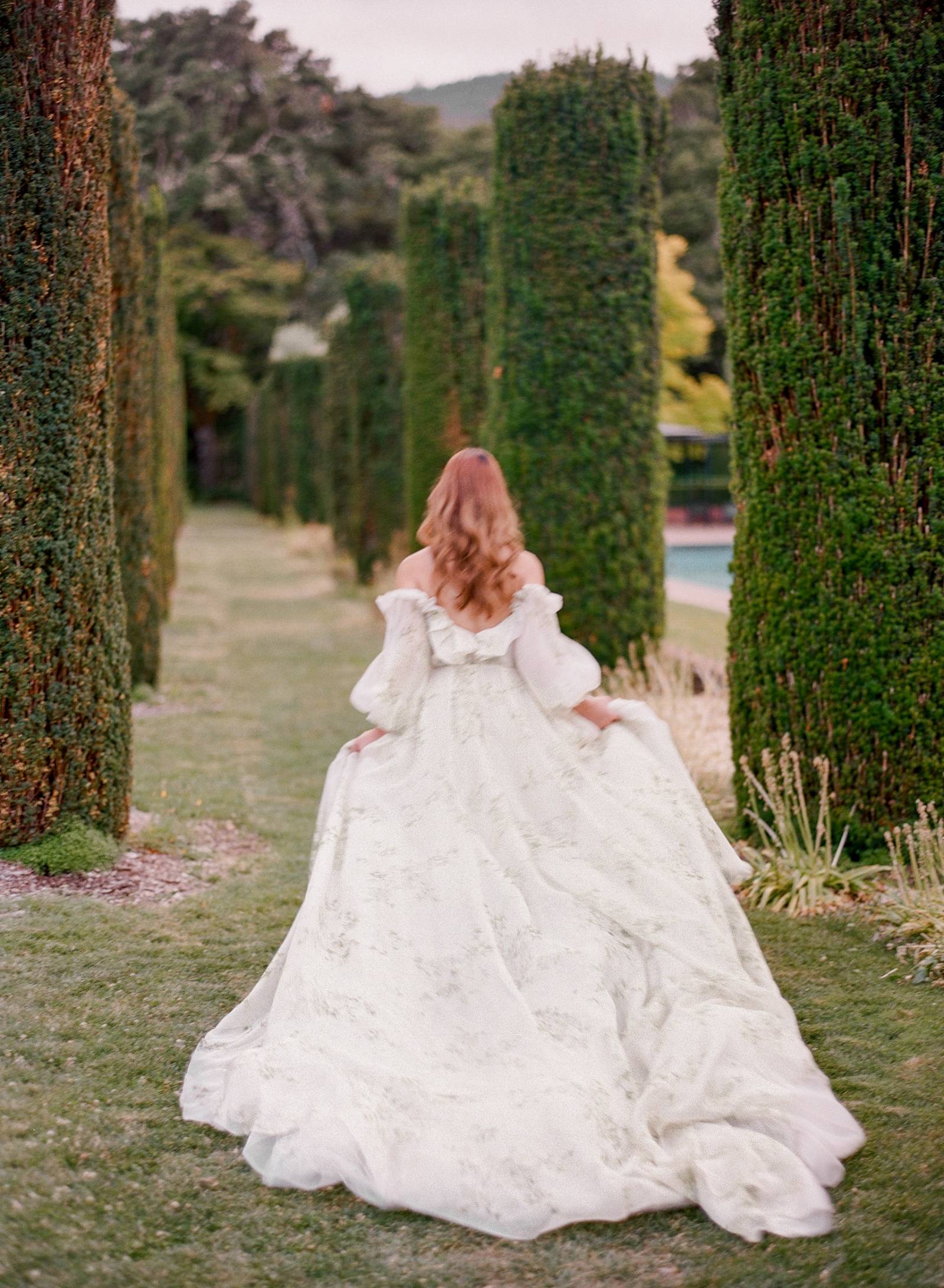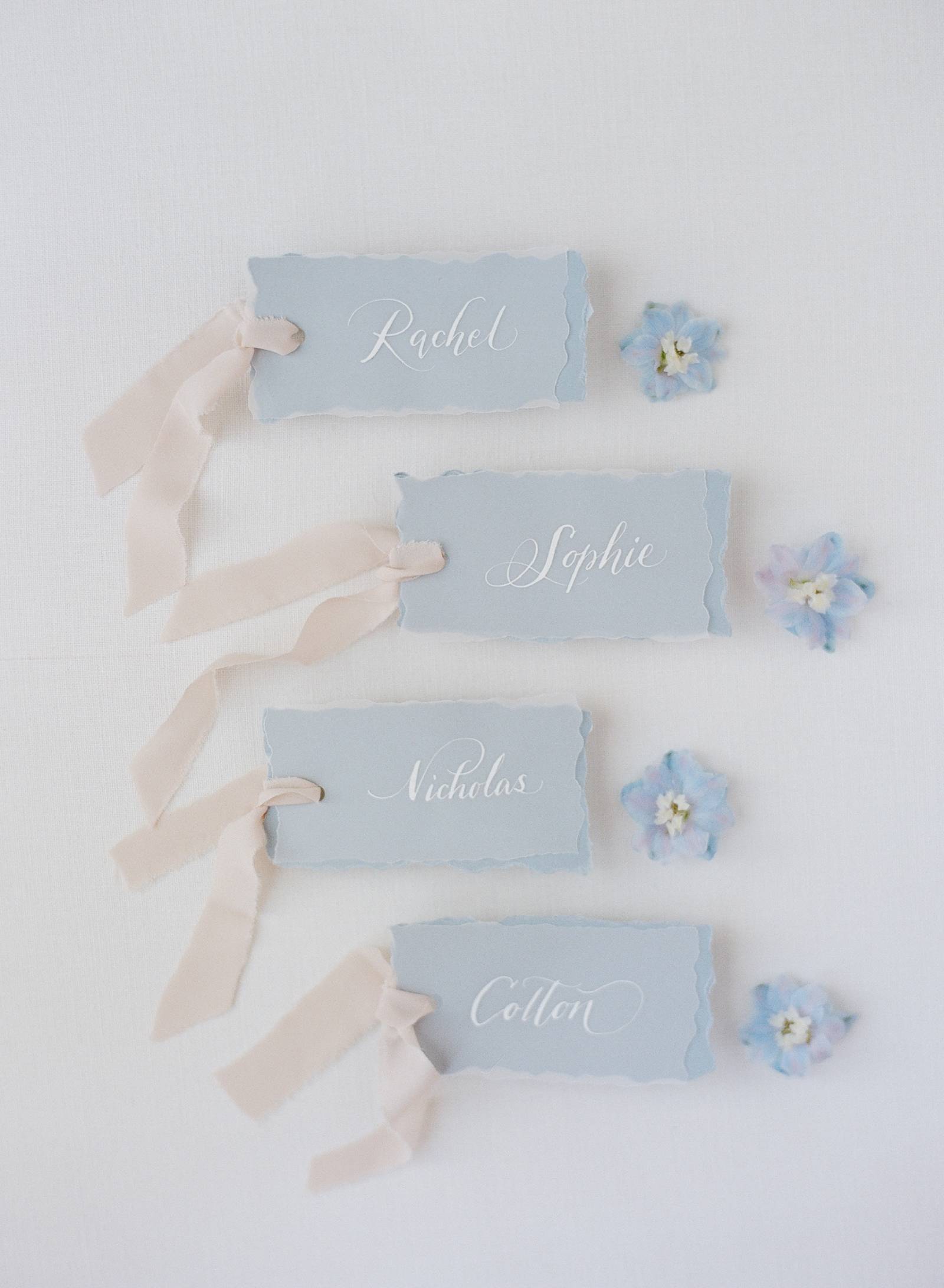 The reception was in the Garden House, a space designed to reflect Georgian-style architecture, characterised by the use of symmetry, bricks, and large paned windows. The print on the linen was akin to a blue toile pattern. Similar to the vintage inspiration used for the linen, the celadon green plates were inspired by an old fragment of wallpaper from the 1700's. The climbing vines bring to mind the floral and vine pattern on the bride's dress. The table featured various floral arrangements in an assortment of ceramics. In contrast with the cool blue and green tones, the shades of red in the florals provided a modern and eye-catching touch. The centerpieces included delphinium, martagon lily, tweedia, foxgloves, white clematis vine, red ranunculus, hot cocoa roses, dark knightn roses, and honey dijon roses.

For the cake, FLOUR & BLOOM was able to print an edible blue toile pattern on the bottom layer of the cake, mimicking the table linens to perfection. She also created various sugar flowers in red and cream tones to mimic those used throughout the shoot.
A big thank you to San Francisco wedding photographer JANINE LICARE for sharing this beautiful inspiration with us. Originally from Connecticut, Janine moved to Costa Rica when she was 4 years old and grew up in the middle of the jungle. At the age of 9, she co-founded a non-profit organisation to help save the rainforest (check it out here). When she was 11, her parents gave her her first film camera and she immediately fell in love. After stoking her passion by pursuing photography classes at Stanford University she then leapt into the wedding industry full-time. Check out more of her portfolio here.