Hillary & Jerrod got married at the stunning Swan House Gardens at THE ATLANTA HISTORY CENTER which was the perfect fit for their dream of an elegant garden wedding. Hillary envisioned "lots of flowers, mostly greens, whites and pale pinks. If I had to give it a theme it probably would have been "understated elegance" with a timeless, slightly bohemian flair." SARAH INGRAM PHOTOGRAPHY was behind the camera and captured these stunning images of their day.
With several out of town guests flying into Atlanta, the location of Swan House Gardens made it all the more desirable. And being held in June it gave them the option of an outdoor ceremony but also an indoor reception with crucial air-conditioning. They hosted a cocktail hour in the courtyard prior to the main reception in the ballroom.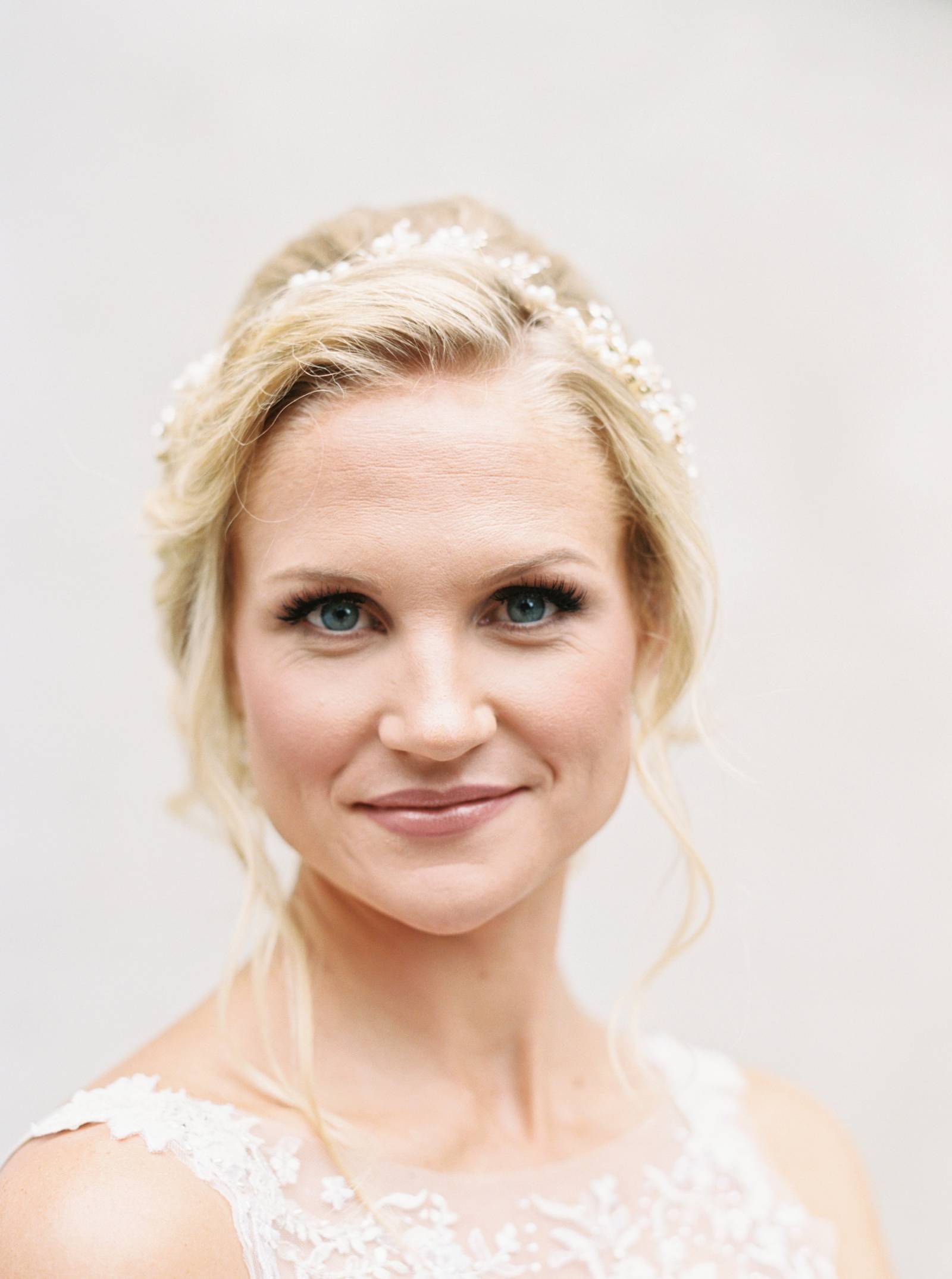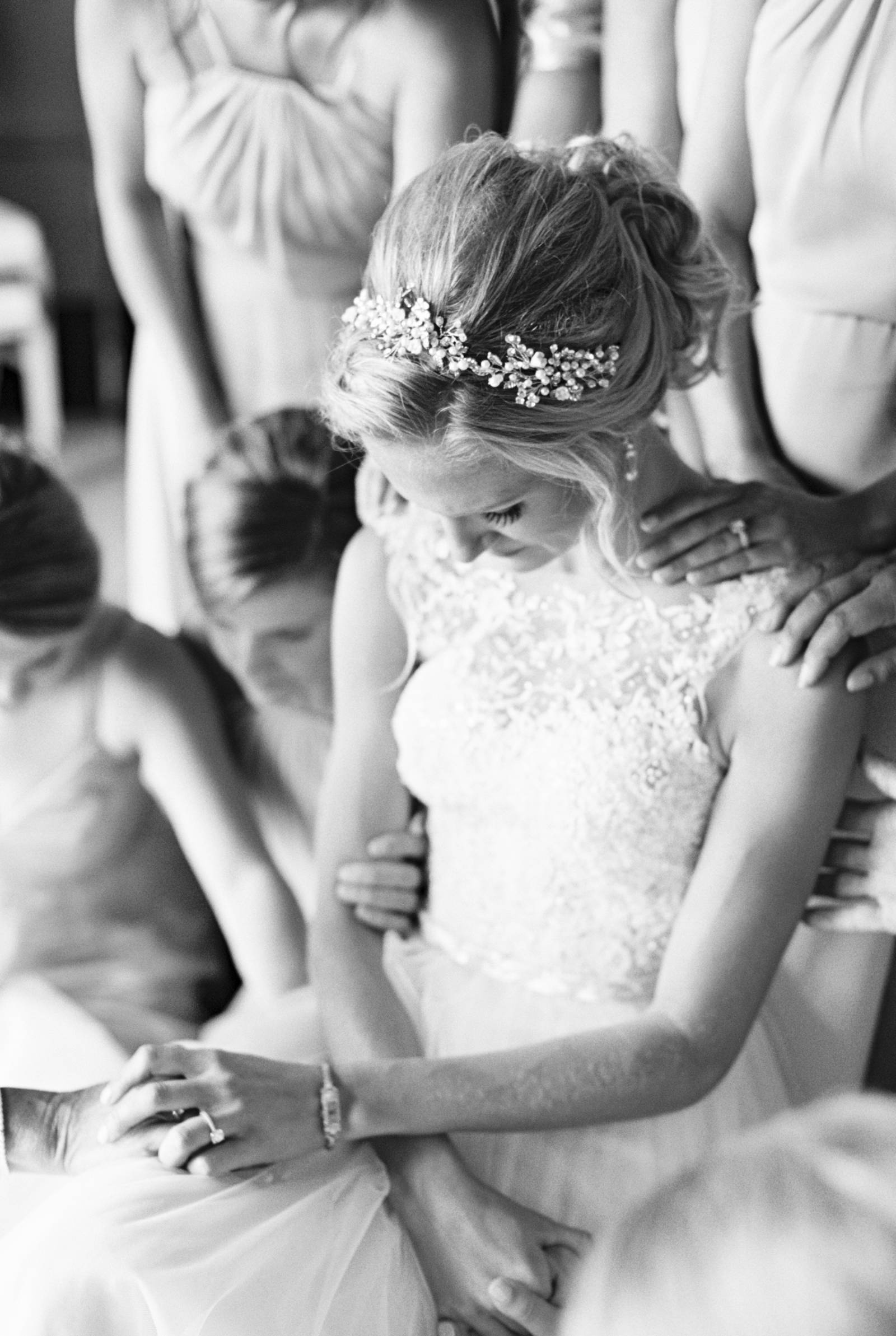 HOW DID YOU MEET? We met in law school at the University of Georgia. Jerrod was a year ahead of me and Editor-in-Chief of the Law Review at the time. I was thinking about running for a position on the Law Review executive board the following year, and as I would later discover, Jerrod was planning to wait until I interviewed for a position before asking me out - he didn't want anyone to think that I got a position due to bias. The day that exec board interviews were scheduled turned out to be the infamous "Snowpocalipse" in Georgia! Interviews were snowed out and everyone went out downtown for their day off. That night, Jerrod walked me home, and we shared our first kiss in the snow on the front steps of my apartment. The rest is history!
TELL US ABOUT YOUR PROPOSAL: About two years into our relationship, Jerrod and I decided we wanted to grow grapes (and make wine). I grew up on a horse farm in the mountains of northeast Georgia, so we planned out a small vineyard in a side pasture of my childhood home. We ordered the grapes vines (merlot, chardonnay, chambourcin, and traminette) and gathered the supplies to construct the vineyard. As we got closer to "planting day," the crowd of helpers continued to grow. Before we knew it, nearly all of our family was going to be there to "show their support" for our new passion project. The day finally came and everyone got down in the dirt - for hours - digging post holes and planting grape vines.
As the sun started to go down, Jerrod approached me to ask if I'd like to go for a walk. I reluctantly agreed (there was still so much to do!), and we proceeded to walk up the pasture hill adjacent to our new vineyard. When we got to the top of the hill, he stopped me under my favourite giant oak tree. He then turned to me and pulled out a folded piece of paper from his back pocket. It was an old church program from a service we had attended nearly two years earlier in my hometown the first time he ever came home to meet my mom. I didn't know him that well at the time, but I remember him scribbling vigorously on his program during that service. To no avail, I had tried to look over his shoulder to try and see what he was writing. As it turns out, Jerrod was writing down what would one day become his proposal to me in the form of a prayer, asking God to continue growing our relationship and shaping Jerrod into the man that I needed him to be.
As he began to read to me the slightly, smudged words he had penciled down on this old creased church program years earlier, the waterworks began. Tears started involuntarily streaming down my face. The next thing I knew he was down on one knee looking up at me in my muddied t-shirt and Nike shorts with dirt caked up underneath my fingernails. I couldn't believe what was happening. When he asked me to be his wife, I, of course, said yes without hesitation. We then headed back to the vineyard where all of our family was waiting for us to celebrate. It was a truly perfect day.
TELL US ABOUT FINDING YOUR WEDDING DRESS: I only went to one store - amazingly. It was a small boutique bridal shop in Atlanta, Georgia called Joan Pillow Bridal. I was convinced that finding a dress was going to be a long, drug out process for me. I had always hated wedding dresses. My mom is in the wedding industry and was familiar with the boutique so she suggested we go check it out. We made an appointment for the following Saturday. That weekend, they happened to be hosting a trunk sale for a designer named Mira Zwillinger. I instantly fell in love with her style. I tried on several dresses and found one that I absolutely LOVED. There was only one problem - it was way out of the budget. I left thinking that I was never going to find another one that I liked as much and teased my mom that she had cursed me. A couple weeks later, I was perusing several websites for wedding dresses and came across an ad from Joan Pillow that said they were running a "flash sale" where all of the floor samples would be 50% off for 24 hours. I called my mom and told her we had to go. She drove down and met me in Buckhead for my lunch break. We drove over to Joan Pillow where they seemed to be waiting for me. Evidently there had been a dress that they had forgotten to show me the first time I was there. And better yet, Joan Pillow herself happened to be in town and helped me try everything on. When I put on "the" dress, I instantly knew - the best part was, it was in budget because it was 50% off! I wrote them a check on the spot and that was it. Ironically, the wedding dress ended up being the easiest, least stressful part of the whole process.
WHAT ADVICE WOULD YOU GIVE OUT TO A COUPLE PLANNING THEIR WEDDING? Don't lose track of the meaning behind your wedding. The planning process is hectic and, at times, all-consuming, but make sure to still take time as a couple to reconnect and remind yourself not to sweat the small stuff – you're getting married! A wedding is supposed to be a beautiful, loving celebration of your love for one another – one that you get to share in with all of your friends and family. It's easy to get caught up planning the event and lose track of what it's all for. Don't let the stress overshadow the joy that's to be gleaned from the process and the big day, itself. I would also suggest taking a moment during your wedding day to step back with your new spouse and privately take it all in. Look at the faces of everyone who showed up to support you and know that it's one of the only times that all of those people will be in the same room. Have a blast and soak up every minute you can!
DID YOU HAVE ANY DIY ELEMENTS? With Jerrod and I both being full time attorneys, we didn't have a ton of time for DIY projects. However, we did do our own programs and the name cards for the seating chart. I took advantage of the printer at my office and printed out the programs and all of the guests names on place cards. I then ordered a custom wax seal with the initials of our first names on Etsy, as well as wax sticks from Amazon that could be used in a glue gun. Over the course of a couple weeks, Jerrod and I would come home after a long day at work and conduct an assembly line of gluing and pressing wax seals onto each program and name card. For the name cards, I also ordered some dried olive leaves off Amazon and used them as an "added touch" to the name cards for our seating chart display. I think by the time we finally finished them all it was only two days before the wedding!
FAVOURITE DETAIL OF THE DAY: Signature Cocktail - Our signature cocktail was called an "Emerald Gimlet." We fashioned it after a cocktail we discovered at a restaurant in the lower eastside of NYC called Beauty and Essex. It was a vodka gimlet made with fresh lime juice, lemon nectar, and then shaken with basil. It came out a bright green tennis ball colour so it was beautiful. Apparently, the bartenders made them pretty strong too so they were a big hit with the guests.
Donut Tower in lieu of Groom's Cake - Neither Jerrod nor I are big cake people, and Jerrod loves donuts, especially from this one place in Atlanta called Sublime Donuts. We placed an order for 150 donuts L-shaped donuts and arranged them in a round , multi-tiered display tray that looked a lot like a wedding cake. As it turned out, the donuts ended up being more of an appetiser for the guests than a dessert since no one had to wait for us to "cut the cake" before helping themselves. By the time everyone finished with dinner, all of the donuts were gone.
Poetry on Demand - For our little signature party detail, we hired a guy named Eddie Cabbage that we had stumbled across at a brewery in Asheville, North Carolina about 6 months before our wedding. He made a living writing "Poetry on Demand" in public places. Basically, he would just set up shop at a table with a typewriter and a stack of small sheets of paper. Customers (i.e., our guests) could then go up to him, tell him what they wanted a poem about (anything from your pet, to your relationship, to your favourite TV show). Eddie could then whip up an original poem on his typewriter in 15-20 minutes. His poems were incredible, and he ended up being a big hit with all of our English major/lawyer friends.
MOST MEMORABLE MOMENT? Private vows/first look: Jerrod and I are in a wordsmithing profession, but are also very private people. We knew we wanted to exchange vows - just maybe not in front of our 250 closest friends and family. So we decided to do a "first look" in the front yard of Swan House before the ceremony began, after which, we would then exchange our private vows. At first, I wasn't too keen on the first look idea because I was afraid it would take away from the moment I walked down the aisle. I couldn't have been more wrong. The first look was so intimate and special. We didn't feel the pressure of everyone watching us and were able to have our own private moment to take each other in. Then we exchanged our written vows, which I will keep and treasure forever. I also gave Jerrod an old pocket watch that used to belong to my great grandfather who lived in Holland (even though we agreed on no gifts). It was an incredibly special moment, and honestly, left me feeling like we had just gotten married. It allowed us to relax as the ceremony rolled around and just enjoy the process of making it official!
Mother-daughter dance: So my parents are divorced, and as we all know, the mother of the bride always gets the short end of the stick on wedding day. The dads usually speak, and the father of the bride/mother of the groom gets to dance with their daughter/son. Because I'm extremely close with my mother and wanted her to feel loved and special on my big day, we planned to have a mother-daughter dance. We danced to "Turn Around" by Harry Belafonte. By the end, we had everyone in tears. Brides - a word of advice - do something to make your mother feel loved on your wedding day. I promise you won't regret it.
ANY OTHER DETAILS THAT HELP TELL THE STORY OF YOUR DAY? Our band was AMAZING. They were an eight piece band called Emerald Empire. They had everyone out on the dance floor all night long which made the night even more memorable. Don't skimp on entertainment!
We also hired a videographer. It wasn't cheap, but we now have a priceless and beautifully crafted wedding video to relive our wedding day for the rest of our lives. (Shoutout to Kevin Hursh Films!). A talented photographer is obviously a must (looking at you Sarah Ingram) but I would highly recommend getting it all on film too (especially if you plan to exchange private vows like Jerrod and I did). In addition to a "feature film," a videographer will also give you all of the raw footage, which, in hindsight, is really special to have.
TELL US A LITTLE ABOUT YOUR HONEYMOON: We went to Greece for two weeks. First, we flew into Athens and spent a couple days sightseeing in the city. From there, we went to Mykonos for four days and explored all the beaches on the island vis-à-vis a moped. At night, we would go into the village for dinner and watch the sunset over a bottle of wine. We saved the best for last and rounded off the trip with a four day stay in a boutique hotel in Santorini. During that time, we took a catamaran cruise, toured the ancient ruins, explored the different villages on a four wheeler, and obviously tried to patronise as many local wineries as we could. The weather was magnificent, and we could not have enjoyed ourselves more. We were so grateful for the time away to spend together and the opportunity to kick off our marriage in such an amazing country.
By the way, I would highly recommend taking a day off between your wedding day and when you leave for your honeymoon. It's so nice not to have to worry about packing for a vacation in a foreign country at the same time you are trying to finalise the seating arrangement. We took our time the Sunday after our wedding at the hotel where we stayed (St. Regis in Atlanta) and then leisurely made our way back home to get ready for the trip.
IS THERE ANYTHING YOU WOULD CHANGE OR DO DIFFERENTLY? Nothing is ever perfect and there are many times that I got overwhelmed during the wedding planning process. Fortunately, I had a great wedding planner and fiancé to help me sort it all out, and in the end it was all worth it. We wouldn't change a thing. The quirks and bumps along the road are what give your story character. It can be messy and stressful at times, but at the end of the day, you're getting to marry the love of your life, so it's worth it.