Karissa & Jake contacted WANDERLUST WEDDING in the early stages of planning their wedding. They were looking to have a small intimate wedding in Provence, with just a handful of guests and having someone local on the ground would prove to be invaluable. What was important to them was giving their guests a real Provençal experience - the food, the wine, the old Bastide - all important ingredients to them. Selecting their venue of LE PETIT ROULET purely via images they saw online, it had an old barn which was perfect for the ceremony, and as a bonus it kept their guests sheltered from the Provencal sun. Working with an autumnal palette, the florists dressed up the barn with stunning florals adding an elegant touch to an otherwise rustic feel. These beautiful images by RORY WYLIE have us dreaming of a wedding in the South of France now!
WHAT INSPIRED YOUR DAY? I think we've always envisioned a small wedding. We had been to enough weddings to see other couples play host to 300 or 400 of their "closest" friends to know that we wanted our big day to be different. I think we initially imagined a beach wedding, but when considering that Jake still had family in Poland, we began to explore a European destination. We wanted to capture an elegant yet casual setting. Like the style of our home, we gravitate towards a modern rustic aesthetic (we know, it's all the rage). Although I had never been to France, Jake had fond memories of the Provence region, and so, when we settled on that, we knew that it would perfectly capture our vision.
HOW DID YOU MEET? TELL US A LITTLE ABOUT YOUR PROPOSAL? Our love story began where all great stories begin... in a bar. Jake boldly came and sat down at a table where some girlfriends and I were hanging out. We ended up going on a few dates but parted ways. We once again ran into each other a few months later in – you guessed it – a bar. Second time's a charm in our household!

We did things in what some would call reverse order. We got a dog together. Then we moved in together. Then we moved to a new city together. Then we bought a house together. It was only a few months after we bought our house that we got to go on our first real vacation together. We travelled to Puerta Vallarta, Mexico and stayed at this lovely boutique, adults-only hotel. It was exactly what we needed in the midst of a very busy time in our lives. Jake had planned a romantic dinner on the beach about half way through our trip. We went down to the beach early to catch the sunset. We walked away from the beach club, and as we started to head back, the words "Will you marry me?" appeared in front of us. Jake went down on one knee and pulled out a small box. It was the easiest question I've ever answered.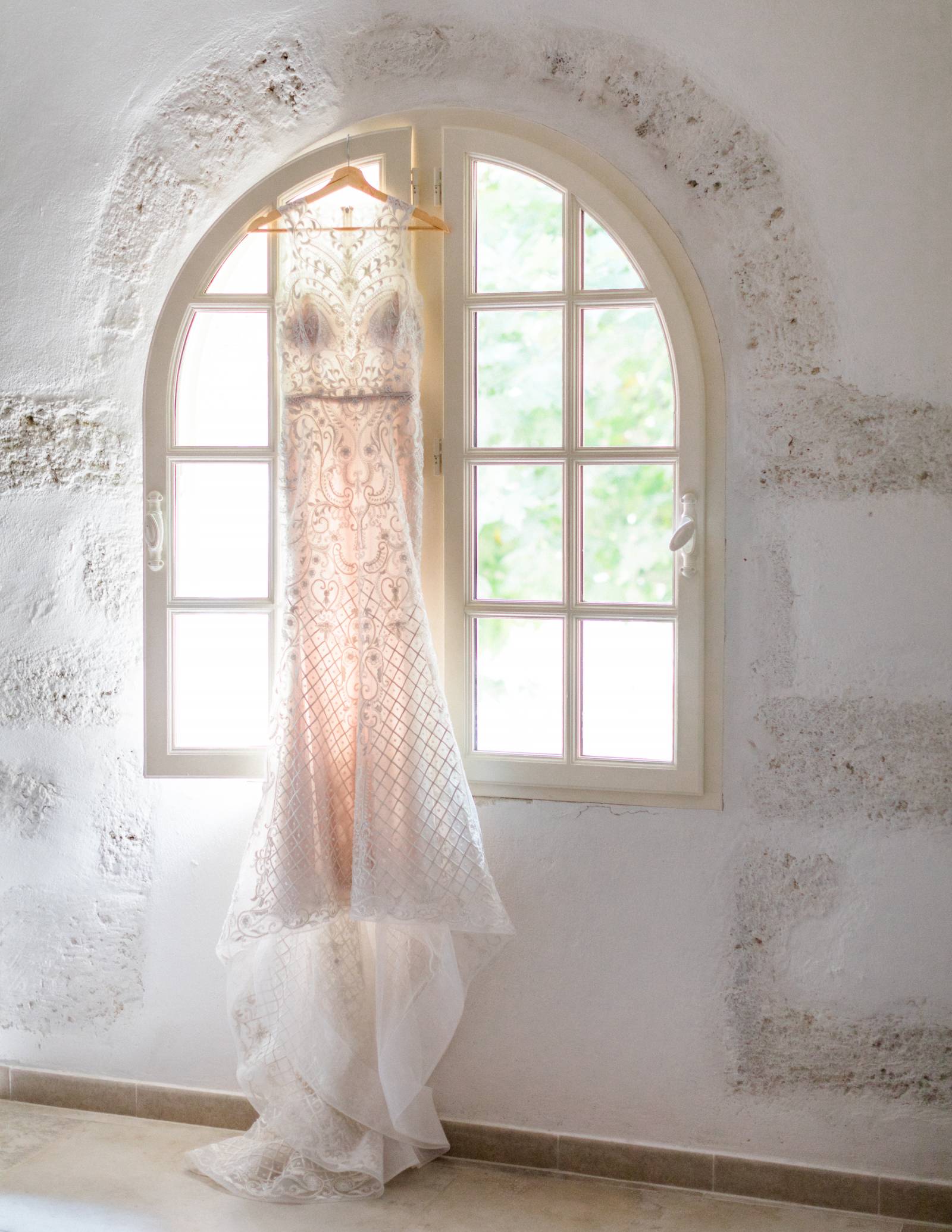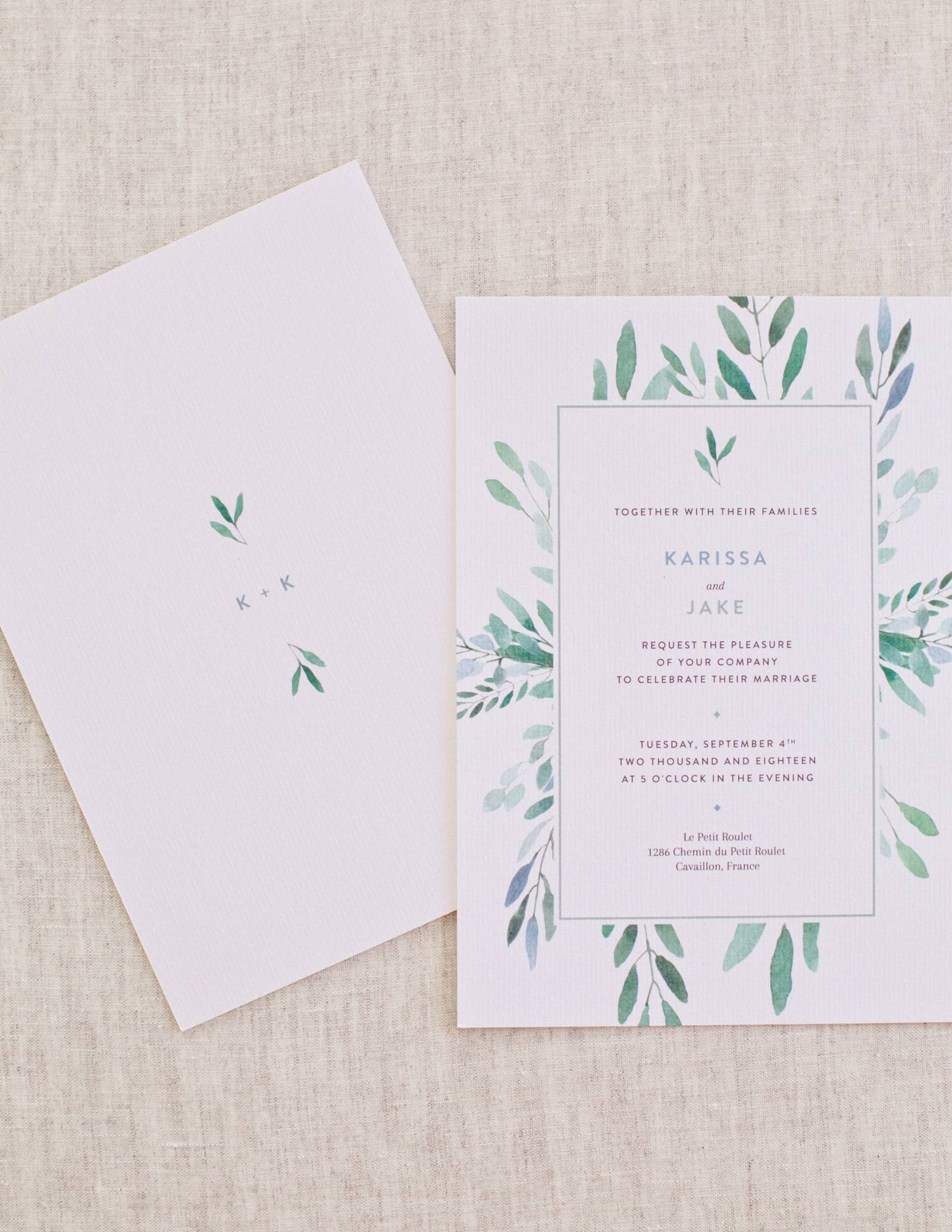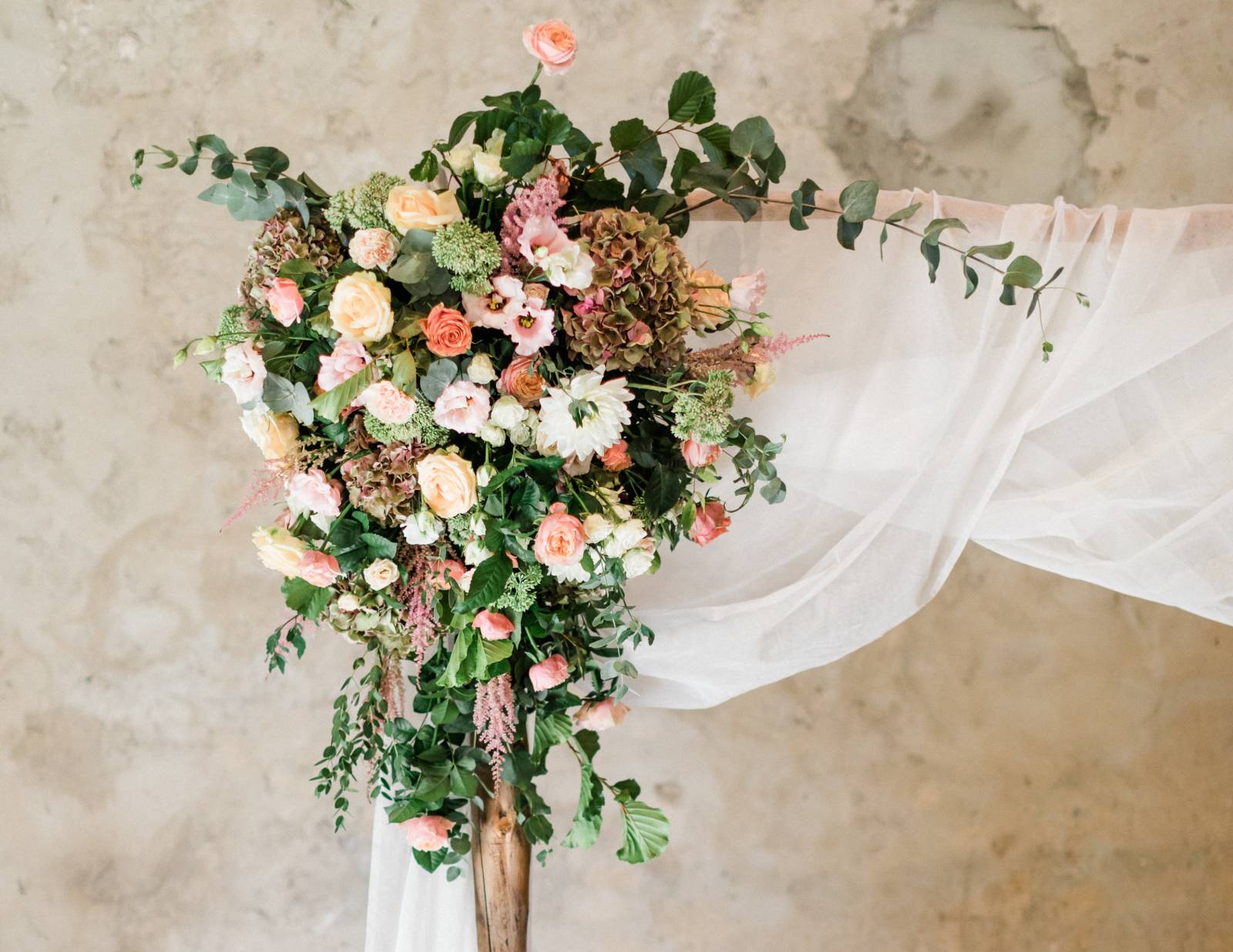 TELL US ABOUT FINDING YOUR WEDDING DRESS: The dress was always one of the most important elements for me. Even before we had figured out a date or location (i.e., country) for the wedding, I went dress hunting. Initially, it was just an exploratory trip. My mom was in town and it seemed like the perfect mother-daughter weekend activity. In that trip, I fell in love with Lazaro gowns but hadn't yet found "the dress". But, there was a trunk show a month or two later. My mom wasn't able to join me for this round, but one of my closest friends came to help guide me. The minute I put on the sample, I knew that was it. I had found my dress! I loved the simplicity of the silhouette (I knew I would never be a ball gown bride) with the detail of the embroidery and beading.

WHY DID YOU CHOOSE THIS VENUE? While there were many options in the region, we really wanted a place that would represent to us the aesthetic of Provence, but we needed to strike a balance between the size of the space and the size of the guest list. Le Petit Roulet really captured our attention. Despite not being able to visit the venue in person before our big day, the beautiful setting, intimacy of the space, layout, and history of the building were obvious from the photos.

Once we got there, we realised the venue was even more amazing than we had anticipated. Hidden just outside of Cavaillon, tucked away amidst acres of apple orchards, the beautiful grounds were exactly what we were looking for. Walking through the villa, there was an amazing juxtaposition of old and new - stunning stone walls were aglow from the in-floor lighting, lovely chandeliers hung from the old barn ceiling, etc. Acknowledging that we were in someone else's space, there was still a strong sense of home to our surroundings. Each space served a distinct purpose in hosting our guests. We were incredibly pleased with our choice and may even revisit the grounds for another stay in the coming years.
WHAT DID YOU DO FOR YOUR HONEYMOON? While we had an amazing time in the South of France, we are heading to Asia in the early spring to travel through Vietnam, Cambodia, and Thailand.

HOW VALUABLE WAS IT HAVING A WEDDING PLANNER? If it weren't for Lisa and Franck, we likely would have been getting married in a drive-thru chapel in Las Vegas. We are NOT the planning type. For better or worse, we weren't exactly the most detail-oriented of couples. But Lisa and Franck took what was a jumbled collection of our amorphous ideas and turned them into the perfect day. Planning a destination wedding from abroad would have been beyond challenging, but Lisa and Franck handled everything. Words cannot express our appreciation for their help. We quite literally could not have done it without them.

TELLS US ABOUT YOUR FLOWERS? Morgane from BIG DAY did a spectacular job. We went back and forth a bit early on regarding the colour scheme, but what she put together in the end was such a perfect palette for early fall. I absolutely adored my bouquet, and the flowers on the ceremony arch and the table arrangements far exceeded our expectations. As we were close to the ending of the summer we incorporated autumnal tones with hydrangeas, astilbes, dahlias, old roses. Warm colors, and organic atmosphere, with unstructured arrangements.

THOUGHTS ABOUT YOUR PHOTOGRAPHER: Rory was amazing! For someone who had only met us in person that morning (we had a Skype session and exchanged emails before then), she captured our relationship in such a magnificent way. We, of course, had seen pictures from other weddings she had photographed, and we just loved her eye, but I don't think we could have imagined how happy we would be with our own. Jake is not one to enjoy being in front of the camera, and Rory made him feel incredibly comfortable.

WHAT ADVICE WOULD YOU GIVE OTHER COUPLES PLANNING THEIR WEDDING? Thinking about a small wedding? Do it! Trust us, it's a blast! A destination wedding isn't as scary or pricey as you may think. We ultimately spent about the same or even less than we would have if we had planned our wedding in the US. Don't drive yourself crazy. Just get the wedding planners! Your sanity is worth more than whatever you need to pay them.