If warm autumn tones are your vibe, you're going to fall head over heels for this joyful wedding at HOLMAN RANCH just outside of Carmel captured by Northern California wedding photographers THE GANEYS. With a delightful palette of mustard golds, deep wines and warm rose, Ali & Andrew embraced the season when it came to their wedding style. Working with wedding planner RUBY & ROSE, the event was full of the most exquisite florals by ANASTASIA ANDENMATTEN.
WHY DID YOU CHOOSE THIS LOCATION? Carmel is a little slice of heaven! We love that we can drive there from LA but still feel like we're having a proper getaway. The scenery and town are so charming and stunning, plus most of our friends and family had never been so we were excited to introduce them to it. And once we started touring venues in the area, we immediately knew Holman Ranch was the one for us.
HOW DID YOU MEET? We met in college at Chapman University through our jobs working orientation for incoming students, and then we discovered we had tons of mutual friends as well.
TELL US ABOUT YOUR PROPOSAL: We were visiting friends and family in London, which is one of our favourite cities. There was one day where our trip overlapped with both of our parents, so we landed at 7am and Andrew proposed by 1pm, then we had a big engagement dinner with our families. We unironically love the Paddington movies, so Andrew proposed in Primrose Hill in front of Paddington's house.
TELL US ABOUT FINDING YOUR WEDDING DRESS/ATTIRE: I only had one day of appointments scheduled to look at dresses and I found mine at the second appointment. I got to go with my parents and two best friends, and we had the best time. My mom actually found Andrew's jacket after we told her our vision for his suit, and then Indochino helped us style the rest of the suit around it.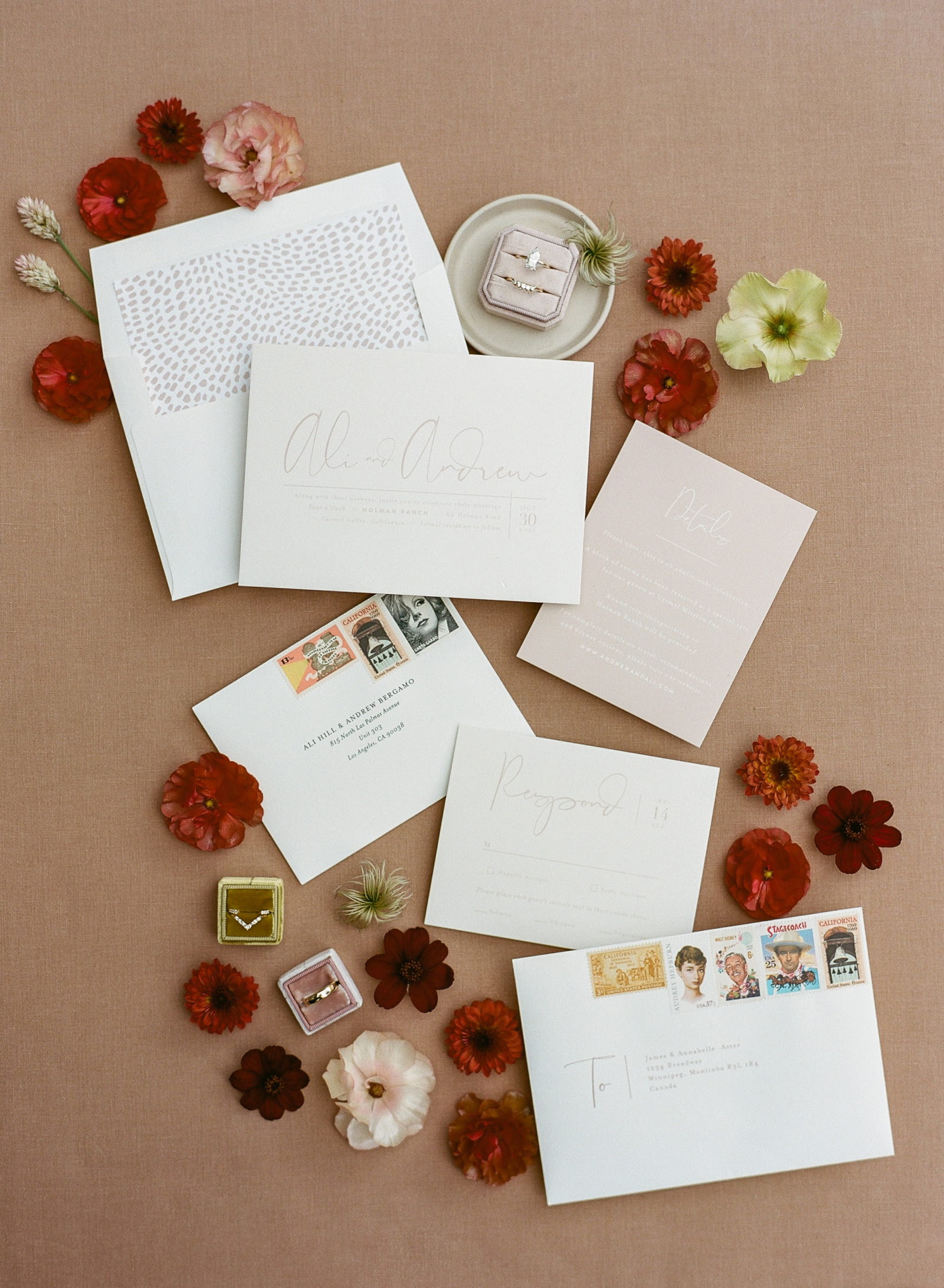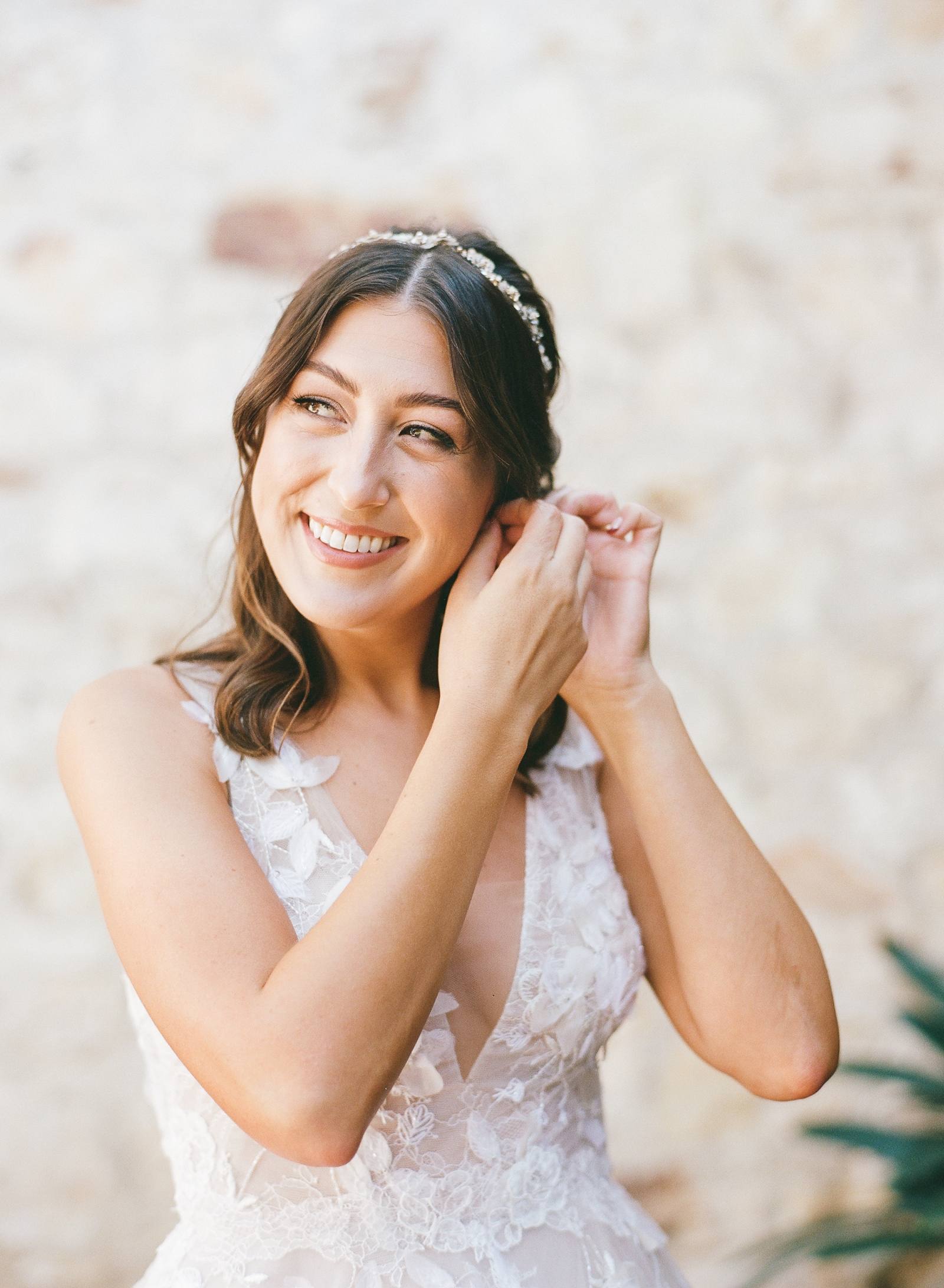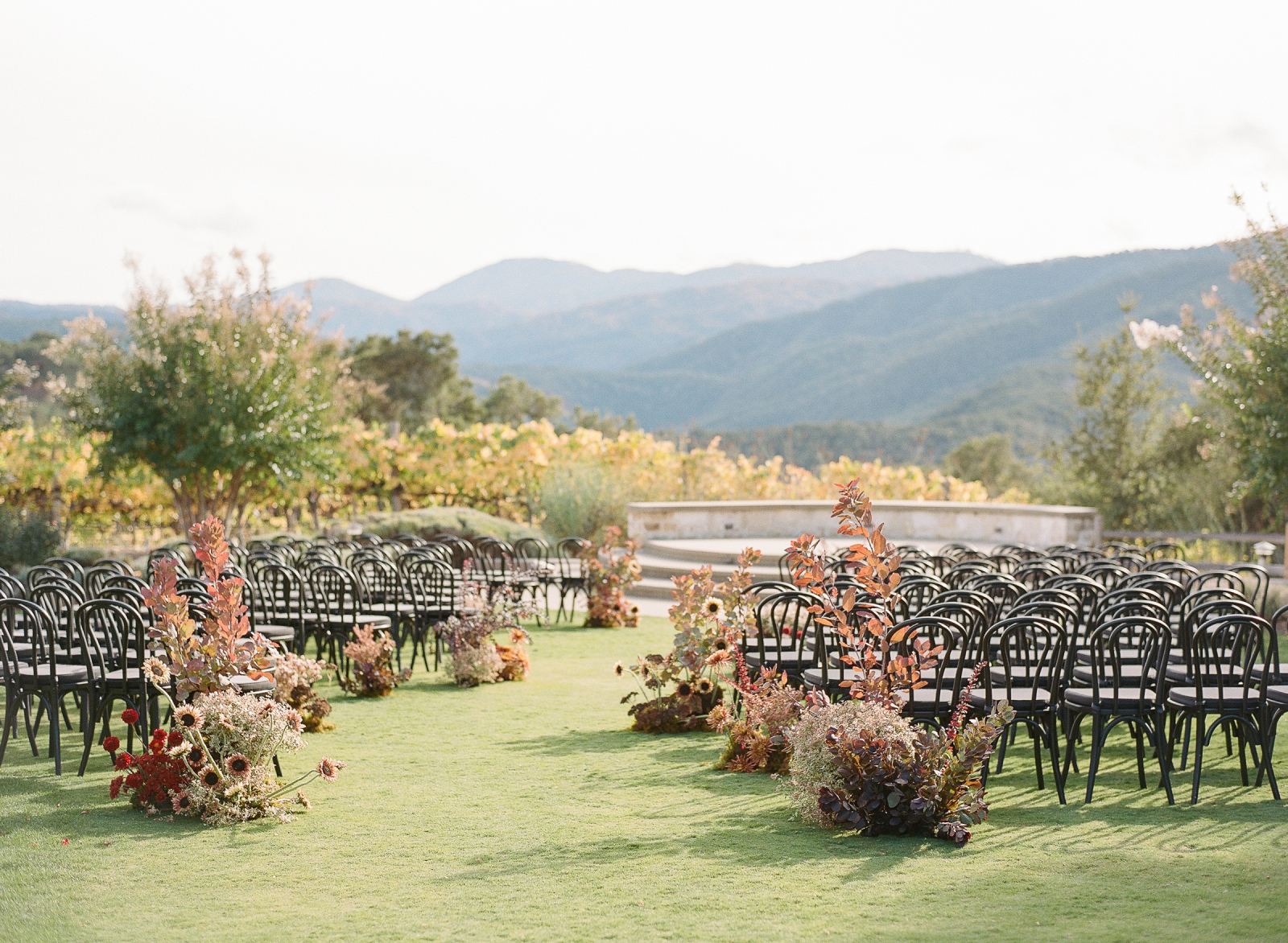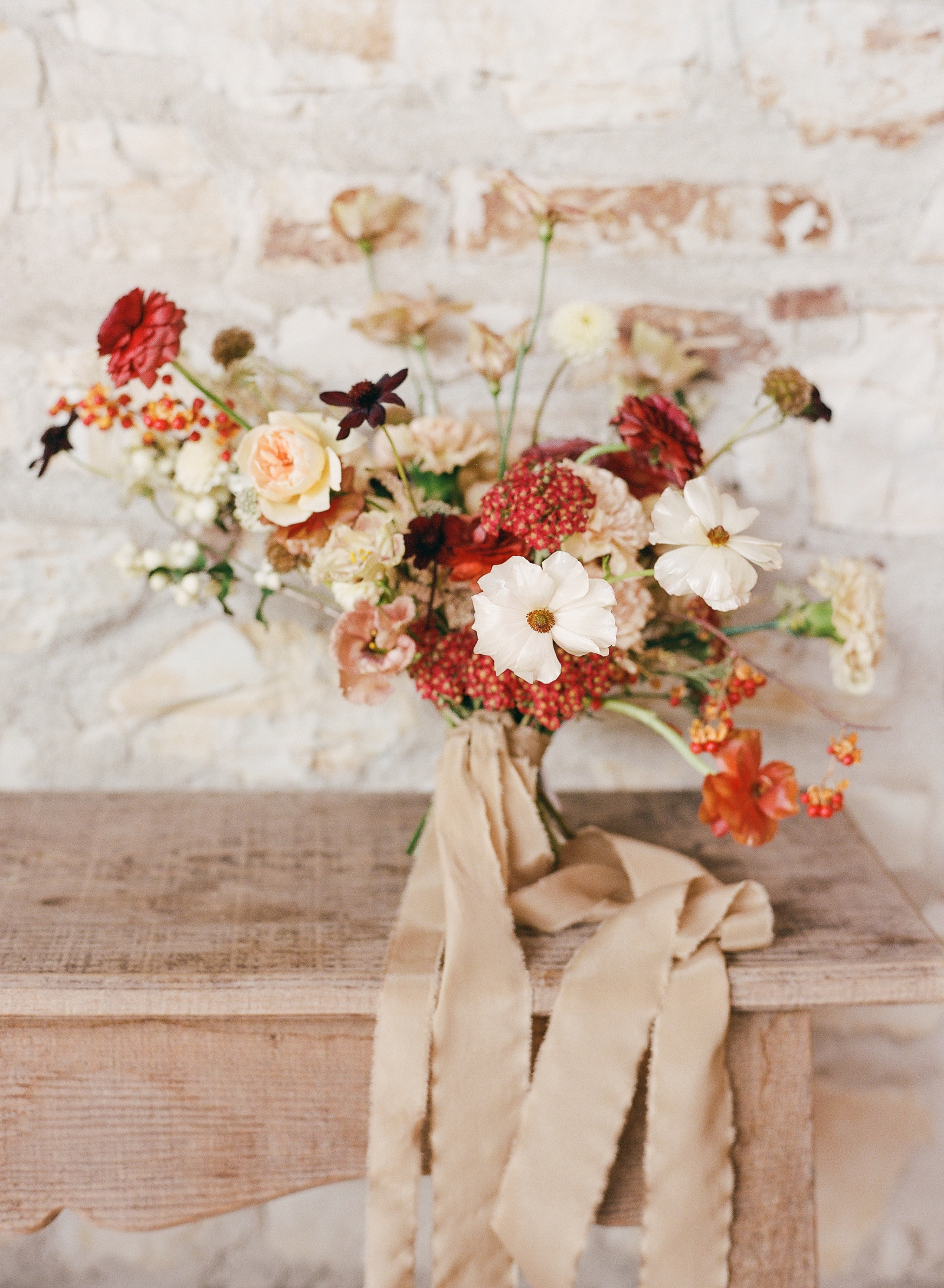 DESCRIBE YOUR WEDDING FLOWERS: Anastasia, our floral designer, is unparalleled! We told her the overall vibe and colour palette we were going for and she designed the most beautiful florals I've ever seen. Everything looked so organic, like it could have all just grown there naturally. Not only did she make everything look so chic and stunning, but she was so conscious of sustainability. She's simply the best in the game.
FAVOURITE DETAIL OF THE DAY: This is so hard to pick but maybe my bridal bouquet. It was so stunning, and Anastasia was able to tie in a handkerchief that Andrew's mom bought to give to his future partner in Bruges when he was a baby.
WHAT ADVICE WOULD YOU GIVE OUT TO A COUPLE PLANNING THEIR WEDDING? Hire vendors who you vibe with on a personal level. We had to postpone our wedding due to Covid and our vendors were so supportive and communicative throughout that process. Our DJs sent us a playlist on our original wedding date, then sent us a vintage record of the album with our first dance song after the wedding. Our photographers came to LA for our engagement session and we had the best day hanging out with them. We also tried not to micromanage anyone, and instead just gave them an idea of what we wanted and let their creativity run wild. Our amazing planner, Rachael, really helped us assemble an all-star team of vendors and we love them all so much on a personal level. I'm so grateful for their amazing and caring work on our wedding and their continued friendship after the fact!
MOST MEMORABLE MOMENT? There are so many memorable moments! But I will say our ceremony. One of our best friends officiated and she did such an amazing job. It was so personal and everything about the wedding was so us.
WHAT ASPECT OF THE WEDDING WAS THE MOST IMPORTANT TO YOU BOTH? We wanted all our guests to feel taken care of and to have a great time! Our goal was to make everything seem effortless, from the décor to overall experience.
ANY OTHER DETAILS THAT HELP TELL THE STORY OF YOUR DAY? Our planner, Rachael, did such an awesome job suggesting personal details for us to incorporate. We had popcorn for guests as they arrived, which is a nod to the industry we work in, and she designed a curved aisle because she knew I was looking for ways to make our day unique. No idea was off the table!
TELL US A LITTLE ABOUT YOUR HONEYMOON: We haven't been able to go on a proper honeymoon yet but we did a minimoon in Big Sur for a few nights after the wedding. All of Big Sur lost cell service and wifi while we were there so we were truly off the grid! It was amazing and exactly what we needed after planning, postponing, more planning, and the wedding itself.
IS THERE ANYTHING YOU WOULD CHANGE OR DO DIFFERENTLY? I would have packed a little comb and lipstick in Andrew's jacket for a quick touchup before our grand entrance into dinner. We had just come from taking the most beautiful sunset photos but my hair was very windblown so I definitely could have used a little refresh.
Thank you to Northern California wedding photographers THE GANEYS for sharing this absolutely stunning fall wedding with us today. As a husband and wife team, Emily & Thomas are driven by capturing real moments and documenting love stories in an organic way. "Some of the favourite aspects of our job are hearing unique stories, meeting amazing people and capturing love that can move mountains. We seek out couples whose weddings embody these ideas. We're inspired by authenticity and adventure, and as your photographers we'll rejoice in celebrated moments and tear up during emotional ones." You can see more of their work in the MAGNOLIA ROUGE VENDOR GUIDE and you might also want to check out this Intimate 15 person wedding at Chateau Lill.