As a wedding photographer I can imagine there is nothing more gratifying that having clients that have a healthy appreciation for photography and it seems that JILLIAN MITCHELL hit the jackpot with this beautiful Sayulita, Mexico wedding of Yas & Alex.
With their lives being equally divided on opposites sides of the continent (her family is from Vancouver, he grew up around New York), wedding planning was becoming slightly complicated for Yas & Alex. Despite living in a the concrete jungle of NYC, their hearts are in the outdoors and in particular at the beach. Self proclaimed sun-seekers, surfers, beach loungers and ocean enthusiasts, they went about planning an outdoor wedding in Mexico after a lot of careful consideration. "We thought why not do a destination during the winter and just have an awesome vacation with all our guests? We wanted a location that was an easy flight from our hubs in Vancouver, New York, Los Angeles, Toronto and Denver but had no interest in having the wedding at an all-inclusive resort. Not our style. In fact, with a lot of world travel between us we initially started looking at much more ambitious destinations in Mexico - the amazing haciendas of Merida caught our eye.
In December 2014, having eliminated both of our hometowns and crossed off our first destination hunches, we were empty handed, facing with the reality of finding a wedding destination for the next calendar year. Embarrassingly, I started from the most naive of places - a Google image search for "surf beach wedding Mexico." Nothing was ever the same again.
Initially, my screen filled with what you'd expect - hundreds of softly vignetted thumbnails of cheesy sunset smooches framed by palm trees, sunburned gringos awkwardly donning sombreros and all the other stereotypes of Mexican destination weddings we wanted to avoid. But then among the sea of weddings that looked nothing like what we imagined in our heads, there was a photo that clearly did not belong. It was taken with a Holga at night. "Who shoots medium format film at a wedding?" we thought. The long exposure smeared light along the background in long wiggly streaks and framed the sweaty dancefloor revelers frozen in place by the flash. In the shadows were geometric shapes that suggested nature all around. This was the kind of party we wanted to throw. We clicked on the photo and landed on JILLIAN MITCHELL'S blog, a compendium of wedding awesomeness set in rugged rocky coastlines, rolling Pacific swells and lush jungle. Many of the different weddings on her blog seemed to take place in this town called Sayulita or San Pancho or near Puerto Vallarta - a region of Mexico that neither Yas nor I knew much about."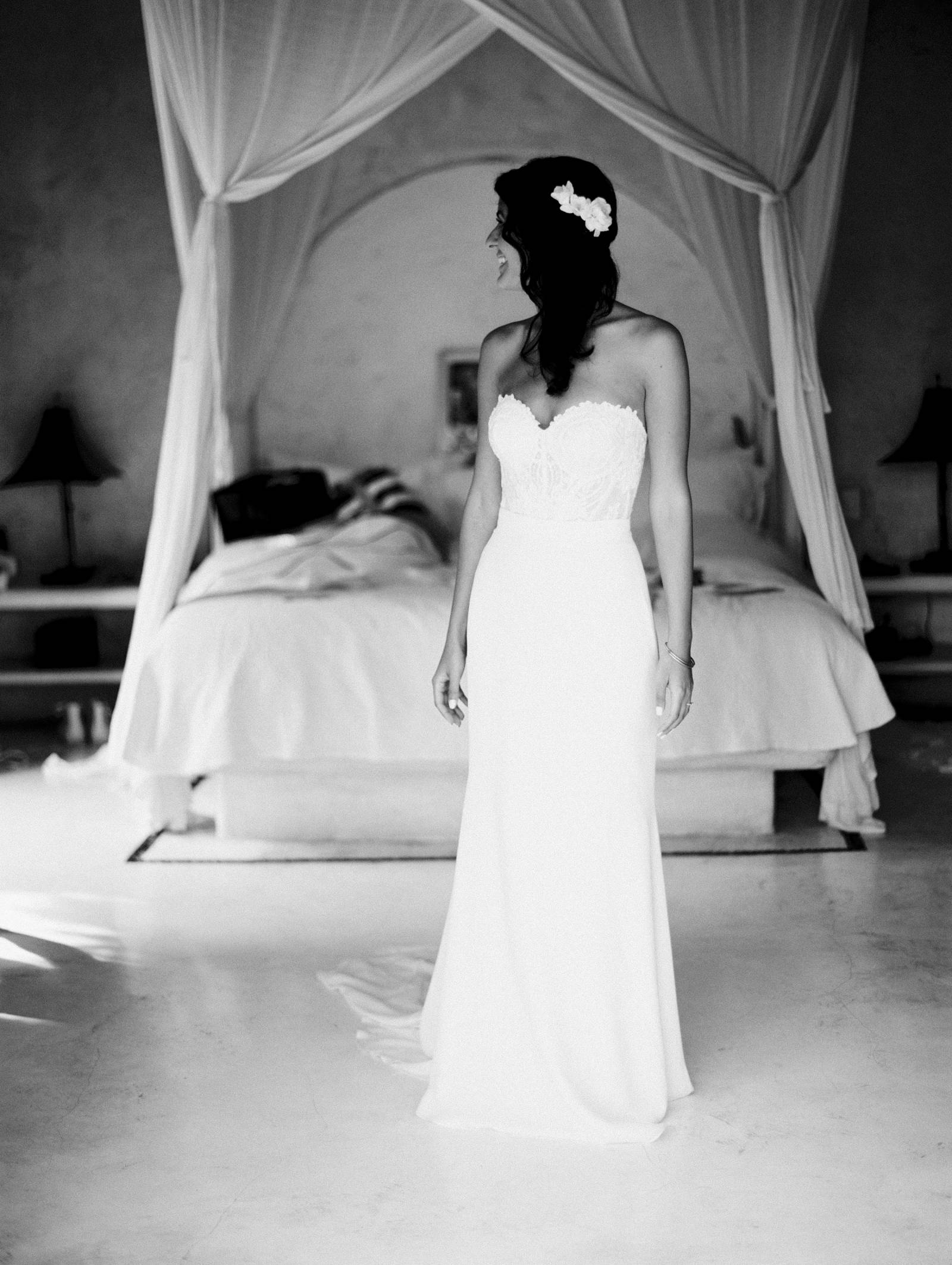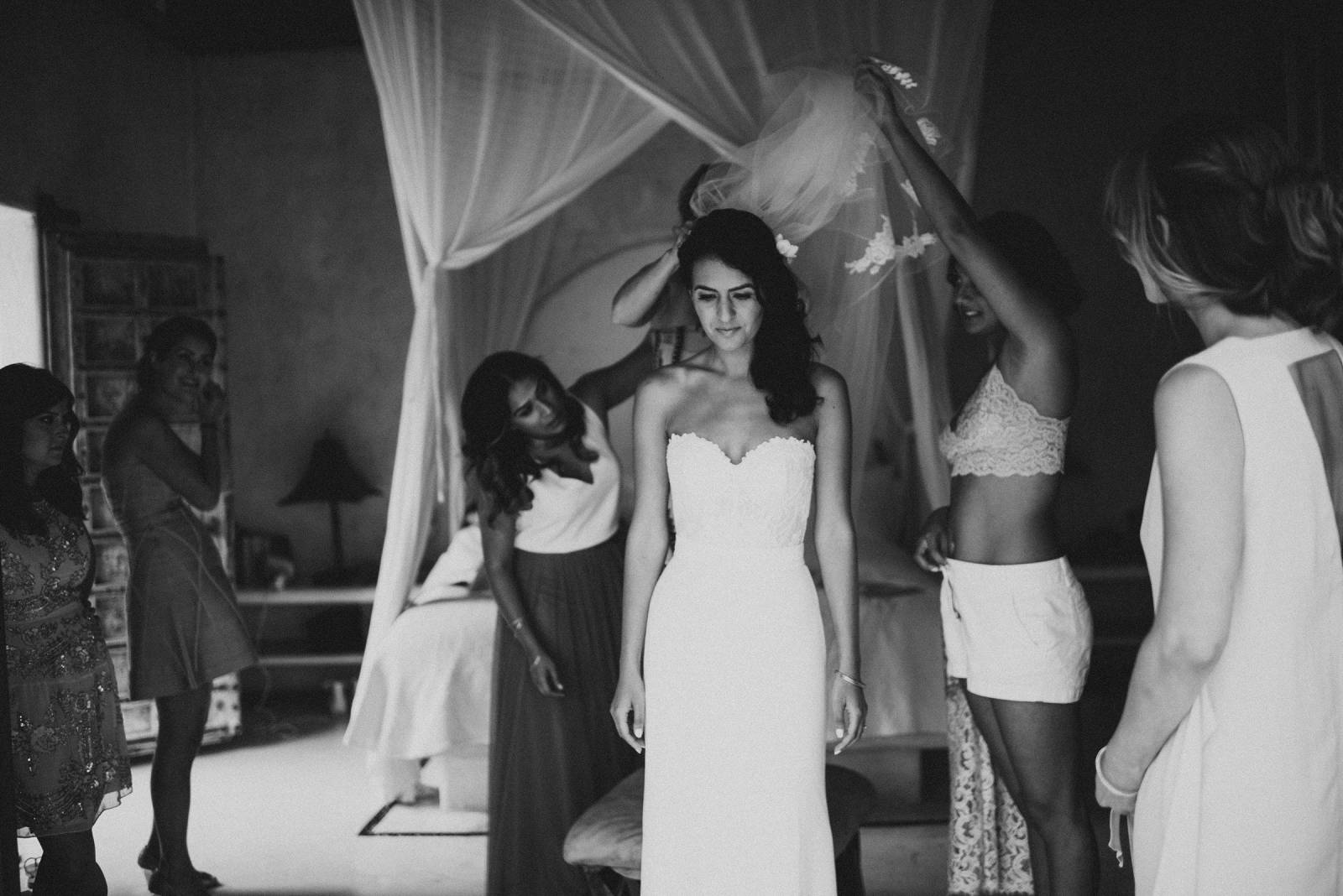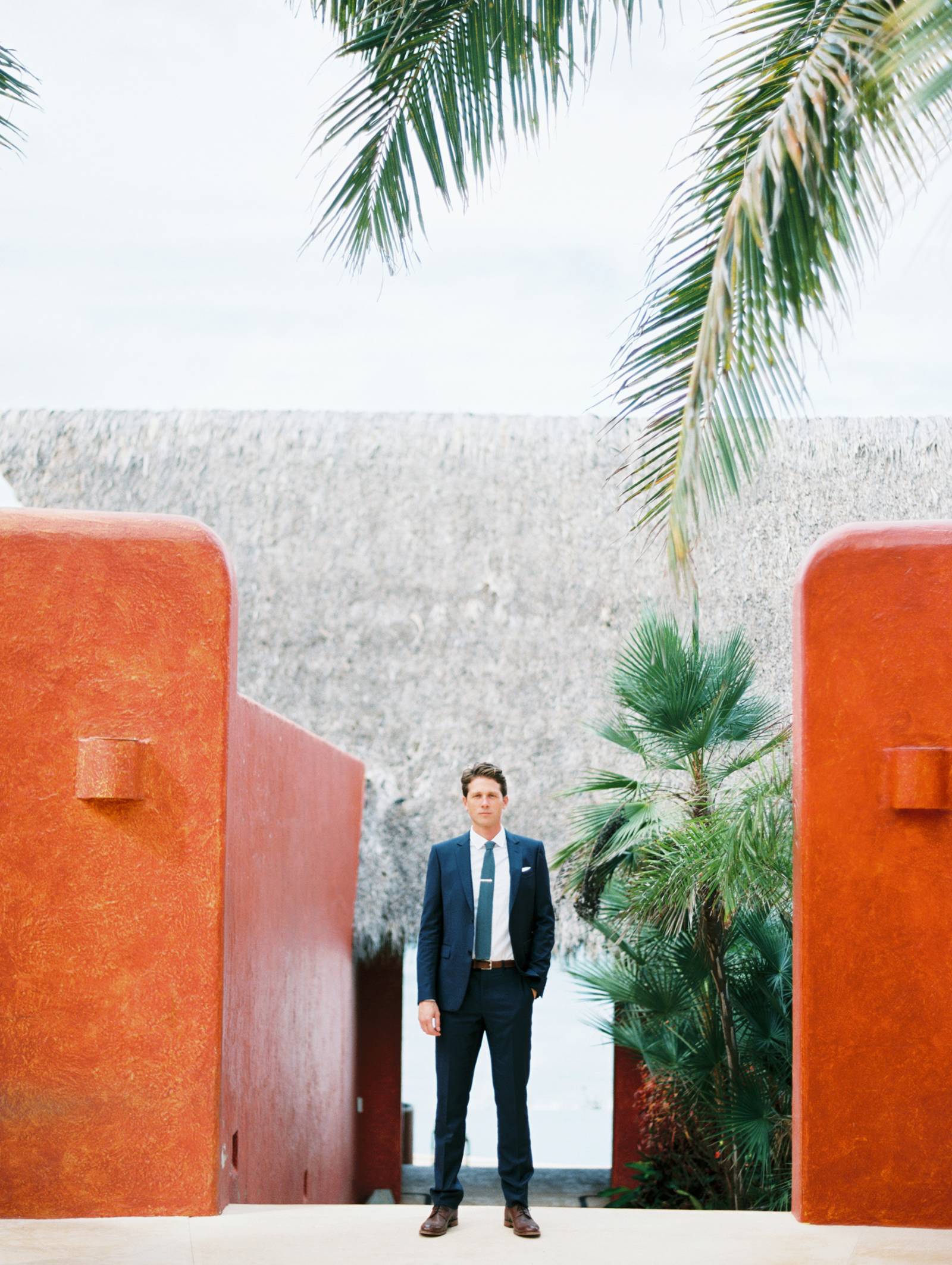 "Jill had provided us with all the proof we needed and we hadn't even talked to her. Sayulita could actually work. So we emailed Jill and she responded promptly and made the whole thing sound so simple. "Yeah, come down! I'll introduce you to everyone in town! It'll be fun!" We booked flights and were in the warm Sayulita sun a few weeks later in early January 2015.
Everything went down exactly as Jill had outlined the week we visited Sayulita for the first time. She introduced us to all of her friends in the small but burgeoning wedding industry down there. That week we hung at the beach, surfed, ate and explored on our way to selecting a venue, planner, caterer, DJ and of course our photographer, Jill (who invited us to her beach birthday party while we were there).
Sayulita felt right on so many levels. It has a small town feel though has all of the amenities you would want for a place you're bringing your friends and family to. Maybe the thing we were most excited about was the idea of all of our favourite people staying in villas and casas all over town and inevitably and serendipitously running into each other all of the time."
HOW DID YOU MEET? We live in New York City, but Yas and I met at the Nike-TechStars accelerator in Portland Oregon in the Spring of 2013. I was there from New York with my company Incomparable Things and Yas was head of business development for a Vancouver-based startup called Sprout Wellness. We started dating in Portland during the super intense experience that is a startup accelerator but after a year my co-founders needed to move back to New York. Fortunately Yas was willing to move east and leave her home to join me. The rest is history!
DID YOU HAVE ANY DIY ELEMENTS? We love these reed mats! They're called petates and they're made of palm fronds. We have two in our apartment in Brooklyn that we brought back from Sayulita the first time we visited. They cost like $4 each. So long story short I didn't like the idea of people wearing nice shoes and being a little dressed up stomping through the sand. I love the beach more then anyone but when i'm wearing a suit, I don't want sand in everything. Yazmin thought I was crazy but Ben and I did the math and we thought we needed 100 mats to create a path to the ceremony and then to create a big rectangle under everyone's seats. We basically made a floor on the beach out of petates. We had a couple left over and literally the day of the wedding we had a couple of our artist friends turning the mats into the the seating chart sign. We painted table names onto the mats and then laid out all the little tiles with people's names on them at their table. Wish we had like 10 more minutes to work on this one some, but it worked out in the end and felt authentic.
WHAT ADVICE WOULD YOU GIVE OUT TO A COUPLE PLANNING THEIR WEDDING? Leading up to the wedding - like anyone who has tied the knot later than most of their friends - we were offered lots of advice on how to approach our wedding. None more frequent than, "make sure you take a step back to reflect and soak it all in." I think we did that, but it's still just one night among many nights in a life. So the wedding exists on two temporal planes in our memories. The lightning fast, blur of lights, faces, cheers, and embraces and the molasses slow-motion of specific moments, like standing at the altar looking out, people's faces morphing taffy-like adoring, reflective, delighted.
MOST MEMORABLE MOMENT? 150 guests came to Sayulita to see us get married. I'll never forget driving through town in a golf cart on the first night that people arrived. We rolled through the town center when a huge cheer erupted from one of the street taquerias where twenty of our newly arrived friends had found each other and were happily gorging on al pastor and fish tacos. It hit us then what we had created.
I'm not sure whether it's cliche to say this and i'm not sure I care, but our wedding week was the best week of our lives. To have such a riotous, celebratory tribe of loved ones there to celebrate community - not just the bride and groom but the larger US - was moving in ways neither of us were prepared for. Sayulita was a character at our wedding, no question. To move a celebration like this to a place not shared by anyone turned the whole experience into a collective adventure. The individual stories that our guests now regularly tell could fill pages. In the end, we ALL came together for two magical nights. Many people stayed days before and/or days after. But the two nights when everyone was together - the welcome party at Villa Amor and the wedding at Teitiare - were appropriately peak moments.
So here are some things that happened... Taxi's were lost in the jungle; lighting designs were completed and affixed moments before the ceremony; whales breached behind my bride as we recited our vows; a wave came and tried to claim a number of guests; the clouds broke at all the right moments; our planner, caterer and beloved photographer worked and danced and worked and then danced some more; we ate and toasted and drank mezcal and danced until literally there was nothing left; we may have played music too late; and we definitely howled a Persian celebratory "HOBIRAH" at the moon while watching sky lanterns disappear into 3am darkness. There are a million little stories nested within the big collective US story. But the big collective US that Sayulita helped create is the real story.