The past few months have been so incredibly challenging for couples who were eagerly looking forward to upcoming weddings. Our hearts go out to everyone who's had to postpone, cancel or change up their plans. We'll be seeing a lot more smaller, intimate celebrations over the next 12 months and beyond as couples readjust their expectations due to travel restrictions and budget. Whilst it's a tough pill to swallow, now more than ever it's clear that it's the actual marriage rather than the wedding that's the most important thing to focus on... and hopefully bigger celebrations will come again in time.
Jennifer & Paul originally planned a 200 guest wedding at The Dunes Club. About a week before the wedding, it became clear that plans might need to change. The decision was made to cut the guest list down to 50 people. Then a few days before the wedding, the guest list was cut down to 16 members of their family and the reception was cancelled as a matter of safety but they made the most of having Charleston wedding photographer AVA MOORE along with them for the day and had an extended photo session just the two of them! Keep reading below for a first hand account from the bride.

Nicole from AVA MOORE tells us, "Despite the scary world scene, these two were 100% focused on the positive. Jennifer's mom and sister helped her to get ready and put on her stunning Vera Wang gown. As she walked down the aisle, a family member live streamed these precious moments to those who could not attend. This coastal town would normally be bustling with families at the beach for spring break. Instead it was quite, still, and reflective. As they walked outside, it was like the amazing blue sky was smiling down on them. This was one of the last weddings to take place before the world as we know it completely changed. Despite the weight of what was coming, Jennifer & Paul were totally focused on what was truly important that day... celebrating their union with loved ones.

Because the reception was cancelled, we got to spend a large amount of time on portraits and they got some of the best light I've seen all year. It was a blessing to be counted that day, and their joy is clear in the images! It was like they had that corner of the world to themselves for a day! I know it will be a day that they never forget, but it will also be forever in my heart as a day to remember forever."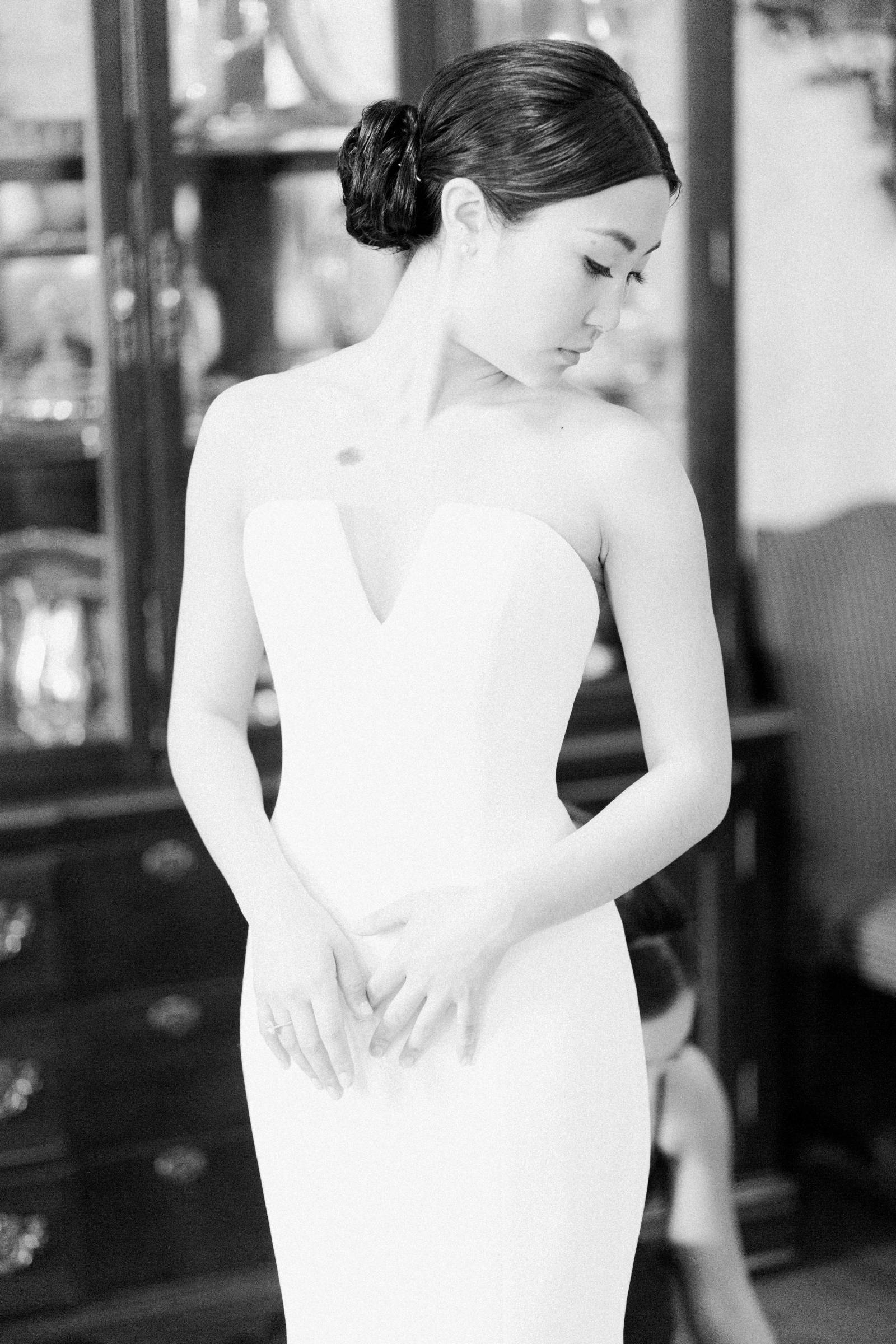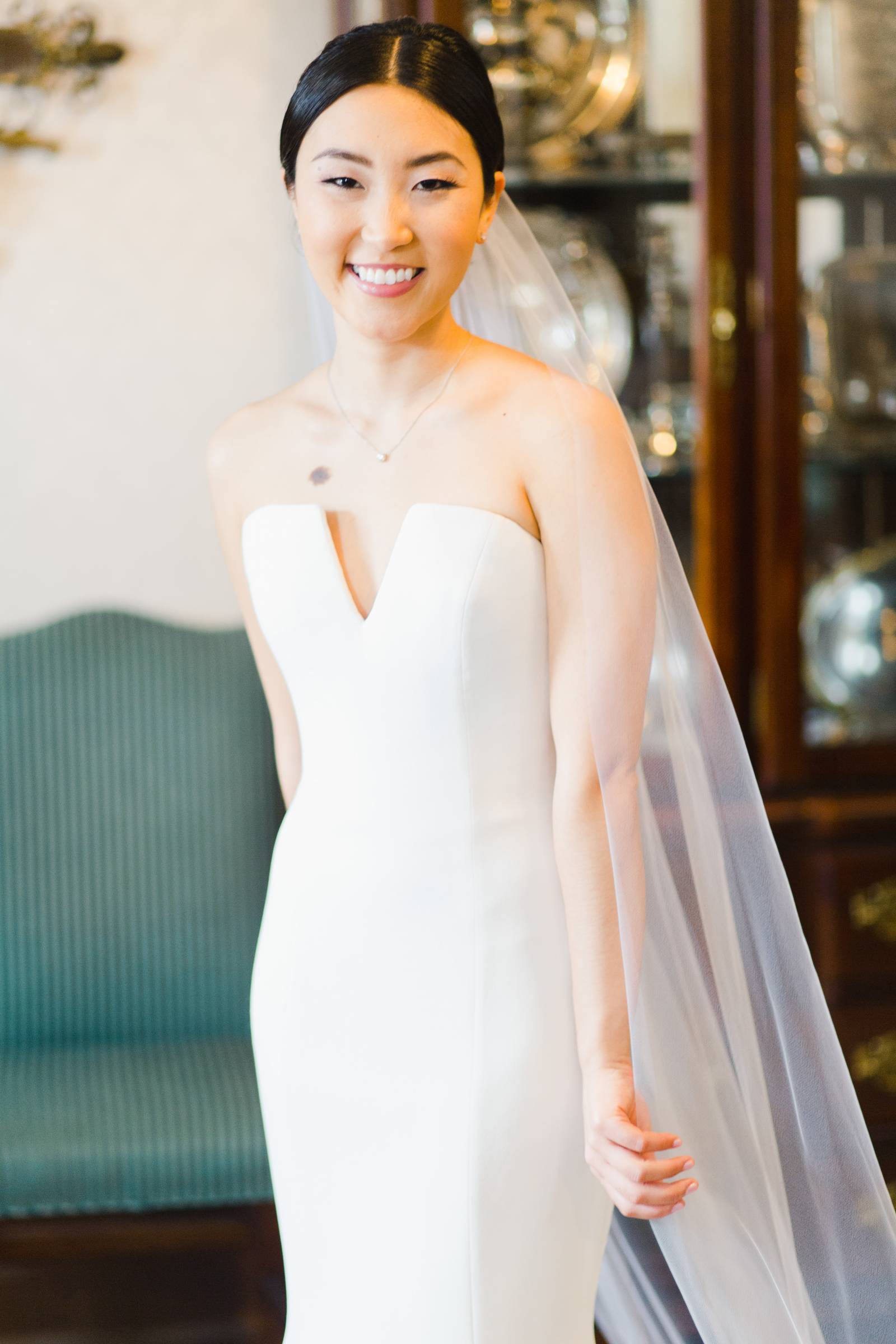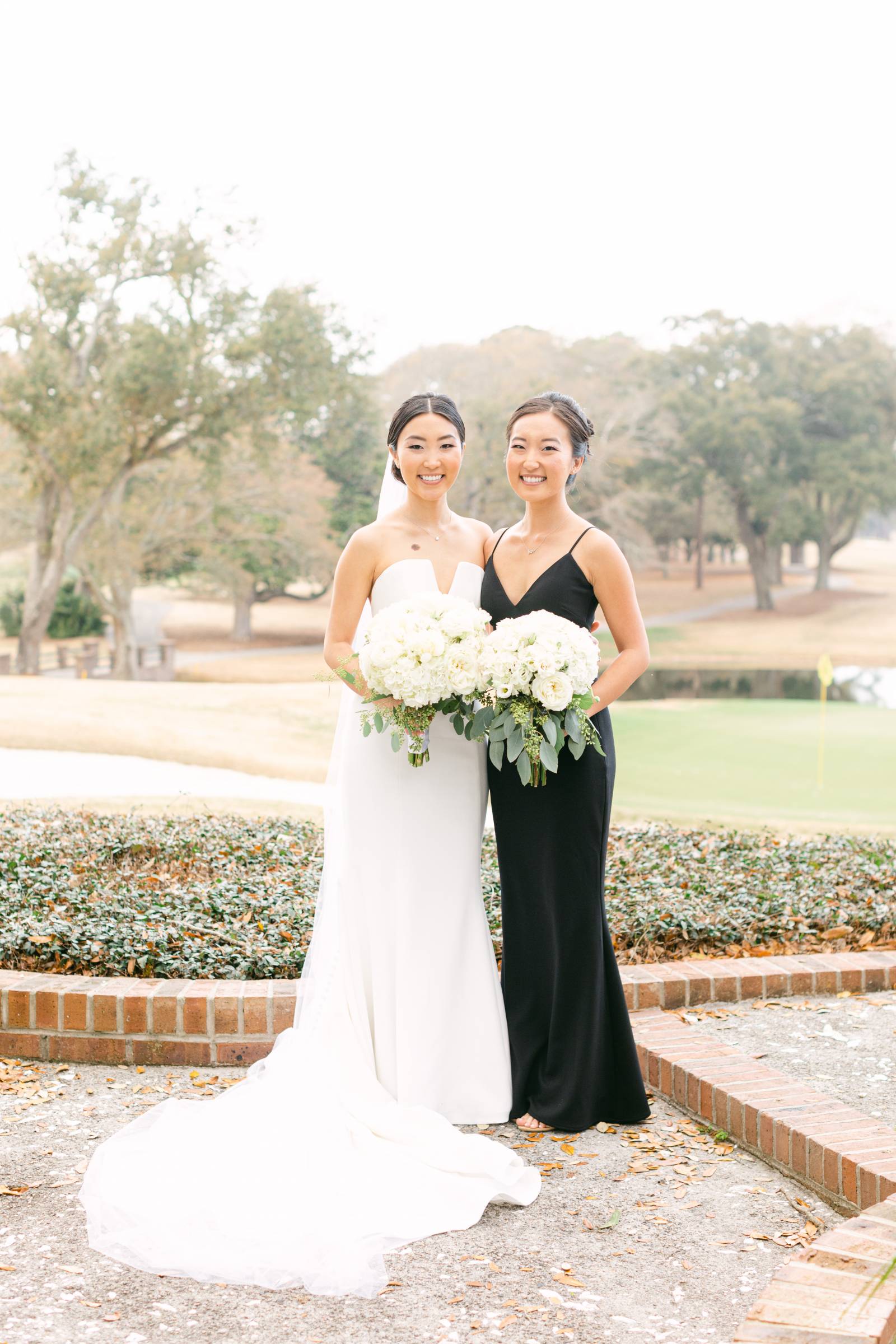 From the bride, "Paul and I were married on March 21, 2020 and although the weeks leading up the wedding were not at all what I thought they would be, it all ended up working out perfectly.
We were engaged in December 2018 and I quickly began the planning process. As a grade A control freak, I was built for something like wedding planning. I am nothing if not efficient and decisive, and Paul even more so. With him signing off on all the decisions my mom and I were making we had accomplished the large bulk of planning in the early months of our engagement. Shortly after we booked our venues (First United Methodist Church and the Dunes Golf and Beach Club), we snapped up Nicole from AVA MOORE PHOTOGRAPHY who had photographed my close friend's wedding the previous summer. RSG EVENT DESIGNS is a trusted vendor in the Myrtle Beach area and it was a no brainer to work with Robbie and Cayce. My mom flew up to New York for a weekend where I tried on a number of wedding dresses but then easily selected a beautiful VERA WANG dress. Paul and I spent several hours over the course of multiple days at Bella Figura where we designed an elegant letterpress invitation suite. We selected SALON & SPA 18 for hair and makeup, which was also an easy decision once we met with Wing Wong and his team. We picked Topgolf as the location for our wedding weekend welcome party as a nod to the fun and golf that Myrtle Beach offers and Collector's Cafe & Gallery as our rehearsal dinner venue, a restaurant I have loved going to with my family for years. A dear minister close to our family, the same minister who baptised my sister and married several of my cousins, agreed to travel from New York to marry us. The cakes were tasted and selected, the band was booked, the wedding party outfits picked, Paul's tux ordered, the party bus rented — we were ready for a wedding! We sent out our invitations and the real countdown began as the RSVPs started rolling in during February.
In the background of all of this excitement, there were rumblings on the news of a novel virus called the Coronavirus. I work at a firm where we collaborate with colleagues from every corner of the world. My colleagues in Asia were becoming increasingly concerned with this virus and our firm, and other firms, began to shut down non-essential travel during February. This was a real concern for Paul and me as his immediate family lives in South Korea and our first priority was making sure they were healthy and also able to attend our wedding. His parents and brother made the difficult decision to leave Seoul three weeks earlier than they planned so they could properly quarantine and also guarantee they would be able to travel internationally. Unfortunately, other members of both mine and Paul's family were not able to do so and were ultimately unable to be with us on our wedding day.
Throughout all of this Paul and myself and our parents were practical and realistic about the potential that we may have to postpone or downsize but were still cautiously optimistic that our wedding could proceed as planned. As March began and the countdown dwindled, the COVID-19 threat became more and more real. The news cycle could not stop talking about the Coronavirus, toilet paper and hand sanitiser supplies dwindled, our offices implemented work from home protocol, and our city began to slow down. Starting from March 12, the following 9 days leading up to our wedding still seem surreal to me. It's incredible how quickly situations can escalate and nearly every day from the morning of March 12th to March 21st provided some opportunity to manage a COVID-inflicted crisis.
Thankfully, Paul's family made it to New York City to spend a few days with us after quarantining upon arrival from South Korea. They arrived on Friday, March 13th and we spent most of our time together in our apartment, avoiding public places, and enjoying our time together. My parents were on the home front, keeping us updated on the situation in Myrtle Beach and at that point we had not made any changes to our plan and I had shockingly not shed a single COVID-related tear. The turning point came on Sunday, March 15th. Although we had been grappling with cutting down the guest list for safety reasons, the CDC announced gatherings larger than 50 were not recommended. After several tearful conversations with Paul and our families, we made the difficult decision to un-invite most of our guests and only have family and the wedding party in attendance. Our friends were understanding and gave us so much grace as we tearfully sent texts and made phone calls delivering the news. We were determined to get married on the day we picked rather than postpone and looking back, I am so happy we made that decision.
Paul and I drove to Myrtle Beach on Monday, March 16th and we spent most of the 11 hour drive singing along to our favourite songs, it was a nice escape given the COVID circumstances. When we arrived at my parents' house that evening, the President recommended that gatherings be limited to 10 people or less, and we realised we needed to cut the guest list even further. We had a number of family and friends flying and to minimise their risk and in an attempt to heed the government's recommendation, we made the decision to only have immediate family within driving distance attend our wedding. The phone calls made and texts sent that evening were the hardest as we had to deliver the news to our closest friends, our wedding party, and remaining family that we could no longer have them attend our wedding.
Tuesday's crisis was presented as we left the courthouse after applying for our marriage license that the governor announced all restaurants were closed for in-house dining. When our contact at the Club called me to let me know that they could no longer have us for the reception, my parents stepped in and graciously offered to host the reception at our home and the Club would cater.
Paul and I picked up our marriage license, ready for signatures, on Wednesday and we hoped for an uneventful rest of the week. We were experts in wedding crisis management by that point but we also weren't sure what else could go awry in the following three days. I remember telling my mom I was so tired of problem solving. Every day there was a new problem and every day we had to come up with a new solution and I wasn't sure how much more problem solving I could do. Luckily, the rest of the week was relatively smooth sailing.
All of our vendors were incredible throughout the entire reconfiguration process. There was not one plan that was made that did not have to be revised in some way. One bright spot was our florist made smaller arrangements with the abundance of flowers that were ordered for the original 200 guest reception so we could make socially distant deliveries to some of our local guests that were unfortunately un-invited.
There are many silver linings like this one that came to be —
Paul's dad stepped in at the last minute to marry us as we felt it was safest to ask our minister to stay home to protect himself and his family and we just luckily had a minister of our own on hand. My sister and Paul's brother served as our only members of the wedding party and we were married in front of a few of our family members. We created a special Instagram account to live stream the wedding for our family and friends that could not attend, it was the most 2020 a wedding can get.
As a result of our reconfigured wedding day, Paul and I were able to spend extra time with our photographers following the ceremony for gorgeous sunset portraits at the Club. We had a delicious dinner with stunning floral arrangements at home, it was the most lovely evening. It was topped off by a surprise Zoom video call organised by one of Paul's groomsmen with over 30 of our friends wishing us well. In the end, they managed to show up for the big day!
Our wedding day was perfect. I don't think Paul and I stopped smiling the entire day. It wasn't the day either of us had in mind when Paul proposed 15 months earlier but we were married, we were surrounded by family and it was perfect. COVID-19 affected our wedding day in every way possible, but I am so grateful we stood firm, persevered, and were able to start living our life together as husband and wife!
Thank you to Charleston wedding photographer AVA MOORE for sharing this beautiful wedding with us today! Her passion is capturing how you FEEL on your wedding day... and of course she does that in an artistic way and in beautiful light. "With my camera, I will soak up all the excitement, love, and joy that you express toward each other on your wedding day. This is also true of other precious moments that you spend with your family and friends. I document, what I think is, your heritage. Photographs are essentially heirlooms!" You can check out more of her work in our vendor collective here and you should also see this Chic Garden party wedding at a grand & historic Charleston home.