For this modern dusty blue minimalist elopement, Bryan of BERYSH PHOTOGRAPHY was inspired by the blue and grey colours of the calmness of seawater at still. "The absence of waves and the presence of calm water represent the muted beauty of the sea" he tells us. Aileen of Central California wedding planner BLU EVENTS PLANNING & DESIGN was intrigued by Bryan's vision and made it her goal to be socially responsible considering we're still in the eye of a pandemic. "This situation has awakened a sense of reality to focus on the essentials and I wanted to incorporate sustainable eco-friendly materials into the design concept while keeping the design at its minimal finest."
Captured at LEMCADO in Bakersfield, its indoor event room with its white walls, an abundance of natural light, clean lines, and a modern industrial vibe, it was the perfect setting for this elopement. The wide space is a blank canvas, and has so much potential to fit a wide variety of looks for a wedding or any event.
Like many couples worldwide Naomi and Gabriel have had to adapt their wedding plans because of all the global uncertainty and required guidelines. They opted to capture their special day recently in an extra intimate affair in their hometown. Naomi wanted a very subtle bridal look and kept her hair down embracing her natural curls. She opted for a stunning dusty blue gown by ANDREA & LEO COUTURE with a gorgeous pair of BELLA BELLE SHOES adorned with a white effortless ankle tie as the finishing touch. Combined with a gorgeous tinted plumosa bridal bouquet by MAKE IT HAPPEN EVENTS, dyed using an eco-friendly dusty blue paint and Gabriel's fitted blue suit, the final outcome was a beautiful, modern stylish, new husband and wife.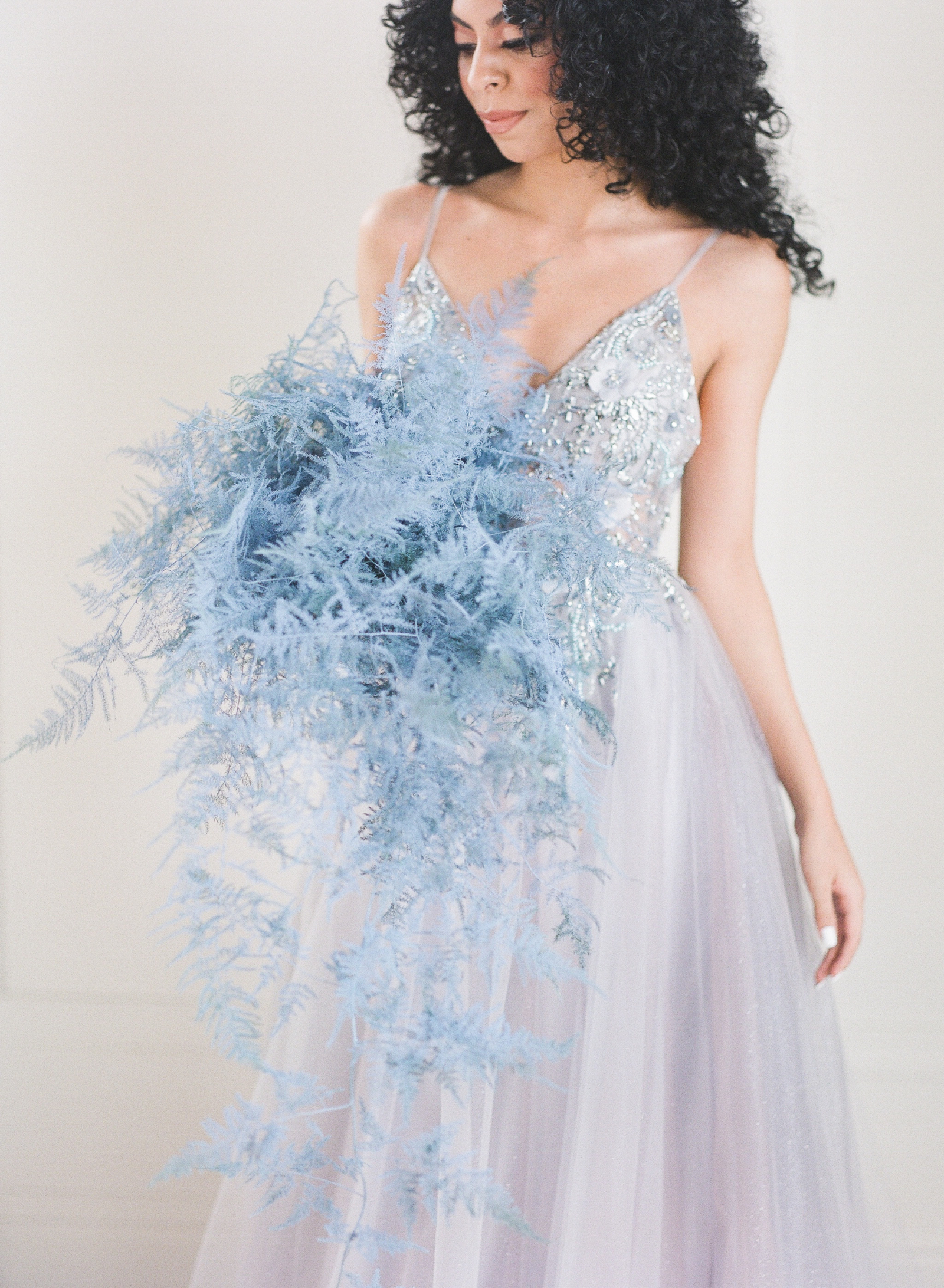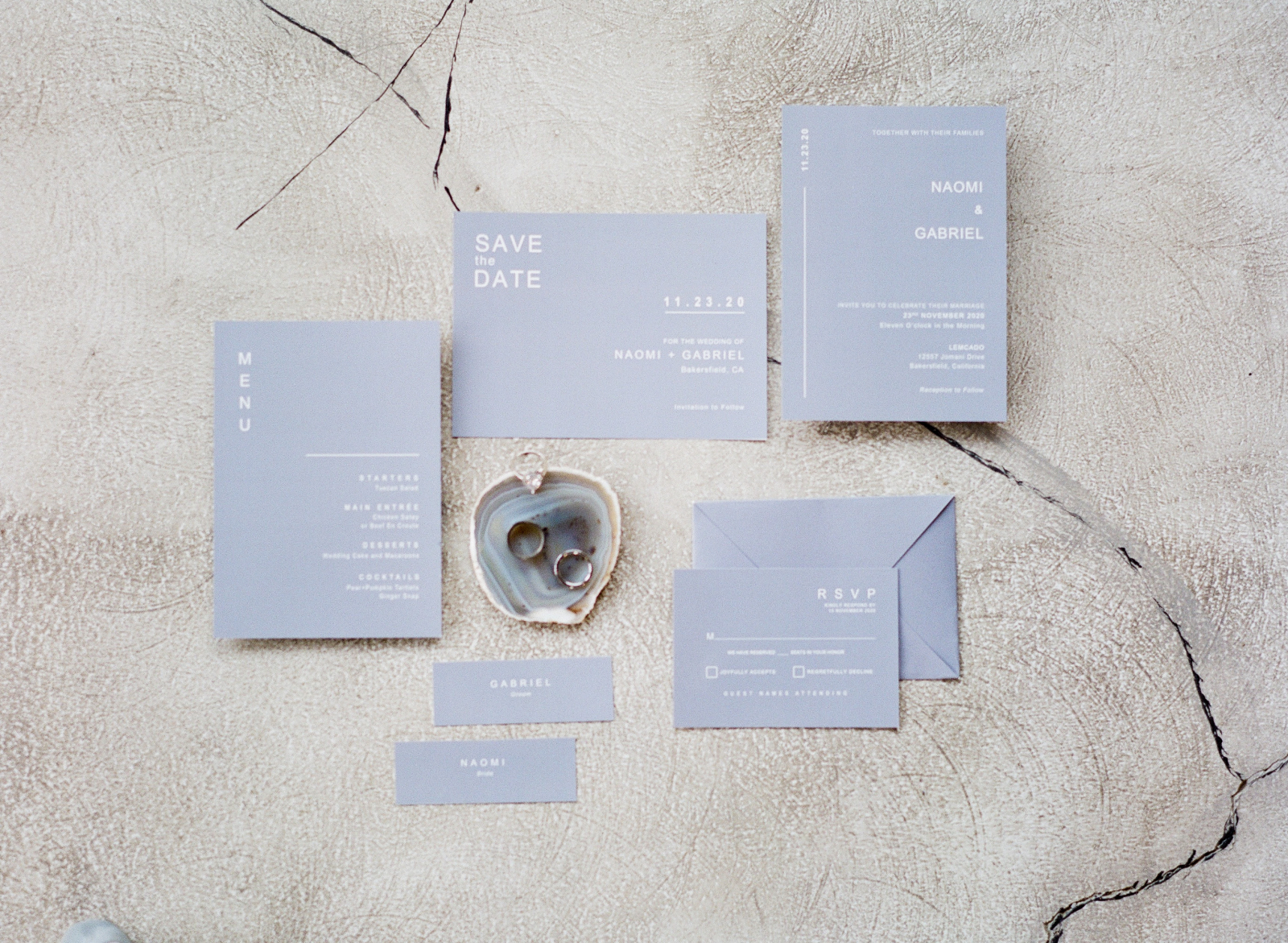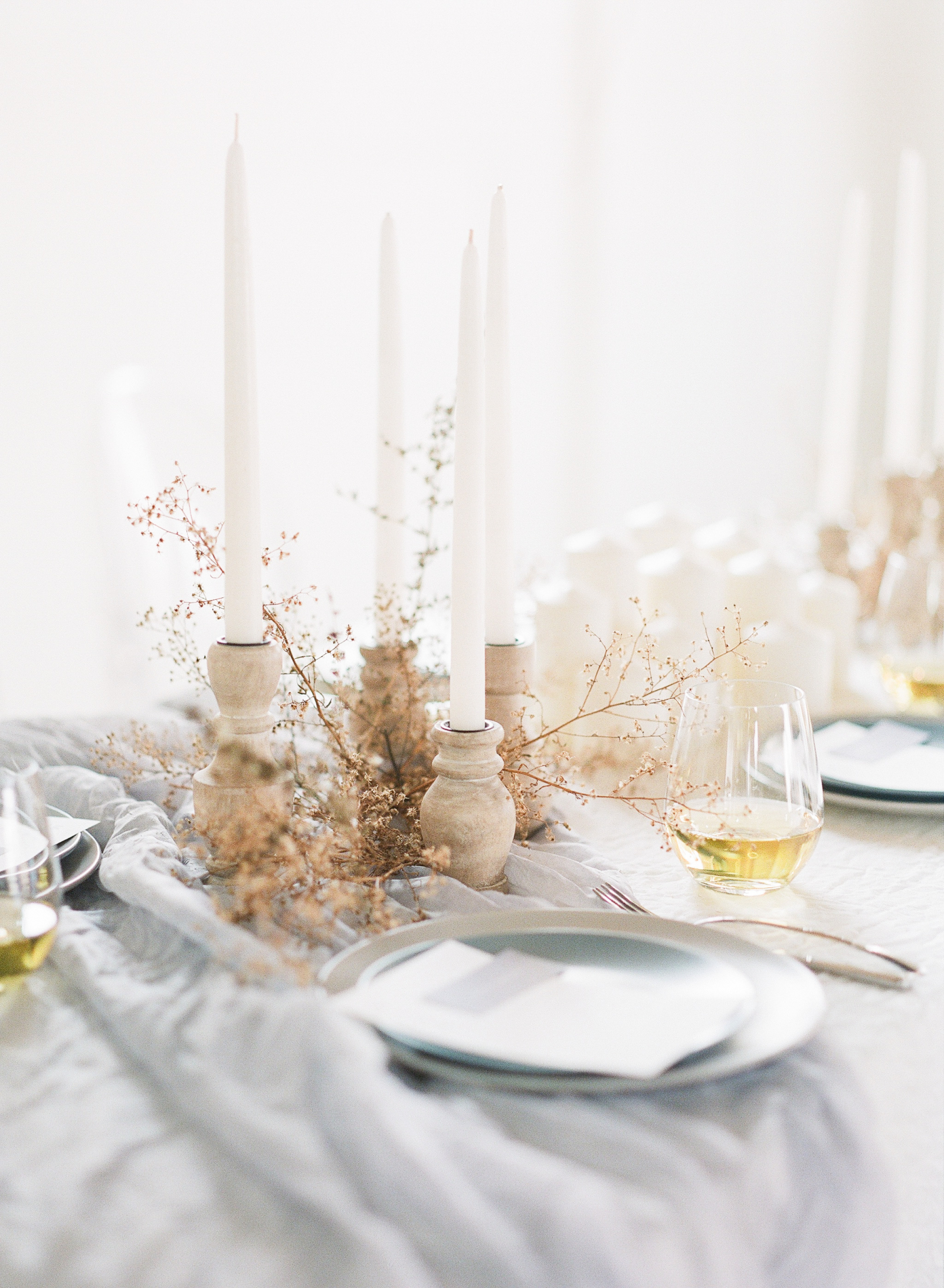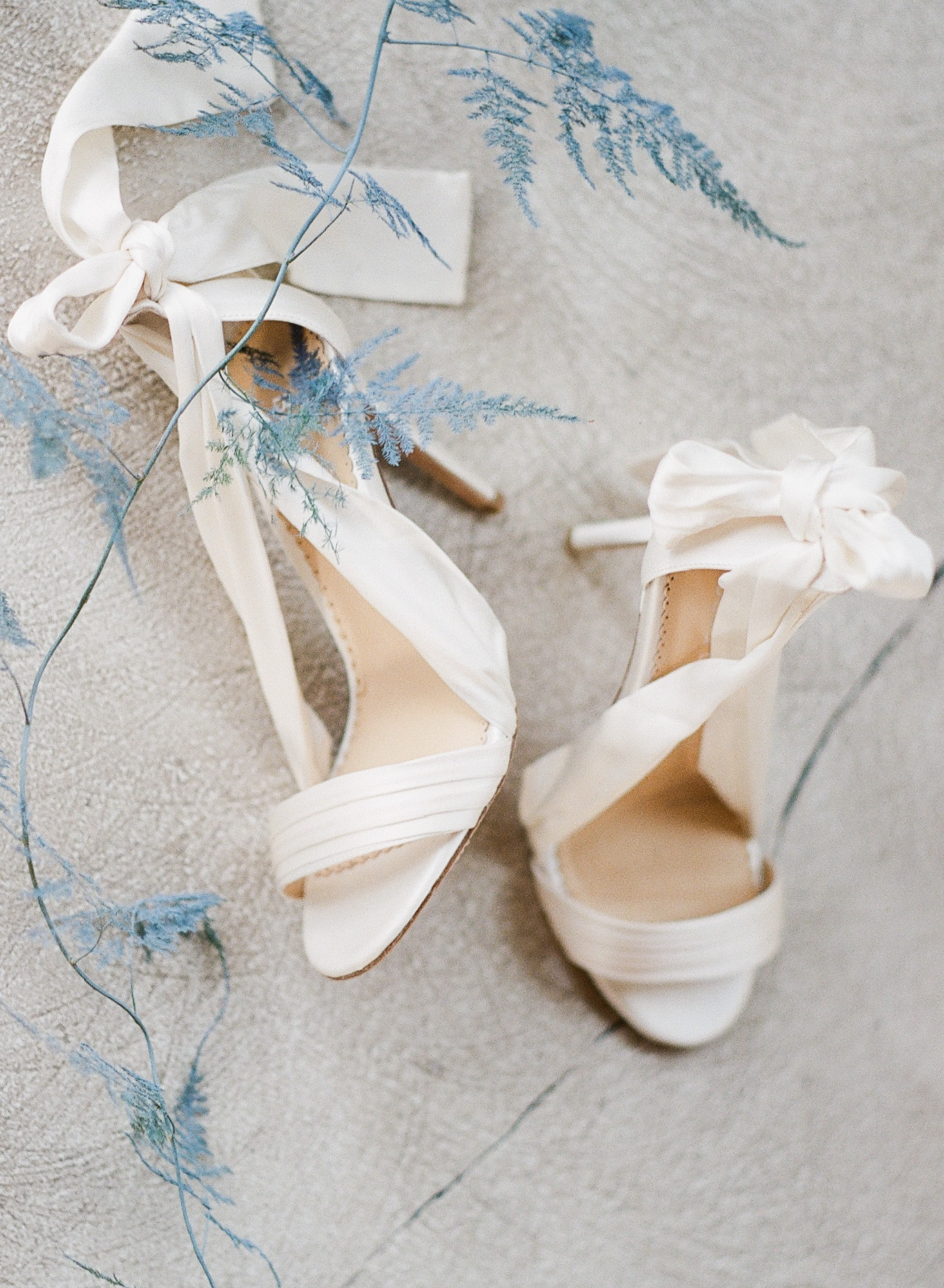 Central California wedding planner BLU EVENTS PLANNING & DESIGN designed the table to perfectly complement the space featuring a straight sleek flatware alongside a stemless wine glass and a modern dinner plates free of cadmium and lead. White taper candles made by coconut wax in handcrafted mango wood holders of various heights complemented the simple texture of the foraged vines.These pieces were set on top of white silk linen of an elderberry and indigo hand-dyed silk table runner juxtaposition of the stillness of waves on white sand.
Aileen tells us, "For the ceremony, we wanted to keep it very minimal by draping a blue-grey coloured fabric to tie in with the colour scheme. To complement the modern minimalist look, we opted for ghost chairs with a simple foraged shrub. When it came to the floral design, we wanted to embrace sustainability with preserved vines and flowers. Our floral designer, Carlos of MAKE IT HAPPEN EVENTS nailed the look by creating a beautiful install using dry extra stems preserved from Naomi's bridal shower. No floral foams were used. The curly willows, dry baby's breath and natural foraged shrubs were all hand tied together to create the amazing install, which was our focal point for both the reception and ceremony site.
To keep the minimalist vibe, JB PRINTS & LAYOUTS designed the paper goods from recycled papers with a simple arial font for all letterings. When it came to the cake, we wanted a simple two tier white cake with water colour designs of mixed blues and greys sprinkled with silver foils to add texture. The couple both have an obsession for sweetness. Naomi loves almond, so for the top layer, JHUNIE'S BAKED GOODS chose a burnt almond cake. It's a vanilla cake filled with pastry cream and toasted almonds with amaretto whipped cream. Gabriel loves anything chocolate, so for the bottom layer - a moist chocolate cake filled with Kahlua-infused espresso buttercream was the groom's request. Because of their love of sweets, the couple sent their loved ones with Oreo flavoured cookies.
Thank you to Central California wedding planner BLU EVENTS PLANNING & DESIGN for sharing this beautiful inspiration with us. Their mission is to provide you with lasting memories of your once-in-a-lifetime celebration. "Our goal is to bring our unique style and sophisticated flair to every event we plan while keeping the event uniquely you. We take a personalised approach to working with clients, utilising our expertise and resources while nurturing your vision every step of the way. From design to coordination, our holistic approach means we take care of all the fine details so you can focus on what really matters." You can check out more of their work in their portfolio here.