SUNFLOWER HILL FARM in Augusta, Missouri was a big part of the inspiration for Jordan & Daniel's wedding - the couple fell in love with the landscape and the architecture of it. "While the venue is technically a farm, I am generally not drawn to the 'country-chic' style. My personal style is more romantic meets modern. It was fun to play with the vibe of the farm, and my love for florals and mix in my more modern yet classic style." says Jordan. Captured by Missouri wedding photographer MIKE CASSIMATIS they held the wedding in fall to capitalise on the beautiful grounds at this time of year.
HOW DID YOU MEET? We were both new to the Saint Louis area and ended up meeting each other through modern technology – Bumble.
TELL US ABOUT YOUR PROPOSAL: With a love of flowers, one of our favourite places in Saint Louis is the Missouri Botanical Garden. Daniel planned a surprise date night to the garden where we wound our way through a garden labyrinth. Once we got to the middle, he dropped on one knee to propose. Little did I know my best friend, and soon to be maid of honour, was nearby hiding, taking pictures! After he planned a celebratory champagne toast at the rooftop restaurant where we had our very first date!
TELL US ABOUT FINDING YOUR WEDDING DRESS: "Everything happens for a reason". My wedding dress story is quiet a dramatic one that ended up working out in the best way possible. My parents and I took a trip up to Chicago and found a dress from a beautiful wedding boutique, after not finding a dress at BHLDN (which was the whole reason for choosing to shop for my dress in Chicago, I had always wanted a BHLDN dress). Months later the made-to-my-measurements dress from the Chicago boutique was shipped to me. Almost immediately I took it to get altered to ensure that it fit just right. It wasn't until I put the dress on in front of the tailor that she gasped and said she had never seen such a thing in 30 years of her business. The boutique sent me a dress that was not only 4+ sizes too big, but several inches too short. The boutique kindly admitted to the mistake and said they would get one shipped as soon as possible (which would still take a few more weeks, and we were just a little over a month away from the wedding). With just 2 weeks to spare, the dress finally came. The dress was still too large and the tailor regretfully told me she would not be able to get it altered in time. After many tears, I pulled myself together and went onto the BHLDN website to check out their new inventory of gowns. I found one that very closely resembled the original dress I had chosen and ordered it – sight unseen – and prayed that it would get here in time, fit, and that I would love it. The dress arrived 1 week before the week and fit like a glove. I remember taking it out of the box and putting it on as I stood in front of my floor length bedroom mirror, crying, thinking, "This is the dress I was supposed to have all along".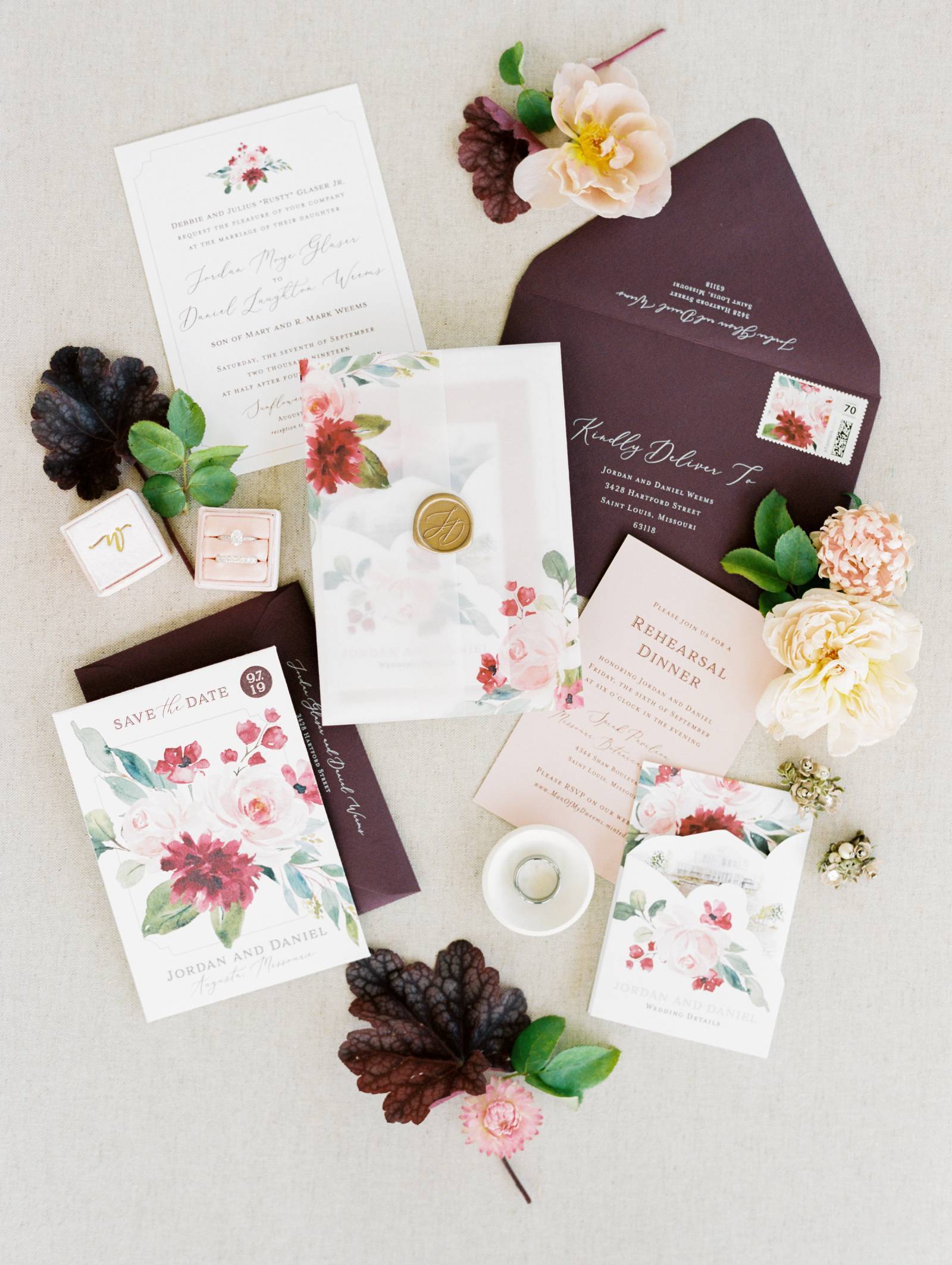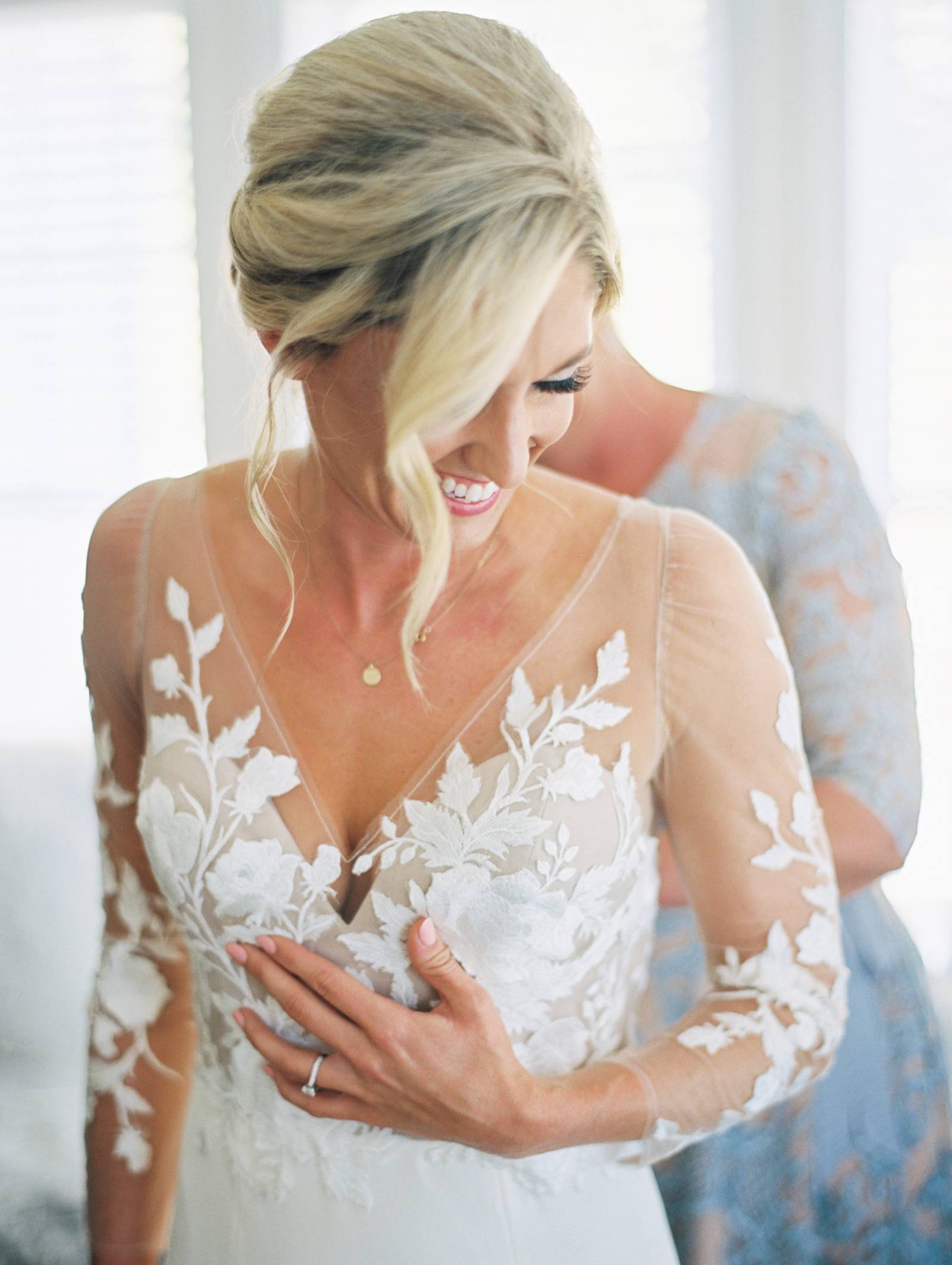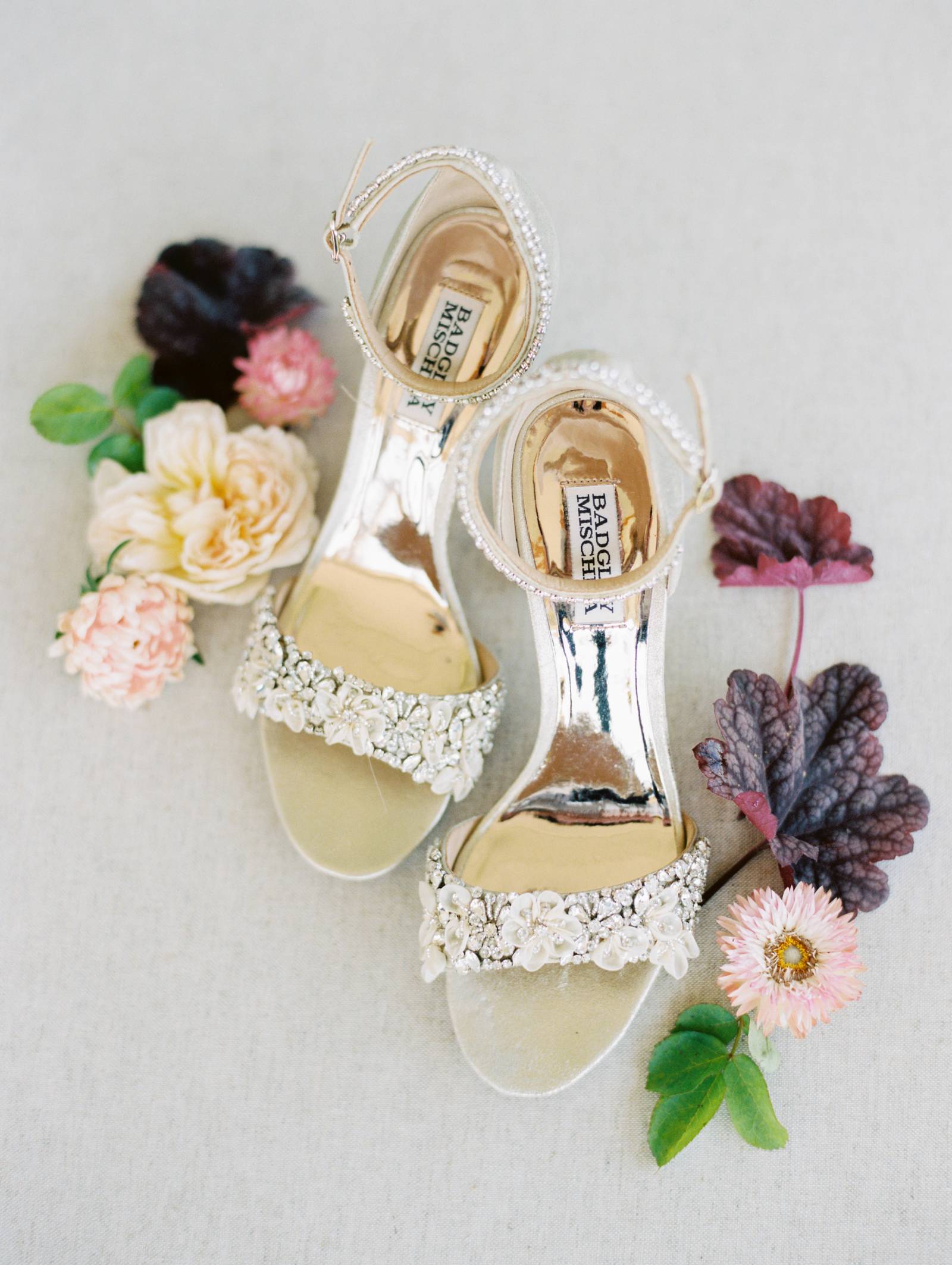 DID YOU HAVE ANY DIY ELEMENTS? My parents live in the foothills of the Smoky Mountains in Tennessee – a beautiful yard overlooking the mountains. Being in Saint Louis, Missouri, it can be difficult being so far away from home. My dad is an amazing gardener, and my mom is one of the most creative people I know. For our table numbers, my mom picked flowers and greenery from their backyard in Tennessee and pressed them into these beautiful gold frames. I then had my calligrapher write the table numbers on them – they're still one of my favourite parts of our wedding. They were not only DIY, but a touch of "home" from my parent's yard.
DESCRIBE YOUR WEDDING FLOWERS: I love flowers. I knew going into the wedding day that flowers would be at the top of the list for things we wanted highlighted for the wedding. The property itself was already adorned with beautiful landscaping and flowers flowing over the sidewalks, and in every corner you looked. We wanted to highlight the property, while still including our personal floral touches. I worked with my floral designer to create an indoor greenery structure that really brought the beauty of the outside landscape into the reception space. The centre pieces I wanted to reflect the wildflowers found around the property, while including my appreciation for the romantic and traditional flowers like peonies and poppies. My wedding bouquet I wanted to stick with a bit more of the romantic and classic flowers that I love, while incorporating my wedding colours. My floral designer knocked it out of the park, turning all my ideas into reality.
FAVOURITE DETAIL OF THE DAY: I have a couple ☺ One of my favourite little details of the day was our escort cards. We had a hand crafted, personalised large wall lined with beautiful marble coasters with the names of all our guests on them. Each guest took the marble coaster with their name on it and on the back their table number was listed. This not only served as our escort cards, but also our gift to our guests for them to take home.
The other favourite was the way in which we incorporated our sweet dog, Scarlett. Our signature drink was the "Scarlett Negroni" (our favourite cocktail) and we had a beautifully designed menu that included a hand drawn picture of Scarlett on it. This also matched our cocktail napkins that included her picture with the phrase "Wipe Your Paws". This was such a special way to include our sweet girl.
Finally, the earrings that I wore were the same floral cluster clip-ons that my mom wore when she married my dad. It was so special to be able to wear these, knowing the history they carried.
WHAT ADVICE WOULD YOU GIVE OUT TO A COUPLE PLANNING A WEDDING? Find time to do as much of the planning that you can together. Not only did it help alleviate my stress (delegation is key!), but it made Daniel feel more involved and connected with the wedding day too. Also, doing these things together brought us closer together. We had a table arrangement problem that needed solving and I fully gave the into Daniel's problem solving hands. He and I went out to the venue with a laptop and a tape measure and had fun measuring and planning. Doing the planning together is more fun, and helps you remember what the day is all about – each other!
MOST MEMORABLE MOMENT? Gosh, the whole day was memorable moment after memorable moment. Nothing beats the feeling of walking down the aisle and locking eyes with your soon to be husband for the first time. He was a mess – I was a mess – it was the most beautiful mess of emotions! Other than that (somewhat typical) answer, I guess one of my favourite "unique" memories was when our band started singing my favourite karaoke song (What's Up – Four Non Blondes) during our reception. Daniel and I were dancing and singing in the crowd and then the band asked me to come up to sing. I declined (you wouldn't necessarily say I have the voice of an angel), but after a big and loving push from my new husband I ended up on the microphone belting out the song. I remember looking out into the crowd of all my favourite people singing along with me and cheering me on and I just felt so blessed. There is a picture of me singing and Daniel literally cheering (fist pumping and all) me on and I just love that image. He's such a huge supporter of me and whatever I do! I feel like that memory is one that perfectly reflects the day and our relationship… fun, loving and supportive.
WHAT ASPECT OF THE WEDDING WAS THE MOST IMPORTANT TO YOUR AND YOUR PARTNER? We wanted our day to reflect us. We wanted it to be fun and so totally us. We didn't want the traditions of weddings, or expectations of others, to define our day. For example, neither of us like cake, so we didn't have a cake. No cake cutting, no cake smashing. Instead we had a dessert food truck that served AMAZING chocolate dipped strawberries, macaroons, and beer infused cupcakes – that was way more "us" than cutting a cake just for the sake of tradition. We also love bonfires. So, we had a huge bonfire pit at our wedding for people to enjoy sitting around and sharing stories. At the end of the day, we wanted our wedding to be US and I think we hit the nail on the head!
ANY OTHER DETAILS THAT HELP TELL THE STORY OF YOUR DAY? Daniel and I each have many grandparents that have passed away. We were close to our grandparents, and wanted to remember them on this special day. For one of Daniel's wedding gifts, I wanted to commemorate his grandparents, so I asked for my mom to help me by embroidering all the names of his late grandparents with the phrase "They're walking with you today and everyday" on the inside of the socks. I had solicited my mom's help with this gift, since she's great with a needle and thread. Little did I know that she was planning something for me as well. On the wedding day, before I got in my dress, she pulled me aside and showed me the underside of the hem of my dress. Inside she had written the same things for me, "They're walking with you today and everyday" with my grandparents names. It meant so much to have this special touch and memory of our grandparents.
TELL US A LITTLE ABOUT YOUR HONEYMOON: Daniel and I love adventure. So, we spent just about 2 weeks between Positano, Italy and Santorini, Greece. It was the perfect mix of adventure and relaxation. Our favourite days while there were the days we spent on the water boating up and down the Amalfi Coast and through the Greek islands in the Aegean Sea!
IS THERE ANYTHING YOU WOULD CHANGE OR DO DIFFERENTLY? Daniel and I made sure we were intentional about finding time during our wedding day to walk away from everything, take a step back, and enjoy it together. If I were to change anything, it would be adding more of that intentional time to reflect on the day, otherwise I wouldn't change a thing!
A huge thank you to Missouri wedding photographer MIKE CASSIMATIS for sharing this beautiful intimate wedding with us and showcasing such beautiful celebration! Mike is a fine art wedding photographer based in the Midwest with a passion for medium format film. His lighthearted approach and calm demeanour puts couples at ease in front of the camera, allowing their true personalities and emotions to shine through in his photographs. With a sentimental heart and a keen eye, he focuses on capturing luminous images that are genuine, romantic, and timeless. You can head over to his profile to view more of his work and see more incredible weddings and editorials he has photographed and you should definitely check out this Stylish sophisticated wedding at a private estate with only 22 guests.