It won't surprise you once you get to the bottom of this feature that flowers... and more flowers, were the inspiration behind this beautiful New Brunswick wedding by CANDACE BERRY. With the bride's family owning a garden centre, it was clear from the beginning that her wedding to Skylar would highlight her love of all things floral. "We wanted our guests to feel like they were in a romantic garden setting, so we kept the colour palette to soft neutrals, blush tones and gold. CHELSEA LEE FLOWERS created the most stunning 8-foot flower wall for our reception that had everyone talking about it all night long".

"We chose my parents backyard for the ceremony because we spend a lot of time there in the summer, and it was where I grew up. There was a level of comfort that came with choosing my parents' house to have the wedding - it calmed my nerves knowing it was at home. For our reception we held it at ROYAL OAKS GOLF CLUB because it had everything we wanted including a beautiful ballroom, catering, and gorgeous golf course views."
HOW DID YOU MEET? Skylar and I met at university. We went to school in a very small town and had friends in common, so we ran into each other often. One summer back home, we were both at the same party, and my friend convinced me to go talk to him. We chatted all night long and he asked me to go on our first date soon after. We went for a walk on the beach and suddenly there were fireworks over the water. Skylar likes to joke that he planned for that to happen, and even though he didn't, it makes for a great first date story!
TELL US ABOUT YOUR PROPOSAL: We had been together for nearly seven years, so we had discussed getting married and what I would like for a ring, but Skylar completely shocked me the night he proposed. He was about to go to San Francisco for a work trip and said he needed to go downstairs to do some work. A few minutes later he called for me to come see him. As I was walking down I nearly ruined the moment by stating "it smells like mac and cheese down here!". The smell was from nearly 50 candles lit throughout our basement, which I saw as I turned the corner. Skylar was on one knee and was so nervous. He said the sweetest things, which I can hardly remember because my heart was pounding so fast, and the rest is a blur. Of course, I said yes! If I had known he was going to propose that night I would have changed out of my grey sweat suit, but I am so happy he made it such a private moment for us. Skylar had just gotten the ring that day in the mail and decided he couldn't wait until after his trip to ask me.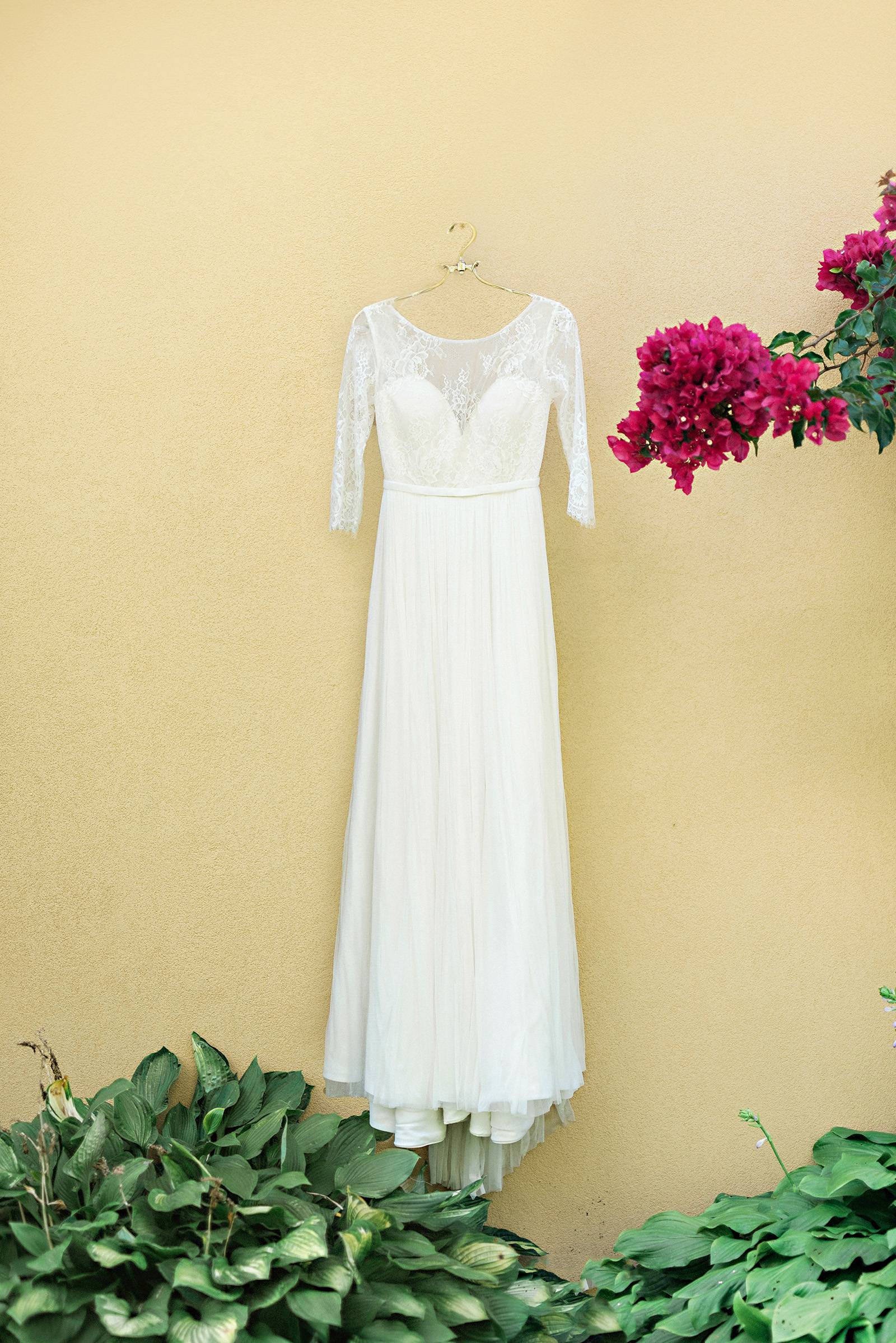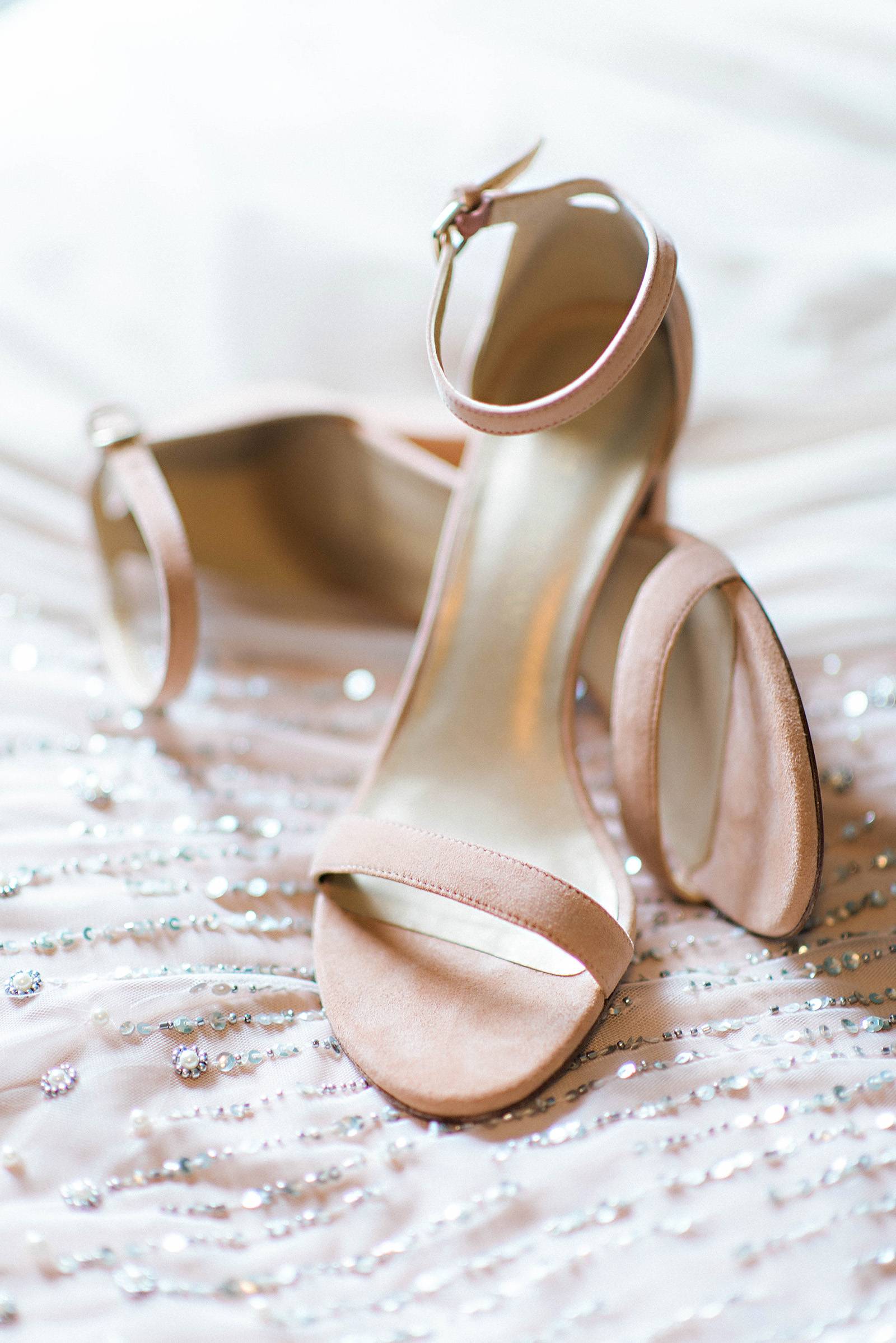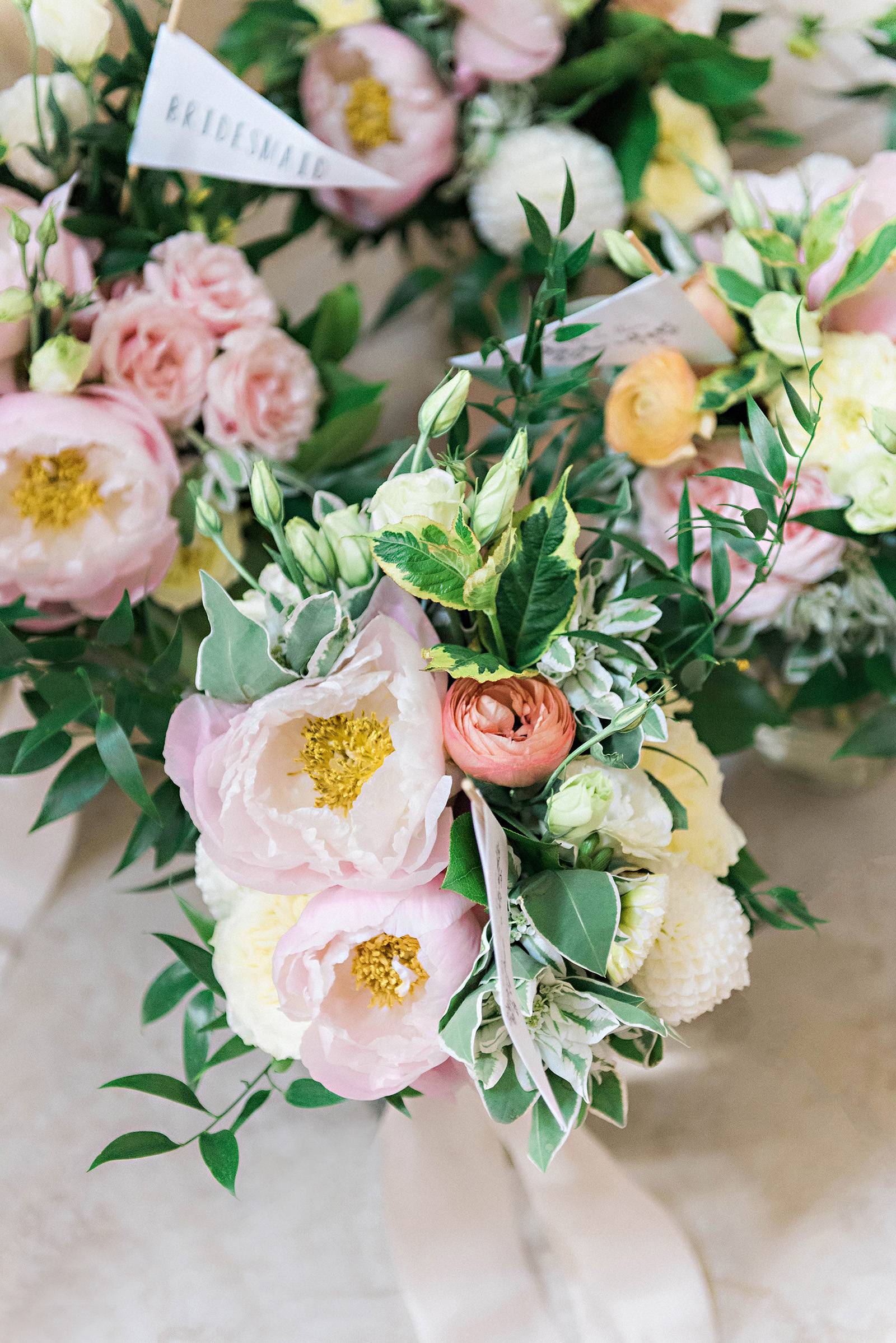 TELL US ABOUT FINDING YOUR WEDDING DRESS: I am usually a very indecisive person, but when it came to my wedding dress, I knew what I liked and what I didn't. I went to a few bridal boutiques and I immediately discovered that none of the boutiques had exactly what I was looking for. I found a lot of dresses had some elements I liked but were missing others. I had heard of KATRINA TUTTLE, a wedding dress designer a few hours away from me and decided I would reach out. I drove up to her boutique with my mom and immediately knew that I had to have one of her dresses. We decided on a custom dress with a three-quarter sleeve lace top and an open back, and a skirt made of silk tulle over silk dupioni. Katrina is so talented, was an absolute dream to work with, and brought my vision to life.
DID YOU HAVE ANY DIY ELEMENTS? My Aunt Pam is known for her brown sugar fudge in our family. She makes tins of it at Christmas and it is everyone's favourite treat. She was kind enough to make it for our wedding favours and we boxed them in Kraft boxes with cute labels. During his speech, Skylar let his family know to eat theirs before my family members could get to it.
DESCRIBE YOUR WEDDING FLOWERS: We knew we wanted to go a little over the top on the flowers since my family owns a garden center. We brought flowers in from all over the world and Chelsea worked her magic. We got peonies in from Alaska, roses and hydrangeas from Colombia and Ecuador, greens and ivy from Florida, orchids and dahlia from Ontario, and echeveria plants from New Brunswick. My bridesmaids carried garden posies of blush and peach roses and greenery. My bouquet was stunning with white and blush garden roses, dahlias, lisianthus, ranunculus, eucalyptus and greenery. Chelsea created beautiful floral installations at both the ceremony and the reception, with the highlight being an 8-foot flower wall at our reception with orchids, roses, hydrangea and greenery.
FAVOURITE DETAIL OF THE DAY:
It is hard to pick just one, but I would have to go with the flower wall. Our jaws dropped when we saw it at the reception, it was the most beautiful thing we had ever seen! We used it as the backdrop for our cake and then repurposed it after for our photobooth. Our guests were crowded around it all night long. We have so many photos of everyone to remember it by.
WHAT ADVICE WOULD YOU GIVE OUT TO A COUPLE PLANNING THEIR WEDDING? If you can fit it into your budget, hire a wedding planner. Emily and Katelyn from Elegant Productions worked tirelessly to bring all our dreams to life. I remember when we first met with them, they told us that they would make us feel like we were guests at our own wedding. We put so much time into the planning leading up to the day that it was so nice to let go and have the best time with our friends and family. They took care of every little detail.

Make sure to hire a good photographer. I had seen Candace's stunning photos on social media and when our wedding planners recommended her, I knew she was the right choice. Candace and Dave were so amazing to work with and made Skylar and I feel at ease throughout the entire day. Now that our wedding is behind us we have so many amazing photos to go through and remember every little detail about the day.
It's absolutely true what everyone says. Your wedding is the best day of your life and it will fly by. Everyone is there to support you as a couple and celebrate your love for each other. So, take a few deep breaths and enjoy it!
MOST MEMORABLE MOMENT? There are so many amazing moments from our wedding day but what stands out the most is our ceremony. I am not the type of person that loves to be the center of attention, so we decided to have an intimate ceremony with just our closest family and friends, and a much larger reception afterwards. It had been raining on and off all day and just minutes before the ceremony the sky cleared up and stayed that way until it was over.
Even more special, was that Skylar's father was able to officiate our wedding. The best part was how relaxed it was. My dad was telling jokes as he walked me down the aisle. Skylar was so eager to say his vows that he interrupted his father. It took all the pressure off and we just got to enjoy getting married.
ANY OTHER DETAILS THAT HELP TELL THE STORY OF YOUR DAY? Our guests still tell us how much fun they had at our wedding. The girls at Elegant Productions and Chelsea from Chelsea Lee Flowers created the most beautiful atmosphere to celebrate our love. Every little detail from the arrangements and garlands, to the harvest tables, the stationery, and the place settings were gorgeous. My dad's speech had everyone in stitches, setting the tone for the night and the live band (the Mellotones) had everyone dancing all night long. It truly was a special day.
TELL US A LITTLE ABOUT YOUR HONEYMOON: We delayed our honeymoon until December so that we could leave the cold weather and head to the sun. We went to the Sandals Royal Caribbean in Jamaica and splurged on an over the water villa. It was a bucket list item for both of us, and to say it was a dream come true is an understatement. We woke up to breakfast on the water each day and sunsets over the ocean every evening. We look back on it and can't believe we got to experience something so magical!
IS THERE ANYTHING YOU WOULD CHANGE OR DO DIFFERENTLY? No there really isn't anything I would change. Everything came together so perfectly, and because we had our amazing wedding planners from Elegant Productions, there was no stress on us during the day of our wedding. Of course, there will always be little issues, like the on and off rain in our case, but none of that matters when you are in the moment and getting married to your best friend.