Jenn & John wanted an intimate, soft, and romantic feel to their wedding with only their closest friends and family attending. As such, they went for an organic and comfortable aesthetic for their Virginia vineyard wedding captured here by KATE IGNATOWSKI. Working with planner & stylist A. GRIFFIN EVENTS and florist PORTER & IVES, their east coast celebration had a west coast vibe.
Originally from Hawaii the gorgeous bride loved outdoor, romantic weddings and BREAUX VINEYARDS reminded her of the vineyards in Napa Valley - from the drive up through the iron gates to architectural layout of the grapes and the tasting room. "It gave a very west coast feel although we were out in Virginia. The venue also had a gorgeous mini ballroom for the reception that would give our guests reprieve from the summer heat. The ballroom had large windows on all walls which allowed for natural sunlight to come in and also gave guests an amazing panoramic view of the surrounding vineyard and the sunset."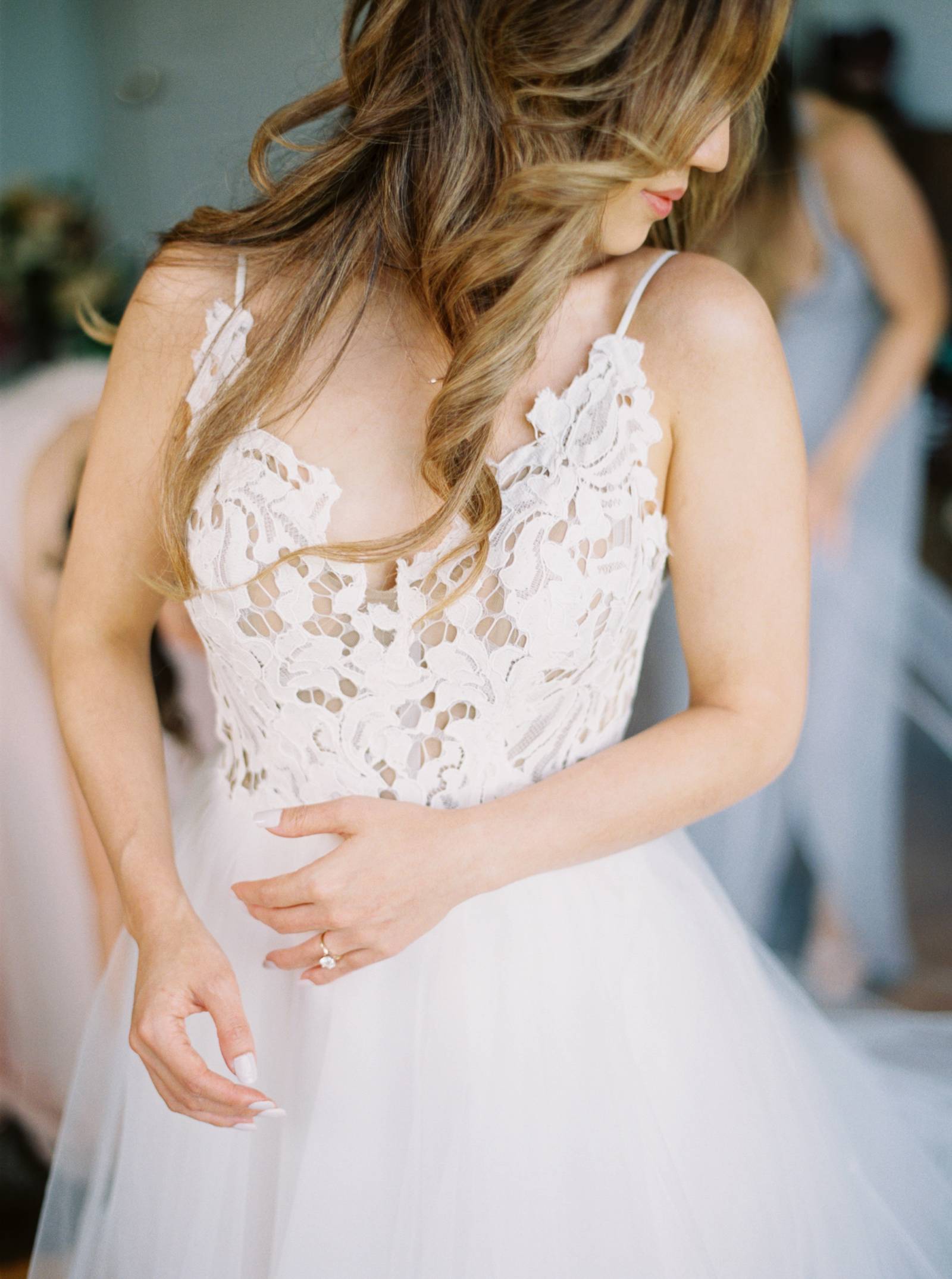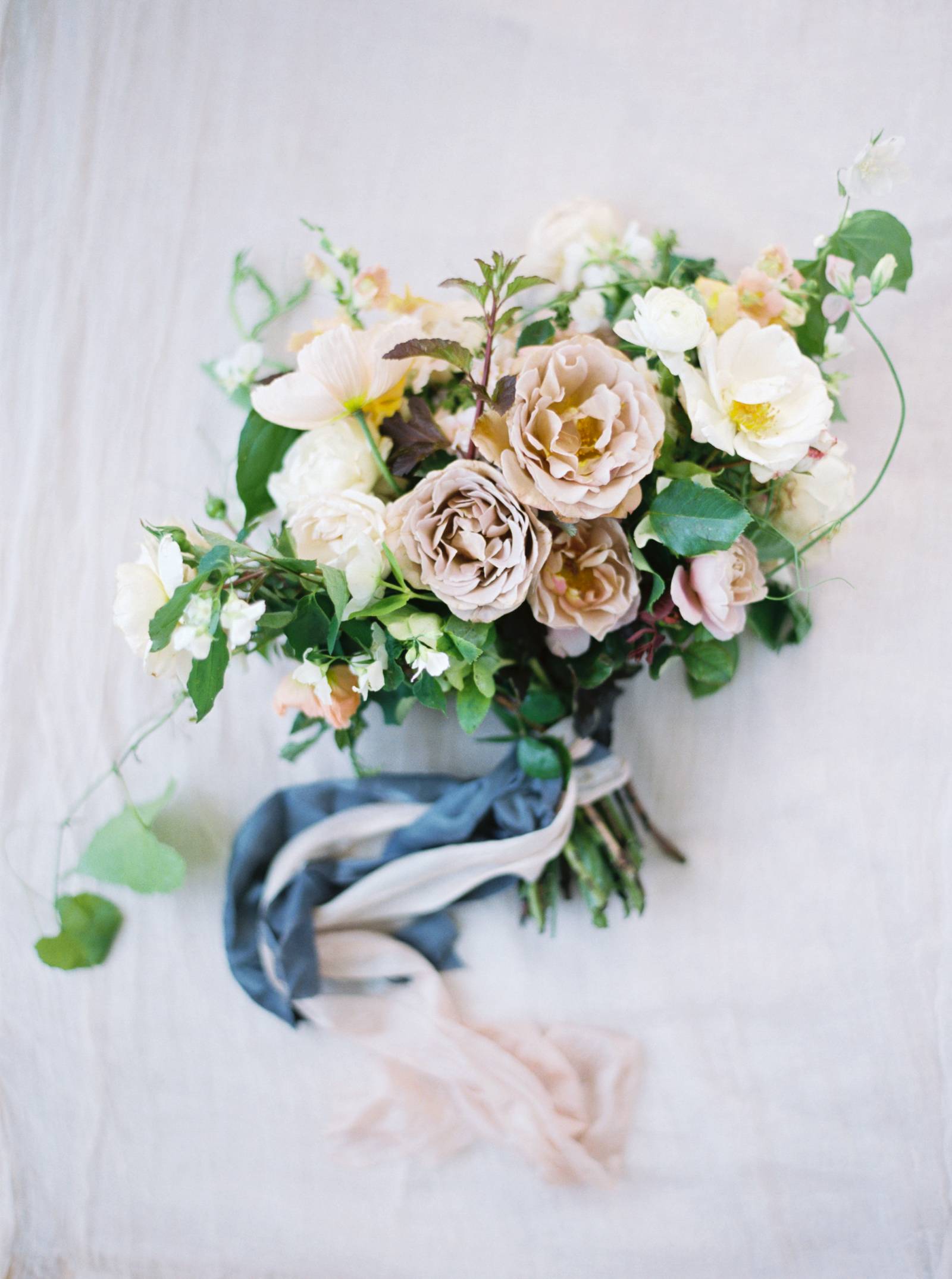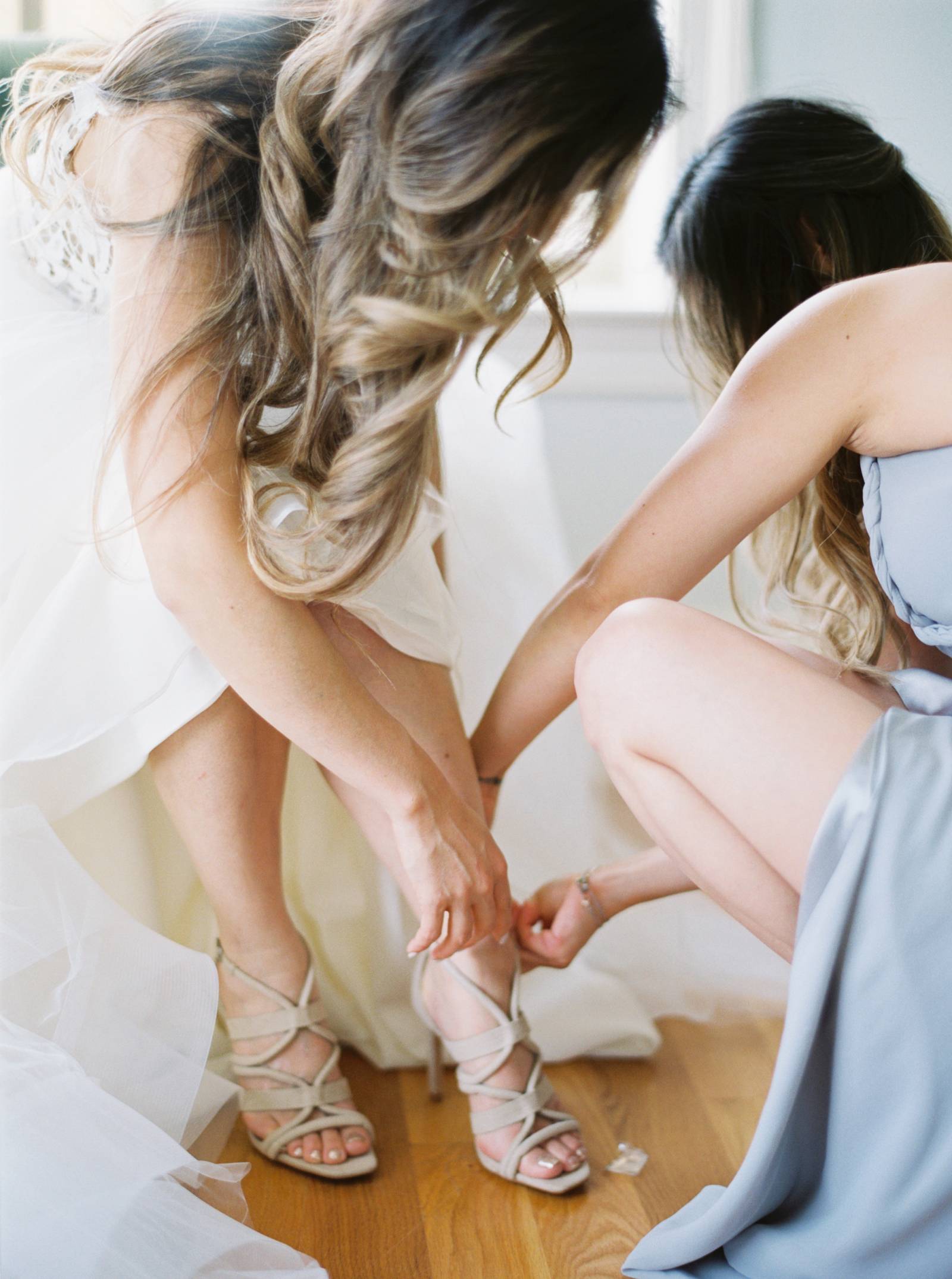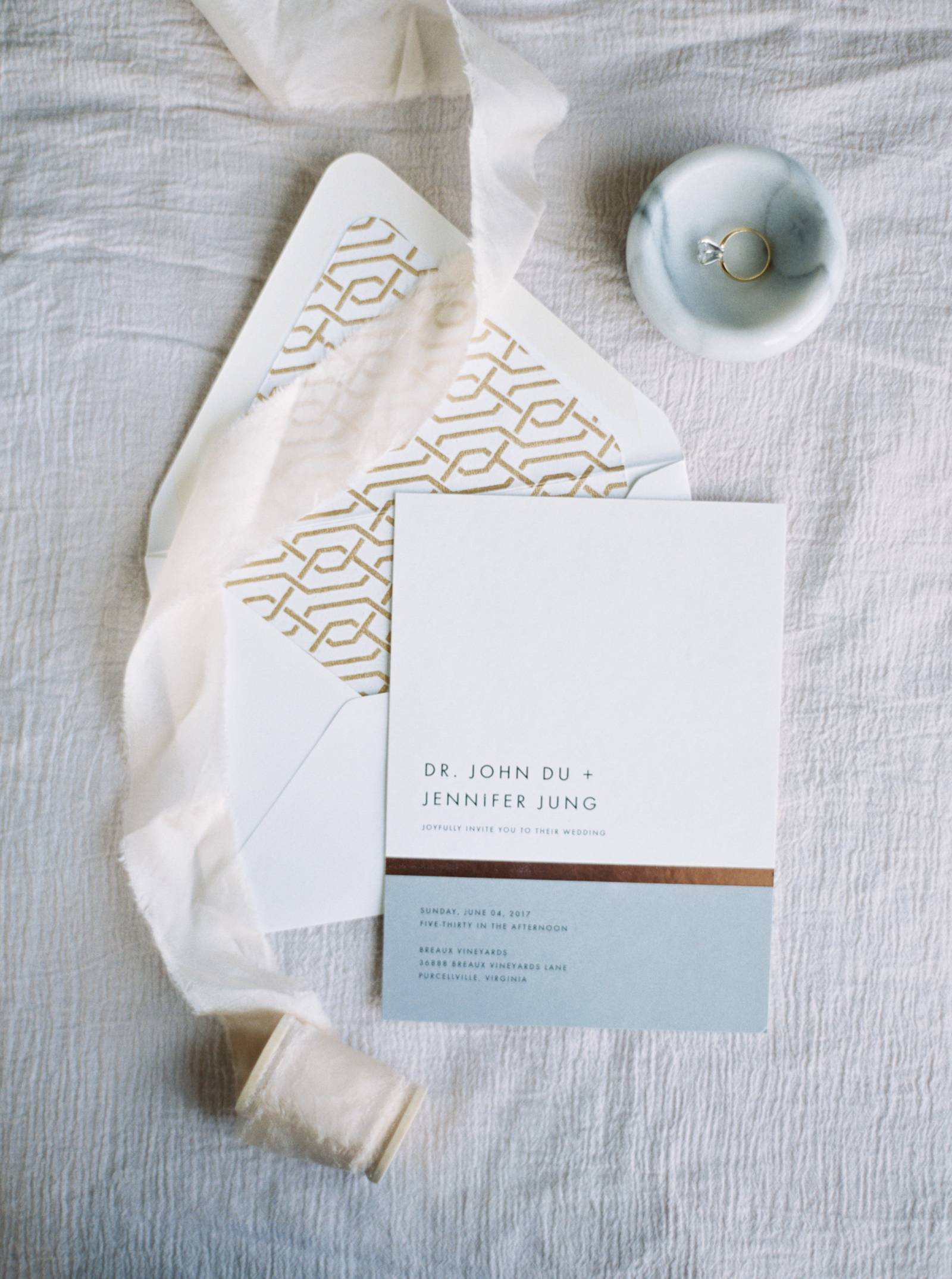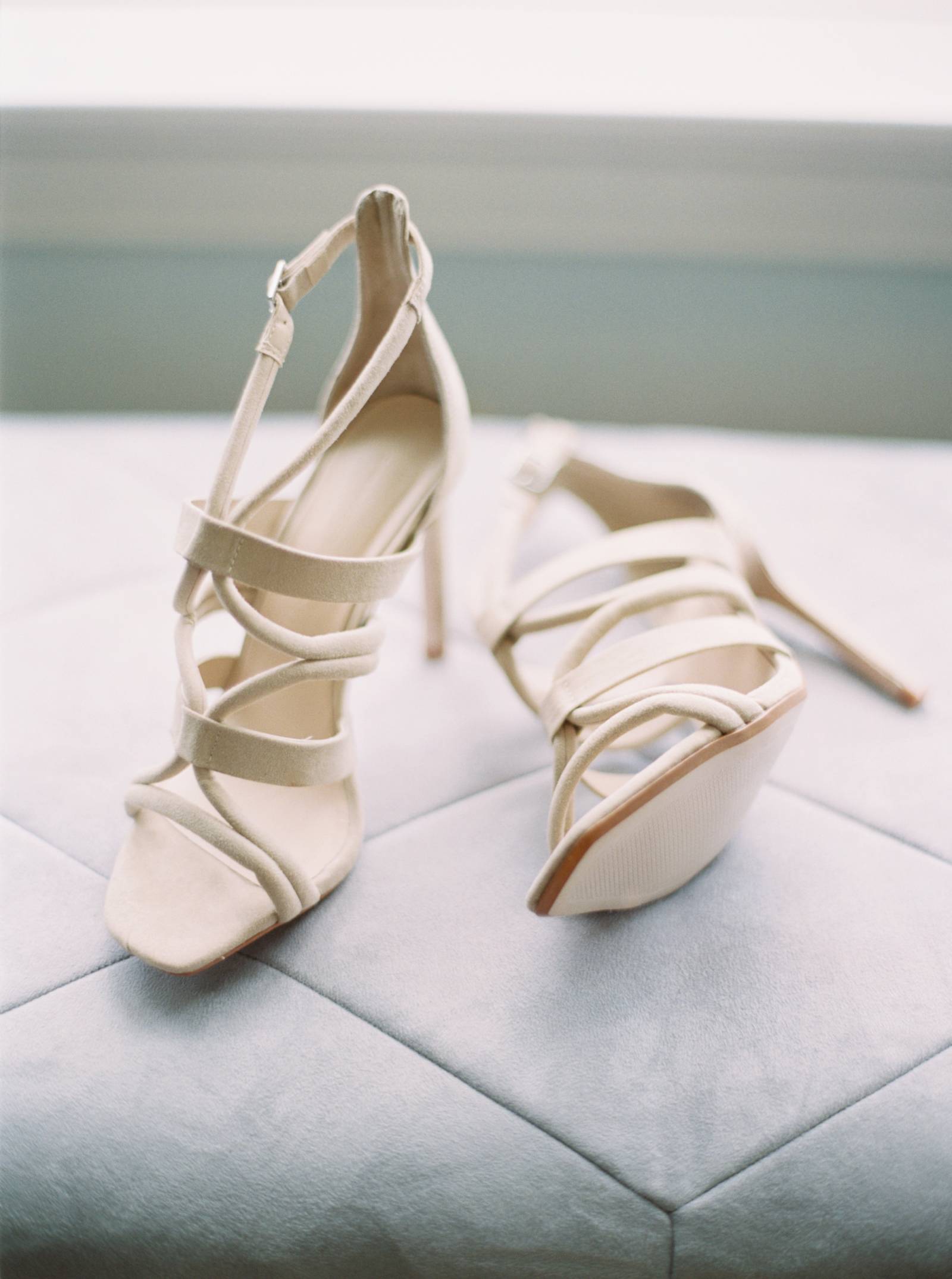 HOW DID YOU MEET? We were introduced through mutual friends. Our first date was a double date with those same friends at National Harbour. After dinner at Grace's Mandarin, John was still too shy to talk to Jenn so we were put on a ferris wheel ride together on the Capital Wheel to break the ice!
TELL US ABOUT YOUR PROPOSAL: Jenn works as a consultant and was on a full travel schedule, only back on Friday night to Sunday morning. On the weekend of March 19th, John said he planned a date night which really meant dinner in DC. It was cold and rainy and Jenn almost cancelled it. However, since he made an effort to make reservations, we ended up going. The entire night, John had ice cold hands and Jenn kept asking him if he was catching a cold. He barely ate dinner and, unbeknownst to Jenn who ate everything in sight, was very very nervous. After dinner, we went home and John dragged her down the stairs to the basement saying he needed to show her something he got. He took her out to the backyard deck and to Jenn's surprise, it was meticulously decorated with deck lights, fairly lights, flower petals, and words that said marry me. All those years of watching the bachelor and bachelorette really paid off for John. He said a whole bunch of words which Jenn didn't hear and got down on one knee and asked her to marry him... which Jenn also did not hear. After a long pause, Jenn figured out there must've been a questioned asked and tentatively said... yes? Suddenly friends popped out of all the dark corners of the forest to congratulate the two. Literally. There was shocking amount of people involved in staging the proposal. This was the biggest surprise ever as Jenn never saw it coming... at all. The amount of effort and details John put into the proposal still shocks many people to this day.
TELL US ABOUT FINDING YOUR WEDDING DRESS: I wanted something light for a summer wedding as well as something that felt romantic and soft. The laser cut lace from the top half of the dress fit in perfectly with the vineyard setting and the soft layers of the skirt gave an airy feel yet with enough structure from the horsehair to show the depth in layers. I originally wanted a heavier and more layered Lazaro dress but as soon as I tried this on, I was sold. The dress was so much lighter and comfortable and I realised that would match the atmosphere of the wedding. I also sent pictures of the two dresses to get Kate and Aimee's opinions as they knew the vision I had for the wedding and they both loved the Hayley Paige dress more. One thing I did do was change the entire back of the dress-normally the halo gown has lace appliques and a strappier look on the back. I worked with my seamstress at Love Couture Bridal (Rockville, MD), to simplify the back and leave two straps going down in a "V" for a more flattering and minimal look.
DID YOU HAVE ANY DIY ELEMENTS? We lucked out with our vendors... many have turned into lifelong friends. Aimee Griffin (AGRIFFEN EVENTS) and Elizabeth Trenti (PORTER & IVES), met with us many times to help organise and execute our vision. They suggested we dye our own linen napkins and other decoration linens to help create a more organic romantic atmosphere. Aimee and Beth then came over to our house on the weekend to teach me how to dye linens and helped to make them-from tearing up bolts of fabrics to test dying different shades of blush and beige napkins-it was such an amazing experience! We ended up making over 100 linen napkins and I also dyed the cheesecloth that was used as an accent drapery on the table centerpieces.
DESCRIBE YOUR WEDDING FLOWERS: The wedding flowers were a masterful creation from the mind of Beth Trenti. She spent so much time interviewing us as a couple and picked up cues from words we used to describe our relationship or our vision of the wedding to craft together the flowers on the wedding day. All I asked was that the flowers look organic and natural...we didn't have a colour but rather told her we were going for an atmosphere of romantic, soft, and organic with more neutral tones. She's just amazing to have been able to pull those words into the perfect vision. She and Aimee also created the copper frame of the arch which she then arranged with strategically placed greenery (I think they were hops)! I told her that the whole mood of the wedding would be set by the flowers so it would all revolve around her designs and she was able to deliver something far better than what we imagined!
FAVOURITE DETAIL OF THE DAY: We loved the flowers- it was the one item that set the tone for the entire wedding and those coupled with the linens created such a relaxing, soft, and classic mood!
WHAT ADVICE WOULD YOU GIVE OUT TO A COUPLE PLANNING THEIR WEDDING? Find some great vendors that mesh well with you and your fiancé, give them a direction, and trust that they will get you there. We were so lucky to have met everyone that we did. Weddings and the planning that lead up to it is not our specialty. However, there are lots of people out there who are so if you find the right ones and let them work their magic, the entire process will be so much more enjoyable and less stressful and you will be able to enjoy your actual wedding day.
MOST MEMORABLE MOMENT? We loved taking the couple pictures with Kate. We actually slipped out during dinner as the sun was setting during that time. The weather cooled down, the sun was perfect, and the vineyard was empty as everyone was in the ballroom for the reception. It was a nice escape from all the wedding activities and Kate always makes us feel so comfortable and not posed so it felt like we were on a private walk enjoying the sunset in a serene vineyard.
ANY OTHER DETAILS THAT HELP TELL THE STORY OF YOUR DAY? When ordering invitations, we found different designs that appealed to us, especially as certain designs would be appreciated by certain guests more than others. As such, since we'll only have one wedding, we decided to just order three different wedding invitations! We sent the invitations to people based on the aesthetic we thought they would most appreciate.
TELL US A LITTLE ABOUT YOUR HONEYMOON: We will be eating our way through Korea in September. I have relatives and friends there and haven't been back in over ten years so I'm sure it'll be a lot of fun. We decided to wait until September to take a short break from the wedding and also to go after the summer heat wave has died down.
IS THERE ANYTHING YOU WOULD CHANGE OR DO DIFFERENTLY? Nothing. The planning process was what intimidated us in the beginning but once we found the right vendors, the process became very stress-free up to the big day. It was an amazing event and every one of our guests had an amazing time and made new friends that night. We also walked away with some fantastic new life friends out of this experience so everything was well worth it!