It was the fact that their 2 year old Labrador cross puppy could attend their wedding that saw Alice & Peter hold their wedding at THE SUPERINTENDENTS RESIDENCE in Sydney's Centennial Park. We're convinced pups should be a part of every wedding! Sydney wedding photographer WE ARE ORIGAMI captured their relaxed and intimate garden wedding which was all about ensuring their guests had a fun and enjoyable night. I have to say that the food displays in this wedding are some of the most incredible I've seen... check out the dessert table at the bottom of the post - it's glorious!!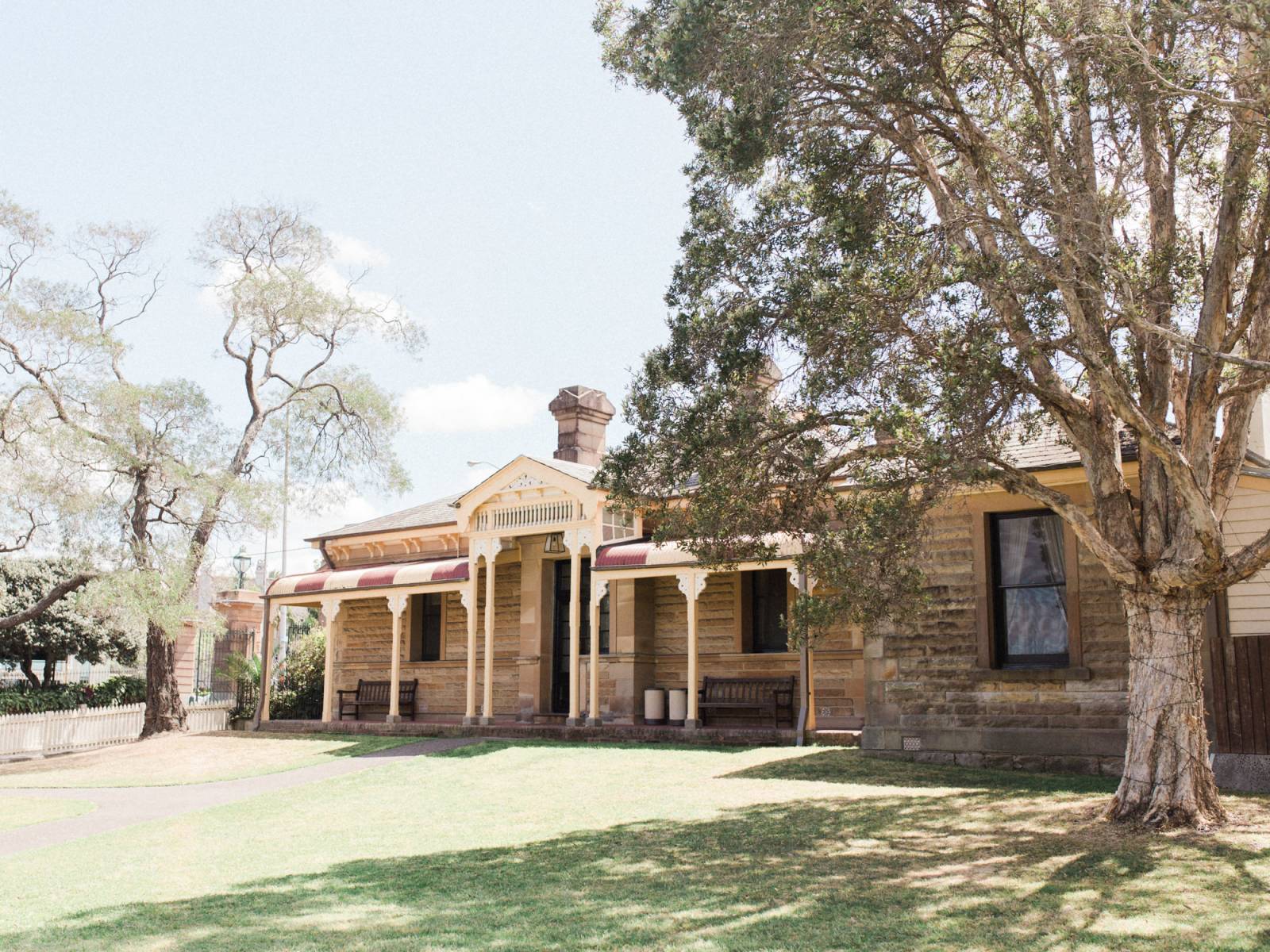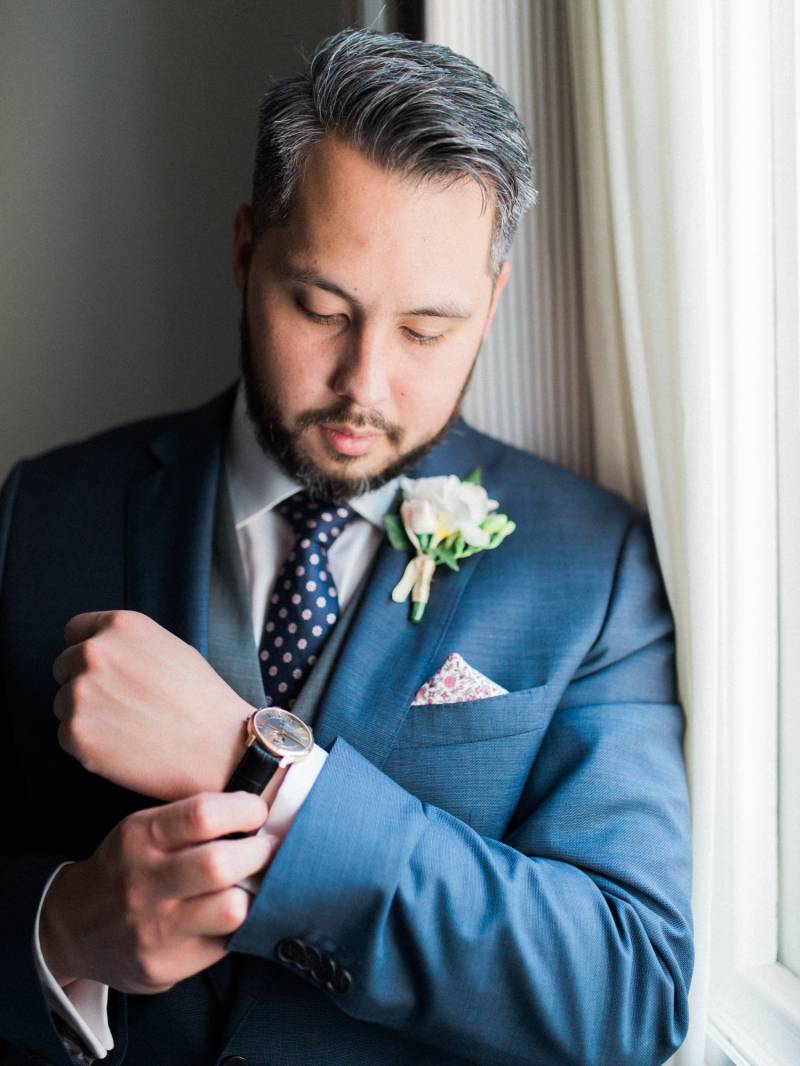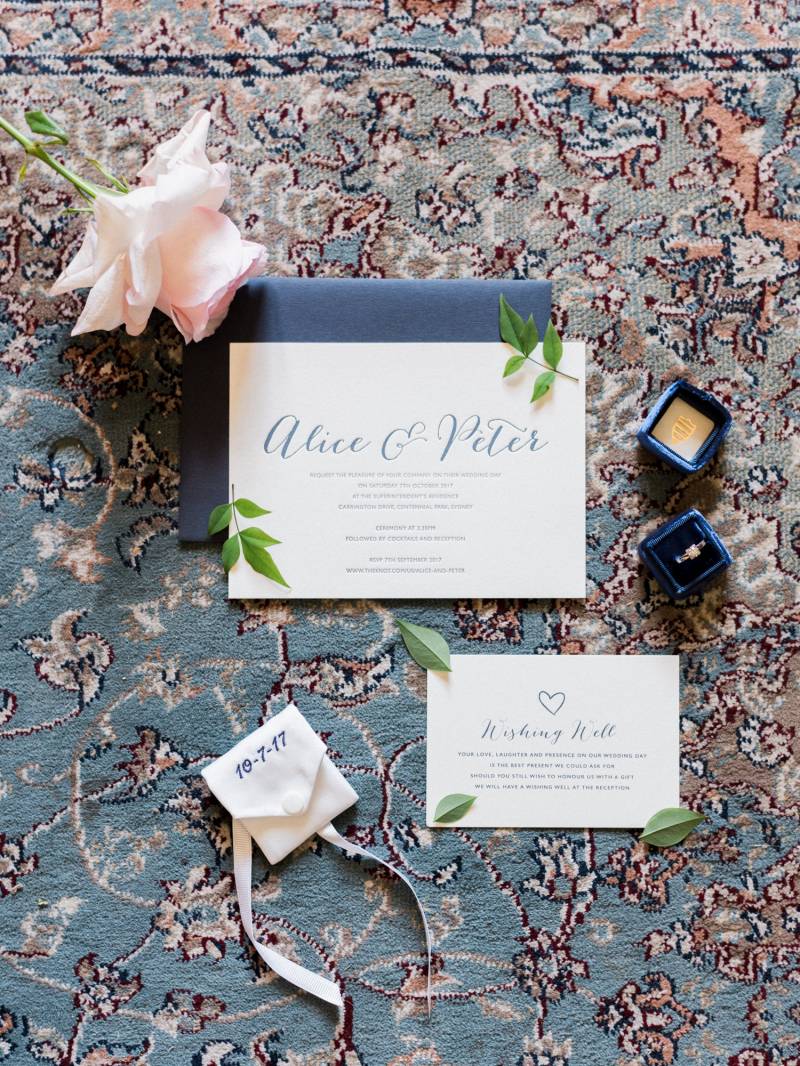 HOW DID YOU MEET? We met at uni, at a sociology tutorial, about 8 years ago. As we happened to sit next to other and it was the first class of the semester, we had to introduce the person next to us (those awkward ice breaker games!). We hit it off chatting and got to know one another, and I thought things were going really well. But when it was his turn to introduce me, he couldn't even remember my name!
TELL US ABOUT YOUR PROPOSAL: The proposal took place at the place we had our first date. After stuffing our bellies with gourmet food at Momofuku Seibo at the Star, we went to Darling Harbour where Peter proposed on top of the Ferris wheel that was set up specifically for Valentine's Day. It was private, it was intimate, and the perfect proposal for me as someone who's not that comfortable with public declarations of love!
TELL US ABOUT FINDING YOUR WEDDING DRESS: It took a few go's at a few different stores to finally find the dress, which funnily enough was a dress I tried on at the first store! I toyed with the idea of a Karen Willis Holmes dress, falling in love with a bespoke combination put together by one of the talented girls there. However, the price tag was way out of my budget, which led me to a final visit to Fashions by Farina in the Dymocks building, where I found THE Dress.
DID YOU HAVE ANY DIY ELEMENTS? The DIY elements were mostly the sweet stuff at the wedding - the cake, the dessert table and chocolate bombonieres. And yes, that took a few late nights leading up to the wedding to complete!
DESCRIBE YOUR WEDDING FLOWERS: Pastel, soft, romantic colours.
FAVOURITE DETAIL OF THE DAY: The Caterers Sydney went the extra mile and played the role of decorator as well, when they used the leftover orchids we had brought with us to decorate the room and the dessert and grazing tables. It was such a nice touch, adding some much needed colour to the white furniture, and we were so impressed with their proactivity!
WHAT ADVICE WOULD YOU GIVE OUT TO A COUPLE PLANNING THEIR WEDDING? Try to be nice to each other during the planning process. Plan a wedding for yourselves - what you would enjoy and want, not what you think other people wants from your wedding!
MOST MEMORABLE MOMENT? The speech from the groom! He is normally quite a reserved man of few words, but his speech completely surprised everyone - it was entertaining, funny, and romantic! Other memorable moments included seeing (hearing) some of our family and friends being forced to sing with the band - it made for some very hilarious moments!
TELL US A LITTLE ABOUT YOUR HONEYMOON: We both love food, and have always wanted to go to Japan. So for our honeymoon, we decided to make this wish come true and head to Japan, stopping by Singapore on the way. We had the most relaxing and fun time with each other, and completely fell in love with Japan. Our fondest memories of the trip included waiting 4 hours from 5am in the morning to have the best sushi omakase in our lives, and waiting in the typhoon for an hour for Michelin starred ramen that is Nakiryu that changed our world.
IS THERE ANYTHING YOU WOULD CHANGE OR DO DIFFERENTLY? No, we really did have the best day of our lives and we wouldn't change a thing!
Thank you so much to Sydney wedding photographer WE ARE ORIGAMI for sharing this incredible inspiration with us. If you're a Sydney bride head over to our vendor guide to see more work by WE ARE ORIGAMI (Sydney wedding photographer). You might also want to check out this Ethereal bridal shoot in golden sands by them.