Right from the start gorgeous bride Jennifer knew she wanted an abundance of greenery combined with a soft neutral colour palette. As a nod to husband Rich's interest in gardening, they incorporated things like olive branches and eucalyptus in the styling. When it came to selecting their venue she tells us, "We looked at 10-15 venues before we found "the one". As soon as we walked in, it just had all of the elements that we were looking for and I could see our vision coming to life. After we had seen more than a few venues, we really had to think what features were truly important to us. BARLEY SHEAF FARM ESTATE had an incredible staff, their space was magical and had this classic Bucks County feel to it." Thanks to LAUREN FAIR PHOTOGRAPHY for sharing this gorgeous Pennsylvania wedding with us!
HOW DID YOU MEET? We actually met through Rich's family. I have been friends with his Aunt, Uncle and cousins for years through community theatre. I was out with them one evening when Rich came out to join his family. As soon as they saw us meet eyes, everyone knew immediately that magic was happening.
TELL US ABOUT YOUR PROPOSAL: Rich proposed on the beaches of Mexico. I will never forget that he asked me if I wanted to take a walk along the beach as we were relaxing at the resort cabanas that day. As we were walking, we could hear the song I Think I Wanna Marry You by Bruno Mars. Rich just knew that was his moment. He got on one knee and asked me to marry him. I was blown away and completely surprised! The moment that we walked back up to the cabanas everyone was giving us shots of tequila and were so excited for us. There was a period of time that only him and I knew and it was such an intimate and special moment that we will never forget.
TELL US ABOUT FINDING YOUR WEDDING DRESS: I went through 50 wedding dresses before I found "the one"! The problem was I knew exactly what I wanted I just had to find it. My mom and I went together to New York on a gown shopping trip and that was when it happened. The moment I put on my gown I knew it was the one. When we both started crying we definitely knew. We even had the consultant tearing up. It was so magical.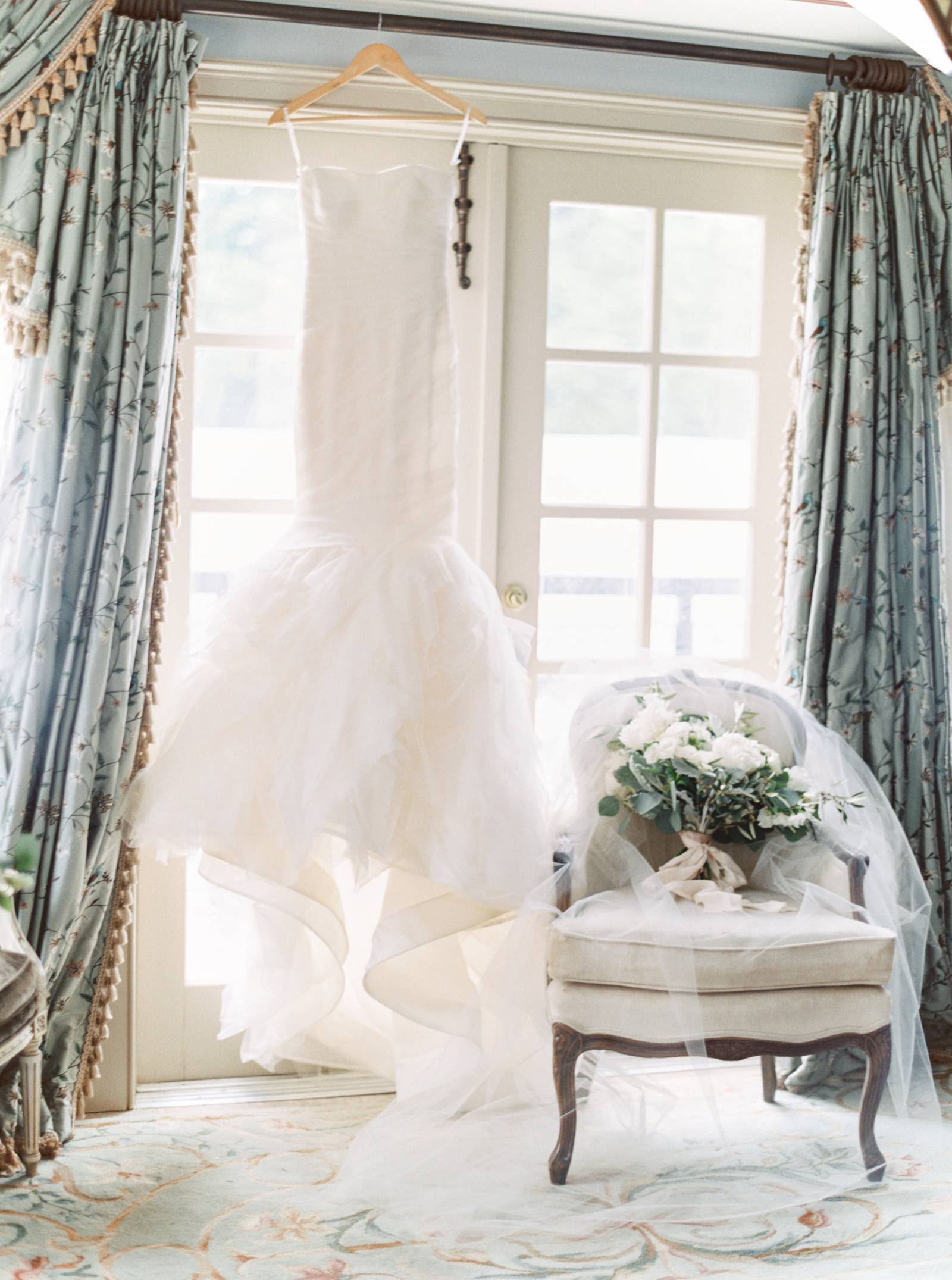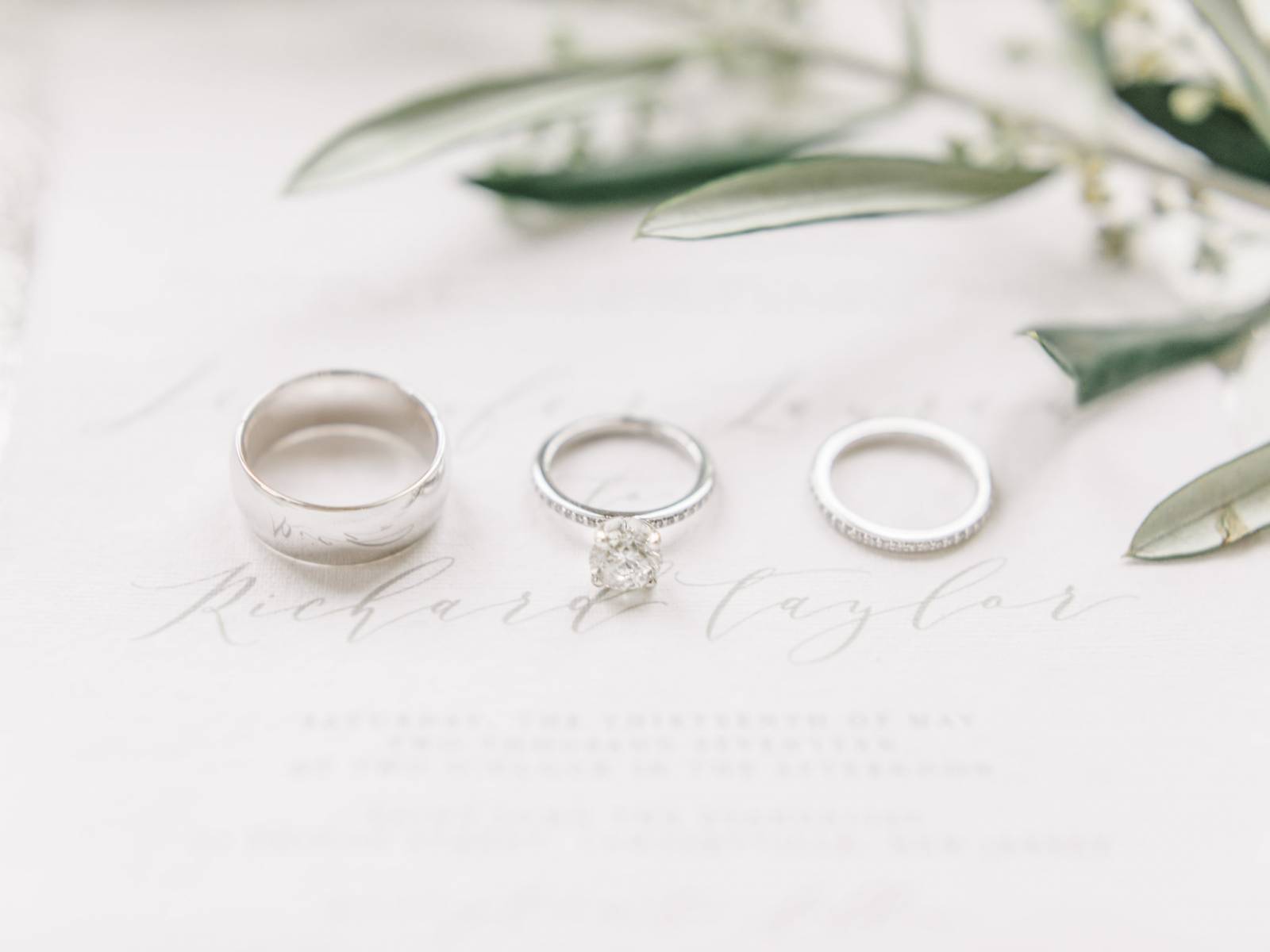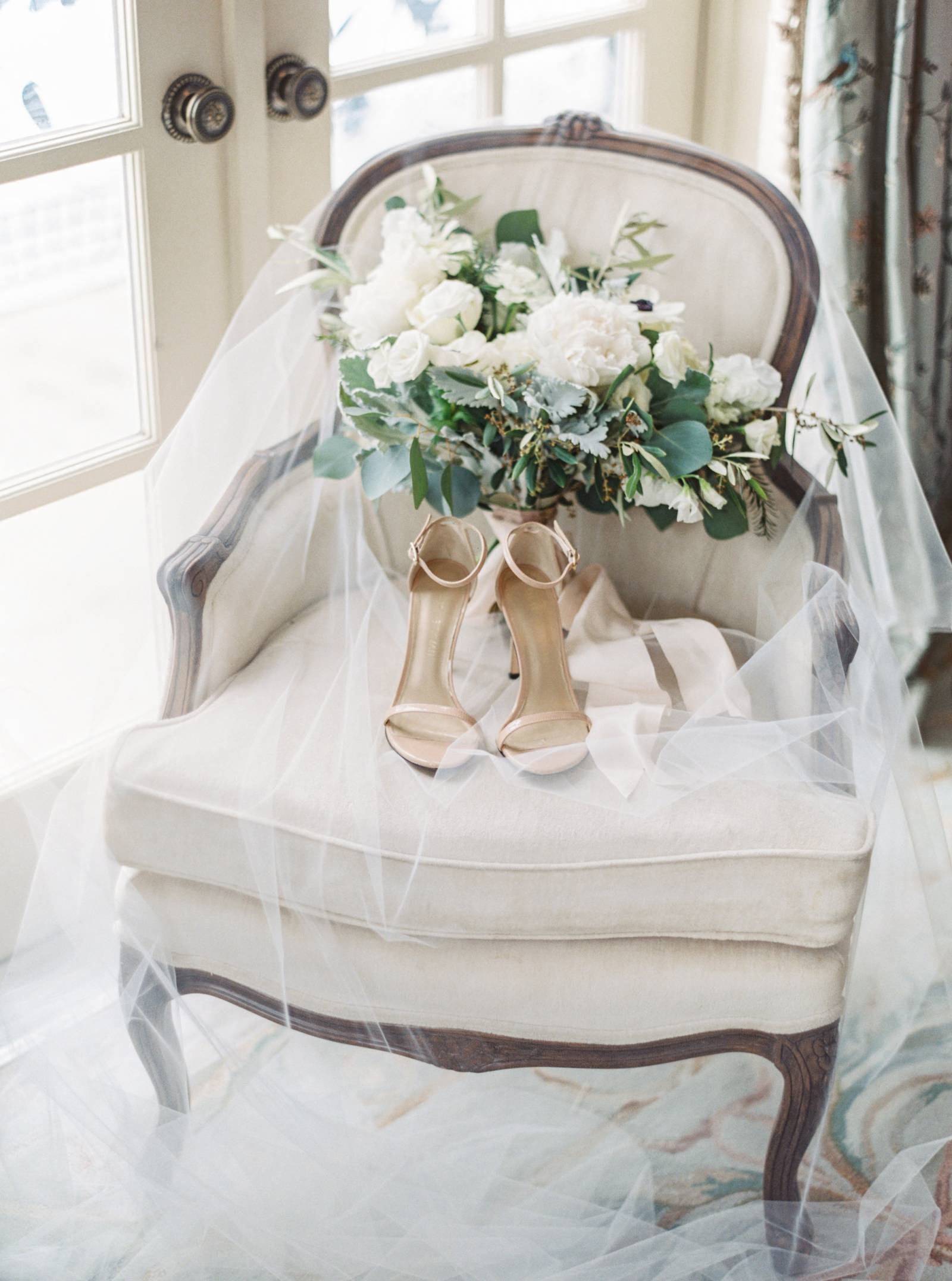 DID YOU HAVE ANY DIY ELEMENTS? I decided to have fun creating my own menus, escort cards and favour tags. I am obsessed with modern calligraphy so I downloaded a gorgeous script font and used it multiple places. Our wedding favours were olive oil bottles so I created tags with a special story on the reverse side. We also created our own guest book table and memorial table using the same font.
DESCRIBE YOUR WEDDING FLOWERS: I am still in completely in love with our wedding flowers. Our florist truly went above and beyond on our wedding day. From the day I walked into her office, she and I were on the same page. I wanted to be surrounded by incredible eucalyptus, olive branches and touches of white floral and that is exactly what we had.
FAVOURITE DETAIL OF THE DAY: Our favourite detail of our day is definitely not what you would expect. It poured on our wedding day. All day! Even our vendor team said it was the rainiest wedding they had ever worked. Rain on your wedding day is every brides worst nightmare. Honestly though, I don't think one guest will ever forget that day and our band told us it was the best wedding they had ever been to. Even more so, it really helps you to realise what is important. I was there to marry my best friend in the entire world and that was happening no matter what.
WHAT ADVICE WOULD YOU GIVE OUT TO A COUPLE PLANNING THEIR WEDDING? The first thing I would say to any bride and groom is to find a vendor family that you can trust. They will be your lifeline that day and being surrounded by vendors that you not only enjoy being with, but that you can trust is so important.
MOST MEMORABLE MOMENT? One of our most memorable moments that day was saying our vows. Honestly, speaking those sincere words of love to the one you love is the most incredible feeling in the world and I will never forget it.
ANY OTHER DETAILS THAT HELP TELL THE STORY OF YOUR DAY? I was blessed to have the most incredible vendors any bride could ever have. In our vendor search, we really tried to choose vendors that we truly connected with. Through the rain on our day, our vendors worked tirelessly to make everything perfect, create an indoor greenery oasis so we could get shots outside and stayed by our side every moment.
TELL US A LITTLE ABOUT YOUR HONEYMOON: We left for our honeymoon literally the day after our wedding, that evening. I would definitely say leaving right away was the right thing for the two of us. We decided pretty quick that we wanted to travel to Italy on our honeymoon. When it came time to plan it, I was definitely blessed to have Rich take over our plans since I was in full on wedding planner mode! On our two week trip, we traveled Rome, Florence, Tuscany and Siena, then traveled down to the Amalfi Coast and Capri. It is a trip that we will never forget.
IS THERE ANYTHING YOU WOULD CHANGE OR DO DIFFERENTLY? This is a tough question for me because there is. I would have given anything to have my sister be there to share in our day. We tragically lost my sister a few years ago to a rare disease. She was 32. She was such a strong person and still inspires me to this day. She was able to meet Rich and I will never forget the day I told her that he was the one, and I was done. I know to my core that she was with us that day in every way and was so proud of us.