With strong ties to the San Juan Islands and having spent a lot of time there growing up, it was an easy decision for Dani & Andrew to hold their wedding there. "We wanted the style of our wedding to reflect the venue and the San Juan Islands which we both love so much. Roche Harbour has a timeless grandeur that is set against the raw and wild beauty of the Pacific Northwest. Our ceremony would take place in a garden by the sea, and we wanted to extend that concept to our reception and beyond! Our table were labeled with our favourite places and things associated with the San Juan Islands, and the décor was inspired by the local greenery and rocky beaches." Seattle wedding photographer CHRISTINE CLARK captured their beautiful which saw their guests take the ferry up to the island and spend the entire weekend with them. As well as attend the wedding guests were able to hike, kayak, and go whale watching. "We loved the chance to share our love for the San Juans with our out of town friends and family."
HOW DID YOU MEET? Although we grew up less than twenty minutes from each other, we didn't meet until after we had both gone to college out of state and moved back to Seattle. We were introduced by a mutual friend on New Year's Eve but failed to exchange numbers amidst the festivities. Several months later we were reconnected, and the rest is history.
TELL US ABOUT YOUR PROPOSAL: One of our first dates was to the top of Snoqualmie Falls. We took our first picture together overlooking the falls and the river below. Several years later, we revisited the falls and decided to recreate that initial picture. Andrew surprised me by dropping to one knee and proposing while a photographer captured the whole thing.
TELL US ABOUT FINDING YOUR WEDDING DRESS: I had always loved the simple elegance of Sarah Seven designs. When I was eighteen, I pinned several of her dresses on my Pinterest board and dreamed of one day trying them on. Eight years later, I was engaged and still in love with Sarah Seven dresses. I was thrilled to discover Sarah was having a trunk show at A Dress Theory in Seattle. To my surprise, Sarah herself was at the appointment and helped me try on multiple of her dresses. It was like meeting a rock star and made the appointment so much fun. Towards the end, I asked Sarah if she had the dress I had pinned so long ago, just for fun. Although she was discontinuing the dress, she told me had thrown one in her suitcase at the last minute. I had tried on so many beautiful pieces, but when I put on that dress I was speechless. I realised I had been searching for this dress all along, and it was just as beautiful on as it had been on Pinterest so many years ago.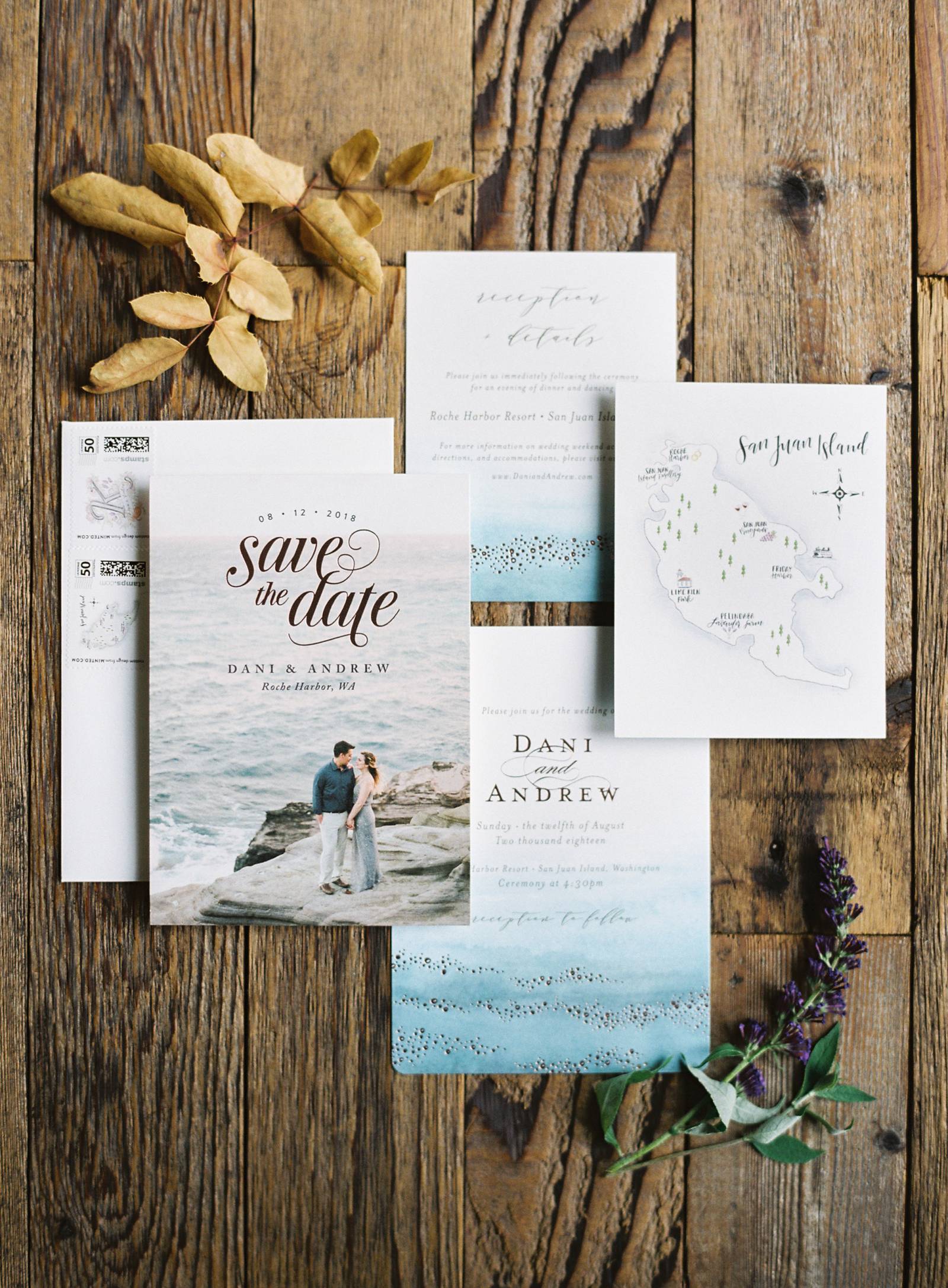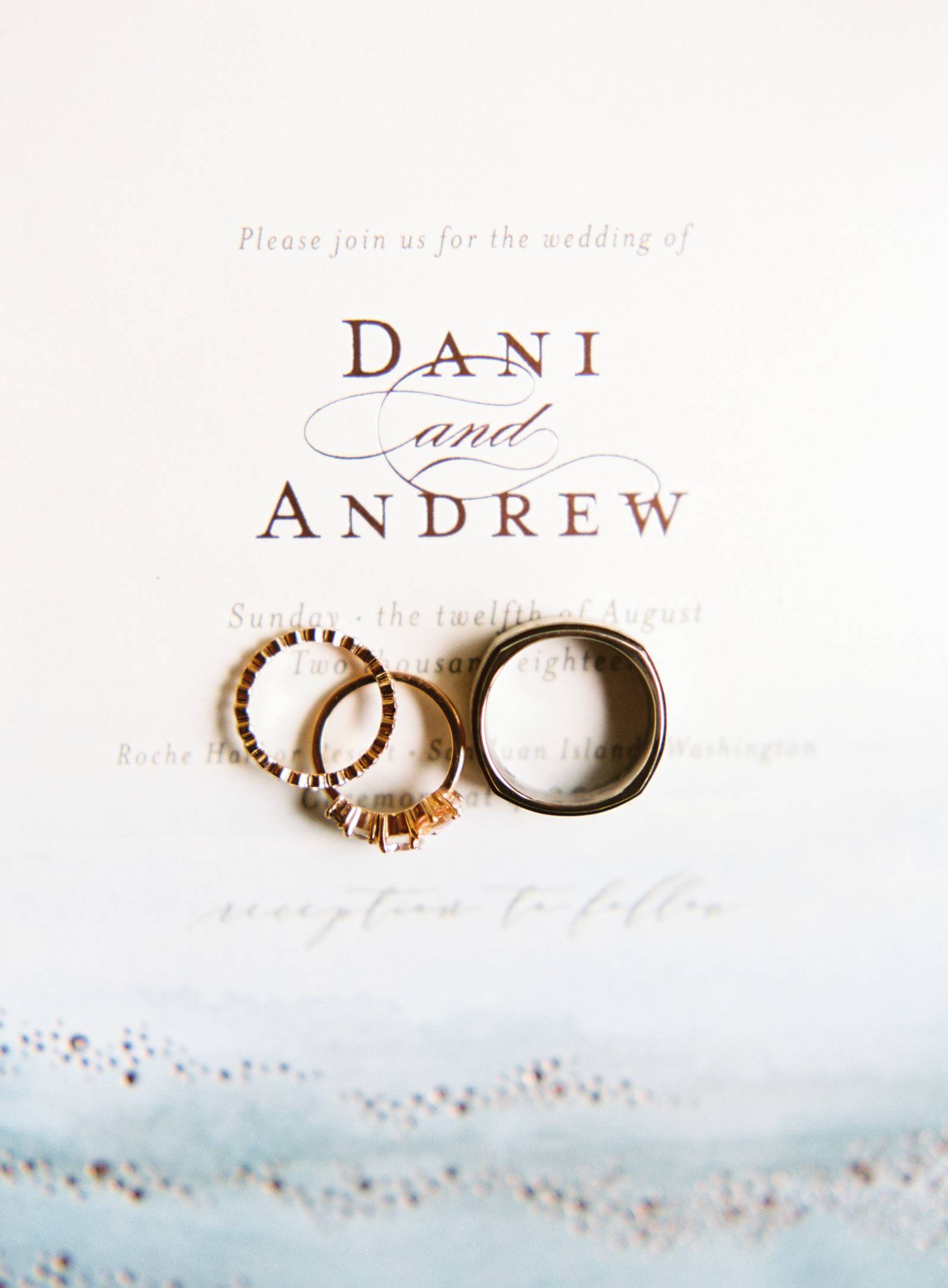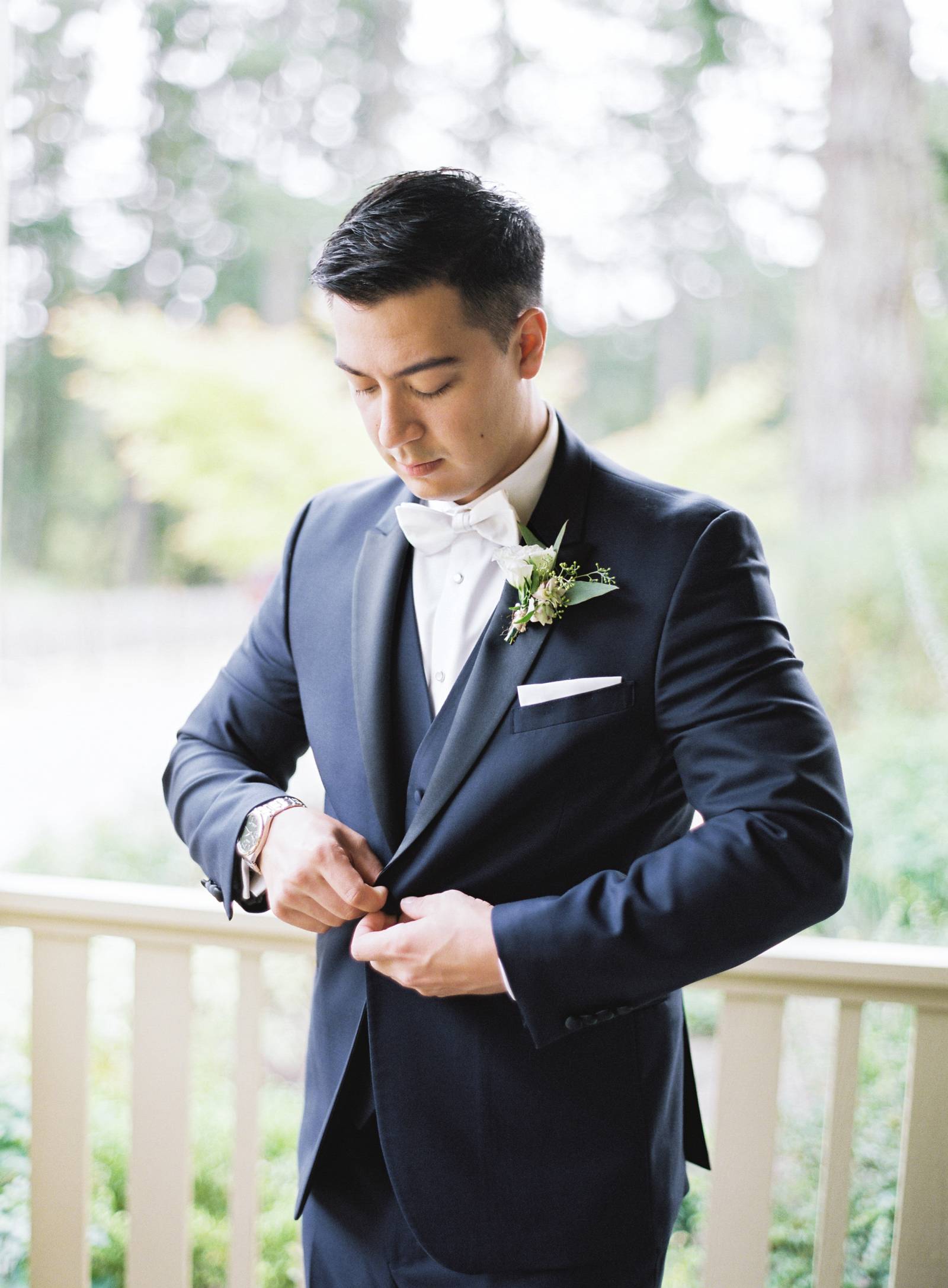 DID YOU HAVE ANY DIY ELEMENTS? We firmly believe the best party favour is something edible, so we decided to give our guests local honey. Andrew found a local farm and filled hundreds of little jars with delicious PNW wildflower honey. We added a label with our wedding crest on it for a fun and delicious memento of our wedding weekend for our guests to take home and enjoy.
DESCRIBE YOUR WEDDING FLOWERS: The garden our ceremony took place in was originally planted by the wife of the founder of Roche Harbour. We wanted our wedding flowers to feel as natural and organic as possible, as if we had stopped in the garden the morning of and gathered bouquets from the beautiful flower beds there. Our florist Leah, a San Juan Island native, knew exactly how to best capture our vision. She filled our bouquets with garden roses, native island plants, and even some herbal sprigs to make them feel truly wild and romantic. Our centerpieces were extensions of the bouquets and were paired with driftwood and oyster shells Leah gathered from the beach herself.

FAVOURITE DETAIL OF THE DAY: My favourite detail is the crest our friend Katie Bossler of Chalk Boss designed for us using our venue as an inspiration! The design includes flowers that are native to San Juan Island as well as a float plane and a Dungeness crab (my favourite part). She also designed a gorgeous map of San Juan Island that was included in our invitations. Both the crest and the map were displayed at our reception and are now hanging in our home to remind us of our dreamy day.
WHAT ADVICE WOULD YOU GIVE OUT TO A COUPLE PLANNING THEIR WEDDING? Choose vendors that you click with and build relationships with them during the planning process. If possible, choose local venders that know your venue well and are highly recommended. Buy them lunch or a cup of coffee so you can learn about each other. It makes wedding planning much more personal and will make your day of more relaxed and fun. We would have been lost without our local florist and DJ on the day of!
MOST MEMORABLE MOMENT? Because we were getting married in a less traditional setting, we chose to not write our own vows and instead recite the traditional vows that have been said by couples for hundreds of years. The simple words were so meaningful and powerful to us both. However, as Andrew was repeating his vows, float planes circling overhead came in for a closer look. The loud roaring of the engines completely drowned out everything he was saying! We all laughed and had to wait until the planes flew away for Andrew to be heard. It was a very special yet very funny moment that neither of us will ever forget.
ANY OTHER DETAILS THAT HELP TELL THE STORY OF YOUR DAY? The Pacific Madrone tree is a staple in the San Juans with its beautiful distinctive peeling red bark. I had seen the most beautiful madrone tree online but the venue was not aware of the location. A few of our friends spent the day before the wedding scouting and were able to locate the tree not too far away from the venue. We were able to take our golden hour photos there and they are our favourites from the entire day. Christine was able to capture both our love for each other and our love for the beautiful setting.
TELL US A LITTLE ABOUT YOUR HONEYMOON: We honeymooned in Costa Rica at the beautiful Casa Chameleon in Las Catalinas. We were able to relax and also enjoy the tropical waters by scuba diving and paddle boarding. Although we had so much fun over our wedding weekend, it was amazing spending time with just each other.
IS THERE ANYTHING YOU WOULD CHANGE OR DO DIFFERENTLY? We had been told by our venue that we wouldn't need to hire a day of coordinator because they would provide one. Unfortunately, the individual on our day was completely uninvested and we never saw her, and there were several large setup mishaps. We wish we had hired a day of coordinator separate from the venue so we would have had someone advocating for us! Luckily, we had amazing vendors who were able to pull everything together in the end.
Seattle wedding photographer CHRISTINE CLARK splits her time between Seattle & Hawaii. A love for light and faces is what originally drew Christine towards photography and continues to be what inspires her in this creative journey. The majority of her work is shot on medium format film, which allows her to be more connected to her work while showcasing the unrivalled beauty and aesthetic of film. Be sure to also check out this Stylish Oahu wedding with a vintage vibe.