Everything about this wedding by SHANNON MOFFIT oozes romance. From the gorgeous beaded gown to the florals created by LOVE BLOOMS HERE. For Jacqueline and Joshua spending their big day in a romantic and intimate setting with the people that mean the most to them, was what it was all about. With many of those loved ones spread across the country they chose to hold it at a relaxing retreat style venue just outside of Washington D.C. The venue - AIRLIE - offered them a garden environment in upstate Virginia with Italian style gardens and architecture. Their colour palette of soft mauve, grey and white complemented the surroundings.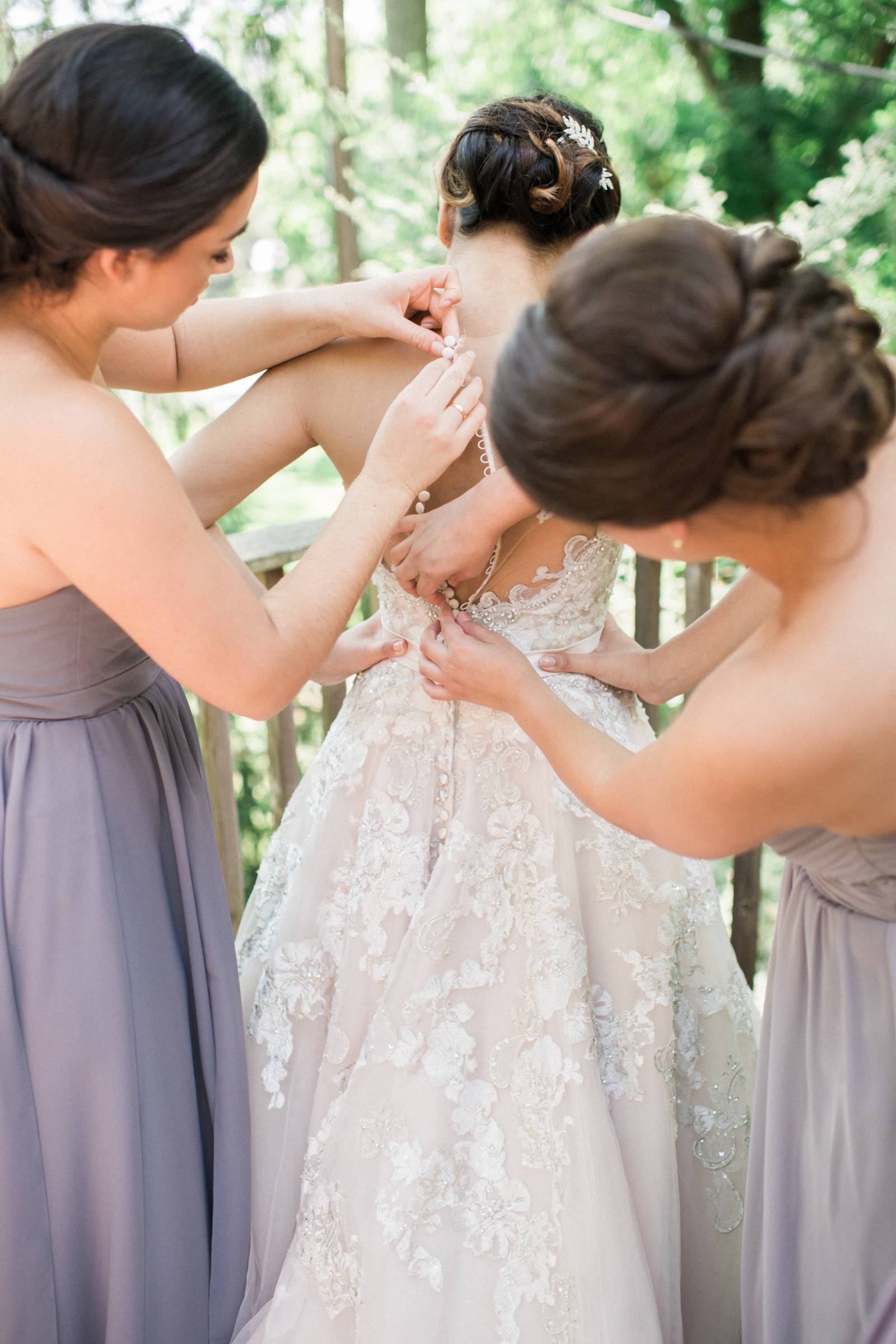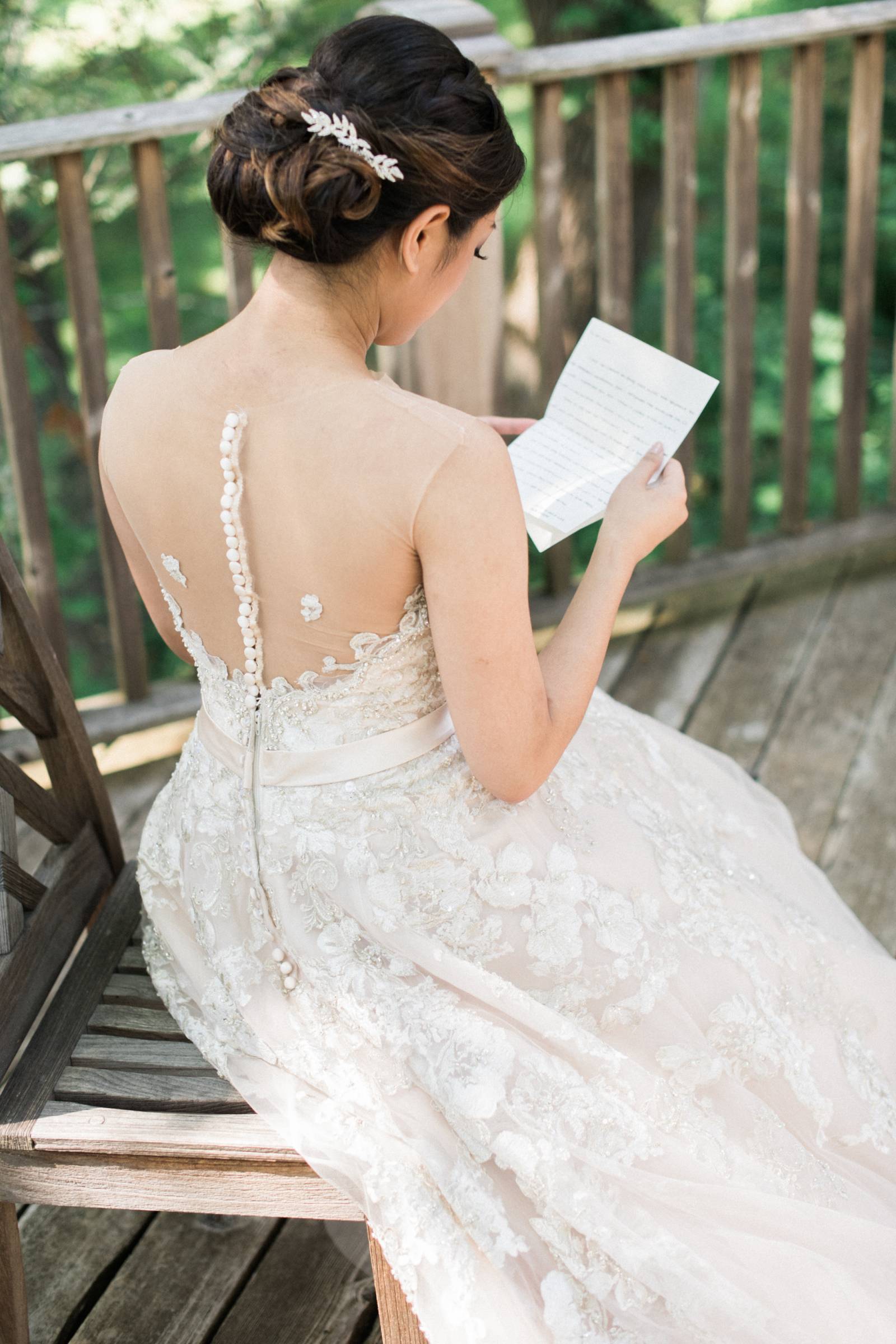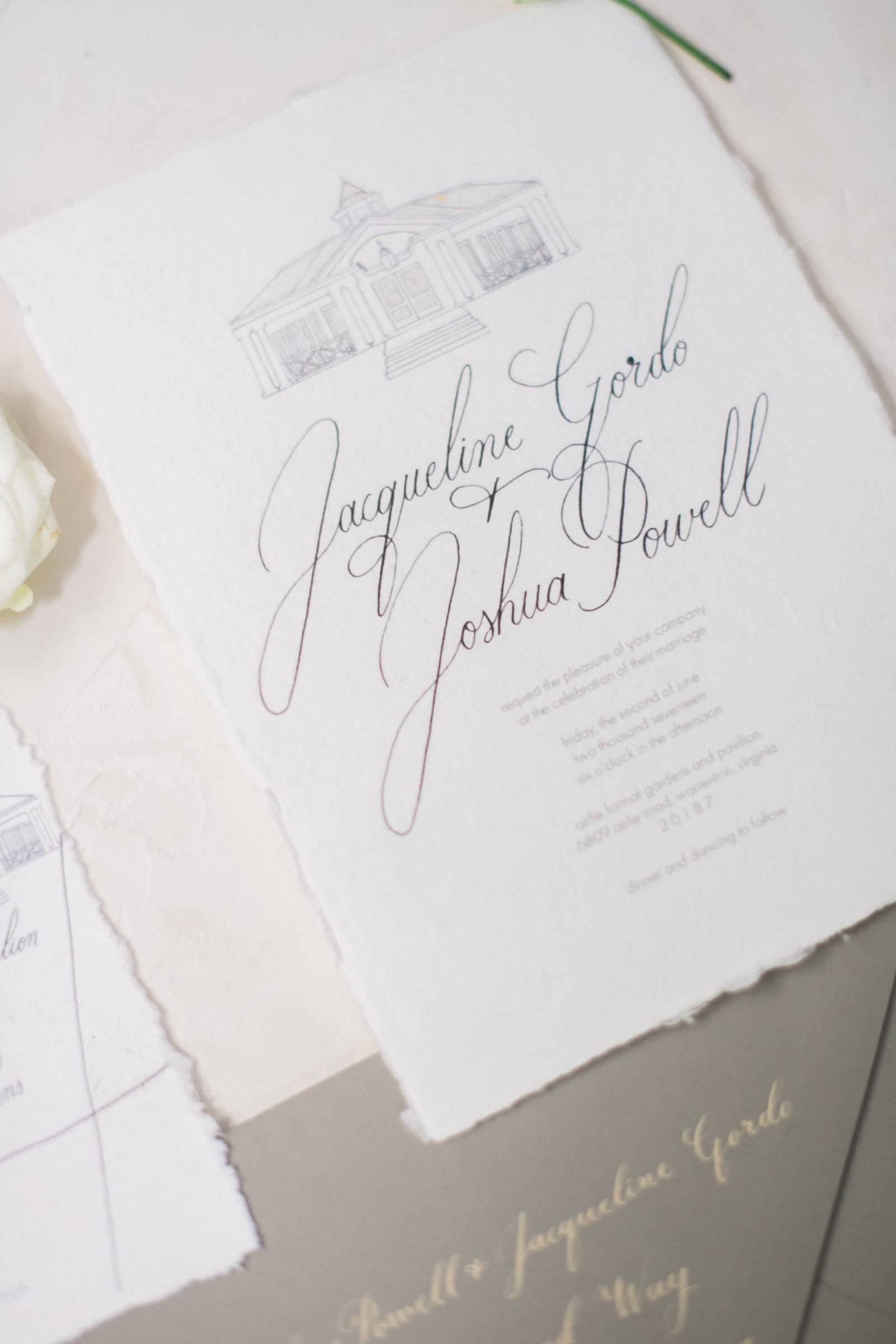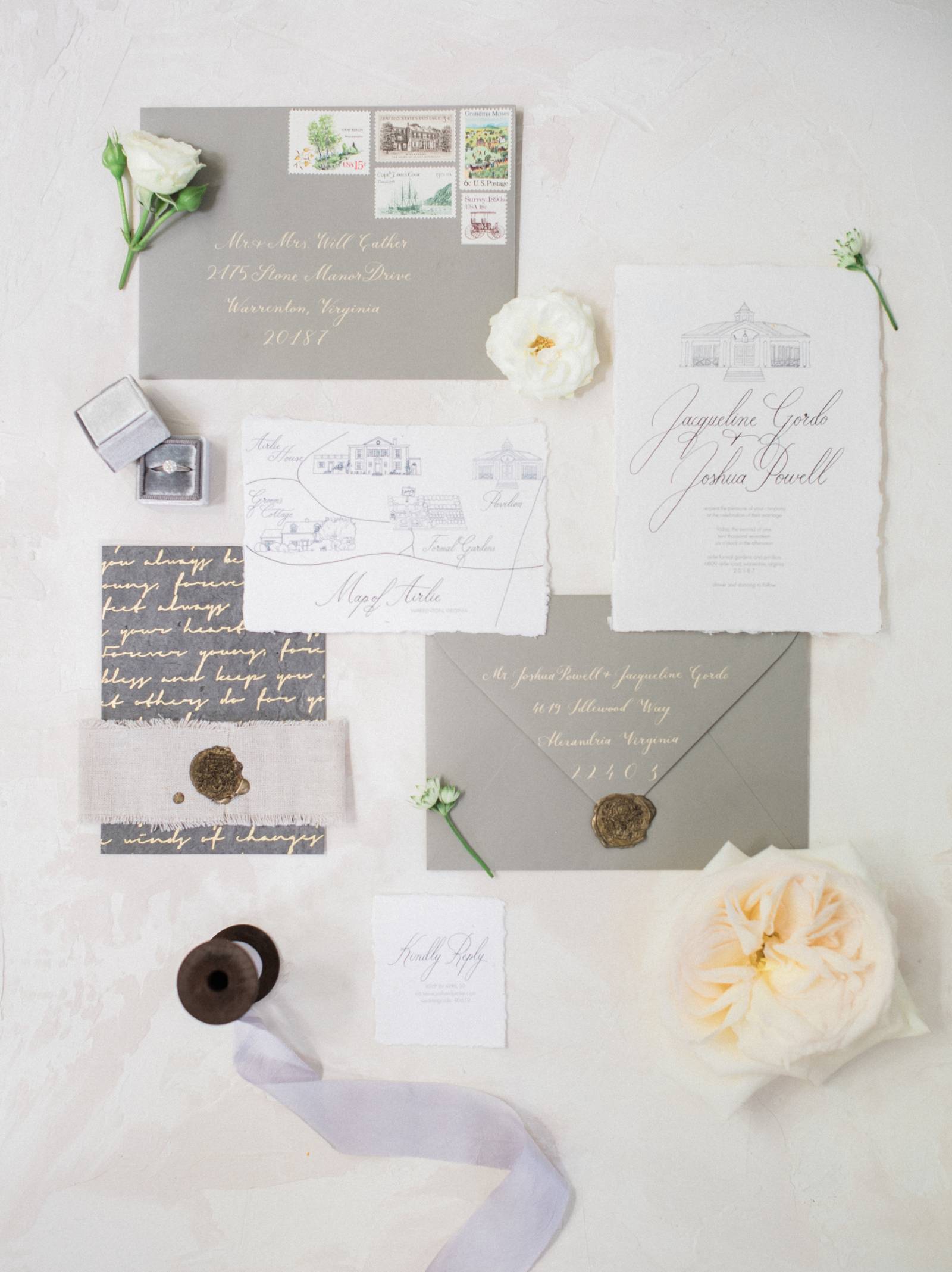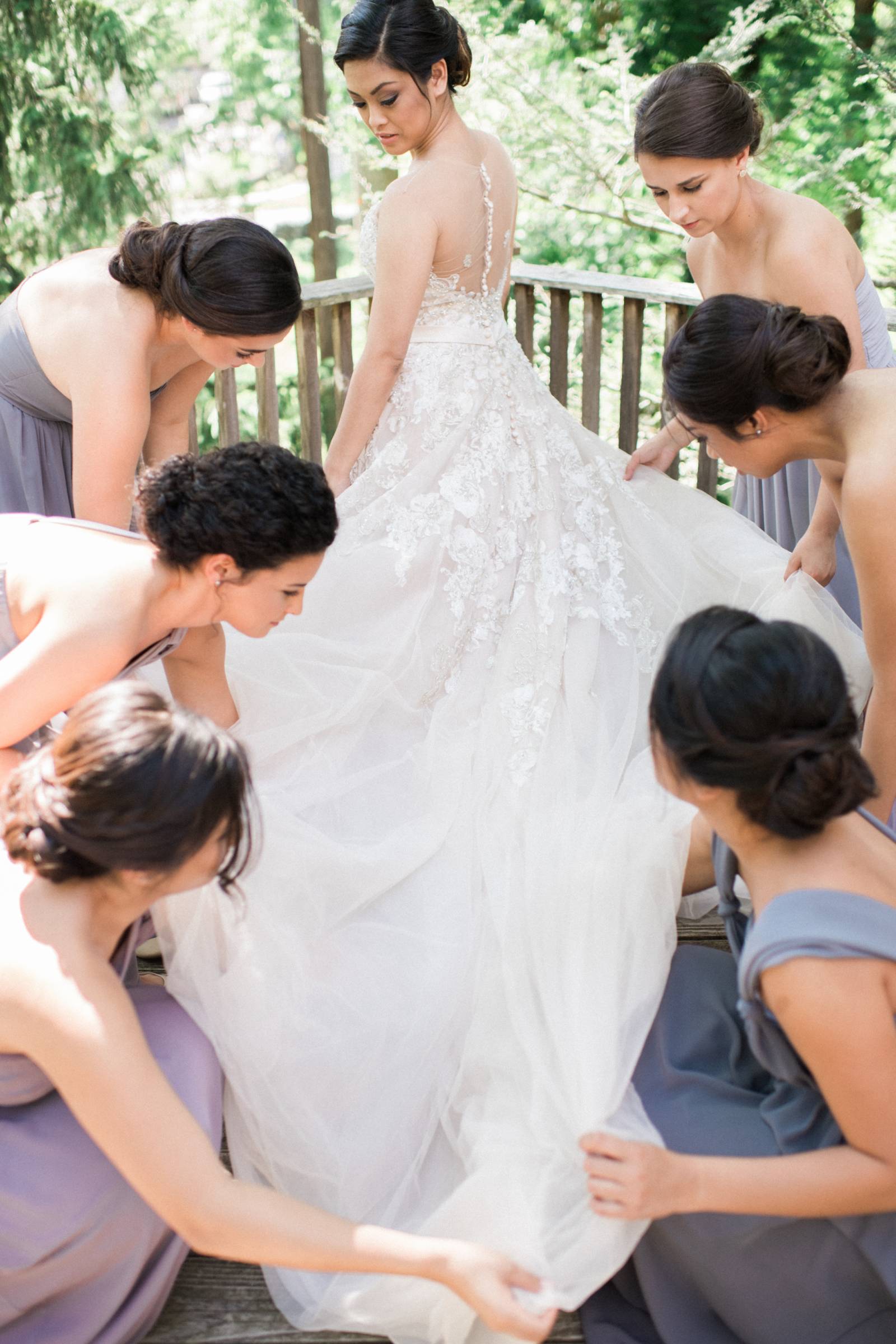 HOW DID YOU MEET? Josh was stationed at Norfolk, VA whileJackie had been attending Old Dominion University nearby. Their mutual friendJames tricked them to connecting on the phone one night and neither of them wanted to hang up. Eventually Josh and Jackie met finally met in person which led to their first official date at Busch Gardens Christmas Town. From there the rest was history.
TELL US ABOUT YOUR PROPOSAL: I hate surprises and I find myself always eager to investigate the situation - Josh knew this and managed to fool me completely. We had plans to hike around Great Falls Virginia and as I was breathless asking for my bottle of water, Josh instead pulls out a distinguishing small box from his backpack kneeling. His close friend standing off to the side capturing us, my face in total shock and tears.
TELL US ABOUT FINDING YOUR WEDDING DRESS: I believe that I was one of those lucky special cases - I'd found my dress on my first try. Truthfully we hadn't even secured our venue at all yet either at that time! I'd asked my mom on one occasion to peek and explore Here & Now Bridal Boutique during one of our trips to my hometown. When I put on the dress, I didn't want to leave the store without it.
DID YOU HAVE ANY DIY ELEMENTS? Our calligrapher, Nika worked with meticulously in crafting our invitation suite and artwork. With her permission and helpful tips I was able to create many other handwritten elements for the wedding including: wedding programs, welcome letters and baskets, escort table display, and dinner menus. Hand-deckling paper is no joke folks, phew.
DESCRIBE YOUR WEDDING FLOWERS: We were excited to curate a colour palette that was neutral and simple tones, as it was important for us not to be too distracting for the natural garden atmosphere - with blush, cream, grey, and green tones. Ooh, might I mention that Emily hit it out of the park with her own handmade silk ribbons! Like seriously, swooning.
FAVOURITE DETAIL OF THE DAY: Dancing along to good music and good company!
WHAT ADVICE WOULD YOU GIVE OUT TO A COUPLE PLANNING THEIR WEDDING? Enjoy the wedding planning experience together but understand the meaning behind the occasion, which is your marriage.Also create and invest in a tribe of vendors that understand your wedding vision and trust us, it's exciting to work with vendors that are just as excited to work with us as you are to work with them!!
MOST MEMORABLE MOMENT? When our photographer asked us to trust her and hop into the shuttle to a field of tall grass. We were game, 100%. We even jumped over a brick wall, mind I had my wedding dress on ahaha! The brief time spent away from our guests in a secluded field of grass was quite blissful. I'll never forget the intimate moments sharing and reflecting our thoughts about the day; reflecting on the growth of our relationship and how fortunate we were to be surrounded by our loved ones. And the photos were totally worth it!
ANY OTHER DETAILS THAT HELP TELL THE STORY OF YOUR DAY? My husband-to-be is the most kind and humble man I've know. With built-up expectations from friends & family to have the BEST wedding, I was facing anxiety of all the options (who knew planning your own would feel so different!) I remember laying in bed stressed out from a day of touring a range of venues - to my surprise he was fully supportive to make the most of our wedding. It was then we decided to keep the wedding very intimate and romantic. We thought it was important to surround ourselves with the friends and family that's closest to our hearts.
IS THERE ANYTHING YOU WOULD CHANGE OR DO DIFFERENTLY? Truthfully, everything was executed smoothly letting our guests and I were able to be fully present in the moments together. We were kept well hydrated and fed all day too, which everyone said never happens . We wouldn't have changed a thing.