You're in for a real treat today with an explosion of colour, dancing and festivities in this utterly stunning multi-cultural celebration in the heart of Europe, documented ever so beautifully by the wonderful TAYLOR & PORTER. I make no apologies for the very lengthy post!
When the bride is Swiss and the groom is of East Indian origin, yet they reside in America it goes without saying that tying all those elements together would be a challenge. What saved the day was having two different ceremonies on two different days and at different locations, yet naturally it was difficult to ensure it all was all cohesive. Thanks to the gorgeous bride's eye for attention to detail it all came together in a perfect fusion as you can see in these gorgeous images. If you missed their pre-wedding shoot in the Swiss Alps from earlier today you can see that here.
Bride Jessi tells us, "For the Swiss wedding ceremony I knew wanted understated and natural beauty to emphasise the romantic landscapes that surrounded us--soft hues, flowing dresses, vintage accents and wild flowers. Indian culture places a lot of importance upon bright colours and ritual, so we wholeheartedly embraced this tradition for the Indian Ceremony and went with a richer colour scheme that still maintained some level of subtlety."
WHY DID YOU CHOOSE THIS LOCATION? At our post-engagement family dinner, Sameer's father excitedly mentioned (to my positive surprise) that he would love for us to get married in Switzerland, my birthplace. It all kind of fell into place from there. Sameer and I had an excuse to travel to Switzerland to start searching for venues and after many days (weeks...) of searching, my aunt recommended Pax Montana Jugendstil Hotel near Lucerne (my birthplace). On our first visit, we immediately fell in love and made it our main venue. It met all our main requirements: one private location for all of our guests to reside for the weekend and experience the beautiful Swiss countryside; a flexible and open-minded Hotel Staff who indulged our obscure questions regarding indoor fires, setting up Mandap structure etc; a hilltop chapel walking distance from the hotel; and a geographical significance fitting for our union--"Pax Montana" means Peace Mountain in German, and is the dwelling of folklore hero Bruder Klaus, who was an ascetic and is the patron saint of Switzerland, who reminded us of Gandhi; India's honorary patron saint. My mom inspired us to choose the iconic St. Charles Villa, nestled in the canton of Meggen in Lucerne, as a second location for our "Sangeet" to reflect the grandeur of the day and give our guests an experience on the lake where I spent many summer days.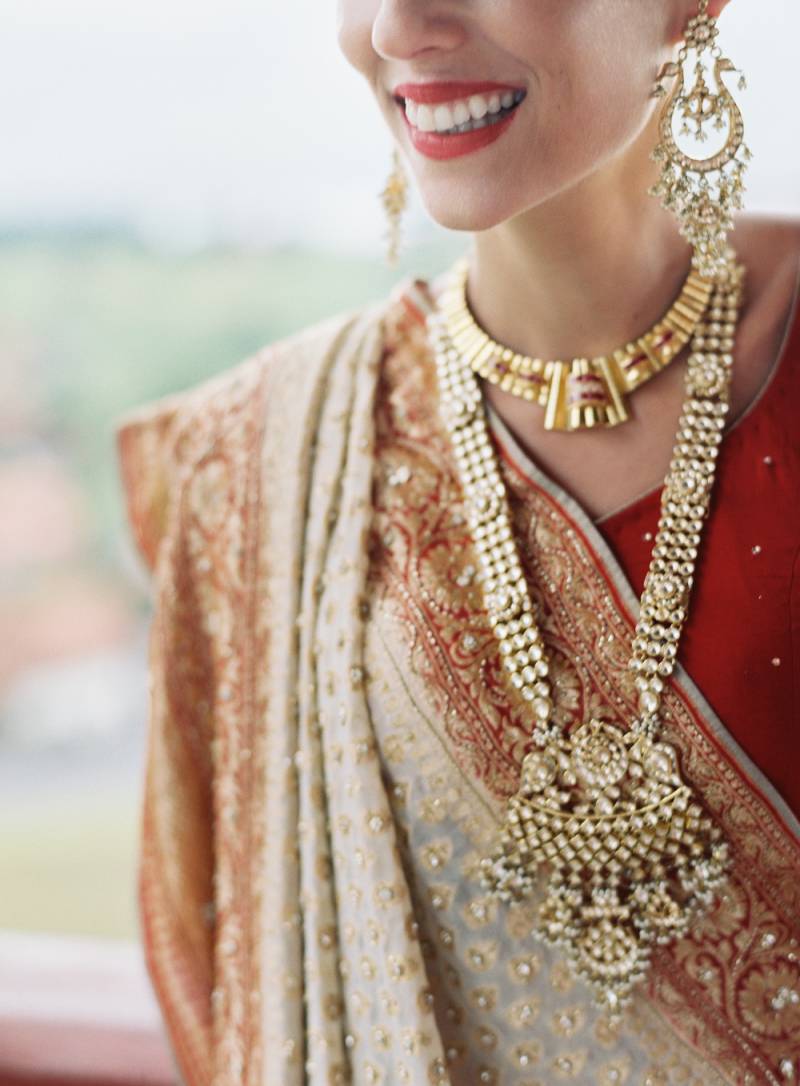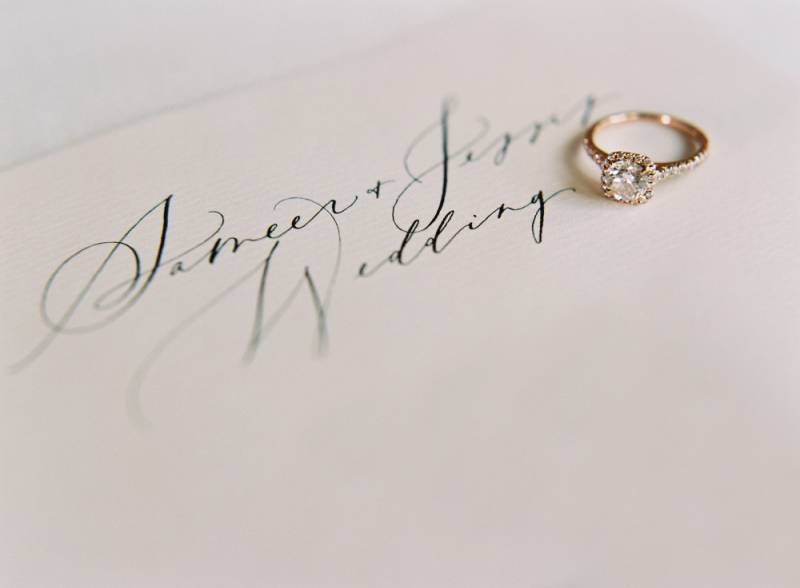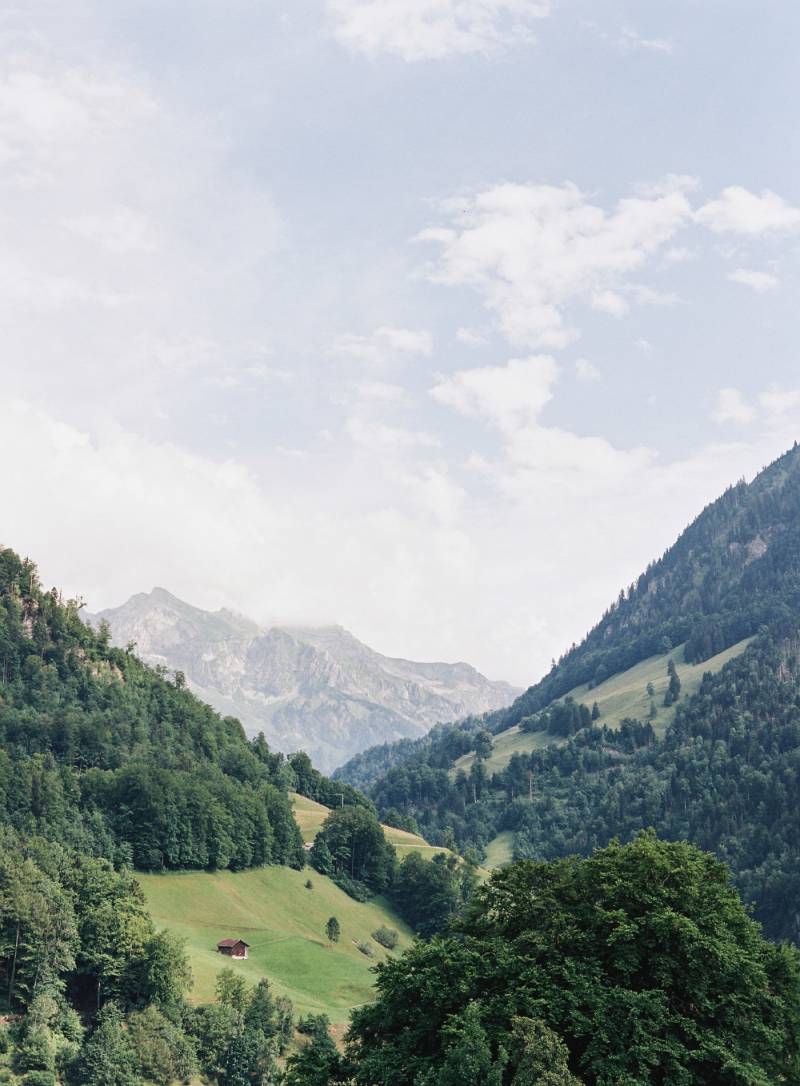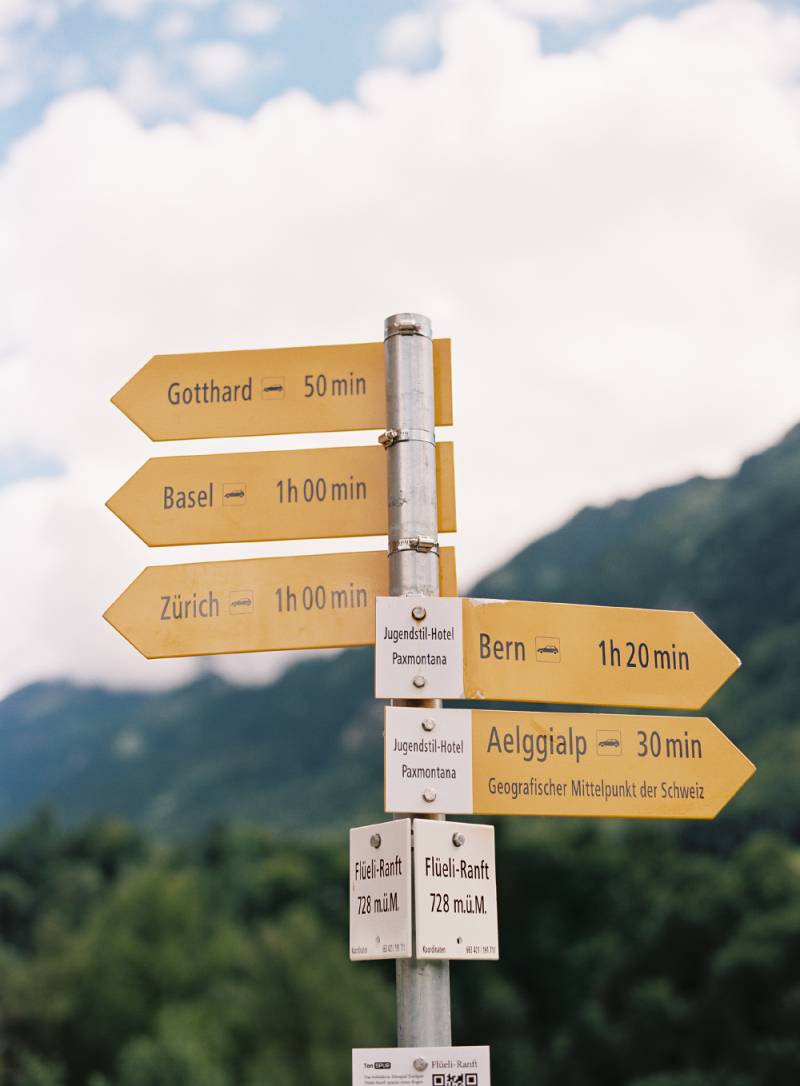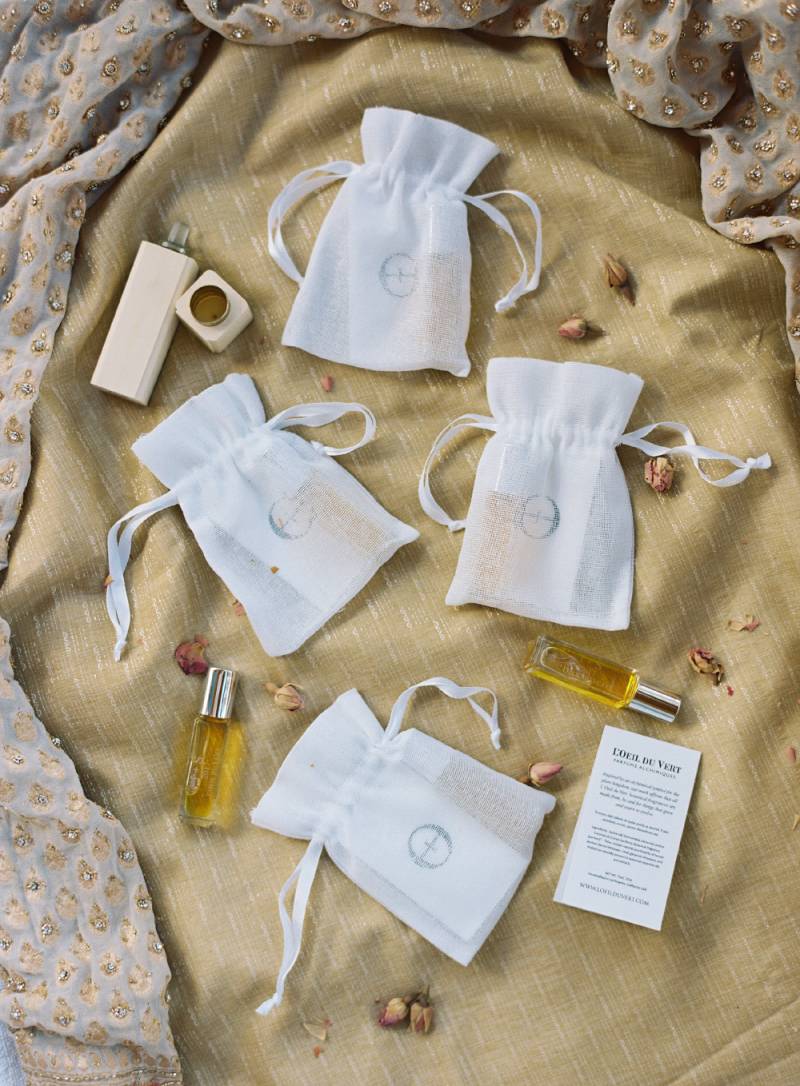 HOW DID YOU MEET? Jess and I are high school sweethearts. I saw her the first time at a Track Meet. She was totally tuned out, and to this day doesn't remember our first secret meeting, but we reunited a year later at a football game between our two high schools. Been in love ever since. - Sameer
TELL US ABOUT YOUR PROPOSAL: Jess and I live together in Los Angeles, and that day I asked her to meet me by the pier in Santa Monica after work, which was pretty common. In the dying light, we scuttled towards the ocean and sat atop an abandoned lifeguard tower. I've never felt more nervous, and perhaps never will, playing with the velvet box tucked in my jacket pocket. I finally made my move: I pretended to fall off the tower to the sand, rolled over and presented the ring as elegantly as possible. Jess later recounts how awkward it looked, but she was genuinely surprised when she saw the ring and said yes, which was all I could ever ask for. Her parents, Adrian and Judith, live in Switzerland, but they had traveled to California for the event to surprise Jess. When Jess and I got home, my whole family and her parents were there to greet us with candles and music. We have had the opportunity to travel many places together over the course of the last decade, but I think it was auspicious to propose on Terra Firma. - Sameer
TELL US ABOUT FINDING YOUR WEDDING DRESS: I found my wedding dress at my third dress fitting. It was my mom's last day in Los Angeles before returning back to Switzerland and I had managed to squeeze in one final appointment. My maid of honour picked out THE dress, and when I tried it on I immediately felt like a bride in it, I loved the low back and delicate Alençon lace details. The dress was like a more romantic, elevated version of what I wear in my daily life; flowy, delicate yet comfortable, and I couldn't imagine walking down the aisle in anything else. - Jessi
DID YOU HAVE ANY DIY ELEMENTS? We didn't have a planner, so a lot of it was "DIY." Finding all the locations for a big Swiss-Indian Wedding and tying them together proved a hefty challenge in Switzerland. Not to mention last minute reception place-holders and entertainment. It was a labour of love that took over a year of planning. Luckily our amazing families and friends swooped in to help and provide comfort in times of stress - Sameer
DESCRIBE YOUR WEDDING FLOWERS: We chose flowers that were local to the region. I wanted them to feel unchained--wild. We used the same flowers in the bouquets, table flowers and as decoration for the cake, so it all tied together well. - Jessi

FAVOURITE DETAIL OF THE DAY: Our menus and itinerary cards! We had custom-made calligraphy done by Plume at the eleventh hour, and they really delivered, providing a subtle aesthetic unifier between the two days. - Sameer
WHAT ADVICE WOULD YOU GIVE OUT TO A COUPLE PLANNING THEIR WEDDING? Enjoy the process! Things may get heated and stressful at times, especially in the midst of planning with so many people being emotionally attached and wanting to add their opinions. Just remember that you are planning a beautiful event to celebrate your love and the union of two families so don't let the little things get to you! - Jessi
Leave ample time for guest RSVPs. Your guests will vacillate, be un-responsive, and needy, no matter how hard you want them not to be. - Sameer
MOST MEMORABLE MOMENT? Obviously watching the bride walk down the aisle (twice!). I cried both times. - Sameer.
When Sameer recited his beautiful vows to me, swoon. Also, the first night a group of us went skinny dipping in Lake Lucerne after the Sangeet (my brother and dad included), me still bejeweled in all my Indian jewellery - Jessi.
ANY OTHER DETAILS THAT HELP TELL THE STORY OF YOUR DAY? Our videographer, Jeremy Fuchs, is only sixteen! We had initially decided to invest more on photography, and Jeremy came in essentially as my father-in-law's intern, tasked with simple video documentation for later editing. However, the final product that he sent us was of a caliber we never could have imagined. We are so thankful that he went above and beyond his charge. - Sameer
TELL US A LITTLE ABOUT YOUR HONEYMOON: We allowed ourselves three weeks for our honeymoon. Our itinerary was Provence, Nice, Barcelona, Athens, Santorini, Mykonos, then Paris for a night to catch a red-eye home. Still reeling! - Sameer
IS THERE ANYTHING YOU WOULD CHANGE OR DO DIFFERENTLY? Who really needs a cake? (controversial, I know) - Sameer
"Sameer and I are so grateful to have had Taylor & Porter as our wedding photography team. We were in great, caring, hands from our first skype meet until the last wedding day celebration, and thoroughly enjoyed getting to know Louise & John. They went above and beyond to capture our three days in the Swiss Alps, capturing timeless memories of every event and each of our guests. Louise and John were a great presence at our wedding, were flexible and open to our ideas and executed their vision with efficiency and grace. Our wedding album sits proudly on our mantle in the living room to share with guests. We hope to work with Taylor & Porter again for our vow renewals or anniversary in the near future."