This European elopement inspiration by BRIAN D SMITH is giving me all the summer feels! Picnics between the vines, lazing around the pool, refreshing light cocktails... bring it on I say (easy for me when summer is around the corner!). It takes place at HOTEL DOMESTIQUE - a serene, quiet escape tucked away at the base of the beautiful Blue Ridge Mountains in upstate South Carolina. Brian had a vision to bring vintage, timeless European romance to the southern United States. The styling is reminiscent of a more traditional era, yet retains the elements of sophisticated dress that's commonplace at European weddings.
Brian explains to us, "I expanded my search outside of my native Charleston to find a venue with a European flair. I found the Italian inspired HOTEL DOMESTIQUE and planned the entire shoot with it as my aesthetic muse. It's most important for me to tell a story when I put together creative projects. That's why I decided on a weekend elopement as the storyboard. It would take place in stages, reflecting a casual time away with all the intimacy of true love echoed in playful banter and sun-drenched relaxation. From poolside lounging to a picnic among the vineyard vines, and culminating in a sunset ceremony, I wanted the focus to be on the couple. It was meant to feel as if my presence as the photographer wasn't known. This helps keep the focus on the story and the true chemistry between these once total strangers.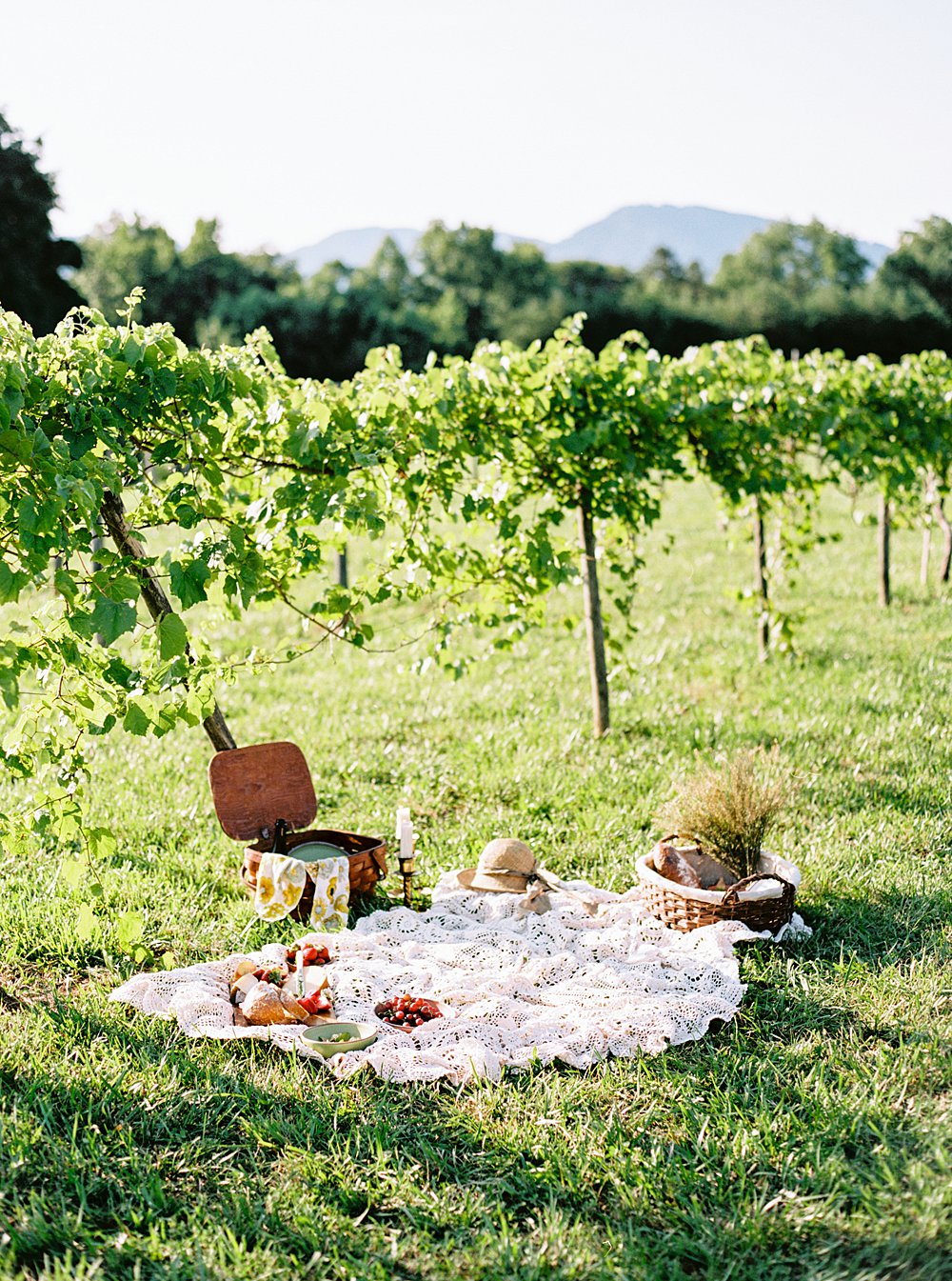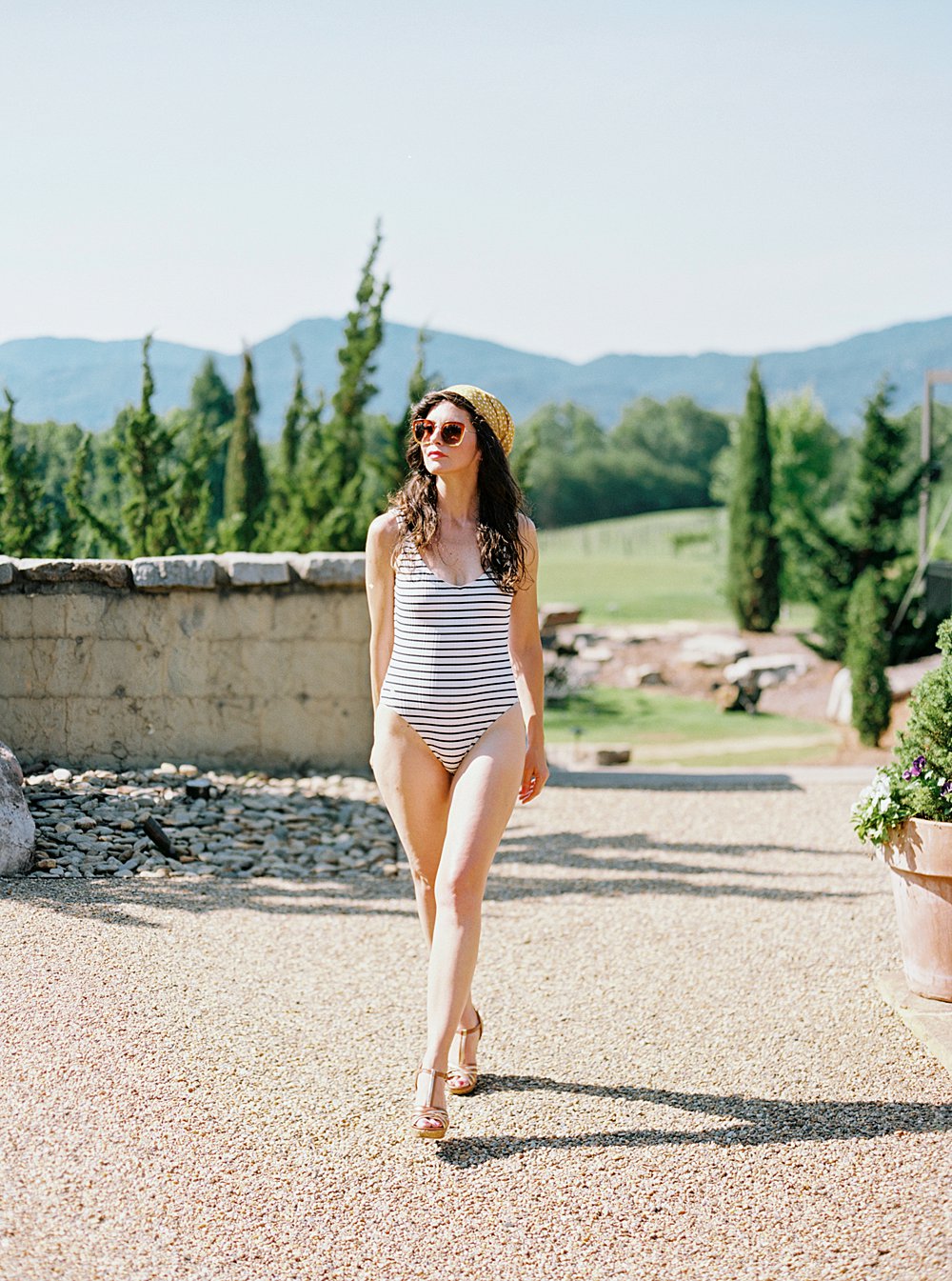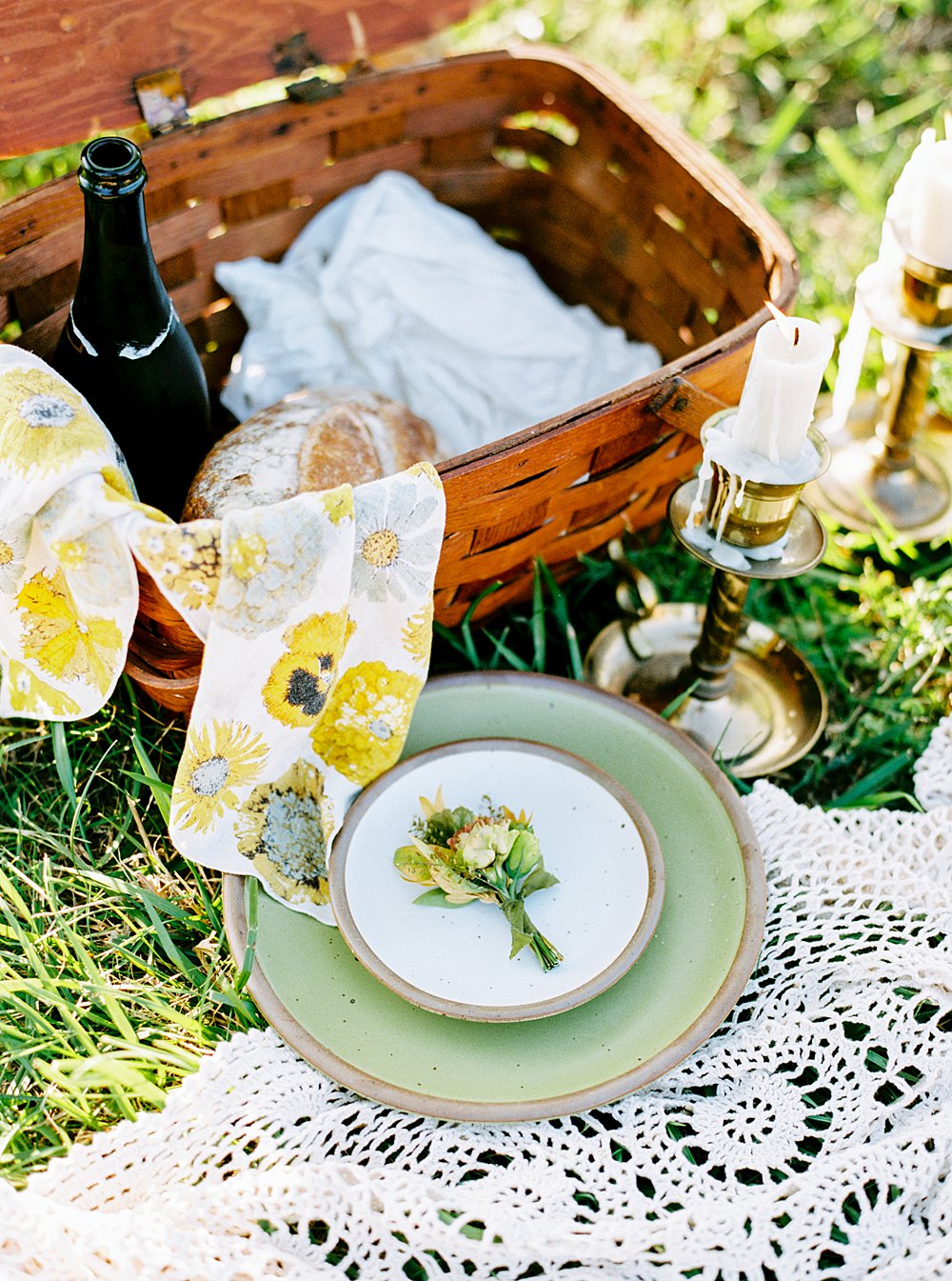 The shoot came together in stages, thanks entirely to the creative team we assembled. Kendra, from LAUREL CREEK FLORALS is an experienced wedding and arrangement florist who grows her own flowers on her farm outside of Greenville. She was inspired by seasonal blooms and hand dyed silk ribbons, with a continuous aspiration for and experimentation with new colour palettes. Prior to the shoot she sent me images of chartreuse ribbons and matching florals. I was at first a skeptic. The colour was bold, and unconventional for the wedding industry. I trusted her vision, and it instantly became my favourite detail of the entire shoot. Christi was my female model, and my styling companion. I met up with her a day prior to the shoot and we scoured thrift stores, her own personal wardrobe, and vintage pieces from her Greenville based SUSTAINABLE STYLE to put the finishing touches on the wardrobe and picnic stylings. The pièce de résistance was her mother's vintage, hand sewn wedding dress which she stumbled upon days prior the shoot. The moment she tried the dress on, the shoot felt complete, and I knew that we'd successful carried out the vision I had been dreaming about for months. EMILY DAWN created three distinct and effortlessly perfect hair and makeup looks to put the final touches on our three elopement vignettes. She paired the perfect rosy cheek and lips to accent the bold yellows by the pool. She created a soft, and playfully charming ponytail and red lip to bring casual elegance to our countryside picnic. Finally, a brilliant updo with her own exclamation of "my best updo yet" was a tall order to pair with such a dress, but again the creation was as magical as the sunset light catching the loose curls draped from either side. Sterling, a Greenville based actor, was our male model and the playful chemistry generator that truly made the shoot feel like an elopement between two smitten lovers. He told stories by the picnic of vacations to European chateaus in the south of Italy, eliciting giggles from their believable prose. He carried an infectious smile that proved contagious, even from behind my camera. He was styled with vintage finds, my own personal wardrobe and pieces from his own closet and signature garb.

A special thanks is due to the lovely venue, HOTEL DOMESTIQUE. Sarah was a wonderful host, and allowed us all the time and space we needed to piece together our vision. It is truly a unique, and rare destination tucked away in the mountains of Traveler's rest between Greenville and Asheville. Last but not least, I'd like to thank EAST FORK POTTERY and the beautiful coincidence that led me to them. I'd followed them for some time and long admired their branding, artistic creations and social media styling. Leaving a vintage shop in Asheville, two days before the shoot, I happened to walk by their downtown shop and noticed their seasonal colour was a chartreuse green. I knew it was meant to be and they graciously lent me some of their handmade pottery to put the finishing touch on our romantic picnic."