Emily and Robert got married on the beautiful property of WOMBAT HOLLOW and had Sydney wedding photographer WE ARE ORIGAMI capture their beautiful day. The venue is a 20 acre property located in the seclusion of the Australian bush, an hour and a half outside of Sydney. Having met at a pub over five years before their wedding, Emily and Rob knew right then and there that they were the ones for each other! Emily describes Rob as thoughtful, tall, impulsive, funny, witty, forgiving whilst Rob describes Emily as happy, caring, funny without meaning to be, gorgeous, kid-friendly, loved by everyone!
WHAT WAS THE INSPIRATION BEHIND YOUR WEDDING STYLE? We both love getting out of the city, so having a laid back, rustic wedding in a country location was exactly what we wanted. We were really keen on the whole day being simple but elegant.

WHY DID YOU CHOOSE THIS LOCATION? Wombat Hollow is amazing. It is quite remote in its location, surrounded by the bush and all you can hear is the sound of birds and wind in the trees. The venue itself is very rustic and a bit quirky, with lots of artwork and sculptures as it doubles as a gallery and workshop. The shed and marquee gave us the laid back rustic feel and allowed us a blank canvas to bring our wedding to life in a great space.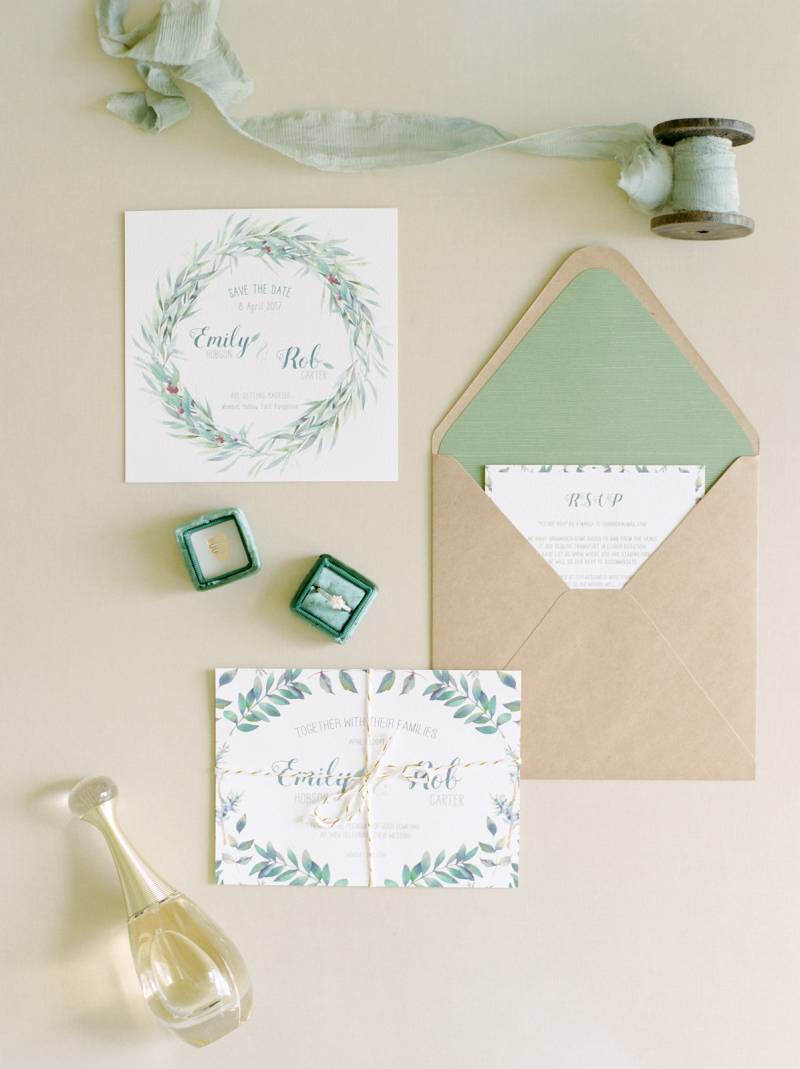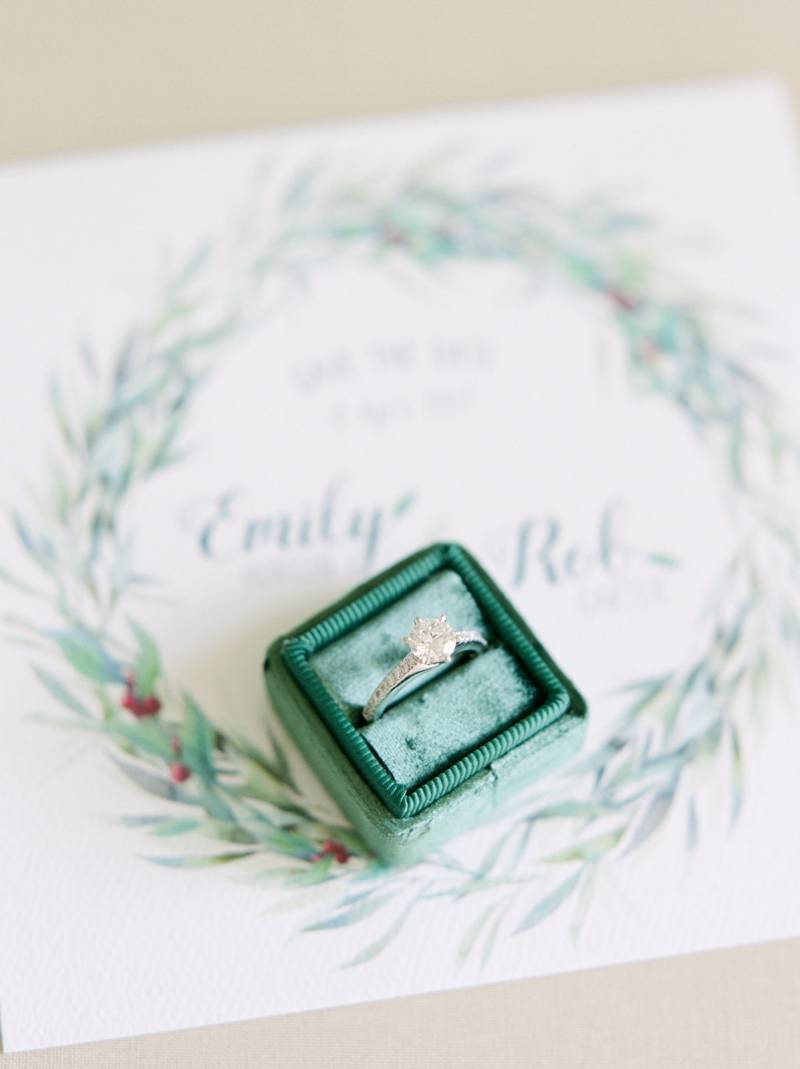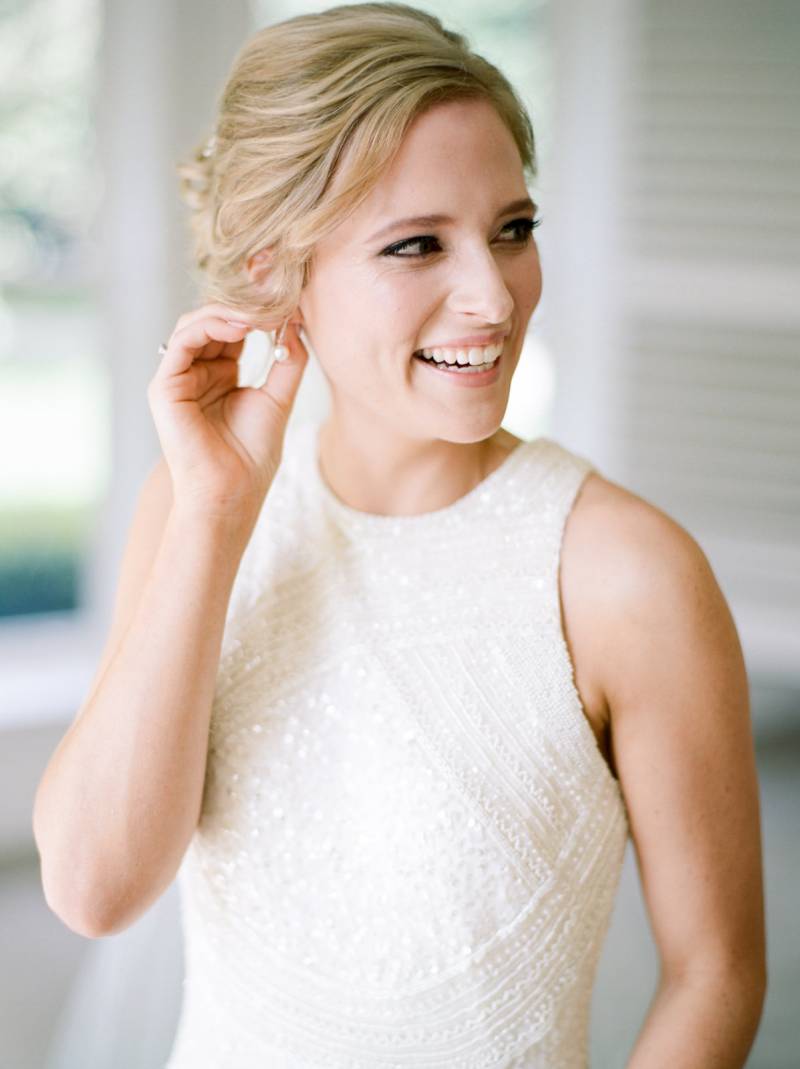 HOW DID YOU MEET? Very romantic, we met at the pub through mutual friends.

TELL US ABOUT YOUR PROPOSAL: I knew that Em would be suspicious if I planned anything obvious, so I wanted to make sure I surprised her. We were at Bawley Point, on the south coast and we went down to the beach for a swim before breakfast. I hadn't actually planned to propose at that moment, but when we were in the water, there was no one else at all on the beach. I got down on one knee amongst the waves and asked Em to marry me. After a lot of tears from Em, a lot of waves in the face, Em eventually said yes, after checking several times that I was being serious.

TELL US ABOUT FINDING YOUR WEDDING DRESS: I went shopping with my mum and bridesmaids. We visited a couple of places but nothing grabbed me. We found ourselves at David Jones, which was such a beautiful place to go to try on wedding gowns. We had our own large room and I was changing behind a curtain. When I put on the Rachel Gilbert gown I knew immediately it was the one. It fit perfectly and I felt so comfortable in it. My mum's reaction as I walked out from behind the curtain was priceless. She couldn't stop smiling and we bought the dress on the spot!
DID YOU HAVE ANY DIY ELEMENTS? Yes! The venue is just that – a venue! Everything else was organized by us, including catering and decoration. With the help of our stylist, Kitty Latham from the Wilds Sydney, we were able to bring exactly what we wanted to an amazing blank canvas.

DESCRIBE YOUR WEDDING FLOWERS: Our wedding flowers were mostly Australian natives, which worked really well with the venue and the simple and elegant feel we wanted for the day. They were all bought fresh from the market and we were able to re-use various flowers throughout the day in different parts of the venue.

FAVOURITE DETAIL OF THE DAY: The atmosphere of the whole day was overwhelmingly happy and fun – that is the thing we always remember and look back on.
WHAT ADVICE WOULD YOU GIVE OUT TO A COUPLE PLANNING THEIR WEDDING? Start early, keep it simple, stick to your vision and find vendors who you can create a great relationship with.

MOST MEMORABLE MOMENT? Our dance! We had only practiced once but somehow we pulled it off without falling over.

ANY OTHER DETAILS THAT HELP TELL THE STORY OF YOUR DAY? We had people travel from all over the world and Australia to join us. Nearly all our guests stayed in the Southern Highlands for the weekend and it was just amazing to have so many people put in so much effort to be there on our wedding day.

TELL US A LITTLE ABOUT YOUR HONEYMOON: We delayed our honeymoon by a few months so we could travel in the European summer. The honeymoon was made even more special as about a week before we left we found out that Emily was pregnant with our daughter Annabelle.

IS THERE ANYTHING YOU WOULD CHANGE OR DO DIFFERENTLY? Not a single thing!
Thank you so much to Sydney wedding photographer WE ARE ORIGAMI for sharing this beautiful wedding with us. If you're a Sydney bride head over to our vendor guide to see more work by WE ARE ORIGAMI (Sydney wedding photographer). You might also want to check out this Relaxed garden wedding in Sydney's Centennial Park.