With it's high glass ceilings, an abundance of indoor greenery and a lily pond in front of the impressive building, THE JEWEL BOX in St Louis' Forest Park offered a memorable space for Jessen & Tim's wedding. It also incorporated the bride's home town and with so many guests travelling from afar to celebrate with them, it was important to the couple that they do so in a space that was unmistakably a part of St. Louis' history. We're always fans of the work of Missouri wedding photographer MIKE CASSIMATIS and he did a beautiful job of captured their day.

HOW DID YOU MEET? We met in a bar in Brooklyn on Halloween. The question everyone asks next: What were you dressed up as? I was a Jackson Pollack painting. Tim didn't have a costume on—but I didn't hold that against him.

TELL US ABOUT YOUR PROPOSAL: Tim pretended that we were going to have a low-key anniversary that year. He told me he had made reservations at our neighbourhood pizzeria, but when I stepped into the living room to leave for dinner, he had a bottle of champagne and bouquet of roses. He knelt down to propose, then whisked me off to Olmstead—one of those New York restaurants you need to make reservations at months ahead of time—to celebrate.

TELL US ABOUT FINDING YOUR WEDDING DRESS: My mother and sister-in-law came with me to try on dresses in St. Louis. I fell in love with a strapless dress by Monique Lhuillier with a blush undertone and floral lace overlay. The neckline was a gentle sweetheart; the skirt, a joyful burst of lace and toile in a mermaid shape. I had a custom back made, lowering it and adding a sheer lace panel.
WHAT WAS THE INSPIRATION BEHIND YOUR WEDDING STYLE? We thought it was important to capture the moment. We used flowers that were in season and tried to keep everything fresh, soft, and romantic. Because the space is striking on its own, and filled with greenery, we were careful not to clutter it. That meant being a little more restrained with the flowers and finding other ways to personalise the space, such as having a mix of linens—some printed with florals, others patterned—on the tables.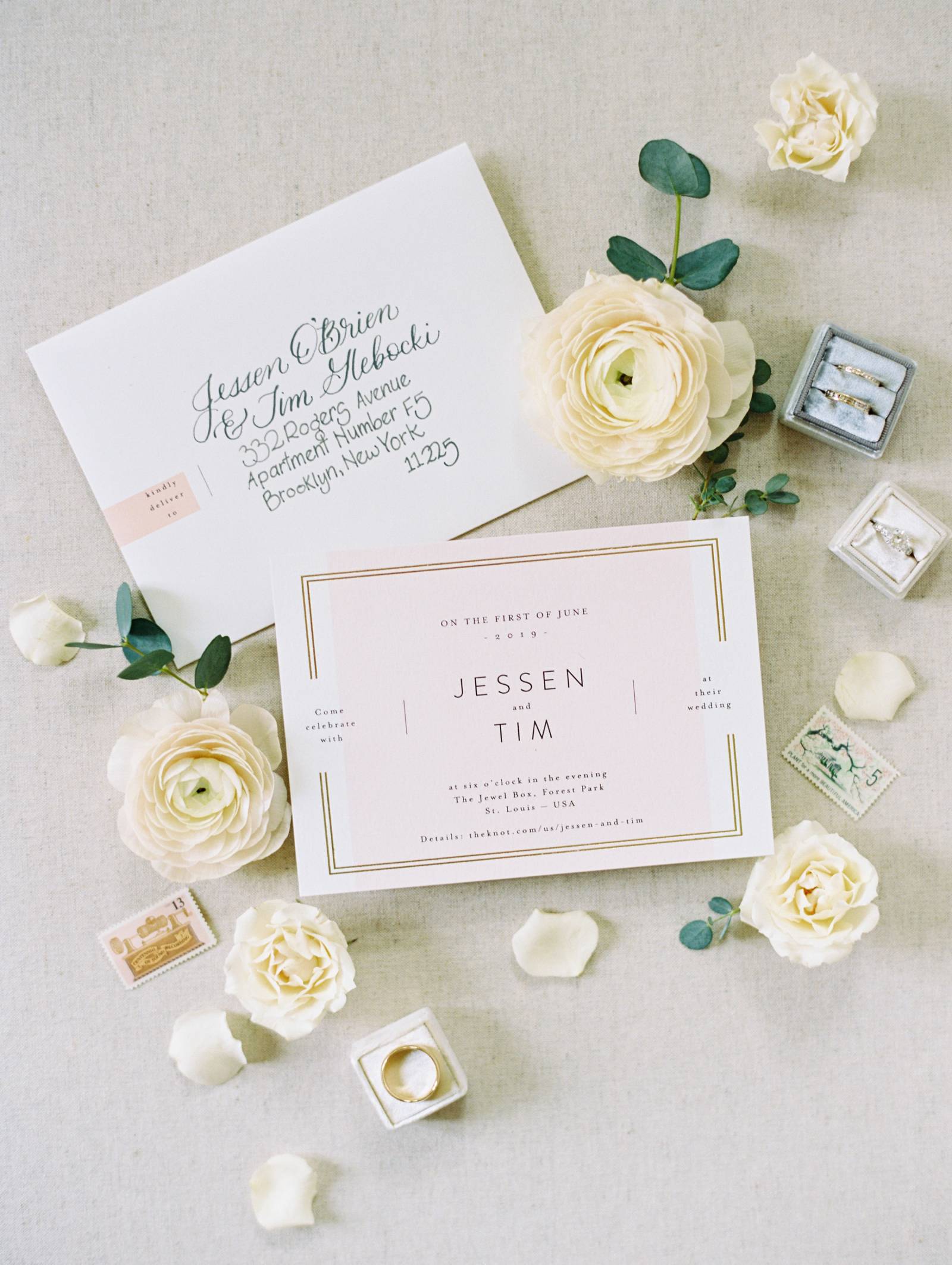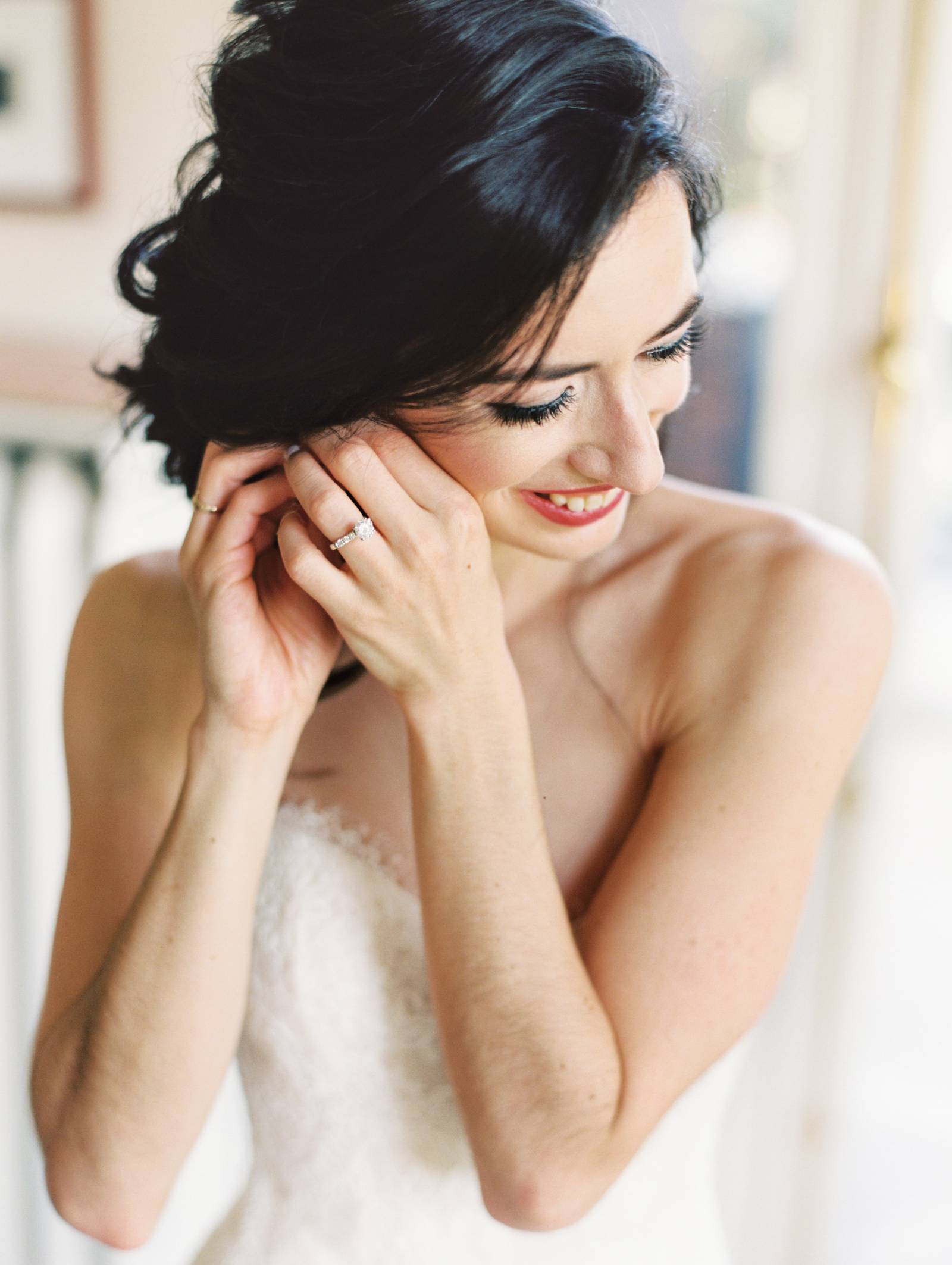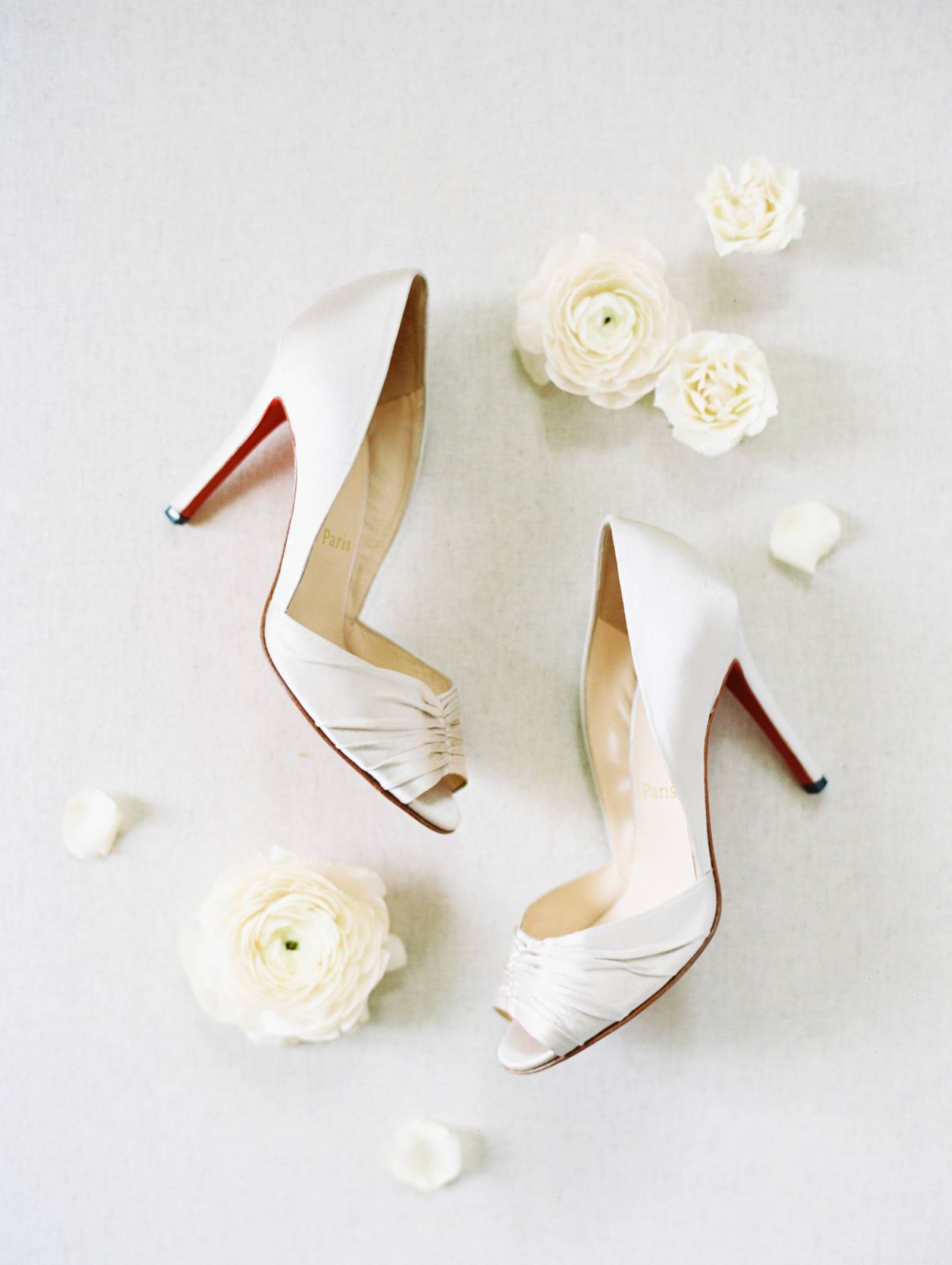 DID YOU HAVE ANY DIY ELEMENTS? Several Including our ceremony. We had two officiants, both good friends, and worked with them to put together the ceremony. We also wrote our own vows, so everything was very personal. One of the officiants is a graphic designer, and she drew us a fern-leaf pattern (since there are so many in the Jewel Box) that we used on our invites, printed on the guest tote bags, and had stencilled onto a custom runner.

DESCRIBE YOUR WEDDING FLOWERS: I carried a hand-tied bouquet of Juliet Garden Roses, white Peonies, Cafe Au Lait Dahlias, pale pink Clooney Ranunculus, and Spray Roses, with touches of Ruscus and Eucalyptus. We didn't want the flowers to fight for attention against the greenery already in the Jewel Box, so we had to be very thoughtful about where and how we added flowers. Some of the arrangements echoed my bouquet, while others were built around white manzanita branches, which created enough height to fill the space without overpowering it.

FAVOURITE DETAIL OF THE DAY: One of my weddings bands was my mother's; the other, a ring made from her mother's wedding band. We also recreated a few getting ready photos from my grandmother's wedding.

WHAT ADVICE WOULD YOU GIVE OUT TO A COUPLE PLANNING THEIR WEDDING? Make time for seclusion! It's a Jewish tradition in which the couple spends a few minutes alone together right after the ceremony. Having a moment by ourselves before the cocktail hour gave us a chance to connect and take the ceremony in.

MOST MEMORABLE MOMENT? We had clear skies for most of the day—right until we headed inside for dinner. Then, a thunderstorm rolled in, and it rained up until the last few songs. Because the Jewel Box is all glass, it was lit up by each flash of lightening. We could see the storm raging outside while we stayed warm and dry. We were hoping we wouldn't have rain, but it ended up being one of the most magical parts of the wedding.
WHAT ASPECT OF THE WEDDING WAS THE MOST IMPORTANT TO YOU AND YOUR HUSBAND? Coming together with family and friends to celebrate our commitment to each other. We wanted everyone to enjoy themselves and share in the moment with us, while also finding time for the two of us to connect on our wedding day. It's one of the reasons we opted to do a first look. It gave us an hour together before the ceremony, and more time to greet friends and family during the cocktail hour.

ANY OTHER DETAILS THAT HELP TELL THE STORY OF YOUR DAY? Neither of us wanted a big wedding party. Since we each have two brothers, we had them stand up with us during the ceremony. Tim is a triplet, with one identical and one fraternal brother. Most of our friends and family hadn't met his identical brother before, and more than one person greeted his brother with a huge hug before realising he wasn't Tim.

TELL US A LITTLE ABOUT YOUR HONEYMOON: We spent about ten days in Florence, then a day or two in Venice and Bologna. Before heading back home to New York, we stopped by England for a second reception in Tim's hometown of Brighton. It gave us a chance to celebrate with family and friends who weren't able to make the journey.
A huge thank you to Missouri wedding photographer MIKE CASSIMATIS for sharing this beautiful Croatia wedding with us and showcasing such beautiful celebration! Mike is a fine art wedding photographer based in the Midwest with a passion for medium format film. His lighthearted approach and calm demeanour puts couples at ease in front of the camera, allowing their true personalities and emotions to shine through in his photographs. With a sentimental heart and a keen eye, he focuses on capturing luminous images that are genuine, romantic, and timeless. You can head over to his profile to view more of his work and see more incredible weddings and editorials he has photographed and you should definitely check out this Stunning Croatian wedding honouring the groom's family heritage.