After nearly nine years together, Ariana & Travis were so excited to make things official and celebrate their wedding with their family and friends - and then COVID put the brakes on their plans. "We started planning right after he proposed in Big Sur in January 2020. We had a beautiful venue, a spring wedding date, and no idea what would happen in the year to come. After months of back and forth with our wedding team, trying to decide if we could proceed or needed to push our date, we were able to pull off a heartfelt, intimate, and fully outdoor wedding with a small local guest list of vaccinated loved ones!"
A wedding blogger and planner herself, Ariana had a challenge ahead of her when it came to narrowing down her ideas. She shares with us; "We wanted our wedding to feel personal and celebrate the small businesses that make up our local wedding community. One of our favourite things to do together is go on adventures in the Santa Cruz mountains, so the venue was an easy choice - REGALE WINERY has an outdoor terrace that overlooks the mountains with a view towards the ocean - it is one of our favourite views in the world, and the secluded gardens and villa winery were a wonderful substitute for our postponed Italian honeymoon. When our guests stepped through the wrought iron gate into the gardens, it created an amazing escape from the past year of quarantine and isolation, and gave us all our first chance to gather together in a long time."
Working with a stellar line up of vendors including San Francisco Wedding planner K. SAW WEDDINGS and Northern California wedding florist LE BLOOMERIE who created some spectacular florals, Ariana used colour theory to select a palette that felt romantic and sophisticated to both her and her husband. "I designed a moodboard that combined dusk purple for the bridesmaids, touches of sparkly gold sequins, cappuccino roses, and quartz-like swirls that added a watercolour effect. Although I had stronger preferences when it came to colours and details, my fiance and I were very much on the same page when it came to priorities and preferences for the overall look and feel of the wedding, and we selected the big and small details together." ASHLEY NOELLE EDWARDS captured these beautiful images of their day.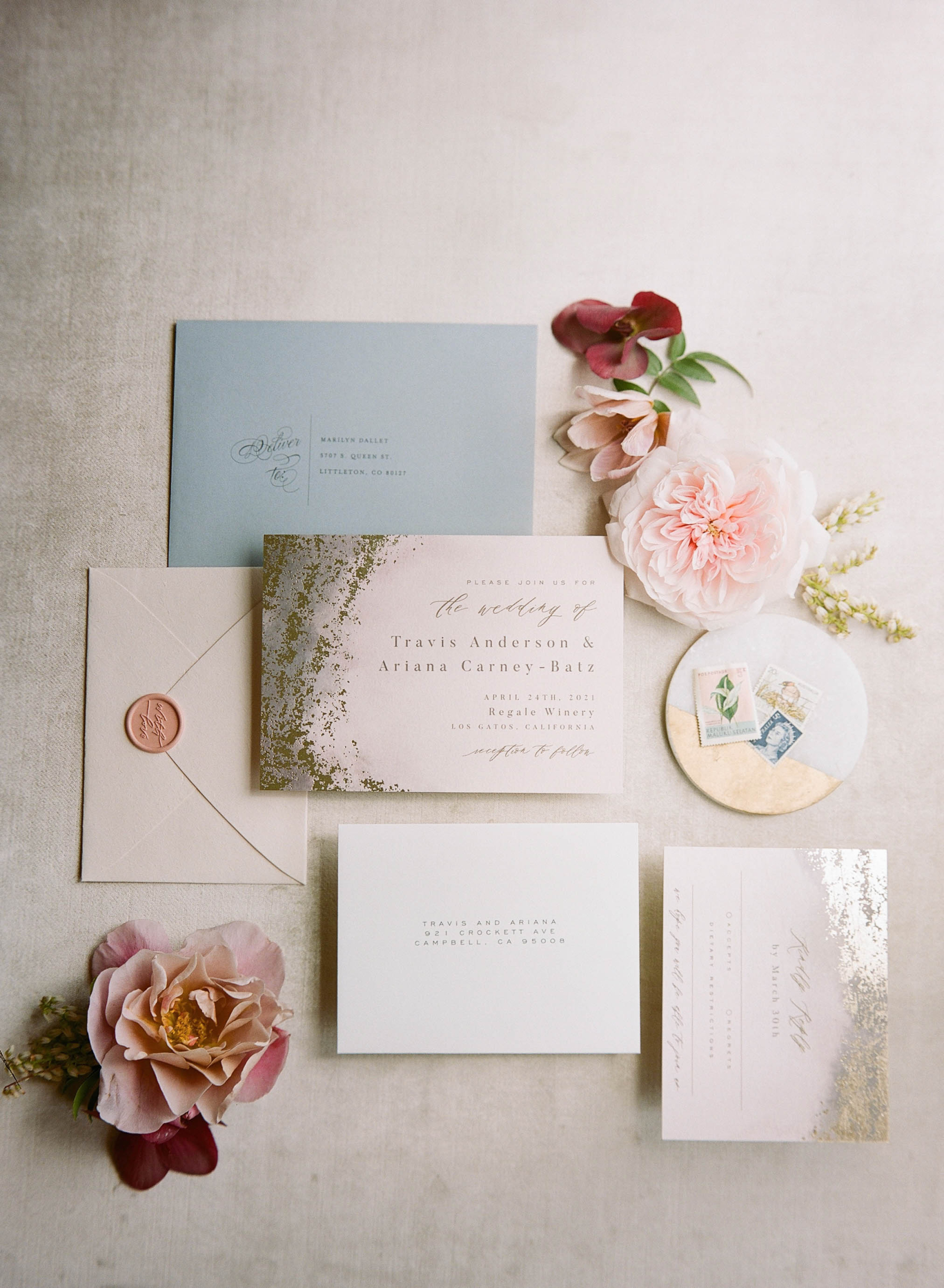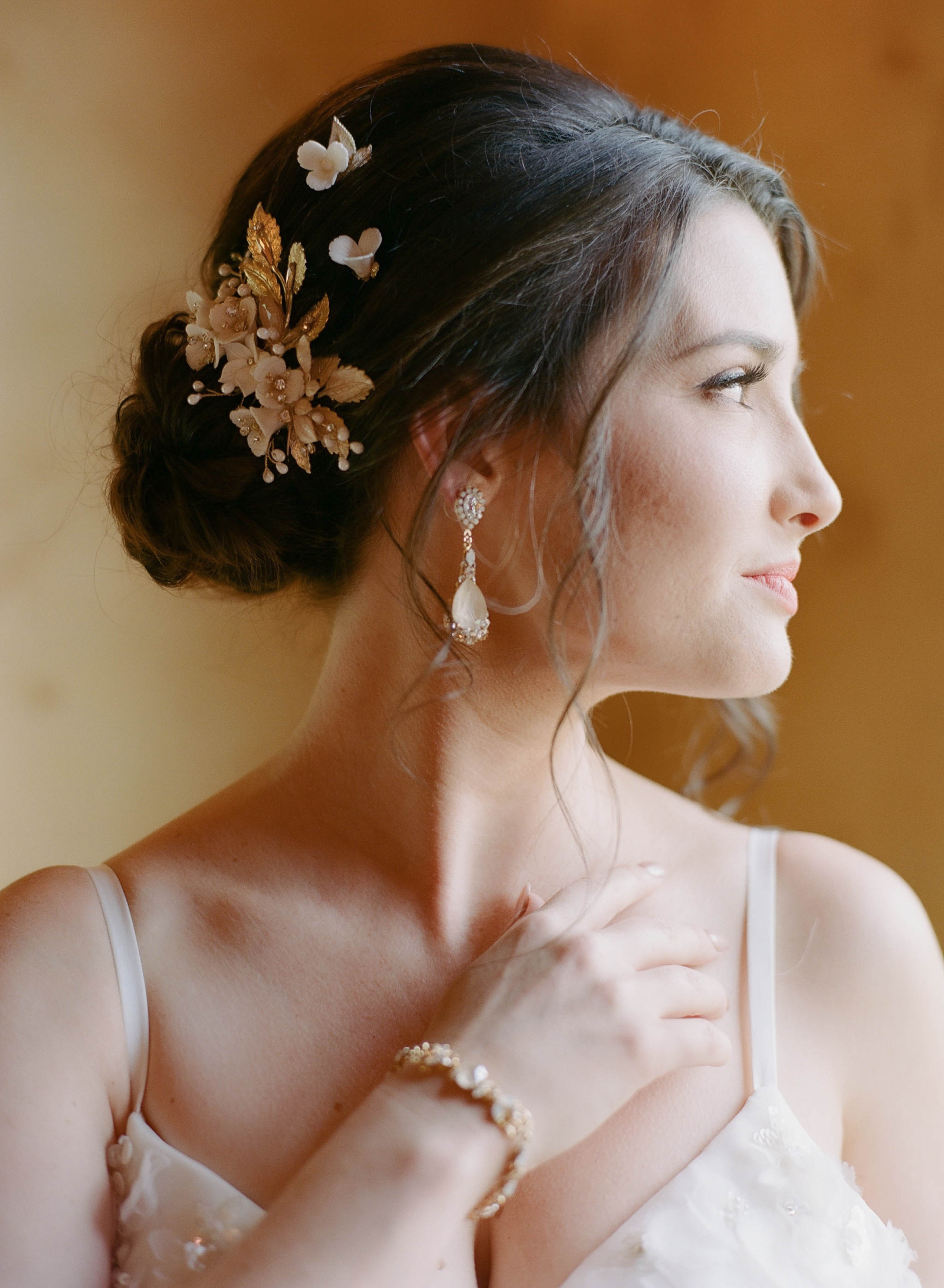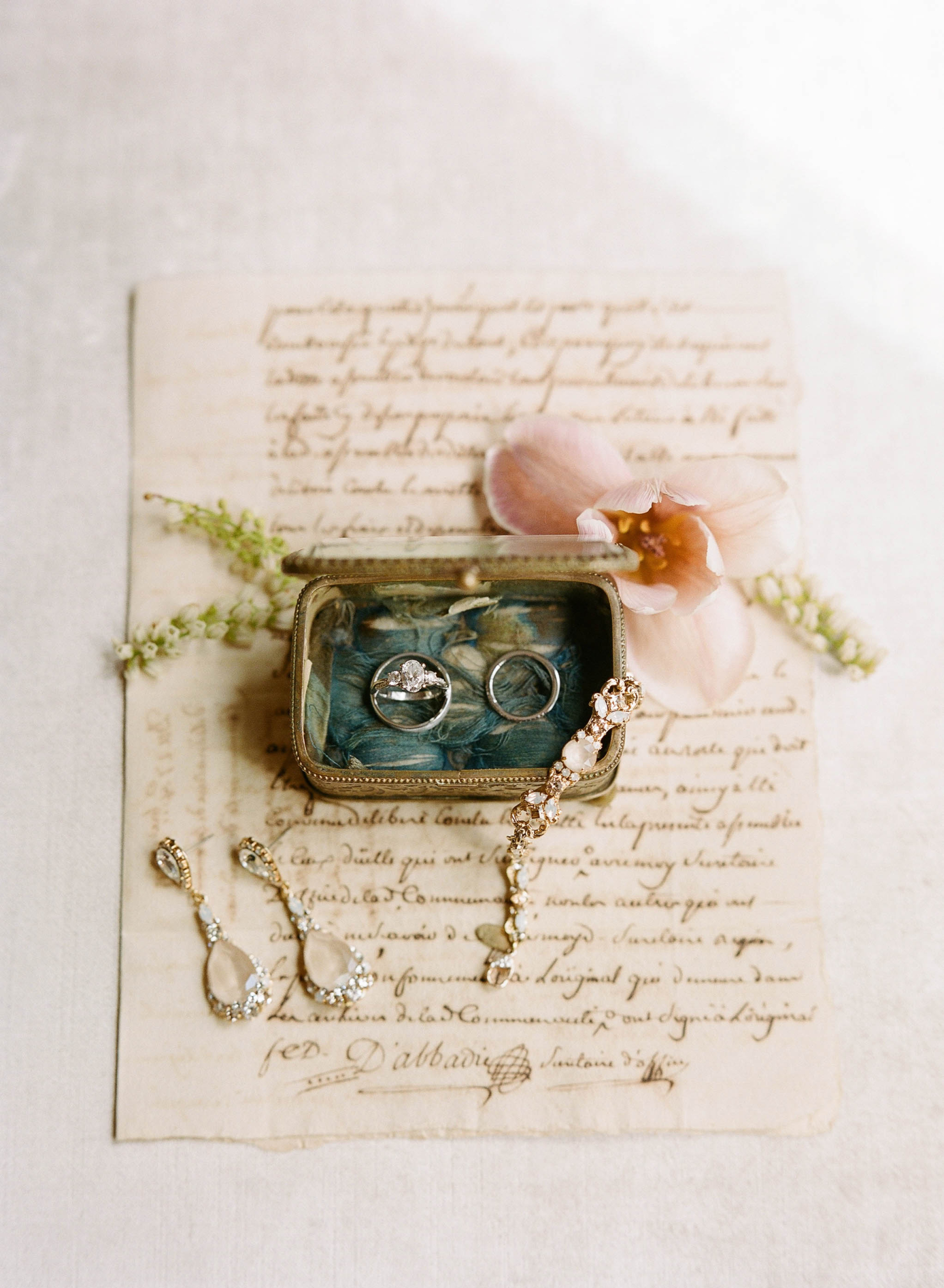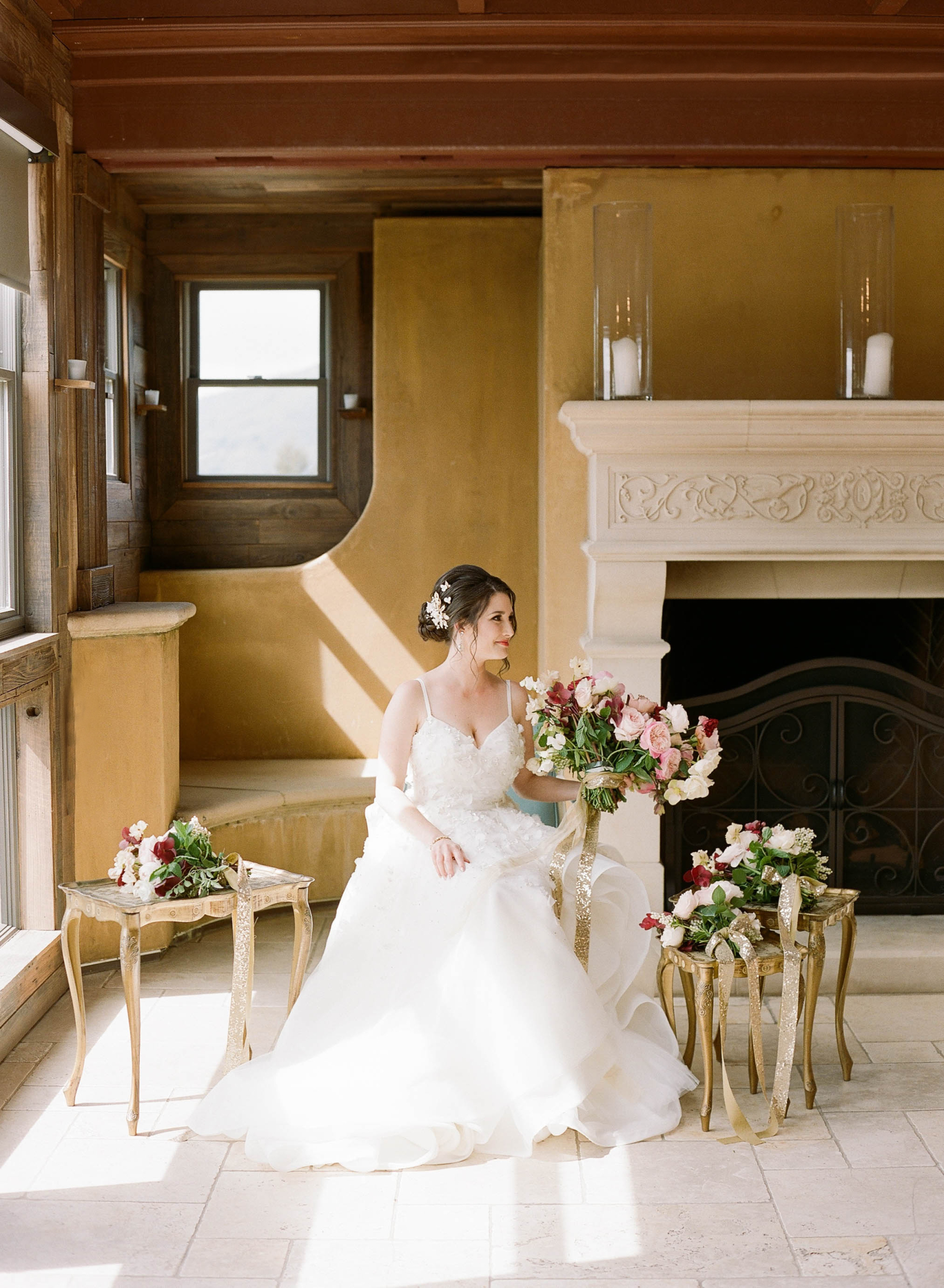 "I DIY'ed a lot of our details to help add a personal element to our decor. After extensive searching for the right design element, I found an incredible blue and gold marbled peel and stick wallpaper on Etsy. It created a gorgeous canvas for our welcome sign, seating chart, and table numbers! Travis helped me make our welcome sign, which he custom cut and we covered in the wallpaper before applying lettering to spell out our First Dance song and wedding date. Our cake baker was able to perfectly match the marbled swirl pattern for our cake, finishing it off with a gold deckled edge. We chose a lemon cake with homemade lemon curd, and cookies and cream cake with a decadent fudge layer with syrup drizzle.
Since we worked out an entirely outdoors wedding to allow our 32 guests to mingle outside, creating a cozy ambiance was important to both of us. I DIY'ed luminary-style escort cards that doubled as a place setting detail and a decorative votive to add a glow to the dining tables. We displayed them on a gorgeous gold shelf from Lux Event Rentals as our seating chart, and everyone was so excited to take them home at the end of the night! I also made a special luminary for our memory table to celebrate my father who passed away several years ago. Before our wedding I went through family photos and mementos, and found birthday cards and notes he'd written to me. I digitised one of the times he wrote 'I love you' and created a cut out wrap to allow the candlelight to shine through.
We chose 'Joy of my Life' by Chris Stapleton for our first dance, and it became a theme for the wedding, from using the lyrics for our welcome sign to choosing the reading for our non-denominational ceremony. Our wonderful officiant Barbara Boyd helped us select customised readings and elements to make the (fairly brief) ceremony reflect our relationship, and we spent the night before the wedding finally writing our personal vows and bouncing ideas off each other. Our first dance song ended up being a self-fulfilling prophecy - the wedding was filled with joy from beginning to end.
We limited the guest list to close family and friends who were local or could drive in so no one would have to fly. Everyone quarantined ahead of time and followed the local and venue guidelines to ensure the guests' and vendors' safety."
"A big factor in selecting our vendor team was working with pros who have an exquisite fine-art style. I knew I would have a hard time letting go on the day because I'm used to being a hands-on planner and made sure to hire people with taste and skill that I could trust. They delivered and then some! Our photographer ASHLEY NOELLE EDWARDS, planner San Francisco Wedding planner K. SAW WEDDINGS, and Northern California wedding florist LE BLOOMERIE are all true artists, and the look and feel of our day were more beautiful than even I could have anticipated! After selecting our flower colours with Le Bloomerie and finding the key detail in our peel and stick wallpaper, I knew the next more important detail would be our table linens and chairs. Pleasanton Rentals was a local event rental company that had the perfect rose quartz table linen for our guest tables - set up in family groups to allow for social distancing - with white cane back chairs to keep the furniture look minimal.
Since the view from the ceremony venue was such a big factor in our venue choice, we wanted to keep the ceremony look open and airy. The stunning cathedral arches from LUX RENTALS that LE BLOOMERIE dressed up were such a perfect detail for our vows and our photos, with the small arches repurposed behind our Sweetheart Table! Once we narrowed down the venue and the date, I knew that our ceremony would be backlit by the sun setting over the ocean, so finding a photographer who knew how to handle that lighting was a must for me - and Ashley Noelle Edwards was the perfect choice!
I knew I wanted a dress that felt both timeless and kind of fresh (I have seen a LOT of wedding dresses over the past 10+ years as a bridal blogger and stylist). Although I tried to go into my try-on appointments with an open mind, I definitely felt the most excited about full A-line dresses with a layered detail to add some interest to the skirt. I found my dream dress at BRIDE & BUSTLE salon, but the sample had a plunging low neckline. They were able to order it with a customisation that raised the neckline up to a classic Sweetheart line and I worked with Angelica's Custom Tailors in Campbell to perfect the fit. She recommended we add a Low French Bustle that kept the gorgeous lines of the skirt intact even after the train was bustled!"
A big thank you to San Francisco Wedding planner K. SAW WEDDINGS for sharing this gorgeous wedding with us! K. SAW WEDDINGS is a full service wedding and event planning boutique based in San Francisco, CA specialising in Intimate Weddings in Northern California and beyond. "Our goal is to create timeless and sophisticated weddings customised for our couples with exquisite taste. We put our heart into providing our couples a pleasant experience in planning one of the BEST Day of their lives." You can see more of their work in their portfolio here.
Northern California wedding florist LE BLOOMERIE is a valued member of our vendor guide. Owner Melissa believes that flowers can set the mood for any occasions and can engage the senses in a way no other species does telling us, "I enjoy the beauty of the rose as it opens, its ruffled petals, symmetry and asymmetry, its clean, earthy, fruity fragrance, and the beautiful colour changes as it opens and ages. I truly believe that every flower has a unique meaning and when put together with other blooms can tell a unique story about you and your event." Head over to her portfolio to see more of her work.