After meeting as classmates in law school, Georgia & Jake knew they had something pretty special within minutes. "It felt like we had always known each other." When it came to their Hudson Valley wedding - captured here by North Carolina wedding photographer LANCE NICOLL - they chose elements from traditional wedding styles that matched their personalities and spoke them as a couple. "We didn't have a planner, but we trusted our vendors to help take a very popular style and color palette and make it our own." Combining elements of both rustic and classic wedding styles ensured the result was timeless.
TELL US ABOUT YOUR PROPOSAL: We've always approached major decisions as a couple together, and deciding to get engaged was the same. When things started to get a little serious, we went to a local jeweller to design an engagement ring together and talked about who should propose. Just 24 hours before Jake was actually planning to propose -- during a romantic anniversary trip to Mexico in which Jake had meticulously persuaded Georgia that he wasn't planning to pop the question -- Georgia ambushed Jake and demanded that he explain why he was acting so weird if he wasn't planning to propose. Jake bluffed. Georgia called his bluff. A ring was revealed. And then Georgia said, "Wait -- so are we engaged?" Jake reminded Georgia that he had to actually propose -- and then he got down on one knee and did
TELL US ABOUT FINDING YOUR WEDDING DRESS: Georgia had a pretty firm sense of what kind of dress she wanted -- and ended up falling in love with something completely different, at the urging of her very experienced assistant at Kleinfeld's. She ended up selecting a classic chiffon ballgown by Pnina Tornai. One of her favourite things about it was its beautiful movement. The chiffon is cut asymmetrically and has a really modern and unique movement, especially in photos. Despite having a full skirt, it was really easy to move and dance in -- an important detail, since our wedding featured a lot of Greek dancing, the "Before I Let Go" challenge, and an impromptu hora.
WHY DID YOU CHOOSE THIS LOCATION? When we started looking for a venue, our only real requirement was that we wanted to have good food and a space for an outdoor ceremony. We visited so many beautiful locations in the Hudson Valley and the Berkshires, but we really fell in love with Red Maple Vineyard the second we visited it -- even when it was buried under a foot of snow. The Stone family was so friendly, warm, and welcoming. Gary Stone and his family have so much passion for both the space and the adjoining farm. We had a sense of what a special place it was when we saw a number of couples return to the venue just to stop by and say hello to Gary on their wedding anniversaries. We experienced that ourselves when we swung by one day to check out the new barn space and Gary offered us a bottle of their new wine on the house and personally took us on a tour of the newly renovated space, pointing out reclaimed and preserved features from the original barn. Everything he and his team does reflects their love of the farm, their appreciation of its history, and the efforts they've made to develop the space and integrate it into the local community. But no review of Red Maple Vineyard is complete without mentioning the food, which is absolutely exceptional. They run a farm-to-table space and feature their own organic produce, beer, and wine at weddings. The food during our tasting and at the wedding was just incredible -- our wedding cake even featured fresh flowers and berries from the farm. We couldn't have picked a more beautiful setting.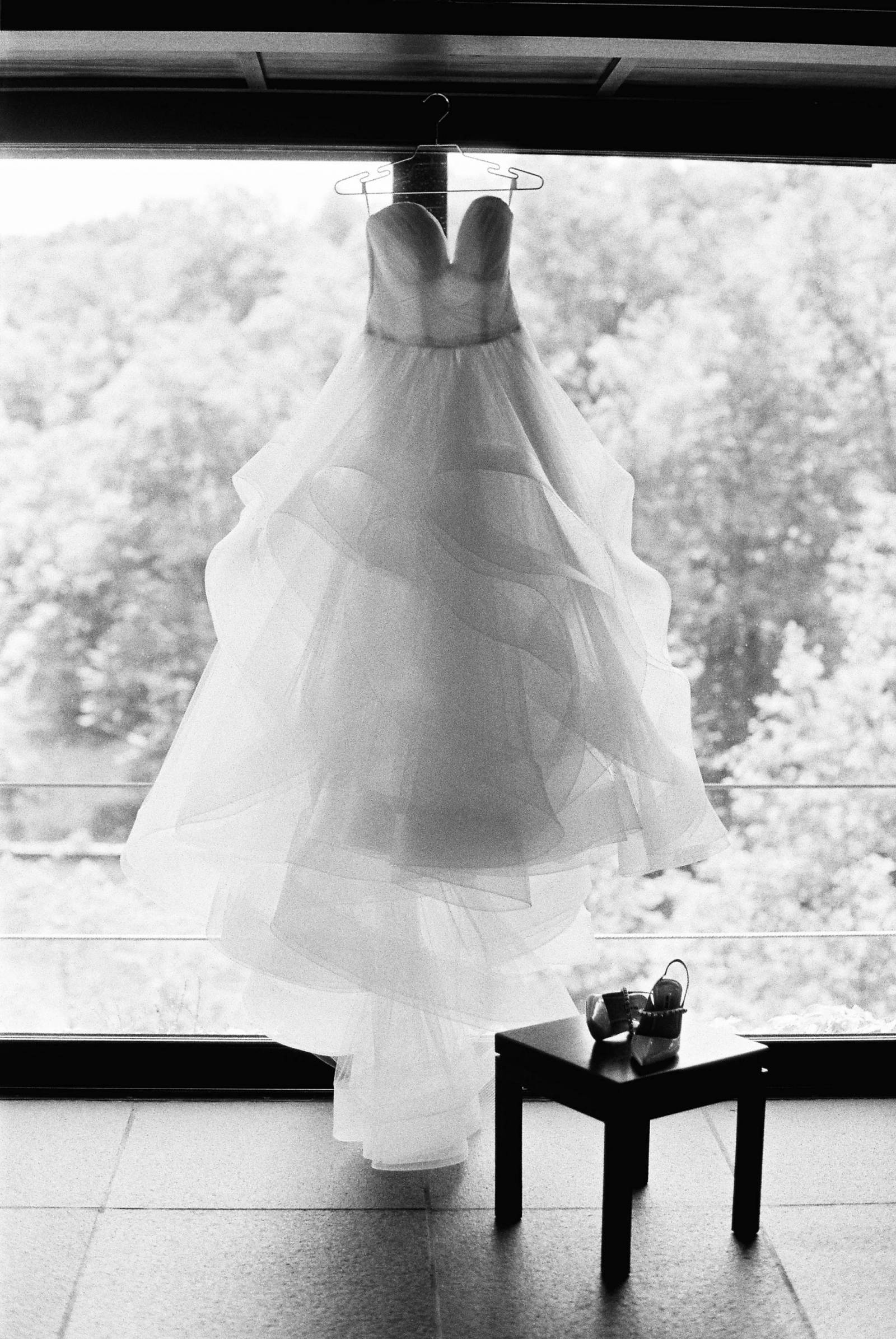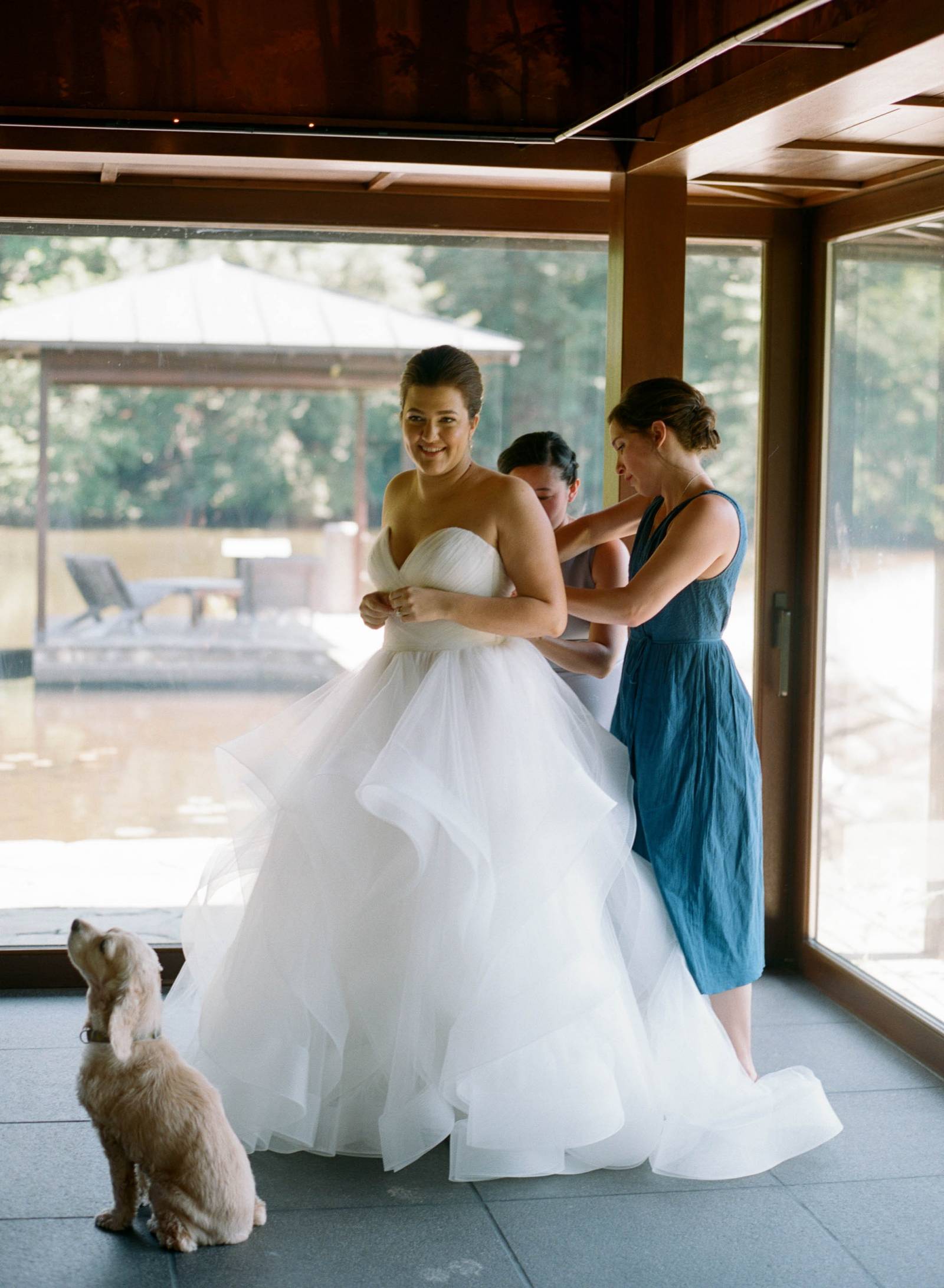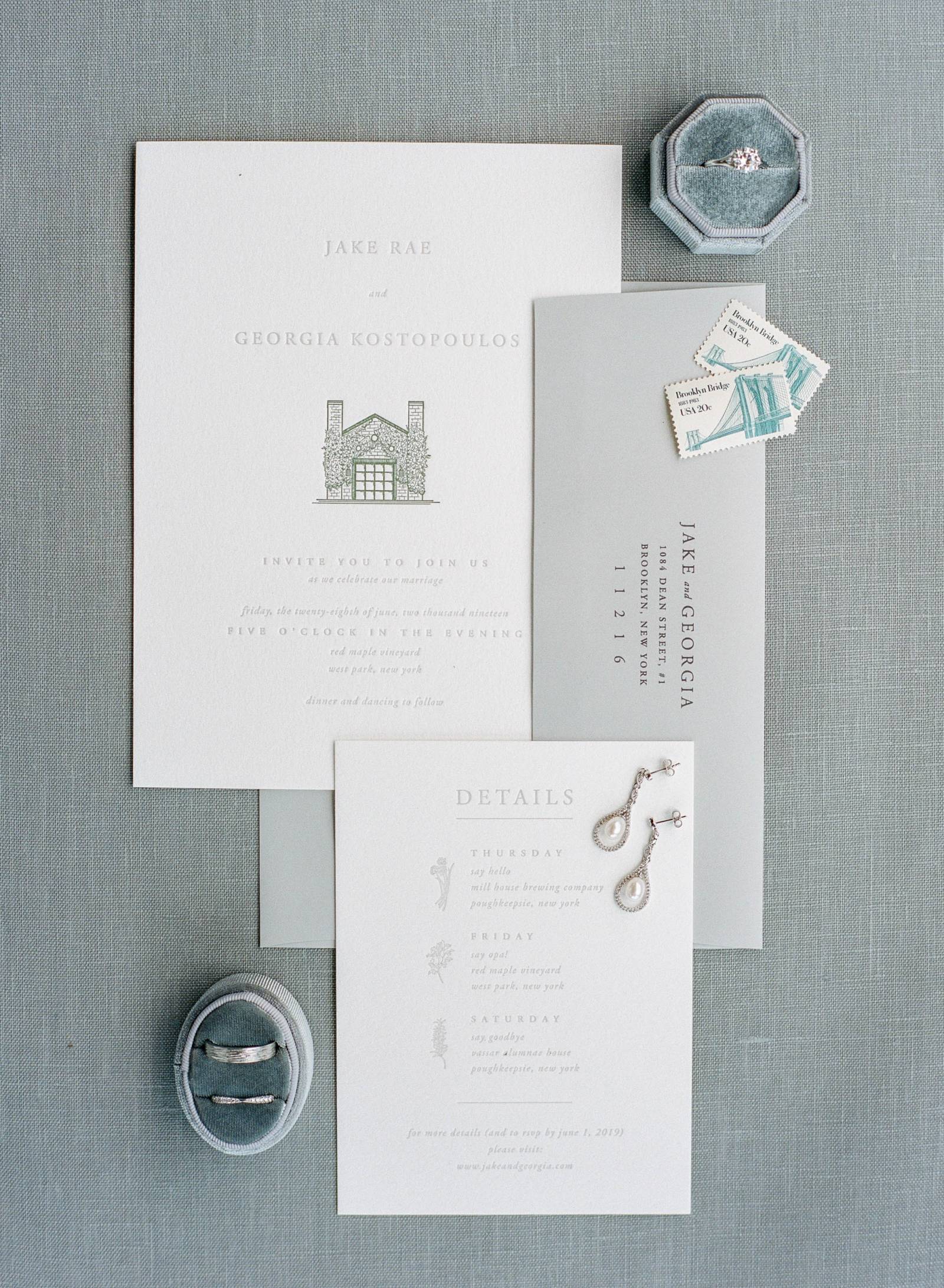 DID YOU HAVE ANY DIY ELEMENTS? Georgia's family comes from a small coastal village in Greece and has been growing olives for generations. As a nod to her Greek heritage, we gave guests small bottles of olive oil that had been hand-pressed by her uncle using olives from her family's olive grove.
DESCRIBE YOUR WEDDING FLOWERS: We worked with our wonderful florist Dennis to create a soft, romantic palette of blushes and whites with pops of lighter and dark blues and lush, wild greenery. We wanted our arrangements to match the venue's rustic features and incorporate unusual flowers and modern elements. Unlike a lot of other florists who work remotely and use photos to prepare a proposal, Dennis invites you to his studio and helps prepare a palette with you—running back and forth to pick out particular flowers, talking about what is or isn't in season, and making suggestions based on natural features at the venue. We loved that approach because so much of wedding planning can feel very impersonal and cerebral.
For the menus and table settings, we incorporated Mediterranean elements by placing a sprig of lavender and olive at each place setting. Our florist also arranged a beautiful memorial chair for Georgia's mom, who passed away a year and a half after we first met. We didn't want to place a photograph on the chair, but wanted to create a beautiful floral arrangement of her favourite flowers in her memory.
FAVOURITE DETAIL OF THE DAY: We really poured our hearts into the ceremony. We knew we wanted a non-traditional ceremony that reflected our lives together as a couple, and so we selected every detail together, from the music to the readings to the vows. We selected a religious reading together, and then each selected a poem that resonated with us. We also selected the music, which included a piano arrangement from the film adaptation of one of Georgia's favourite books, Pride and Prejudice. We asked a close friend Kevin Benish to officiate and he put together a beautiful, heartfelt ceremony. We feel so grateful to him for the effort he made. One of our favourite memories before the wedding involved the three of us getting dinner and spending hours talking about what the ceremony should look like and what it should include.
WHAT ADVICE WOULD YOU GIVE OUT TO A COUPLE PLANNING THEIR WEDDING? Don't be afraid to ask for help, whether it be from family, friends, or a therapist. And make sure you rely on people who will help you realise what's important for you as a couple, instead of trying to make your wedding match their expectations.
MOST MEMORABLE MOMENT? Our photographer Lance Nicoll helped sneak us out after our first dance to take a few photos at sunset in a beautiful meadow near the woods behind the venue. Despite having spent so much time touring and visiting the space, it was a part of the vineyard neither of us had seen before. Some of our favourite photos from the whole day came from then. In the middle of all the excitement and energy of the day, it was so special to be able to spend a few minutes alone together just soaking in the sunset.
ANY OTHER DETAILS THAT HELP TELL THE STORY OF YOUR DAY? We each wrote letters to each other that we read in the morning as we were getting ready. Taking the time to share with each other what that day meant to us both was a really moving way to begin our wedding day.
TELL US A LITTLE ABOUT YOUR HONEYMOON: We ditched the fancy gear and traveled to Madagascar and the Seychelles for two weeks of hiking, swimming, and wildlife-spotting.
IS THERE ANYTHING YOU WOULD CHANGE OR DO DIFFERENTLY? Not a single thing. We feel so fortunate that we were able to celebrate our wedding surrounded by our family and friends.
A huge thank you to North Carolina wedding photographer LANCE NICOLL for sharing this beautiful wedding with us today - the wedding of which also features in Issue 19 of MAGNOLIA ROUGE MAGAZINE. Lance is a wedding photographer you must check-out if you are getting married in Louisiana, his background in editorial photography and traditional fine arts translates into incredible wedding photos. Be sure to check-out this New Orleans wedding inspiration full of history and charm... you can also see more of Lance's work in our Vendor Guide.