Being a laid-back couple who love the outdoors, Sophia & Cole wanted to ensure their wedding felt like them. "We had family coming from all over the states, and all different backgrounds and we wanted to have the space feel really welcoming and inclusive." the couple tell us. Knowing they wanted a wedding in the mountains - yet not knowing exactly where - they enlisted Denver Wedding planner REVEL + BLOOM to help bring all their ideas together. DEVIL'S THUMB RANCH had just the right vibe for them and the fact that it also offered accommodation for all their guests was a big selling point. TARA BIELECKI captured these beautiful images of their day.
Wanting their day to feel warm, inviting, and romantic, when Elise from REVEL + BLOOM began the design process, it became clear that the couple gravitated towards garden inspired floral, dreamy lighting details, and a pastel palette. She tells us, "Over time the vision developed into a day that focused on the lightheartedness shared between the two of them while bringing in design elements that felt elevated but not overworked. After developing their colour palette, Sophie of Wedding stationery designer SWEET ZION PAPERIE began designing their invitation suite, which included a custom watercolour illustration of DEVIL'S THUMB RANCH. This illustration was later carried on into their day-of details, including wooden, laser cut table numbers that smelled like burning wood when you got close enough. Casey of LA RUE FLORAL brought Sophia's colour palette of delicate pink and rich blues to life with garden inspired floral that complemented the rustic setting. When we looked at the beams in the barn reception space we envisioned branches crawling upwards and across, creating the feeling of an enchanted forest. Lighting elements from ELITE ENTERTAINMENT perfectly highlighted the branches and crawling vines. Because of the colourful floral I chose to keep their table linens a light smoke tone to create neutrality and balance. The napkin pattern re-introduced their blue tones against the cut crystal dishware from House of Yonder. Their colour palette was also translated into their cake, designed by WILDFLOWER CAKES, who created a ruffled edge effect for their four tier cake. As the evening progressed, the reception space transformed. With the sunset streaming through the windows we dimmed the overhead lights, which brought an intimate atmosphere into the room. Sophia and Cole shared their first dance in front of a roaring fire, which was perfect for the chilly fall evening."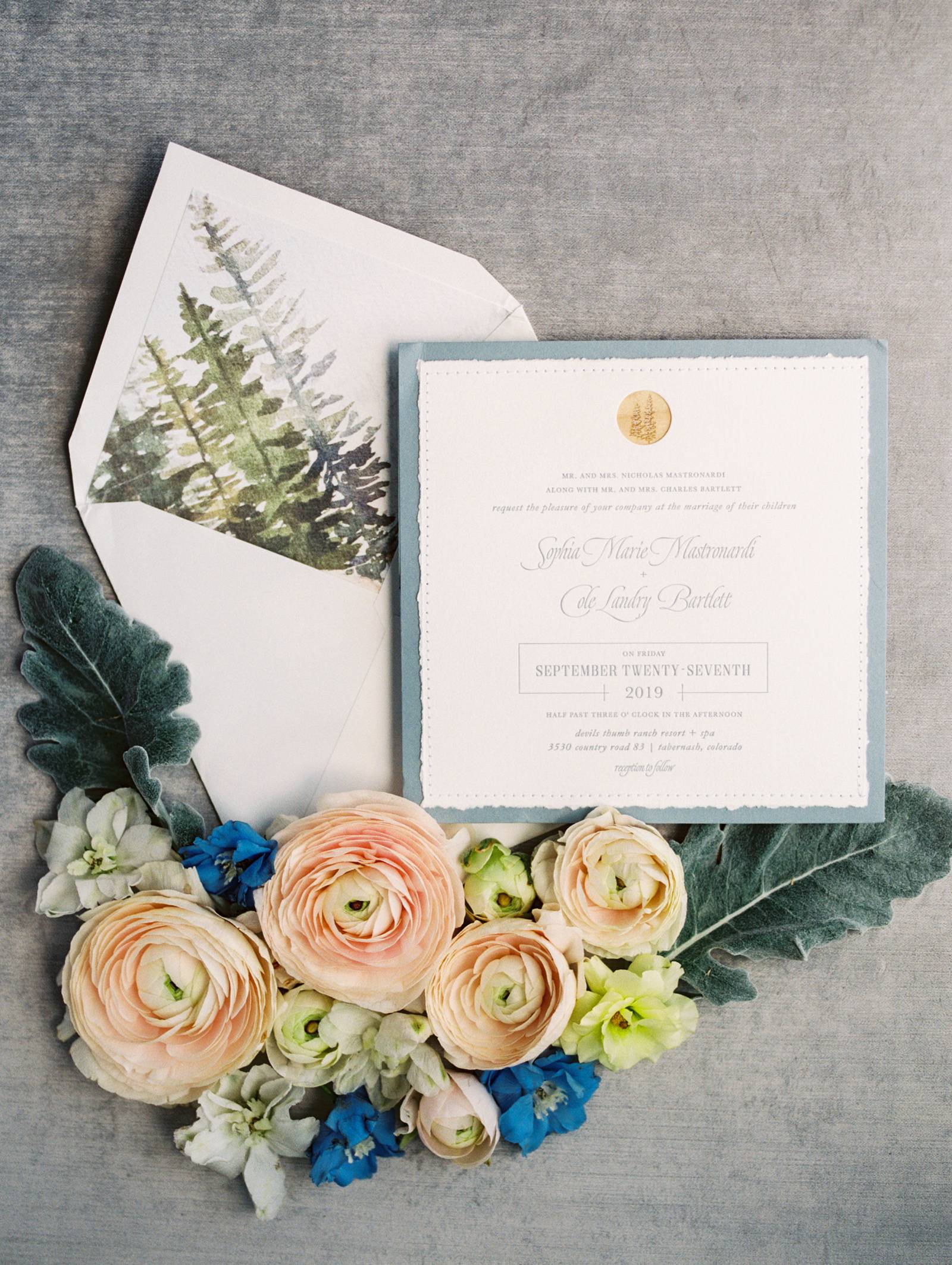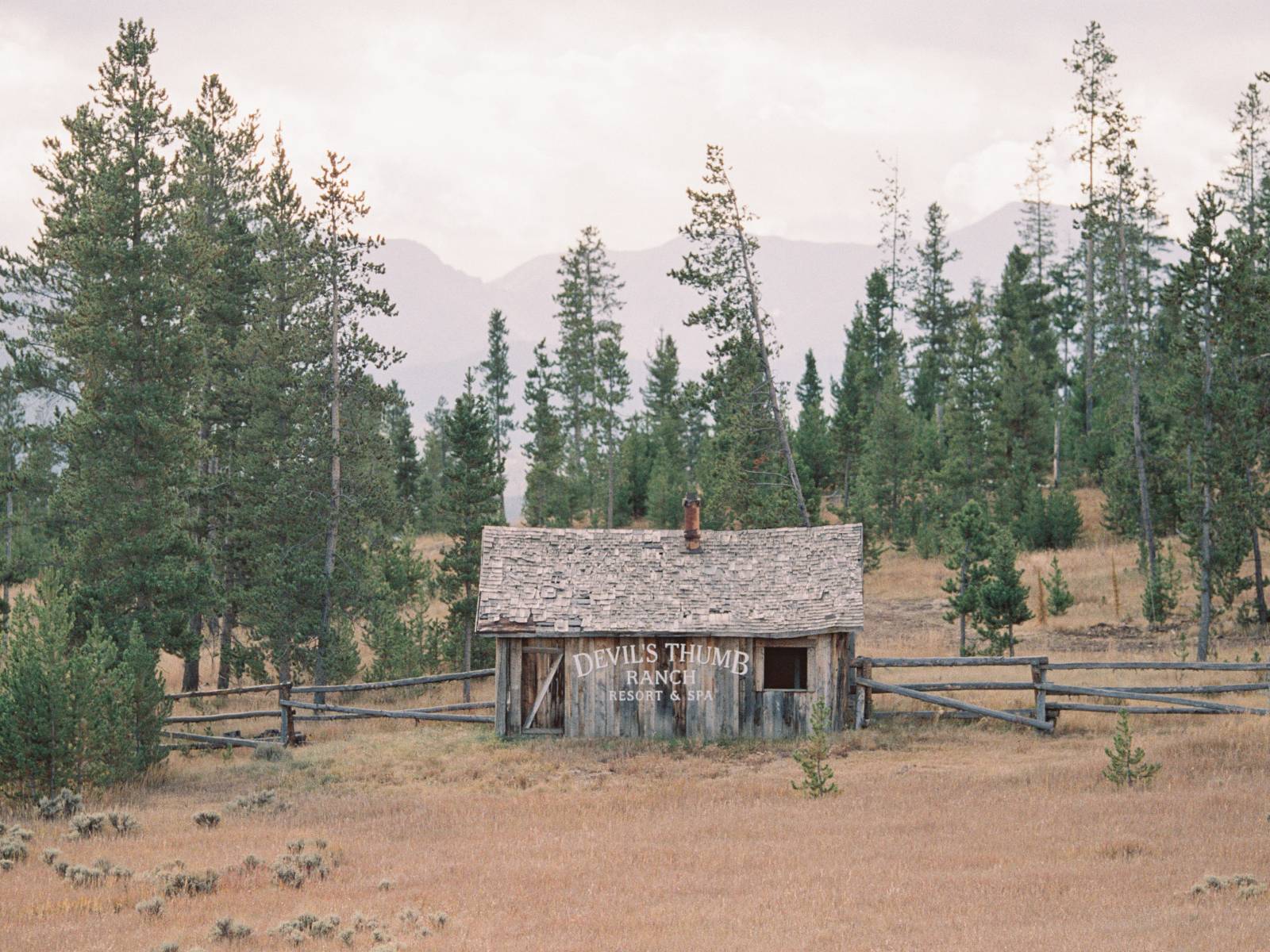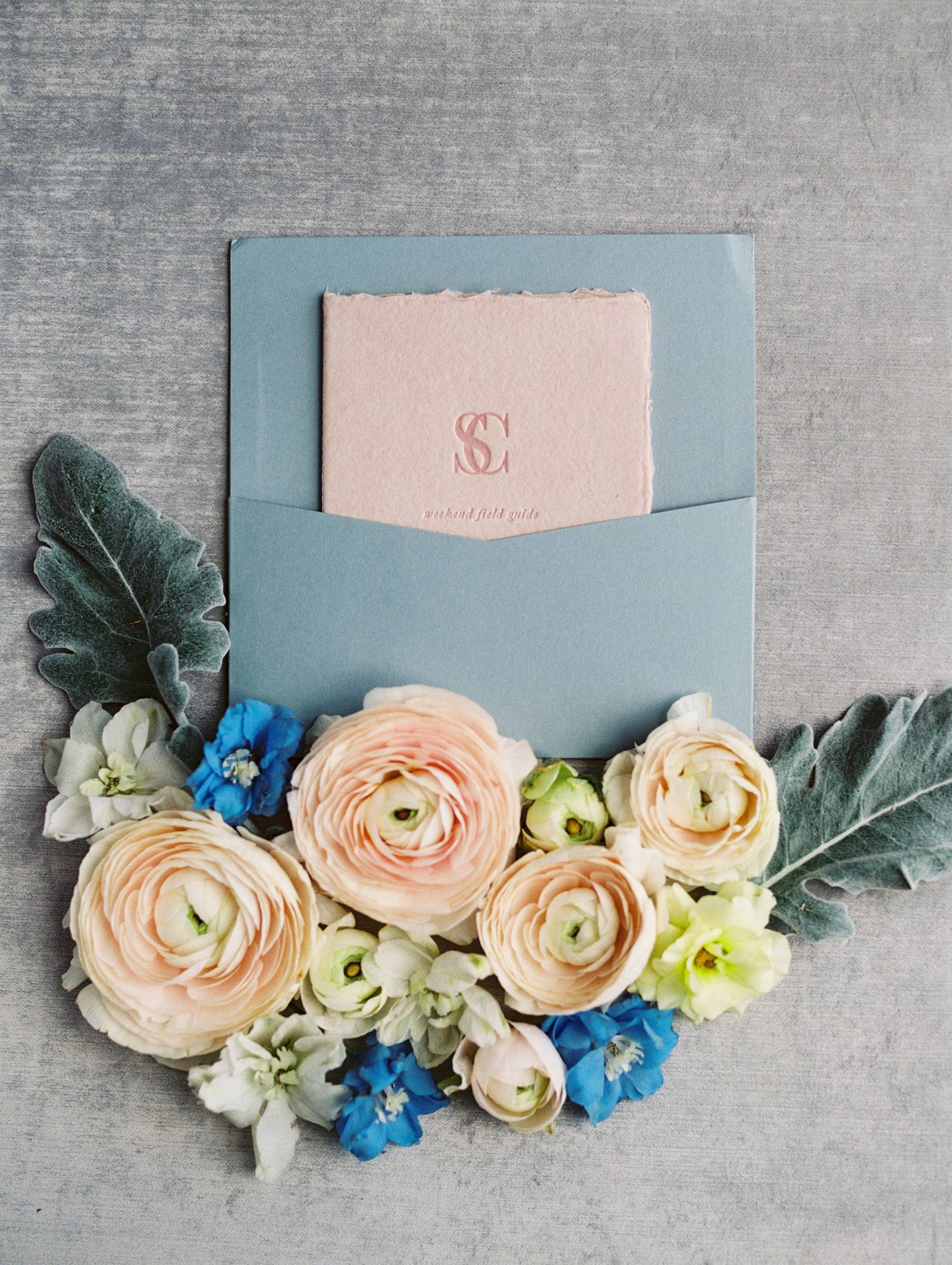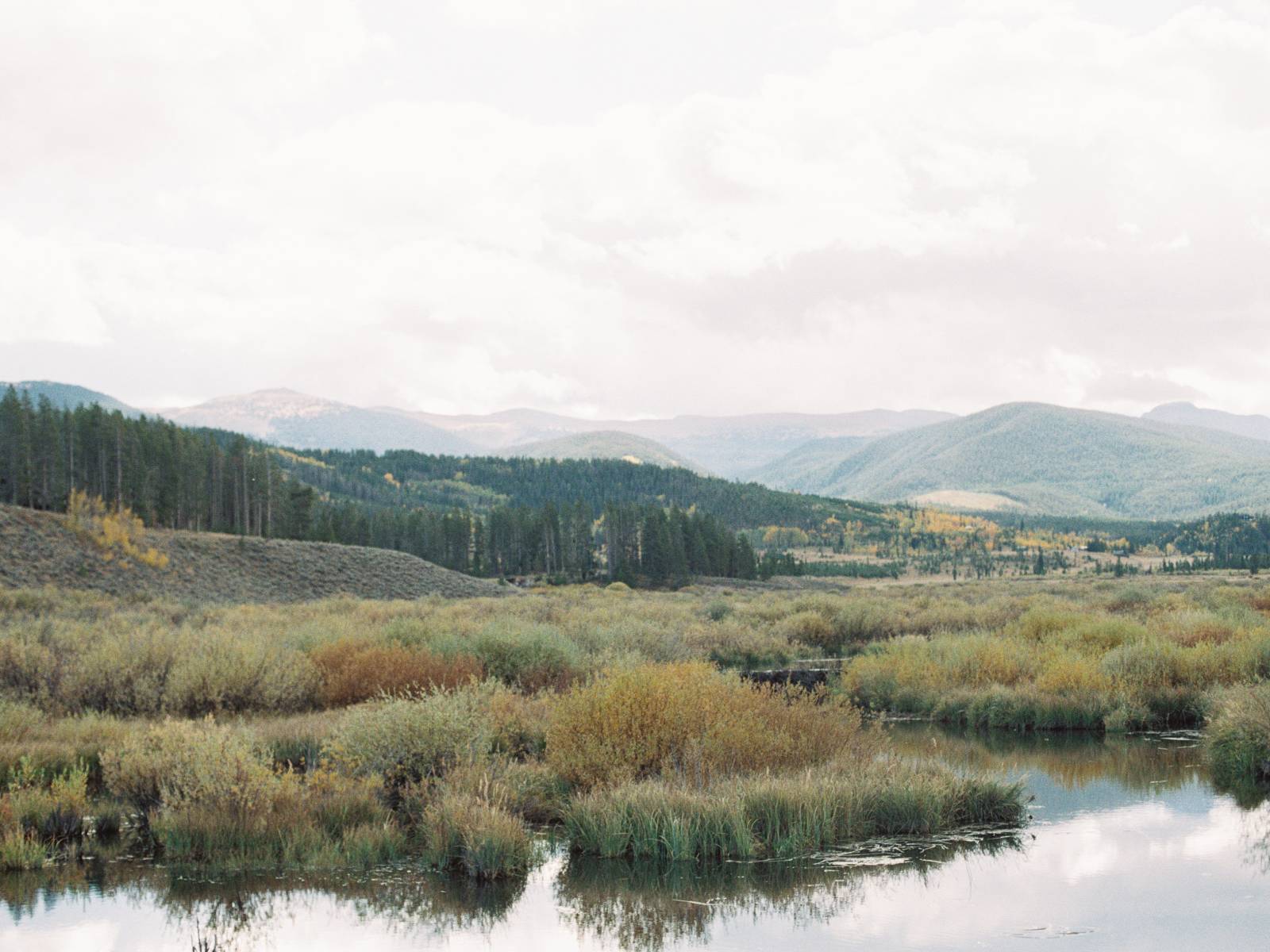 TELL US ABOUT FINDING YOUR WEDDING DRESS: I went with my mom, both of my sisters, and my aunt and cousin who flew in from New York. I tried on probably 20 dresses and as soon as I tried on the dress that I chose I knew it. Every dress after I compared to the dress that I loved. It was everything that I could have wanted and was very me. It fit my idea of what I wanted the wedding to look like, and I knew that it would also be absolutely perfect for the venue too.
DESCRIBE YOUR WEDDING FLOWERS: The overall vision for the floral was to create an enchanted garden feeling within the wooden barn setting. The palette of whites, blues, and blushes were surrounded by flowing greenery. Branches were wrapped around the beams to create a tree-like effect. The ceremony aisle was lined with green grasses and delphinium, styled to appear like they were growing out of the ground. The poles of the ceremony space were covered with greens and floral in an asymmetrical fashion to soften the harsh lines and enhance the scenery behind us.

FAVOURITE DETAIL OF THE DAY: The reception space was a truly magical room to walk into. We felt completely transported to an intimate, romantic garden that was all our own. The cake was also a show-stopping design element because the colours and textures perfectly mimicked our invitation suite.
WHAT ADVICE WOULD YOU GIVE OUT TO A COUPLE PLANNING THEIR WEDDING? Make sure to take a breath and enjoy the planning process. It can get really stressful, but everything is all worth it in the end. It was, and probably will be the best day of my life, and I am so glad that it felt so truly unique and special for me and Cole.
MOST MEMORABLE MOMENT? Most sweet: Seeing Cole as I was walking down the aisle. Thinking about it every time makes me tear up. It was such an emotional time and seeing how he felt through the emotions that he was showing was such a great feeling. Most funny/fun: Our families are notorious for liking to dance and party. As soon as first dances ended the DJ turned on some dancing music, and I don't think that 5 seconds elapsed before the dance floor was completely packed. And stayed packed until he turned the music off.
TELL US A LITTLE ABOUT YOUR HONEYMOON: We left bright and early next day for Turks and Caicos. It was absolutely the best way to wind down, and most beautiful place to do it in. When we were there it was their "off season" so the resort was basically empty. Since it wasn't busy, we were able to do so many activities, and spend so much quiet down time alone together.
Thanks to Denver Wedding planner REVEL + BLOOM for sharing this beautiful wedding with us. Elise believes that your wedding should be the perfect representation of your relationship. "We want your guests to arrive and say, "Wow, this is so them!". For this reason, we best match with couples who share the desire to dive into every detail and push toward an innovative and intentional approach to the planning & design process. Our couples value being taken care of from the very beginning, and trust us to produce an elevated and personalised experience on their wedding day. Over half of our clients travel to Colorado from out of state, and we strive to make planning from a distance smooth & stress-free. By providing exceptional service, we work alongside Colorado's premier venues and vendors, assuring an unforgettable event for our couples and their guests." You can see more of their work in our vendor guide.
Wedding stationery designer SWEET ZION PAPERIE is a valued member of our vendor guide. They are a luxury event stationery, installation, branding and calligraphy studio. "Our focus is creating bespoke stationery pieces that are carefully tailored to fit a client's identity, event and budget through a personalised and fine tuned design process. We are a 'can-do' player in the business of celebrating life's biggest and most memorable milestones equally for all." Check out more of their portfolio here.