I'm so onboard with a wedding inspired by the mountains... that's my kinda wedding! Californian Emily and Aaron who hails from Iowa, originally met in Colorado where they remain to this day. Being that's where their love story began and given their love for the mountains, they felt it was natural to hold their wedding in their adopted state. "We wanted to showcase the beauty of Colorado to all our friends and family traveling in, so having everyone experience the quaint Vail Village and outdoor natural beauty of Camp Hale felt perfect." Colorado Wedding Photographer SARAH PORTER captured their day beautifully with these dreamy photos!
Working with Denver wedding planner THE STYLED SOIRÉE they kept the design colours and elements fairly minimal to let the mountains show off and 'do their thing'. "They didn't disappoint! We thought of it as an elegant mountain wedding and the neutral colour palette of beige, greenery, white, and a pop of blue beautifully complemented the landscape."
HOW DID YOU MEET? Aaron & I met at Matchbox, a dive bar in Denver's RiNo neighbourhood. Our mutual friend had thrown a housewarming party that continued on to the dive bar for the after party. I was babysitting that night, but went to the bar to meet up with everyone after. Almost immediately after walking in, our mutual friend introduced me to Aaron, which she insists wasn't an intentional set up. Aaron and I didn't leave each other's side the rest of the evening and before the night was over, Aaron asked me if he could take me to dinner sometime and got my phone number. He followed up a day later and took me to a great dinner of tacos and margs at Los Chingones that week.
TELL US ABOUT YOUR PROPOSAL: Aaron is such a romantic and proposed the weekend we moved in together. He told me he wanted to take me out for a date night on Tennyson Street before the move on Saturday to explore our new neighbourhood. We had the keys to the house but no furniture and met there first before walking to dinner. After dinner, we walked back to our house with the intention of having a glass of wine on the back deck with our one year old golden retriever. Instead, we walked in to see candles, flowers, and framed pictures of us lining the hallway that leads out to the back deck. I immediately stopped walking and started crying because I realised what was happening. With tears in his eyes, Aaron begged me to keep walking. We walked out to the back patio where market lights were strung, champagne was on the table, and music was playing. He took me to the middle of the deck and proposed. Our amazing friends who had set it all up while we were at dinner were hiding in the yard taking pictures & videos. After face-timing our family with the news, we all went to a bar nearby to celebrate and I was surprised again to see many more of our friends at the bar waiting to celebrate with us. It was perfect; Aaron crushed it.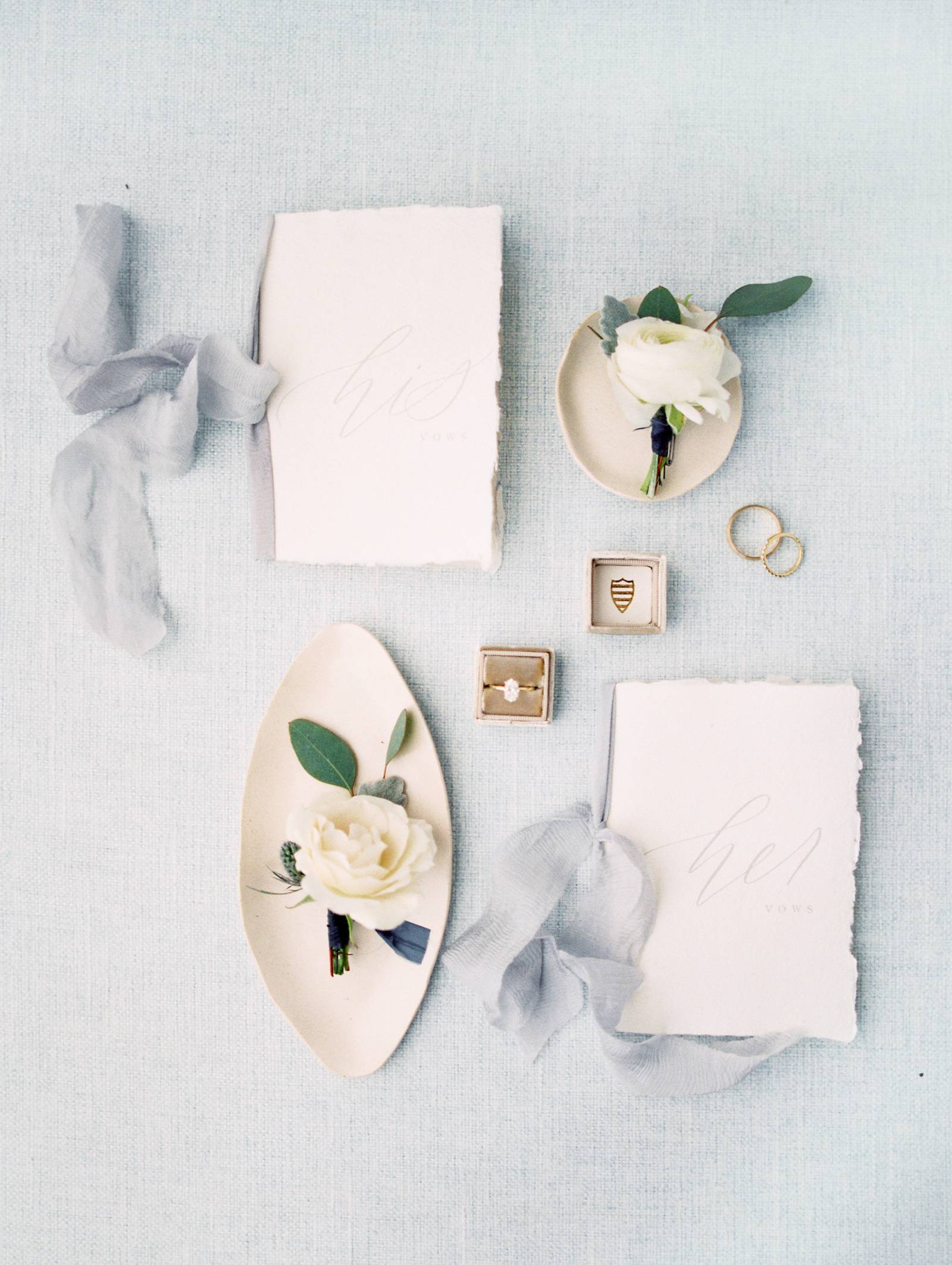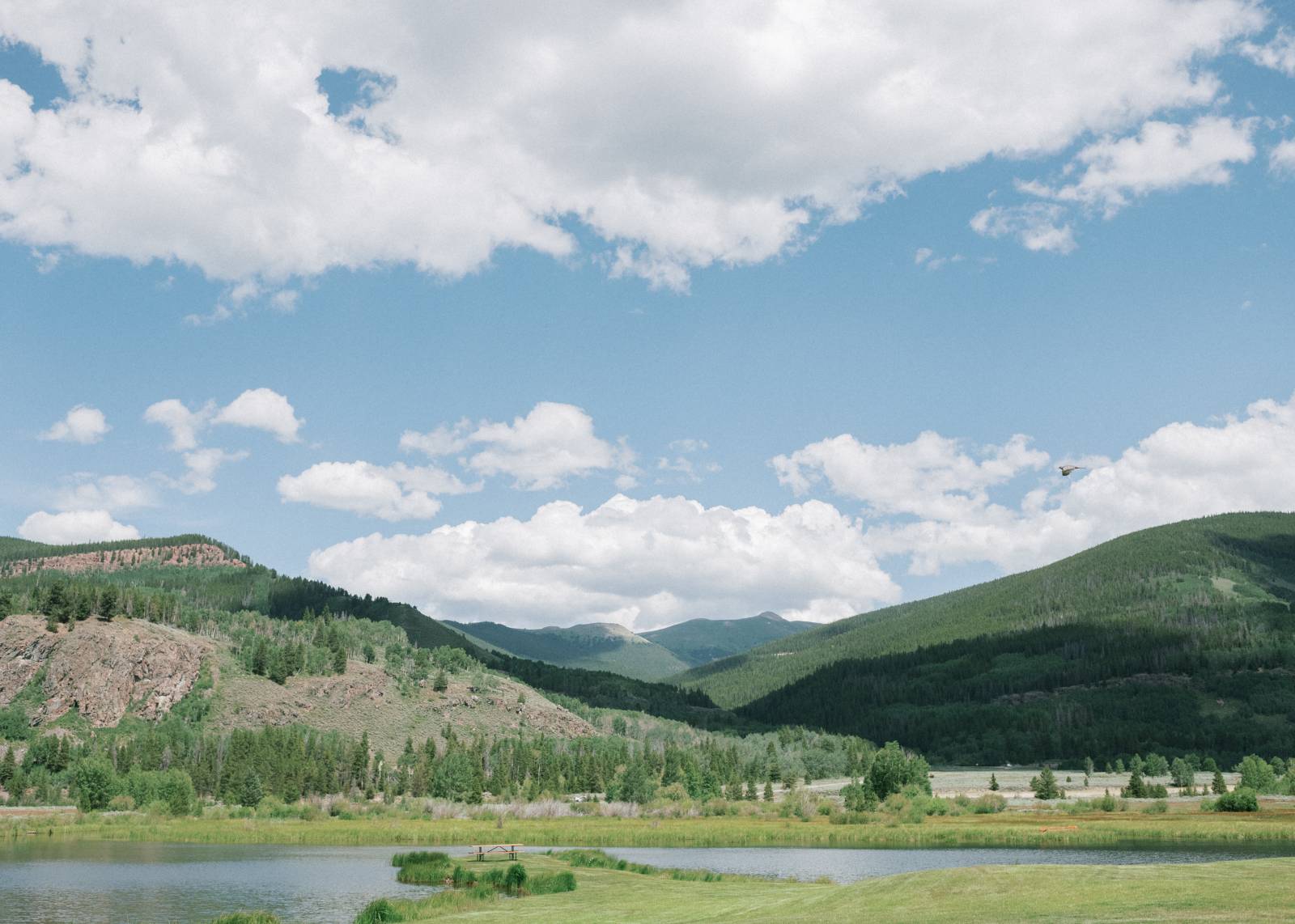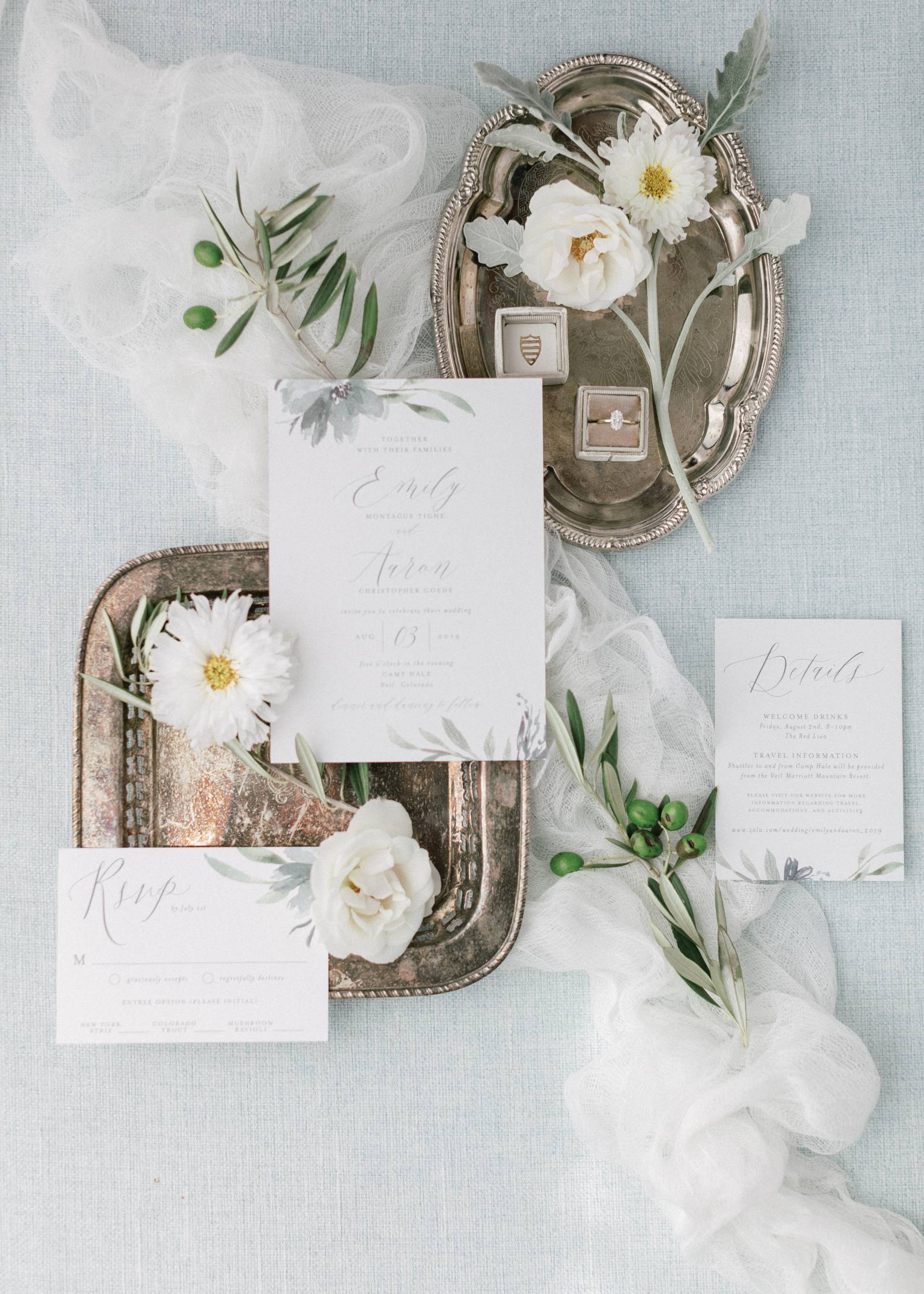 TELL US ABOUT FINDING YOUR WEDDING DRESS: My family lives in California, so my mom and sisters planned a weekend to visit Denver so we could look at dresses together. I couldn't get an appointment at a&be for while my family was in town, so I went a few days before with a couple of bridesmaids. I wasn't sure exactly what style I wanted, so I tried on a few dresses and then tried on THE dress, a beautiful modern lace Made with Love dress that fit like a glove. I couldn't stop thinking about it the weekend my mom and sisters were in town so we quickly stopped by the salon and they let me try it on for my family after a long weekend of dress shopping. We all knew it was the one because it was the only one in which my smile was effortless..
DID YOU HAVE ANY DIY ELEMENTS? My mom created the ring bearer pillow out of her own wedding dress! It was gorgeous and now it will be a family heirloom and we can continue to pass down.
DESCRIBE YOUR WEDDING FLOWERS: Once I saw Emma's website, I immediately fell in love with her style and how she incorporated so many different blooms to create arrangements full of texture. I shared my inspiration with her and then left her to it because I trusted her style so much.

FAVOURITE DETAIL OF THE DAY: We rented two antler chandeliers for inside the tent and they made such a difference! They warmed up the tent with a soft glow and tied in the details from the lodge.
WHAT ADVICE WOULD YOU GIVE OUT TO A COUPLE PLANNING THEIR WEDDING? Don't overthink the small details or all of the Pinterest-y things you see. I focused on our guests' experience, and that in turn made us feel so happy with how everything turned out because our guests had a wonderful time.
MOST MEMORABLE MOMENT? The dance floor! Our band Raising Cain was incredible and kept everyone on their feet. We'll always remember getting picked up by our friends and dancing on their shoulders, looking at each other above the crowd thinking, "We did it!".
ANY OTHER DETAILS THAT HELP TELL THE STORY OF YOUR DAY? We kicked off the weekend in the best way by hosting a welcome party at The Red Lion in Vail Village. We rented out the bar and the restaurant provided live music. Our friends and family loved experiencing the infamous dive bar that we often enjoy for apres ski food and drinks. It also encouraged them to walk through Vail Village and experience a bit of the history and beauty.
TELL US A LITTLE ABOUT YOUR HONEYMOON: Aaron and I knew we wanted a honeymoon that felt far away and exotic but required minimal planning. We left for Fiji the Monday after our wedding and it was the perfect honeymoon spot. We enjoyed the serene beaches, bluest waters, delicious food, and incredible culture there. We stayed in an overwater bure for a few nights, and then island hopped to experience the uniqueness of each place.
IS THERE ANYTHING YOU WOULD CHANGE OR DO DIFFERENTLY? We forgot to tell the band to play our favourite song to dance to – "I Wanna Dance with Somebody" by Whitney Houston. We didn't realise until the next day as we were recapping the night, but the dance floor was so incredible it didn't even matter.
A huge thank you to Colorado Wedding Photographer SARAH PORTER for sharing this beautiful wedding inspiration with us. This fine art hybrid photographer is constantly inspired by the unspoken moments shared in the deep connection between two people completely immersed in love. "So much beauty exists in-between moments that I notice, unposed and vulnerable. These are the moments I would love to help you capture in your story. Every time I pick up a camera, it's an opportunity for connection. My process will revolutionise your perception of photography from fear to enjoyment. It is important that you experience the instances that leave you speechless and occasions that take your breath away on your wedding day." If you're looking for a Colorado wedding photographer you can see more of Sarah's work in our vendor guide.
Denver wedding planner THE STYLED SOIRÉE is a valued member of our vendor collective. From an urban Denver gallery wedding to an elegant mountain ranch wedding, Jennifer can help you plan it! "This beautiful state has it all. Having so much variety in the weddings i help design is the best part of this job! I love helping design truly unique events for every couple i work with, that reflect their love and values while throwing an amazing party for their guests." See more of her work in this Scandinavian inspired winter wedding inspiration.