Inspired by the romantic and ethereal nature of Paris, Tina went about planning her wedding to Jason with the City of Love in mind. "One of our more memorable trips together was to Paris and for our wedding, we knew we wanted to capture the love, beauty, and elegance that was reminiscent of our time there." Southern California wedding photographer MALLORY DAWN'S romantic images further enhanced the beauty of the day and captured the Gatsby-era opulence. Having instantly fallen in love with the beautiful grounds and wonderfully curated rooms of the NYIT DE SEVERSKY MANSION on Long Island, New York, the couple quickly knew it was the venue for their special day.
HOW DID YOU MEET? Our story begins the good ol' fashioned way - on an online dating app, Coffee Meets Bagel! After connecting on CMB, we ended up exchanging text messages for about a month before actually meeting face-to-face. Jason would constantly send me quirky messages and pictures (aka selfies), and while I probably should have found this to be creepy, for some strange reason, with him, I thought it to be quite adorable and endearing. When we finally met for the first time in person, I knew that Jason, and this connection of ours, could be something truly special. And, it goes without saying, the rest is CMB history.
TELL US ABOUT YOUR PROPOSAL: Planning the proposal was a challenge because I had always hoped to propose at Tina's favourite place in the world (Paris) but due to the COVID-19 pandemic and travel restrictions, it forced me to be more creative and adapt to the circumstances. Under the guise of our dating anniversary, I took Tina on a mini-road trip to Mohonk Mountain House in NY's Hudson Valley. As soon as we arrived, I told her we had early dinner reservations at one of the property's remote dining areas (which didn't actually exist) and that we would need to take a short walk to get there. Little did I know, the short walk was actually on a hiking trail (imagine a dirt and gravel path in dress shoes and heels) that we had to navigate through the woods as we were losing sunlight. There were a few moments when I was worried if we were even on the right path, but soon enough, we saw the trees clearing and finally made it to Copes Lookout. This was the spot I knew would be the perfect backdrop, overlooking the mountains, at sunset, where I would ask the most important question of my life, to which her response was, "Of course!"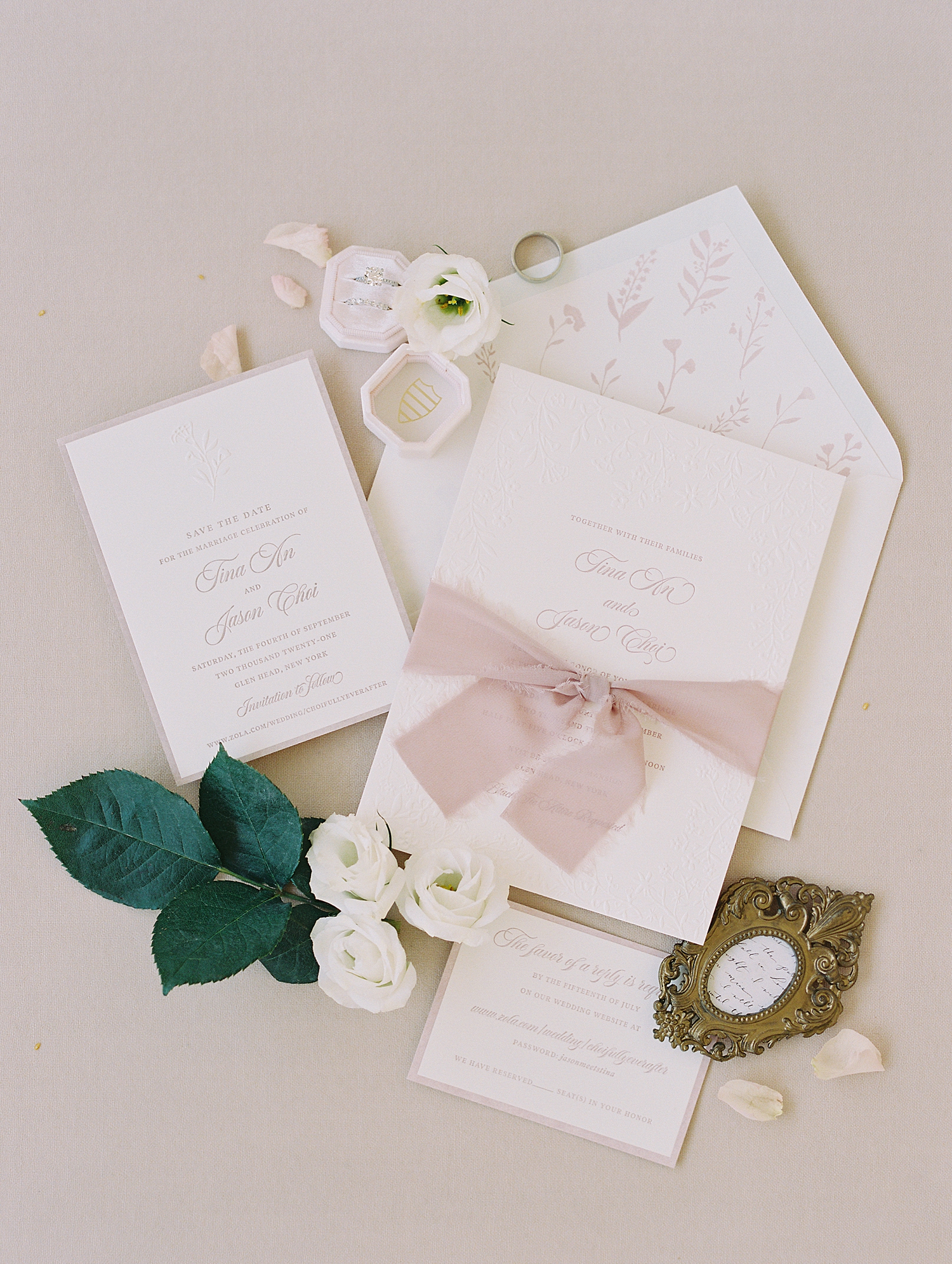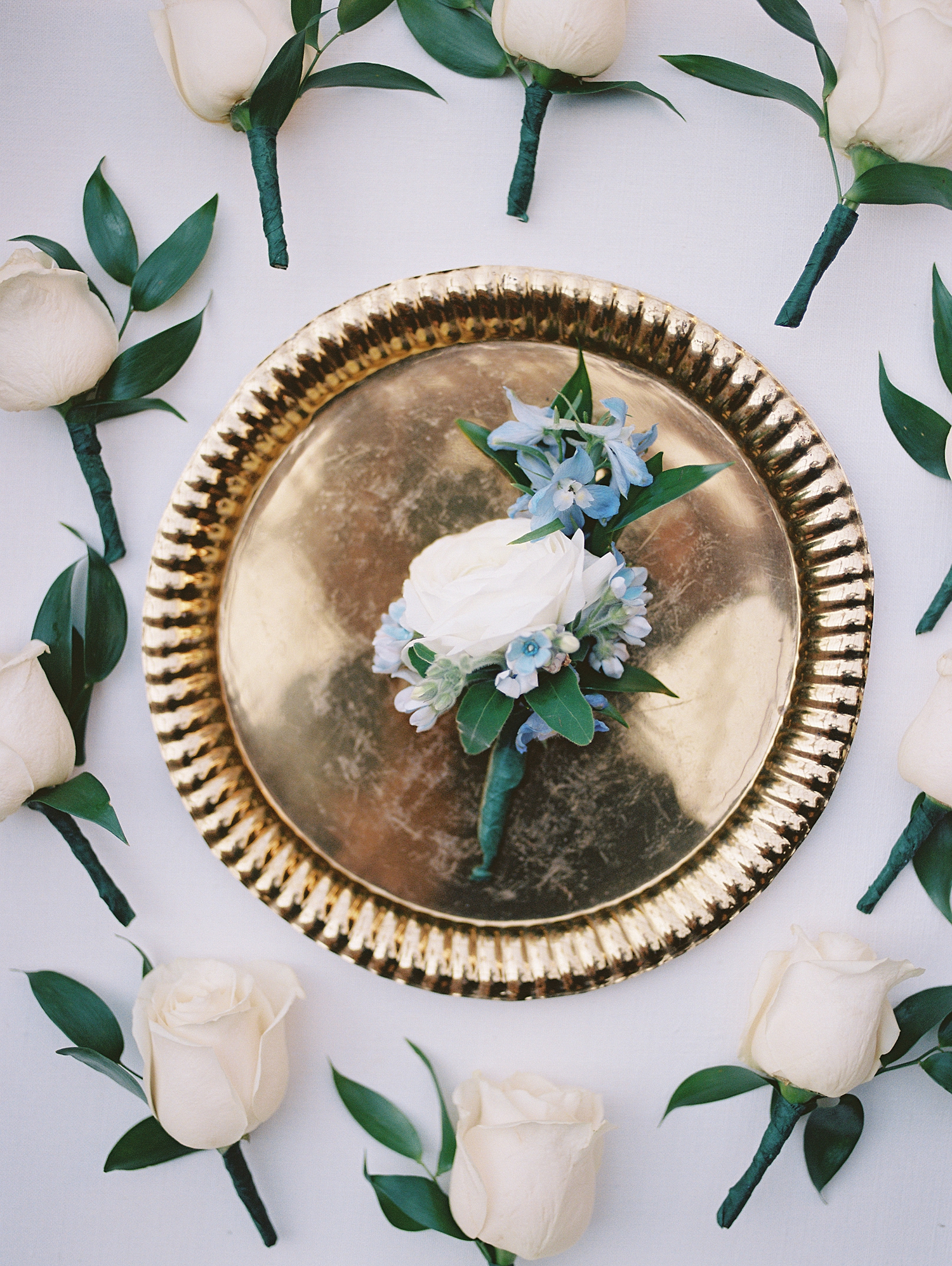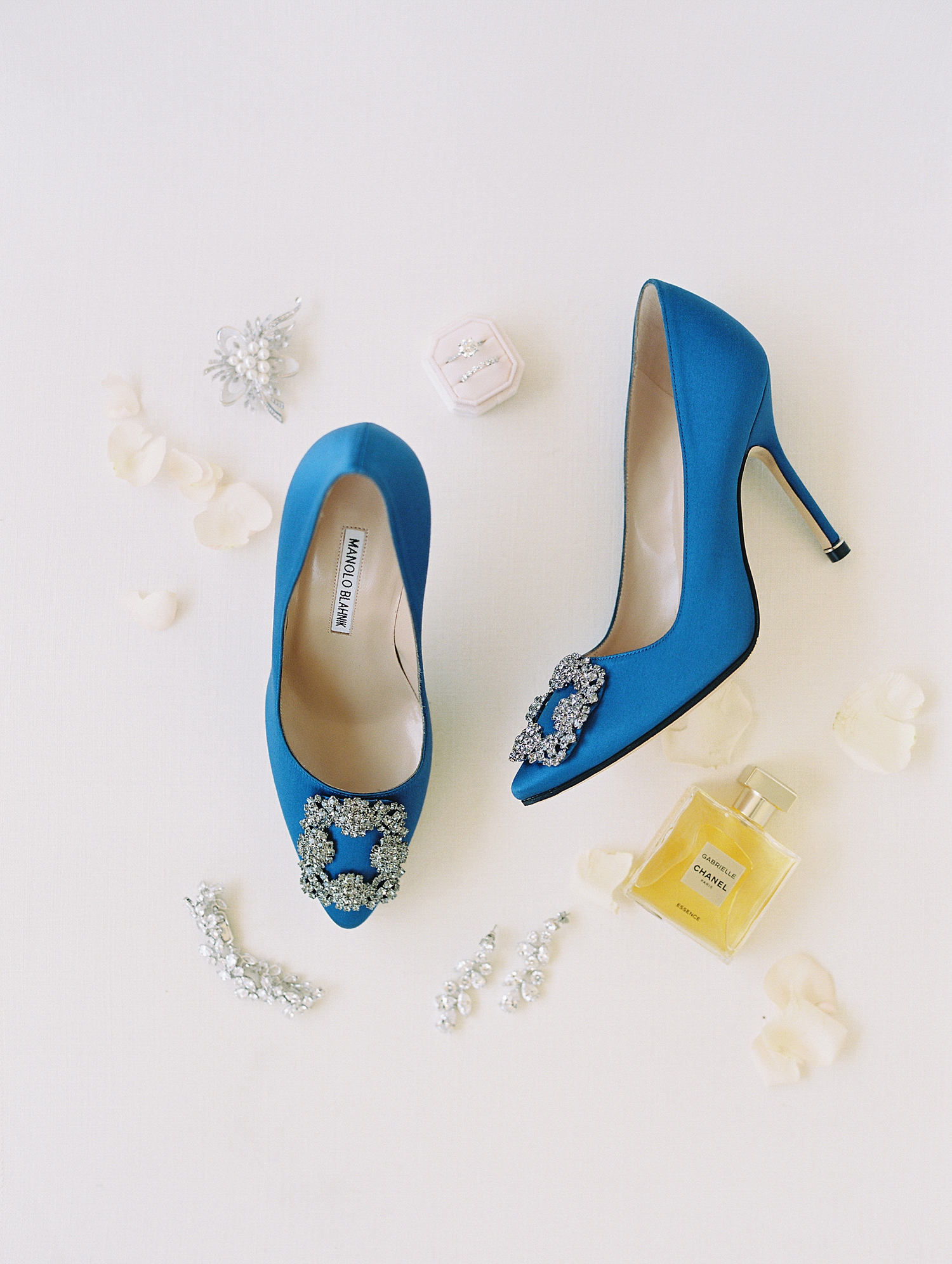 TELL US ABOUT FINDING YOUR WEDDING DRESS/ATTIRE: When I walked into the bridal shop, I was immediately drawn to my dress draped on the store mannequin. Once I tried it on, the soft cascading ruffles of tulle that made up the skirt just gave the dress this dreamy movement that made me feel airy, romantic and beautiful.
DID YOU HAVE ANY DIY ELEMENTS? Not sure if this applies under DIY but one element we wanted to make sure we incorporated within our wedding was a tasteful ode to how we met on "Coffee Meets Bagel". After much brainstorming, we envisioned a beautiful champagne wall lined with champagne flutes that had customised escort cards shaped like everything bagels inserted on their rims. On top of the wall, we had a custom sign made that read "find your bagel."
DESCRIBE YOUR WEDDING FLOWERS: For the floral design, we gravitated towards a neutral and soft colour palette of creams and blushes with light touches of French blue.
FAVOURITE DETAIL OF THE DAY: In lieu of writing our own vows, we decided to exchange hand-written letters to each other. Reading our heartfelt words to one another moments before walking down the aisle created an incredibly private and special memory for the both of us.
WHAT ADVICE WOULD YOU GIVE OUT TO A COUPLE PLANNING THEIR WEDDING? No matter how meticulously you plan out the day to be perfect, the reality will be that some aspects may inevitably go awry but what is important to remember is that you are marrying the love of your life and that fact alone will make that day perfect.
MOST MEMORABLE MOMENT? Our most memorable moment was our first dance. It signified our first time dancing as husband and wife, and we just really had a great time performing it surrounded by our closest family and friends.
WHAT ASPECT OF THE WEDDING WAS THE MOST IMPORTANT TO YOU BOTH? It was incredibly important to us to design our wedding to highlight the unique layout of the NYIT de Seversky mansion. We knew we wanted to utilise the space so that our guests would be able to seamlessly enjoy and explore the mansion throughout the festivities of the day.
ANY OTHER DETAILS THAT HELP TELL THE STORY OF YOUR DAY? One element we would love for people to know is that we actually held a traditional Korean wedding ceremony known as "Paebaek" the night before during our rehearsal dinner. The intimate ceremony itself includes Korean traditions like formal bowing; a tea ceremony; the couple catching chestnuts and dates symboliaing their future children; and a piggyback ride from the groom. Markedly different from a traditional Western wedding, we both loved having the opportunity to honour our shared Korean culture and heritage by being able to partake in this ceremony that is intended to formally welcome Tina into Jason's family and home.
TELL US A LITTLE ABOUT YOUR HONEYMOON: We are planning to go on our honeymoon next summer to Greece and also, hope to squeeze in a few days in Paris afterwards.
A big thank you to Southern California wedding photographer MALLORY DAWN for sharing this stunning engagement shoot with us. Mallory is passionate about shooting weddings and prides herself on making her couples feel comfortable and relaxed in front of the camera, so they can truly enjoy their wedding day! "I would describe my style as bright, soft, romantic and elegant. I can honestly say that I value the relationships I create with my clients. I only photograph a limited number of weddings each year to ensure my couples receive the best service possible. I am so passionate about what I do and I would be honoured to document your love story." If you're a bride looking for a Southern California wedding photographer be sure to check out our vendor guide of which MALLORY DAWN is a valued member. You might also want to check out this Elegant Summer Wedding inspiration at Sunstone Winery.