Wearing a stunning macrame lace gown by DAUGHTERS OF SIMONE, gorgeous bride Hayley celebrated her union to high school sweetheart Luke under swaying palms in Islamorada, Florida in front of their closest family and friends. It was a scene from a television show that inspired them to hold there wedding where it could be a vacation for their guests. With a slight bohemian feel to the day, it was a fun and casual back yard style celebration with the bonus of a beautiful view of the ocean. MICHELA BROOKE PHOTOGRAPHY was there to capture all the festivities.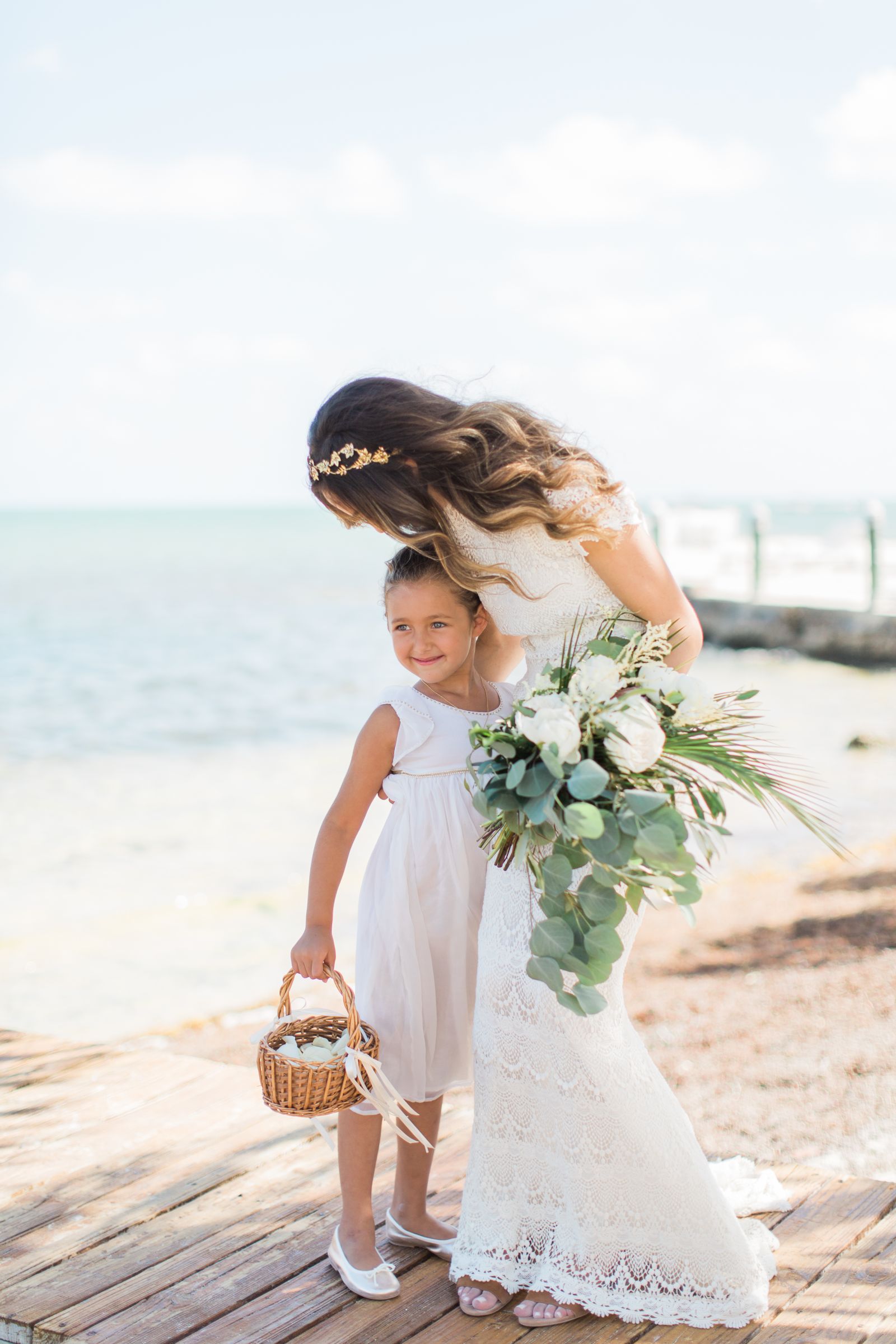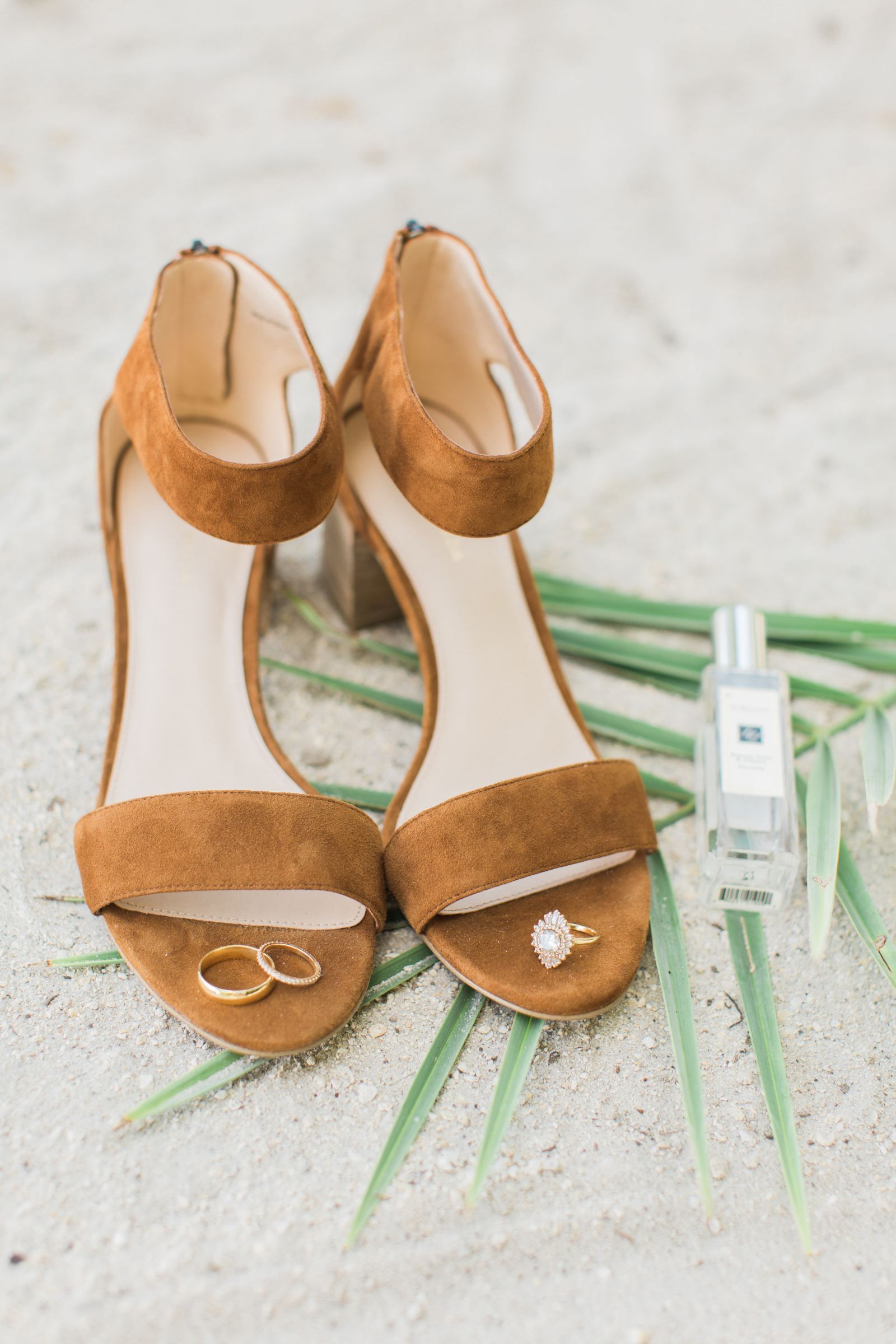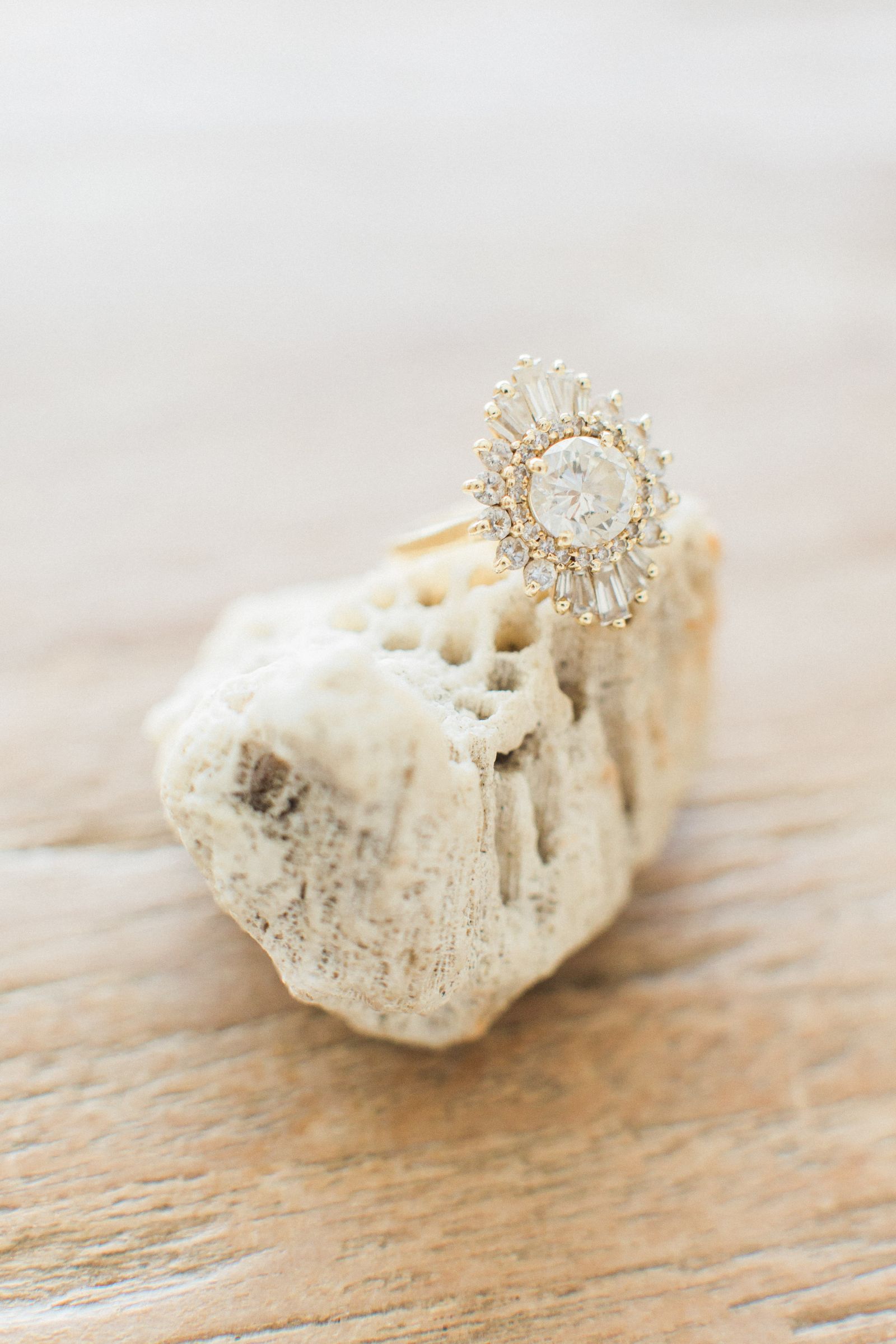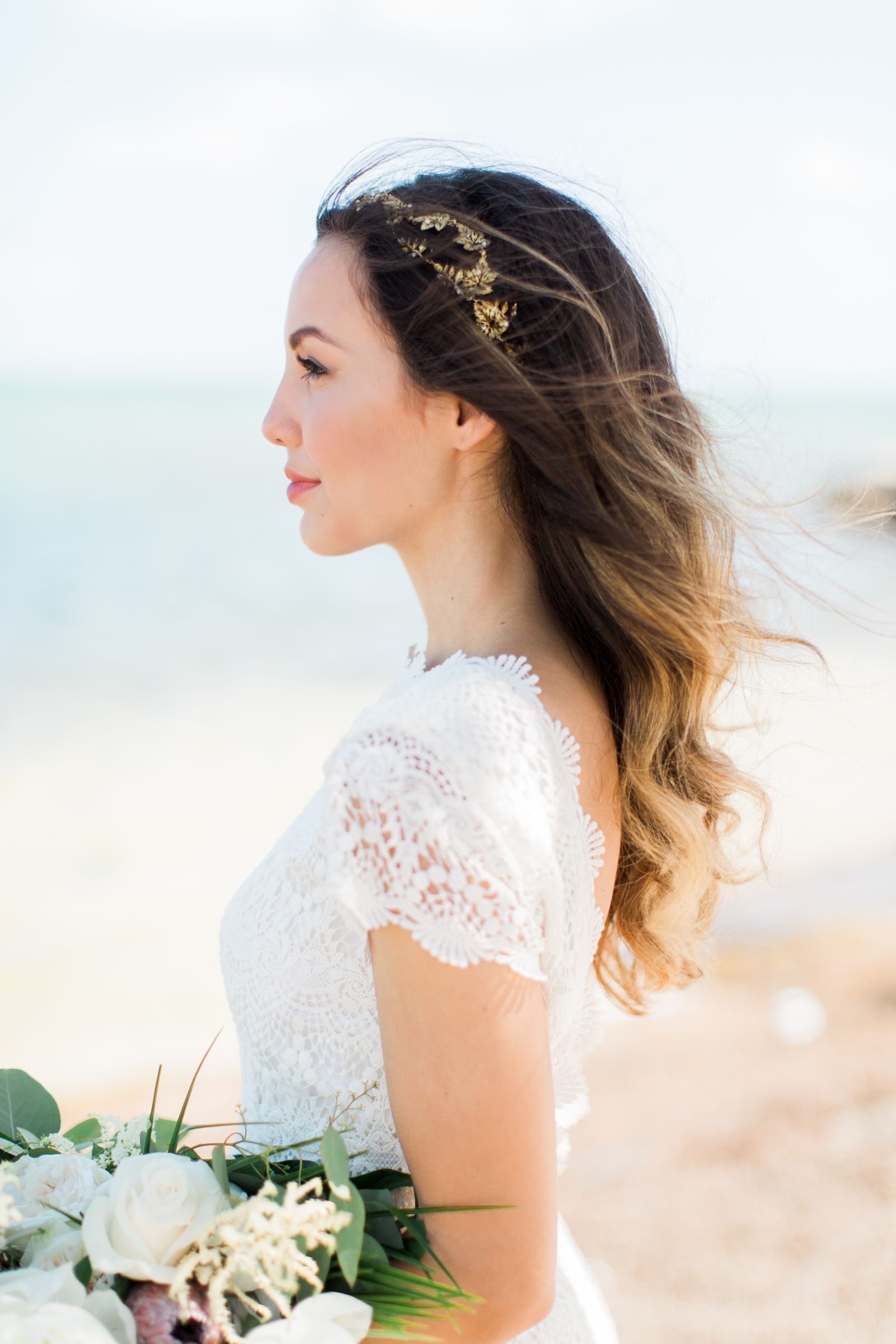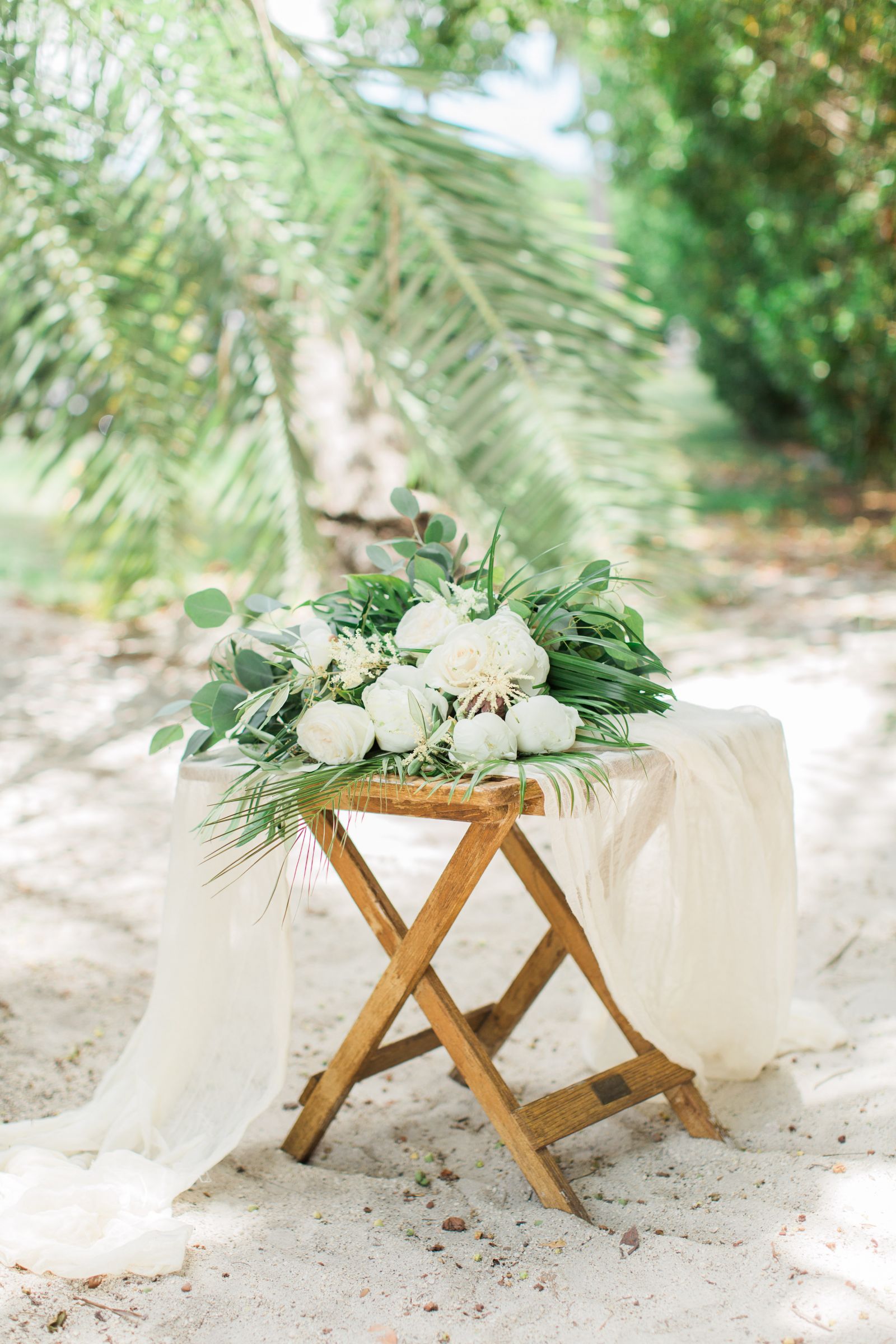 HOW DID YOU MEET? Luke and I met in high school. He needed a prom date. Luke set his sights on me and eventually this track star/ beach bum won the theater girl over. The rest is history.
TELL US ABOUT YOUR PROPOSAL: It was a typical south Florida summer thunderstorm. Luke surprised me with dinner reservations on Palm Beach Island, but kept pushing back the time he "said: our reservation was for. Finally, I asked him since the rain had calmed down to walk on the beach before our mysterious ever changing reservations were to begin. We drove to the island; my heart was beating out of my chest I knew something was up. The storm had just cleared enough for us to walk to the ocean. Here there was candles lining a pathway to a teki torches, heaps of eucalyptus, and champagne. The ocean was a moody blue and green and the sky gray. Luke got down on one knew and the rest is a blur. I said yes with tears in my eyes. His sister, our photographer, brother and sister in law, the decorators, came out of hiding, squealed and celebrated with us. The sky began to light up again. Lighting stuck and the storm began to brew. We had exactly 30 minutes of bliss in a crazy rainy thunderstorm.
TELL US ABOUT FINDING YOUR WEDDING DRESS: After searching for a hip bohemian boutique with whimsical, beachy, flowing gowns I found many beautiful boutiques all located in California and Australia. This did not help me much seeing as to I lived in south Florida the capital of white puffy ball gown wedding dress shops. Searching stockist after stockist I happened upon Lighthouse Bridal "coming soon". "coming soon"? I need this now. I called the boutique and "yes!" got an appointment. The store was magical with macramé hangings, a tufted sofa, pink blush velvet ottoman with beautiful wedding magazines, and two walls full of beautiful gowns all like I had envisioned for my special day. It was a day of firsts. Come to find out I was Light House Bridals first bride, and the first dress I slipped on was a winner! I said yes to a beautiful high neck low back form fitting macramé lace dress by Daughters of Simone.
DID YOU HAVE ANY DIY ELEMENTS? Two were my favorite. I had gold balloons tiied wit fishing wirer to our tent pole that said "CAKE CAKE CAKE." This was our back drop for the wedding cake.
Our wedding favors were also DIY. I bought linen sachet, filled them with trader joes coffee beans and stamped the bags with a stamp that had etched on it "Let Love Brew, Hayley and Luke May 21, 2017"
DESCRIBE YOUR WEDDING FLOWERS: Lots of green, white roses and peonies, a touch of blush, and a king protsea. Bohemian yet simple. Full yet not overflowing.
FAVOURITE DETAIL OF THE DAY: I loved my bridesmaid's dresses. None of them were the same and were all part of a palette that tied into all the décor.
WHAT ADVICE WOULD YOU GIVE OUT TO A COUPLE PLANNING THEIR WEDDING? Over communicate. Over communicate. Over communicate. People want to help so let them. Just remember the do not live inside your brain.
MOST MEMORABLE MOMENT? Luke and I were dancing, laughing, and celebrating with all our friends. We looked at eachother and said, "it's all going so fast I want to enjoy every second of this." Everything was perfect in that moment and I wanted time to stand still.
ANY OTHER DETAILS THAT HELP TELL THE STORY OF YOUR DAY? The house we stayed in was able to host our bridal party the night before. Our family friends catered the wedding day from breakfast to dinner and everything in-between. Our wedding was all around homemade. A little disclaimer, this is not the easiest or even cheapest way to go, however it was beautiful, tasty and authentic made with a lot of love.
TELL US A LITTLE ABOUT YOUR HONEYMOON: After our destination wedding we did a staycation. We stayed at the beautiful property we got married at. We had 2 acres of ocean front property, a 6-bedroom house, an ocean front pool, lots of leftover cake, wine, you name it, and a beautiful island to explore all to ourselves. We paddle boarded from our back yard and saw a sea turtle, manta ray, and lots of cool fishes through the crystal clear water. Our favorite diner spot will always be Morada Bay Beach Cafe. It has the best atmosphere, food drinks, and view of the sunset. We are also guilty of stopping by local bloodline filming spots. We are obsessed. & they were the coolest spots so that was a plus.
IS THERE ANYTHING YOU WOULD CHANGE OR DO DIFFERENTLY? Nothing I loved it all and it was greater than my wildest dreams.