Ashley & William's beautiful wedding at WOODLAND GARDENS BED AND BREAKFAST in Maryland is the perfect example of how to bounce back when things don't quite go to plan! They originally envisioning holding their wedding at a winery on the water which offered them boundless photo opportunities, however a mere five weeks prior to the big day they found out that the owner had stolen money from them (as well as countless other couples) and the venue was shutting down! Naturally they were in complete shock. Having paid in full for both the venue and catering, and with little hope of seeing those funds ago, they were left rather stranded. Ashley tells us, "Although we felt about as low as we could, we had to hustle to find a new venue and a new plan. After calling and visiting a further 60 venues in the matter of a week, we were unsuccessful - everything was booked. Someone saw one of my frantic bride posts on Facebook and reached out giving me the name of a woman who used to run a bed and breakfast as a "just in case". I was at my "just in case" moment. We called, visited and crossed our fingers. She was willing to open her home up to us and all of our vendors said it would work. A small part of the yard looked like a magical forest with huge ivy-covered trees. We instantly fell in love with this ethereal moody style, it went with my dress, our flowers and our photographer's style perfectly."
I am so happy for them that it worked out and they got these beautiful images by KATE ANN PHOTOGRAPHY to remember the day by. And if you're questioning whether to get wedding insurance... this story might just change your mind on that one!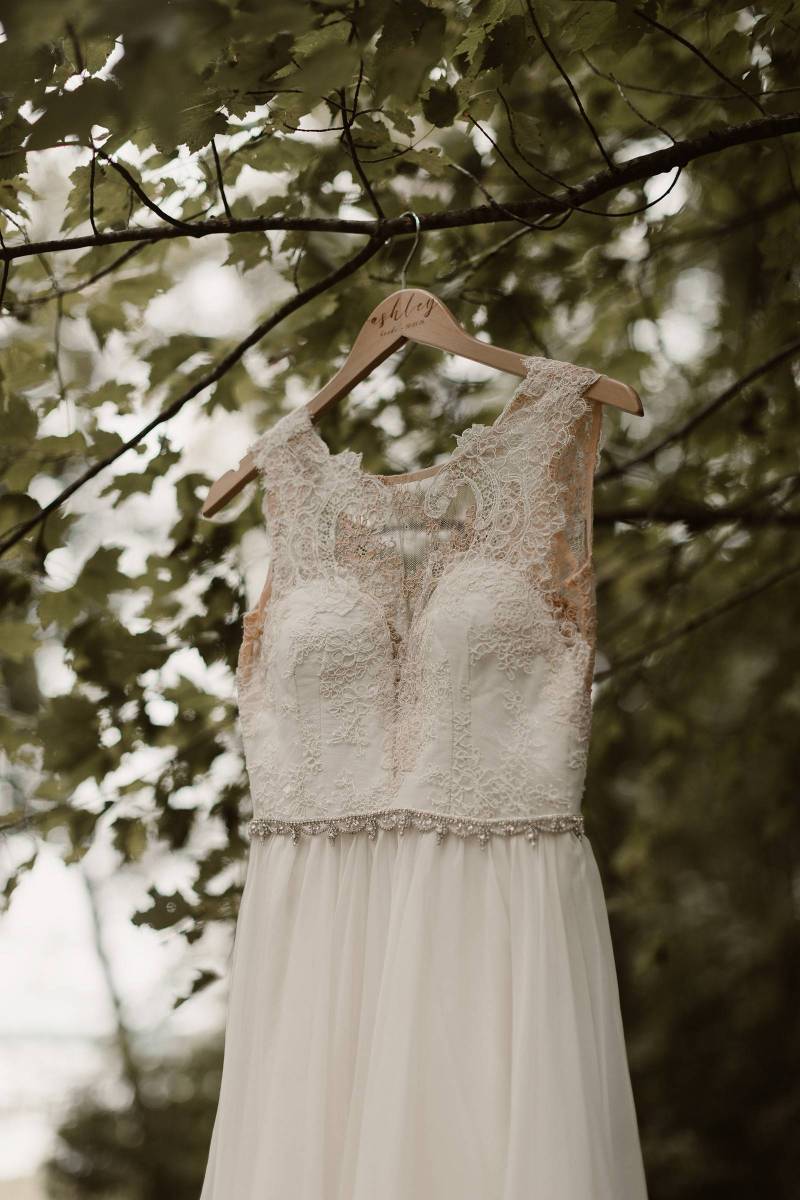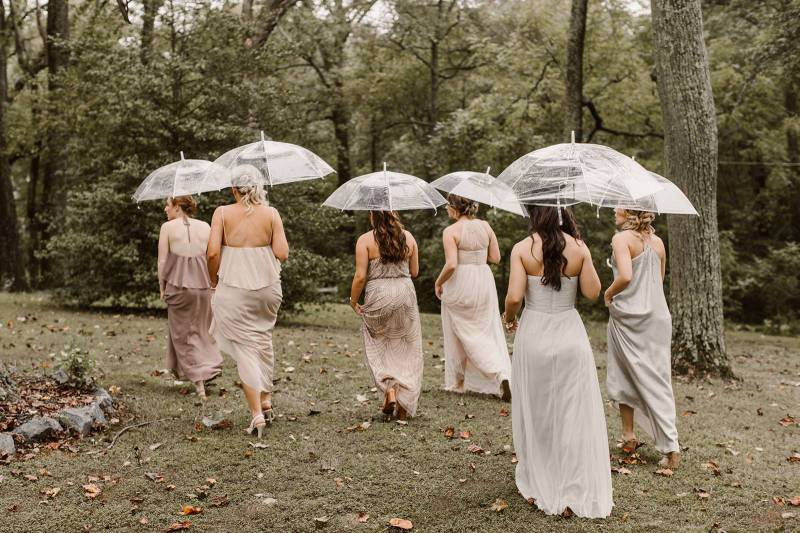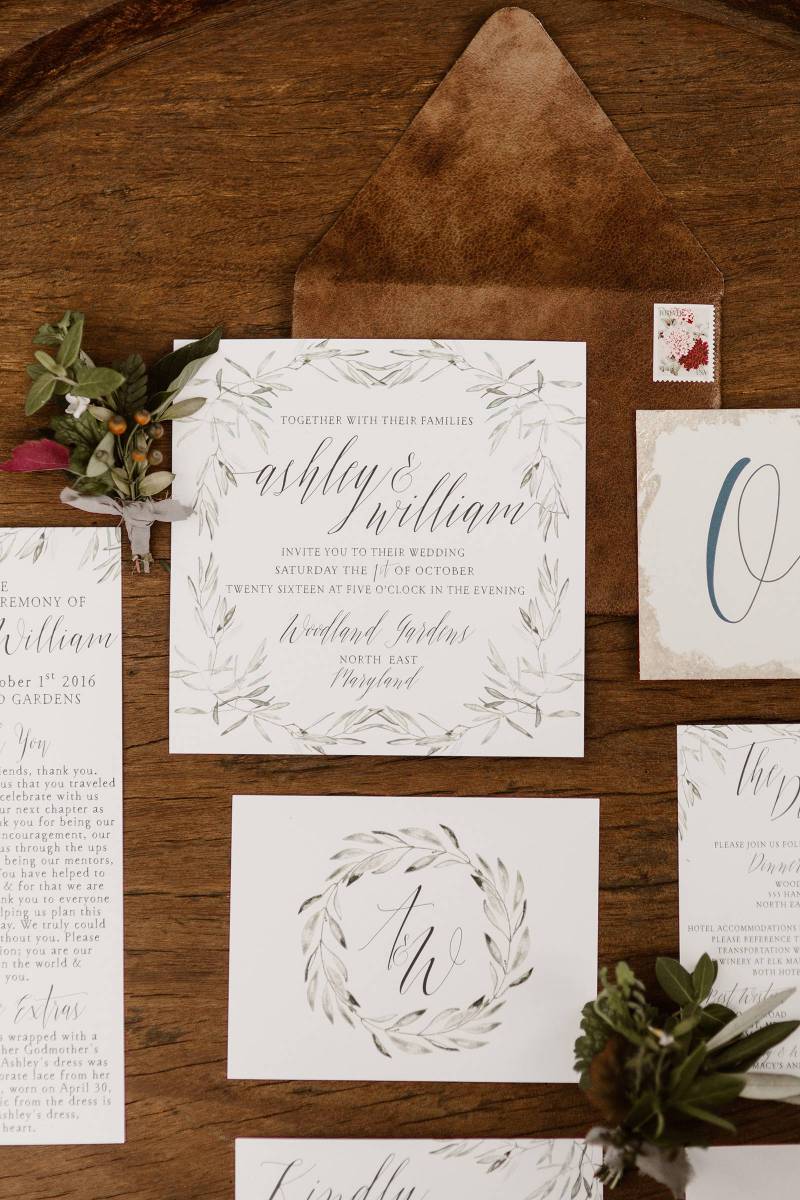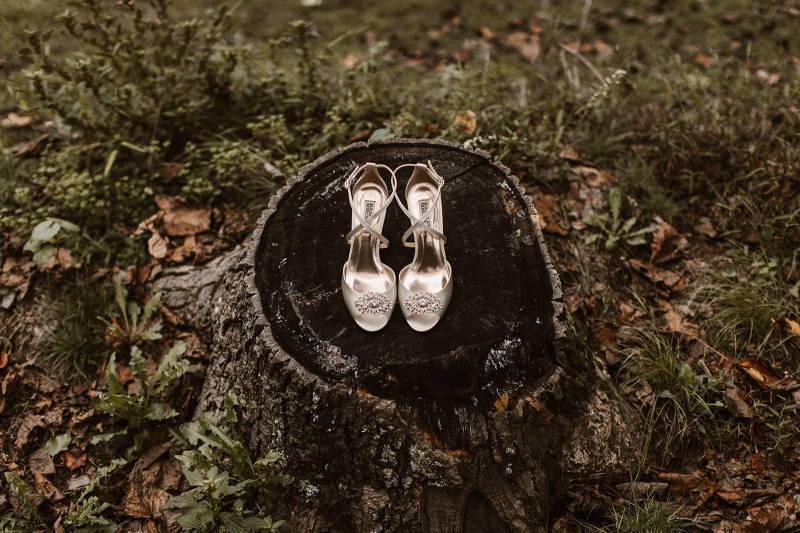 HOW DID YOU MEET? Five years ago, Will remembers meeting Ashley at Stalking Horse, a local Baltimore Bar, one Saturday night, while Ashley only had a photo of a mysterious man on her camera after this 'meeting' (hi, alcohol). A couple of weeks later at a Wine Festival on that same street, Ashley was waiting in line behind a man who strangely resembled the mystery man from her camera those several weekends before. Ashley inquired and to her and his surprise, he was indeed the mystery man. They officially met, had a laugh and went on about their lives.
After encouragement from friends, Ashley decided to search social media through a mutual friend, take a gamble, and "friend" this Will Clayton from the local bar. Will contacted Ashley that night and they began to realise they had a few things in common. By that Thursday, they were going out for drinks and laughing about their chance meeting. Four years later, they were engaged, still having a laugh about that chance meeting and plan to have a lifetime more.
TELL US ABOUT YOUR PROPOSAL: Ashley had spent the previous two months down in Charleston, SC for work and on April 18, 2015 (the day she returned home), Will suggested they meet a few friends for drinks at Barcocina, a local Fells Point bar. Being that it was Ashley's first day back in Baltimore, she was eager to sip libations at home before heading out (much to Ashley's surprise, Will was making these completely non-alcoholic since he wanted Ashley to be fully aware of the most important question he was preparing to ask her in a short few hours).
Will and Ashley walked to Fell's Point and as they neared the restaurant, Will started to stress a little about an unexpected Pirate Festival happening, but Ashley thought nothing of it. Meanwhile, all Will could think about was his proposal full of pirates. And then all of a sudden, on a beautiful sunny day on the water, Will was on one knee asking Ashley to be his wife, and of course, SHE SAID YES!
After Ashley 's head stopped spinning for a minute, Will pointed out that he had hired a photographer to capture the entire moment! And when Ashley thought it couldn't get any better, Will told Ashley there weren't just a few friends waiting inside for them. Will finally let the cat out of the bag that he had been planning a "surprise welcome home party" for Ashley and that thirty of their closest friends and family were waiting inside to celebrate with them! Most of the family and friends actually thought this was a "welcome home party," so Ashley and Will got to pull a surprise on them too when she held up her hand!
ANY DIY ELEMENTS? We went from a venue that was completely all-inclusive to a venue that was completely DIY. We had to order everything piece meal: tent, bathrooms, tables, chairs etc. Doing all of that in a four week period is not easy by any means. We sacrificed some of the other DIY elements we had wanted to include because we were stuck planning the unexpected bigger items. Two of my favourite DIY elements were a DIY photobooth and a 'message in a bottle' guestbook. After how much money we had lost, a photobooth was no longer an option, so I went to Home Goods and got a glass less frame, a bunch of cheap props from Party City and a few selfie sticks. People kept the photos on their phones and uploaded them to instagram using our hashtag. The 'message in a bottle' guestbook was leftover from my bridal shower. I removed the labels from ten wine bottles and ordered custom labels with various years on them and we asked people to write us a note of advice for an anniversary year of their choice. I cant wait to break these open!
DESCRIBE YOUR WEDDING FLOWERS: We wanted to capture timeless elegance meets the rich tones and textures of fall. We chose large blooms with a lot of petals and interesting textures to give each piece a nod to fall and pops of a deep, rich burgundy to elude to the changing seasons. We included lots of trailing honeysuckle vines that gave each piece a very wild, organic look that suited the natural environment perfectly. We chose neutral coloured blooms with subtle tonality differences so that each piece had depth and contrast! The neutral palette and the great textures were carefully chosen to be the perfect combination to make an outdoor woodland wedding perfectly sophisticated and elegant. Genevieve is a genius.
TELL US ABOUT FINDING YOUR WEDDING DRESS: I am extremely picky when it comes to style and this was something I knew was going to be tough. I knew I didn't want something that every other bride had, but other than that I had no idea the style I was going for. I went to roughly six shops, bringing close friends and family (and champagne thinking each time was going to be it) each time. Every time I couldn't pick out exactly what I didn't like about the dresses, but I just knew they weren't for me. Finally I found a dress where I felt like an ethereal princess, but it had a high back, which I knew I didn't love. The shop owner assured me her seamstress could tailor it however I wanted. Naturally, this scared me, but I went for it. I had my mom, MOH and two of my bridesmaids there when I said YES! I ended up completely opening up the back and adding lace from my mother's wedding dress all along the outline, as well as in the shape of a heart sewn in under my heart. It was perfect.
Noteworthy: The week of the wedding this beautiful dress was hanging in our basement and we came home from a weekend trip to find that the water heater busted. The basement was flooded and my gorgeous dress was soaked from the shins down. I was in complete shock because at the time we didn't know if it was murky rain water, which doesn't complement a white dress. My planner ran to my rescue and helped me find a last minute dry cleaner and got it back to us in time for us to leave for the venue in two days. It was still perfect.
FAVOURITE DETAIL OF THE DAY: It's hard to pick just one. With the original venue, three lawn games were included and this was very exciting to us because we are huge lawn game people. And obviously when we lost the venue, we lost those too. With the money and time constraints, we knew we didn't have time to purchase our own. Little did we know, some of our closest family and friends went hard to work and made us a life size connect four, giant jenga and corn hole boards. We had no idea until the week of the wedding when they all presented them to us and I'm not going to lie the emotions got me. The games were a big part of our cocktail hour and they were all beautiful! It may have been different had the whole fiasco not happened with our venue, but this one had so much meaning and heart in it that it ended up being my favourite.
WHAT ADVICE WOULD YOU GIVE OUT TO A COUPLE PLANNING THEIR WEDDING? Absolutely get wedding insurance. We aren't the type of couple who ever gets any of those add-on insurances when it comes to trips or events and we didn't originally get it for our wedding either. We ended up getting it last minute when the staff at our original venue started acting very shady. We didn't even know what it would cover, we just thought it might be a good idea. Once the owner called it off, I immediately submitted a claim, not really having much to go on and was pretty sure there was no way anything would come of it. We cut costs where we could to re-plan the wedding since we were out so much money. Miraculously, the week of our wedding after the re-planning was mostly complete, we got a phone call that our claim was approved and we were getting back the $28K the venue owner had stolen from us. I stopped where I was and had to sit down because I was in absolute shock and kind of still am today. I will pass on this piece of advice until I die.
MOST MEMORABLE MOMENT? The moment we were sharing our vows. Originally we weren't going to write our own, but then when everything happened with the venue, we felt so helpless that we decided this is the one thing we could control, so we did it. When we both read our vows to each other, in our eyes, it was magical. I stood there for a moment, looked around and realised it was happening the exact way it was supposed to. It was us realising that if we were able to get through the last five weeks together and make it to this alter that this thing is the real deal and we can make it through anything. There were times when we didn't know if we would even have a wedding with family and friends any longer. And to be there with each other doing what we set out to do was truly memorable.
ANY OTHER DETAILS THAT HELP TELL THE STORY OF YOUR DAY? I'm a blogger (@neverbeenso) and aesthetics are truly important to me. When everything happened with the venue, I saw us losing this gorgeous space and all of the beautiful pieces that came with it and knowing we didn't have a budget to afford anything else to make it nearly as nice, killed me inside. The two extremely generous owners of White Glove Rentals came to our rescue and provided the pieces to make this wedding truly sparkle at a heavy discount. These pieces brought everything together like a dream and made us not think once about what we could have had at the original venue. Along with White Glove, all of our vendors came together and went above and beyond what they were asked to help a couple in need. It was truly eye opening. When everything happened with the venue, I had lost my faith in people. This alone proved that there really are genuine people in this world. I can't thank them all enough for that.
IS THERE ANYTHING YOU WOULD CHANGE OR DO DIFFERENTLY? In the moment, I felt like everything was exactly the way it was supposed to be and looking back I still feel that way. We changed enough right before the wedding, I wouldn't change a thing now.