After travelling to Italy and falling in love with the countryside, the culture and the food, Valerie and Francesco wanted to bring a a little slice of the happiness they felt there to their wedding day, and to virtually transport their friends to distant shores for the experience. Southern California wedding photographer XO & FETTI PHOTOGRAPHY captured their beautiful day at CASI CIELO VINEYARDS in Camarillo, California.
WHY DID YOU CHOOSE THIS LOCATION? Casi Cielo Vineyards was the only venue that checked all of the boxes – including being outdoors! That was very important to us and because the venue was in a secluded area, it felt very intimate.
HOW DID YOU MEET? We met in high school towards the end of my freshman year during Francesco's basketball game. We both played basketball at the time and one night, I decided to stay after school to watch the home games. I was talking to a friend in the stands when I heard Francesco fall and hit his head on the ground. I turned around and although it was not "love at first sight", I felt this strong connection with him and wanted to make sure he was okay! Upon his return from seeing the school nurse for a concussion, I saw him walk up to our gym's balcony above the basketball court. I headed up there to sit next to him. Not sure where I got the courage - I was/am a very shy person! He made it easy though. I commented on his bright green shoe laces, we added each other on MySpace, and well, here we are 13 years later.
TELL US ABOUT YOUR PROPOSAL: Since we've met, we have always shared similar interests. We loved playing basketball in high school, studied accounting in college, and now we both enjoy playing golf. Our favourite part is traveling to different places to play different courses. With that said, Francesco proposed on the 18th hole of a golf course in Palm Springs. It was so special! I had absolutely no idea – I thought we were there to celebrate Valentine's Day and my birthday. What made it extra special and more memorable was having my family there to celebrate with us afterwards. He knew how much my family means to me.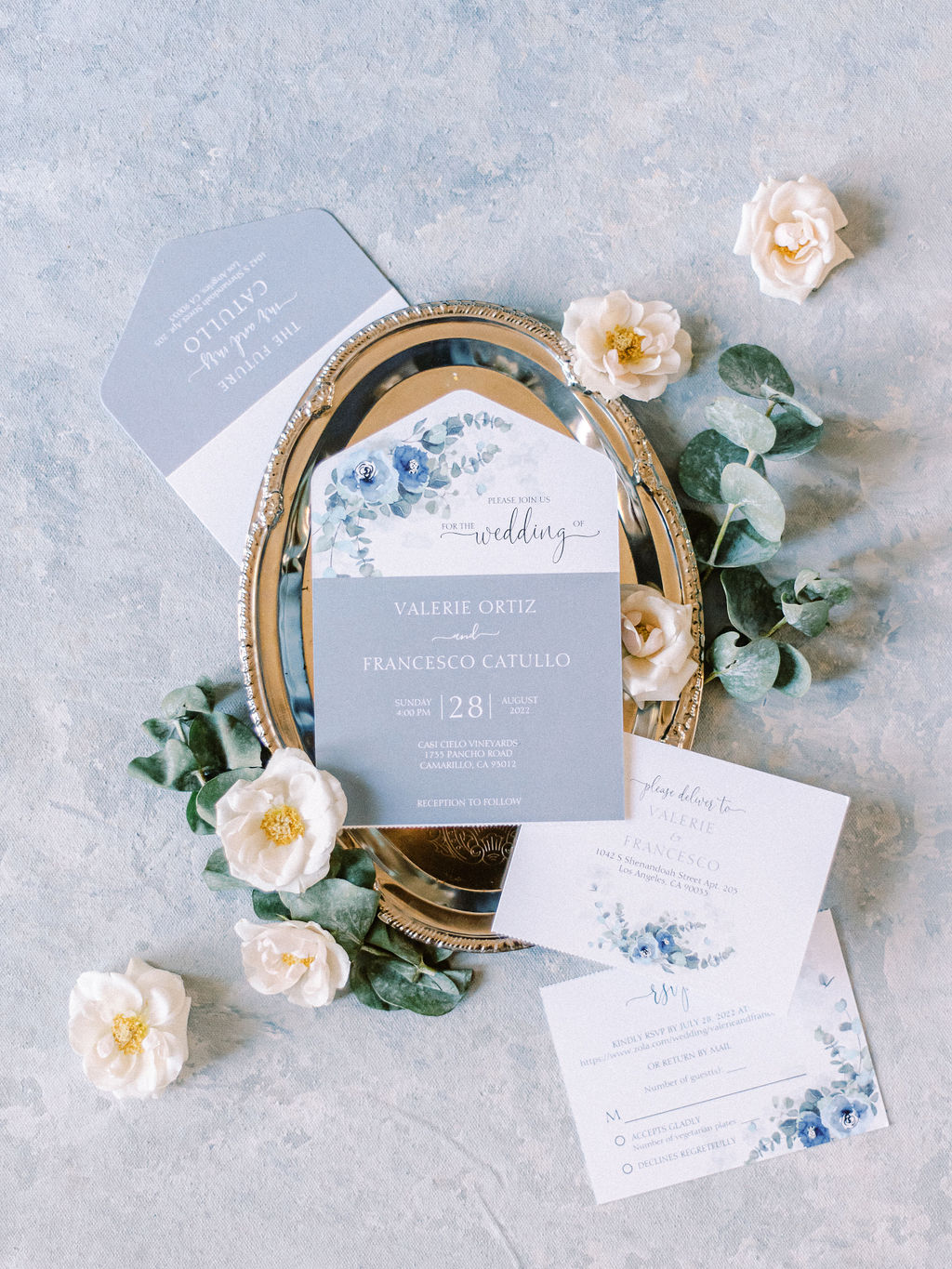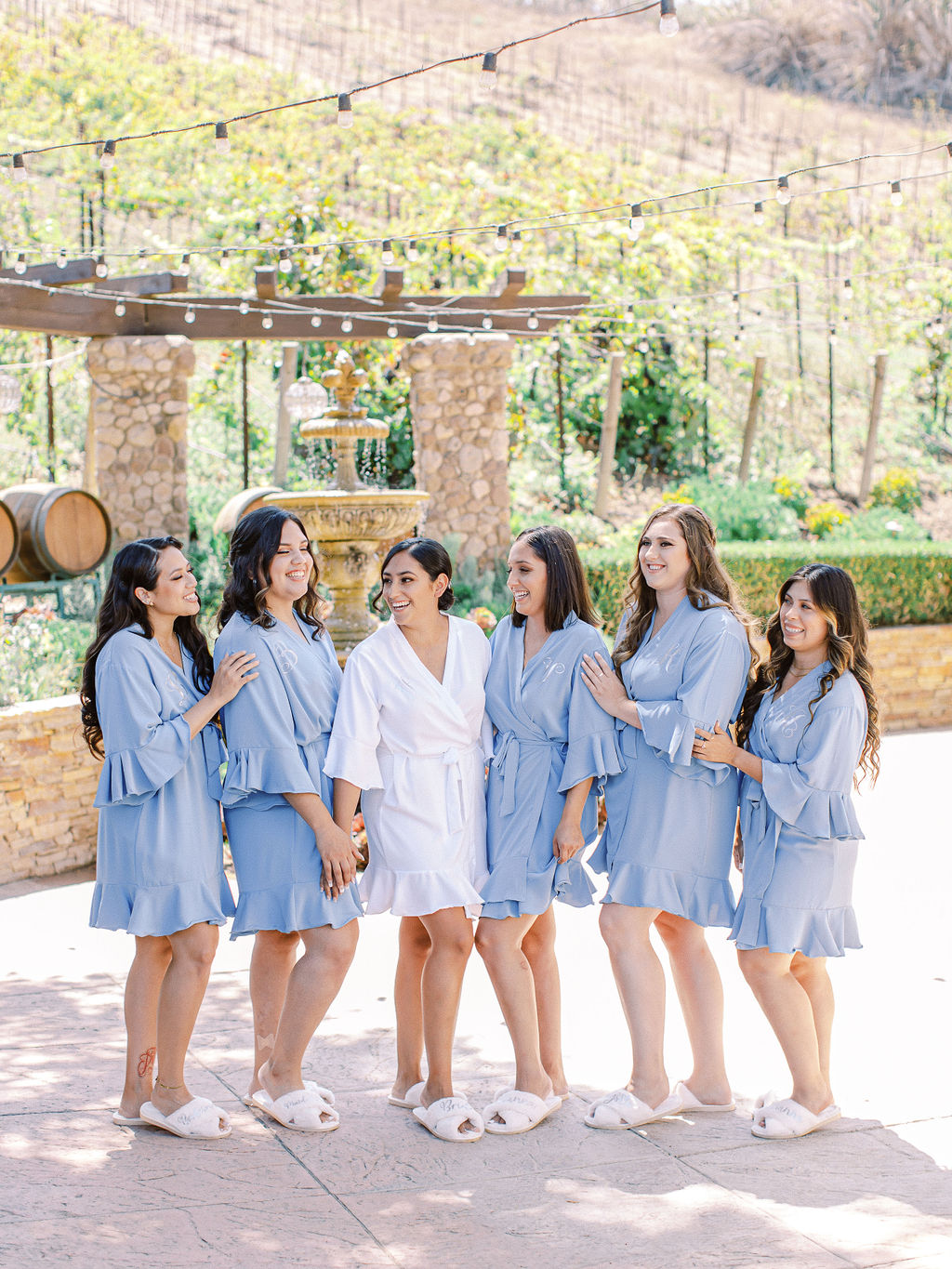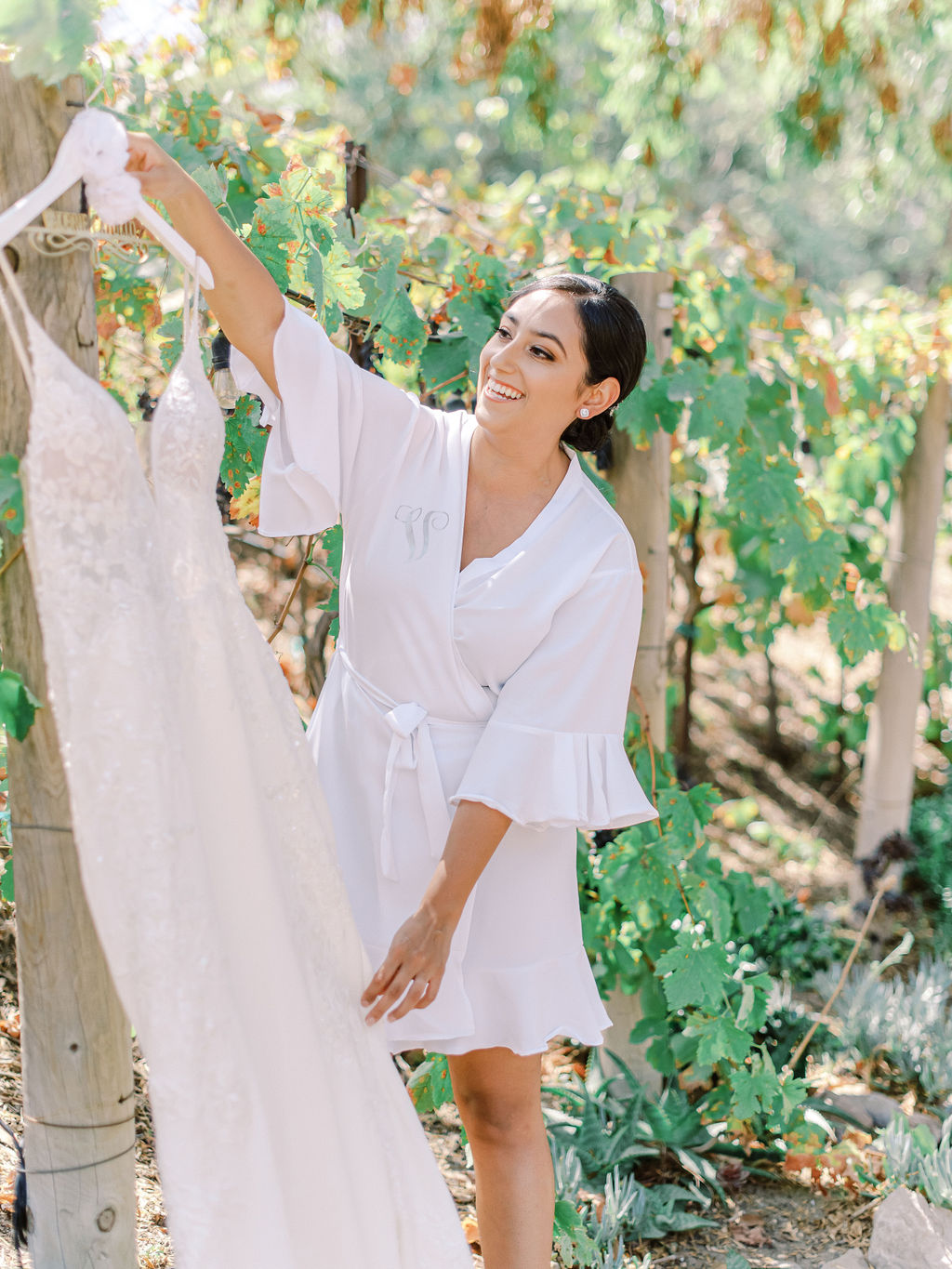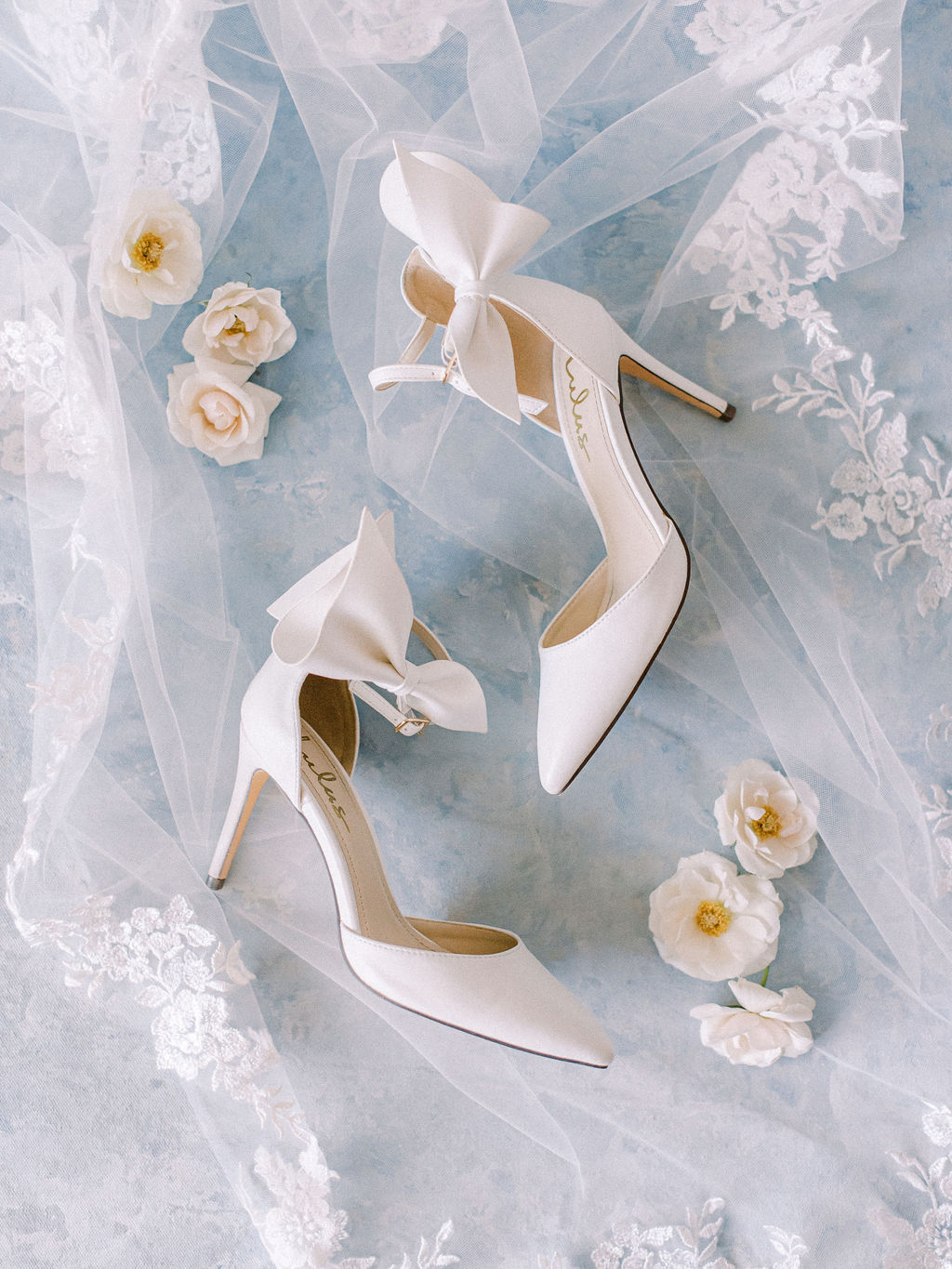 TELL US ABOUT FINDING YOUR WEDDING DRESS/ATTIRE: I started the process by visiting local boutiques in Los Angeles, however, I felt incomplete. Something was missing – or I should say someone! I wanted my grandmother to be a part of the experience, so I googled boutiques closer to her home and was lucky to have found my dress with her and at our first stop! I wanted to feel sexy and classy and felt that at Arlet Bridal Couture.
DID YOU HAVE ANY DIY ELEMENTS? We love DIY projects and found ourselves doing a lot of the stationery ourselves including the program fans for the ceremony, table numbers, menus, place cards, seating chart, etc. Valerie's mom was gifted a Cricut machine for Christmas, which we were all excited to use. We were able to personalise the bridal party favours and much more! We still felt crafty towards the end, so we decided to pot succulents for our guests to inspire them to "Let Love Grow".
DESCRIBE YOUR WEDDING FLOWERS: We love blue and most of the vendors we spoke to had expressed their concern with finding blue flowers as it was not an easy colour to find. We were told artificial blue flowers would be mixed in. However, when we met with Nahid at Gilded Blossoms Bridal Design, she assured us that our floral décor would be possible. Her work was stunning!! We were so happy with the flower arrangements throughout the entire venue.
FAVOURITE DETAIL OF THE DAY: It was so special to be able to have our dog be our ring bearer. We can't imagine life without him!
WHAT ADVICE WOULD YOU GIVE OUT TO A COUPLE PLANNING THEIR WEDDING? I know this piece of advice is always easier said than done, but try to be present throughout the process and take it all in. It really does go by fast! Also, know that things may not go as planned, and that's okay! Don't let those moments take you away from the beautiful moments, especially on your special day.
MOST MEMORABLE MOMENT? Having a minute to ourselves right after the ceremony. We looked at each other and smiled. Everything felt right – like that decision was the best and easiest decision we've made. We were in that moment together - appreciating everything in our lives and being excited for what comes next.
WHAT ASPECT OF THE WEDDING WAS THE MOST IMPORTANT TO YOU BOTH? The most important aspect was having our grandparents present to witness our love and union.
TELL US A LITTLE ABOUT YOUR HONEYMOON: We are going to Italy and Greece this summer! Our first stop is Naples, Italy and then we will be making our way to the Greek islands, Ios and Crete.
A big thank you to Southern California wedding photographer XO & FETTI PHOTOGRAPHY for sharing this gorgeous wedding with us. Owner Vanessa documents love for the wildly romantic, believers in magic, soulmates and true love. "Combining fine art styles with a documentary approach, we are dedicated to expertly capturing the unforgettable moments of your unique fairytale. XO & FETTI believes in building relaxed, comfortable photography sessions for every client so that each shot is authentic and natural. We do this by valuing the individuality of our clients, getting to know both their personalities and their story before the camera ever steps into the picture." Head over to their portfolio to see more of their work.