Growing up in Arizona, gorgeous bride Taylor wanted something different than your typical desert backdrop for her wedding to Kyle. "It was also important to me to find a venue that had a boutique feel to it. The ROYAL PALMS in Scottsdale, Arizona is unlike any other property and has so much of its own character and charm. I love the history behind the resort and intimacy of it. There was no competition for us when it came to the venue."
Beautifully captured by Arizona wedding photographer ELYSE HALL the style of the wedding was classically modern with a fashion forward focus. It incorporated rich blue tones balanced with neutrals and gold accents. "I wasn't afraid of using colour in our wedding. It ended up being a perfect fit for our venue."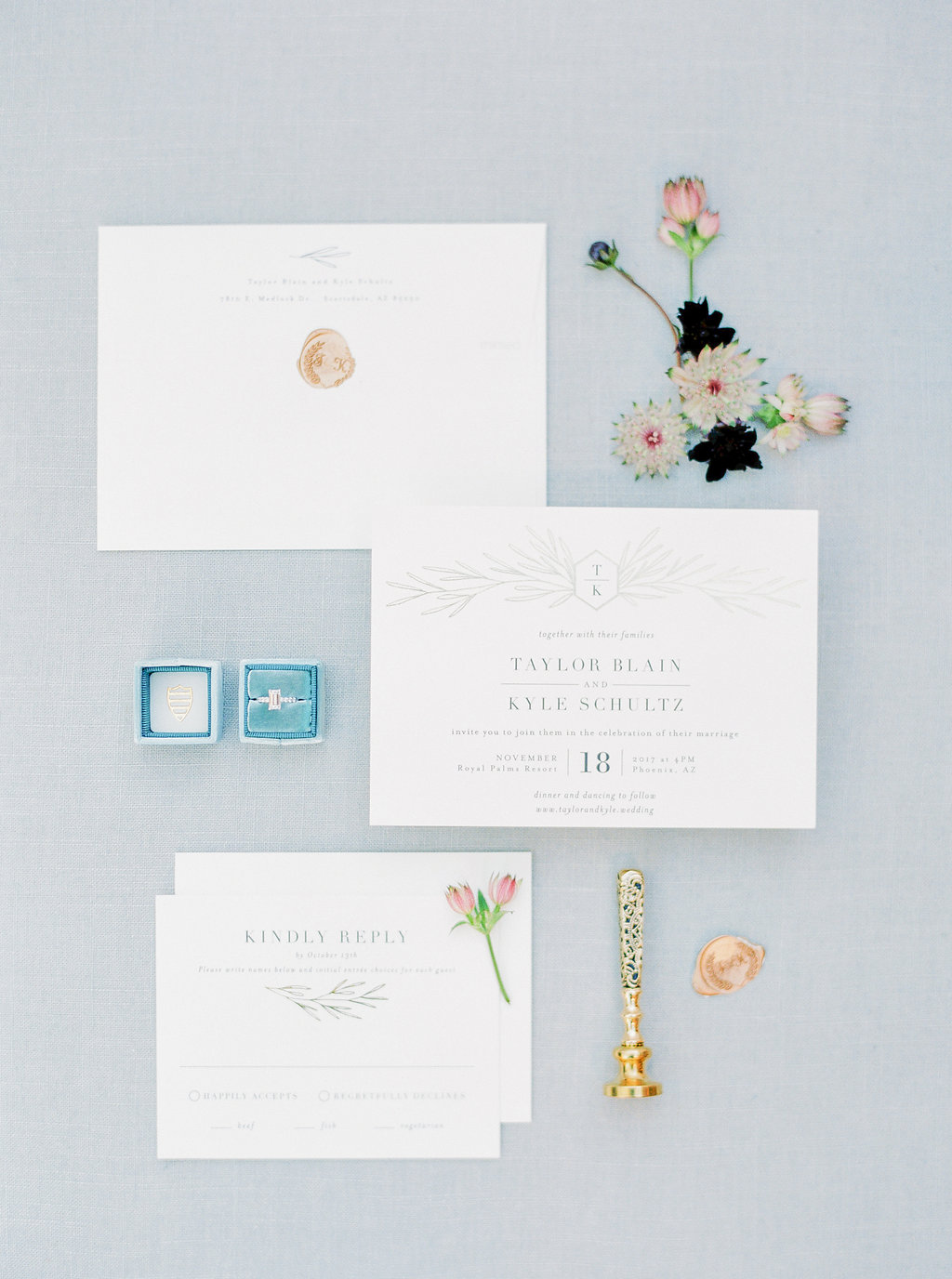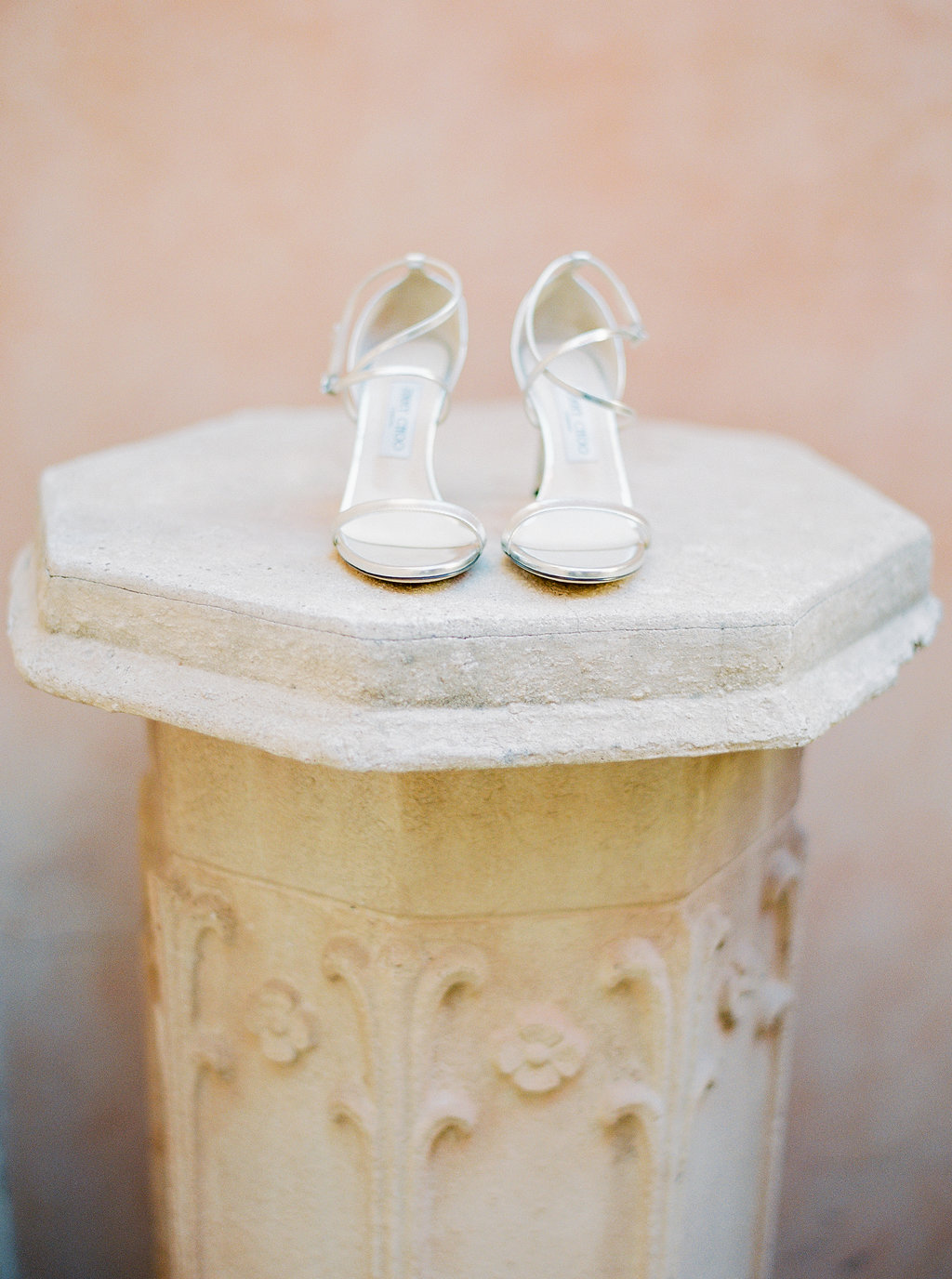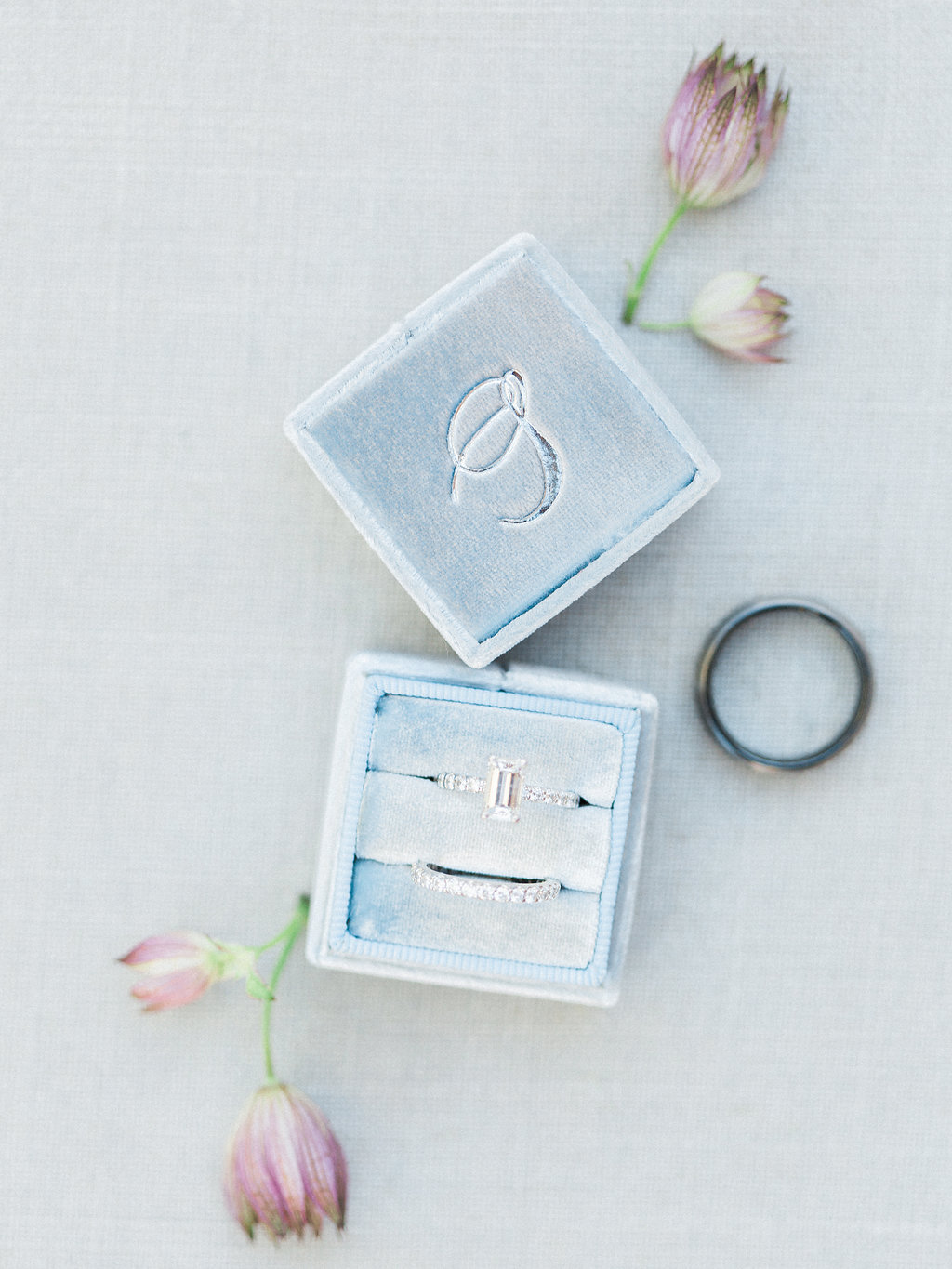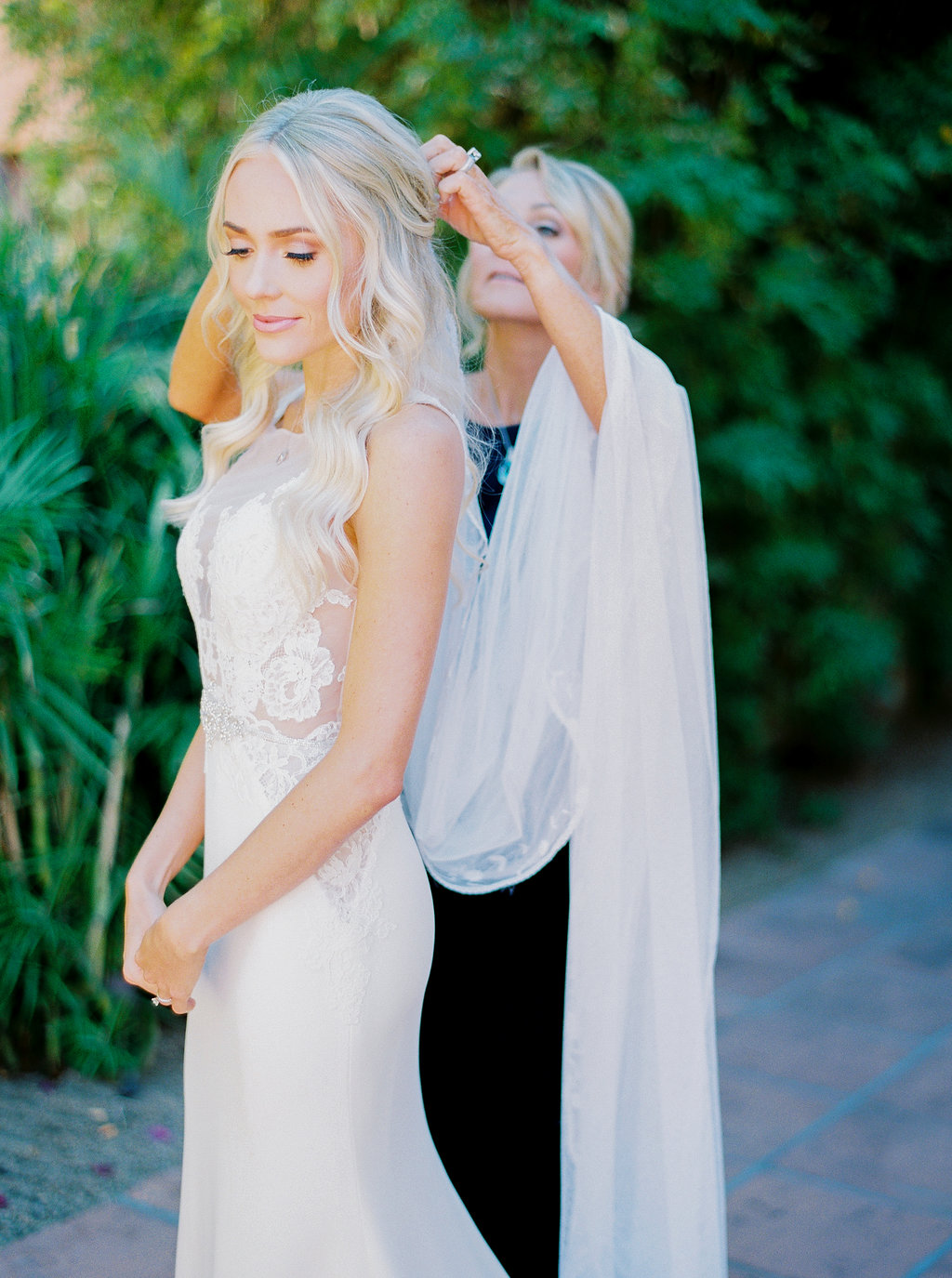 HOW DID YOU MEET? Kyle and I met at a restaurant here in Scottsdale. I was having brunch with several of my girlfriends on Labor Day Weekend. We ended up bumping into each other several times throughout the day and were immediately drawn to one another. He ended up getting my phone number and we went on our first date the following weekend. The rest is history!
TELL US ABOUT YOUR PROPOSAL: Kyle proposed on a weekend getaway to Coronado, California. It has always been a special place for us. We had been on many trips before to stay at my families home on the island. We had planned to go for the weekend with a group of friends to celebrate his birthday. Needless to say, because we were there to celebrate him I was not expecting a proposal. One of our favourite things to do when we visit Coronado is to go on a bike ride to get coffee at the local coffee cart and then walk on the beach to see the sun rise. The morning of the proposal we did just that. As we were walking on the beach he got down on one knee and proposed. It was the most perfect proposal I could have imagined.
TELL US ABOUT FINDING YOUR WEDDING DRESS: When it came to finding my wedding dress. I knew I wanted something that would be unique. I didn't want a dress that looked like every other dress out there. My goal was to find a dress that was fashion forward and modern while still being timeless and classic. I ended up finding my dress at Nordstrom Bridal. They had the most beautiful gowns to try on and more options than I had found at some of the boutiques I had visited. I ended up finding a beautiful Lazaro gown that really encompassed everything I wanted. It was simple, elegant, modern, and classic all at the same time.
DESCRIBE YOUR WEDDING FLOWERS: We wanted florals that were elegant, romantic and modern. It was important to us to have a mixture of darker fall colours blended with neutrals.

FAVOURITE DETAIL OF THE DAY: My favourite detail is that I was able to wear my great grandmother's veil the day of the wedding. I was the fourth generation to wear this veil and it was so special to carry on that tradition.
WHAT ADVICE WOULD YOU GIVE OUT TO A COUPLE PLANNING THEIR WEDDING? Have fun with it! It can feel stressful at times but I think it's important to just enjoy the process. It's such a fun time and it will be over before you know it. Just live in the moment and enjoy it.
MOST MEMORABLE MOMENT? The most memorable moment for me was our first look. There was so much build up and anticipation before that moment. We had both been looking forward to finally seeing one another all day. I had been all butterflies until we finally saw each other and after that it was like everything just fell into place.
TELL US A LITTLE ABOUT YOUR HONEYMOON: After the wedding we went to St. Lucia in the Caribbean. We stayed at an all inclusive resort and had the most amazing trip! It was so fun to spend a week together finally being a married couple.
IS THERE ANYTHING YOU WOULD CHANGE OR DO DIFFERENTLY? It sounds cliché, but there is truly nothing that I would change about our experience. We had the most amazing vendors that gave us so much support and the day of the wedding was truly magical. The Wedding day ran so smoothly and Kyle and I both felt so loved and supported by all our friends and family. It really was the best day!
Thanks to Arizona wedding photographer ELYSE HALL for sharing this beautiful wedding with us. With a unique style, Elyse's passion for amazing images comes through every time she picks up a camera and we're delighted to have her as part of the MAGNOLIA ROUGE VENDOR GUIDE. You should also check out this Elegant Arizona wedding with the bridal party all wearing white.