A Nordic Tipi tent, personalised menus etched in wood, bridesmaids in divine fall tones and a the cutest little beer burros (donkeys) carrying cold drinks for the guests - we're head over heels for this beautiful wedding captured by Colorado Wedding Photographer SARAH PORTER. This outdoor loving couple wanted a romantic day with an abundance of flowers and candles but to also make the most of the mountain scenery and vibe around them.
As the recurring story from 2020 goes, the pandemic changed Amanda & Brent's wedding day plans not once, but twice. When the resort they were supposed to get married at closed a few months before their wedding day, they pivoted and found themselves pivoting again. Their final pivot ended up making a frustrating and discouraging process into a dream wedding that allowed them to get married at a location and venue the bride thought would never be attainable.
Nestled among towering pines and majestic mountains, THE RITZ-CARLTON, BACHELOR GULCH offers the perfect environment for a wedding. The traditional mountain lodge set the tone for the vision created by the couple, which was executed by TABLE 6 PRODUCTIONS. Three Nordic Tipi Tents were joined together to give the guests an out of the ordinary tented experience. Having a tented space allowed for a more open air environment for guests as they could effortlessly float from the tented space to the outdoors.
The day was filled with beautiful peak fall colours. The floral design by KEEP FLORAL was natural and fit the scene of the day perfectly. The bride is a nurse, so the safety and health of their guests was paramount. Protective masks and sanitiser were provided, and the safety guidelines for Eagle County were followed closely. The day had a tone of ease, yet still held refinement.
WHY DID YOU CHOOSE THIS LOCATION? Weekend mountain getaways are so special to us, we feel happiest when we're spending time together enjoying the scenery and all the activities Colorado has to offer like skiing and hiking. We got engaged hiking Mount Quandary and initially planned our wedding in Breckenridge, but with all the changes in 2020, we pivoted our venue to Beaver Creek and actually feel it turned out for the better. Beaver Creek in the fall with all of the Aspen Trees is truly stunning and our smaller mountain wedding felt so much more special to us than anything we could have imagined.
HOW DID YOU MEET? We met on a dating app, The League. Our first date was at a coffee shop where we met and talked for four hours before realising how much time had gone by.
TELL US ABOUT YOUR PROPOSAL: Brent had never hiked a 14er before, so we planned to hike Mount Quandary one Saturday followed by lunch in Breckenridge. I should have known something was going on because he woke us up an hour before our alarms to leave and stopped four times on the drive up to use the restroom - he was so nervous! Shortly after we started the hike, he led me off the main path to a small clearing and when I looked up he was down on one knee with the ring. I was completely surprised! We never finished the hike, but instead called our families and headed to T-bar in Breckenridge to celebrate.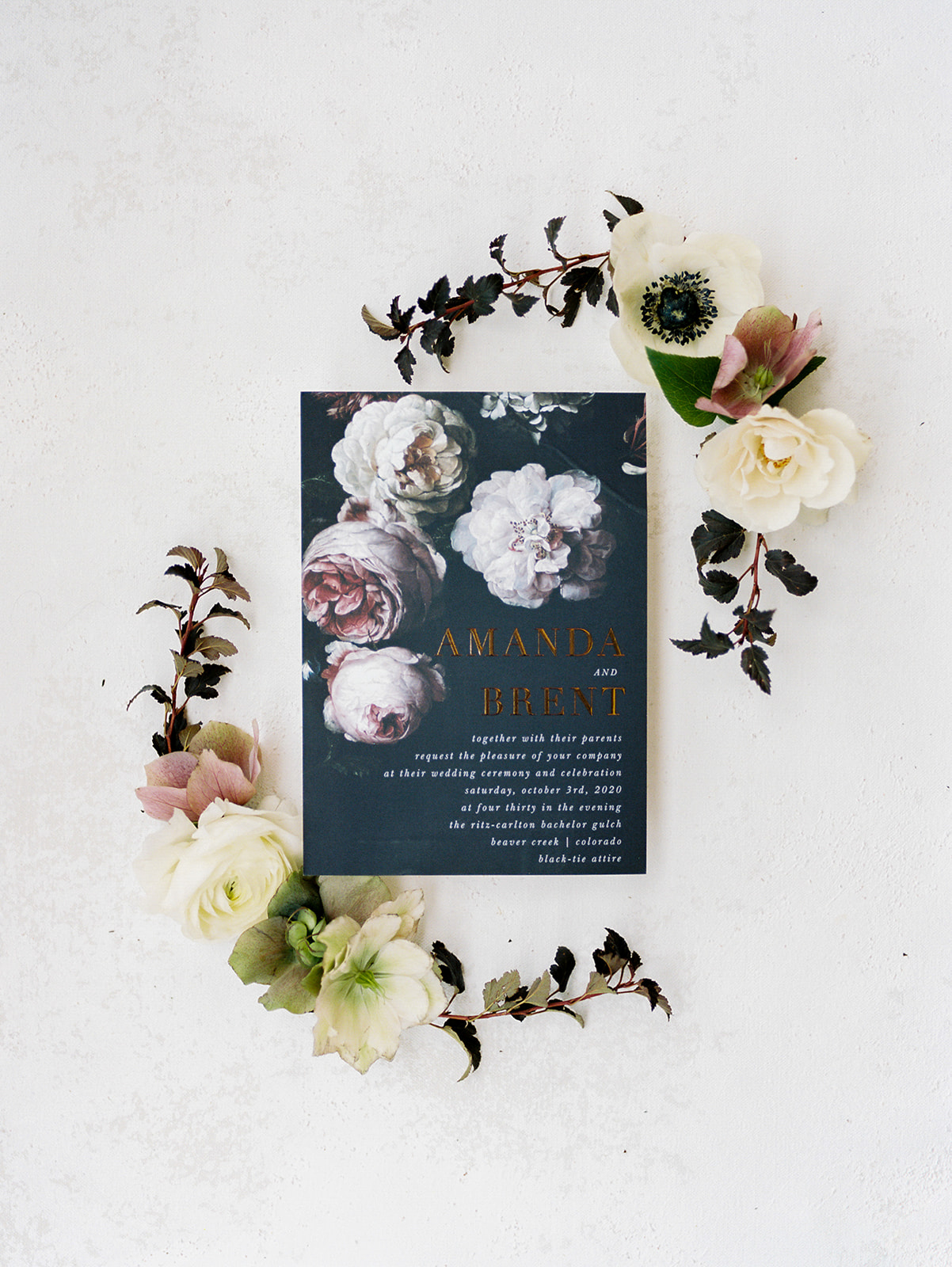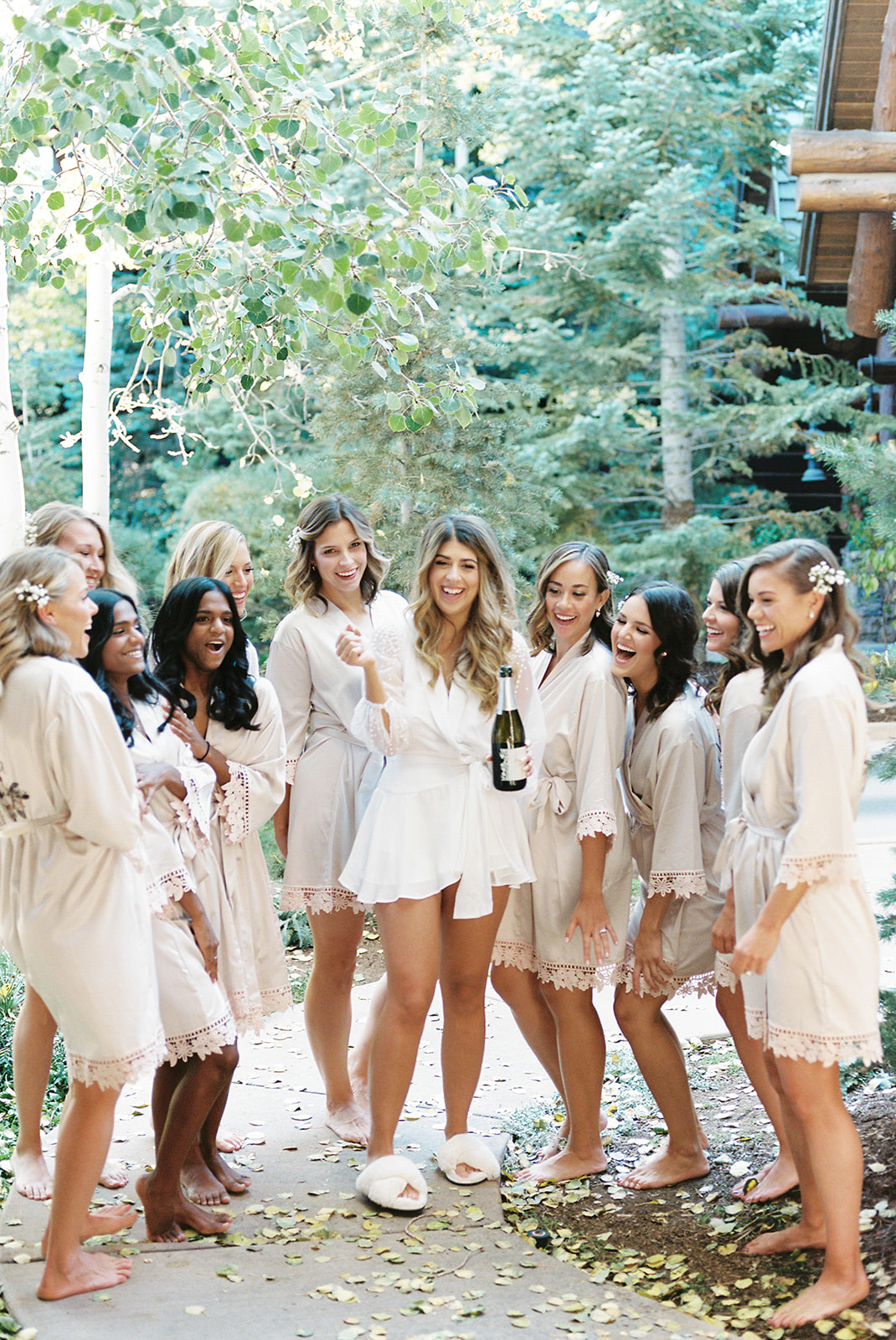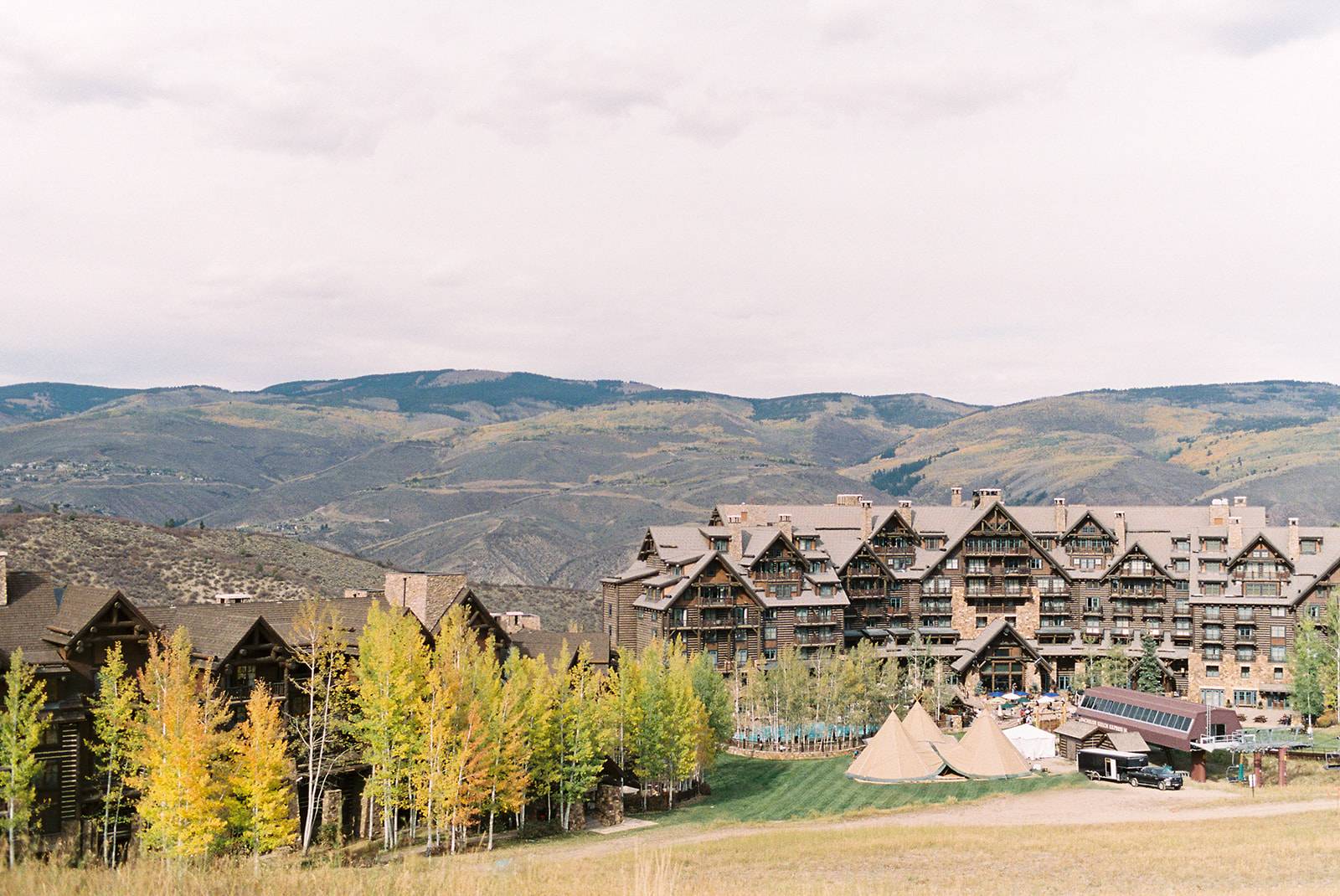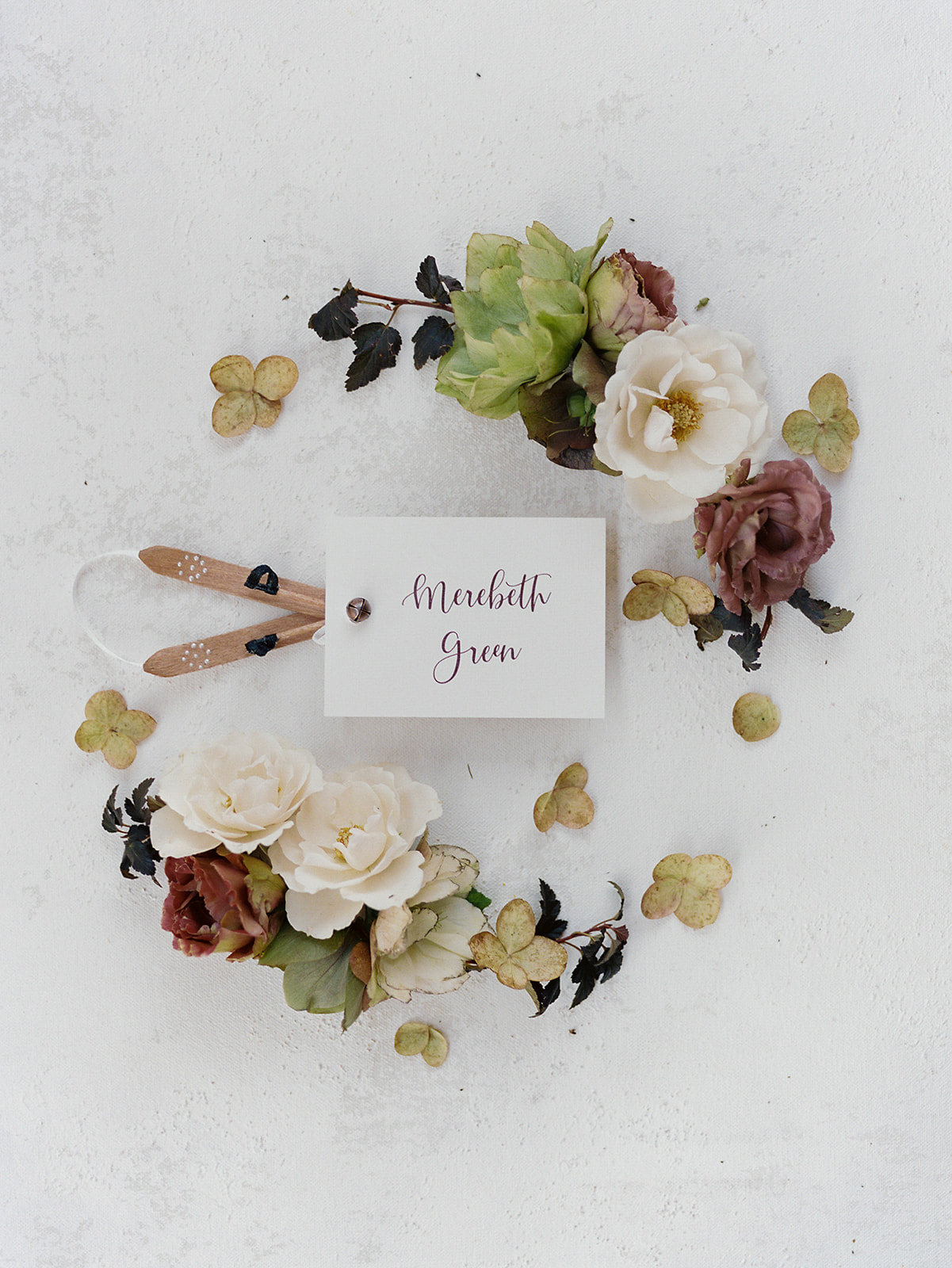 TELL US ABOUT FINDING YOUR WEDDING DRESS: Over the Thanksgiving holiday, I planned for my mom, sisters, and I to go dress shopping. I had envisioned myself in something long sleeved and lace since I knew the wedding would take place in the fall in the mountains. However, our first stop of the day was at BHLDN and my sister saw the dress I ended up choosing on a mannequin and insisted I try it on. I was pretty reluctant since it was strapless and not part of my "vision" however, when I put it on, I instantly fell in love and nothing else the rest of the day compared.
DID YOU HAVE ANY DIY ELEMENTS? We had initially thought we would do more DIY, but in the end found some really cool pieces on Etsy and decided to leave everything to the professionals. I think my favourite element that we purchased were these mini wooden ski ornaments that a woman in the UK hand made for us and we used for our escort display. It felt like the perfect touch since we had the Tipis set up next to the Bachelor Gulch chair lift. Oh and I almost forgot - I did make myself a leather jacket that I ironed on "Mrs. Savolt" to the back of that was really fun for when we were outside during cocktail hour.
DESCRIBE YOUR WEDDING FLOWERS: Bethany from Keep Floral did such an amazing job putting together our floral design. From our first meeting I felt like we really connected and she was thoughtful putting together the perfect proposal for us. We worked off a colour palette of white, green, gold, and accents of mauve and then lots of candle light to warm everything up. I trusted her with flower selection, but mentioned how much I loved roses, which she incorporated seamlessly throughout. We wanted it to feel non-traditional, but very lush and romantic and we were blown away day of when we saw what she and her team created.
FAVOURITE DETAIL OF THE DAY: It had to be a tie between the Tipis and the Beer Burros. The Tipis were part of our venue pivot to Beaver Creek and again one of the changes we didn't initially plan on, but made our day so magical. Walking in and seeing the wooden beams wrapped in lights and how they helped create this whimsical feel amongst the mountain backdrop was more than we could have dreamed. It was something that we had never seen before and that our guests raved about. Also, Patrick, the owner of Under the Sky, stayed throughout the event to help. He helped make glow stick headpieces and other fun things for guests, all without us asking and that was just so kind of him. Then, the Beer Burros were something Brent had gotten excited from the beginning of planning. Amanda from Table 6 had mentioned them in passing, but when she showed us their pictures, we fell in love! They were so sweet day of! We had them deliver margaritas in mason jars to our guests during cocktail hour and then stay for a few pictures with us. Their names were Sheba and Banjo and we would have kept them at the event the whole night if we could have.
WHAT ADVICE WOULD YOU GIVE OUT TO A COUPLE PLANNING THEIR WEDDING? Having a vision of your day is so important, however, things will change. On our honeymoon we reflected back on the initial wedding we had planned, versus the day we ended up having. We pivoted our entire wedding to a new location, from inside to outside, and with half the initial guest count less than 3 months before the day of. It was stressful to say the least, but our amazing vendor team was so supportive and made the transition as seamless as possible. In our reflection we couldn't help but feel that every change happened for a reason and our new day felt more special and perfect to us than anything we had initially envisioned.
MOST MEMORABLE MOMENT? Hands down our first dance. Dance was so important to me growing up. Shortly before our wedding, I reached out to my high school dance instructor and asked if she could help us with first dance choreography. She happily agreed and we face-timed with her one Saturday to learn the dance. We also asked our band, Raising Cain, to learn our song, Hooked on a Feeling by Blue Swede and Bjorn Skiffs and they nailed it! Our dance was so fun, Brent had never done anything like that before and it was such a cool thing for us to learn and do together. I was so impressed with his new moves!
WHAT ASPECT OF THE WEDDING WAS THE MOST IMPORTANT TO YOU BOTH? We wanted everyone that attended to have a great and fun experience. From the beer burros, to the live band, to the photo booth made from an old gondola, we wanted every detail to feel fun, memorable, and exciting for guests to party the night away with us. Choosing the right vendors was a huge part of this. Heather from Table 6 helped us find the rest of our vendor team, which was an amazing help. But what really made the difference was choosing vendors who could deliver our vision, but who we connected with personally. Our photographer, Sarah, especially stands out as someone who lent a listening ear throughout the stress of planning. She even got stuck on an icy mountain top for a few hours with us during our engagement photos! Sarah is a connection that we are so thankful for and will continue to use for our photography needs even beyond the wedding.
ANY OTHER DETAILS THAT HELP TELL THE STORY OF YOUR DAY? Our wedding day was incredible, but we did create a complete weekend experience for our guests. Our wedding party arrived on Thursday night with a welcome dinner hosted by my sister at my parent's house in Bachelor Gulch. On Friday, the men went golfing, while the ladies enjoyed a Pinots and Poses (yoga) afternoon hosted at the Ritz. We then had our rehearsal dinner at the Beaver Creek Chophouse (the food was incredible!) and welcome drinks for all wedding guests at the Ritz Carlton main bar. It was so great to see guests as they got into town and spend time with them for more than just the day of. It made it so that we could just celebrate and enjoy the wedding reception and didn't feel obligated to find and catch up with people. Finally, we had a farewell brunch at my parent's house Sunday morning to recap the weekend and send guests off with one last celebratory meal together.
TELL US A LITTLE ABOUT YOUR HONEYMOON: Our honeymoon was another aspect that changed quite a bit with Covid. Instead of Italy and Greece, we ended up spending a week at the St. Regis in Aspen, which was incredible. We took a sunrise hot air balloon ride, went horseback riding through snowmass, fly fished (Brent's new favourite hobby!), and took ATVs to the top of mountain range - all followed by incredible dinners in stunning Aspen. Again, it wasn't our initial plan, but we wouldn't change a thing looking back. Plus, we found out a few weeks later that we are going to be Savolt party of 3 this summer - Italy and Greece will still happen, but maybe for our anniversary in a few years!
IS THERE ANYTHING YOU WOULD CHANGE OR DO DIFFERENTLY? I think we had enough changes getting to our day, and like I said, looking back we couldn't imagine anything any different.
A huge thank you to Colorado Wedding Photographer SARAH PORTER for sharing this beautiful Colorado wedding with us. This fine art hybrid photographer is constantly inspired by the unspoken moments shared in the deep connection between two people completely immersed in love. "So much beauty exists in-between moments that I notice, unposed and vulnerable. These are the moments I would love to help you capture in your story. Every time I pick up a camera, it's an opportunity for connection. My process will revolutionise your perception of photography from fear to enjoyment. It is important that you experience the instances that leave you speechless and occasions that take your breath away on your wedding day." If you're looking for a Colorado wedding photographer you can see more of Sarah's work in our vendor guide.