Alex & Scott channelled an old-Hollywood vibe for their wedding held at VIBIANA in downtown Los Angeles. Captured by Southern California wedding photographer MALLORY DAWN they embraced the beauty of their venue and ensured everything was soft, romantic and timeless. Working with MINDY WEISS they incorporated subdued tones of ivory, blush and gold to emulate the old-world feeling they were after.
Mallory tells us, "This wedding was truly a sight to see. Alex & Scott's special day was full of romance and overflowing with elegance. Mindy's team worked extremely hard to create a one of a kind experience for the guests that they will never forget. Not one detail was left unattended. The bride sparkled in her LAZARO gown complete with intricate details which showcased her timeless style. The hand-drawn sketch of the Vibiana by PIROUETTE PAPER gave the guests an exciting first impression of the venue. In the ballroom, the couple's vision was brought to life by custom greenery, full-sized trees, and a stunning floral arch on the cathedral altar. They also had a live band who sang many classic tunes to complete a magical evening.
WHY DID YOU CHOOSE THIS LOCATION? Scott was born and raised in Los Angeles, and I love buildings and architecture with history. We went to see Vibiana because of their indoor and outdoor ceremony and reception options, and because of its central downtown location, but we fell in love with its stunning architecture, vaulted cathedral ceilings, and its Los Angeles history! It felt like a piece of the old-world set in the middle of Los Angeles, and we felt it was a perfect fit for us!
HOW DID YOU MEET? We met while we were students at UCLA and working in the UCLA athletic department. Though we first met our freshman year, it took a couple more years before we began talking! First it was us scheduling our shifts so we could work together, and taking the long-way home from UCLA football games at the Rose Bowl to spend more time talking, until we eventually started dating!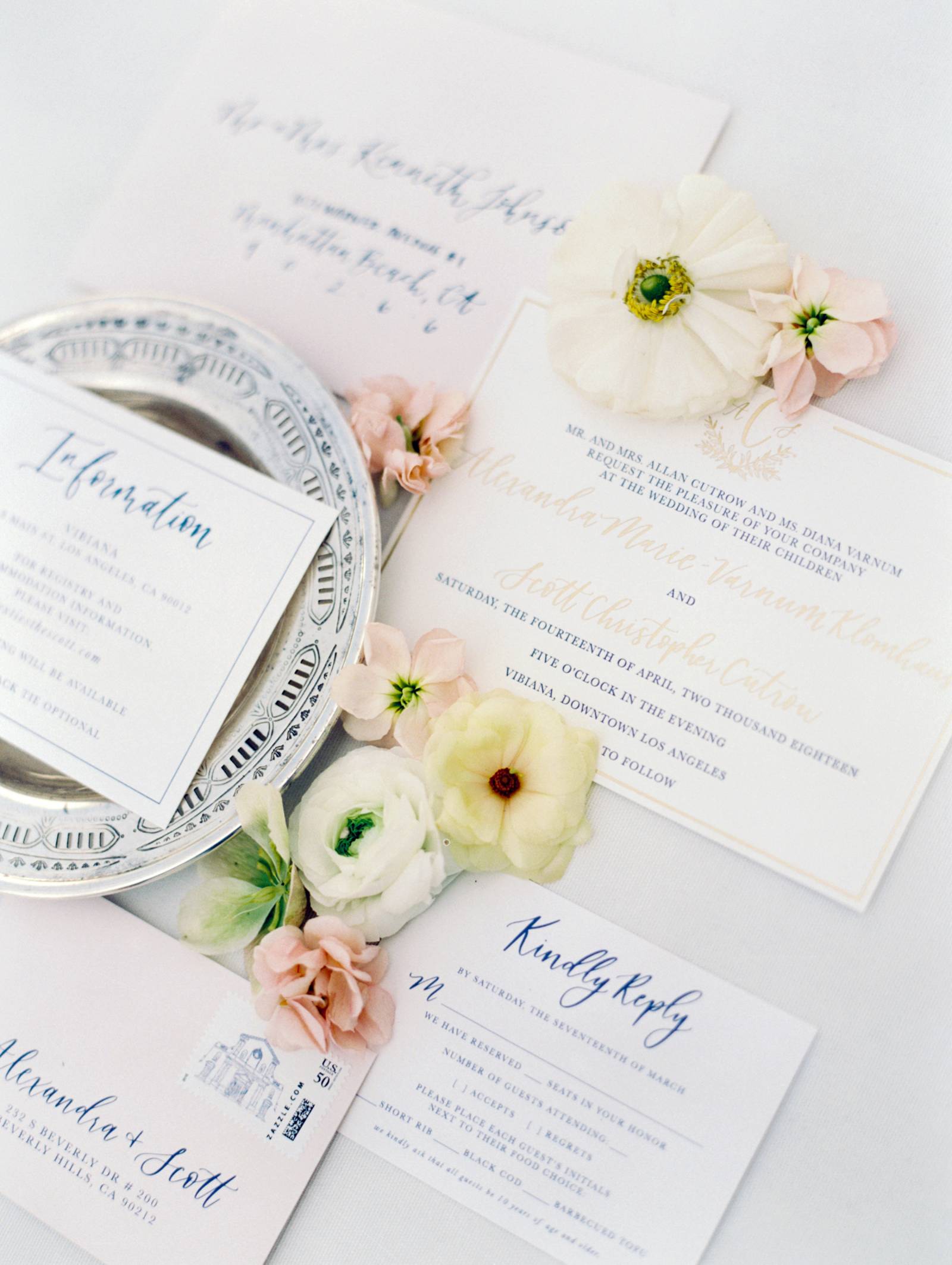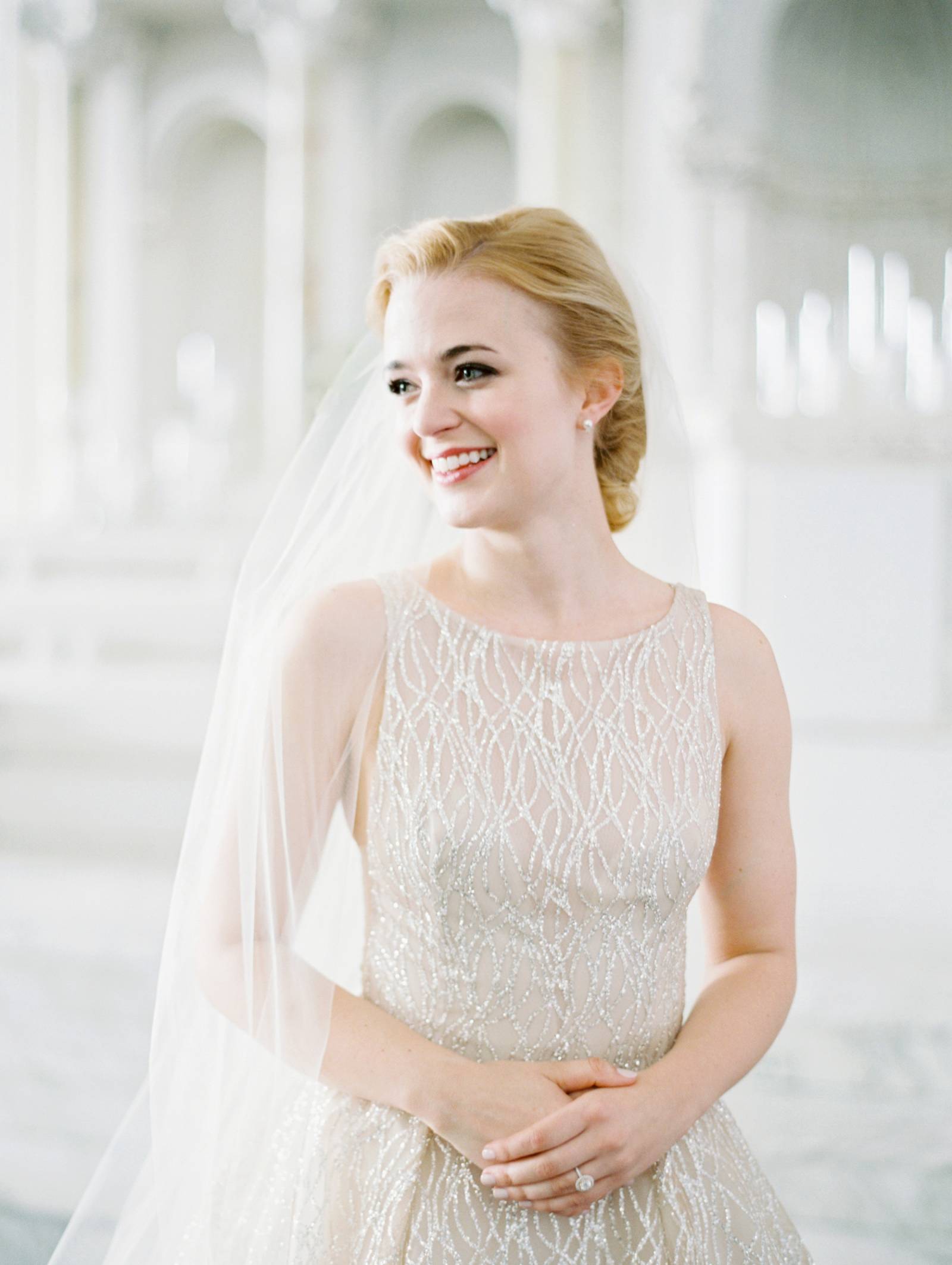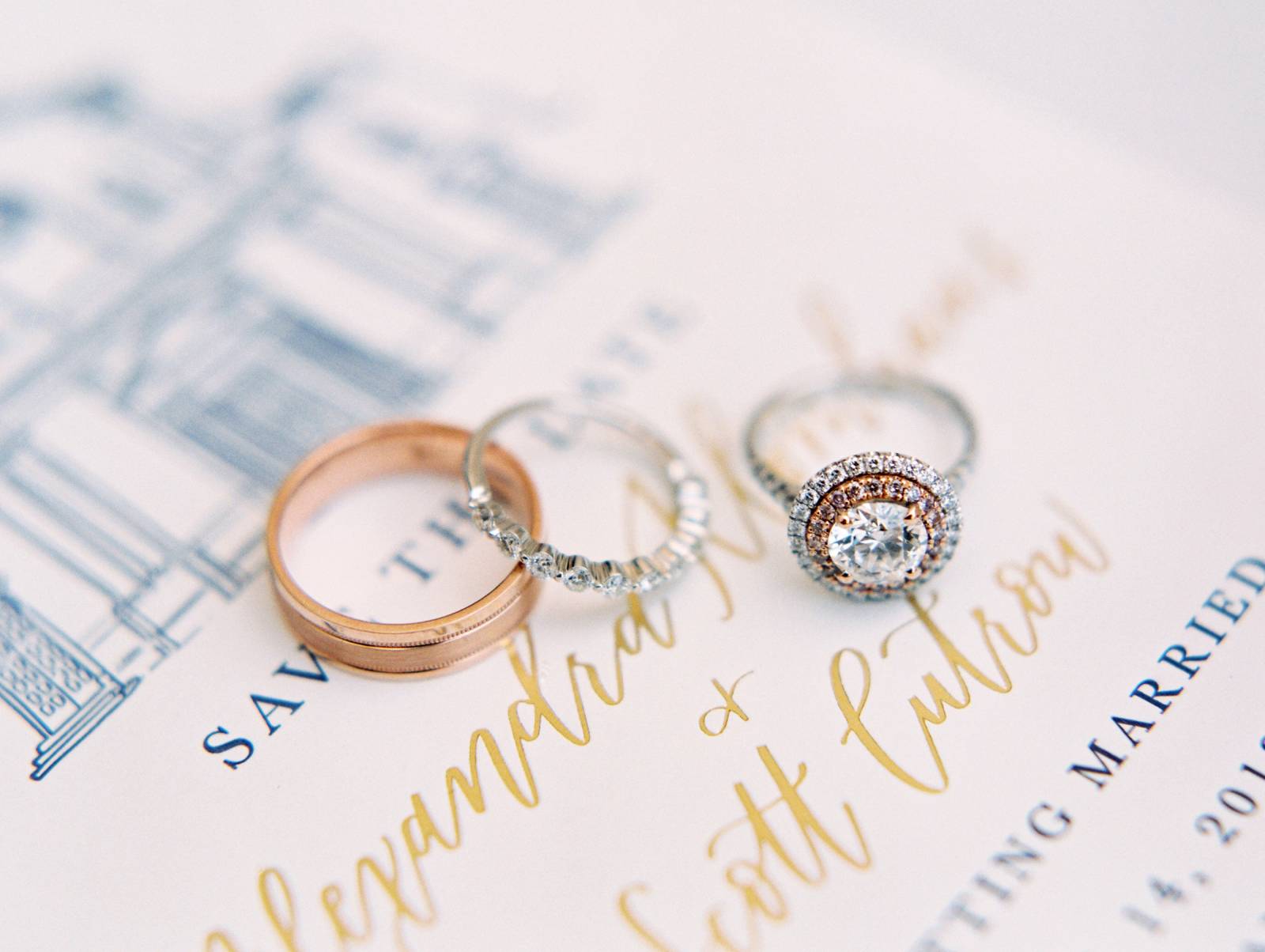 TELL US ABOUT YOUR PROPOSAL: Scott proposed at Malibu Wine Safari in September. He had convinced me, with the help of others, that we were going to a friend's surprise birthday dinner and since we were driving out to Malibu we should make an afternoon of it and go wine tasting. Scott had already arranged with the guides for a private tour, and for the last stop on the tour to be one of their beautiful wedding venues. At the last stop we changed in to our formal clothes for the "surprise birthday dinner" and walked out towards the edge of the wedding venue, a cliff overlooking a valley in the Malibu hills, to take a picture together. Scott took my hand and said "You know how much I love you…" and the rest is really a blur! He had our good friend hiding out the whole time to take pictures of the whole moment! And to top it all off, he followed up the perfect surprise proposal with a surprise engagement party! My mom, brother, and sister-in-law from out of town, along with 50 of our closest family and friends, were all gathered that same night to help us celebrate!
TELL US ABOUT FINDING YOUR WEDDING DRESS: Finding "the" dress was really unexpected! I made a last-minute appointment at the bridal salon to try on two specific dresses and get pictures in them, so I could show my mom when I went home for the holidays. Our wedding was still not for a year and a half, so I did not feel like I had to make a decision yet! So much so that I went to the appointment alone. I was underwhelmed with the two dresses I went to see, and my consultant suggested I try on this one-of-a-kind dress that had come to them from the designer's runway show. I immediately fell in love! From the high boat-neck, the cutaways in the back and at the sides, and the cathedral-length train, I could not imagine getting married in anything else. I facetimed my mom to show her the dress, and my mother-in-law came to see it in person. Not wanting to lose the dress to someone else, I bought it on the spot and took it home that day!
DID YOU HAVE ANY DIY ELEMENTS? Scott's mother made our wedding cake! She mad three tiers, all in different flavours (chocolate, vanilla-almond, and carrot), and it was truly delicious and one of the more impressive wedding DIYs we've seen! Everyone was amazed!
DESCRIBE YOUR WEDDING FLOWERS: We wanted our flowers to be natural, with texture and lots of greenery. Vibiana is one of the most impressive buildings we've see in Los Angeles, and I immediately pictured an old-world cathedral overgrown with greenery and vines and lit with candles. So that is what we did! Our long farm-tables had greenery runners as the centerpieces with while/neutral flowers, and natural accents like dried artichokes! Our circular tables had slightly taller centerpieces that still emphasised greenery with a more natural composition. Each tables' centerpieces also included gold geometric vases, and of course, as many candles as could fit! Our florist wrapped pillars in the venue with vines and built two stunning full-sized trees that framed Vibiana's altar, with the altar also covered in vines and pillar candles of varying heights. It really felt magical!

FAVOURITE DETAIL OF THE DAY: The way our florist and team decorated the old altar of Vibiana was really breathtaking! I trusted them to do what they thought looked best, so we did not see a mockup of how it would look – we were surprised right alongside the rest of the guests! The candles, the trees, the vines wrapping around and up the pillars and walls, it really transported us from the heart of downtown Los Angeles to a faraway countryside.
WHAT ADVICE WOULD YOU GIVE OUT TO A COUPLE PLANNING THEIR WEDDING? Trust your instincts and focus on what will make you both happy! There are so many expectations that come with a wedding, but in the end it really is just a celebration of your love with the people who mean the most to you! There will be stressful moments while planning, but all those stresses will disappear as soon as your wedding starts! We were so focused on each other and being husband and wife, and celebrating with those we love, and we hardly remember what caused the stress in the first place and suddenly everything was worth getting to the perfect day!
MOST MEMORABLE MOMENT? It is really difficult to pick just one thing! Our first dance was certainly a memorable moment. We had a fully-choreographed first dance to "Can't Take My Eyes Off You" by Frankie Valli and the Four Seasons, performed by our incredible band. We had spent months rehearsing a slightly "showy" number, and most of our guests had no idea. It was such a fun way to start our reception! We could not stop laughing and smiling throughout the whole dance, and it really set the tone for dancing and fun the rest of the night!
ANY OTHER DETAILS THAT HELP TELL THE STORY OF YOUR DAY? We really wanted our wedding to feel like it told the story of us. We were married by a close friend, and each wrote our own vows, all of which included small and often funny anecdotes about our relationship. We've both graduated from UCLA and the school is important to us, so we asked our string quartet to learn the UCLA fight song and used it to signal the end of our cocktail hour. We picked local Westwood favourites to serve on our dessert table. And perhaps the cutest little detail: we have a little dog we love so much, Casey, who could not be at our wedding, so we made life-sized cardboard cutouts of him to use as props in our photobooth! He made many appearances in photobooth pictures with us and with our guests. It was our little way of including him in our big day.
TELL US A LITTLE ABOUT YOUR HONEYMOON: We both love animals, with a true affinity for primates, so we really wanted to incorporate animal eco-tourism in to our honeymoon. We started with four days in Borneo on a small riverboat that went deep in to the national forest and spent every day trekking to see orangutans in the wild! No phone service or internet, no electricity; we woke up every morning with the sunrise and ate dinner every night by candlelight listening to the sounds of the jungle. We saw so many orangutans, monkeys, birds, it was incredible! We then spent 10 days in Bali, in Ubud at the gorgeous Mandapa Reserve and in Jimbaran Bay, and ended with 5 days of pure relaxation in the Maldives!
IS THERE ANYTHING YOU WOULD CHANGE OR DO DIFFERENTLY? No! In the end, we feel like all the stress and time lead to the absolutely perfect wedding day! If we could, we would have simply made the whole wedding last longer, it went by much too fast!
A huge thank you to Southern California wedding photographer MALLORY DAWN for sharing this beautiful wedding with us. Mallory is passionate about shooting weddings and prides herself on making her couples feel comfortable and relaxed in front of the camera, so they can truly enjoy their wedding day! "I would describe my style as bright, soft, romantic and elegant. I can honestly say that I value the relationships I create with my clients. I only photograph a limited number of weddings each year to ensure my couples receive the best service possible. I am so passionate about what I do and I would be honoured to document your love story." If you're a bride looking for a Southern California wedding photographer be sure to check out our vendor guide of which MALLORY DAWN is a valued member. You might also want to check out this Greystone Mansion wedding in rich plum and berry tones.