It's always a treat to feature the stunning work of Stephanie Williams from THIS MODERN ROMANCE, and this beautiful Palm Springs celebration at KORAKIA PENSIONE with it's Mediterranean feel is one we wish we were a guest at! Amanda and Zach are a pair of romantics, who met on a blind date and have been inseparable ever since. So when Zach planned a sunset treehouse proposal, Amanda assumed it was his latest sweet surprise - until her future husband dropped to one knee, that is! For their destination wedding, the couple dreamed up a desert escape at a Mediterranean-meets-Moroccan venue, then brought their family and friends along for the magical ride. "We very intentionally made certain not to make planning a chore by mixing it in with fun events. Go to a wine bar to go through our guest list, have a picnic on the beach to go through our registry. That prevented it from becoming work and made the whole planning process exciting as well."
Gorgeous bride Amanda shares with us; "We very much wanted a venue that was non-traditional, whimsical... something that felt like an escape. We found the Korakia Pensione, a gorgeous boutique hotel in Palm Springs. It's an expansive property that pulls the best from Moroccan and Mediterranean tones and architecture. There was so much to explore, beautiful details to be found at every turn, an oasis tucked at the base of the mountains with palm trees swaying in the warm breeze. It played into and informed the vibe we were going for - an elevated and elegant bohemia. Record players in every room, detailed Moroccan lounges, an antique sewing machine as the cake table, bowls of oranges, muted walls and lush garlands."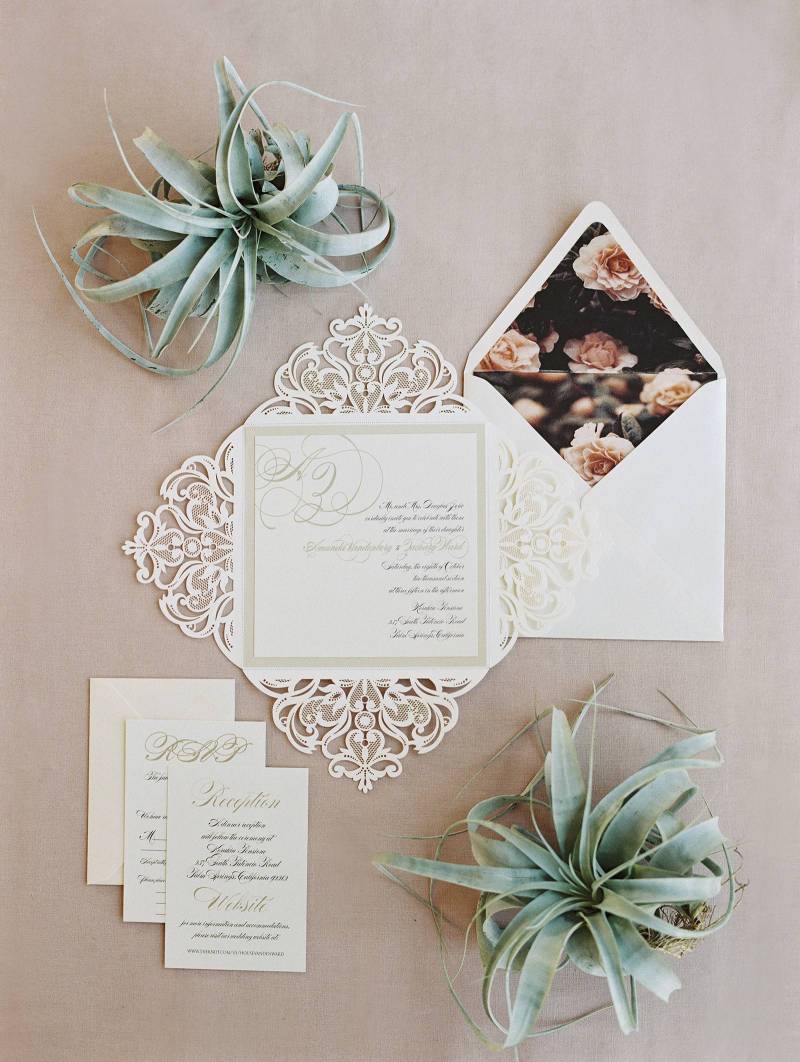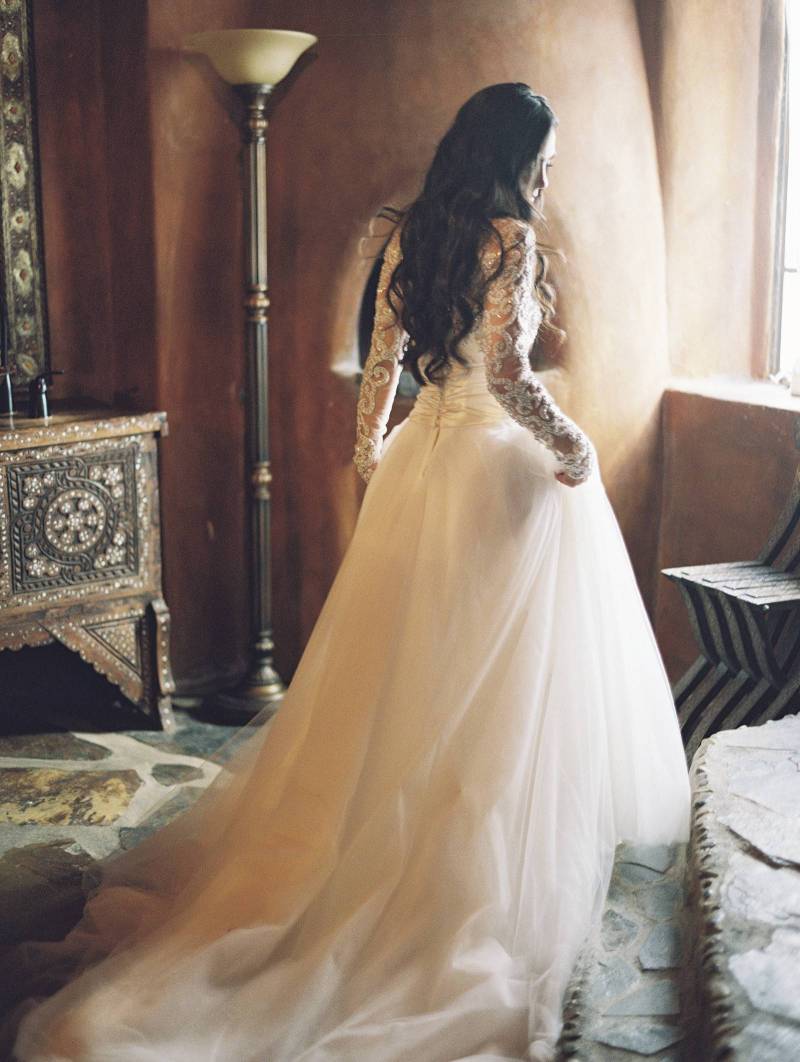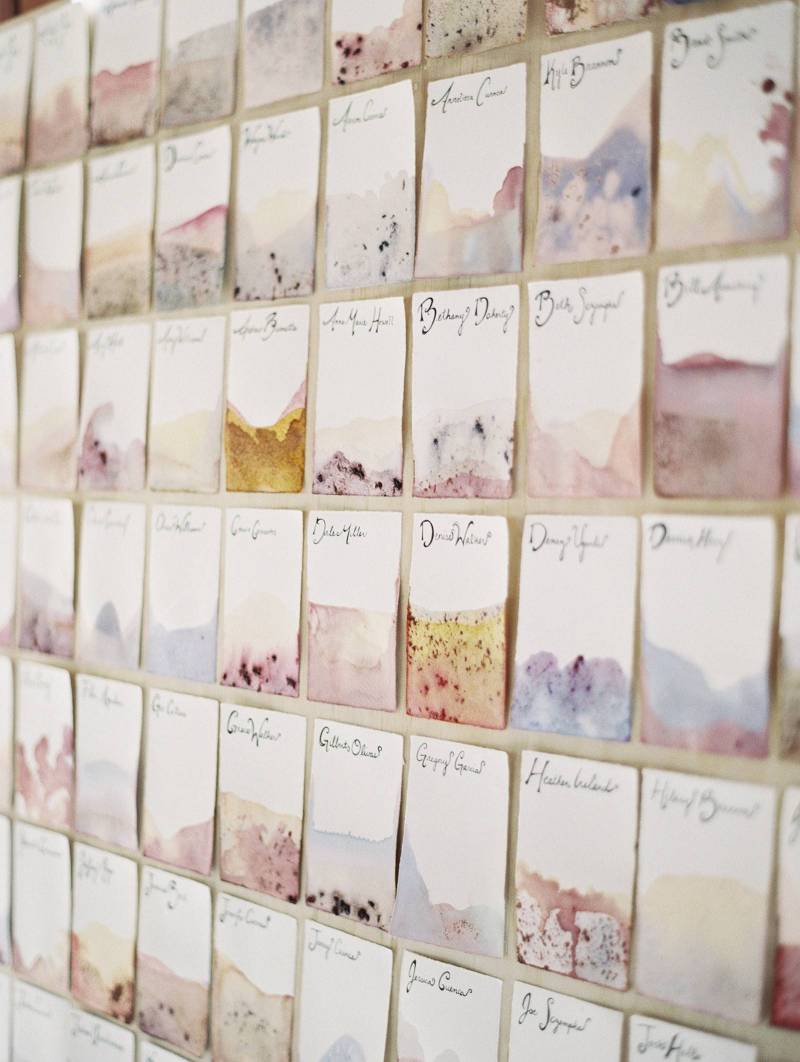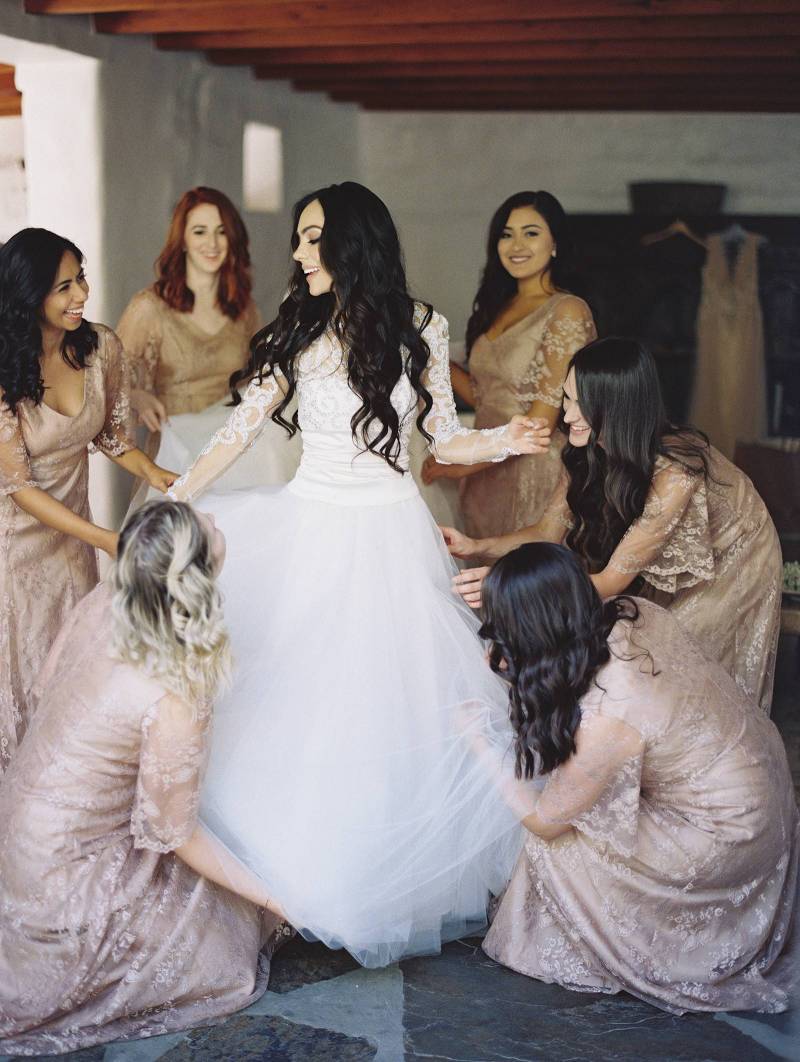 "I dip dyed the escort cards for our guests using various fruit and vegetable juices. I wanted to get the colours of the desert, and the textures and shapes of the landscape. They were a big hit! I also made the toss cones, drying flowers for months, and assembling them in Palm Springs, where I added in fallen bougainvillea that was all over the property. Having those pops of pink in the cones and in our surroundings really tied them together."
TELL US ABOUT YOUR PROPOSAL: Planning my proposal to Amanda started months before it happened. Amanda purchased tickets to Outside Lands, a music festival in San Francisco, as an early birthday present for me only a few months into our relationship. I knew very early that I wanted to spend the rest of my life with Amanda and later saw an opportunity to use this present to me as a way to surprise her with my proposal. We had plans to stay in downtown San Francisco Friday and Saturday night, and without her knowing, I changed our accommodations Saturday night to a lovely tree house Airbnb in Burlingame overlooking the San Francisco bay. Amanda loves tree houses. She adores them. I told her I had surprise plans for us on Saturday night and to dress nice to make her think we were going to an event...also, that she needed to pack up because we were not staying at the same hotel that night. I had the day loosely planned so that she and I could explore the city together and leave a bit before sunset to get to our destination. Amanda was very confused as to why were driving into a residential area of the San Francisco suburbs, but when we got there, it was just as I had hoped. The sun had just begun to set and there were flowers and candles in mason jars adorning the path leading up the tree house, rose petals under a swing, champagne and sweets in the nook that was our home for the night, and the best part, Amanda just thought this was a romantic surprise with absolutely no clue as to what was about to happen. After getting settled in, I began my speech to her, at the end of which, she still was not aware of what I was about to do. It was the best. I always wanted my proposal to be a complete surprise. After saying what I had rehearsed so many times, I dropped to one knee and asked for her hand. There was a lot of jumping, yelling, hugging and kissing. We were ecstatic and immediately made those first few important phone calls. We spent the rest of the night in our tree house sipping champagne, eating cake, and talking about our future together.
TELL US ABOUT FINDING YOUR WEDDING DRESS: I found my wedding dress the first day I looked, fell in love, and immediately panicked. It seemed too soon and too easy, but it was perfect. Made by Marchesa, I loved the formal elegance of the big skirt and thought the intricate beading lent itself to the bohemian romance I wanted.
DESCRIBE YOUR WEDDING FLOWERS: Barb, from Running Wild Florals, really made our desert romance vision come to life. She responded so intuitively to the colour palette, heavy heat, and natural textures of The Mediterranean meets Palm Springs. The garlands along the tables had tons of sweet smelling eucalyptus and pops of colour. The girls' bouquets were soft and romantic. My favourite details were the desert bush clusters flanking the door where our ceremony took place - soft grasses with muted and unusual florals, some shapes that I had never seen before and really played up the hint of something exotic. They were perfect, she did an incredible job.

FAVOURITE DETAIL OF THE DAY: Zach: We were fortunate enough to have our friends, Stephan Hovsepian and Shelley Scarr, not only perform, but create a very uniquely catered lineup of songs for the earlier part of the reception. Both professional musicians, Stephan plays a multitude of string instruments and his girlfriend, Shelley, is an incredibly talented vocalist. Leading up to the wedding, we all spoke about the direction of the performance and how best to mesh their musical talents with our vision of the evening. Stephan calls one day and has the most incredible idea. The Desert Trip (aka, "Oldchella") music festival, which focuses on the classic, most iconic bands of our time, happened to be in Palm Springs on the same weekend as our wedding and Stephan suggested that we have our own desert trip at the reception - to pull the greatest love songs from these bands, old and new, and create a lineup that spanned the decades. It came together beautifully. We had several songs that we requested specifically (including some more recent ones), but mostly let Stephan and Shelley work their magic and it made for the perfect singer-songwriter romantic vibe we were going for. We got to slow dance to the sort of things you hear in the movies before the DJ got started.
WHAT ADVICE WOULD YOU GIVE OUT TO A COUPLE PLANNING THEIR WEDDING? Make planning fun. From the beginning, we very intentionally made certain not to make planning a chore. We would mix the planning in with fun events. Go to a wine bar to go through our guest list, have a picnic on the beach to go through our registry. That really helped in preventing it from becoming work and to make the whole planning process exciting as well.
MOST MEMORABLE MOMENT? We had everyone light sparklers and form a circle around us for our first dance. Feeling the love from everyone all at once was pretty magical. At one point during our dance, Zach asked me if I was happy. And I was so happy all I could do was nod to say yes. Then he told me loved me and I just nodded even harder to agree. The best part is our videographer caught this whole exchange - and it's on our highlight video! We both love that moment so much.
ANY OTHER DETAILS THAT HELP TELL THE STORY OF YOUR DAY? Since our wedding was such a destination for the majority of our friends, we turned the experience into an entire weekend of celebrating. We hosted a welcome cocktail hour the night before by the pool the Friday night before, and then we took everyone on a day trip to Joshua Tree the Sunday after. It's probably the only time in our lives that we'll get to bring all our favourite people together, and we loved spending as much time with our guests as possible.
IS THERE ANYTHING YOU WOULD CHANGE OR DO DIFFERENTLY? Everything (luckily) went really well! We wouldn't change anything...except maybe as advice to anyone else: if you have a premade margarita, make sure the bartenders know there's already tequila in it so they're not using it as a mixer and doubling the strength. We ran out of tequila...but everyone had an exceptionally good time.