Warm, inviting and romantic. Three words that led Claire & Mathias to hold their wedding at THE MANOR HOUSE in Littleton, Colorado. Planned by Denver Wedding planner REVEL + BLOOM they held their ceremony set against the dramatic backdrop of Dry Creek Canyon and had stunning images taken by Colorado wedding photographers ALP & ISLE throughout the property.
Emily from ALP & ISLE tells us, "Claire & Mathias are such a joy! From their epic glacial engagement session to their poignant wedding in the foothills overlooking Denver, we had such a great time getting to know them and documenting their love story as it unfolded. They are one of the most caring couples we have encountered and anyone who has had the pleasure of meeting them knows you will leave smiling or laughing, or both! They have each navigated hard personal losses but you can tell their bond is so strong for it. The air was filled with the expected excitement and joy but you could feel the presence of those they were missing, partly because of all the honouring touches the couple intentionally sprinkled throughout their wedding. Elise of REVEL + BLOOM did an amazing wedding design for them that was elegant and classic with the beautiful white manor as their backdrop. The floral design by Jennie of SUGAR 'N STEMS was just stunning- the colours, the textures, and the sweet little gestures like surprise forget-me-nots. If we had to pick a favourite moment, it would be their stunning yet light hearted portrait time in the foothills surrounding the manor."
HOW DID YOU MEET? Mathias and I met on a random night in March 2015 at a Denver brewery called Denver Beer Company. I was out on the town with my cousin and Mathias was out with a group of friends. Mathias came over to our table and asked to take our extra chairs, which turned into us joining tables and we all spent about the next hour talking. We exchanged phone numbers that evening and went on our first date a week later.
TELL US ABOUT YOUR PROPOSAL: Mathias proposed two days after my 30th birthday on May 6, 2017. For my birthday I wanted to go hiking at Hanging Lake in Glenwood Springs. So, we got up around 4am and made the 2.5-3 hour drive out there to avoid the crowd (it's a popular hiking spot). Mathias proposed at the top of the hike in front of a waterfall. We lucked out in that it was just the two of us. Mathias packed a bottle of champagne, so when we finished our hike we had a glass of champagne to celebrate before making the long drive back to Denver.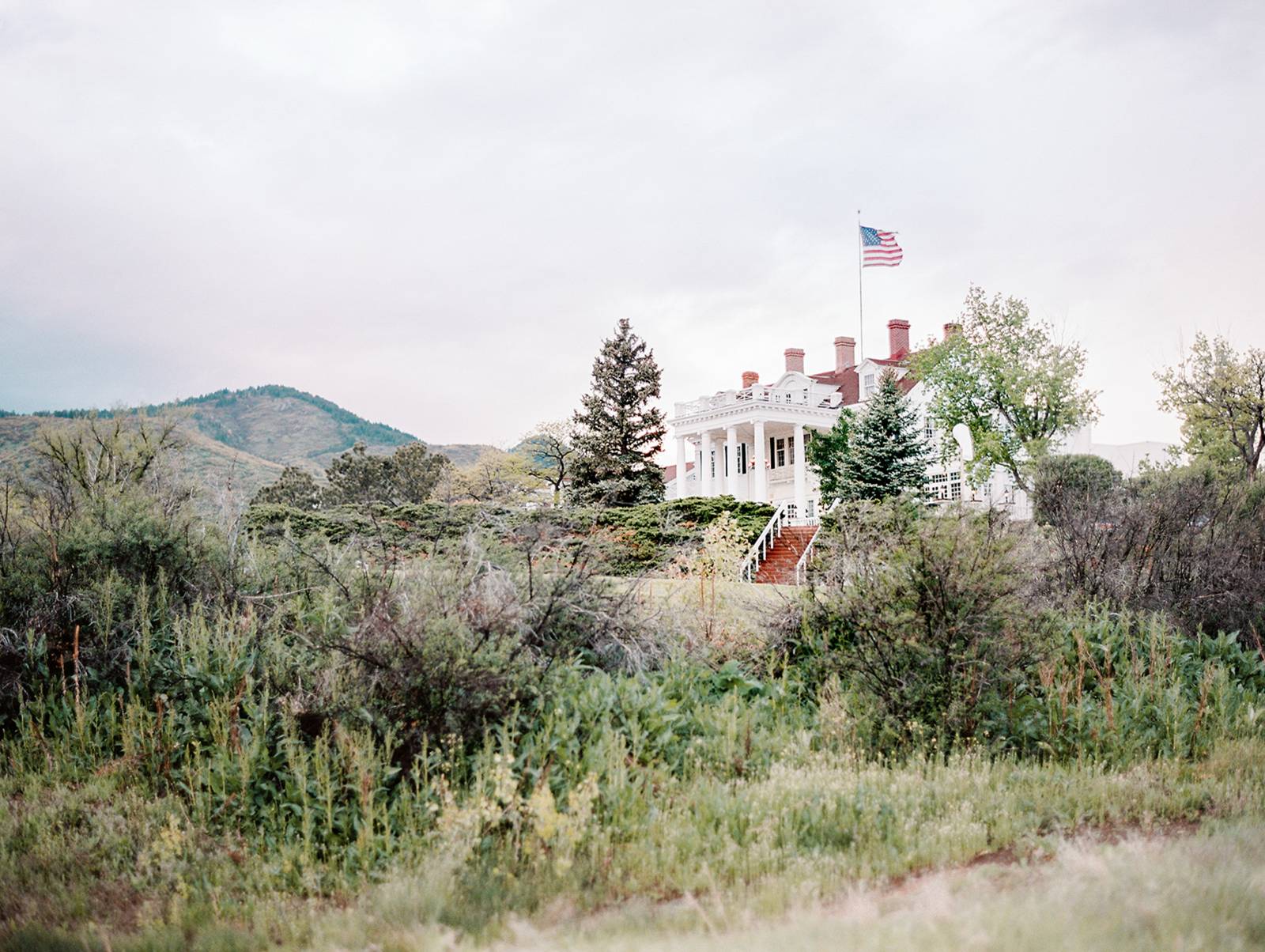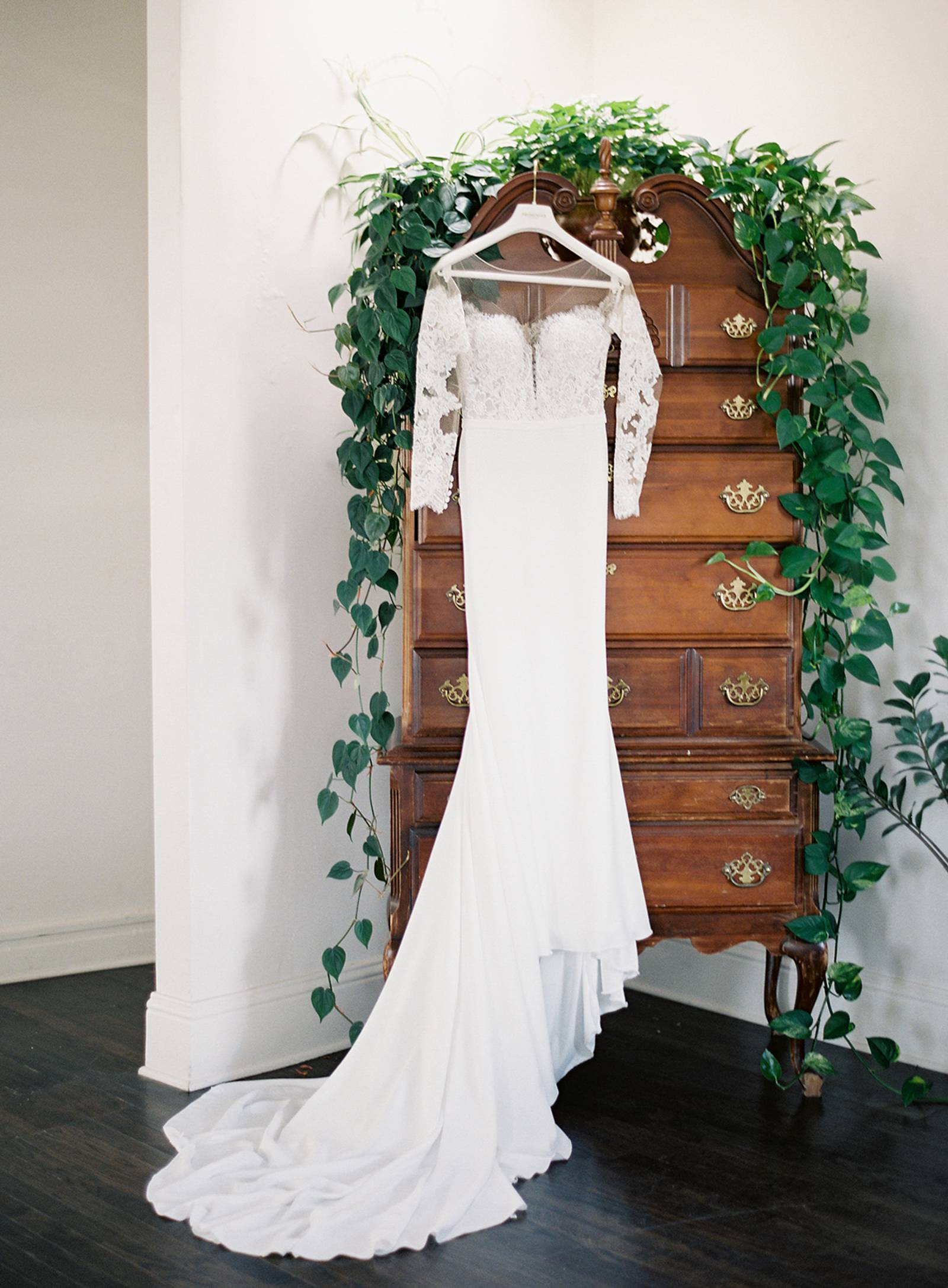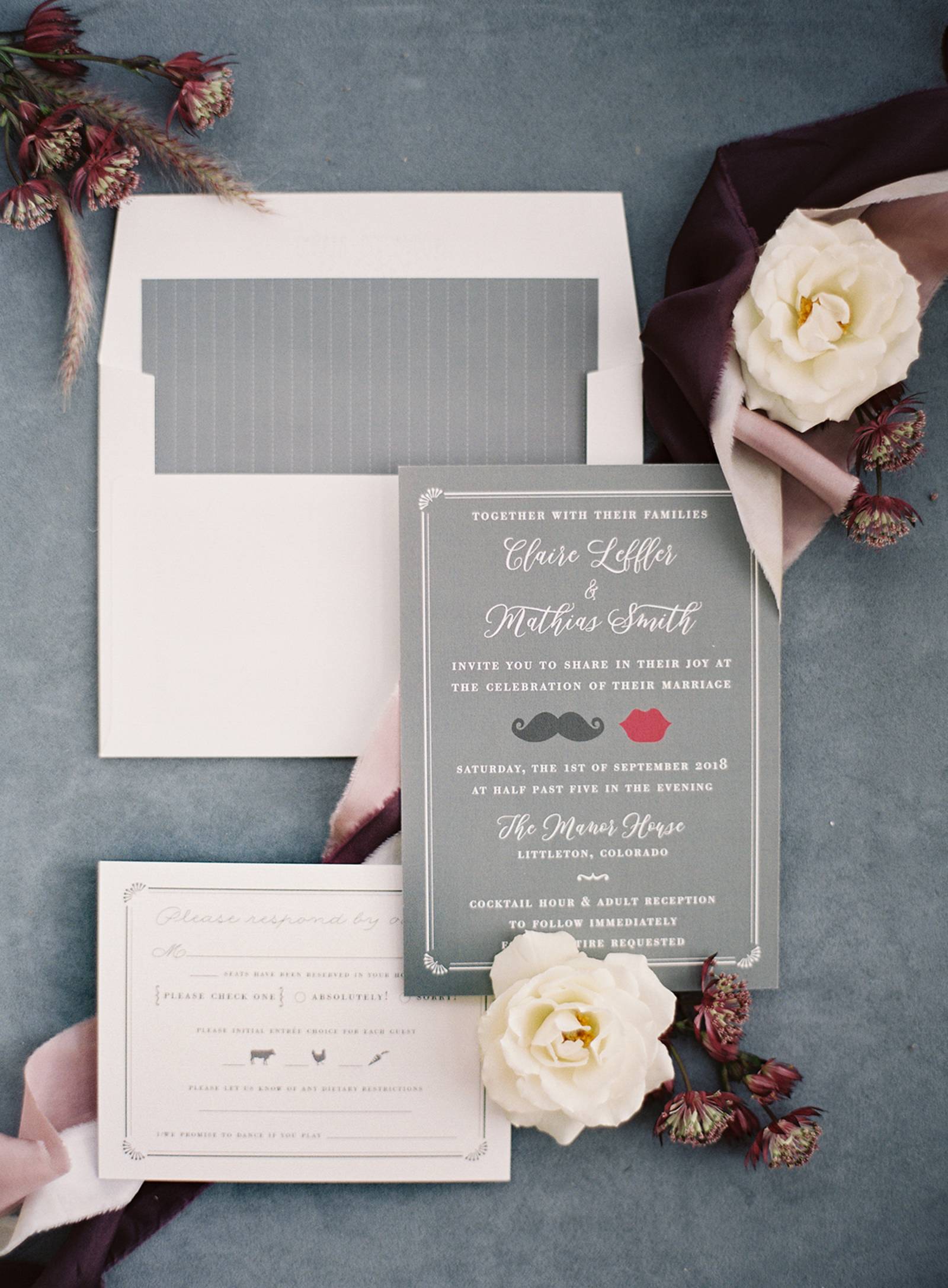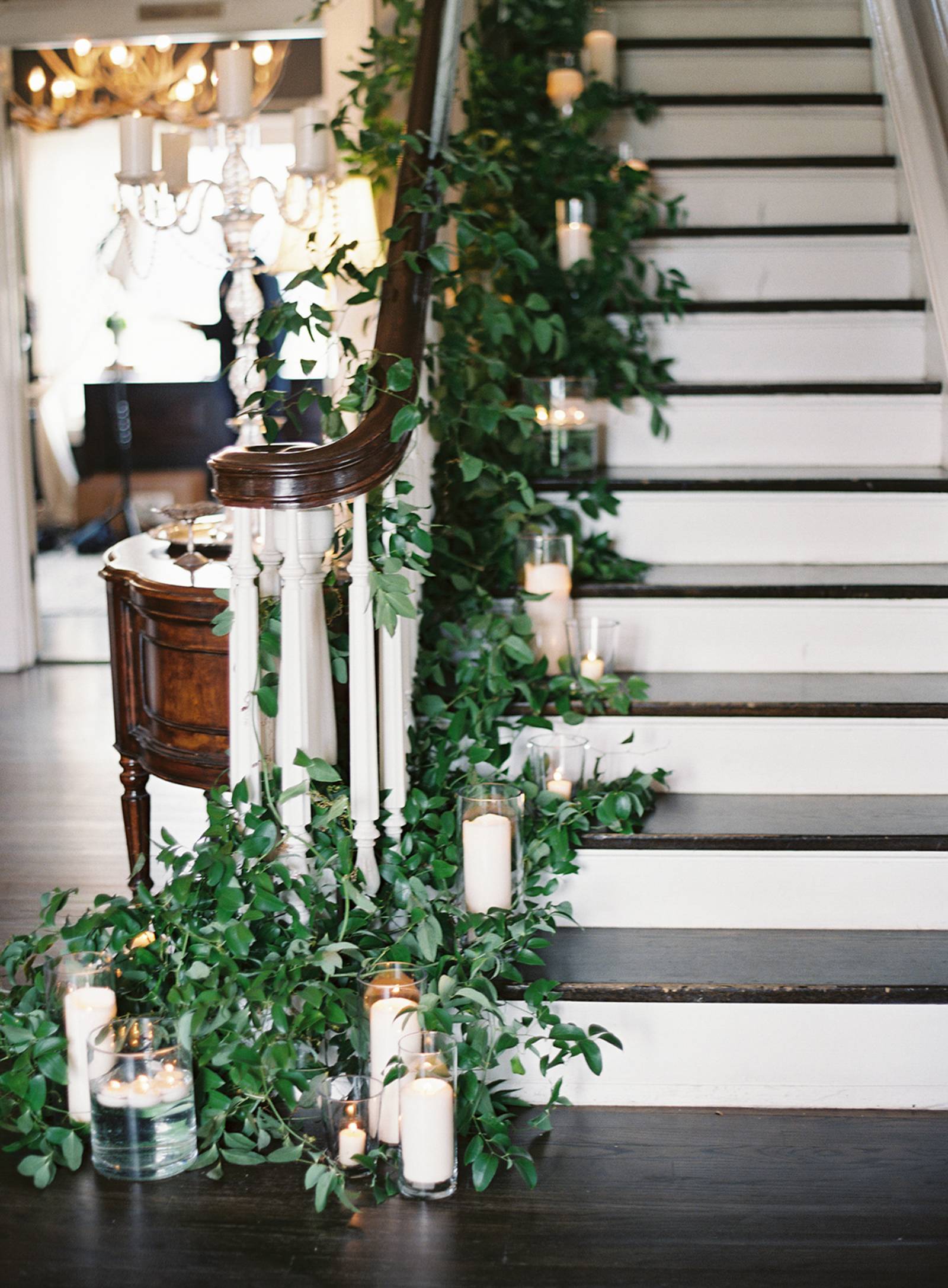 TELL US ABOUT FINDING YOUR WEDDING DRESS: The day that I got engaged, my mom and I walked down the street to Emma & Grace Bridal Salon to schedule an appointment to try on dresses. My mom was in from out of town and we wanted to get something on the books for the next time she was in town. I only made one appointment and did not consider any other bridal salons. I was joined by my mother, cousin (the same one present when Mathias and I first met), my best friend and maid of honour, and my sister-in-law. I tried on maybe a total of 8-10 dresses. I had an idea of what I wanted, mainly something with some sort of sleeve, other than that I was pretty open! The dress I picked was the very last one that I tried on- and it was beyond perfect.
DID YOU HAVE ANY DIY ELEMENTS? We did not have any DIY elements for the wedding, aside from the welcome bags we put together for our out of town guests. The welcome bags included a little taste of all the places that are important to us (Maryland- Crab Chips, Kentucky- Cincinnati Chili Mix, Nebraska- Bakers Chocolates, Colorado- Celestial Tea).
DESCRIBE YOUR WEDDING FLOWERS: Oh gosh, I am not sure where to even begin. Jennie from SUGAR N STEMS did our flowers. She was the first florist I met with and I knew instantly that we were meant to work with her. I could not get her design proposal out of my head, even when meeting with other florists. I had told Jennie that one of the most important things to me for the flowers was incorporating the colour purple. My dad passed from Alzheimer's in November 2016 and purple is the colour for the Alzheimer's Association. For me this was a way to incorporate my dad in a subtle way, even if I was the only one who knew!

FAVOURITE DETAIL OF THE DAY: Mathias and I have two Chihuahuas. It was important to me to have the dogs in the wedding with us. I have had Shady for 12 years and we recently adopted Frankie. I got to watch them walk down the aisle with one of the groomsmen in our wedding video and it definitely brought tears to my eyes!
WHAT ADVICE WOULD YOU GIVE OUT TO A COUPLE PLANNING THEIR WEDDING? I quickly learned that there are some things that were out of my control. At the end of the day, the wedding is not about how much money you spend, or how fancy it is, its about making a commitment in life to your partner. That is what you are really there to celebrate.
MOST MEMORABLE MOMENT? Mathias and I spent 6 months taking dance lessons for our first dance. We learned how to swing dance and even went to local outdoor swing dance sessions in the summer to practice! It was a huge accomplishment for Mathias, as he is not a natural dancer! Our first dance went off without a hitch and Mathias did great!
ANY OTHER DETAILS THAT HELP TELL THE STORY OF YOUR DAY? There is a tradition amongst my friends from high school that started at one of their weddings. We all made an agreement after this wedding to play the song "I'm gonna be (500 miles)" by The Proclaimers at our future weddings and to start a train around the reception room. I, of course, carried on the tradition at our wedding and it was probably one of the best dance trains I have ever witnessed!
TELL US A LITTLE ABOUT YOUR HONEYMOON: Mathias and I have not gone on our honeymoon yet! We will be headed to New Zealand on December 19th for a 12 day stay. On the to do list: bungee jumping, Milford Sound, Franz Josef Glacier, winery bike tour (looking forward to all the sauvignon blancs!), Waitomo Caves!
IS THERE ANYTHING YOU WOULD CHANGE OR DO DIFFERENTLY? I don't think so! I love everything about our wedding day! We struggled for many months on making a decision about whether to hire a videographer or not due to the added expense. Moving forward on this decision was one of the best ones we made! Having a video, in combination with pictures, just makes everything come back to life!
A big thank you to Colorado wedding photographers ALP & ISLE for sharing this beautiful Colorado wedding with us. Blessed to live amongst the stunning landscapes of the Rocky Mountains this husband and wife team translate your day with a focus on natural interactions and emotion. If you're a Colorado bride you can see more of their work in our vendor guide. And you should definitely check out this Intimate mountain top wedding in Telluride, Colorado.
Denver Wedding planner REVEL + BLOOM believes that your wedding should be the perfect representation of your relationship. "We want your guests to arrive and say, "Wow, this is so them!". For this reason, we best match with couples who share the desire to dive into every detail and push toward an innovative and intentional approach to the planning & design process. Our couples value being taken care of from the very beginning, and trust us to produce an elevated and personalised experience on their wedding day. Over half of our clients travel to Colorado from out of state, and we strive to make planning from a distance smooth & stress-free. By providing exceptional service, we work alongside Colorado's premier venues and vendors, assuring an unforgettable event for our couples and their guests." You can see more of their work in our vendor guide.