We are suckers for a black tie wedding and Aliki & Ricky's Sydney celebration captured by Sydney wedding photographer WE ARE ORIGAMI is a perfect example of why. The elegant, timeless appeal simply can't be beat! The couple chose their local church to get married in followed by a reception at CROPLEY HOUSE which they fell in love with thanks to its old world charm and architecture. They tell us, "The Victoria Room in the mansion where we held our reception dinner has a grandeur character, complete with gorgeous crystal chandeliers, and French windows with dark wood panes. It perfectly fit our modern European-inspired wedding theme. There were no distracting pillars in the room which I have seen with other venues which made the room feel spacious yet still felt intimate."
HOW DID YOU MEET? We met through our parents and connected via Whatsapp. Our parents have been friends since they're kids and our families have always lived in the same city (Jakarta). However, Ricky and I never met earlier in life because we went to school overseas in different countries. I was based in Melbourne while Ricky was in Sydney when we connected; It was god's perfect timing because both of us happened to be single at that time and we knew exactly the kind of partner we were looking for for a life together.
TELL US ABOUT YOUR PROPOSAL: Ricky proposed to me on one foggy morning in late spring at the Hassan lookout near the blue mountain. we had the whole place to ourselves. Ricky has been composing songs for me throughout our relationship. He was about to make an album about me. there were 15 songs That he had created so far. that day, he said he wanted me to listen to the last song in the album. As the song got to the chorus, he got down on one knee, pulled out a ring, and asked me to marry him. The song was titled "my one and only" and we slow-danced to it for the remaining of the song.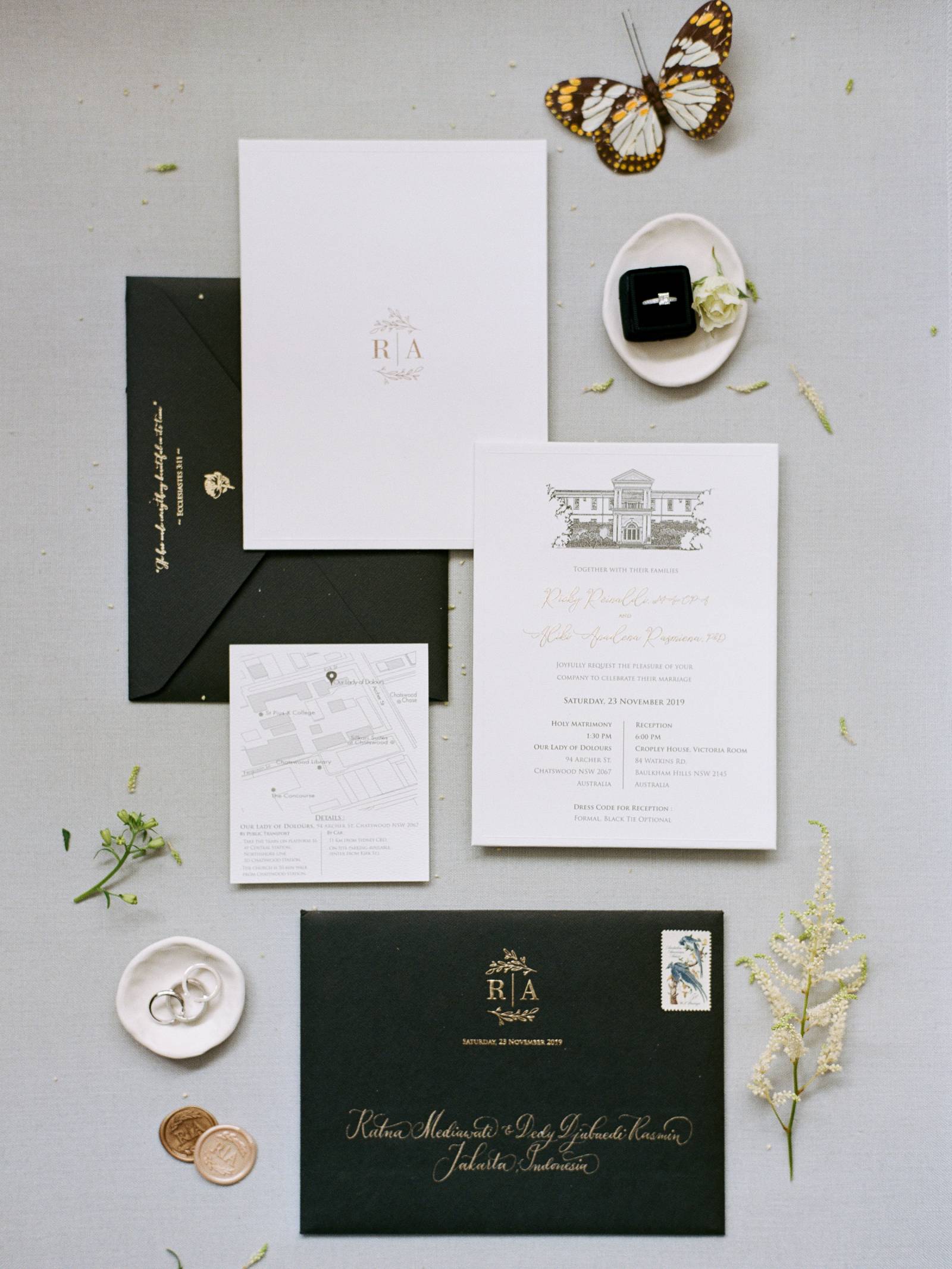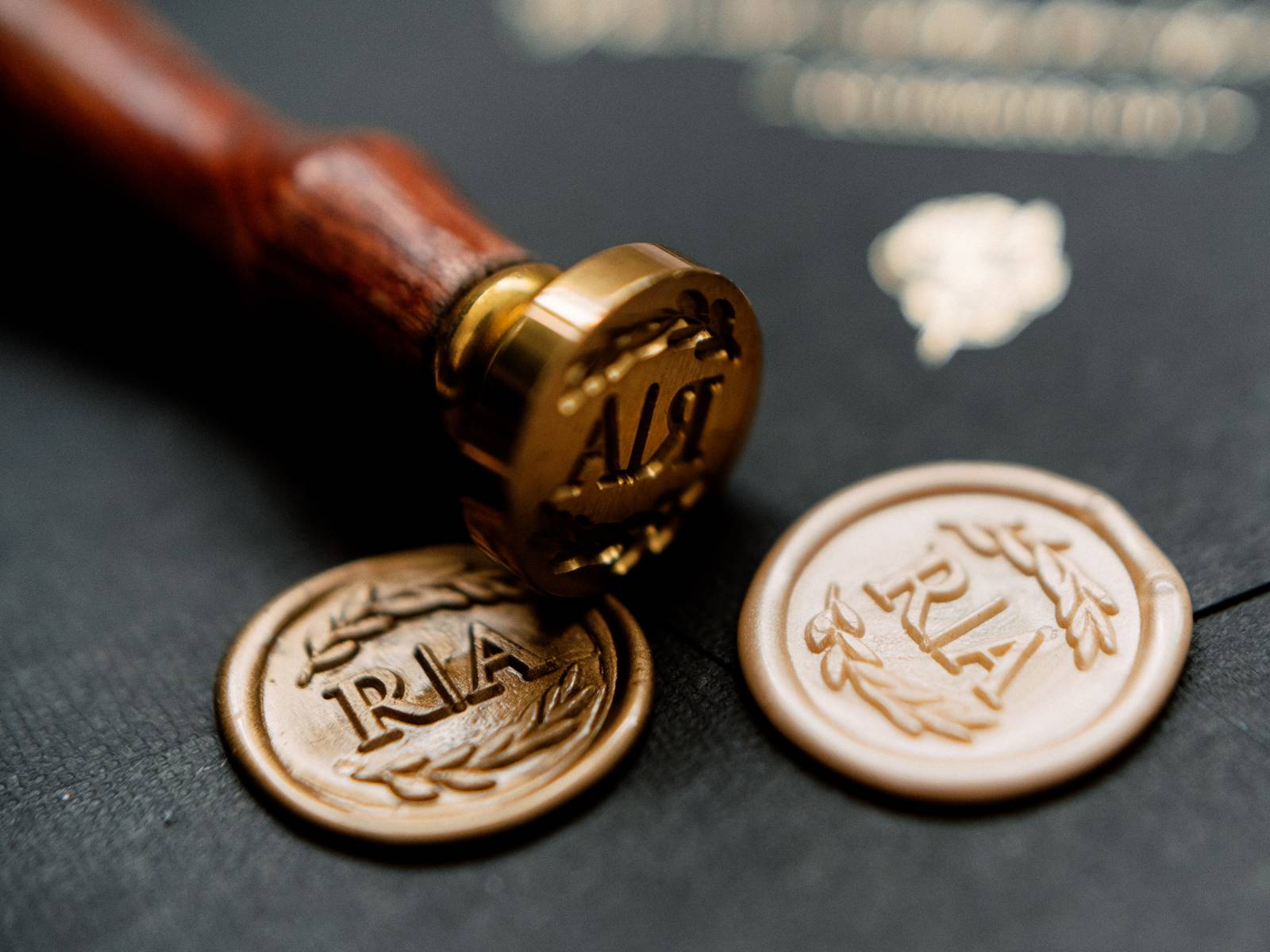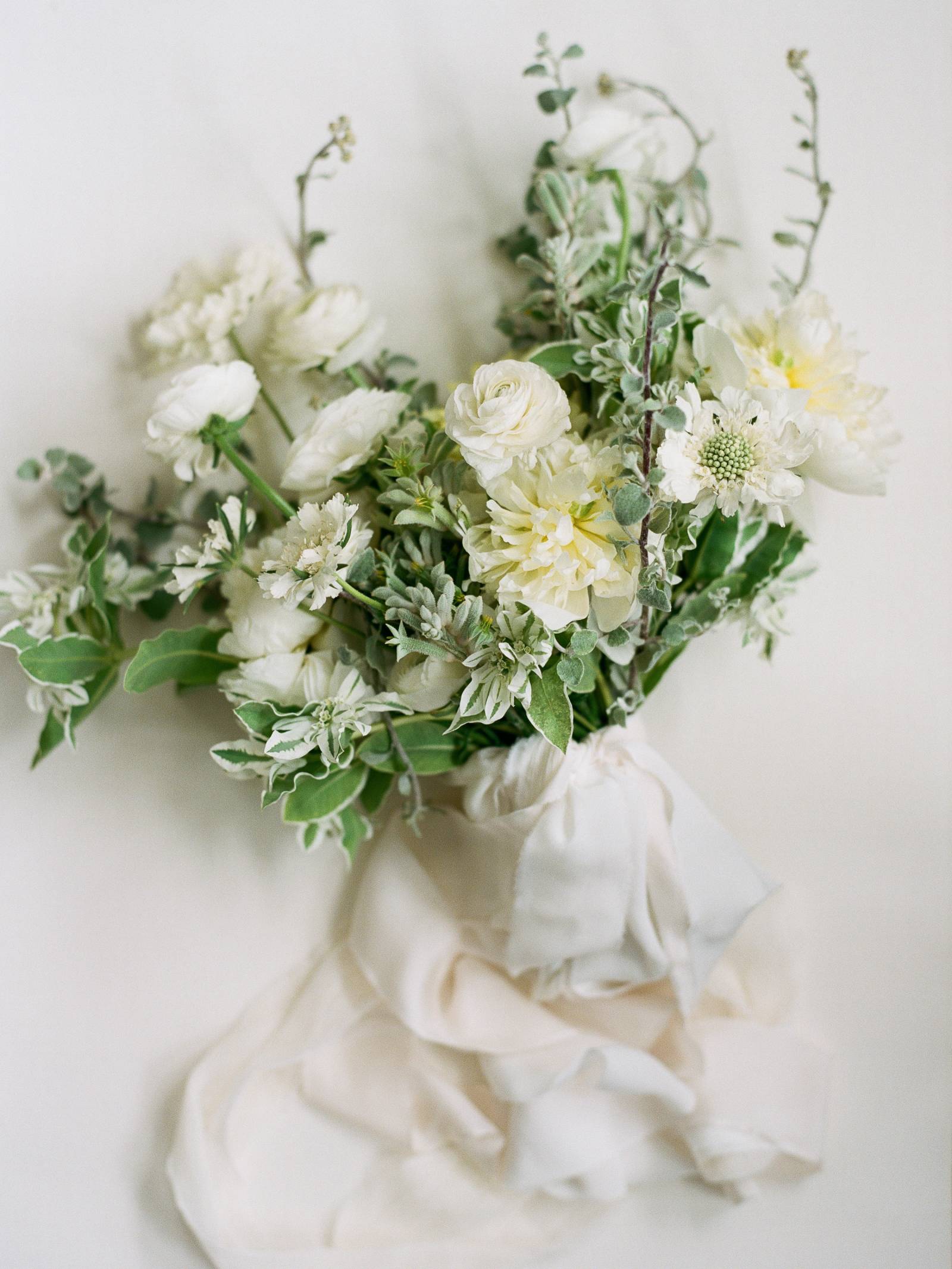 TELL US ABOUT FINDING YOUR WEDDING DRESS: The wedding dress was custom-made for me by INEZIA CHRIZITA who happends to be my cousin! I have always wanted a dress that looks modern, timeless and slightly vogue-ish, so I decided on a mermaid white dress with a sweet-heart neckline and a sharp deep cleavage. I wanted the dress to feature unique lace/beading as well as 3D floral detailing that aligned with the spring theme of the wedding. To add a modern regal tough to the dress, I requested a big bow at the back as well as a long train, both in white Italian satin. The veil is cathedral-length and also features 3D florals.
DID YOU HAVE ANY DIY ELEMENTS? Our church booklets. The illustration on the front of the booklet was a gift from a close friend. We printed the booklets ourselves and hand-tied each one of them with black ribbons.
DESCRIBE YOUR WEDDING FLOWERS: For the bouquet I requested classic white florals. The florals in the ceremony were kept simple with greenery and little white flowers placed at the pew ends. For the tables at the reception I requested the same colour palette with the addition of a pop of muted yellow. IDYLL CO. STUDIO did an excellent job of bringing in the English Garden feel to the reception floral design.
FAVOURITE DETAIL OF THE DAY: My tear-drop earrings as a gift from my Mom, and the tablesettings and florals at CROPLEY HOUSE.
WHAT ADVICE WOULD YOU GIVE OUT TO A COUPLE PLANNING THEIR WEDDING? Choose your vendors carefully. The right vendors will help pull the look of the wedding that you dream of and ensure everything runs as smooth as it can be. Prioritise which element of the wedding is most important to you. So if you can't afford a particular vendor that you would love to work with, you can review the other elements and see if you can move some budget to allow you to afford your favourite vendor.
MOST MEMORABLE MOMENT? The dance with my father, serenaded by guitar play of 'Perfect' by Ed Sheeran, from my husband and sang by my mother and sister, surrounded by everyone we love in the room.
WHAT ASPECT OF THE WEDDING WAS THE MOST IMPORTANT TO YOU AND YOUR HUSBAND? Photography and videography. My husband and I appreciate both these arts so much. As a photographer myself, I am particular about the quality of the photographs and wanted to be on the receiving end of what I do. We chose WE ARE ORIGAMI for the fine art style of their work and their specialisation in film photography to ensure our wedding photos remain timeless in years to come.
ANY OTHER DETAILS THAT HELP TELL THE STORY OF YOUR DAY? My husband and I love personalisation and we wanted the details of our wedding to help tell our love story. Instead of using numbers, each of our guest tables was named after a title of Ricky's songs that he had created for me. The guest names were etched on clear glass panels to create a unique seating chart. The glass panels were displayed on the first table with flowers in between and were adorned with silk butterflies to give a look of a garden bed which aligned with the spring theme of the wedding.
At the bridal table, we sat with our parents, instead of our bridal party because we wanted to honour our parents through whom we were able to find each other in love.
At the reception, Ricky performed 'Just the way you are" by Bruno Mars and "Perfect" by Ed Sheeran, with his favourite travel guitar that he first brought to Melbourne when he asked me to be his girlfriend.
TELL US A LITTLE ABOUT YOUR HONEYMOON: We travelled to four countries in three weeks. We spent Christmas in Shanghai and Seoul, and celebrated the New Year in Japan. Our last stop was Fiji where we got to relax before heading back home.
Sydney wedding photographer WE ARE ORIGAMI is a valued member of the Magnolia Rouge Vendor Guide. If you're a Sydney bride head over to our vendor guide to see more work by WE ARE ORIGAMI (Sydney wedding photographer). As a hybrid photographer (shooting film & digital) they approach all their weddings and portrait sessions in an honest, fun and unique way that combines documentary and fine art styles. You should check out this feature by them; An elegant & timeless wedding at The Flour Factory in Perth.
Sydney wedding florist IDYLL STUDIO is a valued member of our Vendor Guide. Idyll stands for simplicity, peace and presence. For owner Ha, it sums up all that she feels when she's creating with flowers. "I am the most authentic version of myself, not thinking, just feeling, immersed in the moment creating with my hands and my heart. Truth be told, I wasn't always in love with flowers. It was only when planning my own wedding that I realised the beauty of a flower can be found on a much more personal level, putting more thought and feeling into the flowers and translating emotions. Head to her portfolio to see more of her work.