Kristen and Alex's love story started as a five year friendship that slowly turned into something more. Florida wedding photographer KENZIE PACKRALL tells us that their day was a mixture of sentimentality and laughter. "From exchanging gifts and letters that brought tears to both their eyes, to a choreographed dance with friends to a Taylor Swift song, it was a wedding filled with so many moments that were a joy to capture."
Kristen had always dreamed of a garden wedding. She was really inspired by lush greenery, lots of florals, soft colours, and twinkling lights. "I wanted it to have a really romantic and intimate feel. I took a lot of ideas from different Pinterest and Instagram accounts."
WHY DID YOU CHOOSE THIS LOCATION? We chose ROCKING H RANCH because when we drove onto the venue it felt like we had been transported from Lakeland to a peaceful, countryside plantation--pretty much everything a garden wedding is made of. We knew we wanted to select a venue that would help make our day as stress-free as possible, and Rocking H allowed us to have the ceremony and reception on the same site, and included necessities like tables, chairs, a bridal suite and decorative pieces for us to choose from! Angela, the owner, is incredibly attentive and experienced so she made us feel at ease throughout the whole process.
HOW DID YOU MEET? Alex and I met on a Preview Day for Southeastern University. We both ended up attending college there in the Fall of that year and stayed friends throughout school before we started dating.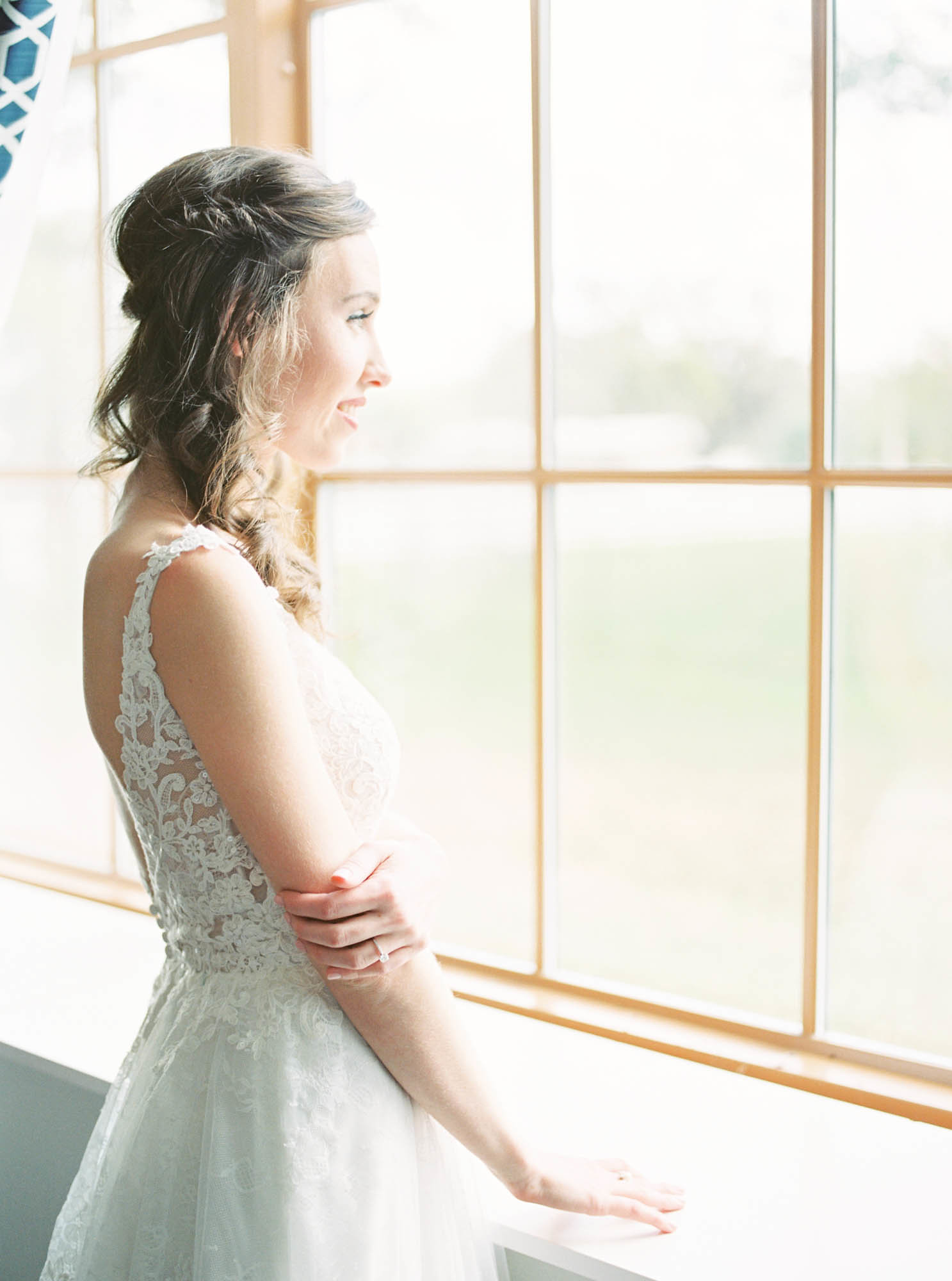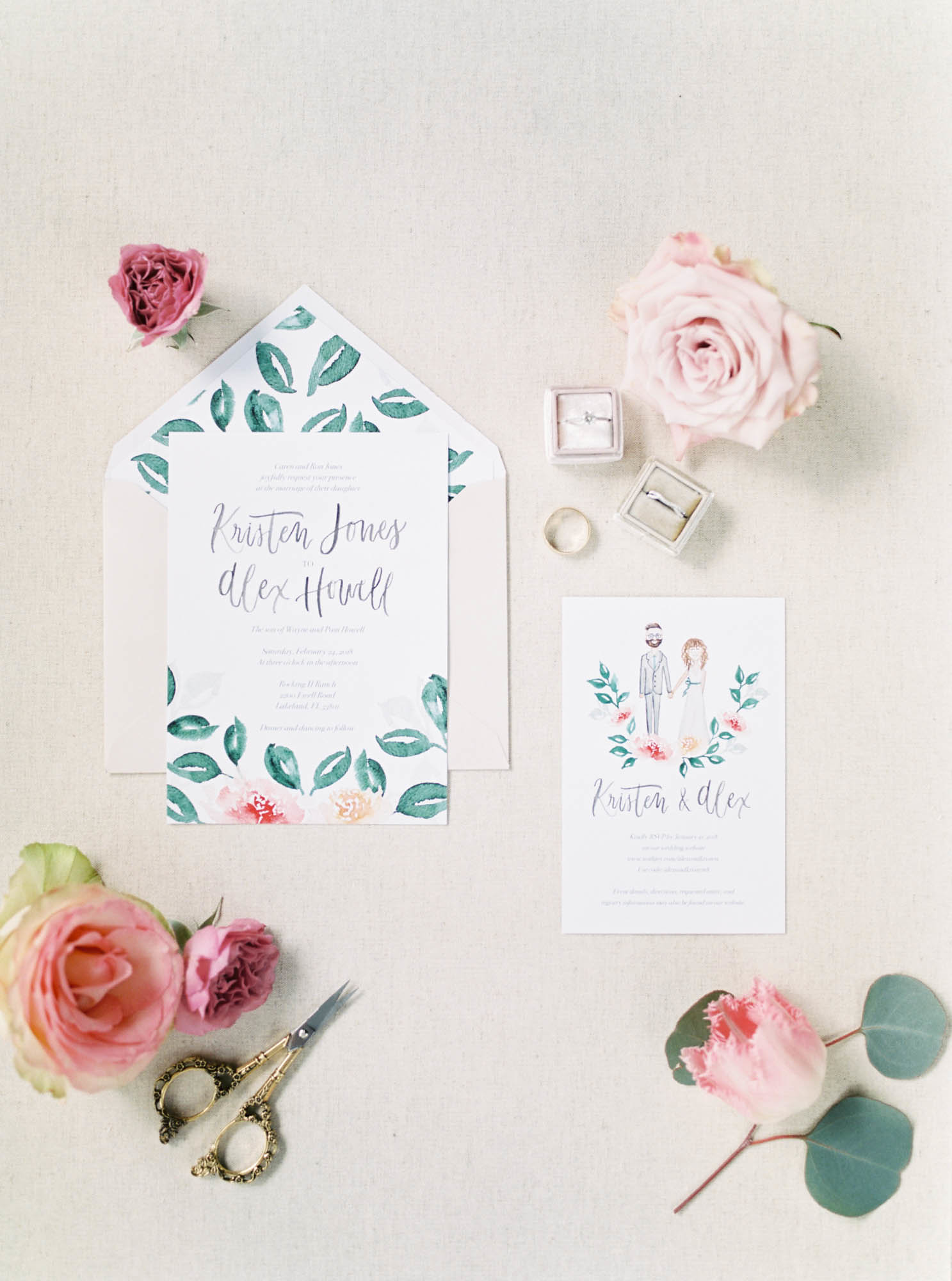 TELL US ABOUT YOUR PROPOSAL: On our first date, Alex bought a disposable camera that we used to take pictures on every date we would go on. When he proposed he had all the pictures printed and turned the downstairs living room of his apartment into a photography gallery complete with every photo we had taken during our time dating hanging up. He picked me up for dinner but said he "forgot something" at his apartment. When we walked inside I was completely shocked. He had even removed all the furniture and strung up lights. As we walked through, there was a note waiting for me at the end. I read the note and turned around to see Alex down on one knee.
TELL US ABOUT FINDING YOUR WEDDING DRESS: I saw an ad that CC's Boutique in our area was having a sample sale. I figured it was a good place to start to get an idea of what I liked so my mom, a group of friends, and I went together. When we got there we learned we went to the wrong CC's. This branch was having a Stella York trunk show for the 2018 line that we needed an appointment for. However, the girl who had the 10 o'clock appointment didn't show up so they gave me her slot. I tried on about 4 dresses before I found the perfect dress. Once they put on a veil to go with the dress, I teared up! It genuinely felt like a movie moment.
DID YOU HAVE ANY DIY ELEMENTS? One of the most sentimental DIY elements from our wedding was actually my garter. My mom used lace from her own wedding dress and made both the one we used to toss and the one I kept, by hand.
DESCRIBE YOUR WEDDING FLOWERS: I really wanted a romantic floral look so we went with a lot of eucalyptus and greenery with various flowers-mainly roses- in different shades of pink and cream. They were everywhere! And each centrepiece looked a little different which I think added a really whimsical feel.

FAVOURITE DETAIL OF THE DAY: The flowers! I was in shock when we walked into our reception and saw it all put together. Nandi, our designer/florist, went above and beyond what I had envisioned. She even surprised us with a beautiful floral arch for our sweetheart table.
WHAT ADVICE WOULD YOU GIVE OUT TO A COUPLE PLANNING THEIR WEDDING? Don't let the stress of wedding planning take away your joy in the process of preparing for marriage. In the midst of all the decisions, details, and differing opinions it can be easy to lose sight of the end goal. So don't let the small things take away from the fact that you are getting to marry and commit your life to the person you have waited for. Your wedding, while its a special day, is just one day in comparison to the lifetime you will have together as a married couple.
MOST MEMORABLE MOMENT? Exchanging our vows. We chose to write our own and kept them a surprise for one another on the wedding day. It was so special to personalise our commitment to each other in that way. We both cried.
TELL US A LITTLE ABOUT YOUR HONEYMOON: We wanted our honeymoon to really feel like a getaway where we could relax and de-stress together, so we had the incredible opportunity to honeymoon in Oahu, Hawaii. Our hotel stay and flight tickets were gifted to us by Alex's family, and we truly made the most of it. Highlights of our trip included a helicopter tour of the island and booking a rental car and driving around to stop at different lookout spots in the mountains.
IS THERE ANYTHING YOU WOULD CHANGE OR DO DIFFERENTLY? Honestly, I'd probably organise myself a little better and ask for help way more! You'd be surprised how much people want to help you, even with the smallest things! So lean into the people around you, instead of getting all stressed out trying to do everything on your own.
A big thanks to Florida wedding photographer KENZIE PACKRALL for sharing this beautiful wedding with us. Kenzie is a Southern wedding photographer with a travelers heart. "My journey with film photography began when I was a little girl. My father would give me film cameras and I would go around shooting anything from flowers in the front yard to our family vacations. Now, I have the privilege of documenting love on film. I would describe my style as timeless, romantic, and emotion-filled. If you're getting married in the South be sure to check out more from this Florida wedding photographer in our vendor guide.