Layne and Michael had been dating for nearly nine years when he surprised her on a rainy night in Paris: He got down on one knee and proposed with a custom ring. A year-and-a-half later, on October 6, 2018, they hosted 165 guests for a destination wedding weekend at LONE MOUNTAIN RANCH in Big Sky, Montana, complete with custom boards for a cornhole bracket championship, bottomless s'mores at a welcome barbecue, and an outdoor ceremony in a clearing with panoramic views of the mountains. REBECCA HOLLIS captured their absolutely magical celebration which also featured in Issue 20 of MAGNOLIA ROUGE MAGAZINE.
"We are such travel-obsessed, adventure-loving, go-big-or-go-home kind of people, whose family and friends are our world," says Layne, a professional event designer and stylist. "The theme was a little bit of Michael's Texas-BBQ-camp vibe mixed with my wild, celestial, disco, Stevie Nicks soul." Layne and Michael, a TV and film development coordinator, planned a family-style tented reception that took its colour cues from the scenic location, while adding "a heavy dose of glitter." A last-minute change in the weather forecast, however, forced Layne and her team of vendors to rework the entire setup and move the event inside. "I think the coolest thing about the entire wedding planning process was watching Layne replan the entire wedding in 36 hours," says Michael. "Watching her spring into action like that, just so in her element, was amazing."
For Layne, it was a chance to follow the advice she always gives to her own clients: "Something will always go wrong on your wedding day—it can be super small or incredibly large—but you have to be able to let go of the idea of what it's supposed to look and feel like in your head," she says. "You spend so much time worrying about those silly, insignificant details that you forget why you did this in the first place." The weather forecast forced their reception indoors, but this couple embraced the changes and ended up with a wedding they both considered epic.
Layne worked with her friend Asia Forbes of BOLDHOUSE CREATIVE on the invitation suite, which included a one-of-a-kind custom embroidered patch as a save-the-date. The yellow rectangle was adorned with a moon and mountains logo (which the couple repeated on their invitation), the location, dates, wedding website, and the couple's hashtag. Together they also created a custom hand-lettered booklet that was digitally printed on organic cotton paper, sewn together with teal embroidery thread, and sent in a teal envelope with a custom Kraft paper liner embellished with stars and constellations. A foil accent on the front of the booklet combined a moon shape with mountains and trees, while the booklet inside included hand-lettering, doodles, a map, and even a packing list.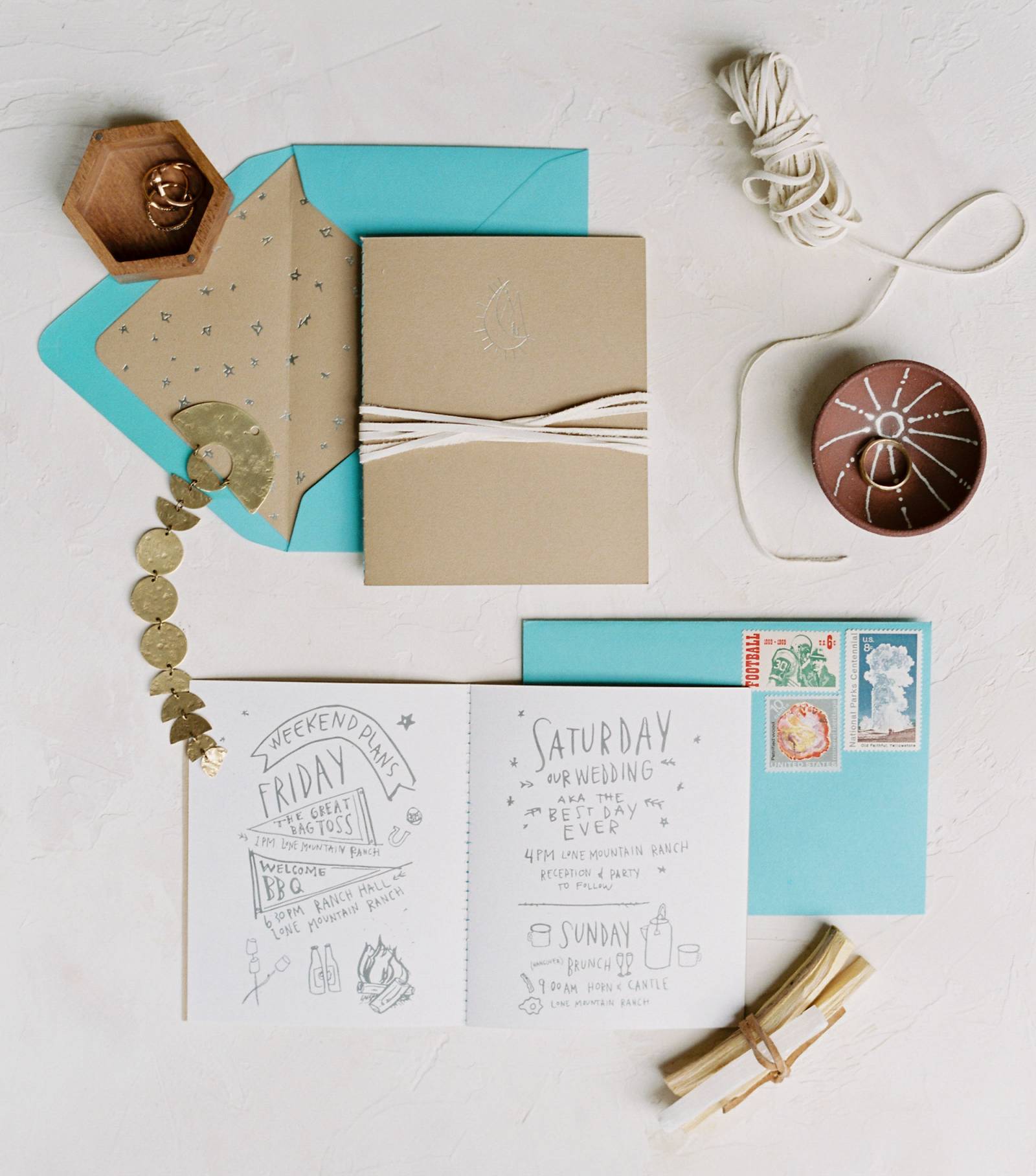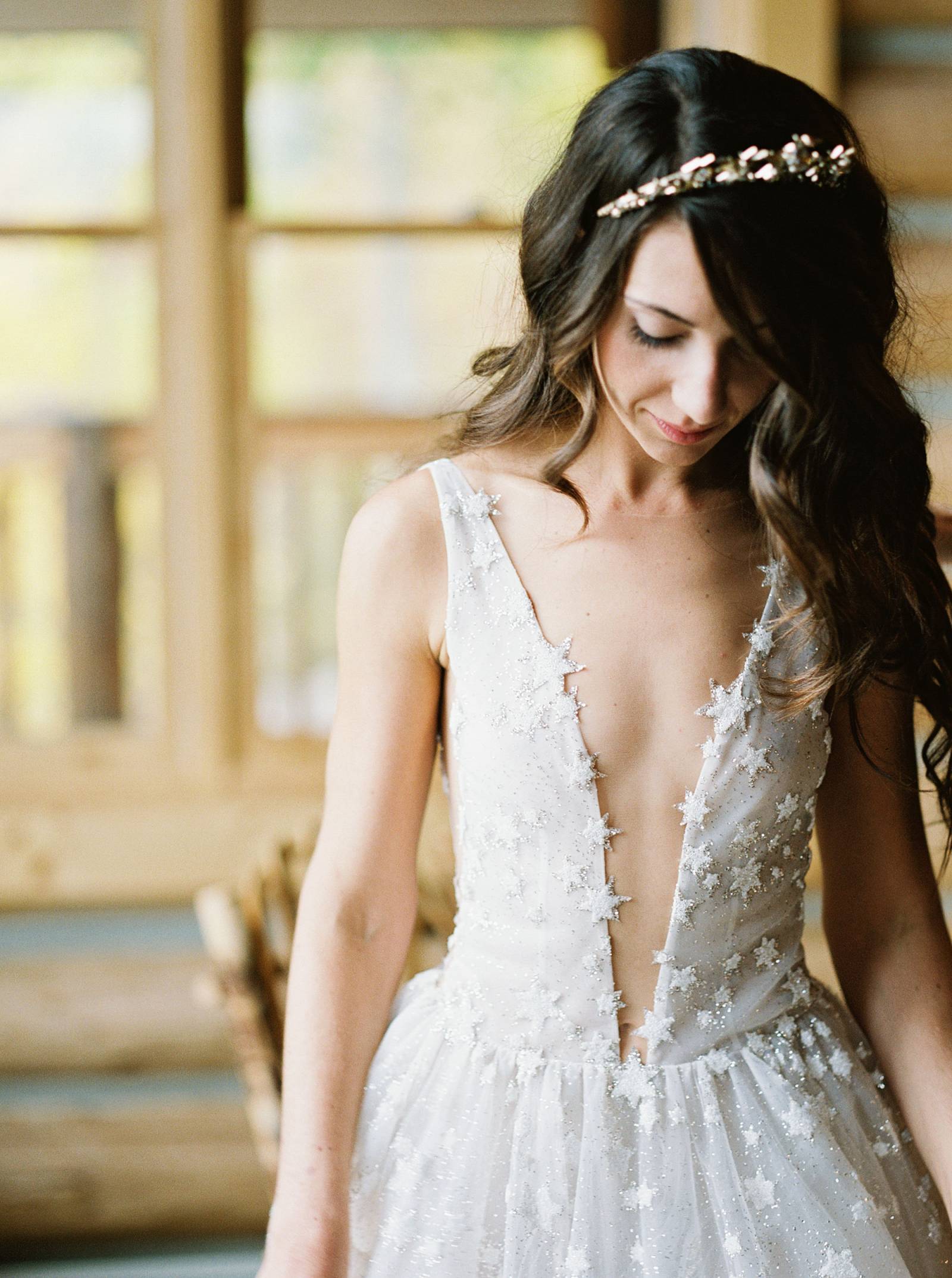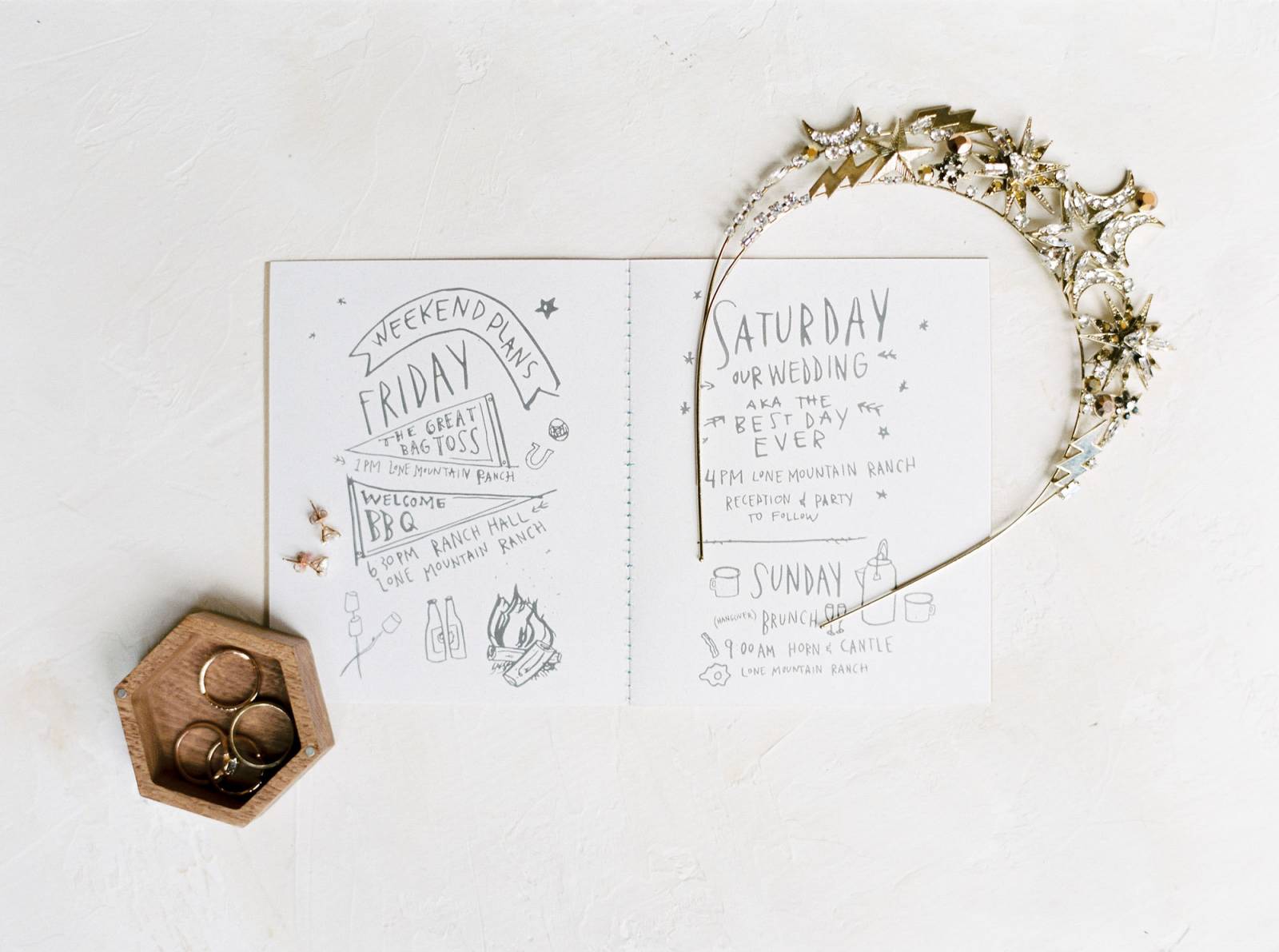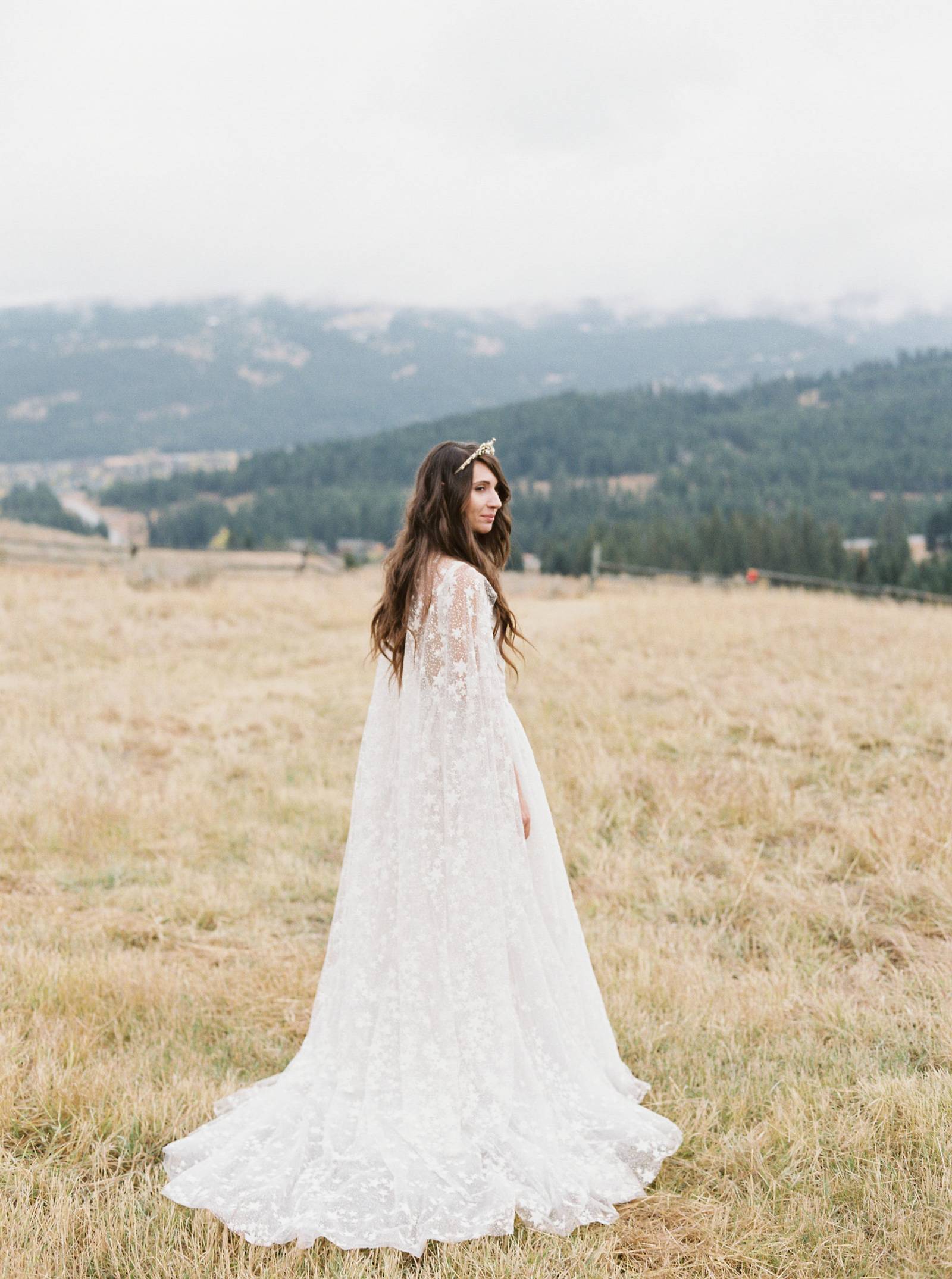 Layne began the search for her dress with a long list of must-haves: "I was looking for something that was high fashion, edgy, editorial, ethereal, comfortable, felt like me but was still a wedding dress, and the kicker? I wanted something no one else had, or had worn." She tried on nearly 20 different dresses over the course of six months, but nothing felt right until she came across a tulle gown with plunging neckline from GALIA LAHAV. "I found a picture of the dress online and stopped in my tracks," she says. The gown, covered in white sequinned stars, reminded her of the Montana sky, while a custom-made cape in the same fabric created a little contrast between her ceremony and reception look.
A stylist from BOOMSWAGGER SALON gave Layne long, loose waves that she accented with a tiara she helped create. "I worked super closely with British designer TILLY THOMAS LUX to design a bespoke, asymmetrical crown that was covered in stars, moons, and lightning bolts," she says. "It just may be my favourite thing I own." She kept the rest of her jewellery understated, pairing diamond earrings that had belonged to Michael's grandmother with mismatched "celestial-inspired" studs from her own collection. The final part of Layne's wedding day look was a pair of glittered Gucci boots she describes as "epic."
Michael had designed Layne's engagement ring—which she calls "the moon rock ring of my dreams" with jewelleer Lauren Wolf of ESQUELETO. "It's a European cut diamond flanked by a gray trillion diamond, and a sapphire, another diamond, and a pear-shaped diamond, all cast in rose gold," says Layne. "It's so me, it's crazy." When it was time to choose their wedding rings, the couple returned to ESQUELETO for Michael's matte gold band from ADELINE and a pair of rings for Layne—a diamond archer to go above her engagement ring, and a bottom band made with gray diamonds and a point-up brown cushion cut. "It's the stack of my dreams," says Layne.
Layne had one request for her bouquet: "I knew I wanted to carry something transcendent," she says. STREGA FLORA provided a bouquet of Layne's favourite plant, lunaria. "There's something so magical and special about those gorgeous silvery-iridescent pods," says Layne. "They were also a flower that my grandmother always had in her house when I was growing up." Sparkling gypsophila, the only other bloom in the bouquet, called back to the glittering accents on her dress, shoes, and tiara.
Montana's famously unpredictable climate gave Layne and Michael a run for their money in the week leading up to the wedding, serving up everything from snow to sun. "The day of the wedding, it snowed a little in the morning but the rest of the day was gorgeous and misty with a couple of sun showers here and there," says Layne. "It was drizzling right before the ceremony, and like magic, the sun came out just as our processional began."
Nearly 100 of the couple's friends and family stayed on property at LONE MOUNTAIN RANCH, so Layne and Michael arranged for a horse drawn carriage that transported those guests to the ceremony bluff.
For their outdoor ceremony, the couple chose the Ridge—a clearing on the Lone Mountain property that offered sweeping views of the surrounding mountains. "The space where we were getting married was so epic and special, I didn't want to put up an arch to cover or block that," says Layne. "It would just pale in comparison to Mother Nature behind it." Instead, she turned to one of her favourite accents—glittering disco balls—and clustered them with dried tumbleweeds and grasses to create textural, high-contrast art installations. More disco balls lined the aisle, which was created by two groups of backless benches, and threw sparkling reflections around the ceremony space as the sun moved overhead.
The ceremony, co-officiated by the couple's best friend along with Rabbi David Gruber, included readings from Michael's sister and two other friends. "We also did our interpretation of a seven blessings and had seven of our closest family members and friends come up and speak them in English, and our rabbi translated them into Hebrew," says Michael. After the ceremony, the newlyweds exited to "Oh, It Is Love," by HelloGoodbye, as guests rang cowbells, blew vintage trumpets, and shook maracas for a festive accompaniment.
Layne and Michael decided to surprise their guests with a first dance that went from traditional—"She's Every Woman," by Garth Brooks—to unexpected. "As soon as it was over, we busted out into a surprise, choreographed version of 'Cheerleader' by Omi," says Michael. "It was insane!" It also gave Layne a chance to change into a more party-ready gown—a white slip dress from STONE FOX BRIDE that she wore with MIISTA star boots.