You are going to fall in love with this beautiful wedding one of our favourite Australian Wedding Photographers ASHTON JEAN-PIERRE which features in Issue 15 of the MAGAZINE. Their story reads like a movie! It's not every groom who takes his wife's surname after their marriage, but then again, Nicole and Ramas McRae are no ordinary couple. Their love story began in the staffroom at Melbourne's Victorian College for the Deaf: "When I introduced myself, said hello and looked into his eyes, I was struck by the absolute warmth I saw there," says Nicole. The nature-loving pair eventually got engaged on the plot of land where they plan to build their dream cabin, and immediately began dreaming of a "relaxed outdoor bohemian campsite style wedding, with a hint of Narnian feast". Eighteen months later, with a little help from their families and friends, that's just what they produced, an effervescent celebration that perfectly melded their personalities and tastes with traditions from their combined Scottish-Greek-Lithuanian cultures.
As huge fans of the outdoors they wanted something relaxed and outdoors. After describing all of this at family dinner one night, they were advised to visit the Upper Plenty Conference Centre! "We visited and it was perfection! There was a lush green space to use for the ceremony, a gorgeous open area studded with trees and a campfire where we planned for dinner (although fire-bans prevented a campfire on the night) and a huge open field that was perfect for the afternoon tea picnic and Ramas' vision of the caber toss and other highland games! Another huge plus was that whilst we felt like were in the middle of the bush - there were toilets on site and a dining hall/chapel on hand in case the weather went nuts. We loved that there were cabins on site so Ramas, myself and some close friends and family could arrive the day before to set up and stay the night. It also meant that on the night of the wedding - people could party on as long as they liked and crash without having to worry about driving home to Melbourne.
We loved the atmosphere we created for our reception - tables and chairs set up in a circle (which is more Deaf-friendly, as everyone can see each other) with festoon lights hanging above and a Moroccan rug dance floor in the middle. Anywhere you looked you saw the smiling face of someone who loved us.
The morning after the wedding about 40 of us went to a local café (Stokes Orchard Café), which we'd booked out. It had awesome coffee and food - and we all tucked into breakfast before heading home. It was the perfect way to thank our guests for being a part of our big day."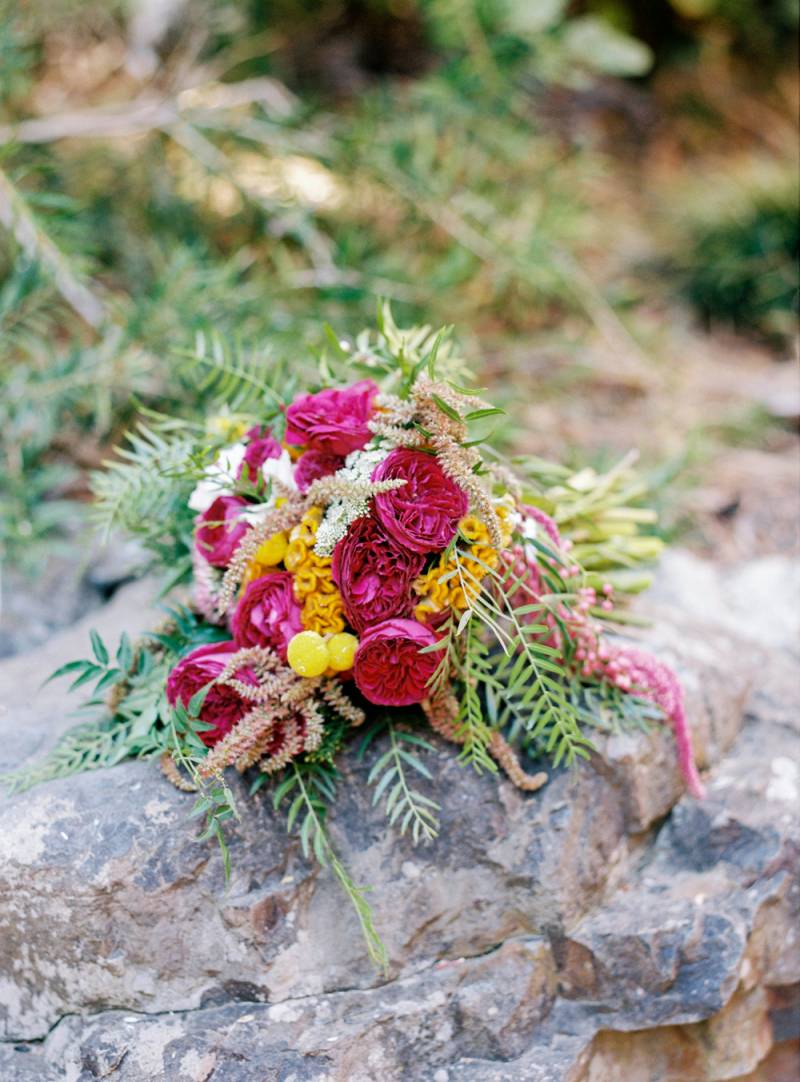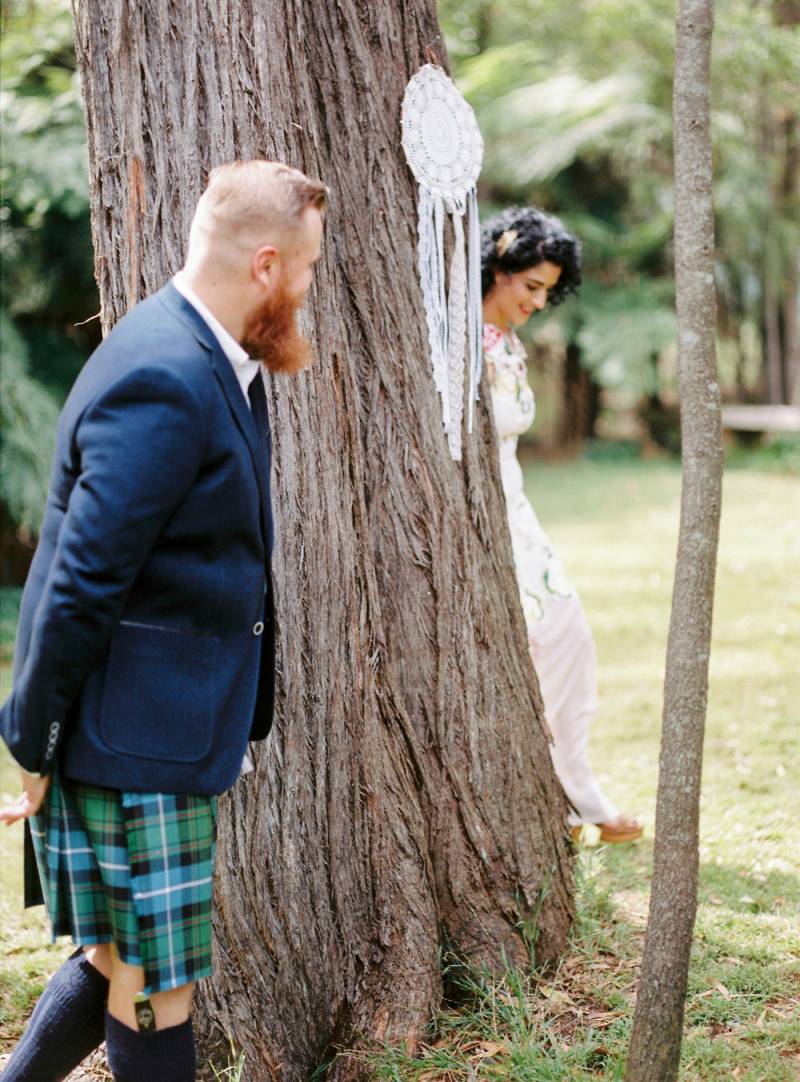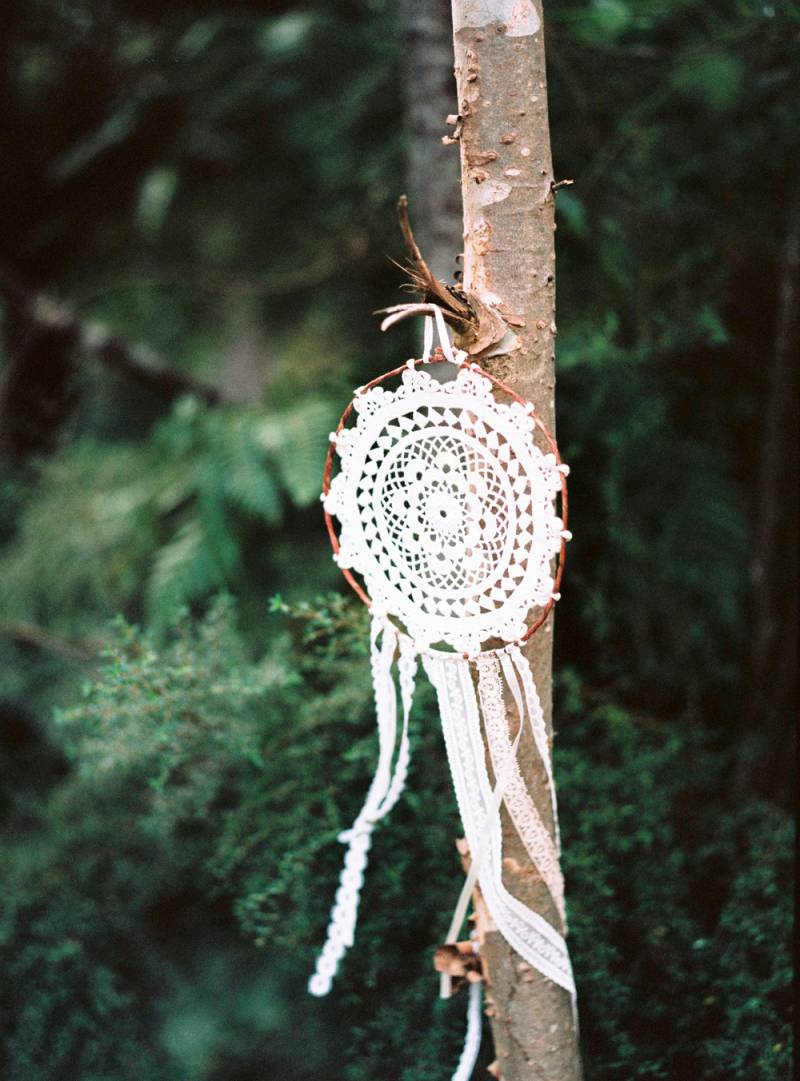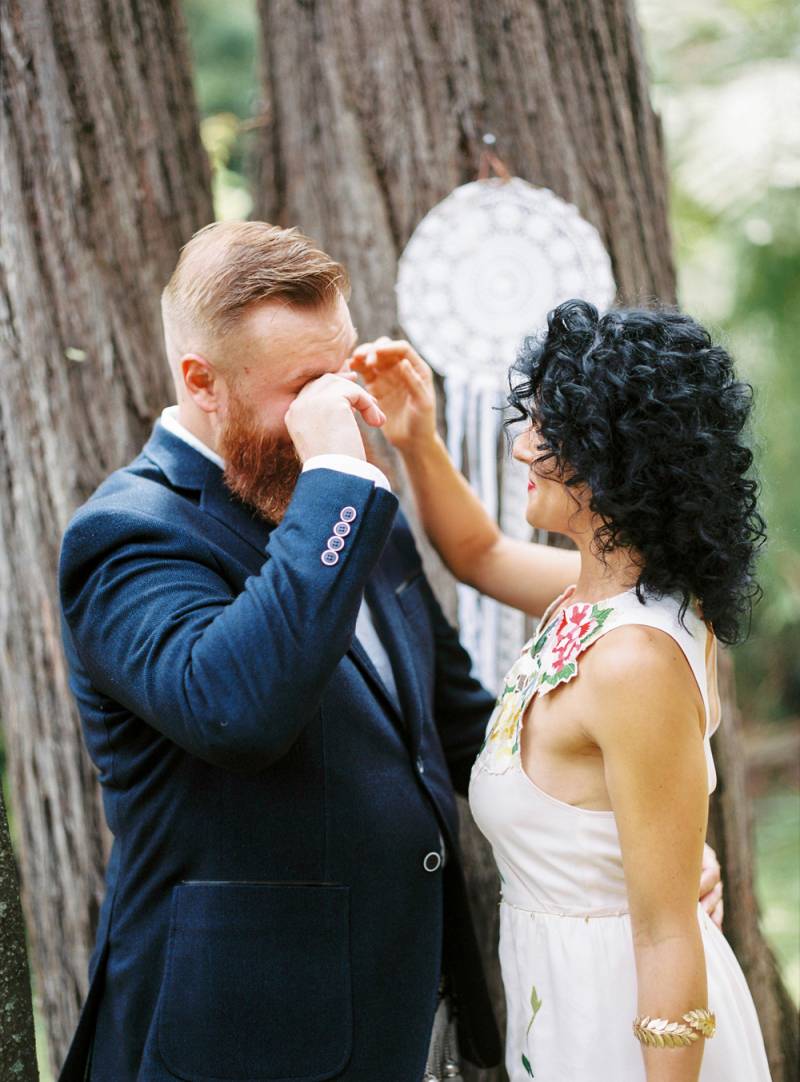 TELL US ABOUT YOUR PROPOSAL: Ramas and I bought a block of land together on 90-mile beach about two years ago. We visit the block of land every couple of months to clean it up a bit and dream of the little cabin we're hoping to start building soon. One day we planned to visit the block of land and that morning Ramas said - "let's go to the market and buy cheese and things for a picnic on the beach" which of course I agreed to, because - picnic! We got to the block and spent a couple of hours mowing and clearing and once we were suitably sweaty and messy looking, walked down to the beach with our picnic. When we had finished eating and were just sitting, enjoying each other's company I looked down and saw a box - which contained a ring depicting a Ruta leaf. The Ruta leaf is a Lithuanian symbol associated with women and purity and represents the rites of passage in a person's life. 'Ruta' is Ramas' mother's name... so symbolically it is extra special. I looked up and there he was on one kneel
TELL US ABOUT FINDING YOUR WEDDING DRESS: One day I was window shopping along Chapel Street, and the dress I saw in the window at Alice McCall stopped me in my tracks. It was the palest blush, vibrantly adorned with embroidered flowers, leaves and birds. I immediately thought: "that's the dress I'm going to marry Ramas in". It was unapologetically, riotously colourful, whimsical and feminine all at once, and it fit like it had been sewn just for me.
DID YOU HAVE ANY DIY ELEMENTS? I made the wedding cake myself, using my Hawaiian carrot cake recipe (the same cake I'd once made to impress Ramas at a staff luncheon!) Although a few people advised me against it, I'm so glad I trusted my gut - spending an hour alone dressing the cake with fruit and flowers on the morning of the wedding was such a calming experience! Some gorgeous colleagues brought along other beautiful cakes, pavlovas, tarts and cupcakes to complete the dessert table.
ANY FUNNY STORIES FROM THE LEAD UP TO THE WEDDING? We almost had no celebrant! (Obviously it wasn't funny at the time. Lol) We have a friend who is a celebrant and also a qualified Auslan interpreter - which meant she'd be able to deliver the ceremony in Auslan (and we would have interpreter there to voice the Auslan in spoken English for hearing guests/those who don't sign.) It would have been awesome as Ramas and Deaf guests would have had direct access to the ceremony. Unfortunately, we found out 5 weeks before the wedding that our celebrant friend was no longer available... which meant we had one week to find a new celebrant and lodge the legal paperwork (which had to be lodged a month before the wedding) or we couldn't legally be married on our wedding day!!!!! After a day of frantic phone calls, emails and wild Googling of Victorian celebrants we came Michael Webb... We met up with him and instantly clicked. He was just so on board with all our ideas and had a few of his own that we loved. We booked him right away. The ceremony he helped us craft was unique, warm and just beautiful. On the day a few people commented that they thought he was a mate of ours - because the ceremony was so 'us' and we were all so relaxed together.
Another funny story is having to bribe my shy nephew into walking down the aisle with the promise of making him 'the best most awesome dinosaur cake' he'd ever seen in his life. (Of course I went through with my promise!
"Ramas wanted to pay homage to my Scottish heritage with the inclusion of Highland games. They were a huge hit, with all the boys going up again and again trying to outdo each other. Ramas won the caber toss, of course!"
FAVOURITE MEMORY OF THE DAY? There were so many... our first look was definitely one. For me, seeing Ramas in his kilt - so strong and handsome and good - I was thinking 'how did this happen?' I felt like I'd woken up to find I had a winning lotto ticket... and I'd be winning that ticket every day for the rest of my life! Thinking back to Ramas shedding some tears still gives me goosebumps.
Ramas says that seeing me stunned him. He thought I looked more beautiful than ever and knowing that I was about to become his wife blew him away.
The first look was a beautiful moment - Just the two of us (and photographer of course, but somehow we didn't notice him at all) - the surprise and joy at seeing each other, then the few quiet minutes holding each other, feeling centred, like we were the only two people on the earth at that time. Also I don't think I've ever seen my parents happier than on that day - it was just beautiful. Being walked down the aisle by both my mum and dad with huge smiles stretched across their faces... still makes me smile.