From the moment they started planning, Dina and Paul aimed to create an all inclusive retreat wedding weekend for their wedding guests. Having their wedding at FOXHALL RESORT right outside of Atlanta, Georgia gave them the opportunity to do just that and to create a lovely vacation experience. FOXHALL RESORT is filled with wide open fields, beautiful lakes, and was the perfect hideaway to host an intentional and faith focused wedding which was beautifully captured by Atlanta wedding photographer AMANDA OLIVIA PHOTOGRAPHY.
Amanda tells us, "Their day started out slow and intentional - Paul spent the morning skeet shooting with his groomsmen and family while Dina relaxed and got ready in her cabin with her bridesmaids. After a slow morning the bride and groom got ready, exchanged heartfelt letters and thoughtful gifts leading right up to their First Look. And this first look was one for the books! The moment Paul saw Dina his eyes filled with tears and total joy. Leading up to their ceremony, their whole bridal party and immediate families took the time to pray over Dina and Paul, their marriage, and their future life together. Faith remained at the center of Dina and Pauls' wedding day creating an environment of love and support.Every part of Dina and Paul's wedding day was intentional and faith based - from the gifts they shared, to the vows they exchanged, to the toasts and kind words that were spoken."
WHAT WAS THE INSPIRATION BEHIND YOUR WEDDING STYLE? We wanted our wedding to feel elevated and special, but not so over-the-top that it wasn't inviting or comfortable. Aesthetically, our approach was a combination of classic and modern styles. We had simple stationary pieces, timeless white drapery, lots of candlelight, and the coolest vintage car­, but added a modern feel with contemporary furniture, unique place settings, dramatic flower arrangements, and a black, gold and sage colour palette.
WHY DID YOU CHOOSE THIS LOCATION? With both of us being from out of state, we wanted the entire weekend to feel like a retreat destination for our guests who were traveling to celebrate with us. Foxhall was the perfect spot to host the Friday and Saturday night festivities and accommodate our guests overnight. The whole weekend felt like a getaway vacation because of the endless activities at the resort as well as the scenic overlooks and dreamy lakes at every turn of the beautiful property.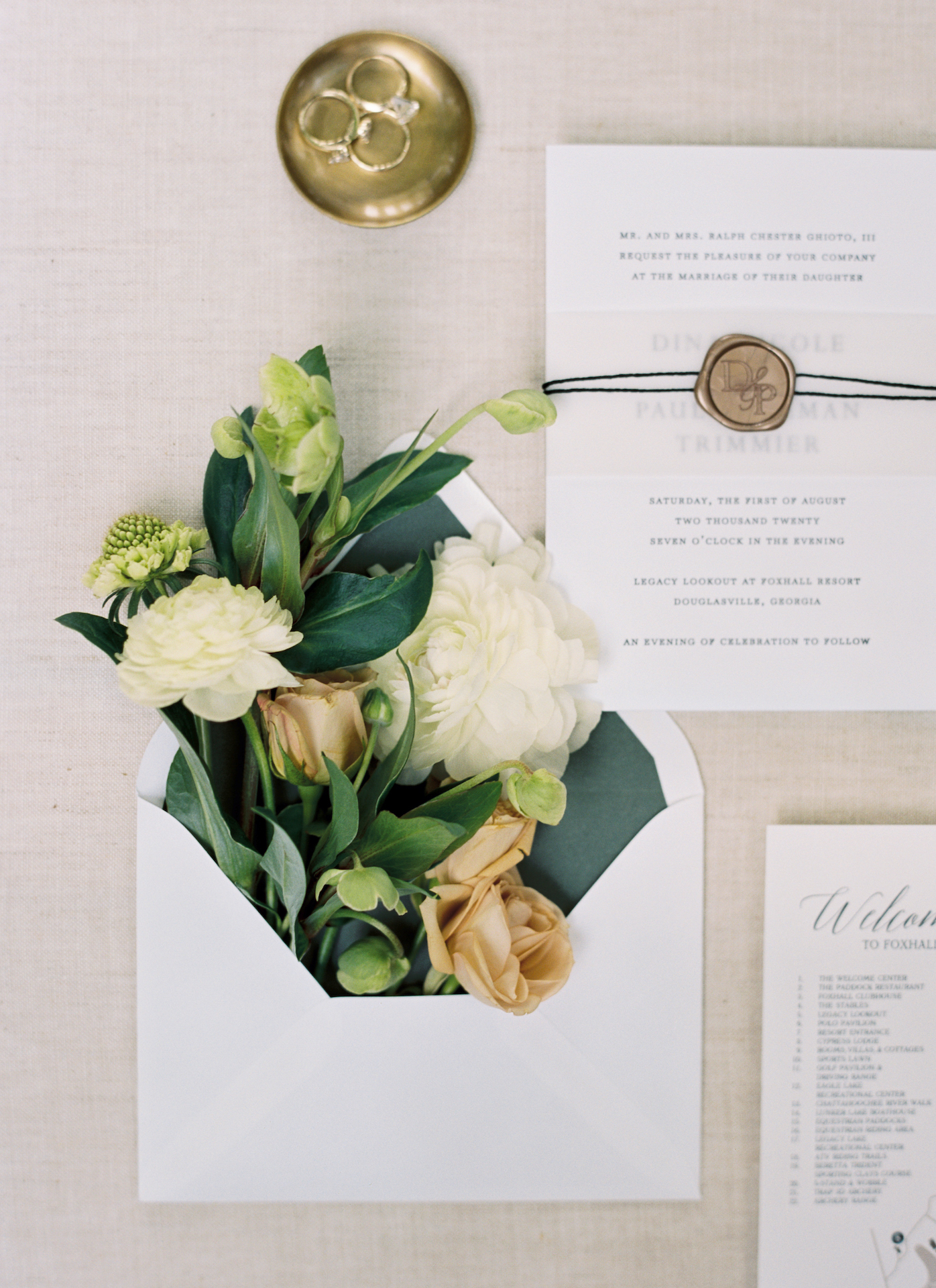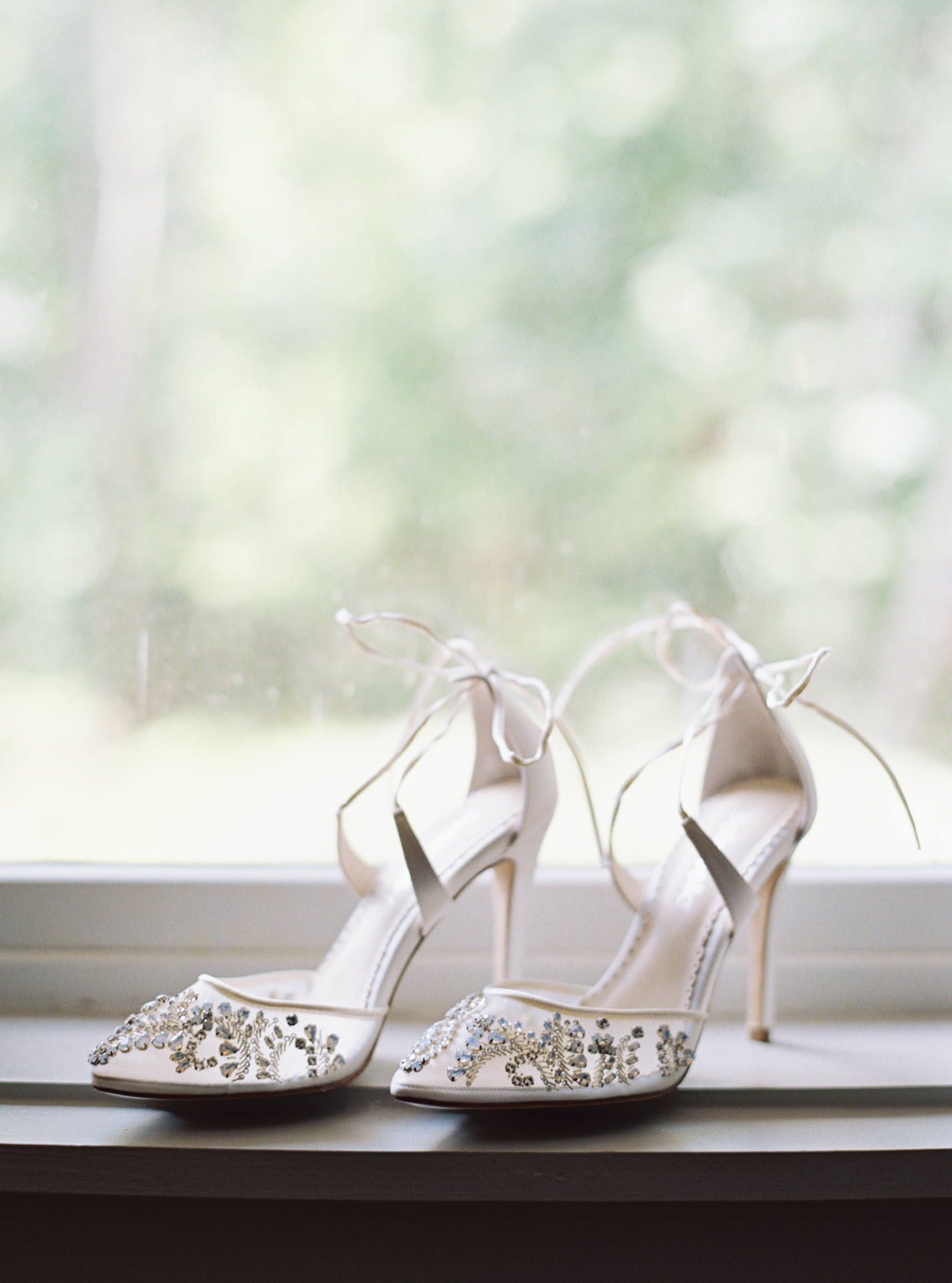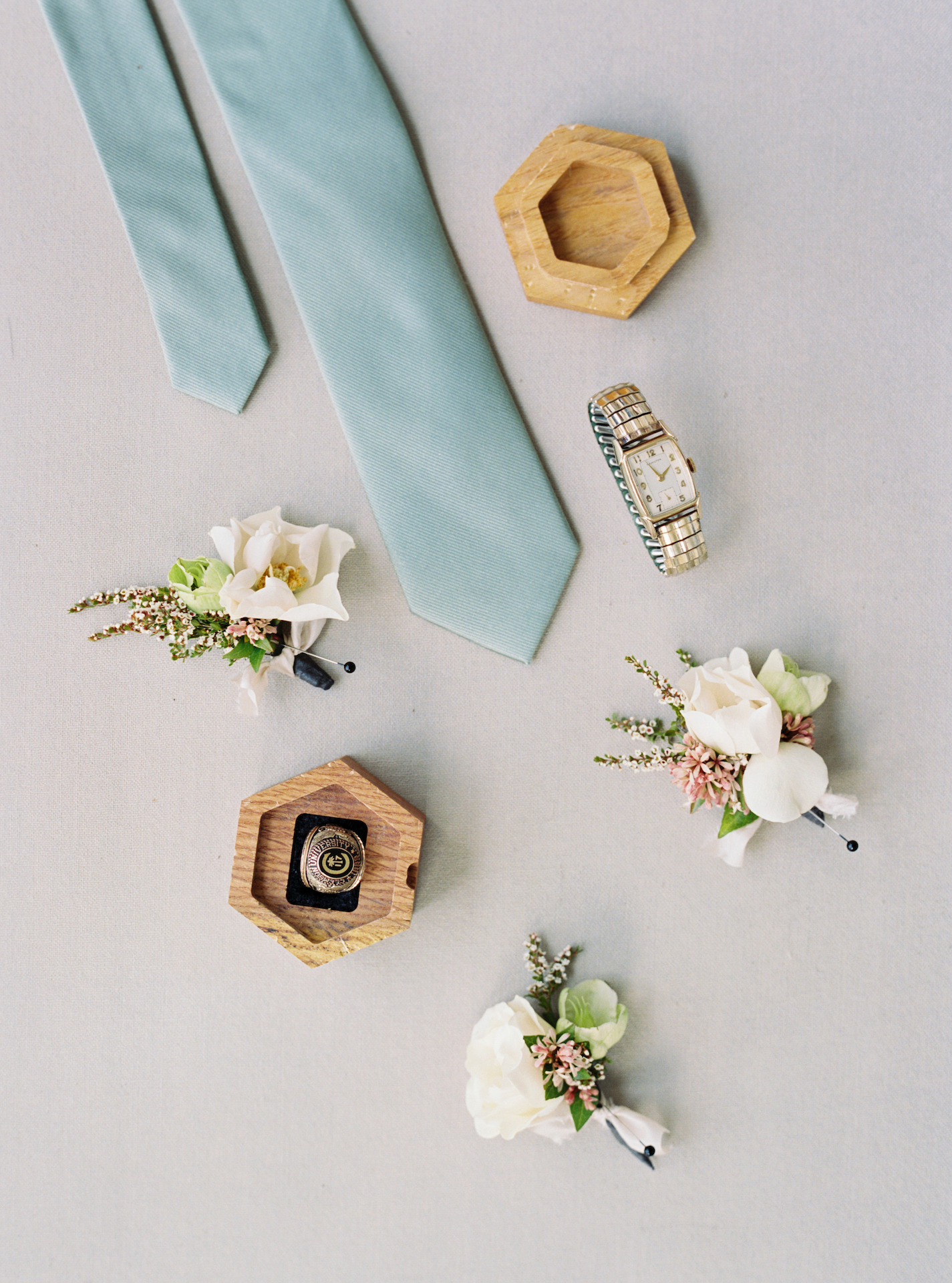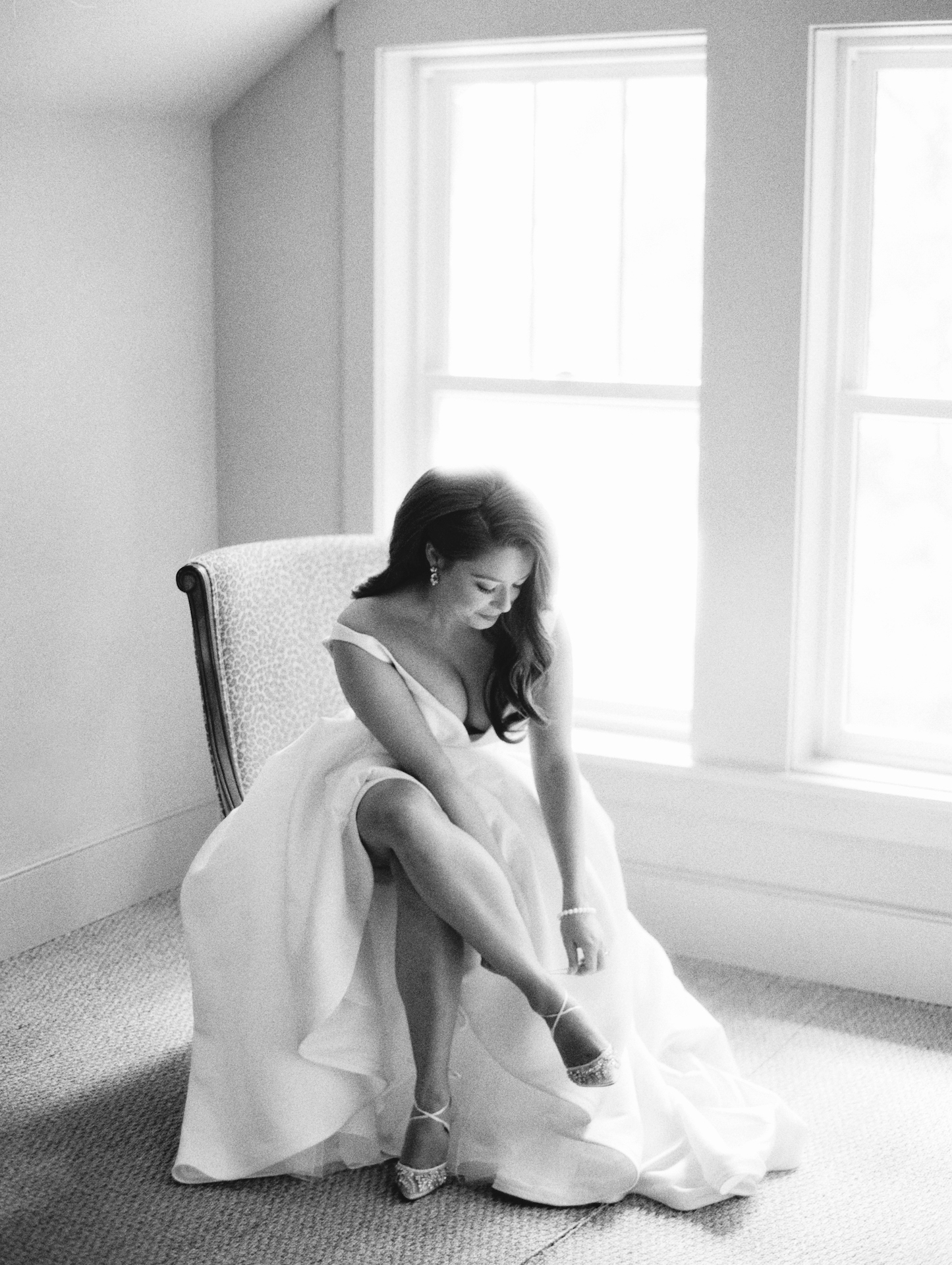 HOW DID YOU MEET? We met at our first job in 2017. We worked very closely together for about a year, became great friends, he finally asked me on a date, and we've never looked back!
TELL US ABOUT YOUR PROPOSAL: Paul proposed on January 25, 2020. On our first date in August 2018, we were at the scenic overlook by the lake at Piedmont Park in Atlanta. Someone filming a commercial for WeWork stopped us and asked if they could film us for a commercial they were shooting. We've always laughed about the fact that there is footage of us feeling nervous and awkward on our first date (transitioning from just friends to being a couple). About 18 months later, Paul contacted a real employee at WeWork to send us a fake email inviting us to shoot another commercial with them in the same spot, but during the winter to "emphasize the year-round availability and non-stop culture of WeWork." As soon as we got to the spot and were in position, Paul dropped to one knee. The "commercial videographer" was actually our engagement photographer. Paul had planned a beautiful reception with all of our family and friends to celebrate after.
TELL US ABOUT FINDING YOUR WEDDING DRESS: It was the first dress I ever tried on. I know that's crazy! I visited Winnie Couture in Atlanta with my mom just to see what they had and one of the few all-satin dresses in the store ended up being the one. I paired it with a simple veil from Toni Federici, stilettos from Bella Belle, and earrings from Olive and Piper. I loved every detail of my wedding gown and accessories. It was timeless, elegant, and dramatic- everything I ever dreamed of.
DID YOU HAVE ANY DIY ELEMENTS? It was important to us that our guests felt like we prepared a special place for them because we were so honoured to be surrounded by some many loved ones. We prepared custom welcome boxes for our overnight guests that had nods to our two hometowns and our current home of Atlanta. We included sangria mix from the famous Columbia Restaurant in Tampa, chocolate-covered pecans from the Orangeburg Pecan Company in South Carolina, and a Coca-Cola bottle from ATL. We packaged up those pieces of home along with personalised items like coozies, cups, hand sanitiser, and a little emergency kit.
DESCRIBE YOUR WEDDING FLOWERS: Our florals team at Gardenia did an amazing job of building us a floral design that was both whimsical and modern. They paired all of the asymmetrical, loose arrangements with modern vases, stands, votives, and tapers, which made the design feel so unique and elevated. We went with natural florals in shades of white, cream, taupe, and pale amber, with darker caramel & rose accents. The arrangements were heavily floral with interesting textural elements like bunny tail, pampas grass, white calcynia, and snowberries. I loved how comprehensive the design turned out. There was greenery draped around the venue at every turn and not one area was left without some foliage or candlelight. My favourite part of the floral design was the suspended installation that doubled as the altar frame piece and later as the head table designator.

FAVOURITE DETAIL OF THE DAY: We are so glad we changed into our white Nikes after dinner for the dance floor. We both love shoes and it was the perfect personal touch to make us more comfortable and let loose on the dance floor (and we really let loose). Some of our favourite photos of the night have our kicks on full display.
WHAT ADVICE WOULD YOU GIVE OUT TO A COUPLE PLANNING THEIR WEDDING? Do a first look. There was so much anticipation and excitement leading up to that evening that we both just collapsed into each others' arms in relief and joy when we saw each other for the first time on our wedding day. It didn't take away from the "walking down the aisle" moment at all (nothing can take away from that moment). It gave us a moment to breathe, relax, and ease into the craziness that would follow in the hours ahead. Logistically, it was SO nice to get all of the pictures with the bridal party and families done before the ceremony.
MOST MEMORABLE MOMENT? One of our most memorable moments was our "last dance." While all of our guests were lining up for the sparklers exit outside, we took a moment just us two to dance to one of our favourite songs. It was the perfect time to reflect on the epic night and let reality sink in that we were finally married and on our way to the honeymoon and the rest of our lives together. We were sweaty, exhausted, and so happy. I love that in all the photos there are shoes on the floor, jackets on chair backs, and candles burned all the way down… the aftermath of a great party.
WHAT ASPECT OF THE WEDDING WAS THE MOST IMPORTANT TO YOU BOTH? We wanted our faith to be the most prominent part of our day. We had a Christian ceremony with both traditional hymns and modern worship songs. Dina's college spiritual mentor officiated and delivered the gospel in the most beautiful, welcoming way through the explanation of Christian marriage. We will always look back fondly on the prayers our wedding party and families covered us with before the ceremony.
ANY OTHER DETAILS THAT HELP TELL THE STORY OF YOUR DAY? We both bonded early in our relationship over our deep love for the same music, so choosing our tunes for the ceremony, cocktail hour, dinner, and reception was one of our favourite parts of the wedding planning process. Two of our favourite selections were "Pineapple Skies" by Miguel for our ceremony exit and an "If I Ain't Got You" cover by James Bay for our first dance. Our DJ was so fun and kept the dance floor FULL all night. When we listen to the songs that were played at our wedding, it truly takes us back to that weekend and the joy we felt on the dance floor… the most fun we've both ever had.
TELL US A LITTLE ABOUT YOUR HONEYMOON: After many changes of plans due to the pandemic, we ended up visiting Carmel-by-the-Sea and Napa Valley in California for a week long honeymoon. We relaxed, explored, and drank a lot of delicious wine. A sunset cruise, Pebble Beach Golf Course, and both the Repris and Palmaz Vineyards were trip highlights. Napa especially will always be a special place to us and we're already wanting to go back!
A huge thank you to Atlanta wedding photographer AMANDA OLIVIA PHOTOGRAPHY for sharing this beautiful Atlanta wedding with us today. Amanda is a film photographer based in the Southeast United States who believes in living an intentional life and creating lasting legacies for her clients. "We know that life is full and time passes quickly, so we believe in documenting the ever changing seasons of life. While seasons change, photographs last forever. It's an absolute privilege to photograph your most cherished moments, and deliver timeless images and heirlooms that will be treasured in your family for generations to come. Helping you preserve your legacy is our greatest privilege." You can see more of her work in her portfolio here.