It's been a while since we've featured the fabulous BRUSHFIRE PHOTOGRAPHY on the blog but the wait is over today with this lovely fall Catskill Mountains wedding. Suejin & Dylan wanted an outdoor wedding and the ASKOKAN DREAMS B&B offered them a beautiful blank canvas with what was essentially a field in the mountains. It meant the couple could personalise the day to suit their own taste. It was important to Suejin that she felt like herself on the day so she made sure that everything, from her dress to the accessories were true to her own style - glamourous but not overdone.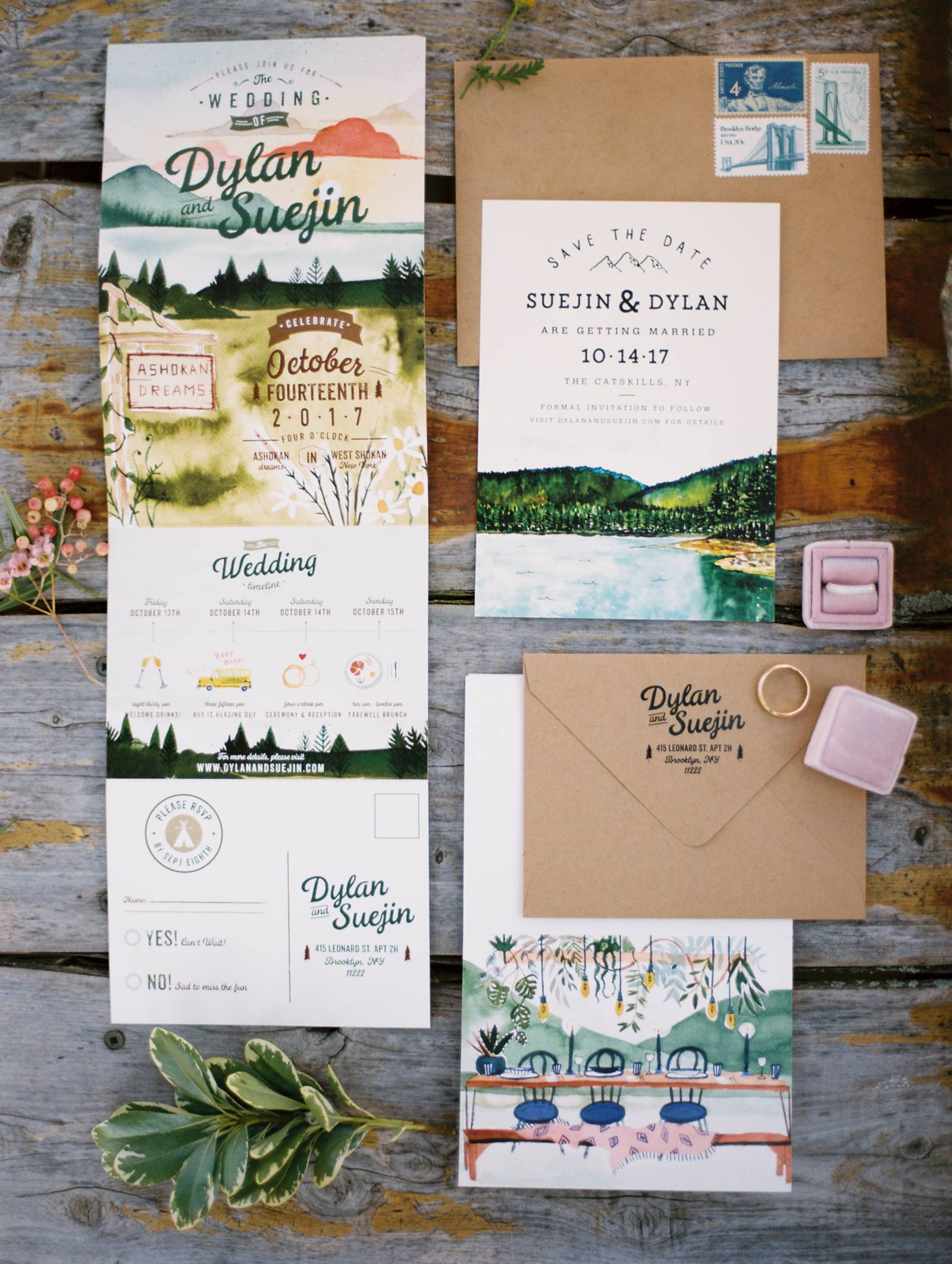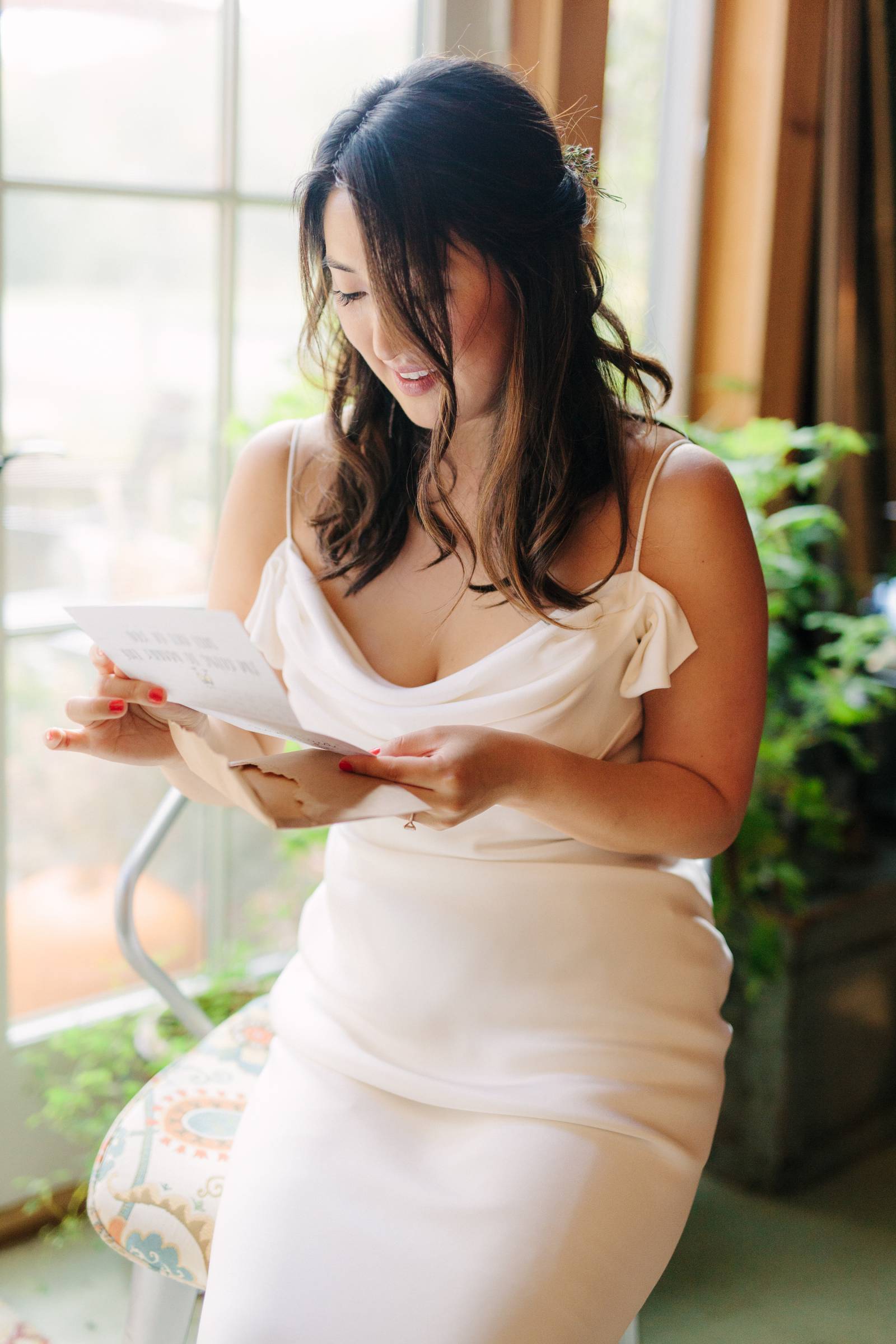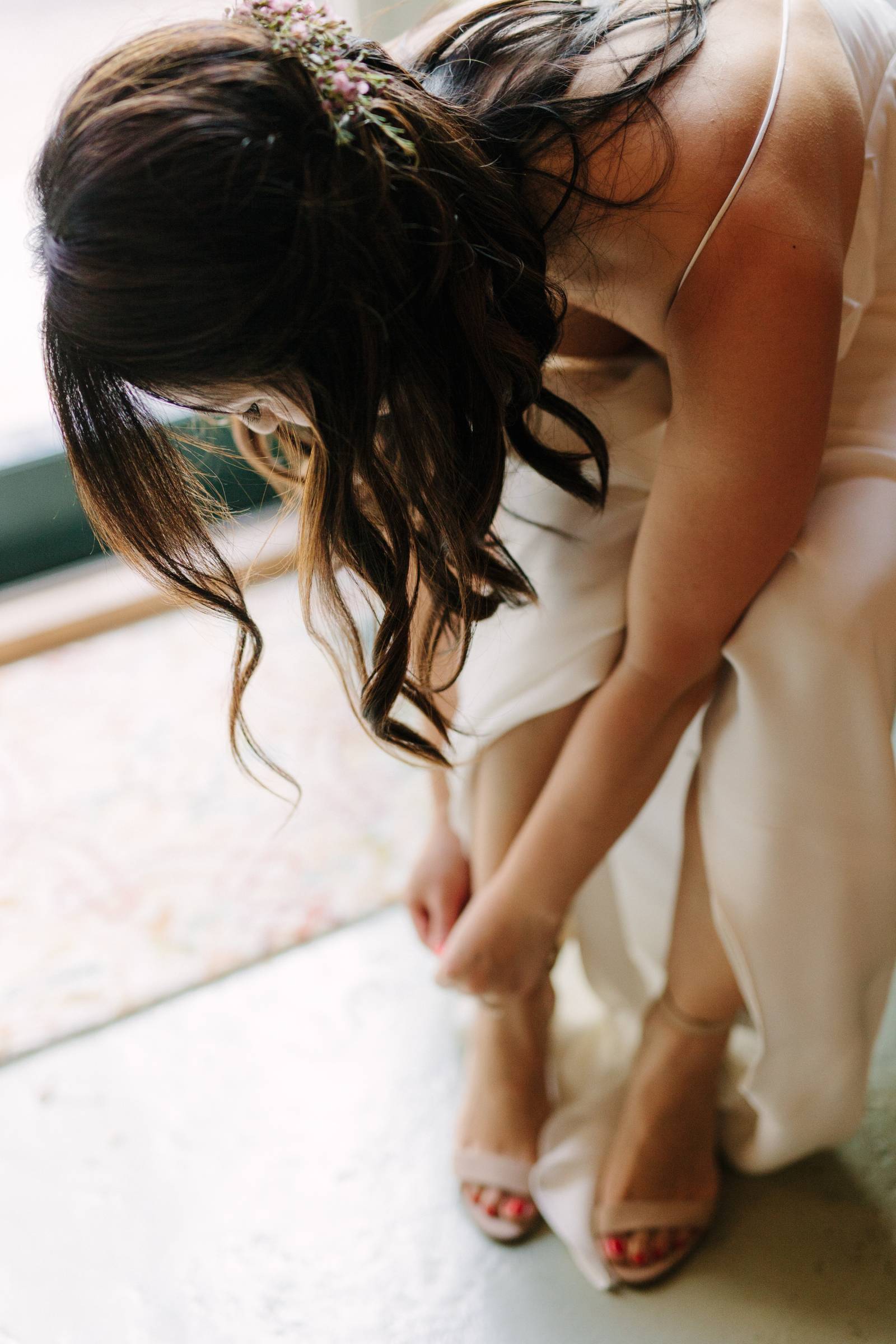 HOW DID YOU MEET? When someone asks us how we met, Dylan and I usually lock eyes to try and guess which version of the story the other person is going to tell: the simpler, not-as-accurate "we dated in college" response or the windy, confusing, yet real version of how we got here.
The real version starts like this: Dylan and I met when we were 13. We grew up in neighbouring towns in northern Virginia, went to the same middle school and I had a big 'ol crush on him (sadly for my 13-year old-self my friend started dating him - oh, eighth grade drama!). Nevertheless, what started as an unrequited crush budded into a special friendship that continued through our high school years. Through our high school we were close pals--we were in the same circles of friends, were in the same classes, and we even went to our Junior prom together. Fun fact: I went to Senior prom with his best friend the year after, a fact I only share to showcase that before either of us realised there was any real potential for romance, we were just each other's best buds. I think we might have known there was something special about our relationship, but we didn't begin dating until somewhere between the end of high school and beginning of college, hence why the easier version of the "how we met" story is to start at this point. Dylan and I dated through college and both moved to New York City upon graduating--we supported each other through first jobs, first apartments, first stabs at adult life in a big new city. A year or two into moving to NYC, we decided to break up and head our own separate ways into the next steps of our grown-up lives, unsure of the future and unprepared to make any big commitments (for me anyway, Dylan might say otherwise). The years following the break up, we both have slightly different versions of how the story goes but basically we both started new chapters in our lives that didn't include each other. Fast forward through our 20's by five years--five years that we didn't see or talk to each other.
After not having seen each other for half a decade, we began running into each other here and there in NYC, which I think piqued both of our curiosities about each other especially after such a long time of not seeing each other. Then the stars aligned when we saw each other at our high school's 10 year reunion which was the true start (and end) of it all. After the reunion, I asked Dylan out to drinks, which sparked how we re-met, re-fell in love and started the best chapter of our lives together.
TELL US ABOUT YOUR PROPOSAL: The way Dylan proposed was very "us." We had just gotten home from a 6 hour car ride after celebrating out friends' wedding out of town. I was so exhausted and looking forward to vegging out on the couch but Dylan kept asking me to go with him to walk our dog, to which I kept responding, "no it is freezing out and I'm tired!"
I buried myself under layers of blankets and was catching up on reality shows I'm too embarrassed to name and Dylan finally had to pause the TV to get my attention. Next thing I know I'm laying down on the couch in our apartment being proposed to--I wouldn't have had it any other way!
TELL US ABOUT FINDING YOUR WEDDING DRESS: Wedding dress shopping was actually the only thing about wedding planning that I was nervous about. I was anxious that I was not going to find a dress that I truly liked, but I was so wrong, I loved the experience. I found that wedding dress shopping was actually a bit counterintuitive for me. In my every day style, I like to wear a ton of prints, textures and experiment with different styles but with wedding dress shopping I kept finding myself drawn to simplicity, funny enough. On my first shopping trip with my mom I tried on a Savannah Miller sheath dress that I loved and through all other shopping appointments kept thinking about, which is how I knew I needed to wear it on my wedding day.
DID YOU HAVE ANY DIY ELEMENTS? A few! Anyone that knows Dylan knows that his favorite food his chips, so we had a chip bar that we called Dylan's Chip Bar, set with fun to-go cups and a variety of chips including his favorites, UTZ Salt & Vinegar chips and Cheetos.
While we had a cake, we're not huge cake people, so we had a Waffle Bar as a dessert station, with a DIY topping bar, which was a total hit. Nutella, caramel sauce, candy and fruit fixings - yum!
One of my favorite details was the Flower Crown station we set up for our guests. We wanted our friends and family to enjoy the night and lean into the festivities, so we had our florist actually on-site during our cocktail hour creating custom flower crowns. They were so beautiful and our guests rocked them all night!
DESCRIBE YOUR WEDDING FLOWERS: Meg Dodini, founder of Saffron & Succulents is a true floral goddess. She totally understood our vision from Day 1. We didn't want any floral arrangements that felt too stuffy or contrived. We wanted everything to feel natural and lush instead of structured or cookie cutter. Meg had this amazing idea to create custom bouquets for each of the bridesmaids - no one was the same! Each had a different flower - they were so unique and totally gorgeous. She also created a gorgeous wedding arch had cascading flowers that we were so lucky to get married in front of. She even created a gorgeous wreath for our dog who walked down the aisle during the ceremony.
FAVOURITE DETAIL OF THE DAY: To this day, I still have family & friends raving about the food from our wedding. Linda from Grounded NY is not your average Joe caterer. She asked us what our dream menu was and then with zero compromises went out and created it. From having an oyster shucker at the cocktail hour to making dips for Dylan's chip bar - she went above and beyond to create one of the best meals we've ever had. To celebrate the amazing menu, we had a custom menu designed which was a gorgeous finishing touch on top of the table settings.
WHAT ADVICE WOULD YOU GIVE OUT TO A COUPLE PLANNING THEIR WEDDING? Make your own rules! Think about what would make you happiest on your wedding day and then go make it happen. Not every wedding needs to play by the same rules.
MOST MEMORABLE MOMENT? It's hard to pick a favourite moment from the entire day but the ceremony exceeded my wildest dreams, it was so special. We picked the music which made it feel really personal - the wedding party walked down to Sweet Disposition by The Temper Trap, I walked down to O by Coldplay, and we closed the ceremony to Cosmic Love by Florence + The Machine. I remember as all of the groomsmen and bridesmaid walked down the aisle, the guests started cheering for each of them, which is the exact relaxed and joyful vibe I hoped for. It felt so authentic and full of love--I remember feeling so lucky before walking down the aisle getting to watch this happen. One of our best friends, Andrew, officiated the ceremony and married us and it was so heartfelt and hilarious - it was perfection.
ANY OTHER DETAILS THAT HELP TELL THE STORY OF YOUR DAY? Having our closest friends and family in one place for an entire weekend was so incredible. We had people flying into New York from LA, London--even Korea. Just being surrounded by the people we love the most, and the people who have shaped who we are today was such a blessing.
TELL US A LITTLE ABOUT YOUR HONEYMOON: Right after the wedding we went to Mexico City for our mini-moon. It was incredible--we ate tacos all day long, slurped up margaritas all night and got to reflect on the wedding weekend together. A few months later we went on the trip and honeymoon of a lifetime, traveling for 2.5 weeks through Japan and Thailand. It was a life highlight, for sure!
IS THERE ANYTHING YOU WOULD CHANGE OR DO DIFFERENTLY? I really wouldn't change anything! If I HAD to do one thing differently I would've splurged on another hour or two of my photographers' time as they were phenomenal.