Gorgeous bride Ali's vision for her wedding to Christopher was a timeless, mountain affair in a garden with a European aesthetic. Looking at these beautiful images by MANDI NELSON I'd say she got just what she was after. "I wanted my wedding to look like a glamorous garden party in the mountains, but not too feminine, which is why I pulled in the antlers, rugged gold leafing, and minimalist typography. My wedding planner, RACHAEL, is the reason my vision came out so wonderfully. It was exactly what I wanted."
After their ceremony at SALT LAKE TEMPLE, they moved onto THE GRAND PAVILLION AT LA CAILLE where their guests were treated to a selection of custom mocktails amongst the beautiful surroundings.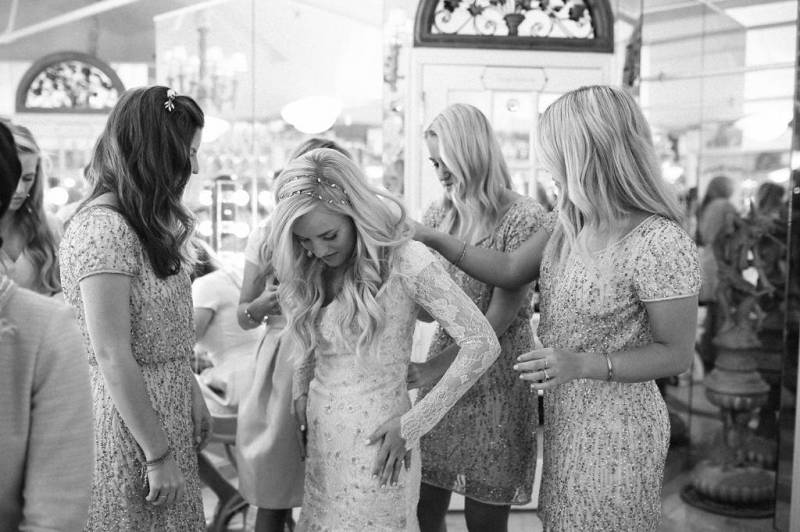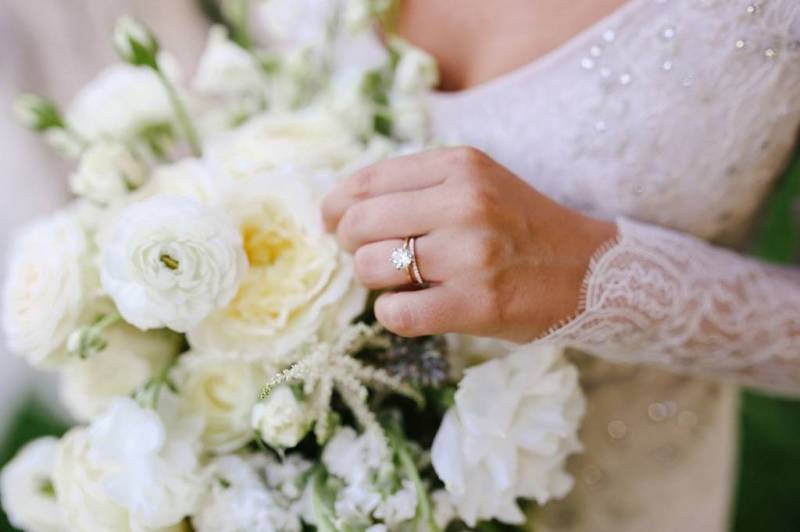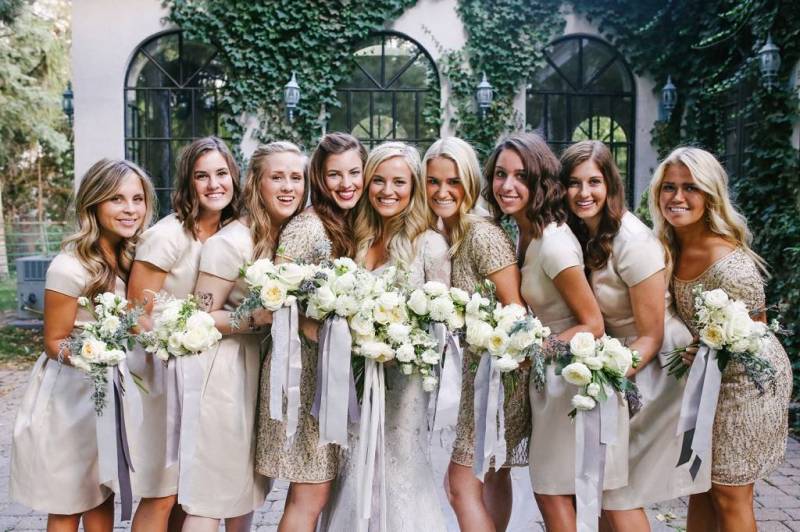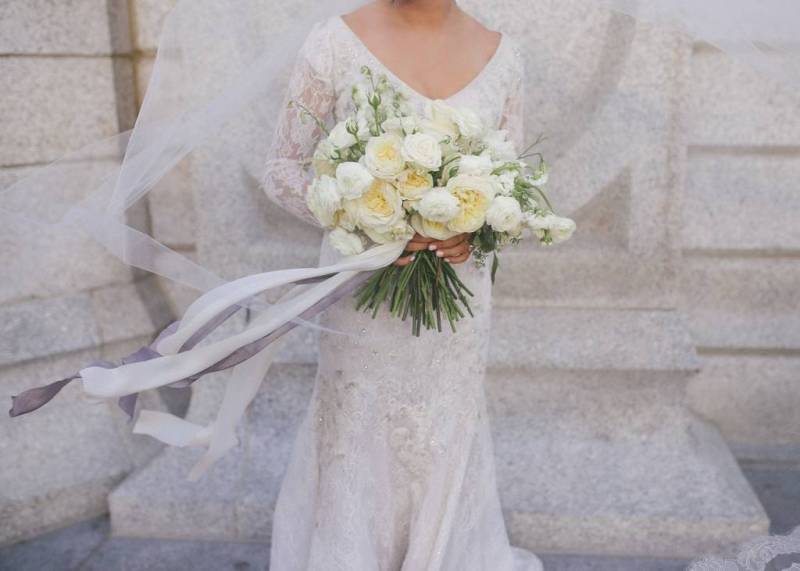 HOW DID YOU MEET? We were set up by my Mom's college roommate and best friend. Christopher grew up down the street from her and thought we would at least become good friends. She had no idea, but we actually lived in the same apartment complex and all of our friends had been telling us to go out. The rest is history.
TELL US ABOUT YOUR PROPOSAL: Christopher totally surprised me! He kept telling me we were getting engaged in Disneyland (I'm a little girl forever and love Disney), and I believed him. One spring weekend he told me his future boss wanted to take us out to dinner at the St. Regis Deer Valley. I was so excited. (Deer Valley is where I learned to ski as a little kid. It's also important to Christopher and I because all we do is ski. I'm not exaggerating. We have skied in seven states and two countries in the past three months.) Little did I know both my family and his were there waiting for us with flowers, floating lanterns and a hidden photographer. He said his "future boss" was going to be a little late and led me down these beautiful terraces with open fire pits down to a place with white flowers and mercury glass candles. He referenced all my favorite princess fairy tales and asked me to marry him. I think I said yes before the question was even out of his mouth! After we had a few minutes alone together our families appeared and Christopher revealed we weren't having dinner with his future boss but them instead! His sister brought nail polish and did my nails at the dinner table which was adorable. After dinner we drove home, where he had another surprise waiting. All of our friends were at my apartment with my favorite treat (molten chocolate cake) and drinks to celebrate! It was really sweet that Christopher went to such an effort to make sure so many important people in our life were a part of our big day. He is like that.

DESCRIBE YOUR WEDDING FLOWERS: Bouquet - I wanted something organic but timeless. I personally think that huge flowy bouquets are a little trendy, I didn't want to look back on any aspect of my wedding and think, 'Wow that was dumb, I only did that because it was hip at the time.' I wanted a lot of white and a lot of petals.
As for my venue, I really lucked out there. With the garden vision I of course wanted a TON of flowers. Because we had our reception in a greenhouse there were already a lot of flowers and greenery in there. That was lucky and of course saved a lot of money.

FAVOURITE DETAIL OF THE DAY: I have a corny answer and a typical answer. My corny answer is that my husband was my favorite detail of the day. I seriously mean that. Every time I looked around or caught eyes with him I was so happy that it was him by my side. At the end of the night your wedding will be over, but your husband is with you forever. In other words, you can have the most detailed, unreal, perfect wedding in the world but if it's not with the right person I reckon it'd be pretty miserable.
Now I have an average answer. One thing I absolutely loved were the groomsmen socks. Random, I know. This is something I let Christopher be 100% in charge of and was really worried about, especially when he told me what he was thinking. Each groomsmen wore STANCE socks with their favorite athlete on them. I thought it would look tacky but it was actually awesome and gave the groomsmen a cool masculine vibe as opposed to polka-dots or argyle girly vibes like you typically see. It was fun to let Christopher do his thing and really have something he and his friends absolutely LOVED. Christopher's groomsmen are all boys' boys through and through. It was a perfect touch and they showed off their socks all night long.
TELL US ABOUT FINDING YOUR WEDDING DRESS: It was really, really hard. I always prided myself in being the girl who didn't have her wedding all planned out because I'm independent and am not getting married for a longggg time... blah blah blah. I wish I had done a little more research and knew what dress I wanted as I got older. Another factor that made it hard is that I knew I was moving to New York shortly and thought it would be fun to get a dress there. In Utah there isn't a lot of selection (or so I thought). My mom and wedding planner (Rachael, who is amazing) told me I should probably move forward and get a dress in Utah.
Long story short, I actually ended up changing dresses about a month before my wedding because I made a stupid decision and gave up early in the game. I got my dress at Alta Moda Bridal in Salt Lake City. It was a sample from Liancarlo. It had flutter sleeves, dropped waist, the most beautiful chantilly lace, and the most amazing layers. It's hard to tell in pictures, but the layer immediately under the lace was all sequins, so it sparkled everywhere I went. It was the perfect combination of timeless and glamorous, but not in-your-face. I added custom long sleeves and changed the neckline so it was a little higher. The girls at Alta Moda were AMAZING- one of the best experiences of my wedding. They were kind, helpful, not pushy at all... They made me feel like I was the only bride they were working with. I wouldn't recommend anywhere else, even if you live outside of Utah. They carry the most amazing designers and dresses. I ended up loving my dress more than I ever thought I would.
ANY OTHER DETAILS THAT HELP TELL THE STORY OF YOUR DAY? I have a few! My family's heritage is Dutch. A Dutch wedding tradition is cutting cakes before the wedding so that guests can enjoy cake throughout the celebration. I had a cake bar consisting of five beautiful cakes as well as desserts from our caterer. Instead of stuffing people to the brim with cake after they had a full dinner and dessert I liked that we had cake available all night long to anyone who wanted it. This little detail was also special because my Grandfather Albert Noorda happened to know Christopher's Grandfather Glen Lloyd while they served a mission for our church (we are both Mormon) in Holland. In other words, they lived together in Holland almost fifty years ago. We had no idea until we were seriously dating!
Another fun detail was my daddy daughter dance. My dad's parents (my grandparents) were big in dancing. In their honor, he wanted our dance to be taken seriously and really learn how to dance! A sweet lady on our street came over a few Sunday nights and taught us a few fancy moves and how to waltz. Not only was the dance traditional and choreographed, the song was Rainbow Connection by Kenny Loggins, which was the song my dad would sing to me when I was a baby and he would come home late from med school. The emcee made sure to mention that detail, which was sweet. It was really special on the big day to have something choreographed and meaningful for everyone to enjoy and I think it helped my dad not to cry because he had to think about each step we were taking!
Like I said, we are Mormon so our wedding was totally dry. No alcohol! Regardless, Christopher and I are big beverage connoisseurs and wanted to have something everyone could sip on while they waited in our line or mingled with other guests. One of our favorite dates is getting gelato floats at a cafe in Salt Lake City, specifically grapefruit rosemary floats with olive oil gelato. After telling our coordinator at La Caille about this special treat, she arranged for us to meet with the amazing bartender at La Caille. He created a totally original mocktail for us! It was amazing, a sparkling grapefruit concoction with a sprig of fresh Rosemary grown right in La Caille's own herb garden. We also served sparkling Italian lemonade (another favorite of ours) and a 'Mountain Mai Tai,' another original (virgin) creation from the La Caille bartender. ​
MOST MEMORABLE MOMENT? Christopher and I both wanted our wedding to be a total rager (okay, maybe not a rager, but we wanted to dance a lot!). I got lucky and (1) had an amazing band and (2) married Christopher, who has no problem being totally outrageous on the dance floor. It was so FUN, probably the most surreal moment of my whole life. I can't put into words what it's like to look around and see so many people from every stage of you and your spouse's lives dancing with you - not caring what they look like, sweating, head-banging... it was unforgettable.
WHAT ADVICE WOULD YOU GIVE OUT TO A COUPLE PLANNING THEIR WEDDING? That's a great question! One thing I have told a few of my friends is don't share your wedding vision with everyone you know. Whether you like it or not people will give you their feedback and opinion and it can start to muddle what you thought was a great idea. Pick a few trusted companions (mom, sister, planner, fiancee) and share absolutely every detail with them. If other people ask (especially people you think might mess with your train of thought) tell them they'll have to wait and see, it's a surprise! If they aren't aware with of every minute detail they might make you question a beautiful aspect of your wedding they just aren't seeing quite right! ​​